The Struggles of Space Saving for a Tiny Kitchen Design
Posted by admin on
Tiny kitchens are a puzzle to upgrade during a remodel. Due to the small sizes, customers have to balance between storage and functionality. Would one change to a tiny kitchen? No one. Nobody would want to sacrifice kitchen space by any means. Some might change their kitchen to incorporate an island, but no person would change their regular kitchen down to a tiny kitchen. So who would have a tiny kitchen? These would be studio apartments or small homes where there is not much room to build with. This of course results in the kitchen sacrificing space to have the bare minimum storage or a little less than a standard home's storage and cooking space. At times, putting together a small kitchen might be more challenging than a game of Tetris.
As much storage space as possible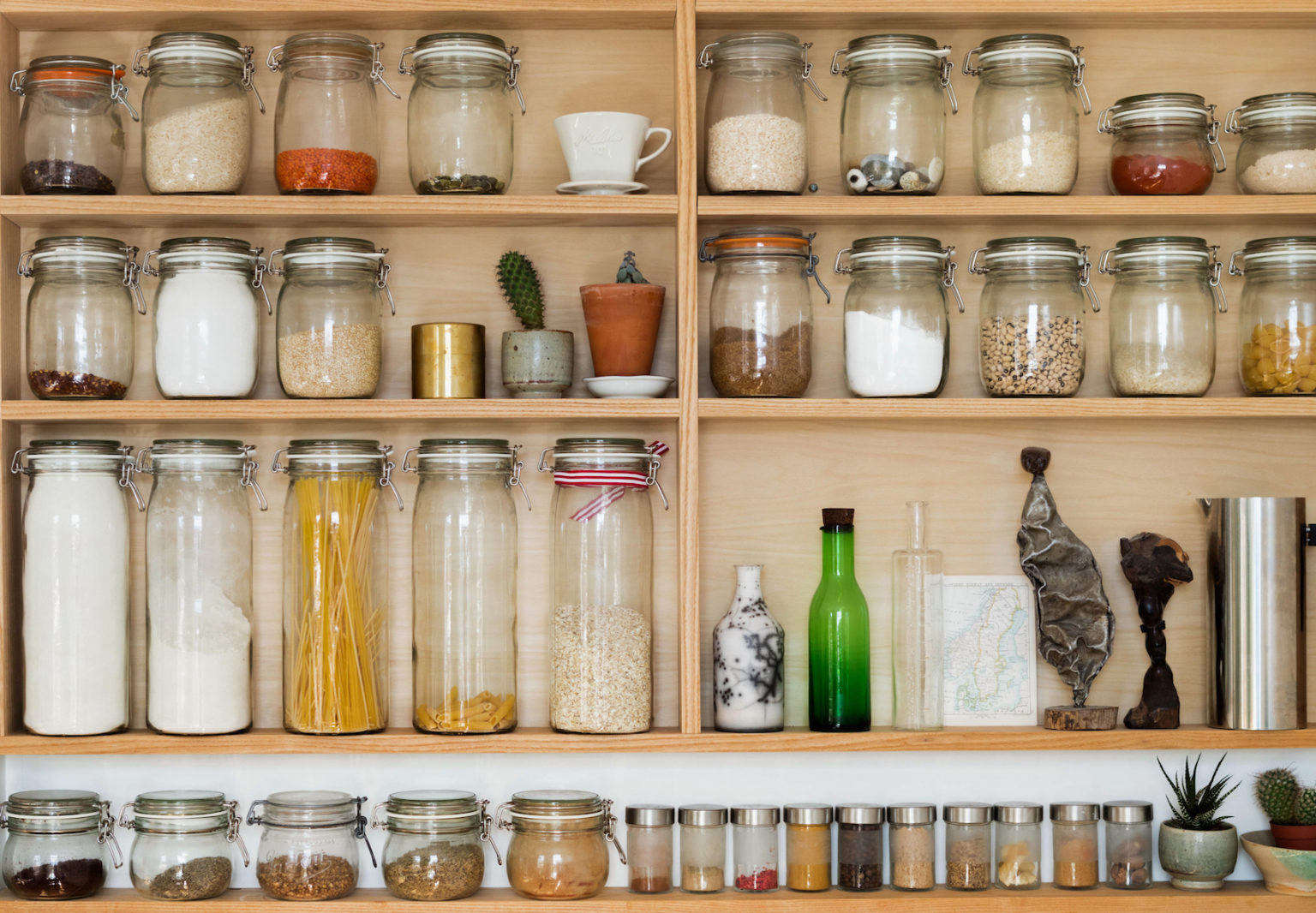 When you have a tiny kitchen, prioritizing how much space you have or can get is key. Any home remodel will try to get as much storage space for their kitchen. That's not too different for tiny kitchens, but they need to make use of whatever they can. From roll-out-trays, to build in pantry cabinets, tiny kitchens will need to cram as much storage space they can. The best way is to build upwards rather than build horizontally. Cabinets like wall ovens and even range top or cooktop. This maximizes the cabinet space they have, despite the need to compensate for countertop space.
Open Shelving is an Option in tiny kitchens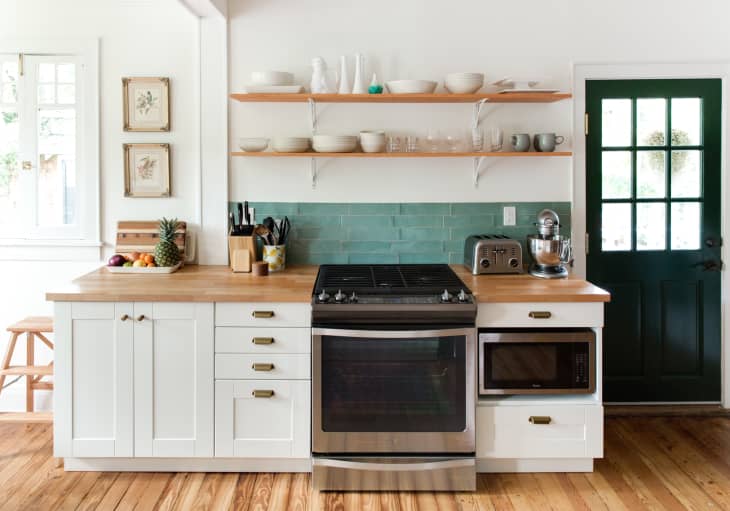 Some will argue that open shelving is not a viable solution for space-saving. In fact, Since there is no width limitation, open shelving allows for some wider options for storage. Not only can plates be put on the open shelves, but cups and cooking pans as well. Wall racks can be mounted to store these objects that typically occupy a lot of wall cabinet space. Additionally, spice rack holders can also be mounted onto cabinet doors to increase the storage available. The more free space in the cabinets that are freed, the more flexible space a homeowner has for larger countertop appliances to free up countertop space. 
Smaller than standard appliances?
Yes, they exist. These appliances are not going to be purchased by your regular home remodeler. They are smaller and can sometimes be more expensive. You may be wondering, how can a smaller appliance be more expensive? Primarily because they are not standard. The standard appliance companies that manufacture kitchen appliances will not go out of the way to create an odd dimension refrigerator that only a small audience will actually purchase. Smaller companies out there do have these, but the availability of these is a lot lower than going to your default hardware store to purchase. So what size appliances are we expecting?
24" wall oven & microwave
Not just the appliances, but also the sink. Typical sinks are 33" or 36" wide and will need an appropriate size cabinet to fit the desired size. There are smaller sinks out there that can fit smaller cabinets out there. Laundry sinks or bar sinks will fit on a 24" cabinet space. These space saving tips may be harder to come across than standard appliances but will be key to help with space for tiny kitchens.
No Lazy Susan in a Tiny Kitchen??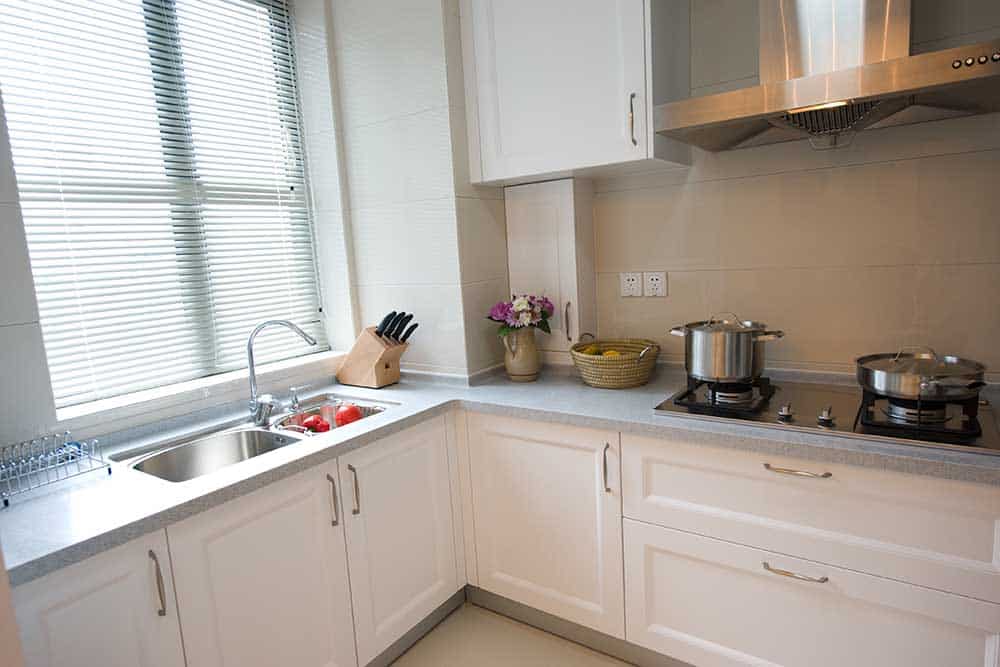 That's right, no lazy susan. As famous as it is that most kitchens would want to have this turntable cabinet, it requires a lot of space. The two sizes among cabinet companies that supply it are 33 and 36" in two directions. That is a lot of space commitment for a single cabinet. Even for cost, this cabinet may cost as much as a full-height pantry cabinet. All this for a cabinet? There needs to be an alternative out there.
We just need a cabinet that fills the corner without having a dead corner. So what cabinet can fit inside here? Blind corner cabinets are standard 36" base cabinets that are halfway pushed inside that turning corner. This allows the space to be utilized and is one of the best space saving cabinets out there. 
Many people argue that the blind corner cabinet is difficult to reach and access. Breaking it down, it has an 18" door but a 36" storage space. Half of the cabinet is hidden from plain sight from anyone looking from the outside. So how can one maximize the space? There is technology that can make the blind corner cabinet much better than a traditional lazy susan, magic corner shelving. This shelf unit is installed into a blind corner area and is operated like a pull-out shelf. From a single action, the shelves on the unit all pull out together. This unit is very easy to utilize and access compared to a lazy susan. 
Breakfast Bar rather than a dining table
Considering who is living in a house with a tiny kitchen, a full blown dining room table is not needed. Studio apartments or small homes will typically house 1-2 people. In these homes, there also is not a lot of space elsewhere in the home to place a regular 4 person dinner table found commonly in homes. So what's the answer to that? A breakfast nook with seating. While making use of the cabinets already in a kitchen, this allows one to turn their already existing base cabinets and maybe sink into an eating area. 
One might mistake this as a kitchen island. Part of it is true and part is not. A kitchen island typically is expected to be a long countertop that can seat guests and family members while acting as kitchen storage too. The breakfast nook is just the base cabinets of the kitchen with enough overhang on the other side for maybe 2 people to sit. This is not only a great space-saving area in the kitchen but around the house as well. 
Oven not needed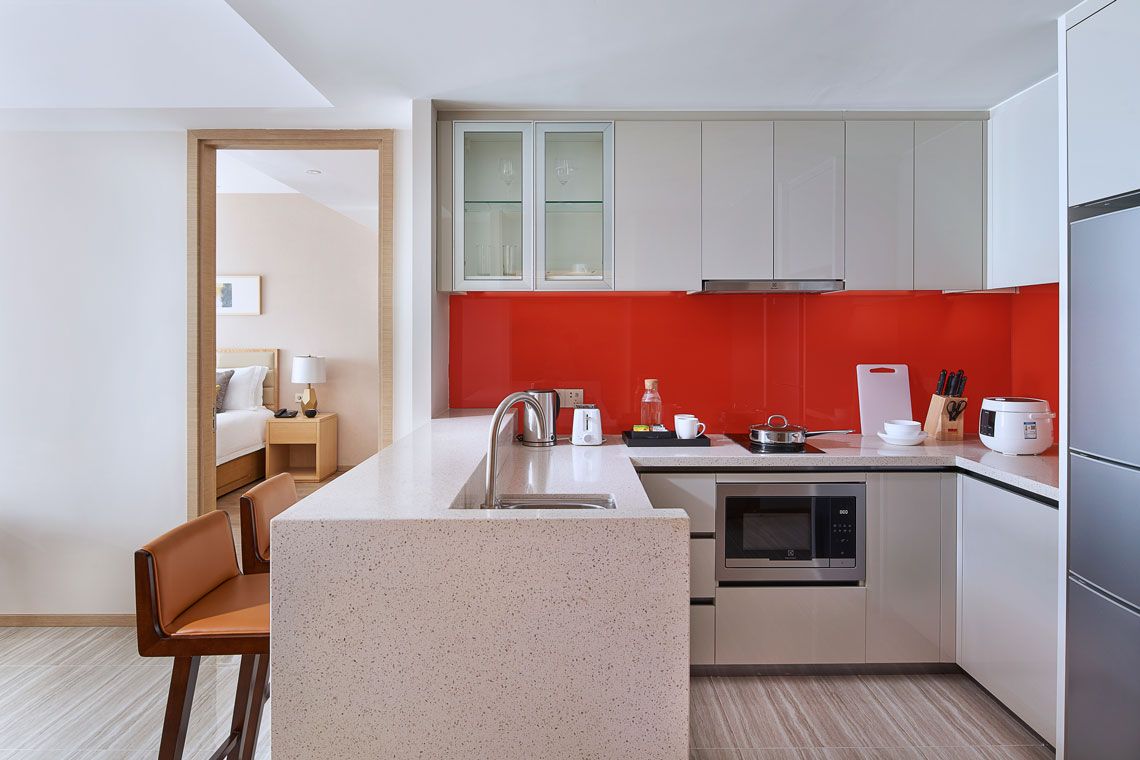 In a tiny kitchen, one does not always need an oven. Specifically, they cannot always fit an oven in the space they have. A slide-in range is commonly 30" while a condensed version would be 24". To fit in an oven may be near impossible for some small spaces. Some people will prioritize the storage space over the appliance. How can one live without an oven? Oddly enough, with just a microwave. Microwave ovens are forgotten as part of ovens and typically used to only reheat leftovers or warm frozen food. At the most, one may see a stovetop or range top to cook on to replace an oven. In tiny kitchens like studios or apartments, these can be the best space-saving friend out there.
The post The Struggles of Space Saving for a Tiny Kitchen Design appeared first on Best Online Cabinets.
---
Share this post
---
---