Luxury in paradise: A review of IHG's InterContinental Maldives Maamunagau Resort
Posted by admin on
I looked at the floating dock in disbelief when the seaplane landed at the InterContinental Maldives Maamunagau Resort.
At other Maldives resorts I visited, the seaplane had pulled up to a dock attached to the resort by walkways. Not here. Instead, at the InterContinental we deplaned onto a rocking dock stationed in the sea. An InterContinental boat arrived shortly to fetch us, but this shaky start wasn't how I'd expected to arrive at the most expensive resort of my trip.
Luckily, my stay improved once on solid ground. Here's what it was like to stay at the InterContinental Maldives Maamunagau Resort.
Get the latest points, miles and travel news by signing up for TPG's free daily newsletter.
Booking
When my husband and I booked our two-night stay at the InterContinental Maldives Maamunagau Resort, an overwater pool villa was the least expensive option. We could have paid $1,276 per night for the "book now, pay later" rate. But, as the booking page made it seem like this rate didn't include breakfast, I thought the "dinner, bed and breakfast" rate for $1,564 per night was a better deal.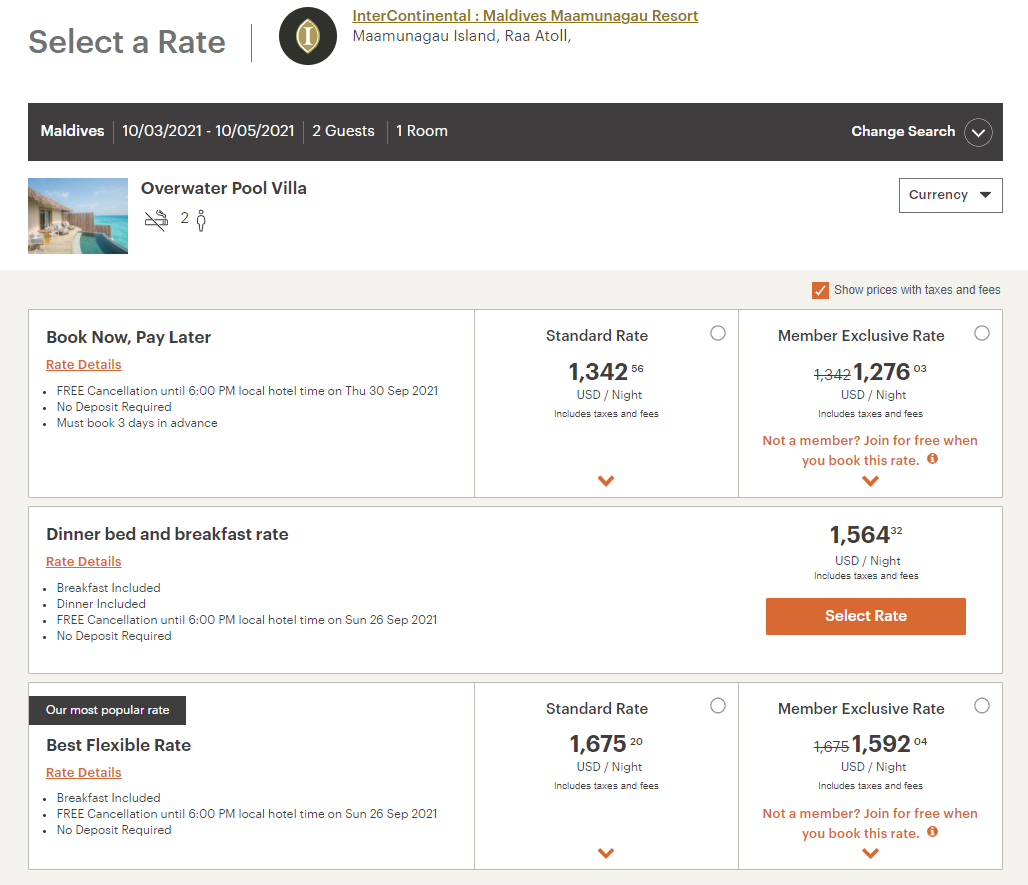 We booked directly with IHG to earn IHG Rewards elite qualifying and redeemable points. And we earned 58,280 redeemable IHG points on qualifying expenses thanks to Spire Elite status.
But, as an InterContinental Ambassador, you get Ambassador benefits regardless of how you book. So, if you don't care about earning IHG points and qualifying for IHG elite status, it may make sense to book through an online travel agency program like Hotels.com Rewards. After all, all bookings at the InterContinental Maldives Maamunagau come with Club InterContinental benefits (which I'll detail later in the food and beverage section) regardless of how you book.
You could also book this resort through Chase's Luxury Hotel & Resort Collection. However, be sure to compare prices, as the Chase Luxury Hotel & Resort Collection often doesn't offer the best rates, even when you consider the extra perks of booking through the program.
Finally, it's also worth checking award availability. Although the resort didn't offer any award availability on our dates when we booked, I found availability shortly before our stay at the standard-for-this-resort rate of 120,000 IHG points per night.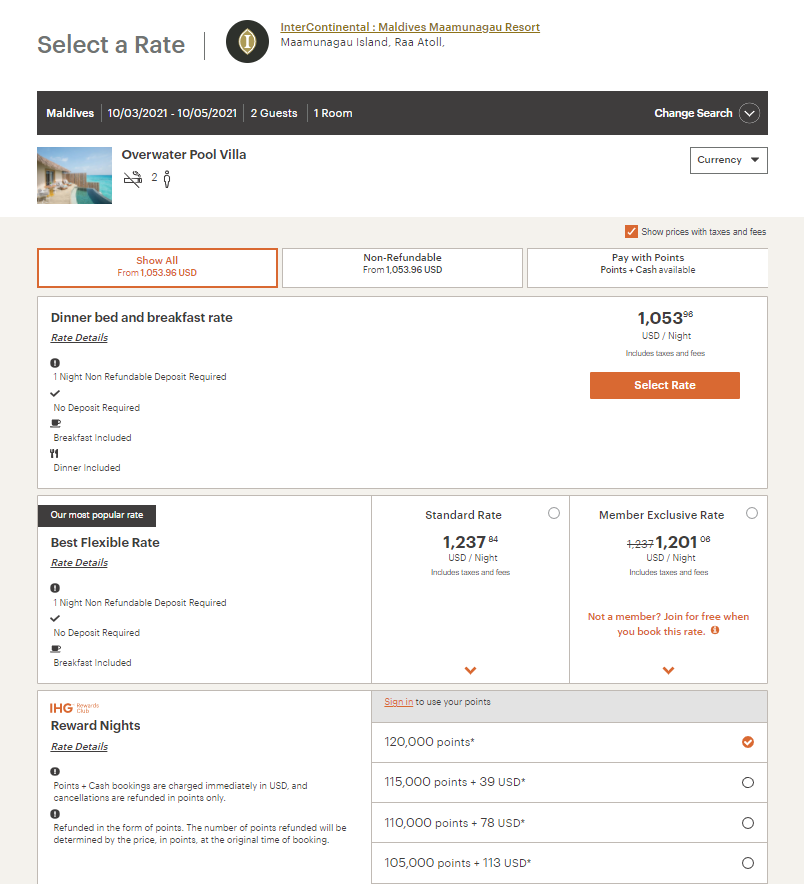 Although this is the most expensive award rate you'll find at IHG properties (excluding select Six Senses and Mr and Mrs Smith hotels), it's a good rate if you can snag it – especially if you can get a fourth-night reward as an IHG Rewards Club Premier Credit Card holder. At TPG's valuation of IHG points at 0.5 cents per point, you'd get good value redeeming $600 worth of points per night at this resort.
Related: Why I'm happy to pay the annual fee on the IHG Premier Card
Location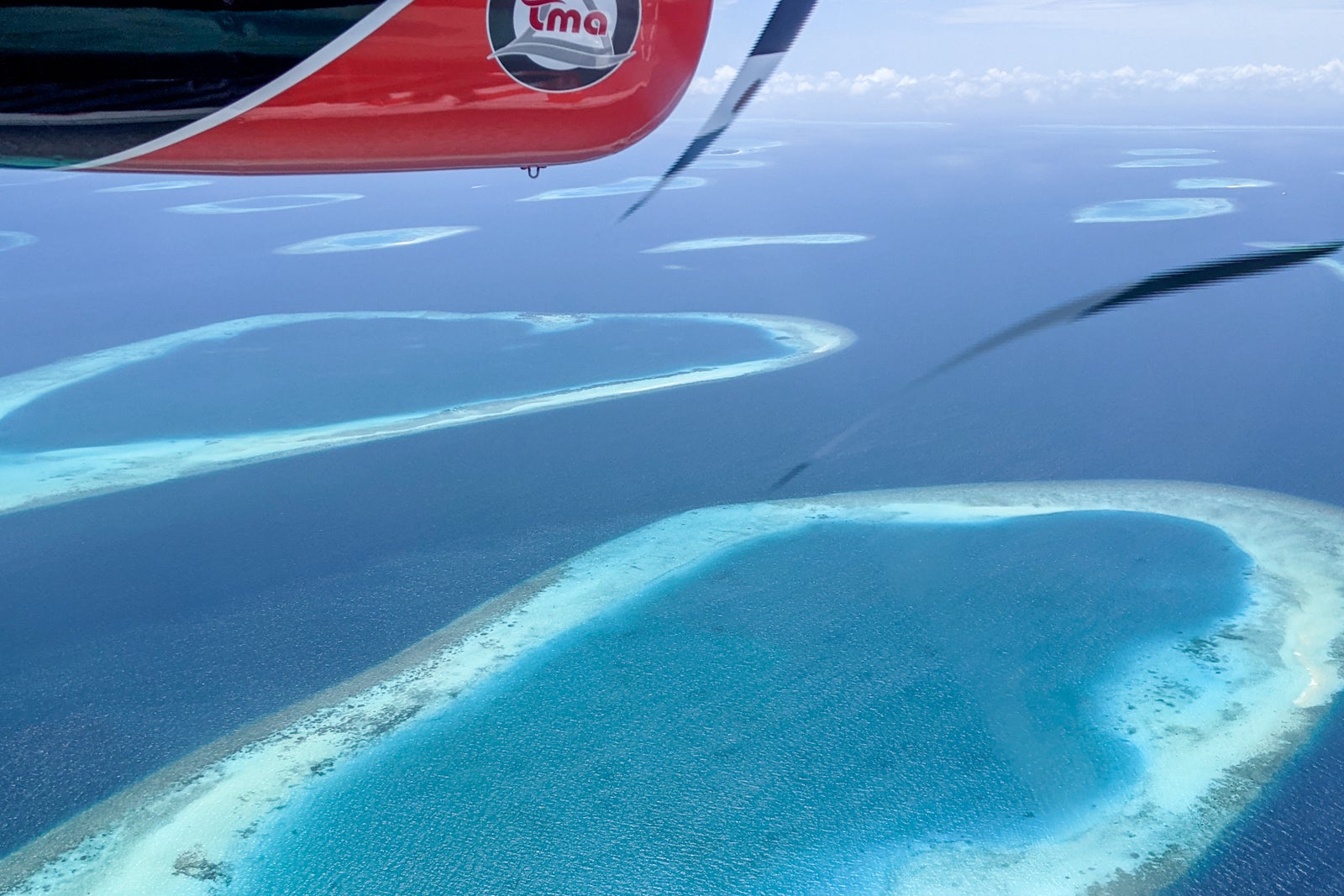 The InterContinental Maldives Maamunagau Resort is in the Raa atoll, about 40 minutes from Male by seaplane. You should plan to arrive in Male in the morning or early afternoon to catch a seaplane and make the most of your experience.
If you arrive later in the day, you may be able to take a 20-minute domestic flight to Dharavandhoo airport and then a 35-minute speedboat ride to the resort. In either case, the resort will organize your transfer once you provide your arrival and departure flight details. (Or, if you're coming from another resort, the resorts will coordinate your transfer.)
Like most Maldives resorts, you're captive to the property once you arrive. You can book excursions that leave the island, but otherwise, you should expect to be on the island for your entire stay.
Related: Do you earn points on seaplane transfers in the Maldives?
Check-in and seaplane transfer
An InterContinental representative met our speedboat as we arrived from another resort. He put our bags onto a luggage cart and walked us over to the Trans Maldivian Airways check-in counter. Airline staff weighed our carry-on bags and bag checked our larger luggage, which the InterContinental representative noted would be brought back to us when we reached our villa at the resort.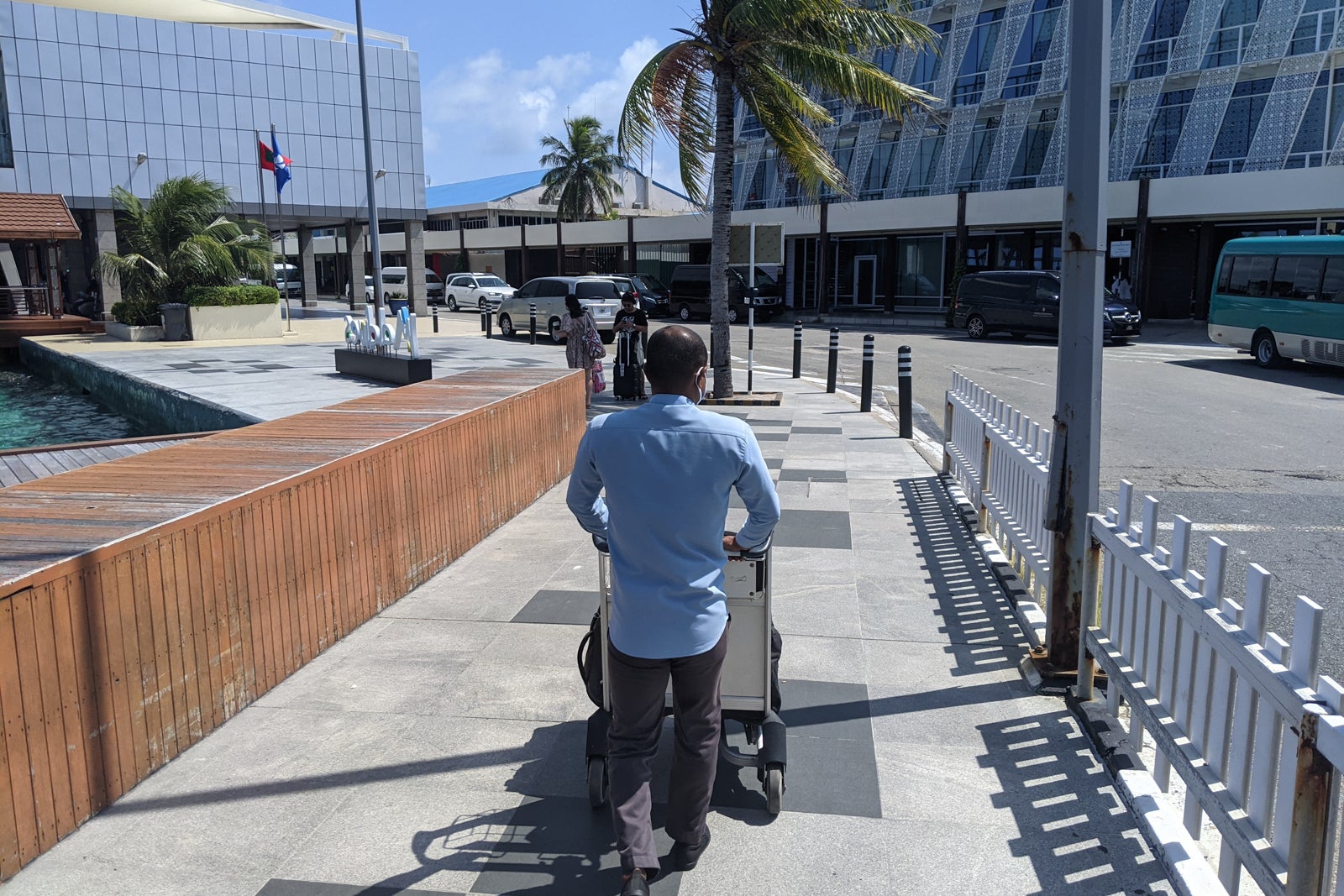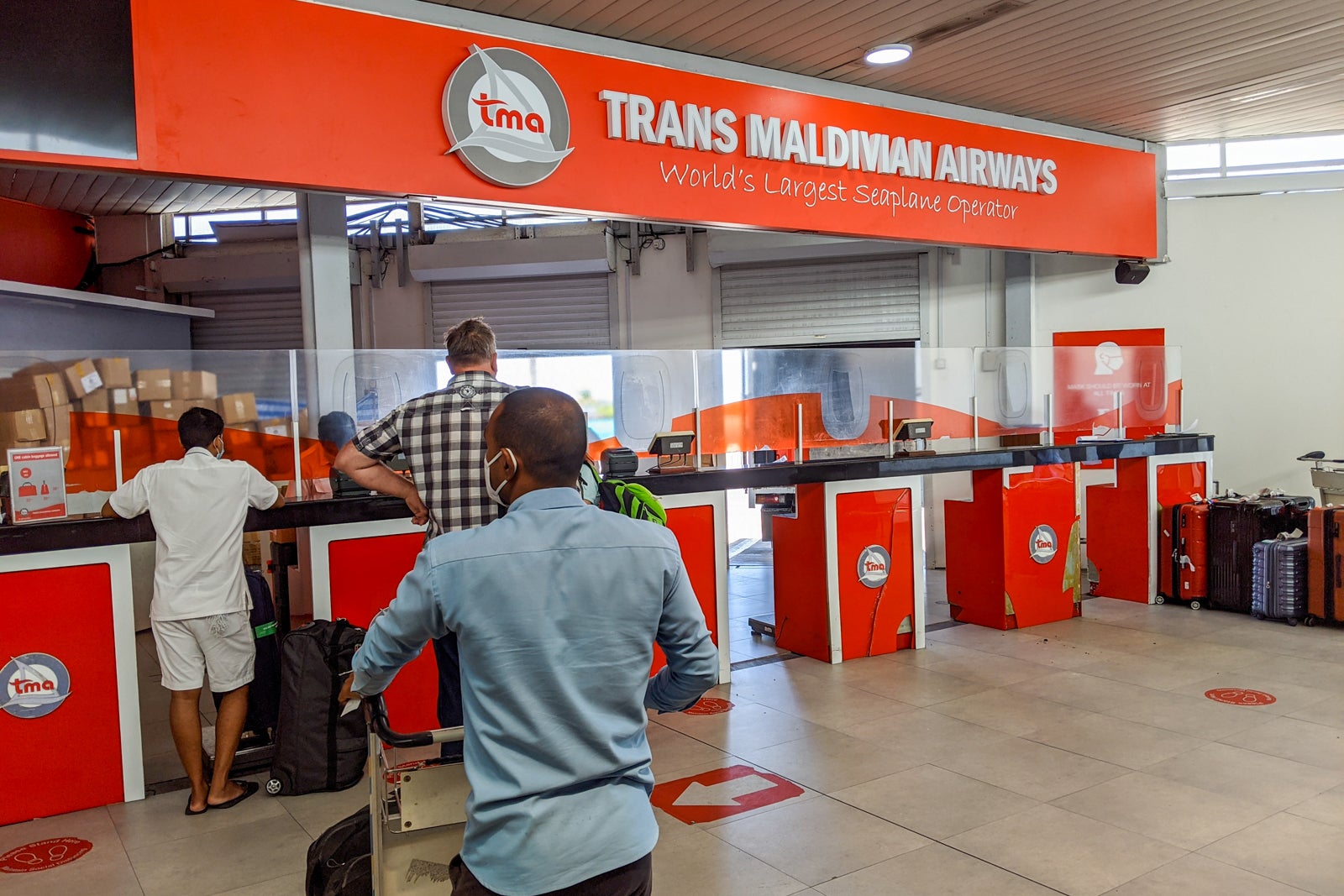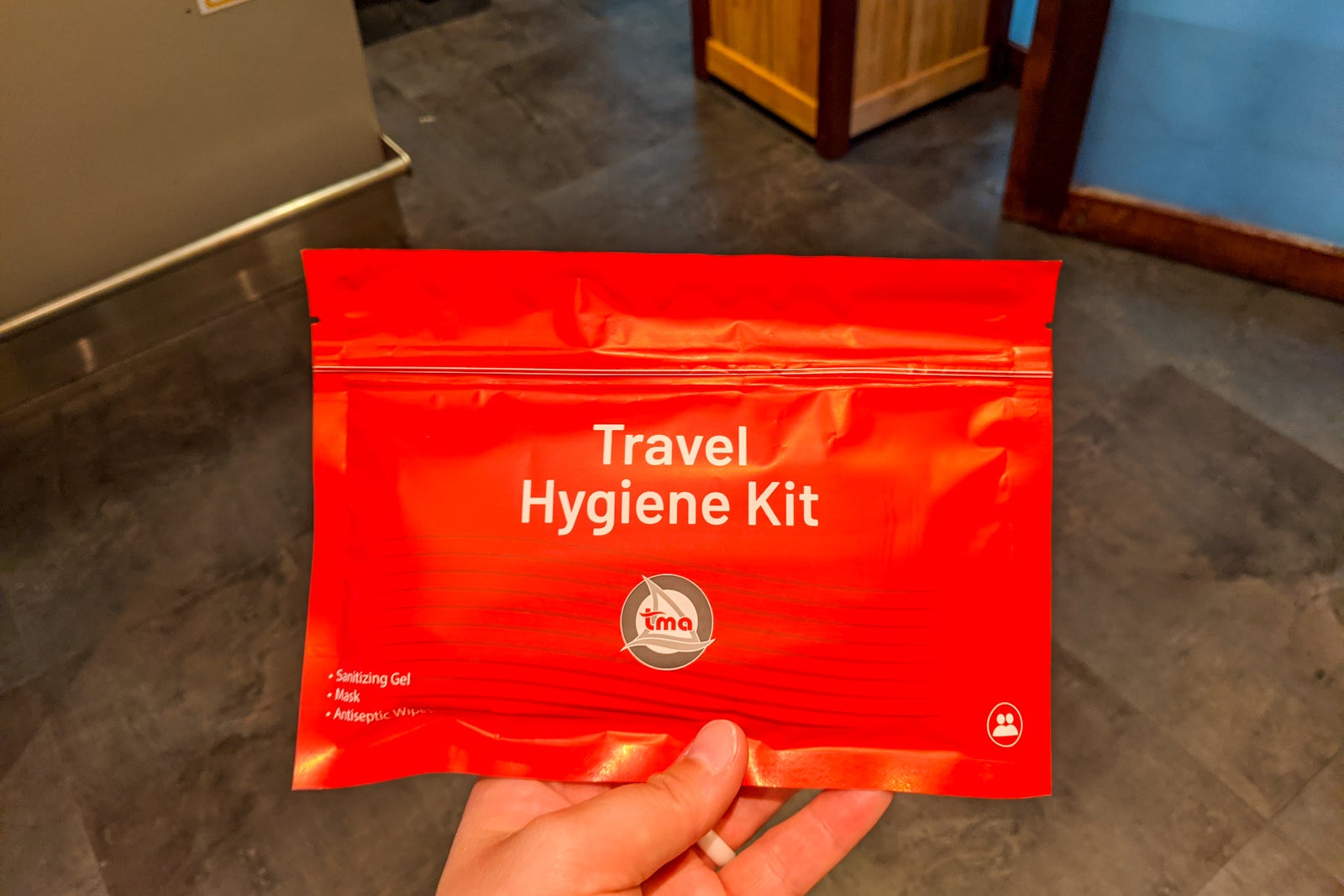 After a quick stop for ear drops at the Male airport clinic and pharmacy, we got into a private InterContinental van for the seven-minute drive to the seaplane terminal. The van was stocked with water, mints, Wi-Fi and wipes.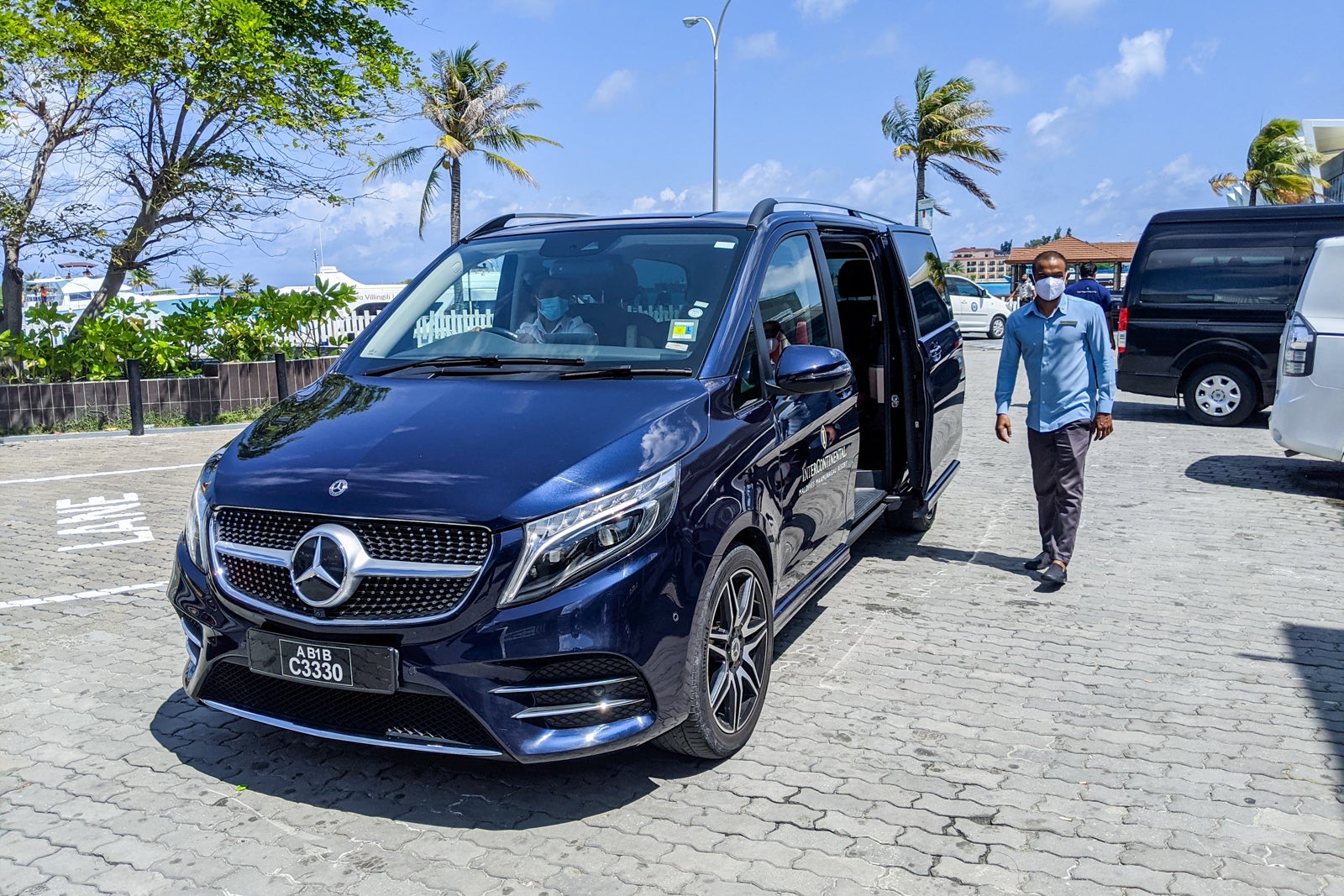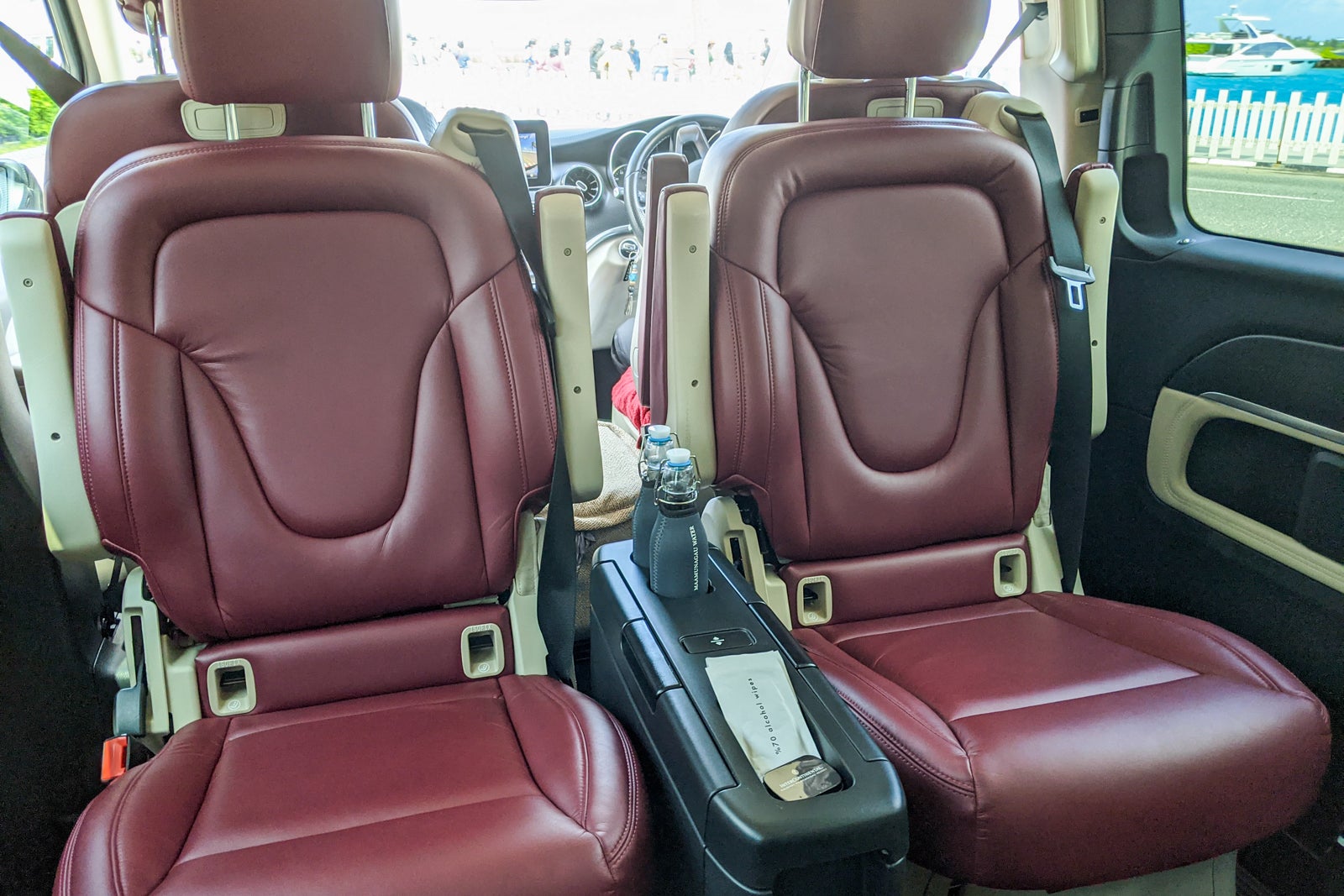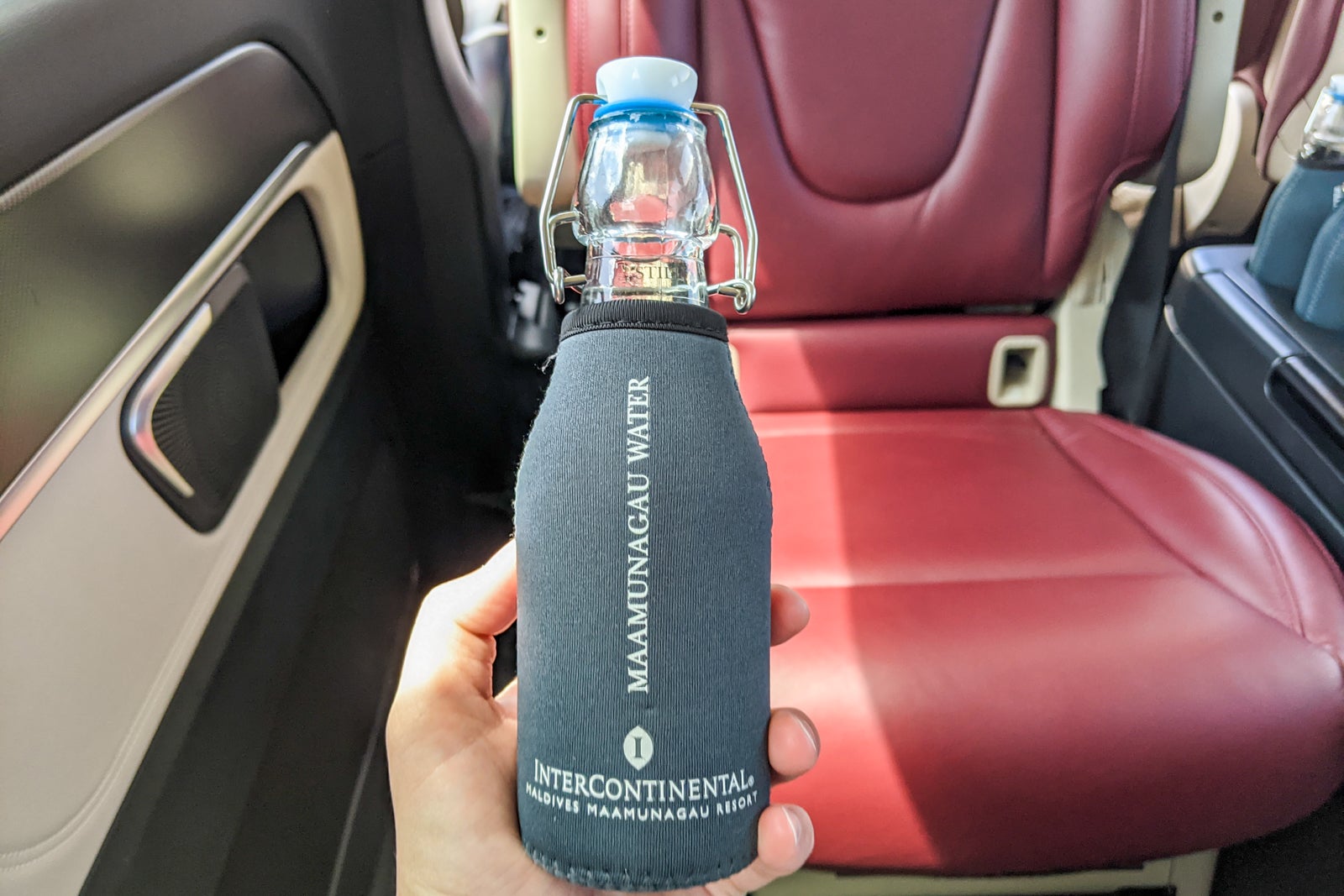 Once at the seaplane terminal, the InterContinental representative led us into a building and up to the second floor, where there was a small but dedicated InterContinental lounge. The 10-seat lounge offered views of Male international airport and an espresso machine, fruit and cookies. We presented our passports and filled out registration documents while we waited so we'd be able to go straight to our villa when we reached the resort.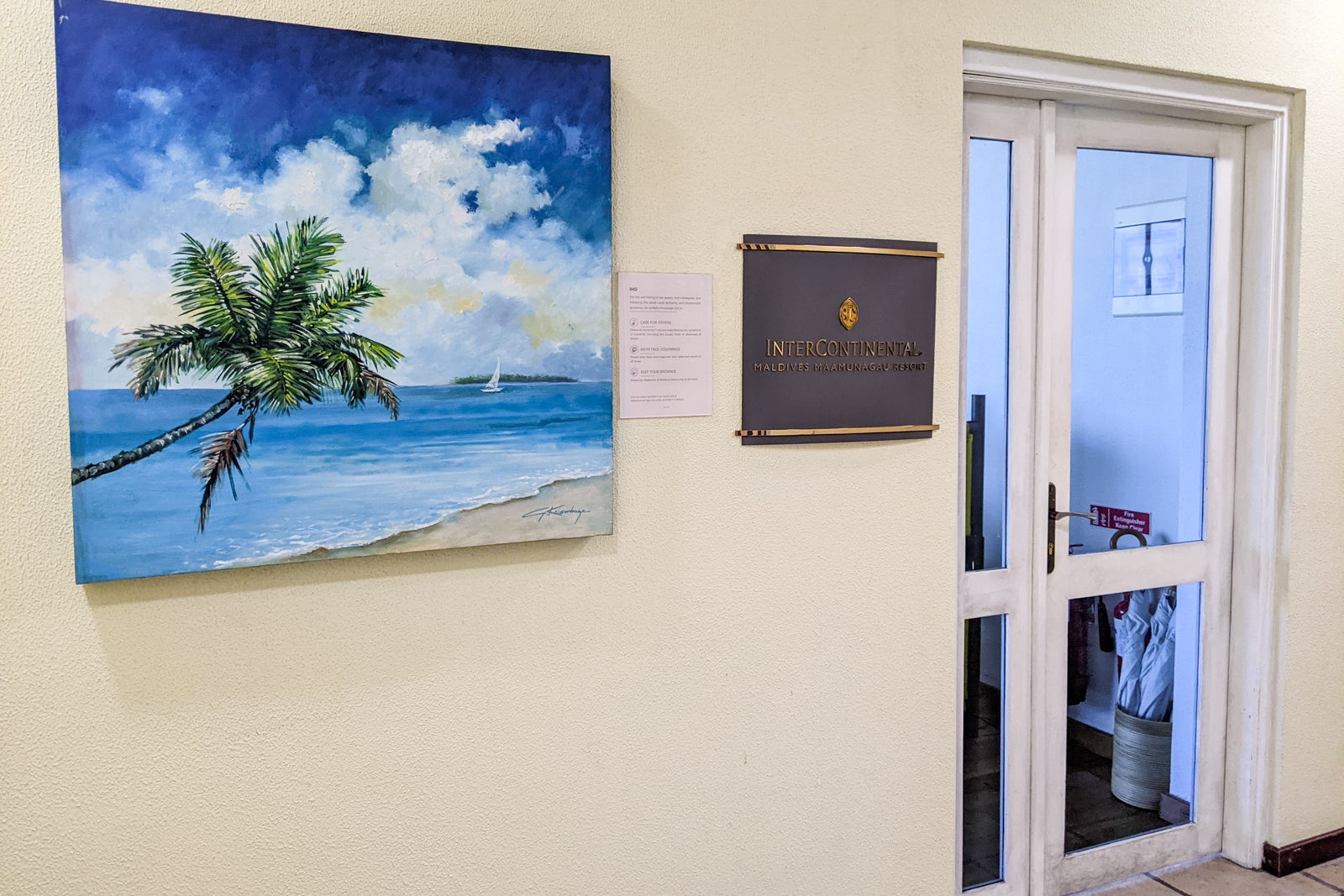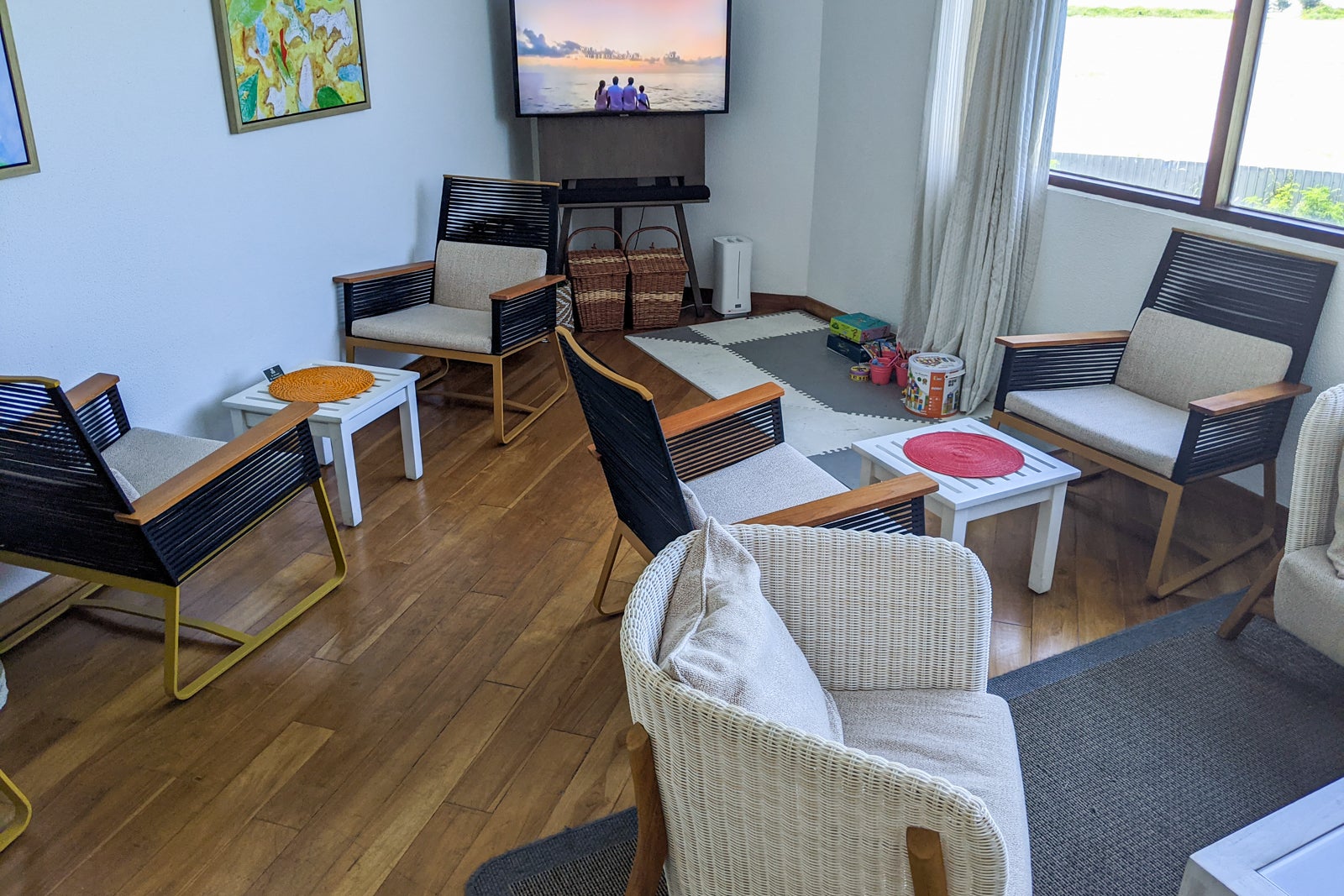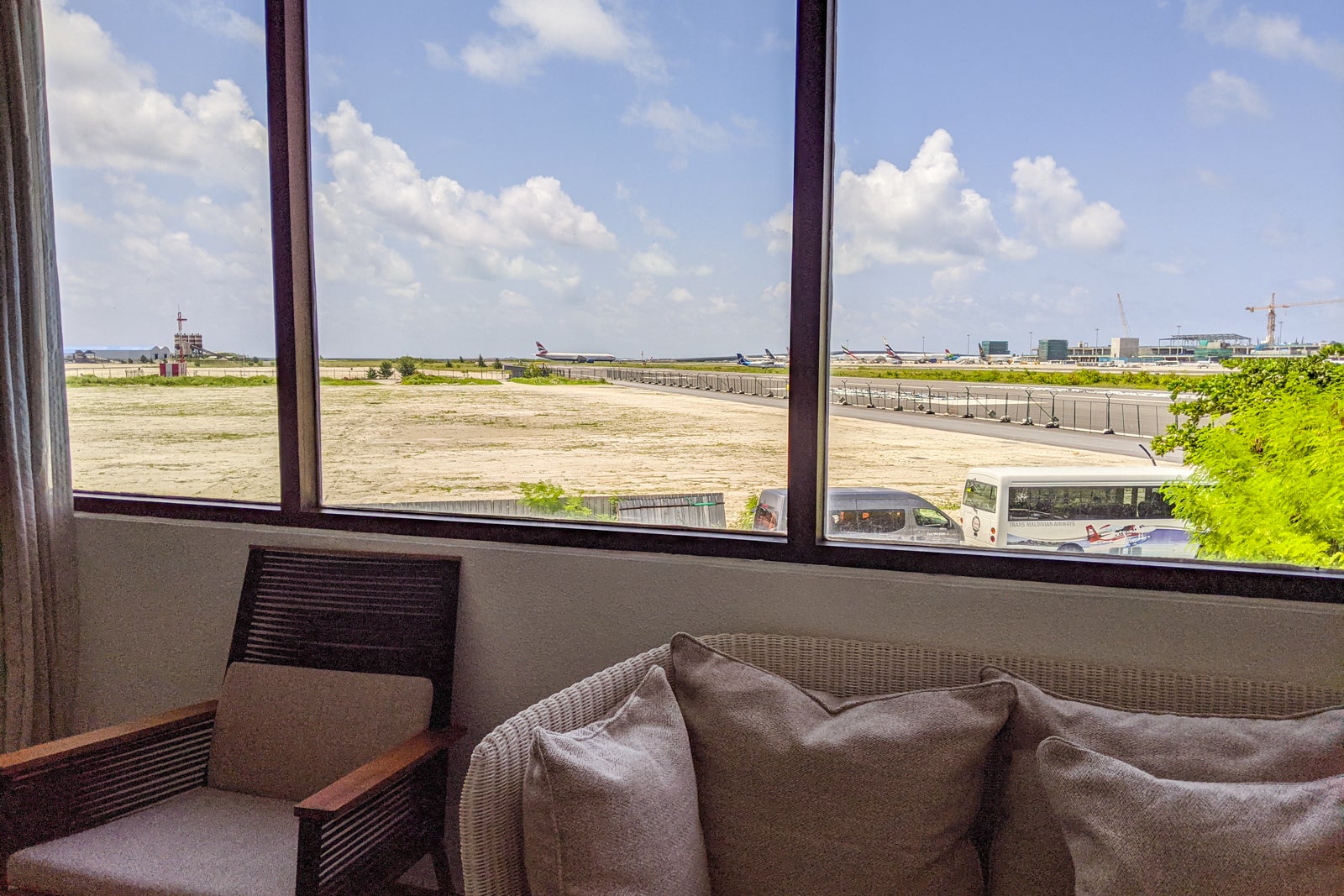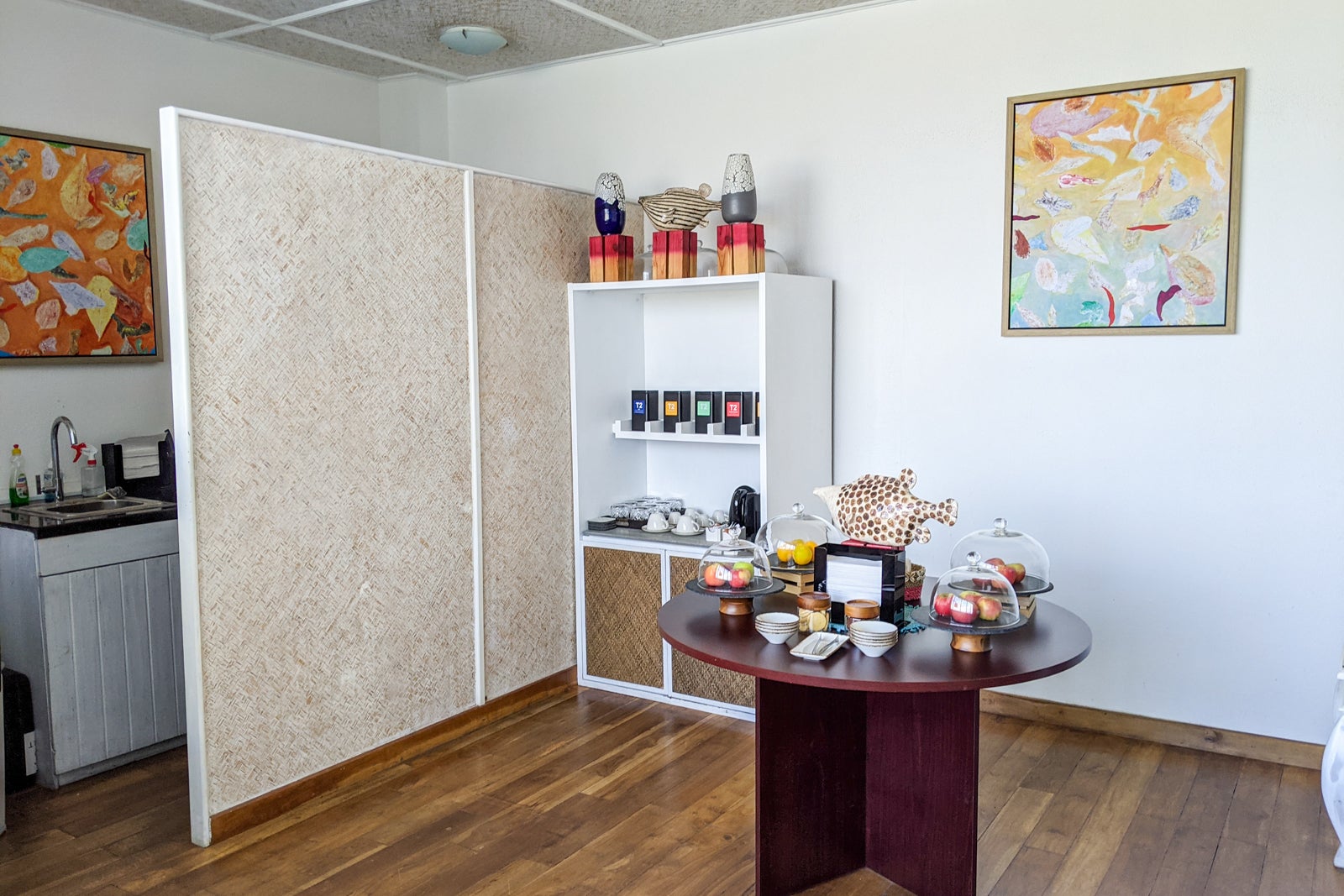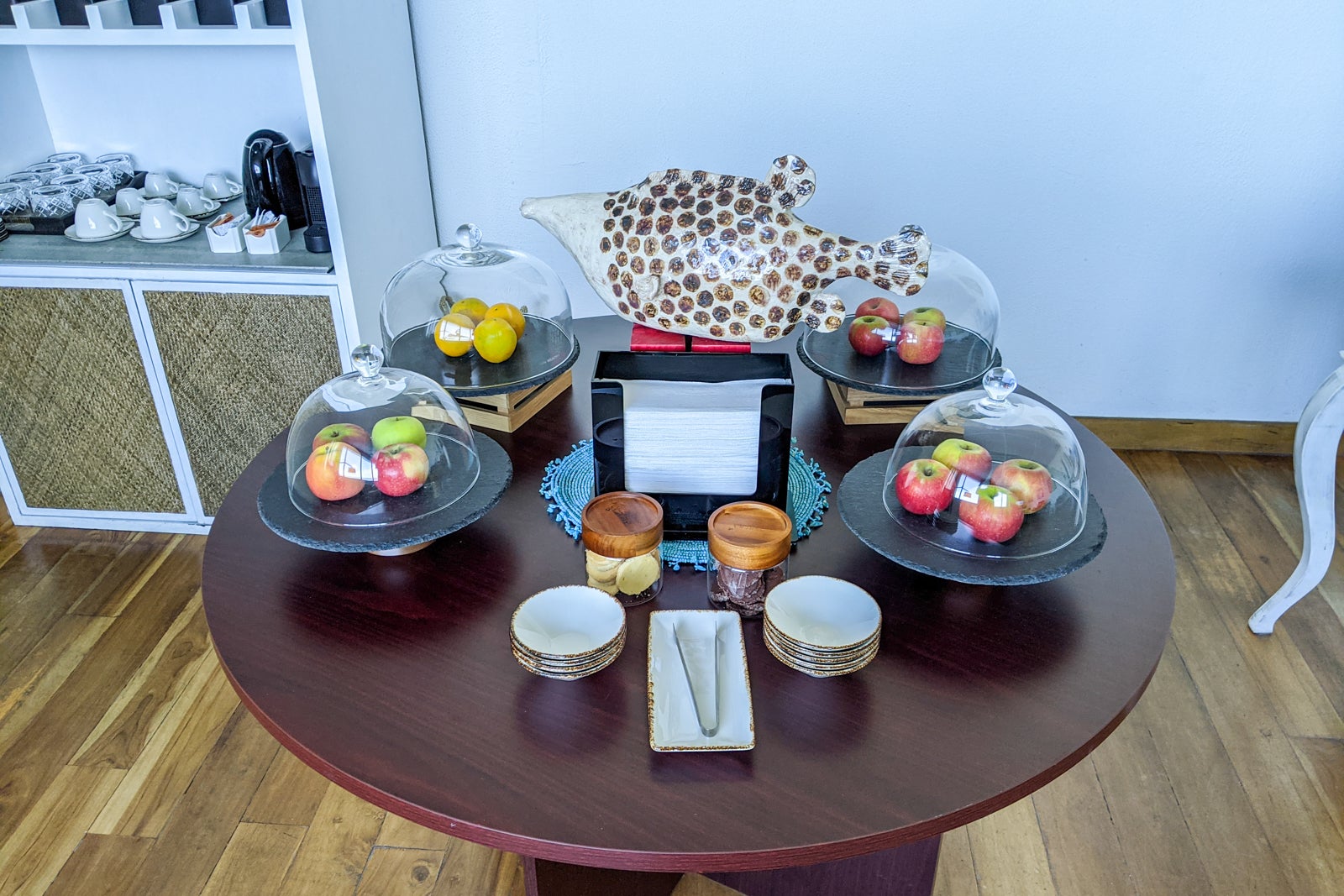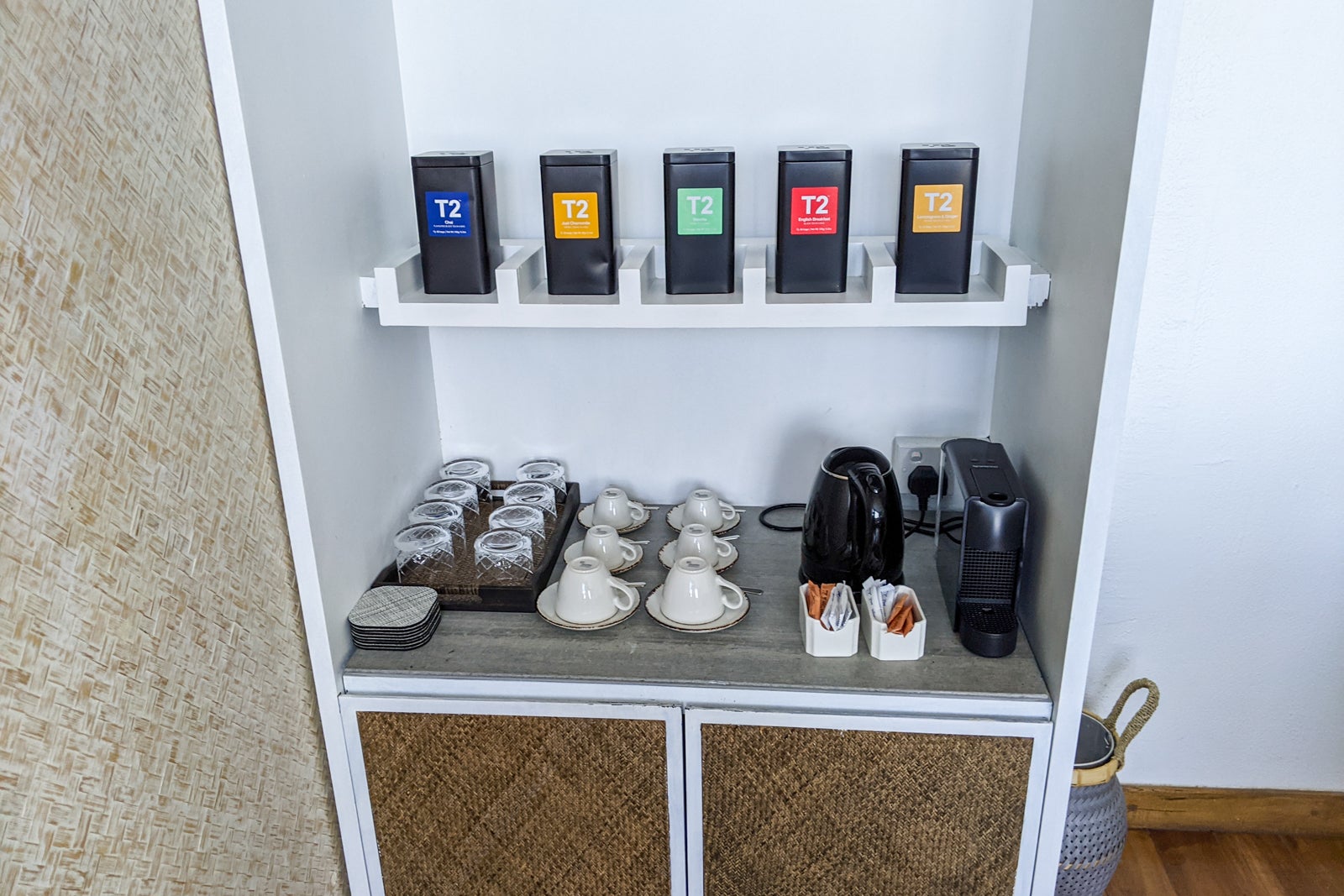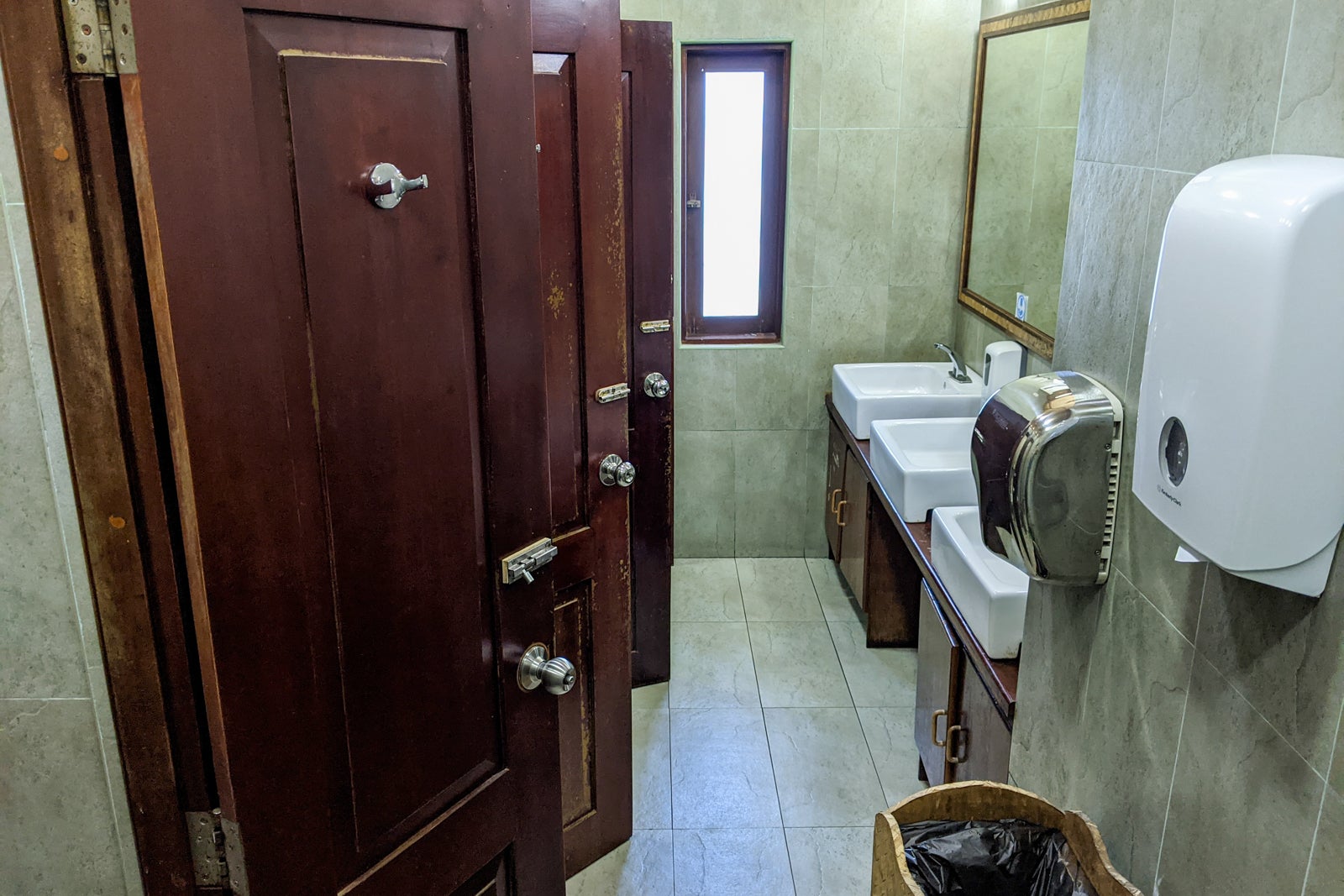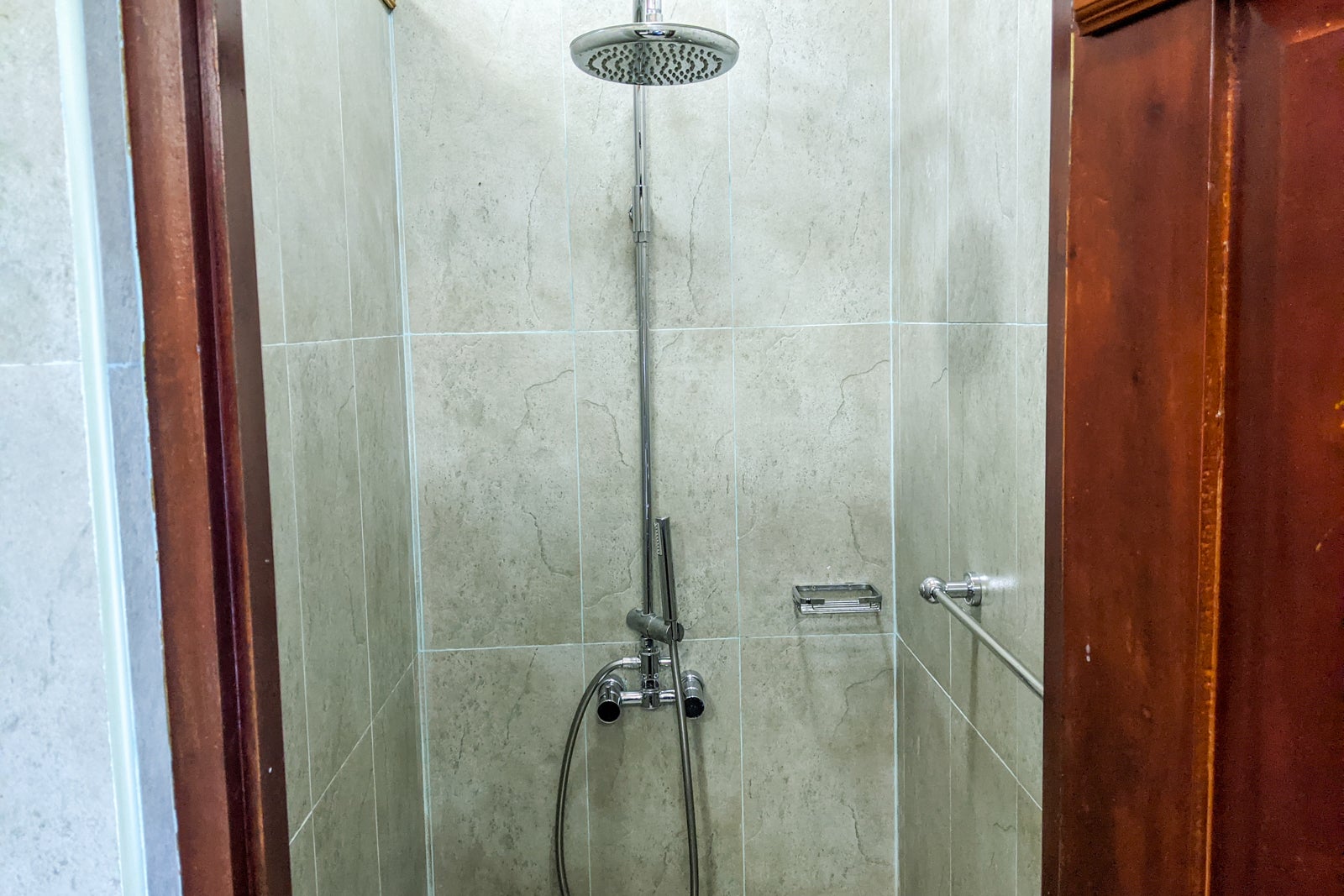 While our seaplane to the resort was scheduled for 11:15 a.m., the departure was pushed multiple times as we waited for another family to arrive. The agents kept us apprised, though. The family eventually arrived, and staff told us at 12:28 p.m. that it was time to go. An agent walked us over to our pre-boarding room at the seaplane terminal.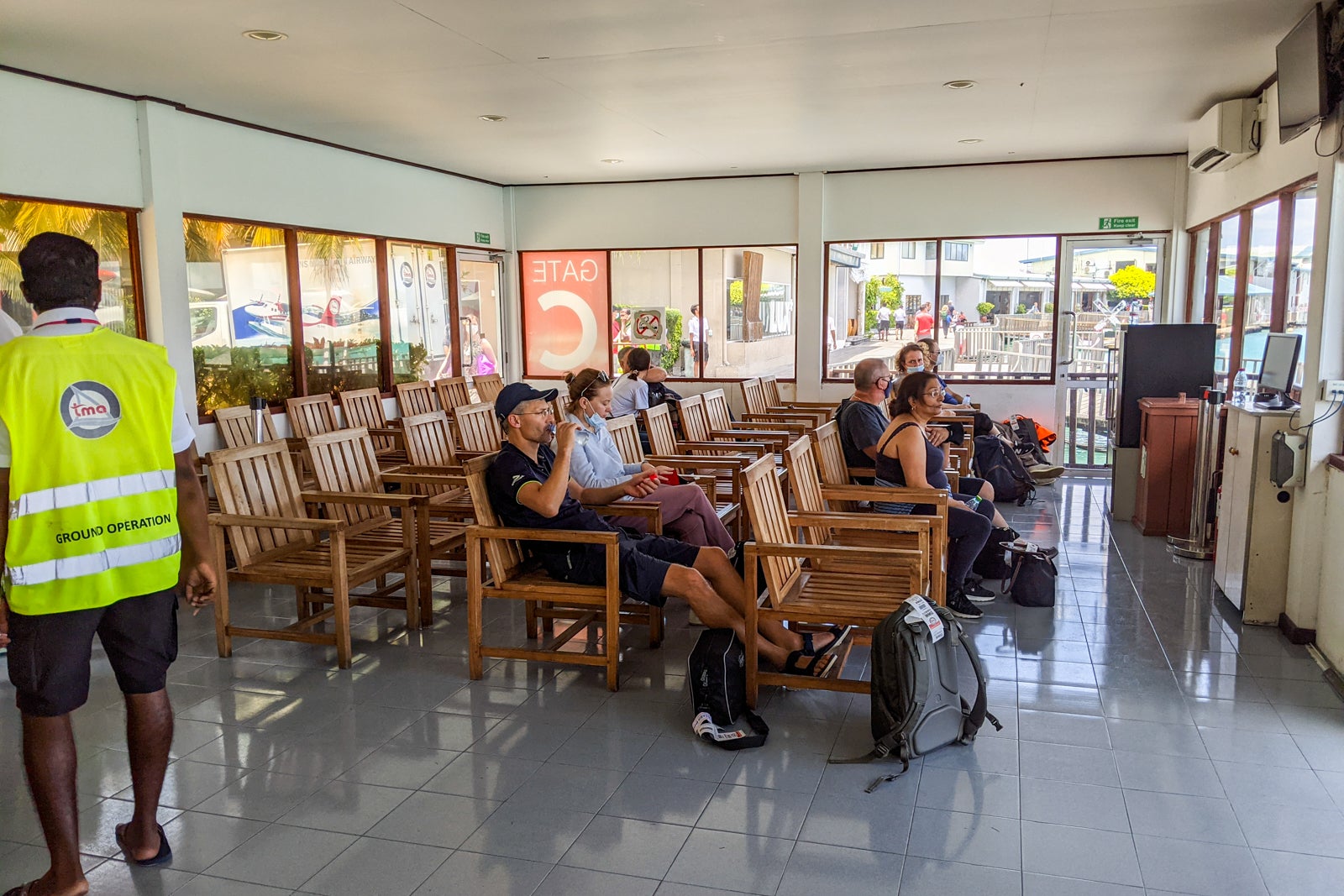 The next plane to be called was headed to the InterContinental and another island. We followed a ground agent to our waiting seaplane and snagged window seats on the single-row-seating side of the aircraft. Then we had a 51-minute flight to the InterContinental.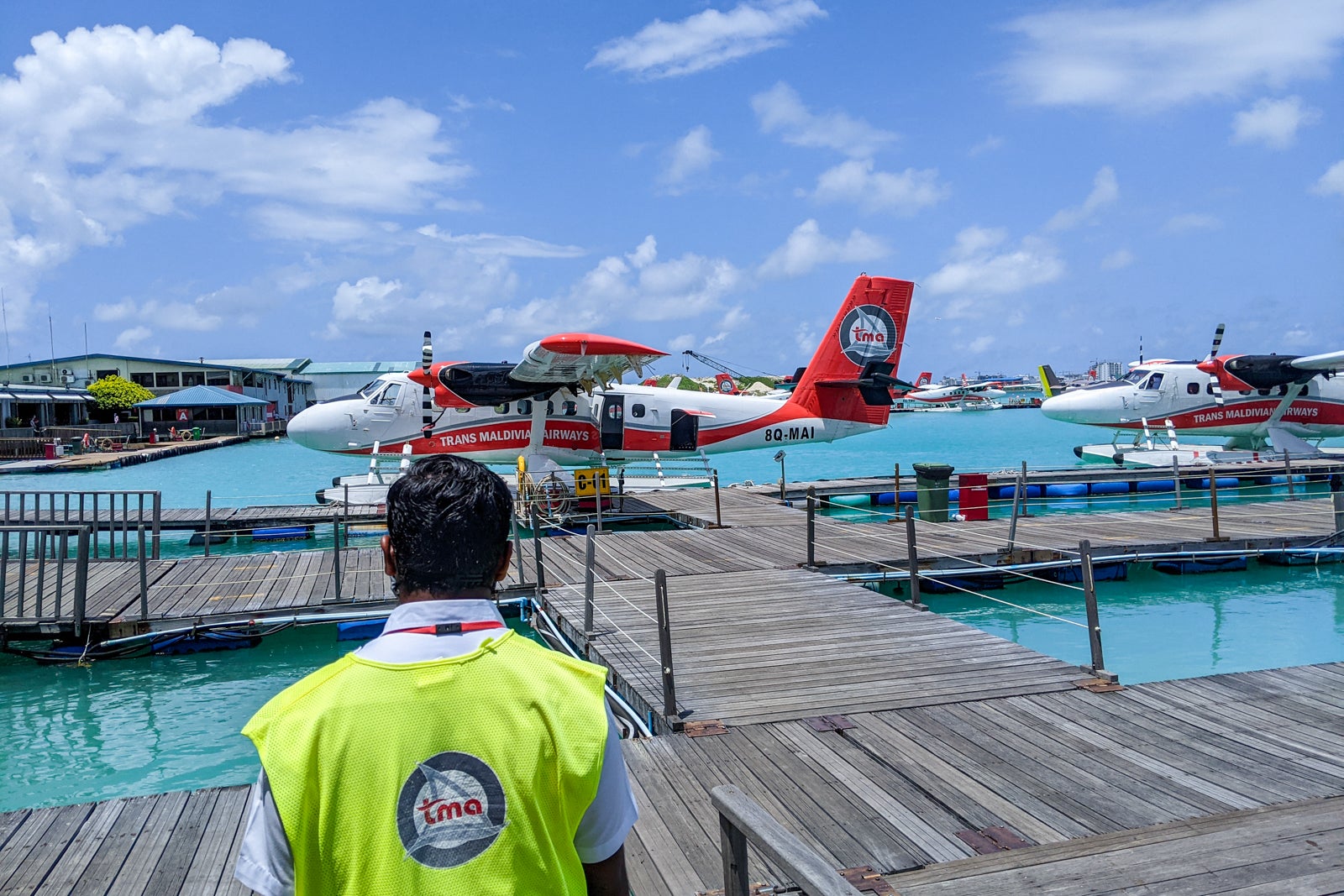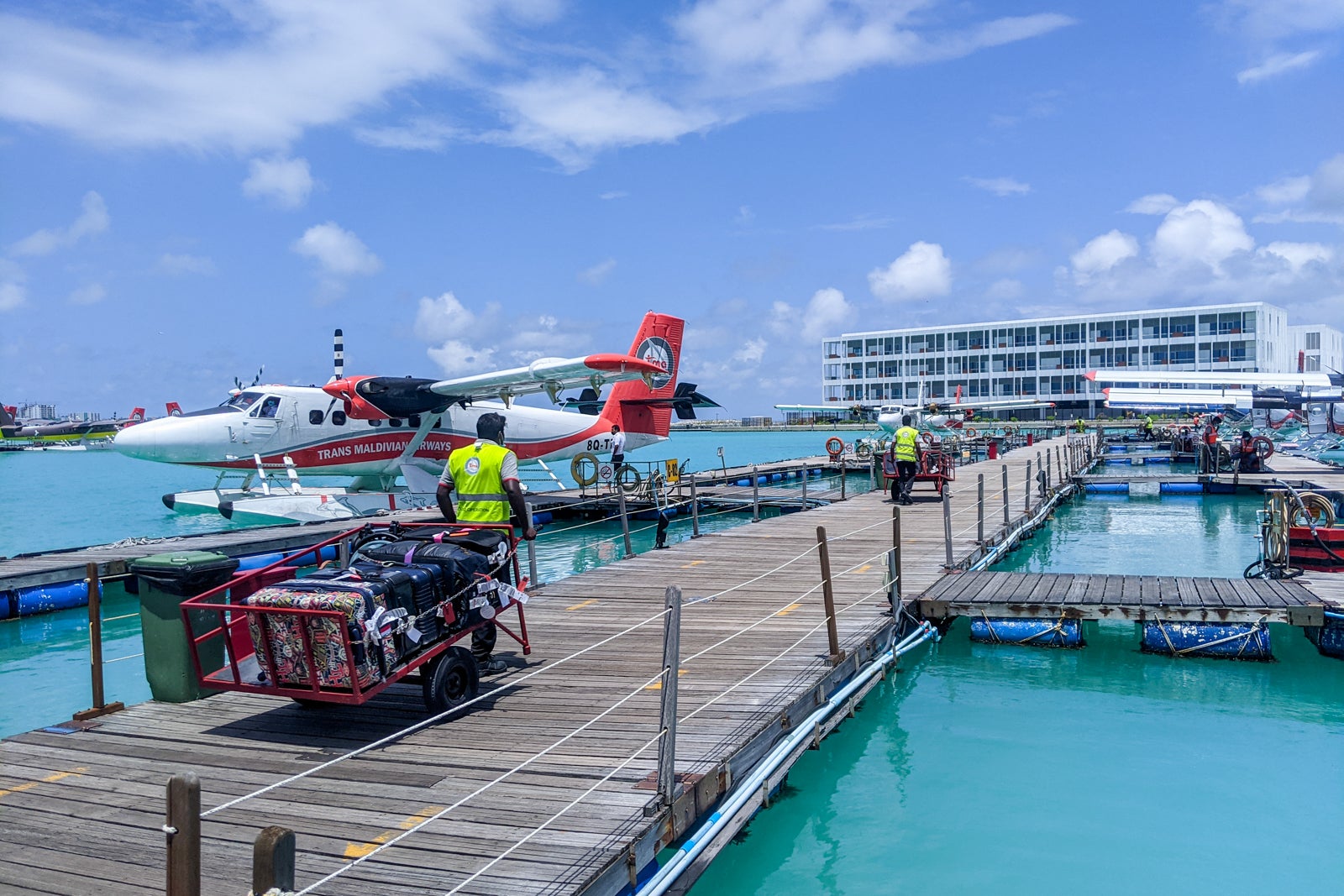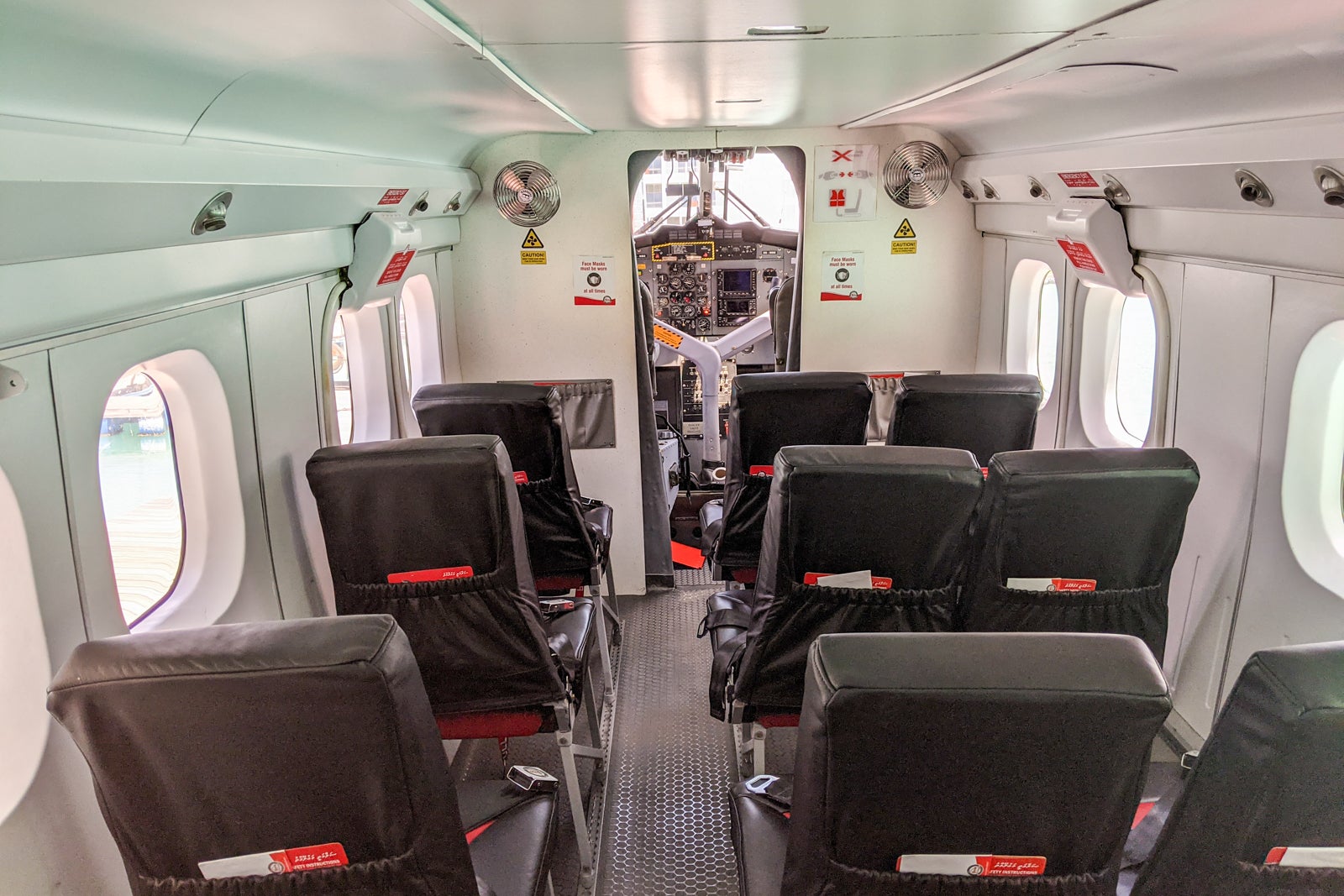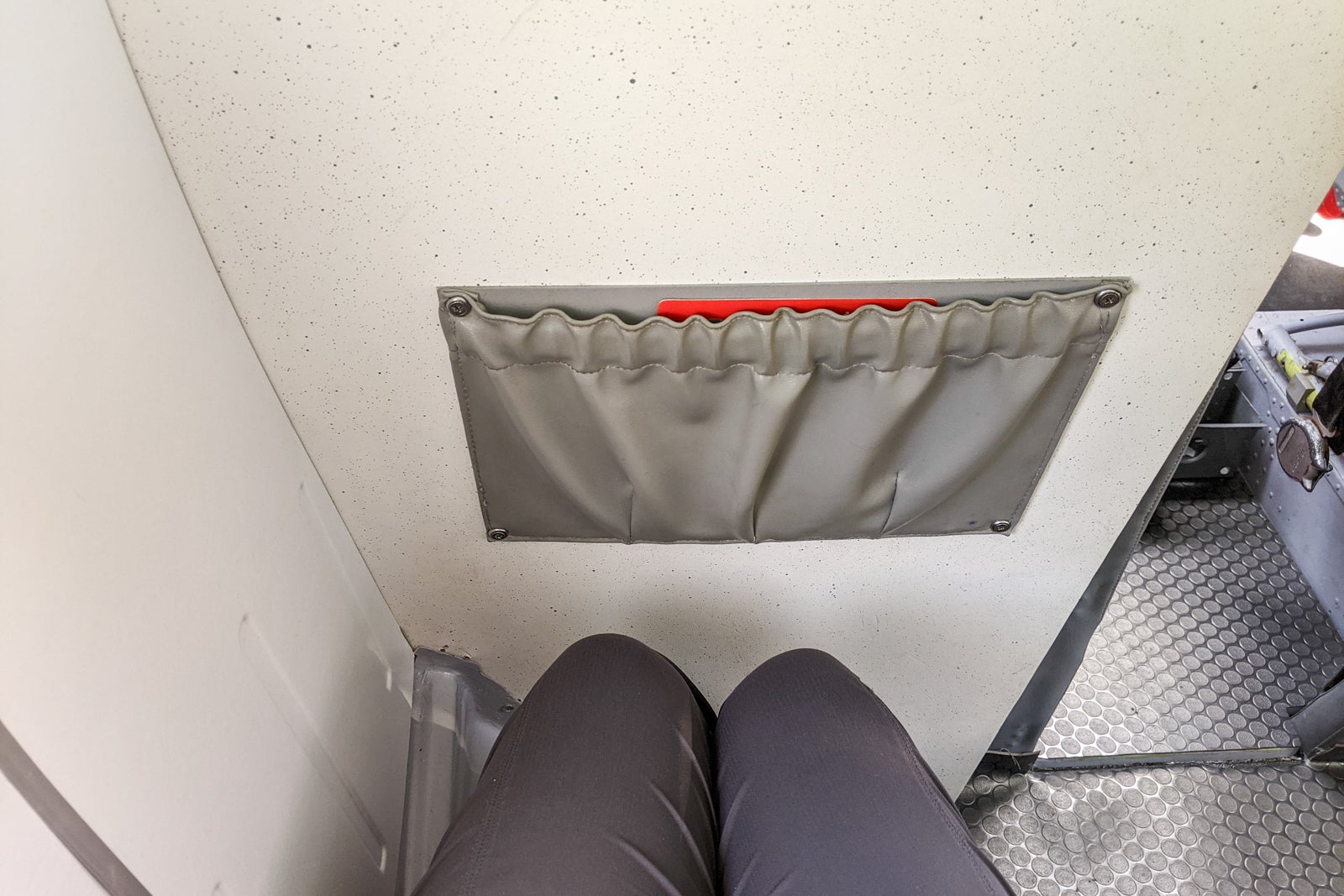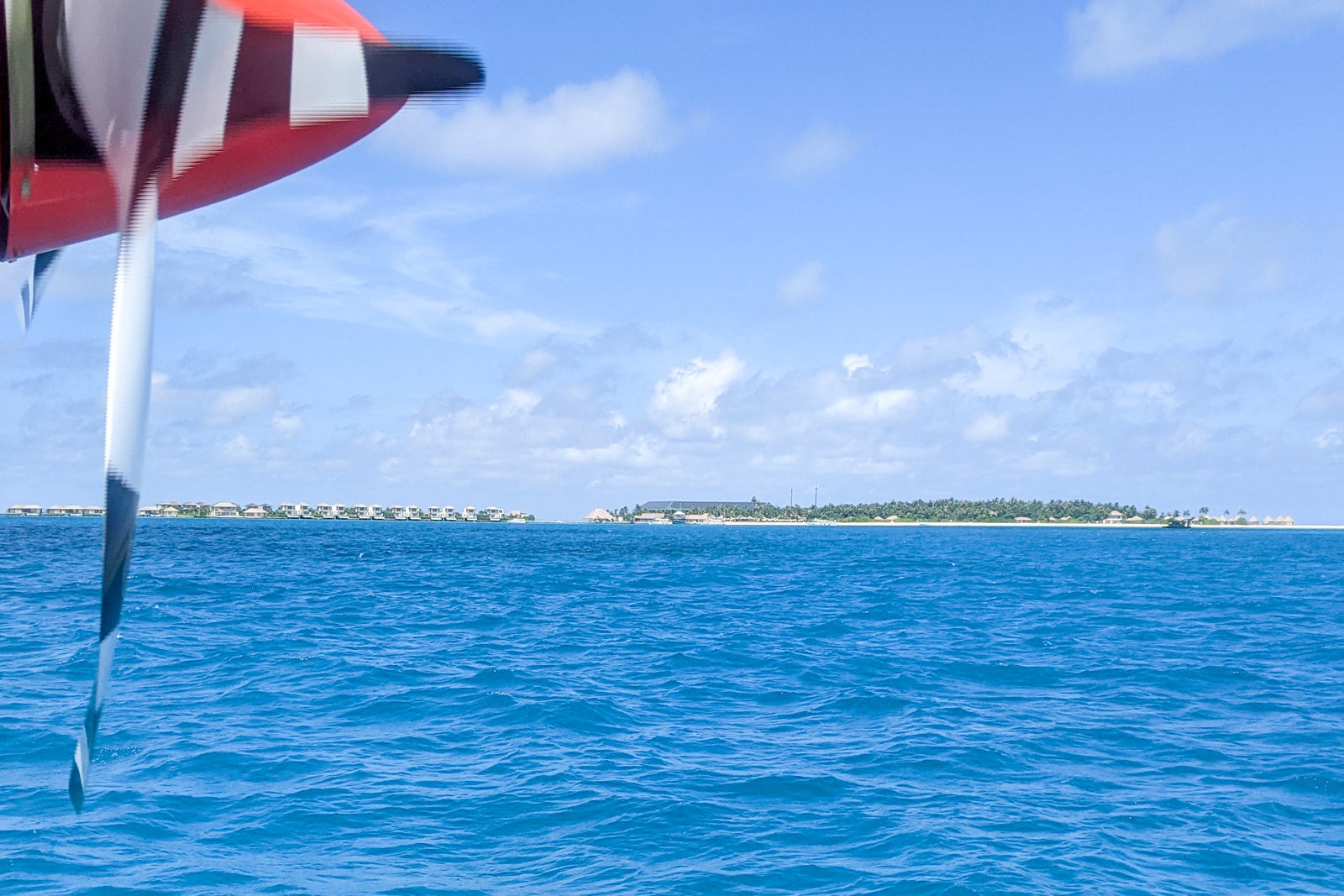 Once there, as I mentioned above, we disembarked onto a rocking seaplane dock. We held onto a bar in the middle of the tilting platform until an InterContinental boat came speeding over to pick us up. After arriving at the Le Meridien Maldives Resort & Spa and the Conrad Maldives Rangali Island via stationary seaplane docks, this was certainly a less luxurious arrival.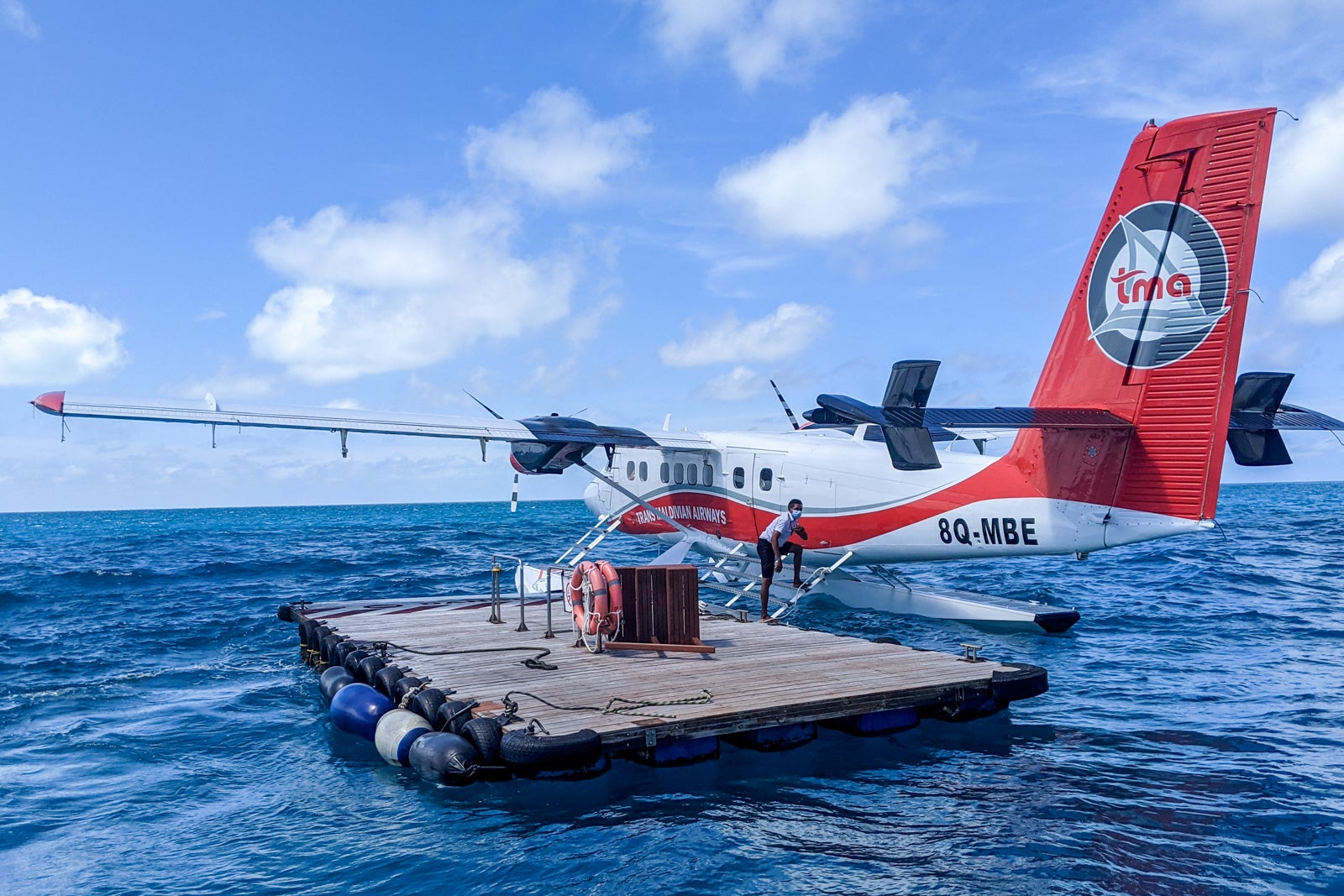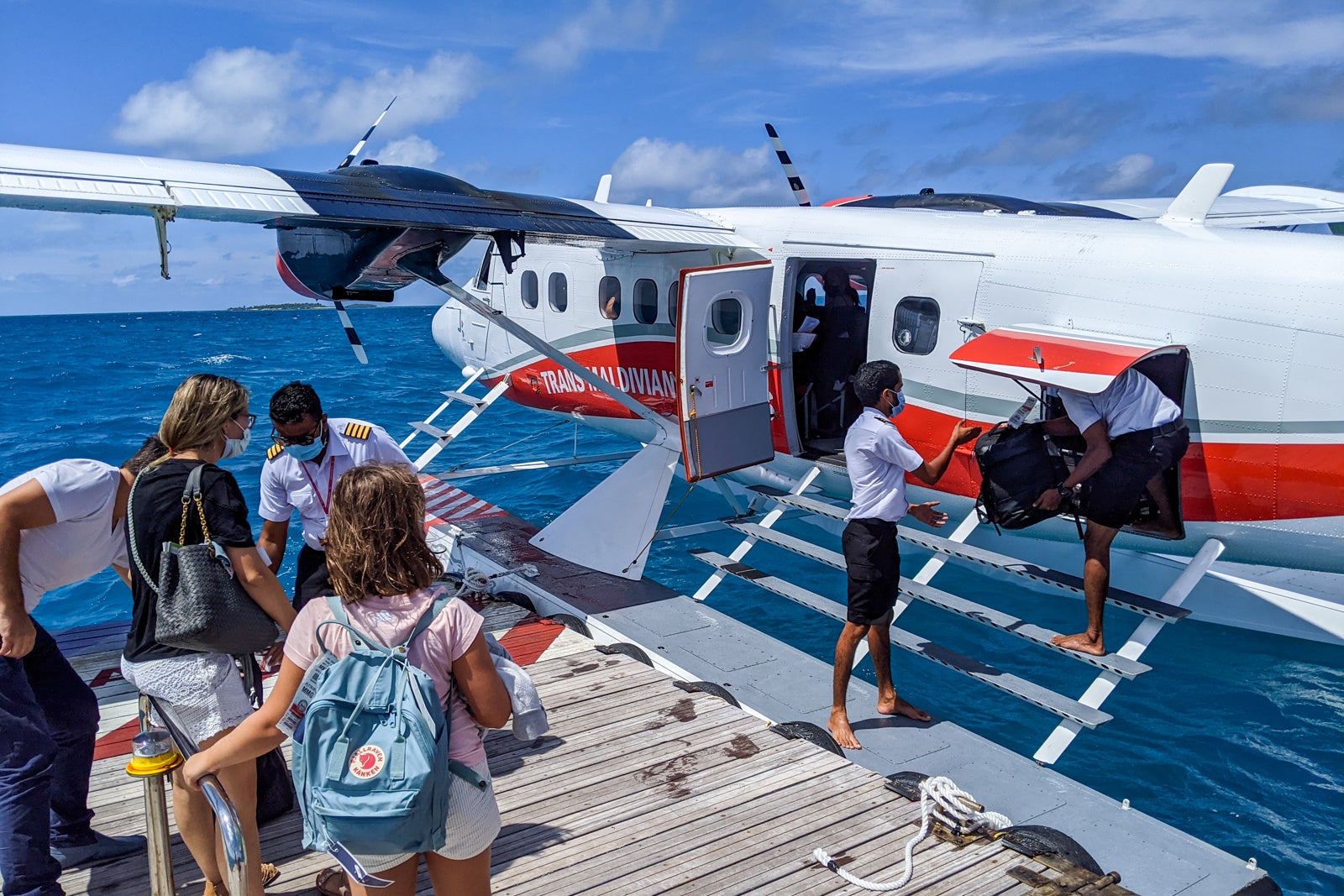 The boat ride to the resort only lasted a minute or so. Once at the dock, a few staff members and a drummer greeted us and hurried us toward the reception area for a picture. Then we were introduced to our Island Curator, who would help us throughout our stay. He started by encouraging us to get into a golf cart and asking if we'd like an island tour on our way to our villa.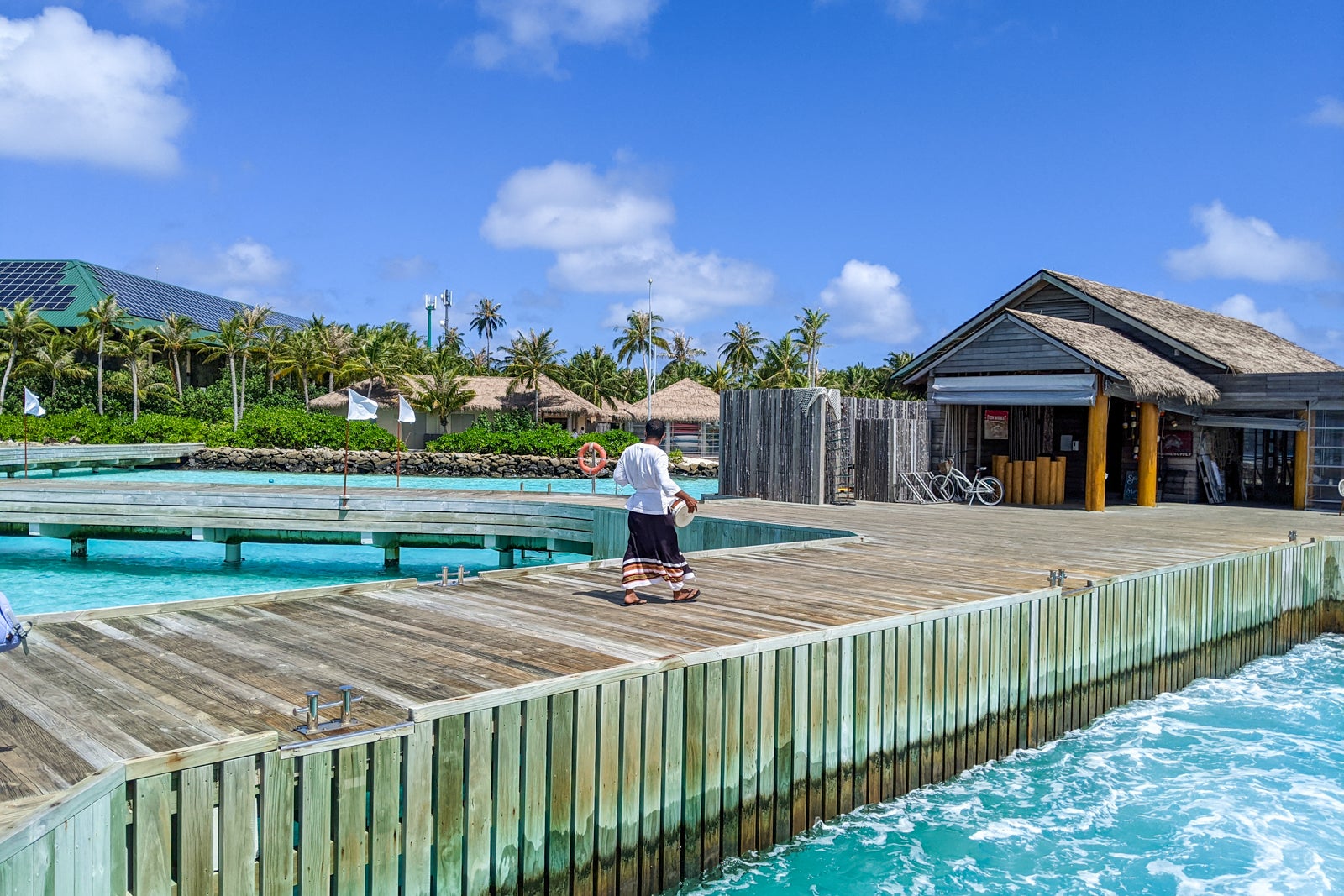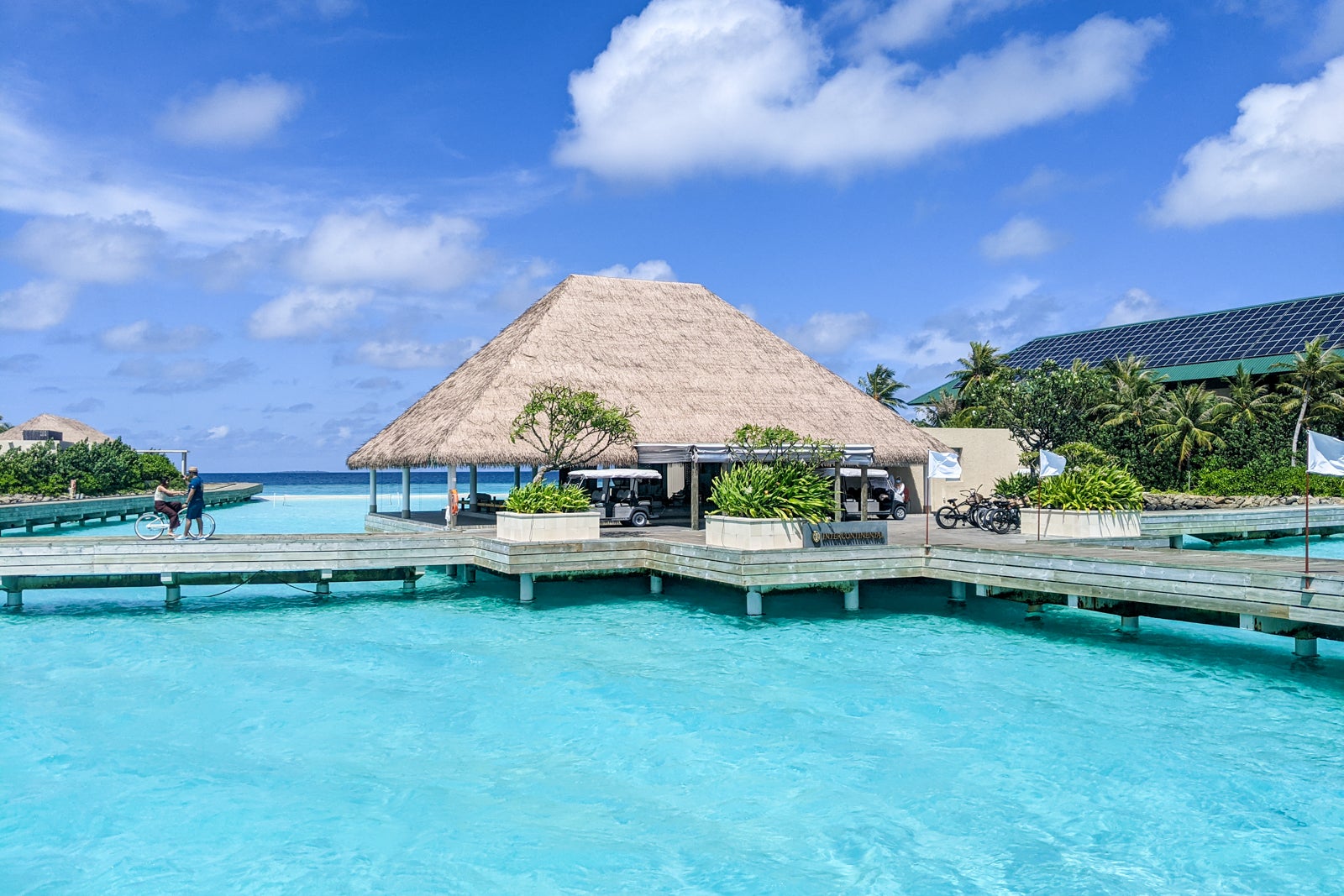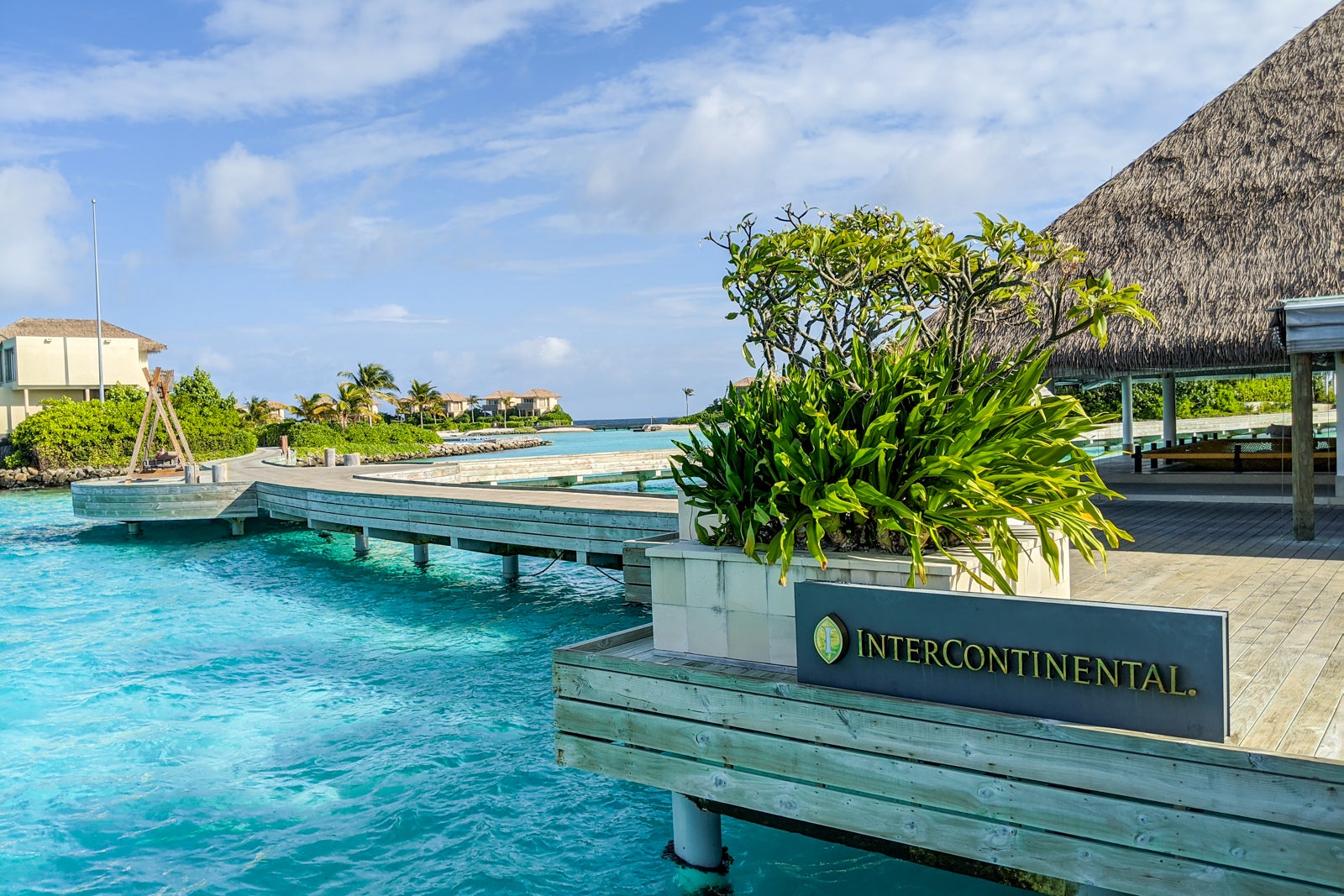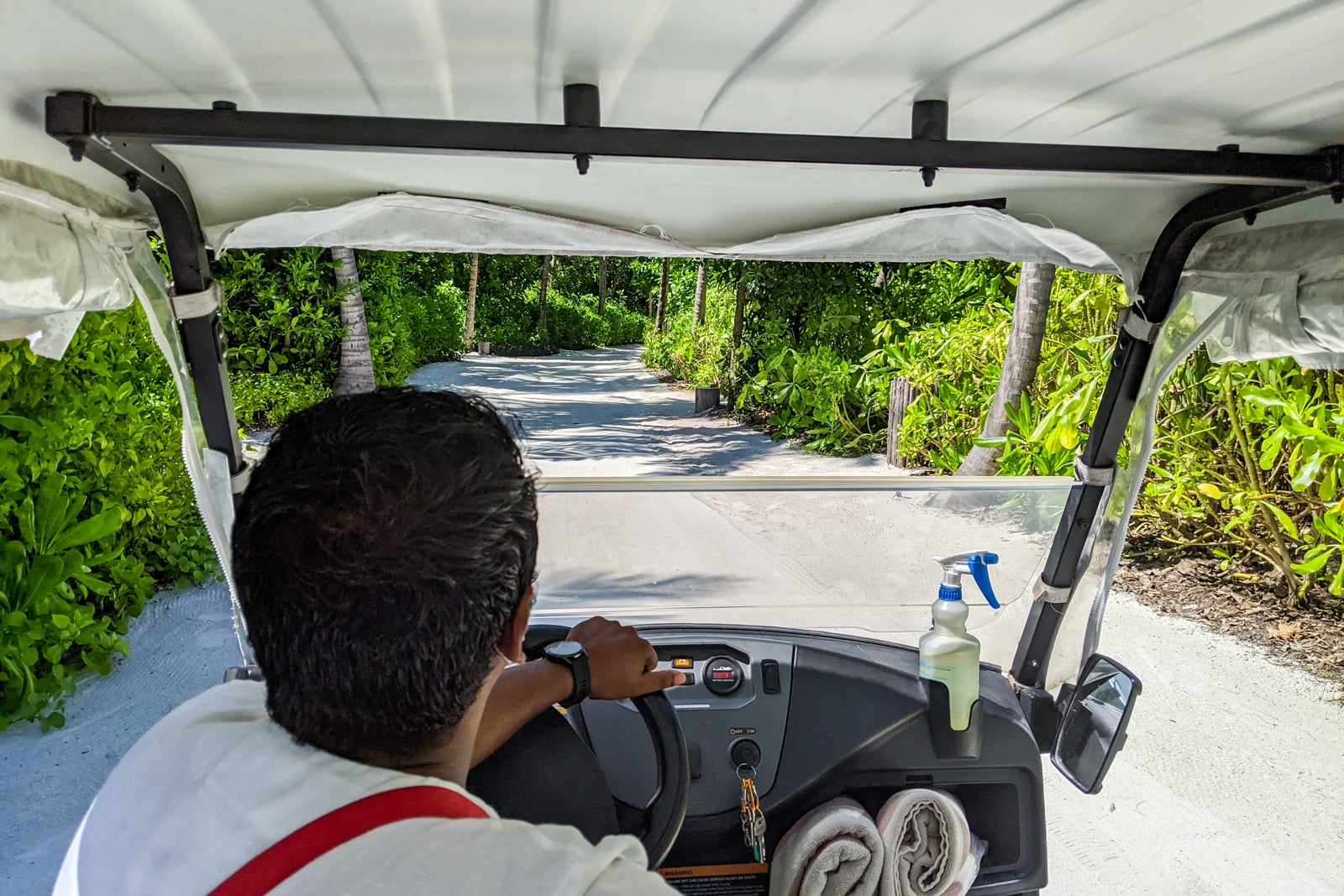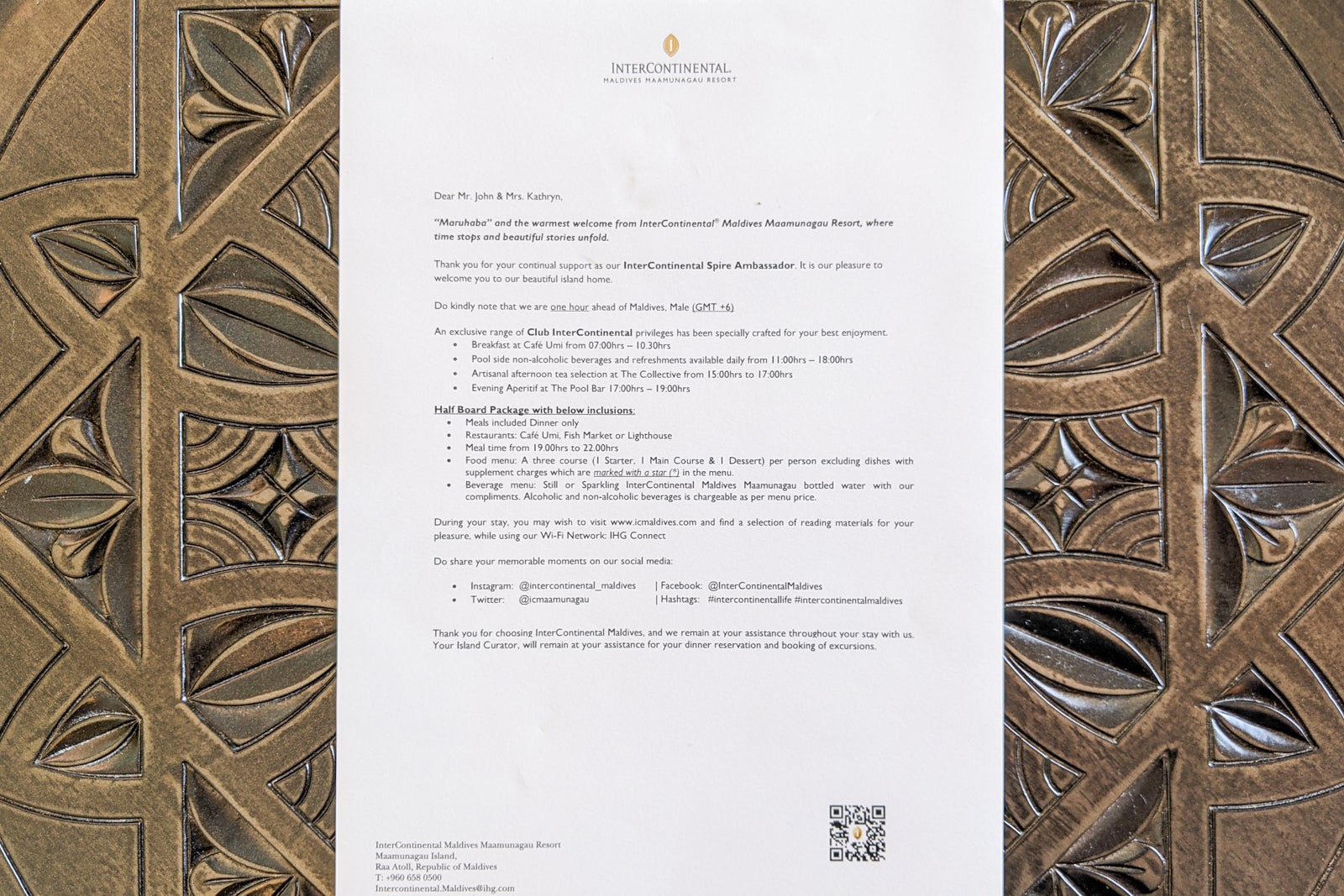 At the end of our stay, an agent came over to our villa to complete check out and take payment for our on-site purchases. He then drove us to the reception area where we waited until our seaplane landed. Then we got into a boat for a longer and rougher nine-minute boat ride to a different floating seaplane dock on the other side of the island.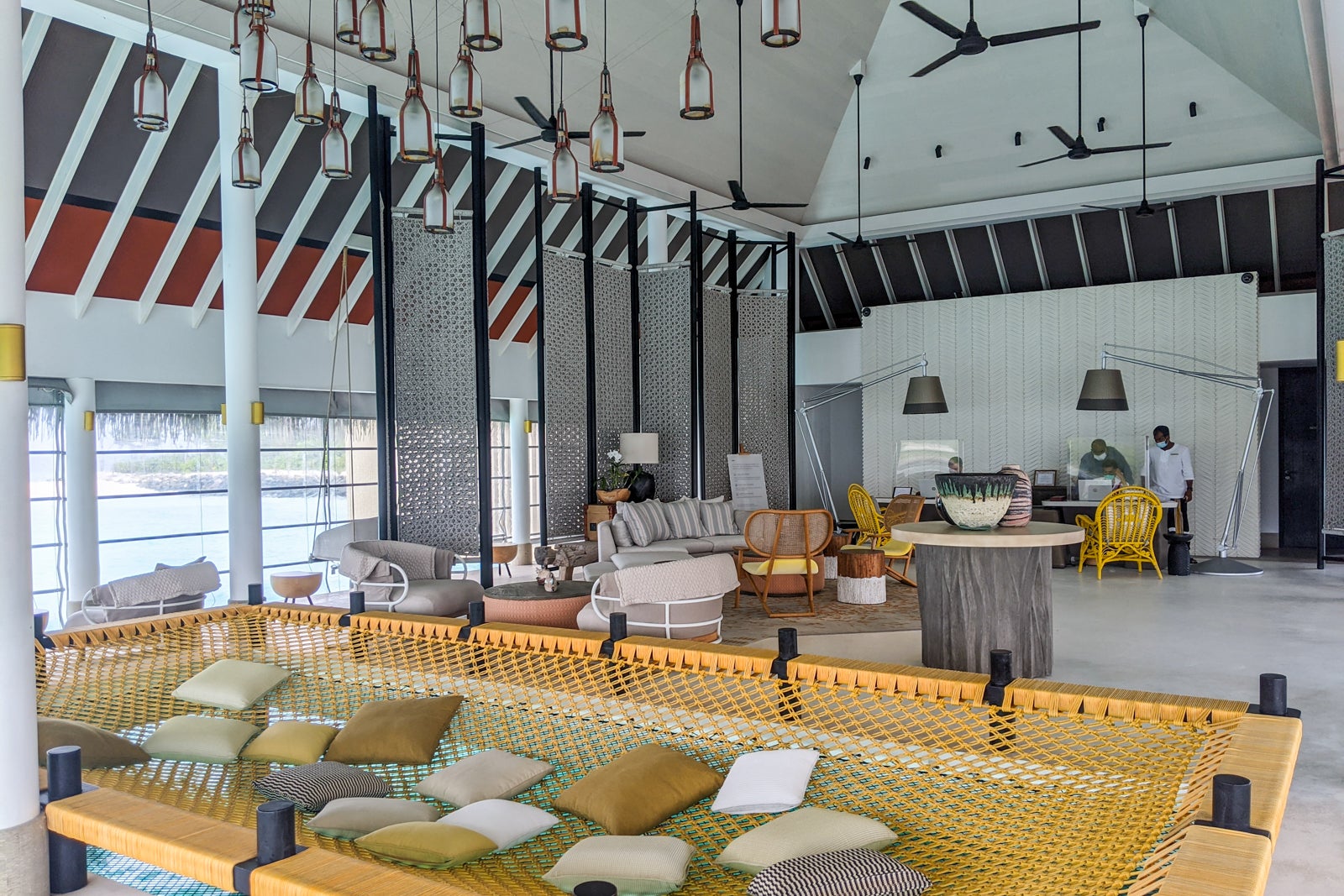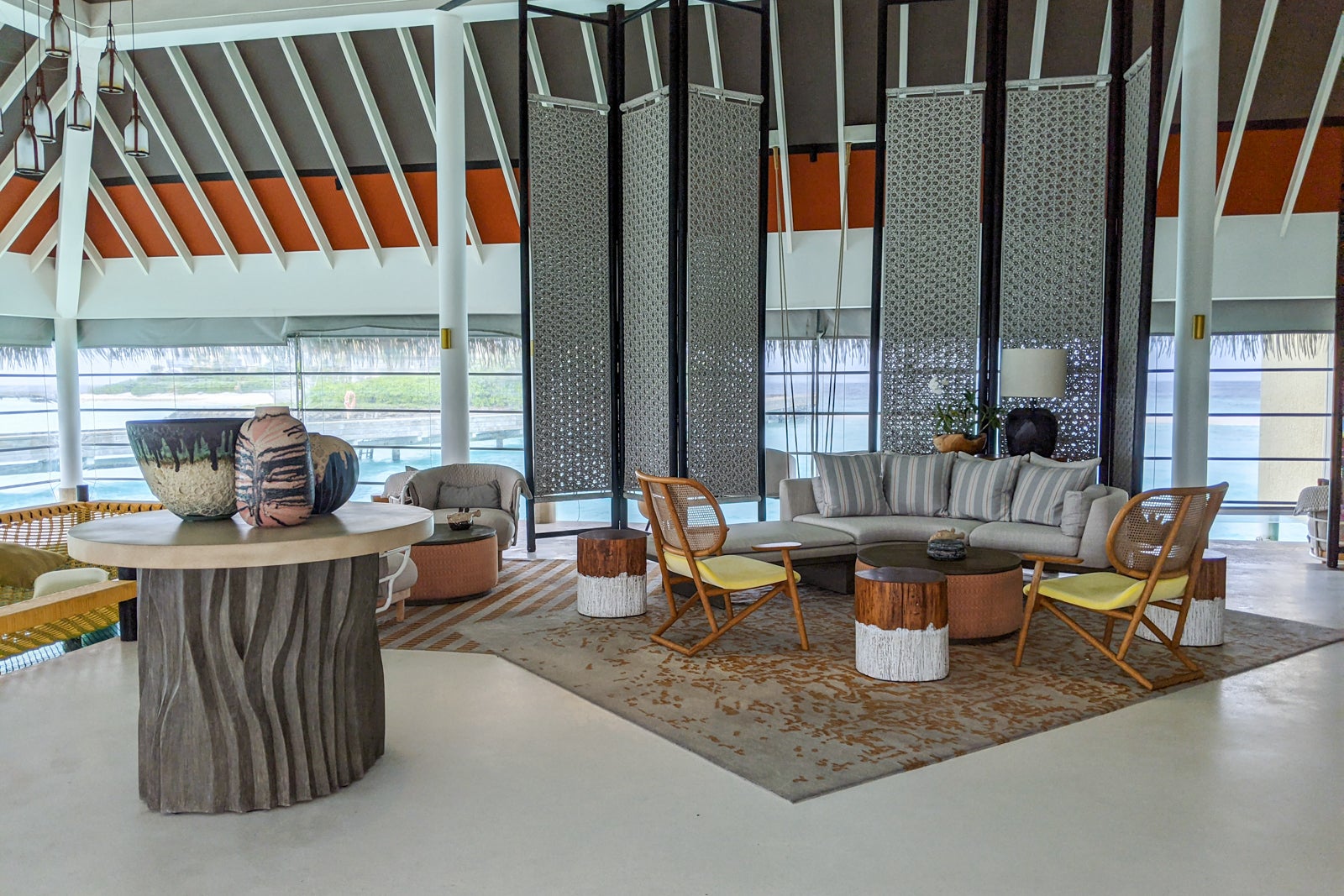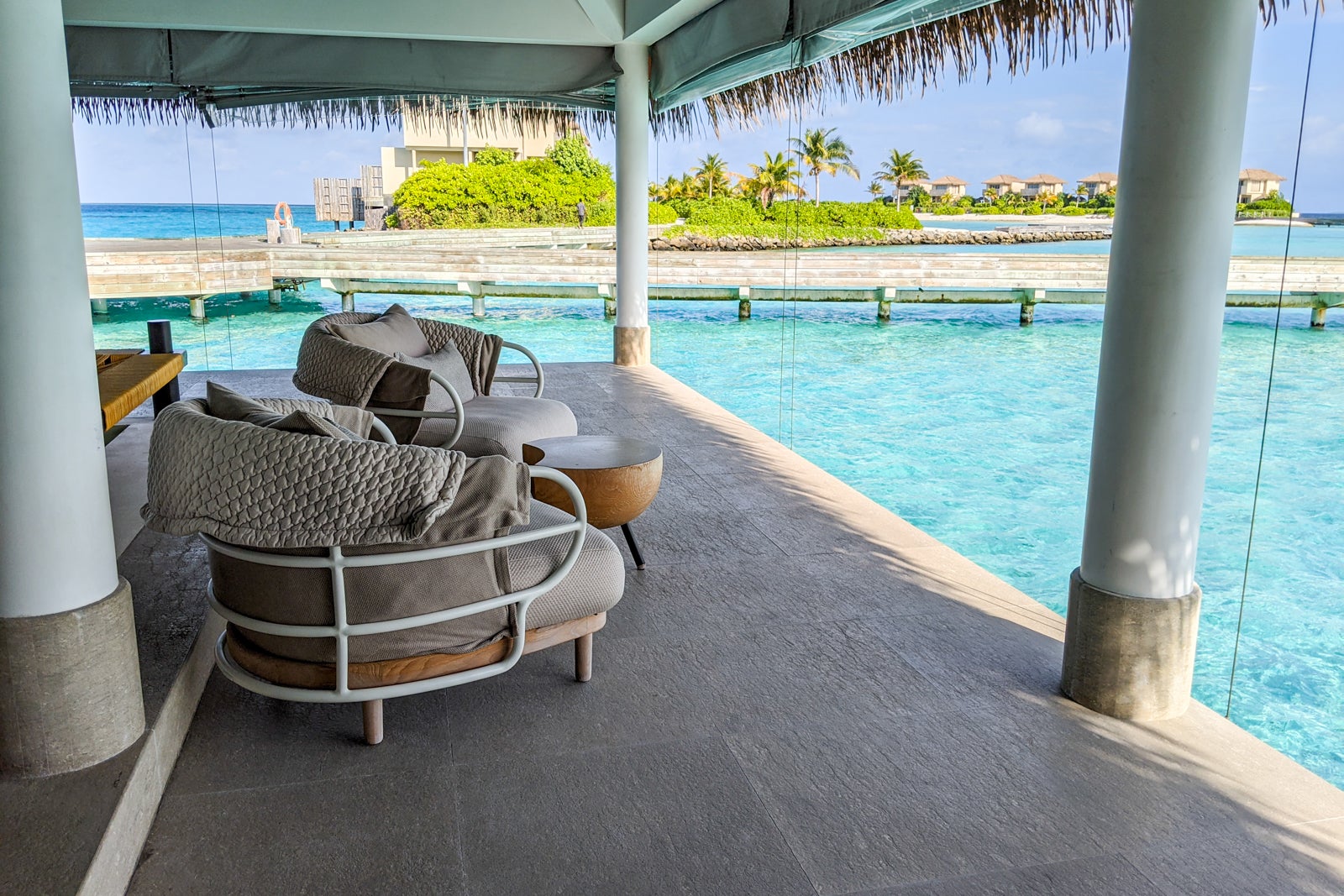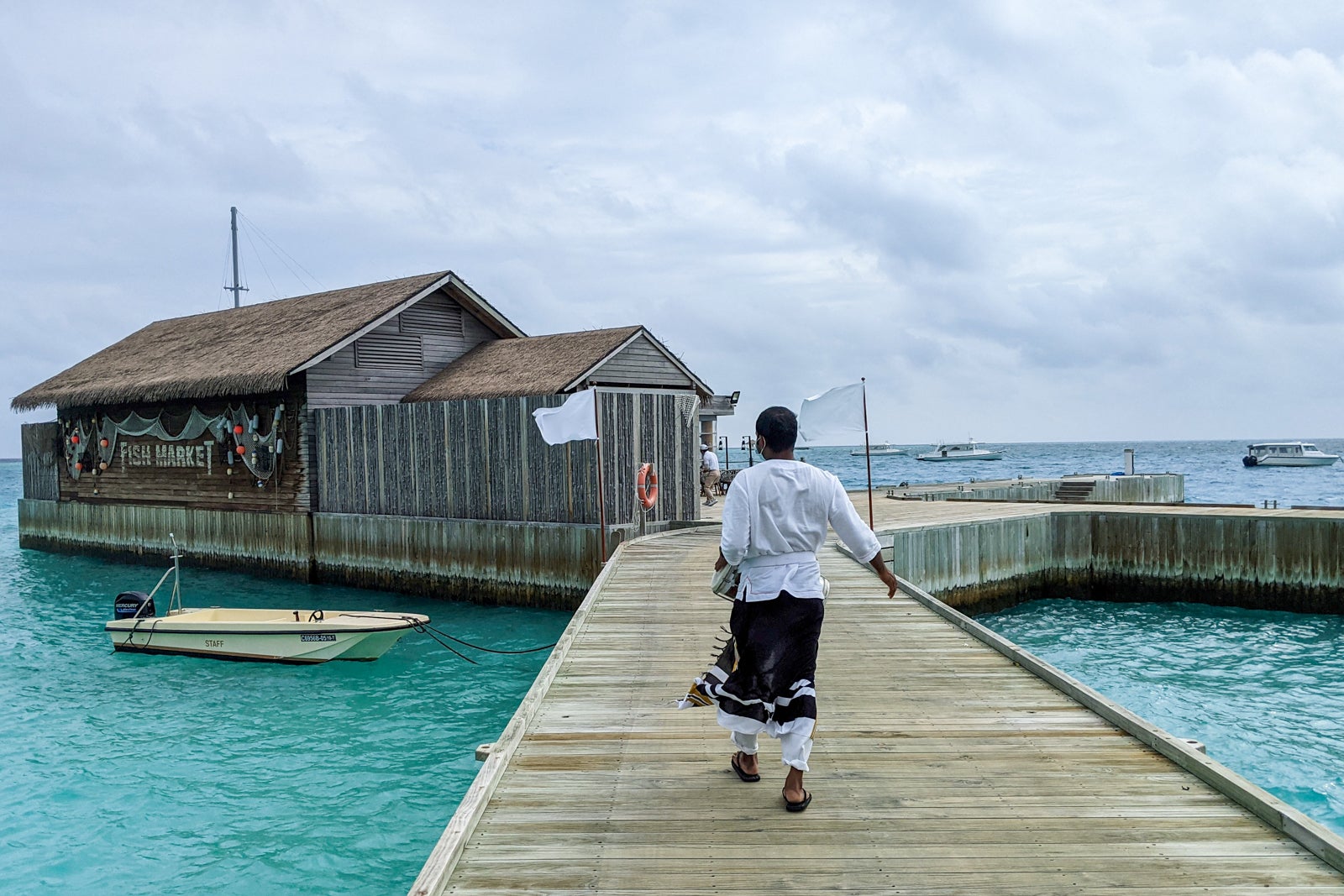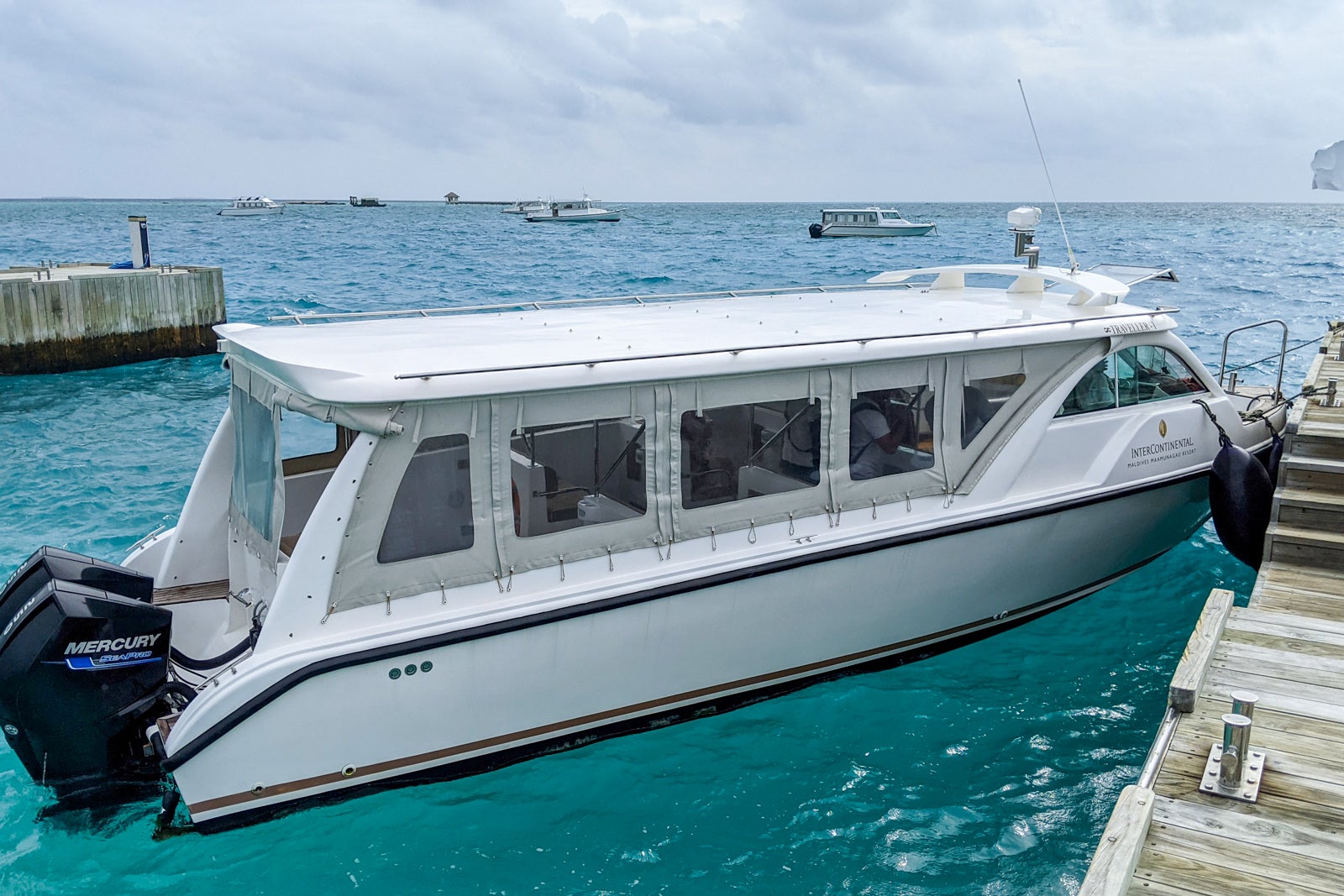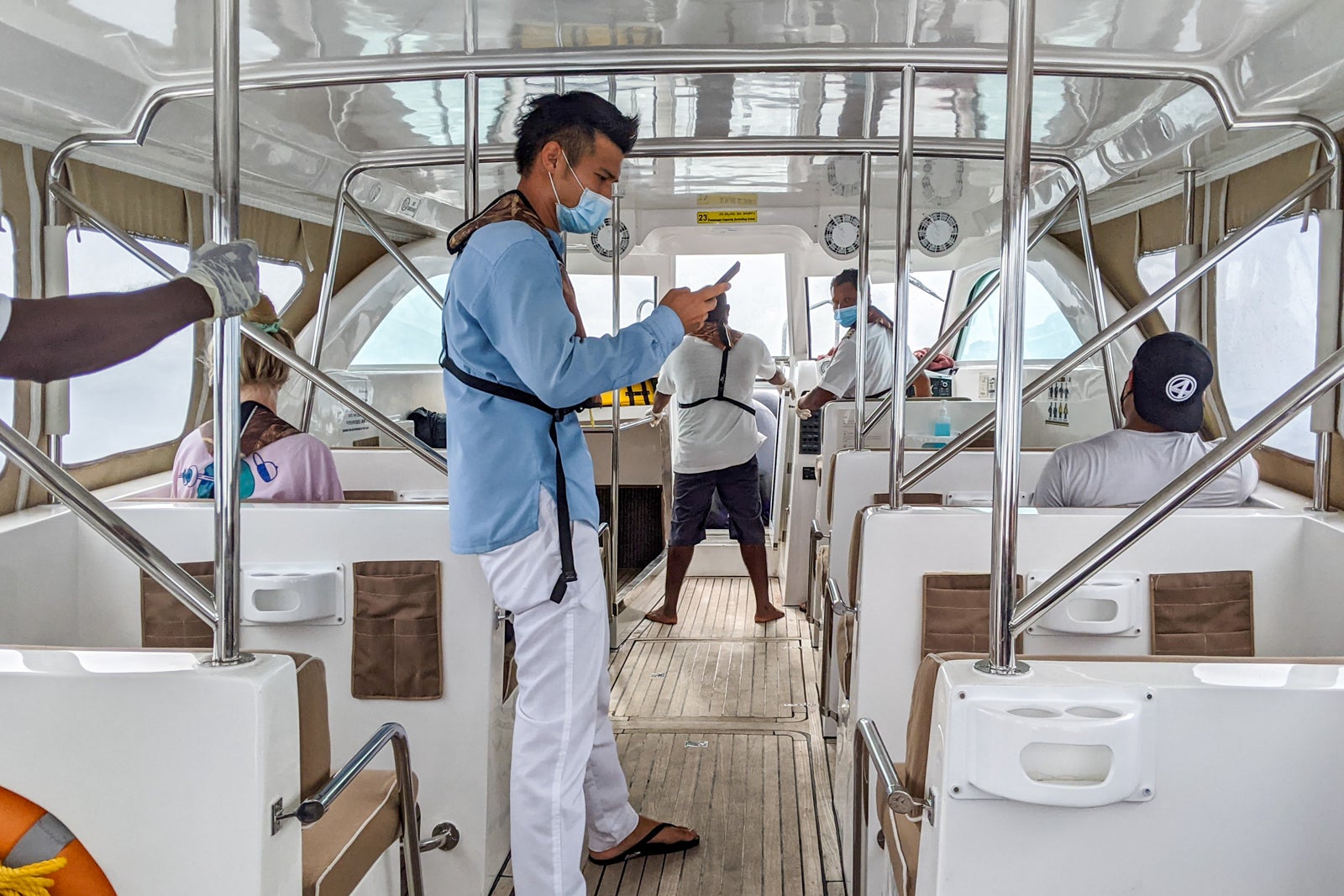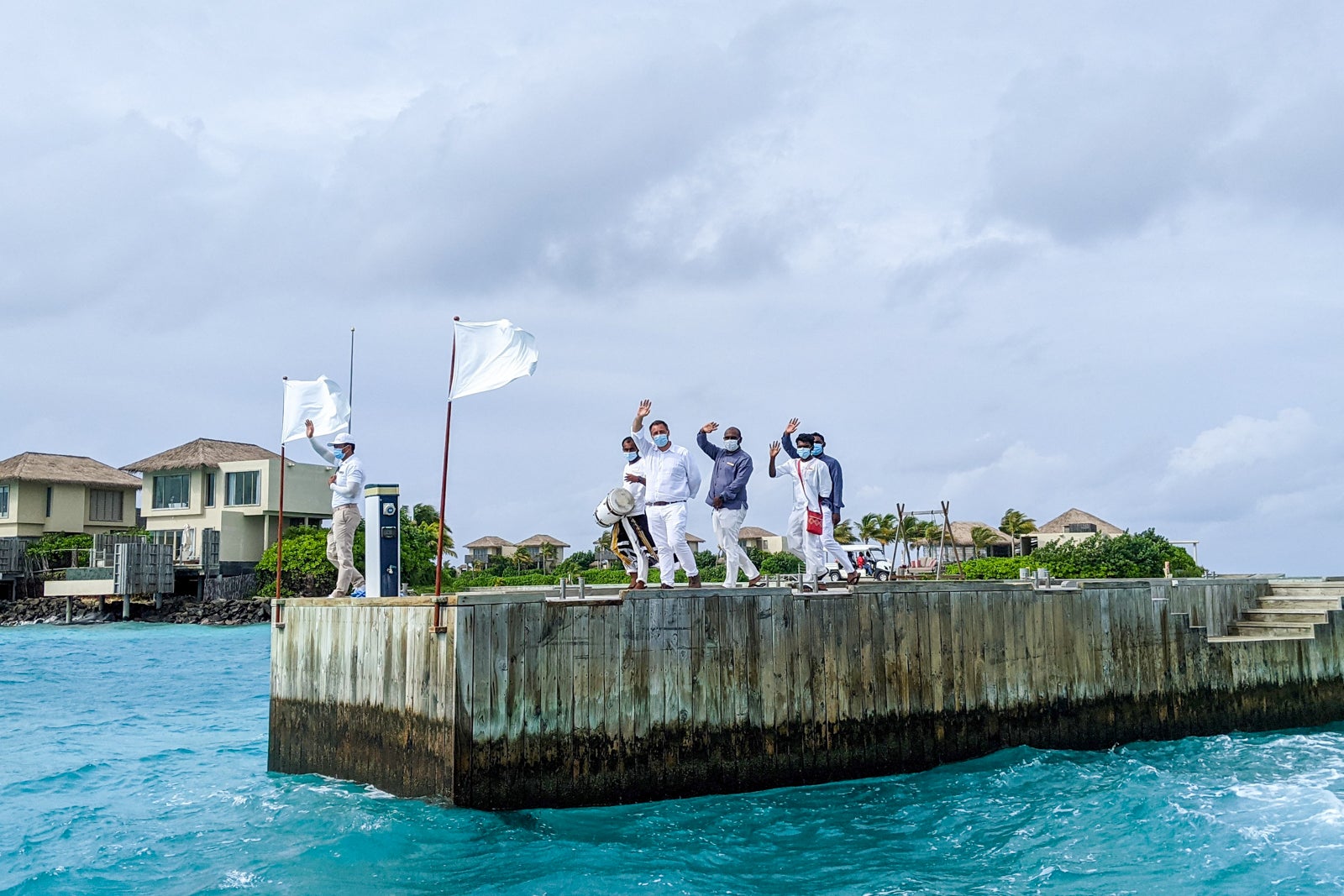 Our seaplane stopped at another resort to pick up four more passengers before making the 40-minute flight to Male. Once in Male, an InterContinental agent met us in the arrivals area and led us to a private van for the short drive back to the international departures area.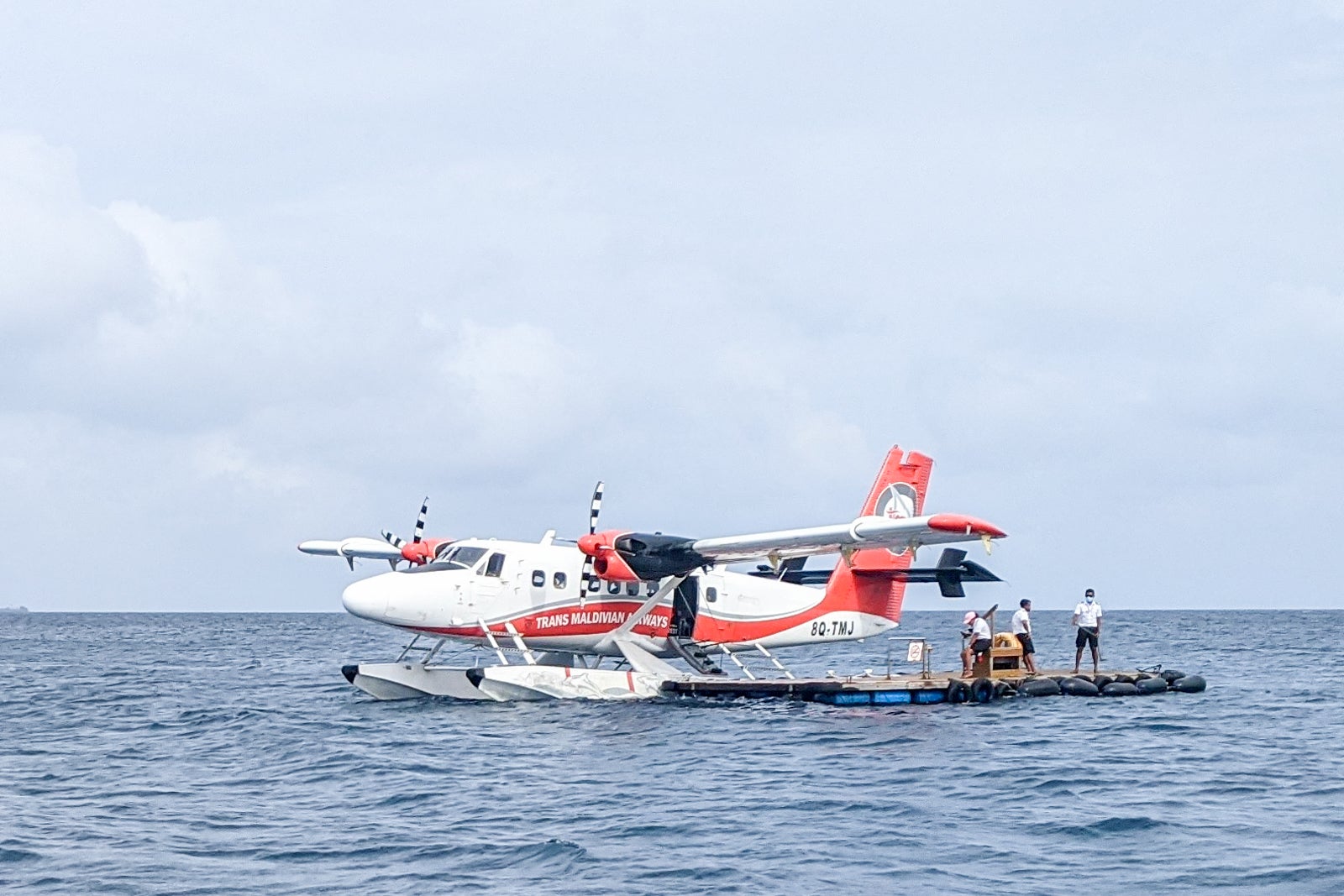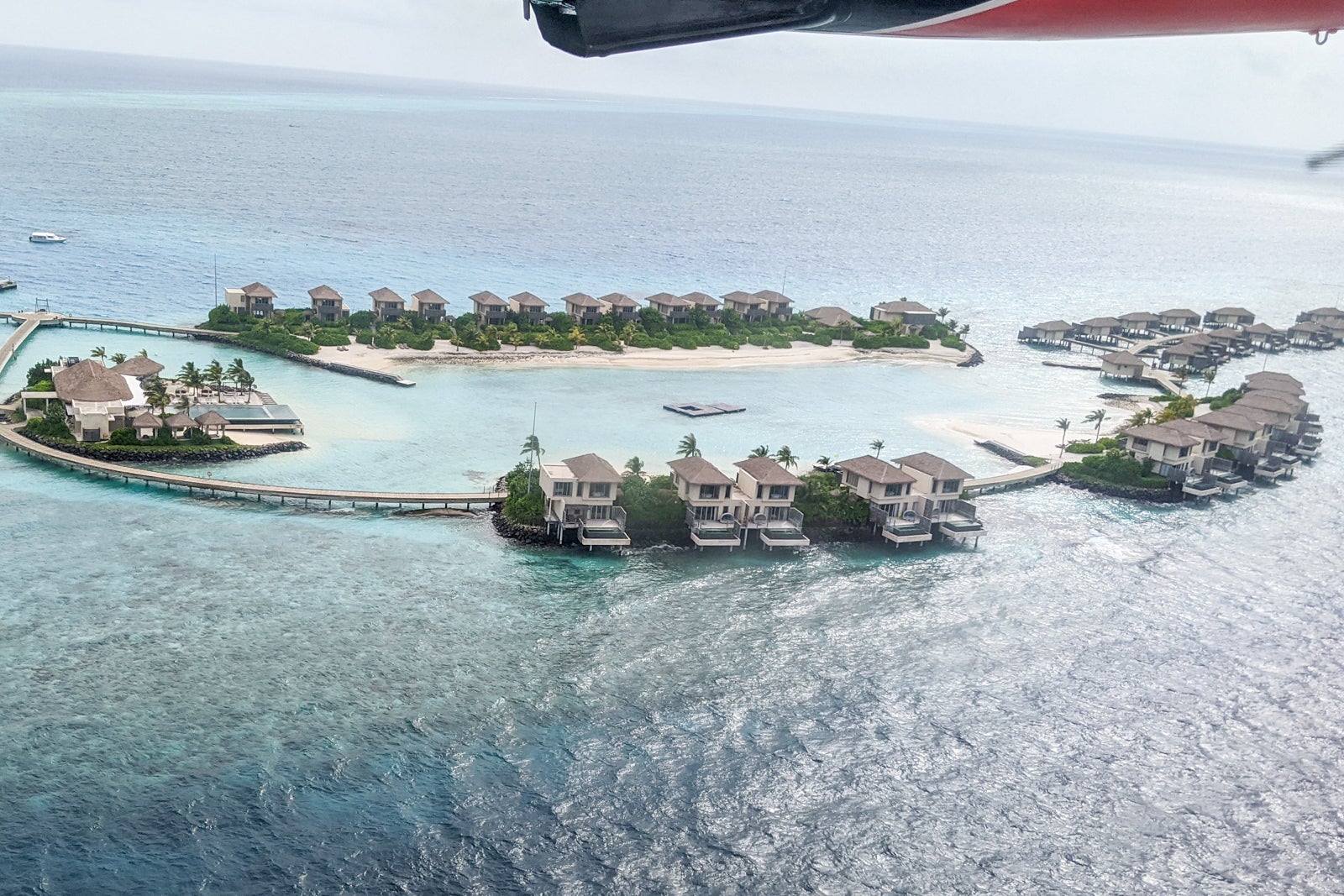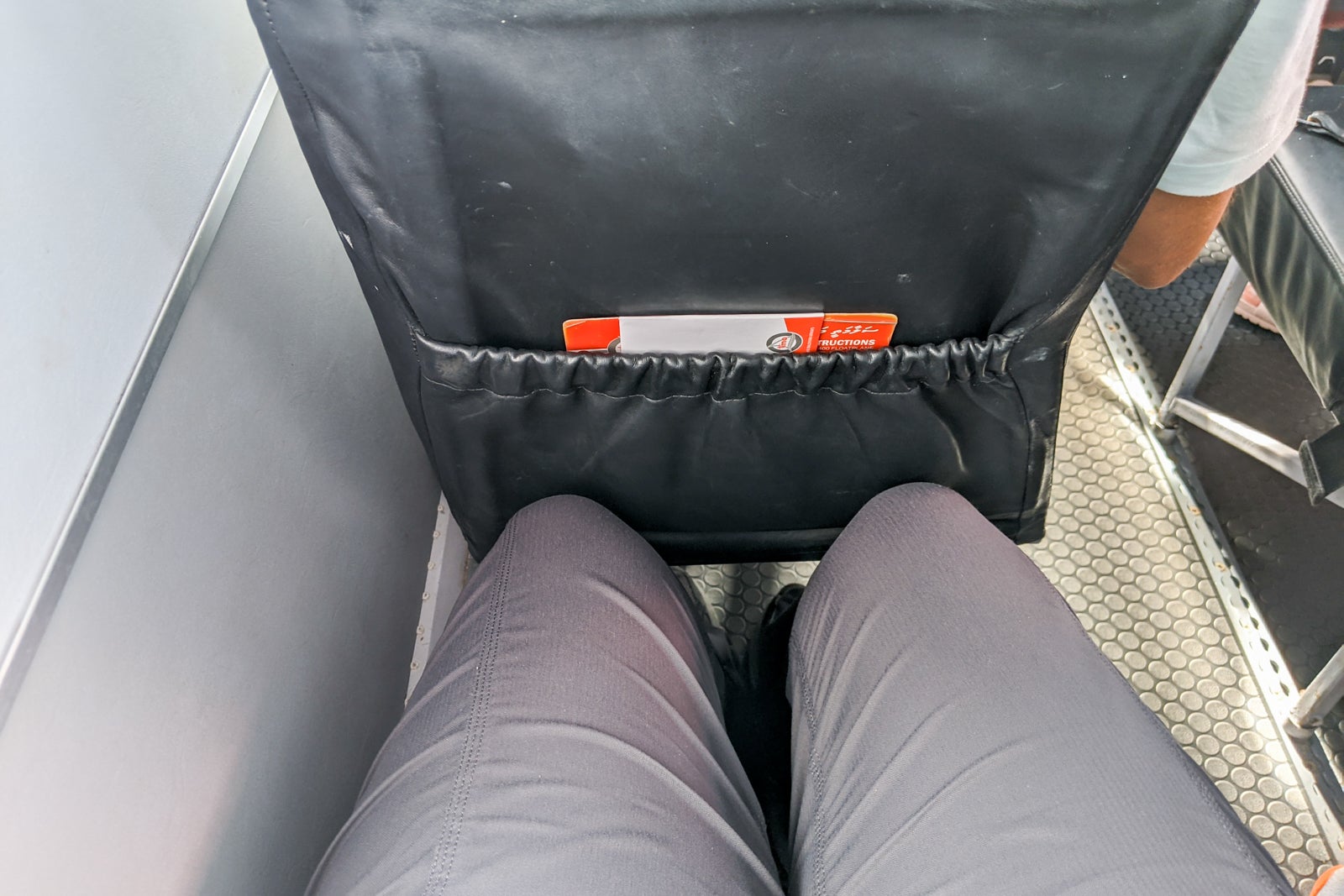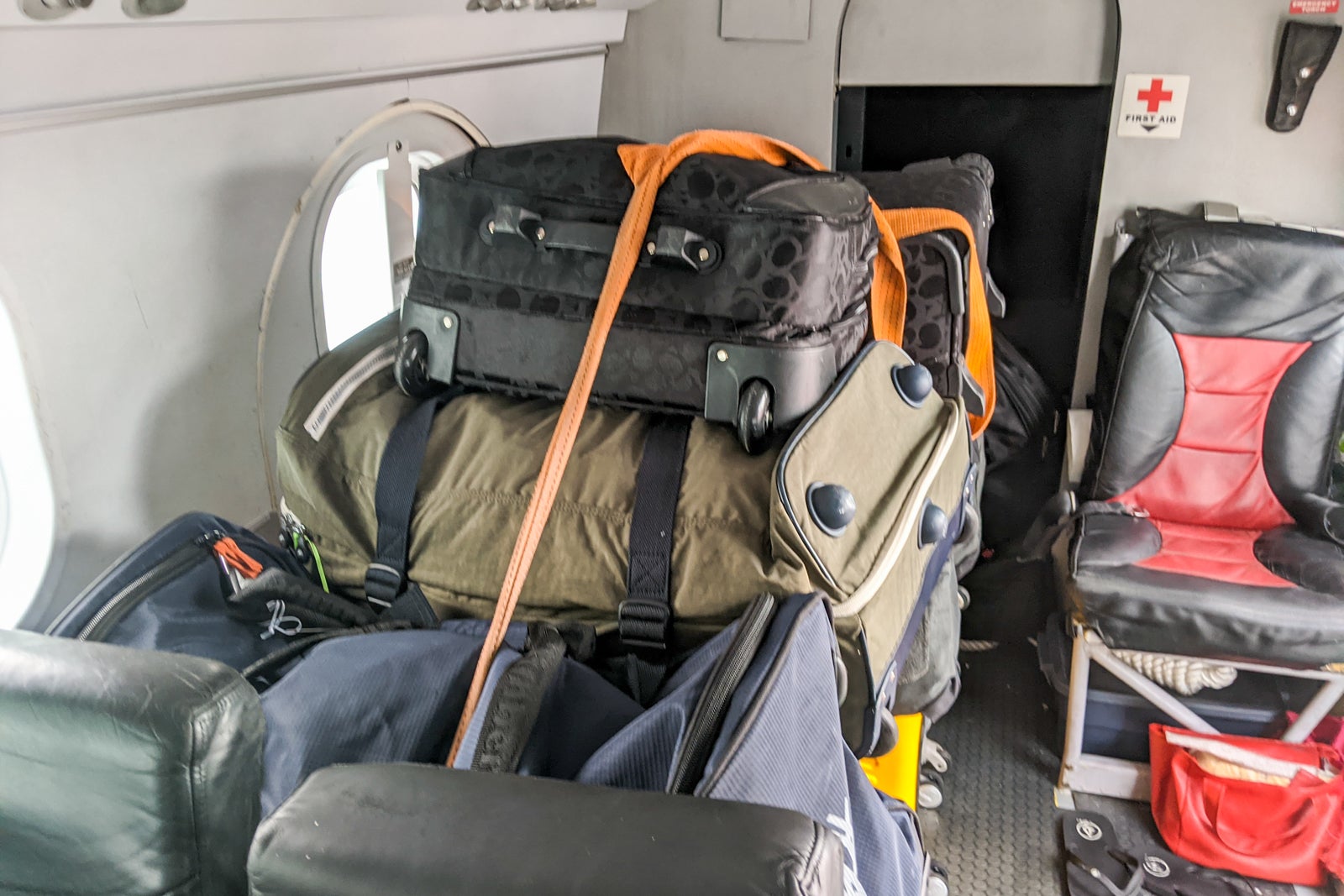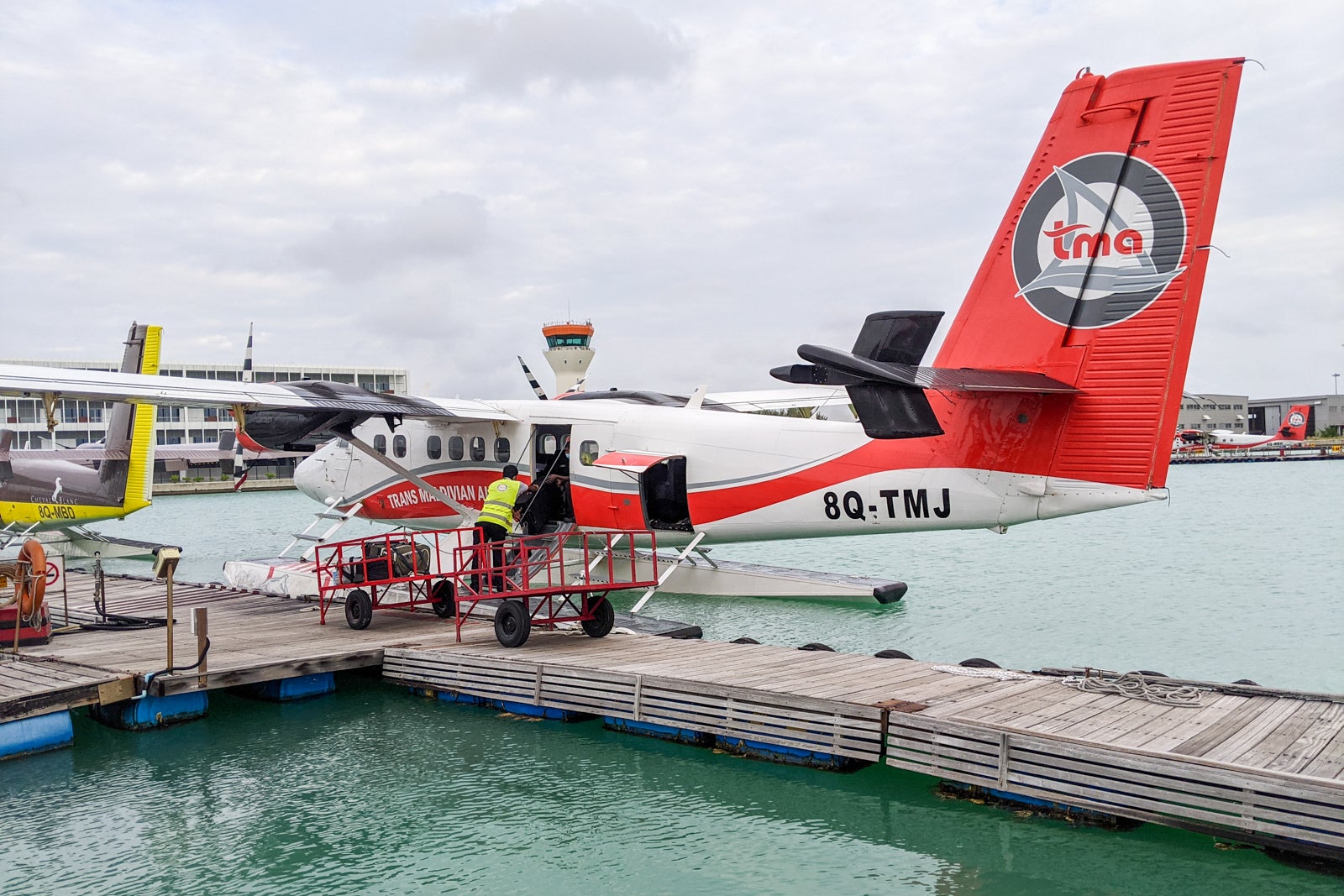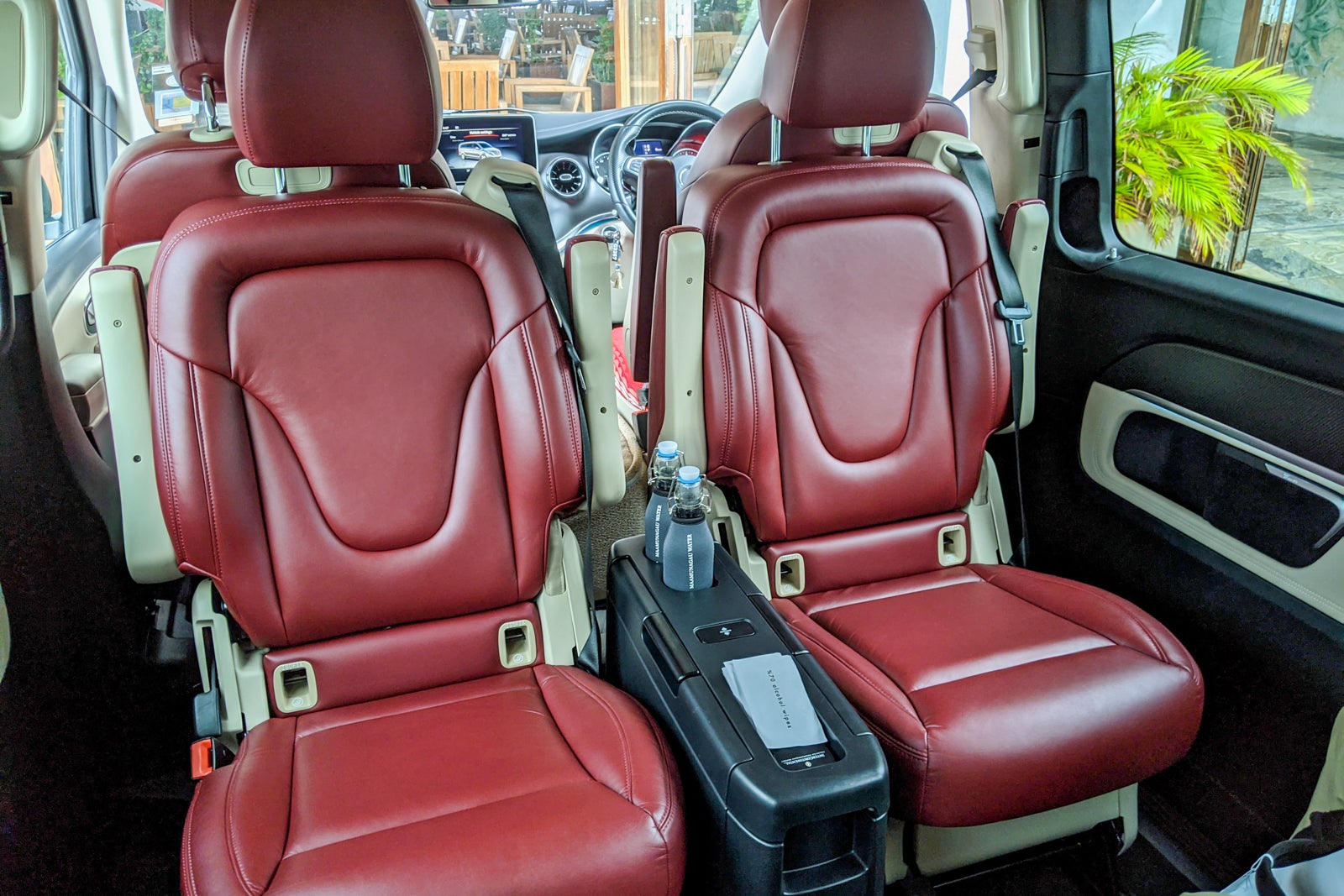 Related: Maldives vs. Bora Bora: Which remote island chain should you visit?
Sunset overwater pool villa
My husband and I booked an overwater pool villa – which, incredibly, is the base-level room at this resort – but thanks to Spire Ambassador status, the resort upgraded us to a sunset overwater pool villa. Despite its name, we only had a partial sunset view from our villa's patio.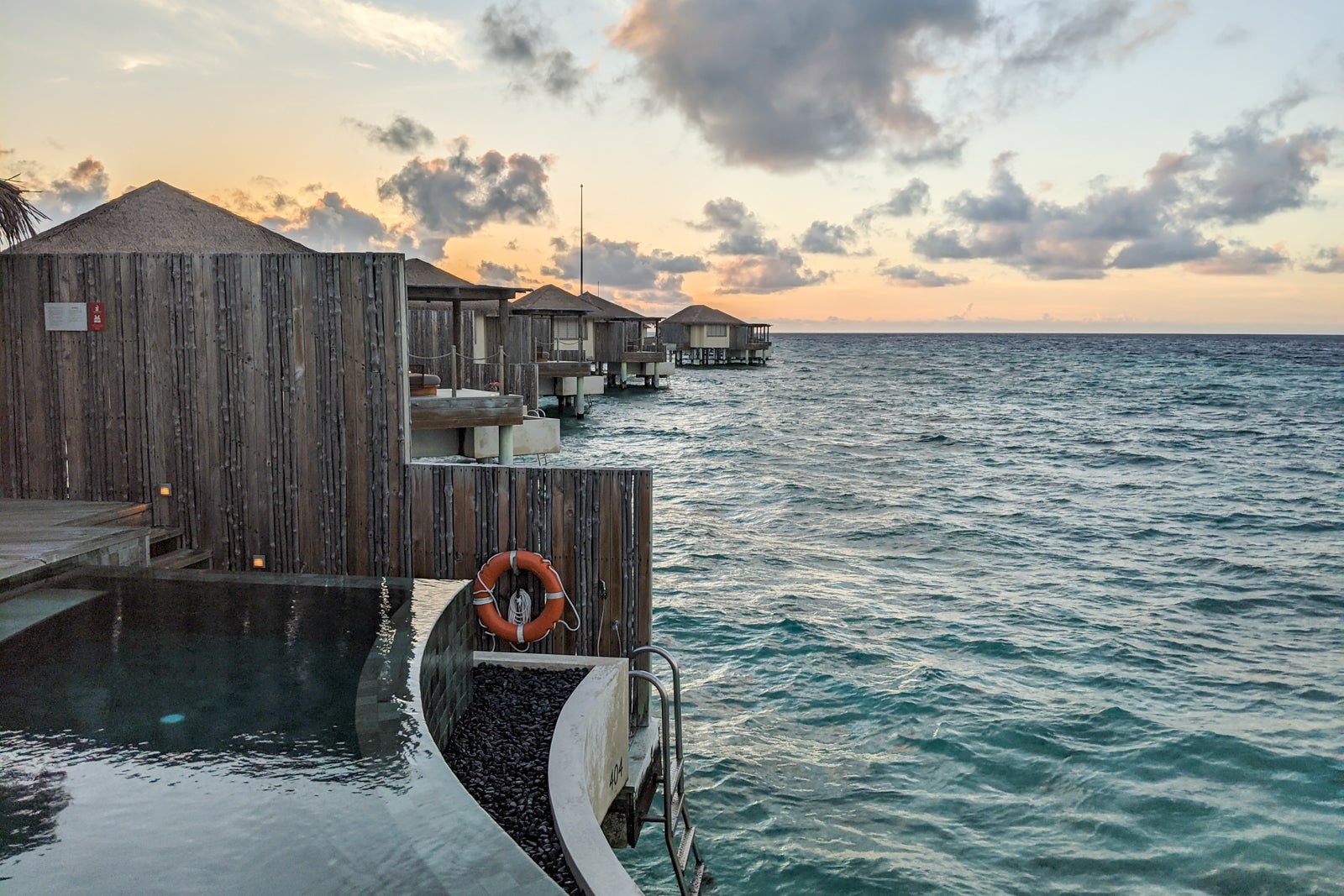 Upon walking into our villa, I immediately noticed the patio area and turquoise water. And yes, the patio and its infinity pool was the star of the villa. The infinity pool had a smooth edge that made gazing out comfortable, but there was also a bench along the other wall for relaxing. Having a pool in your villa is game-changing; I usually took a quick dip in the pool to cool down whenever I came back to the room.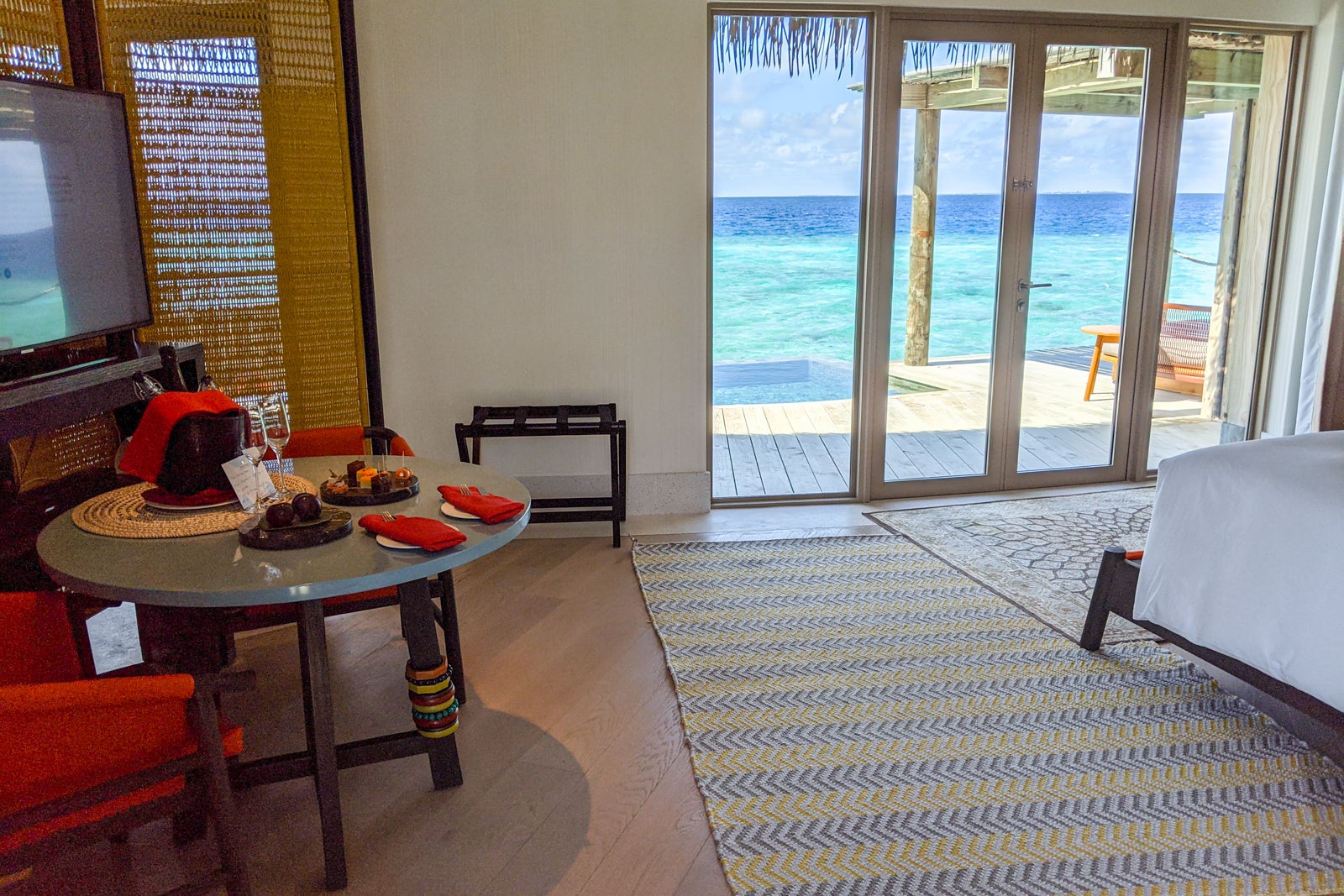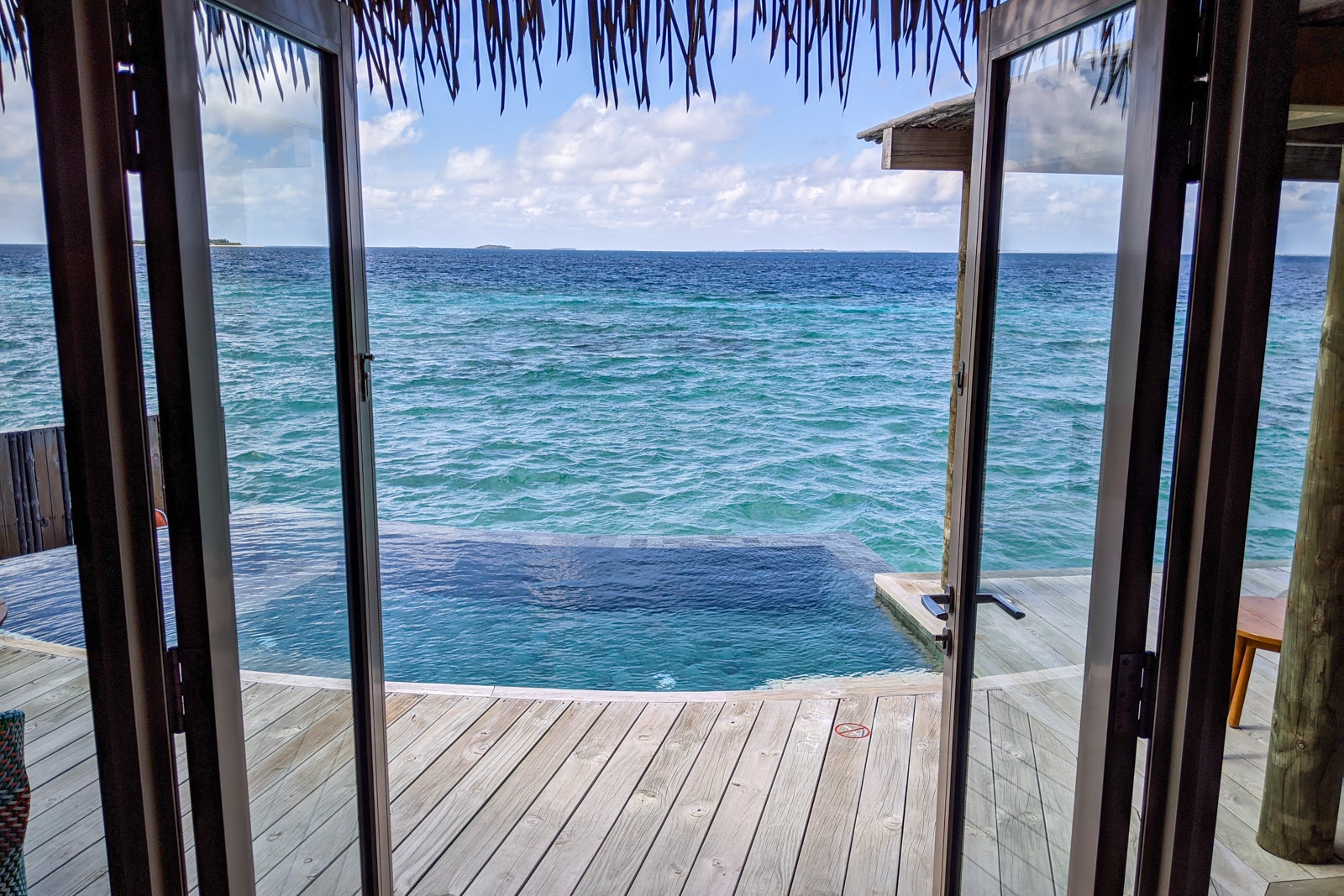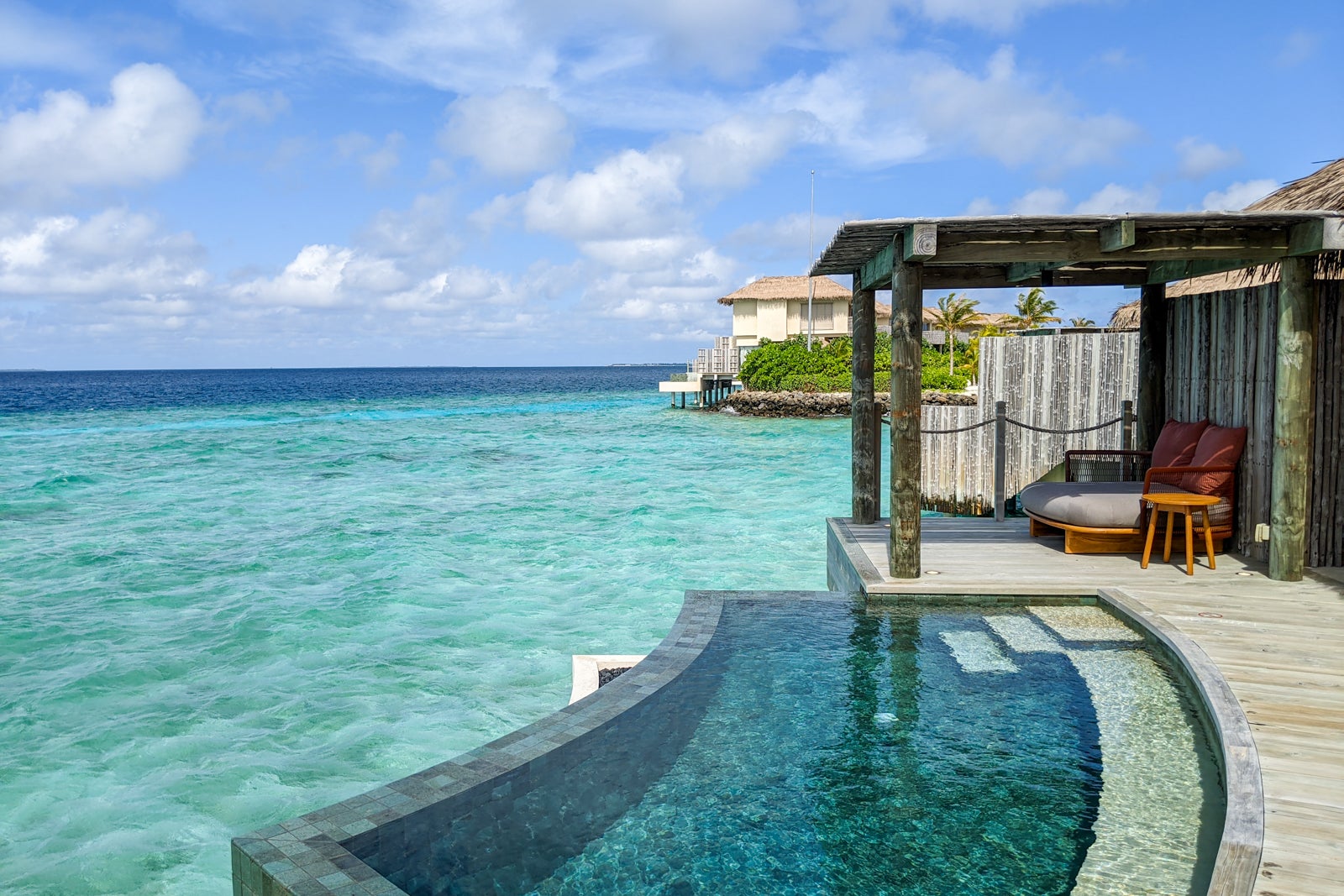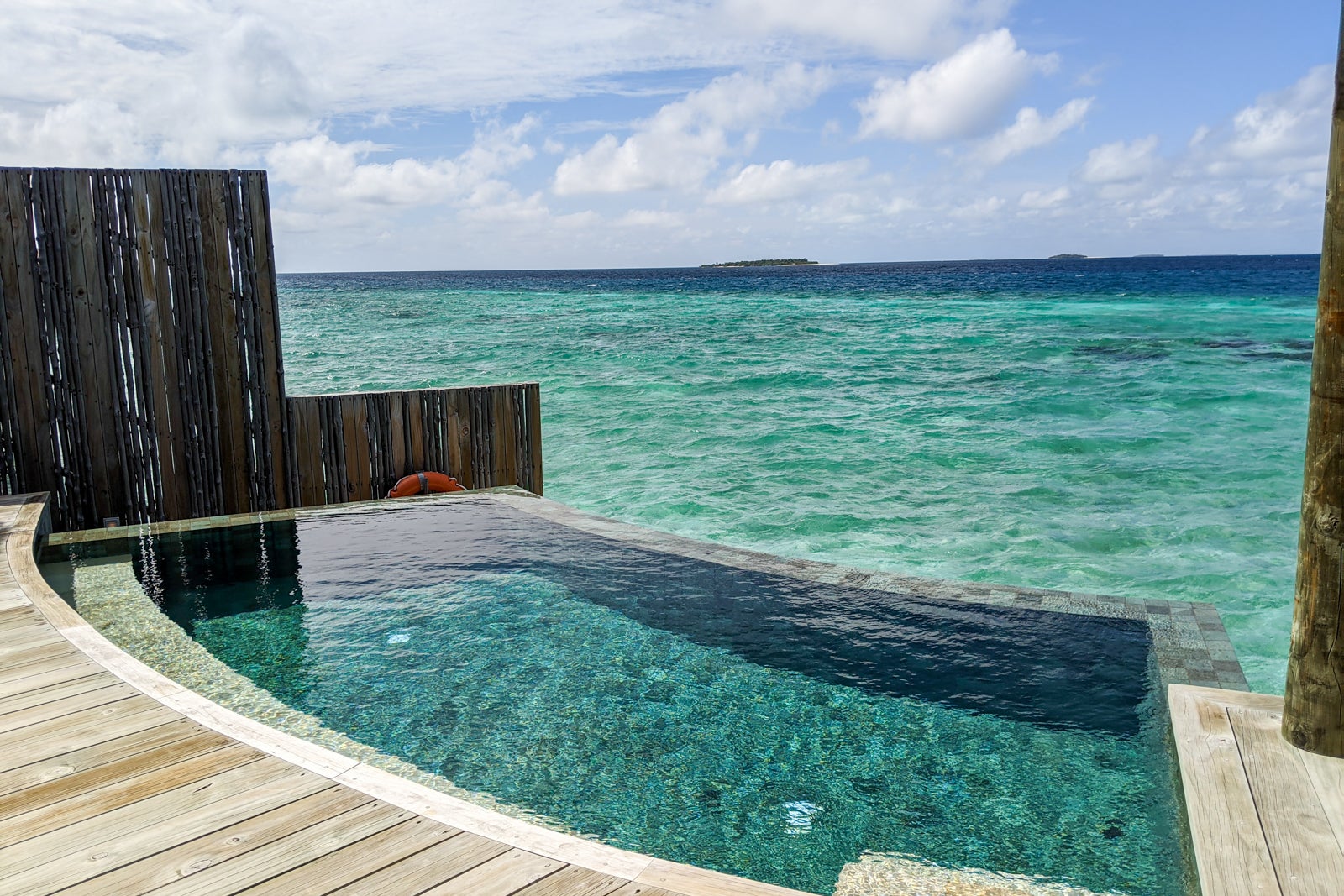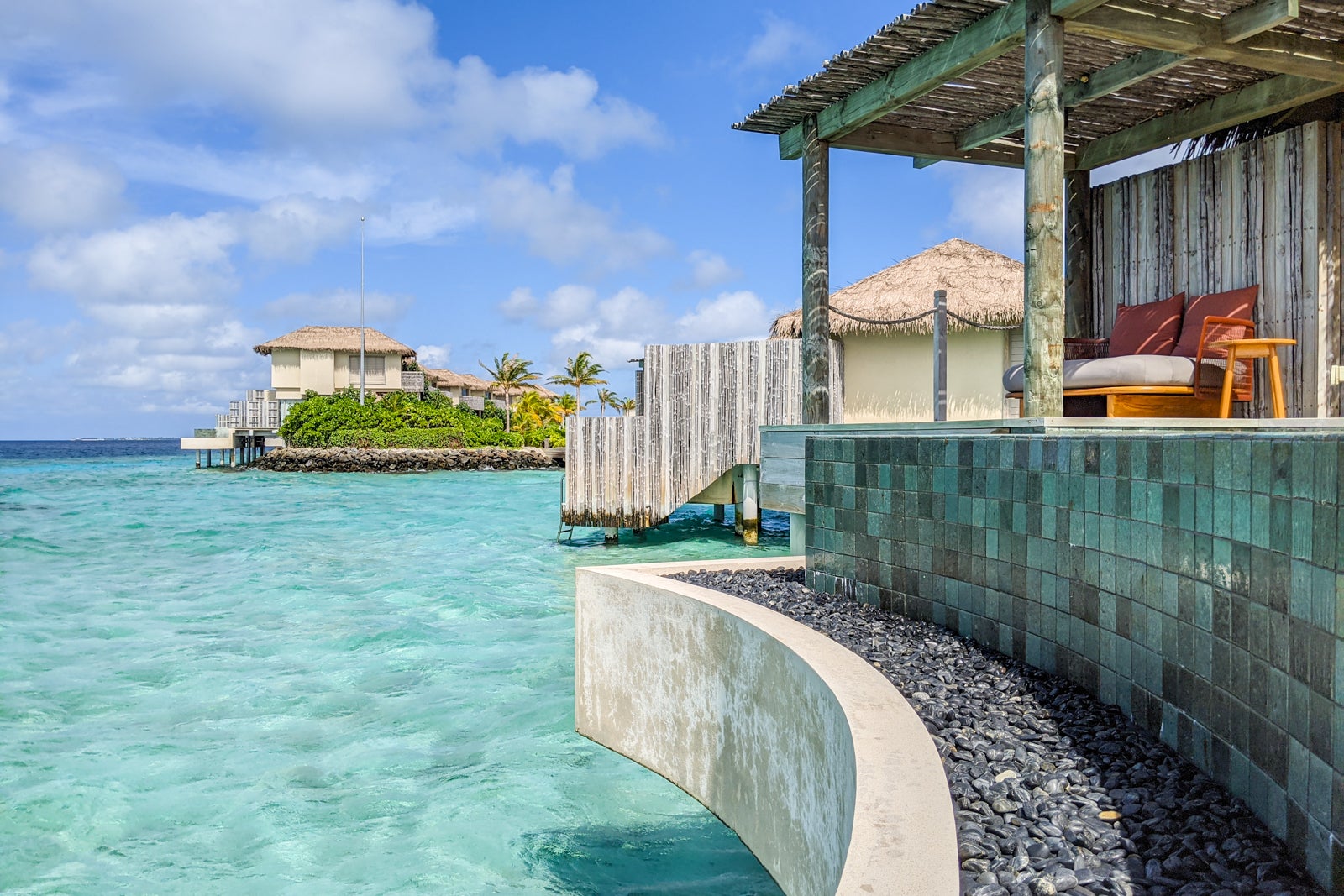 The patio also had a large day bed with a U.K.-style outlet next to it. There was a small table and two chairs, a drying rack and stairs down to a ladder into the ocean. However, our Island Curator said he didn't recommend swimming from our villa – which, to me, took away some of the appeal of an overwater villa.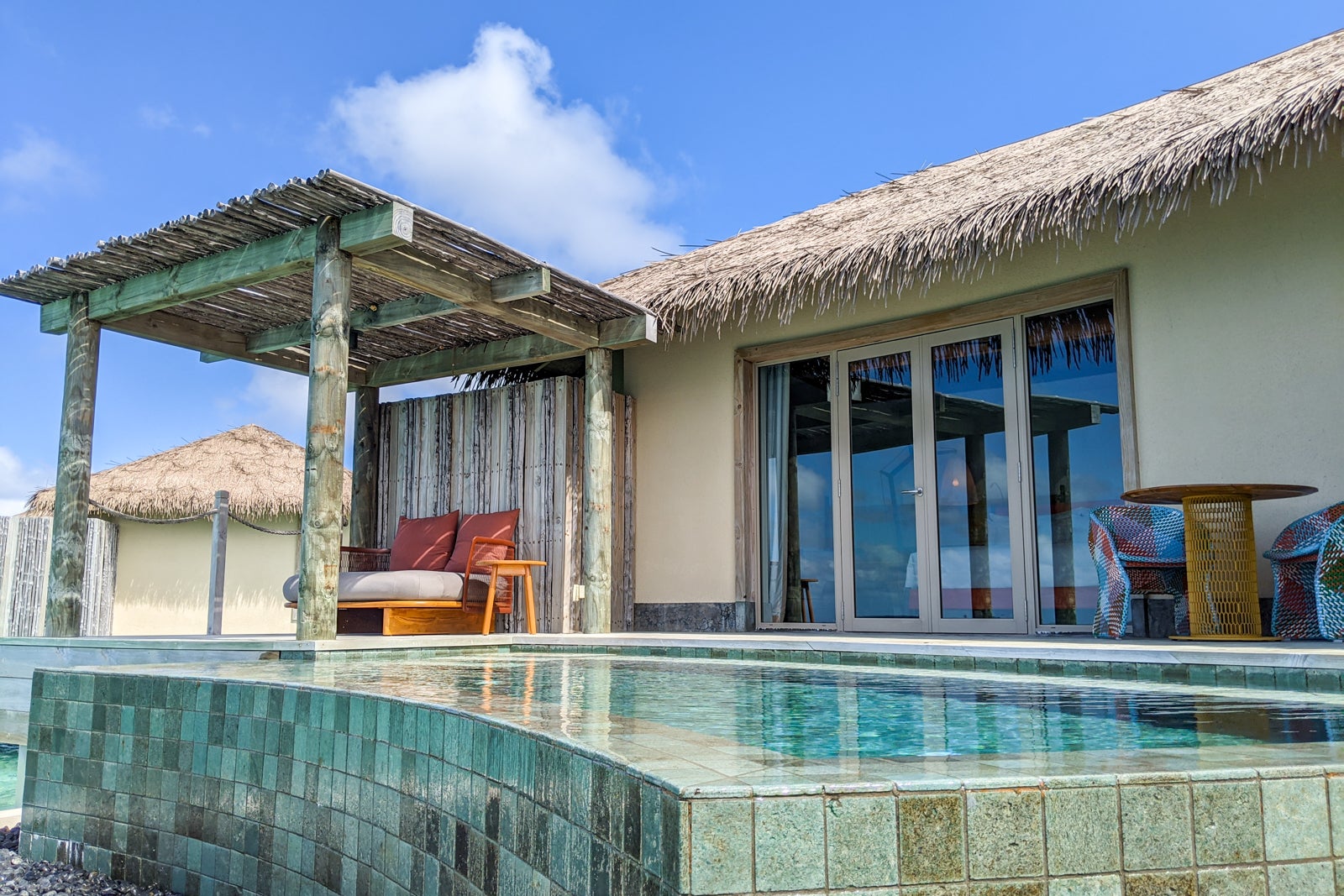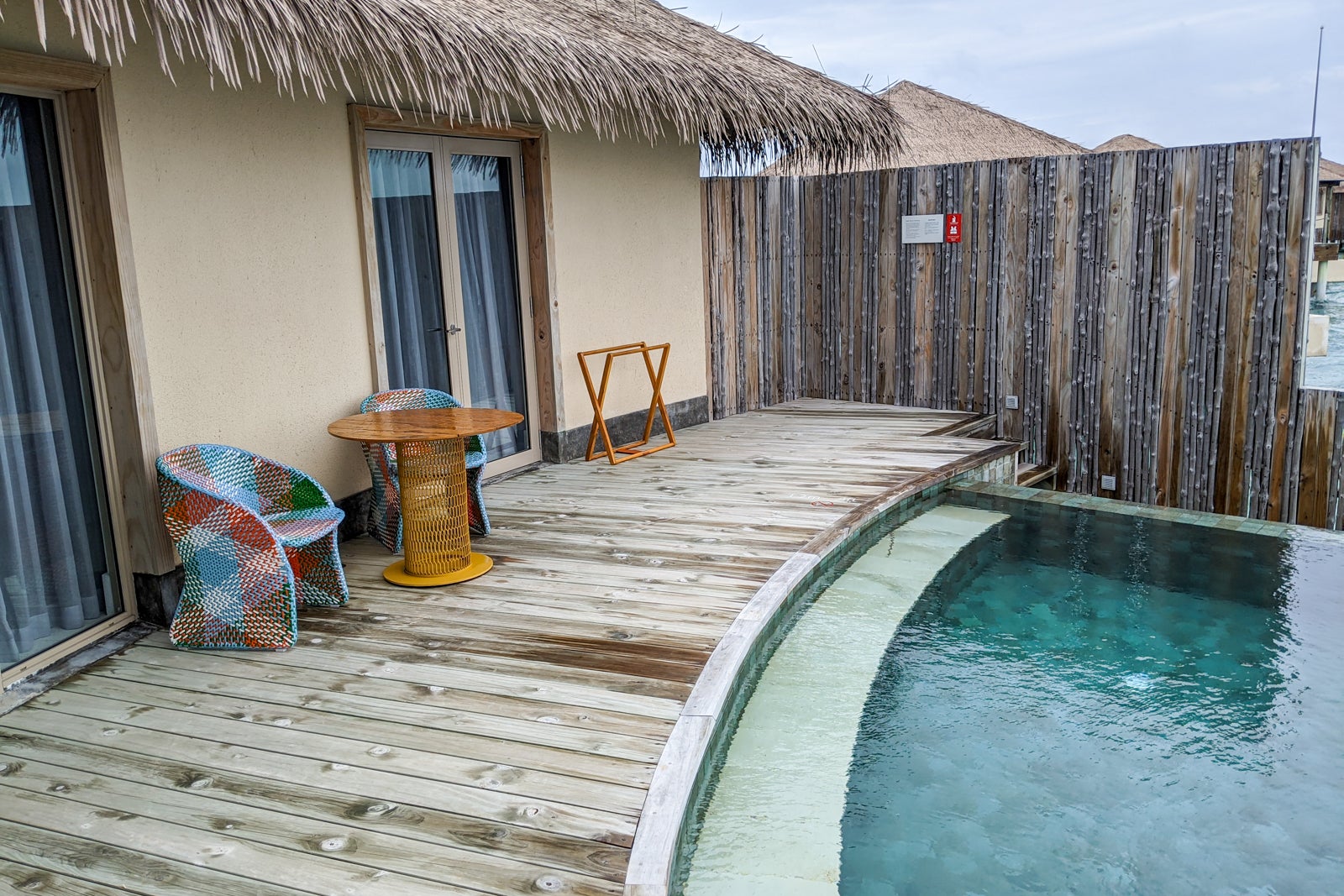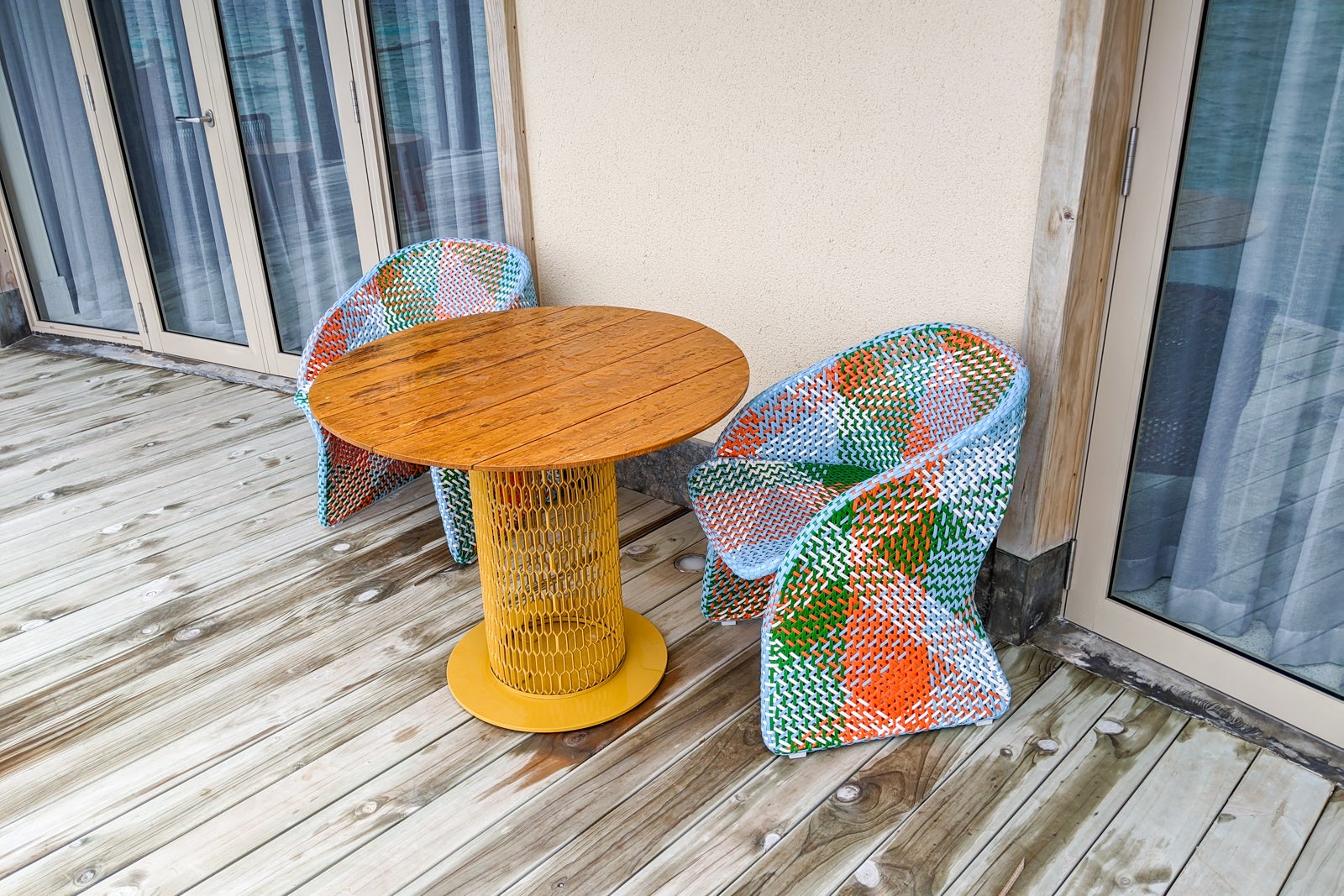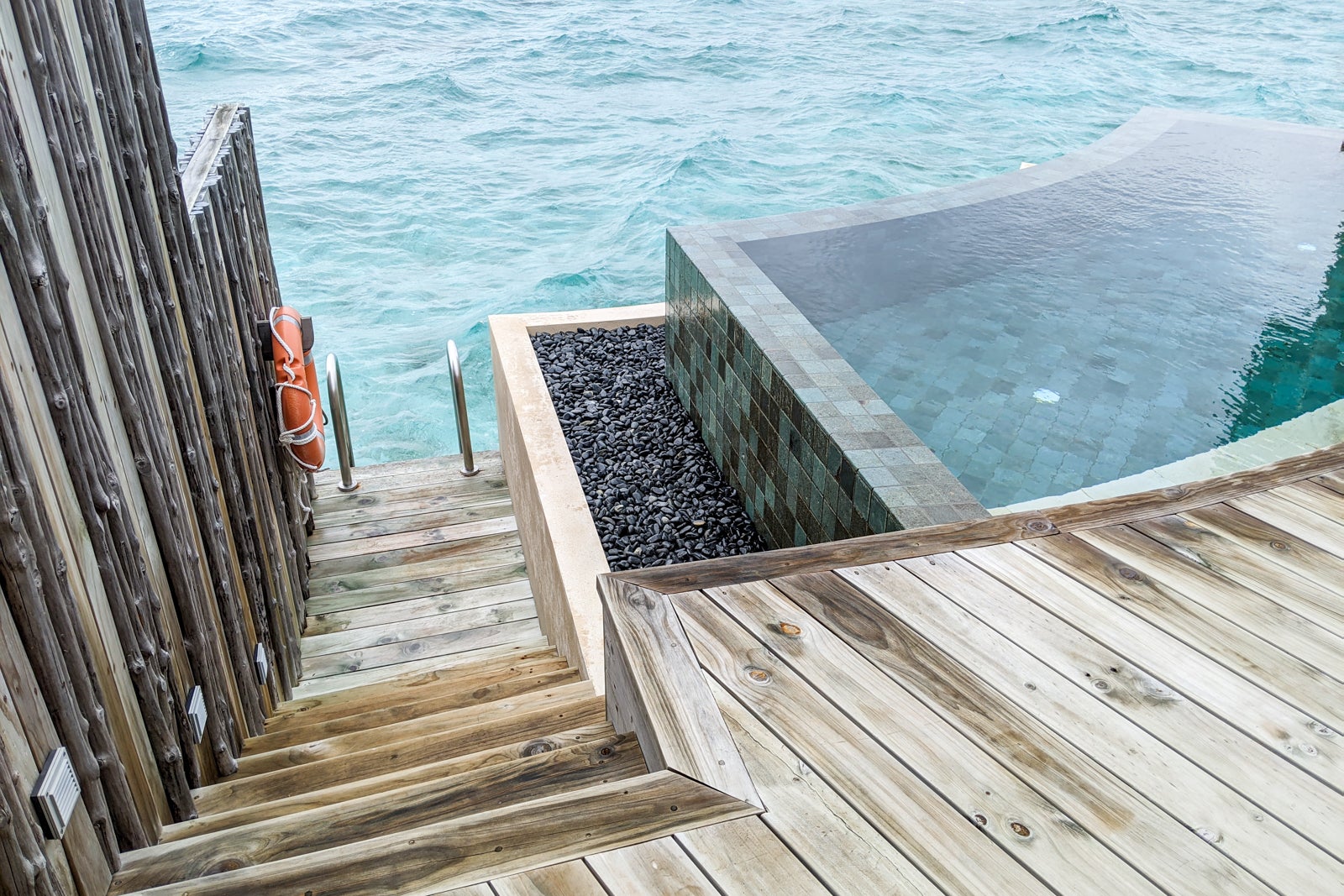 Back inside the villa, a king bed was next to the entrance door. Our bed had six pillows of varying firmness and size. The bed was extremely comfortable and featured a plush but not too warm duvet. Strangely, the hanging lights next to the bed didn't match, nor did the bedside tables or rugs surrounding the bed. However, it all somehow felt cohesive in a posh beach hut kind of way.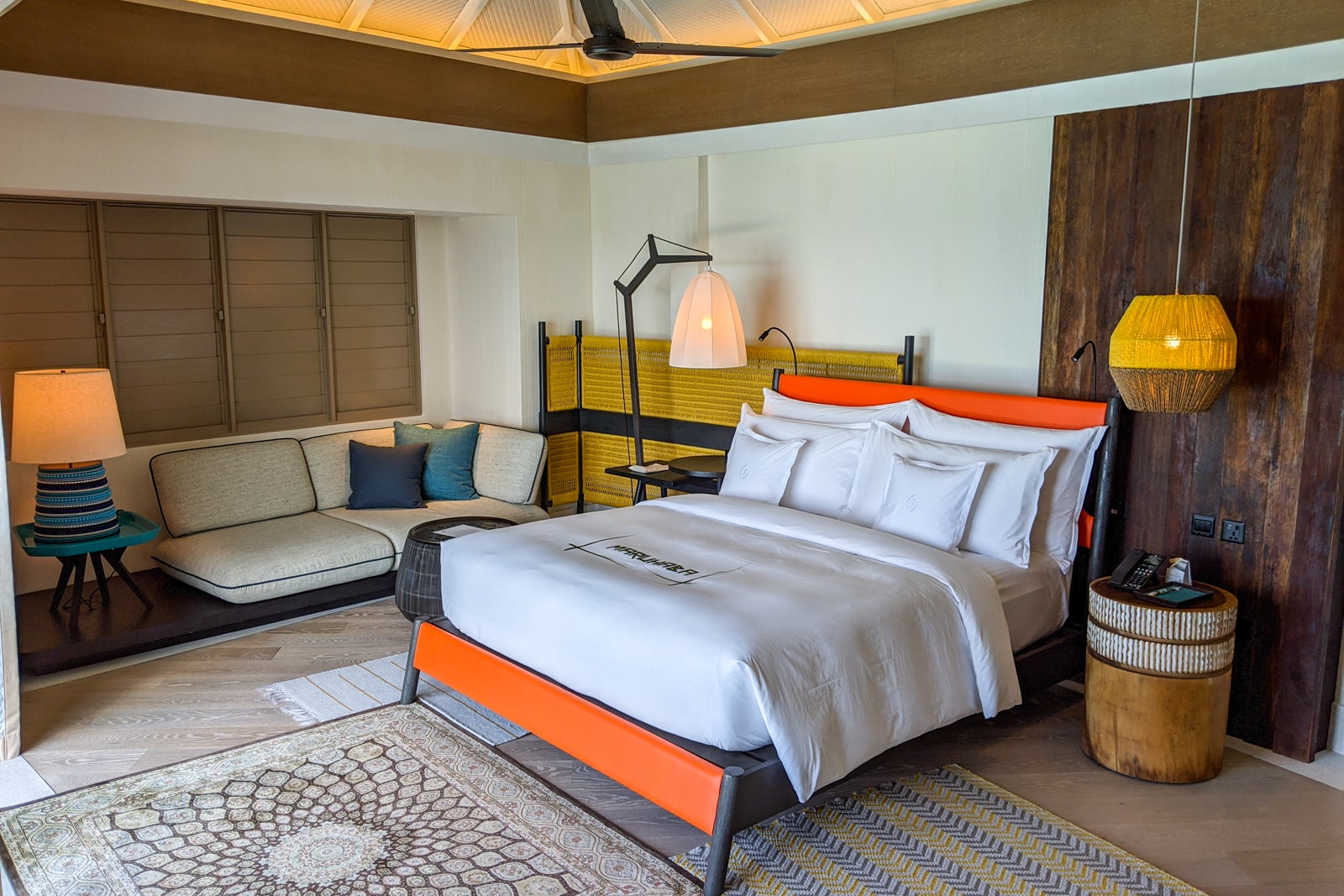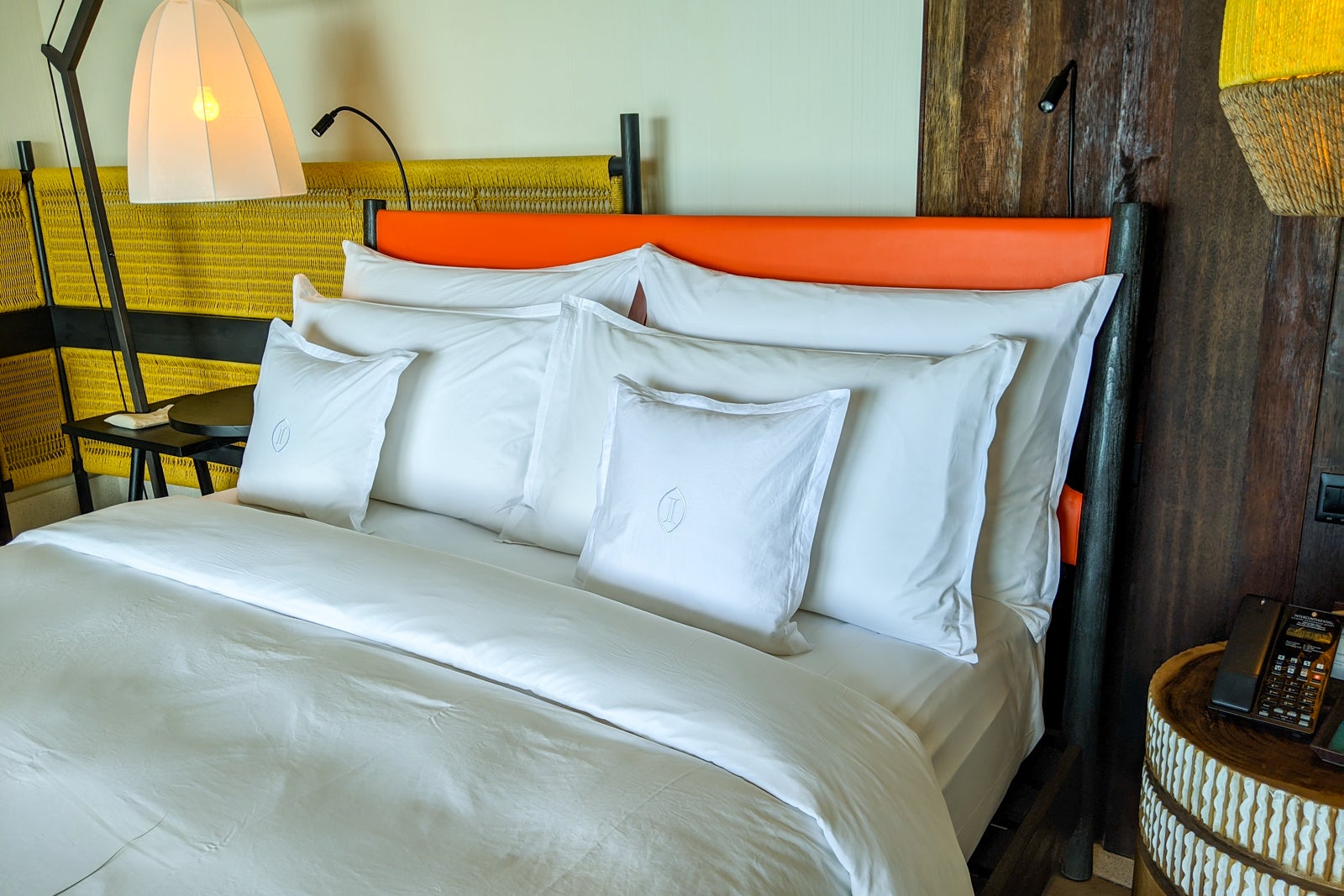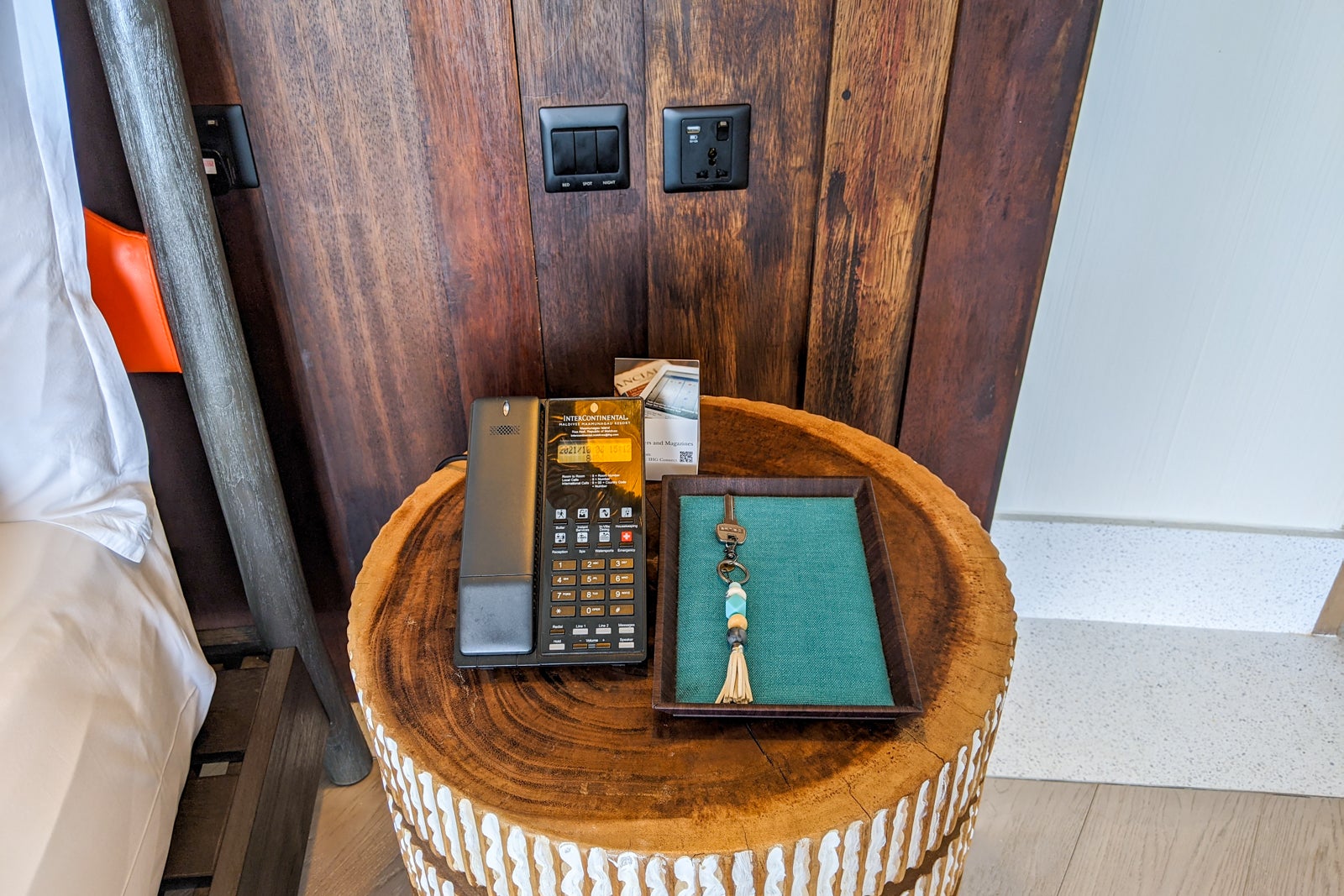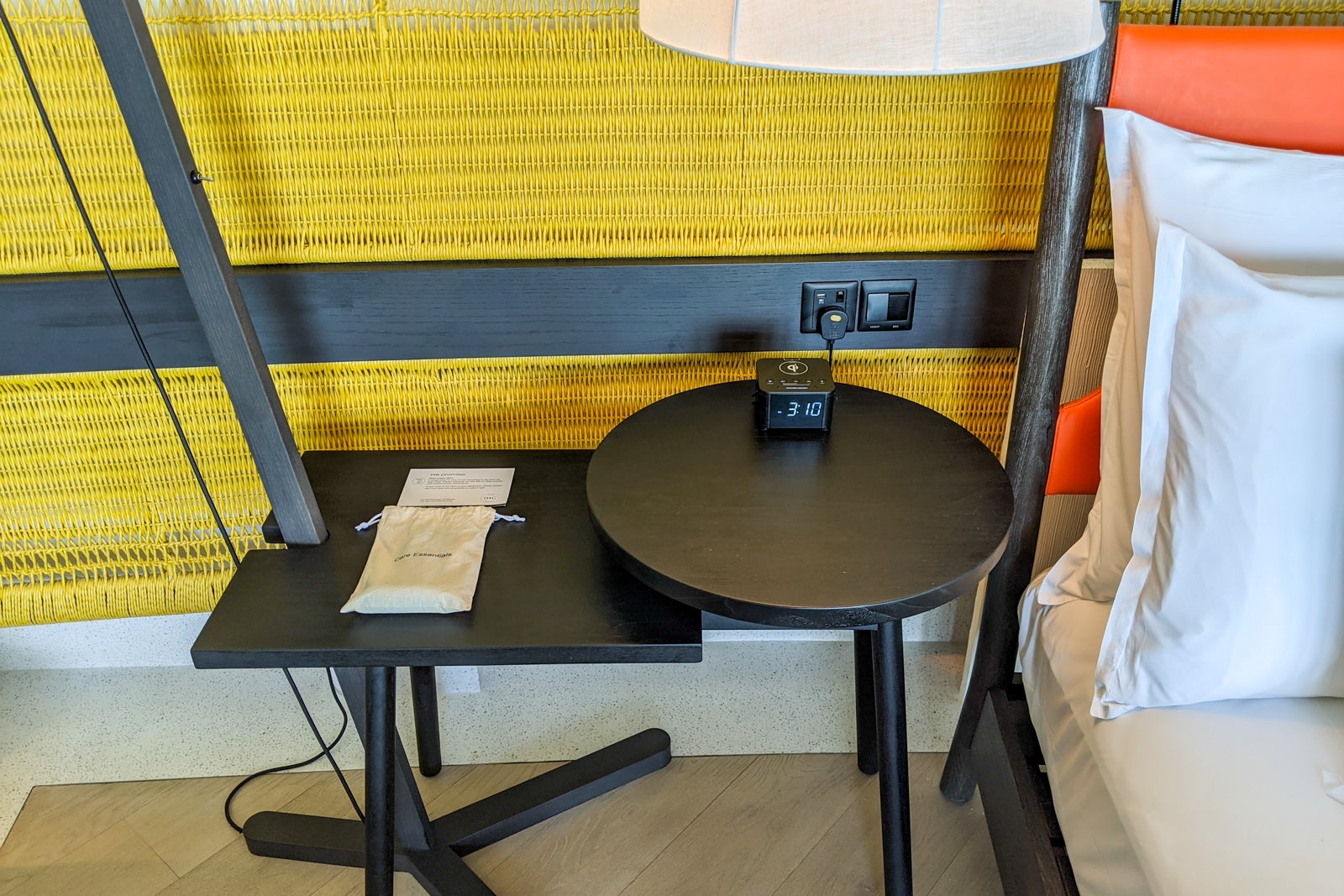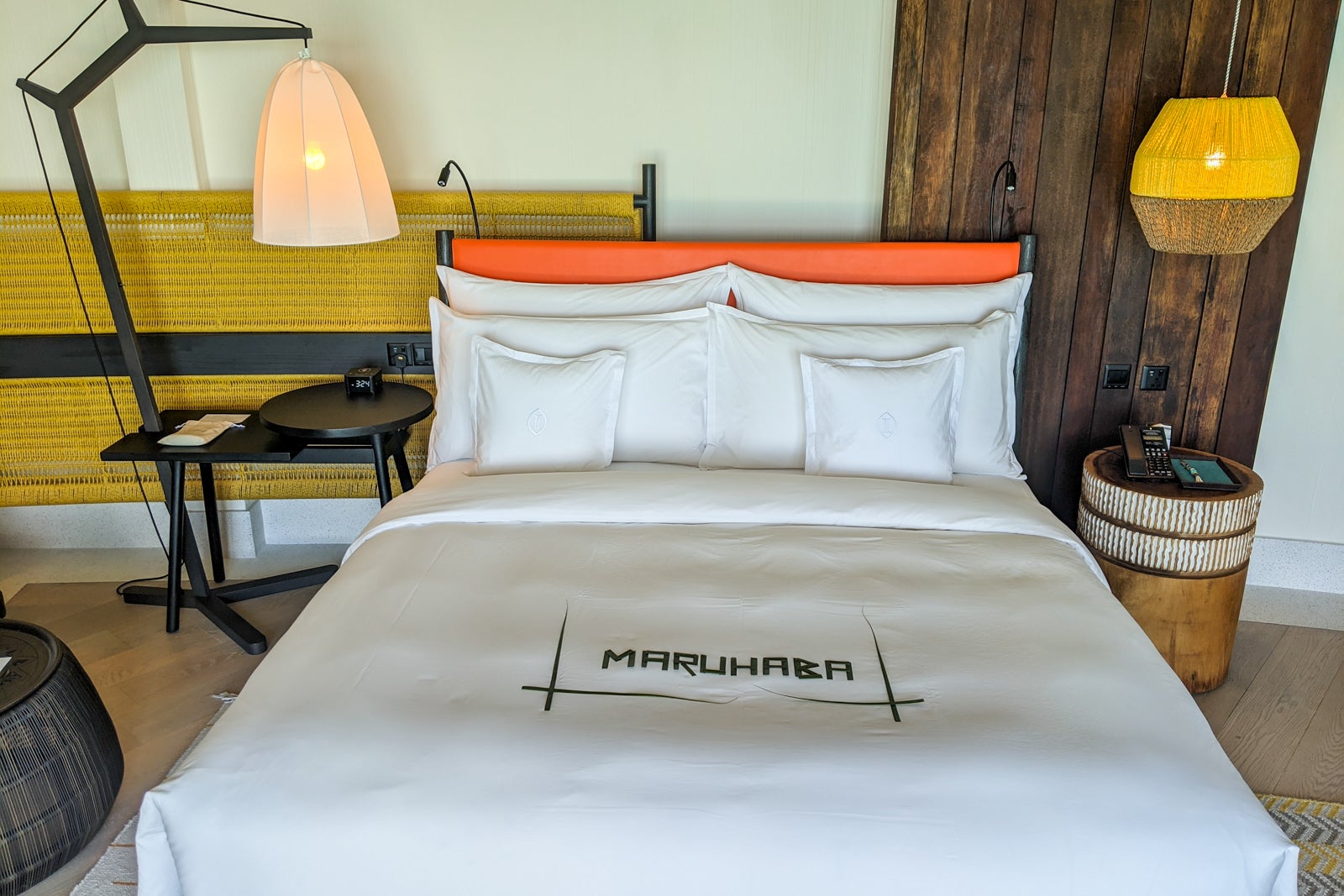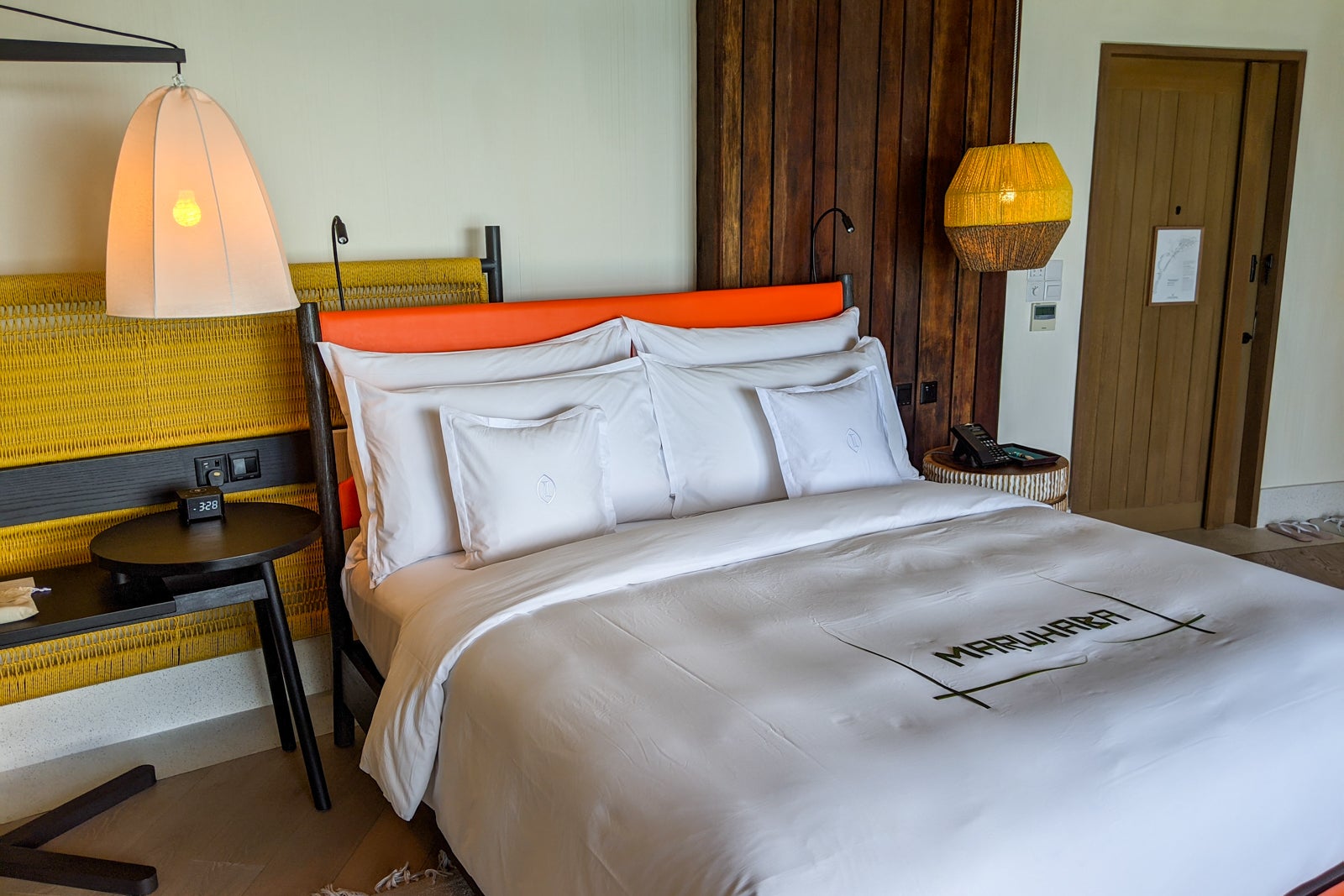 On the far side of the bed, there was a firm couch, a coffee table and a side table.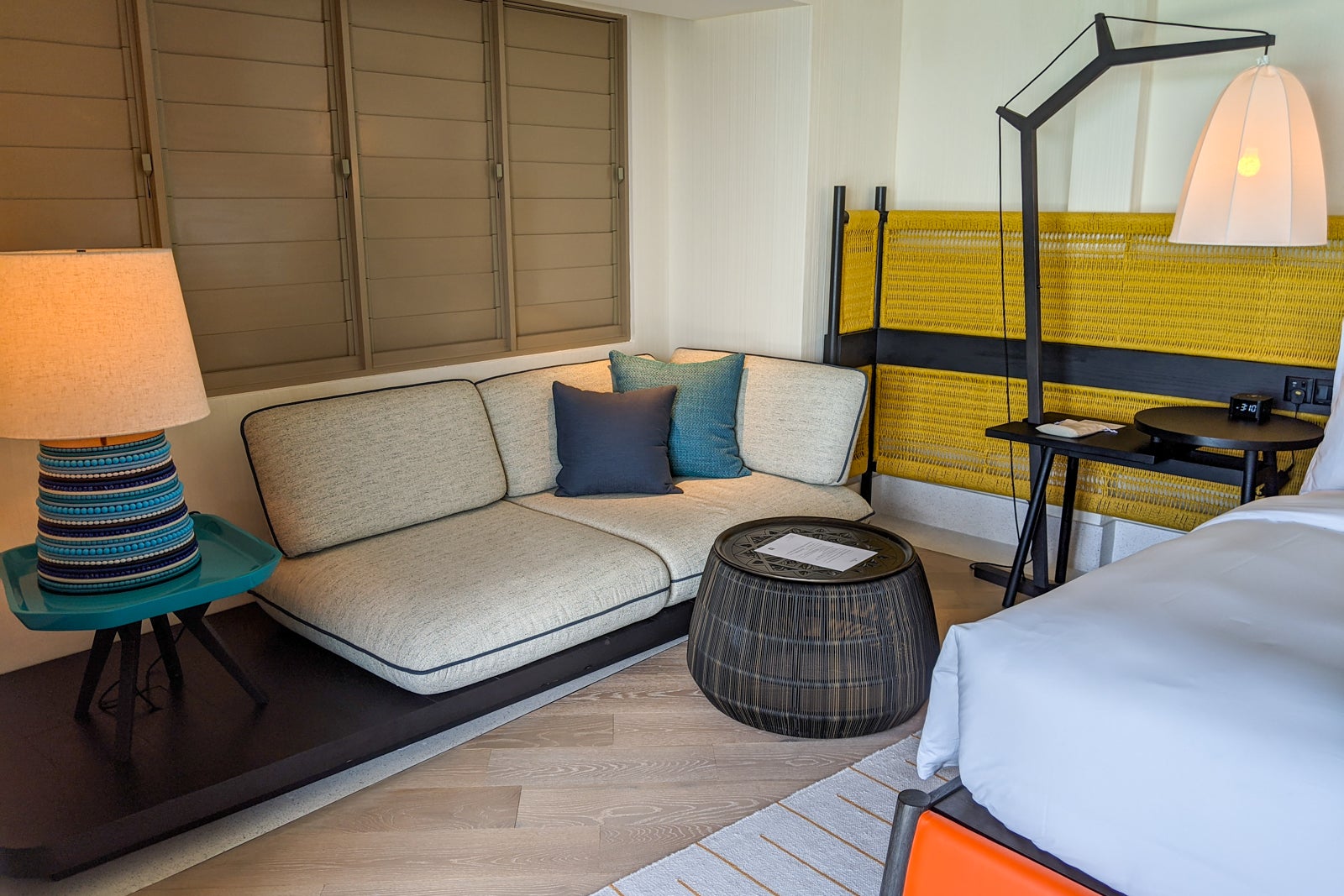 On the other side of the bed near the entrance door were a two-seat table and a wooden stand holding a 49-inch TV and a Bose soundbar. The television offered high-level resort information and 30 television channels, as well as a looping Green Engage channel that showed information about the resort's solar production. A yellow folding partition behind the TV effectively separated the bedroom from the bathroom area.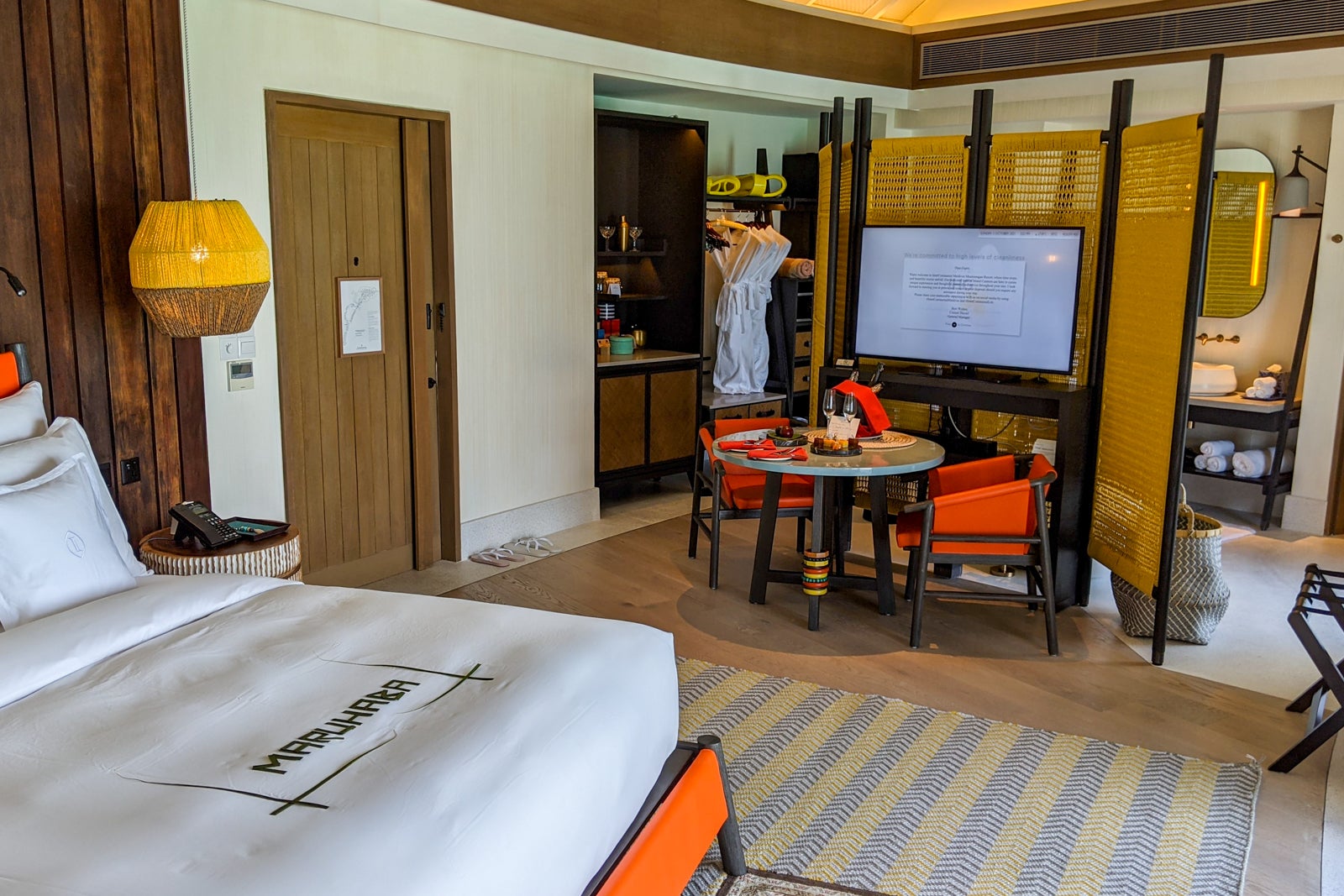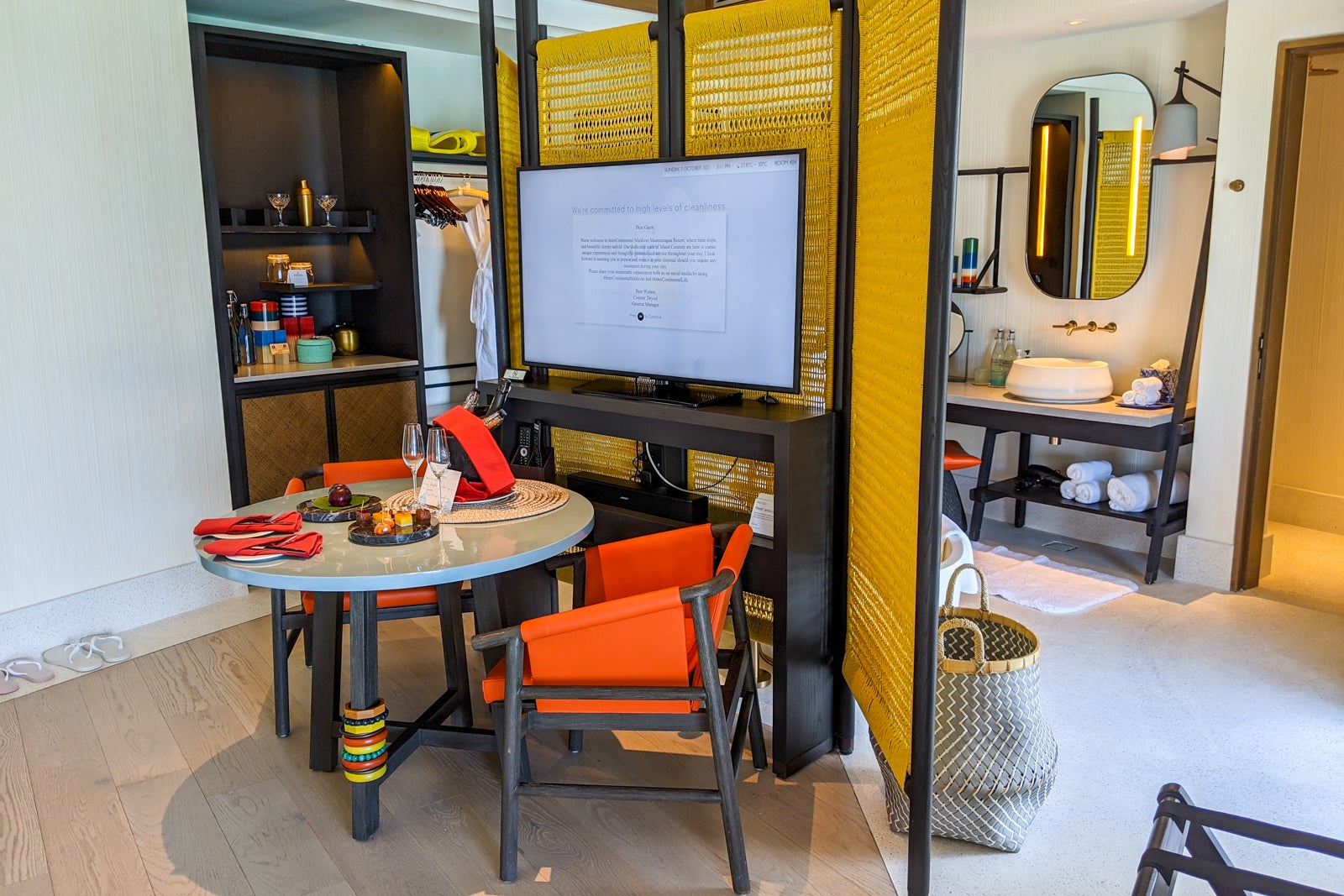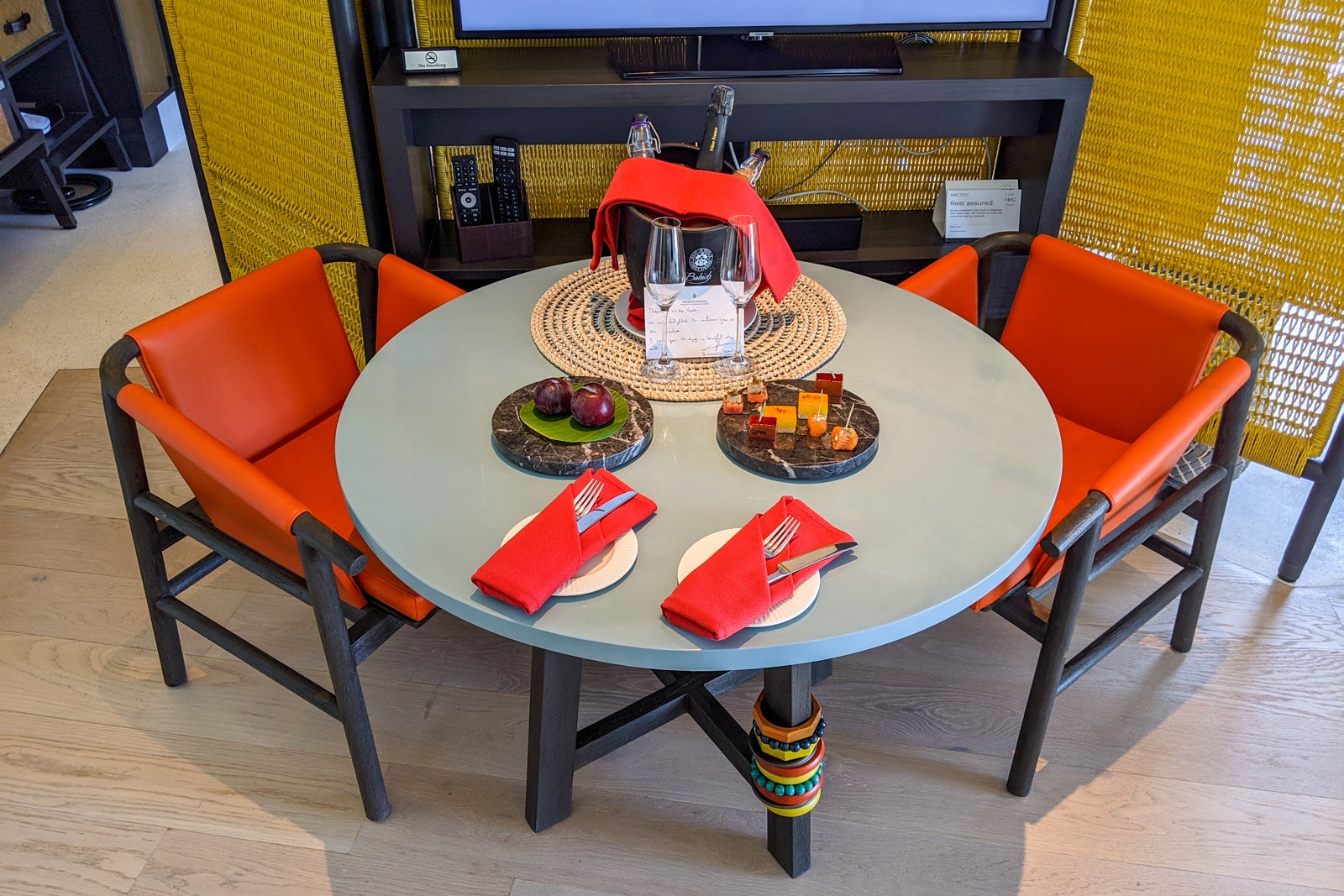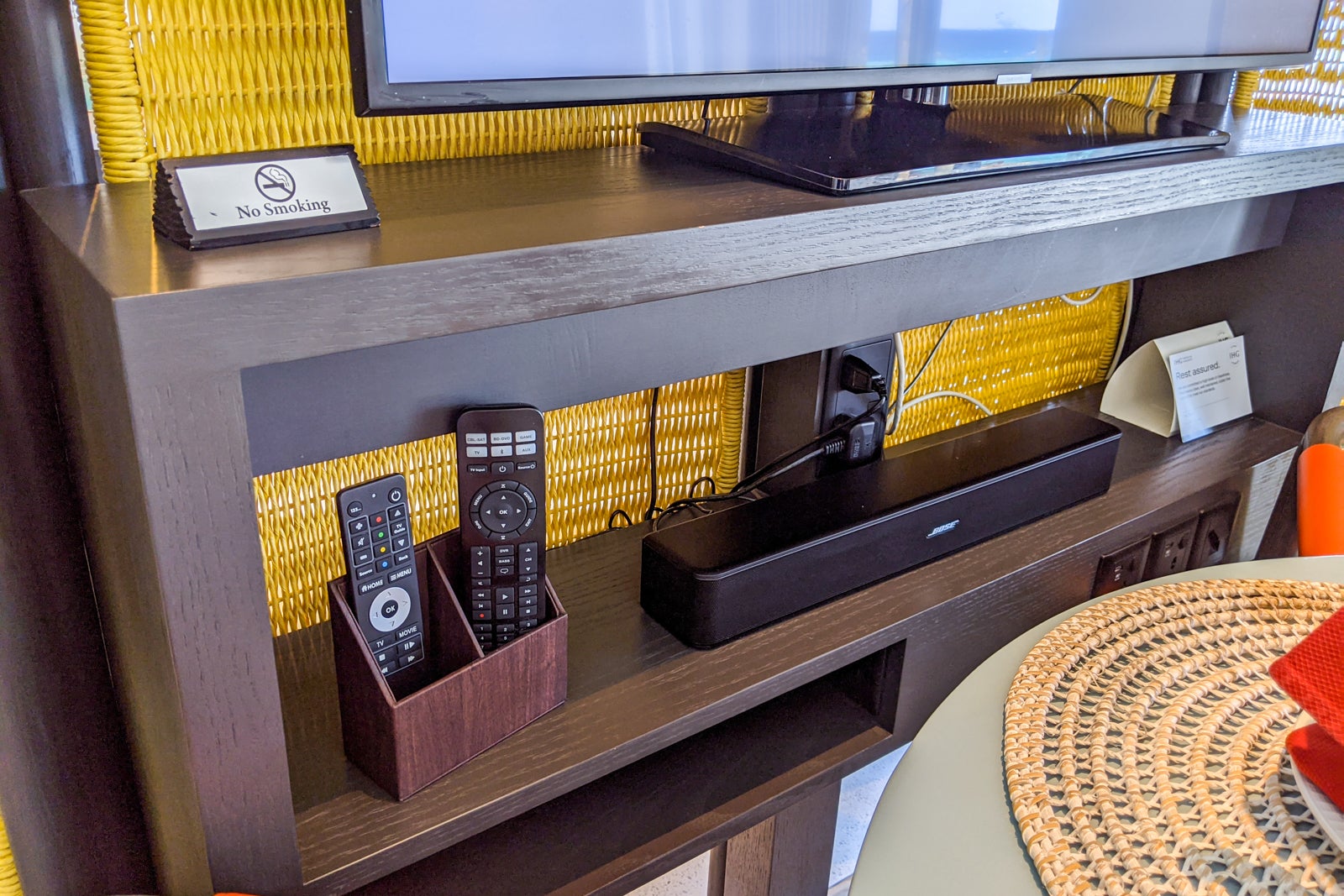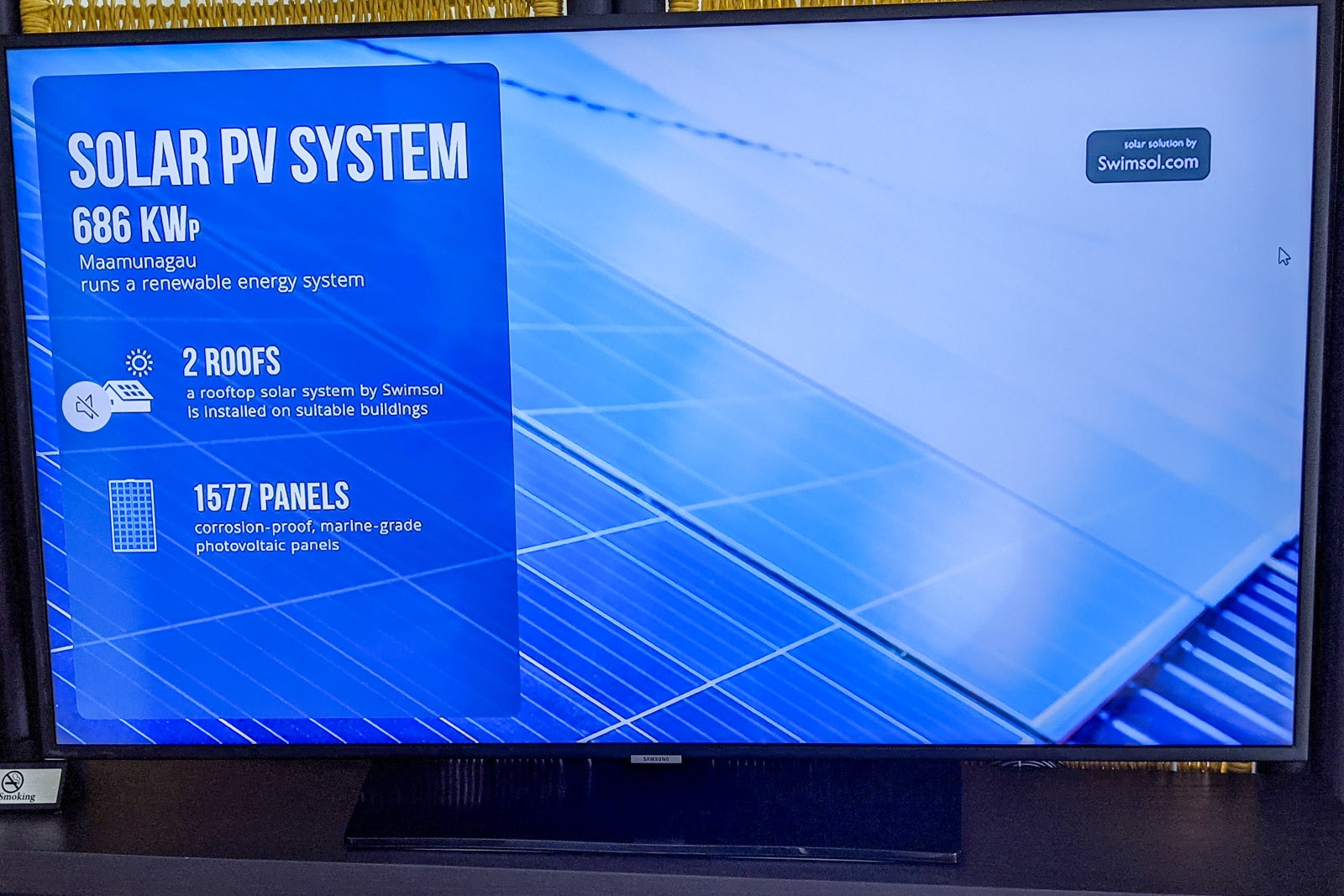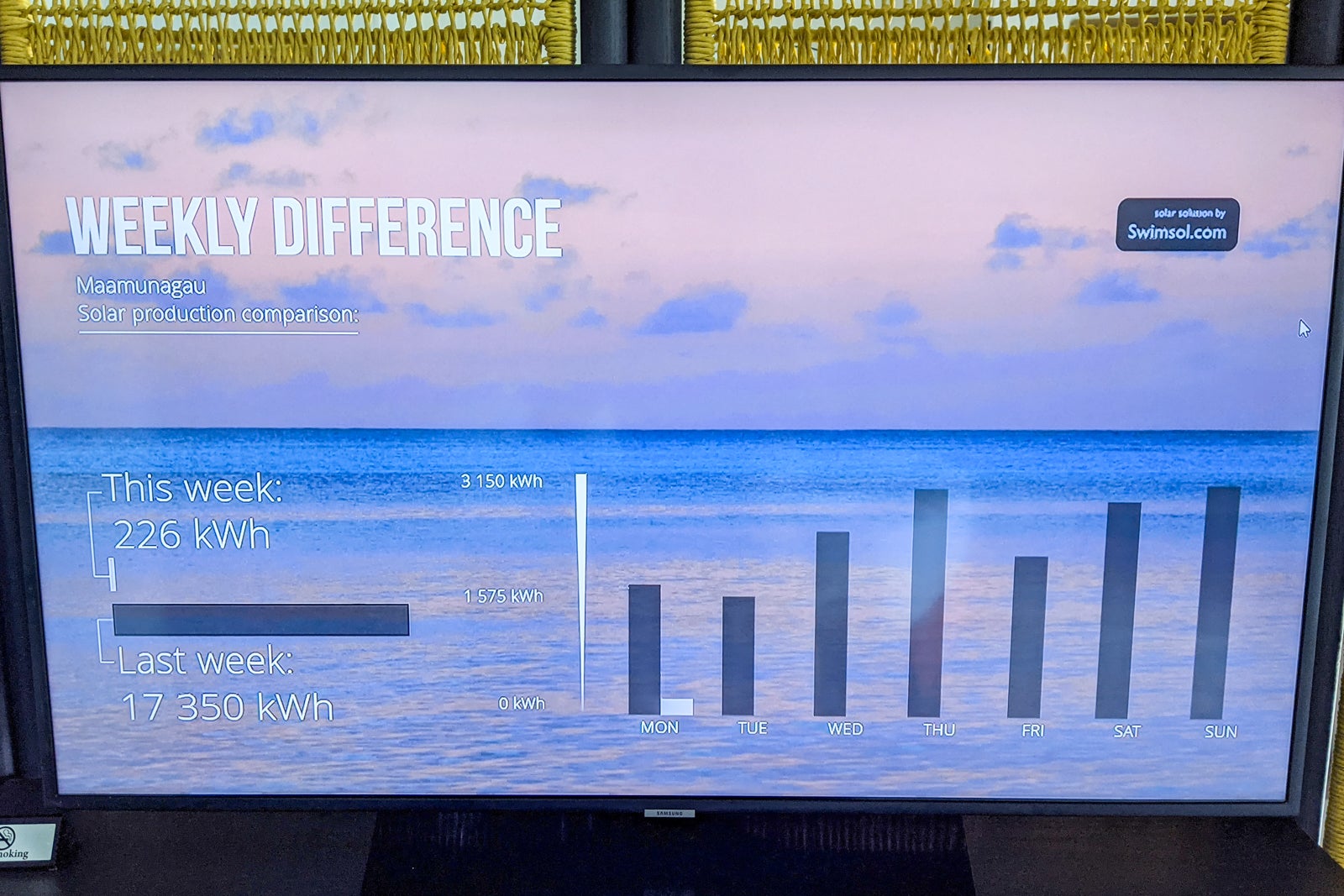 Walking toward the bathroom area from the entrance door you could see the minibar area. Coffee, tea, water, juice and sodas were free of charge. No chargeable items were in our mini bar and we saw no price list. Coffee, tea and sugar were in cute canisters and there was a Nespresso machine for coffee. There was also a water kettle, ice bucket and cocktail shaker provided for other types of drinks.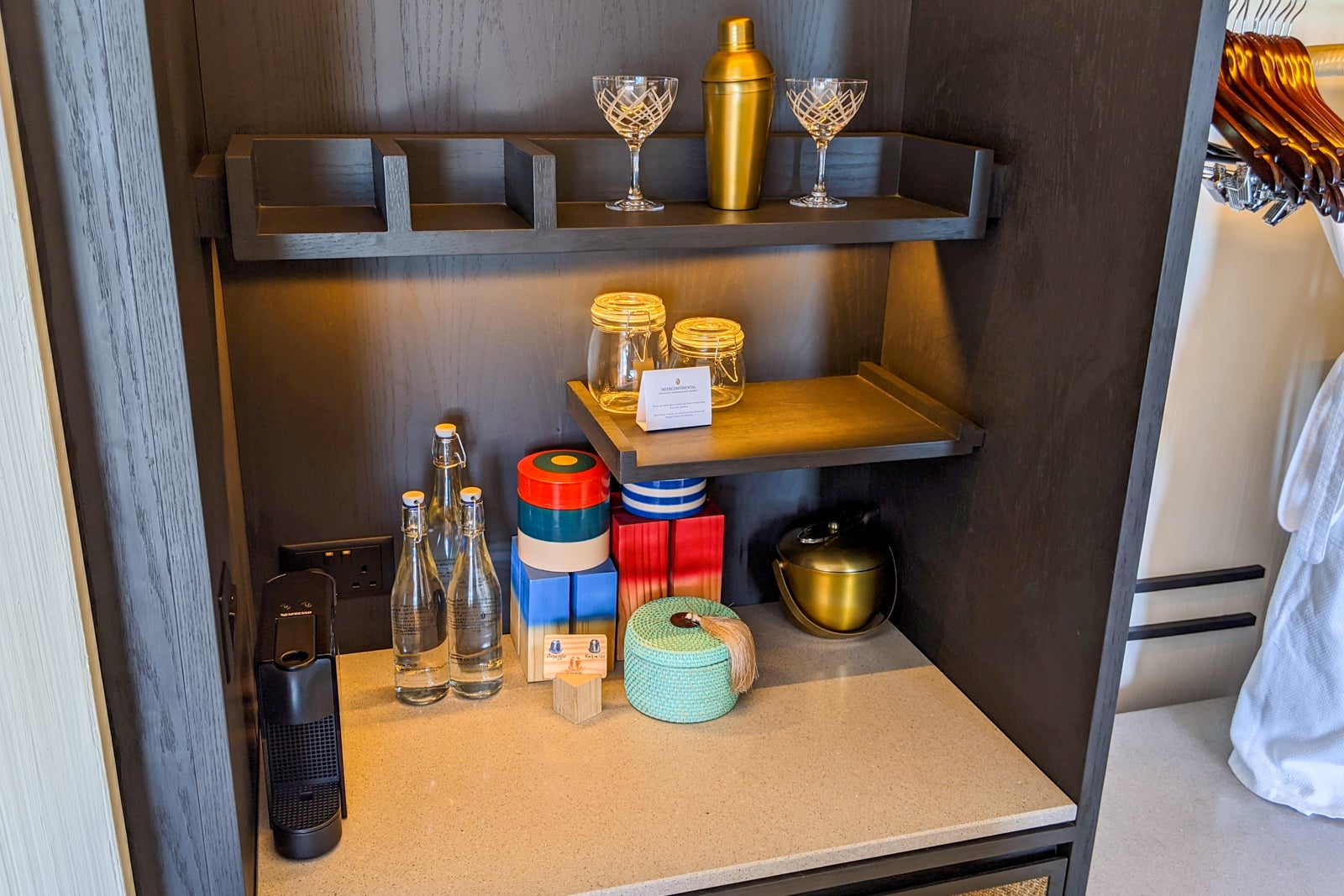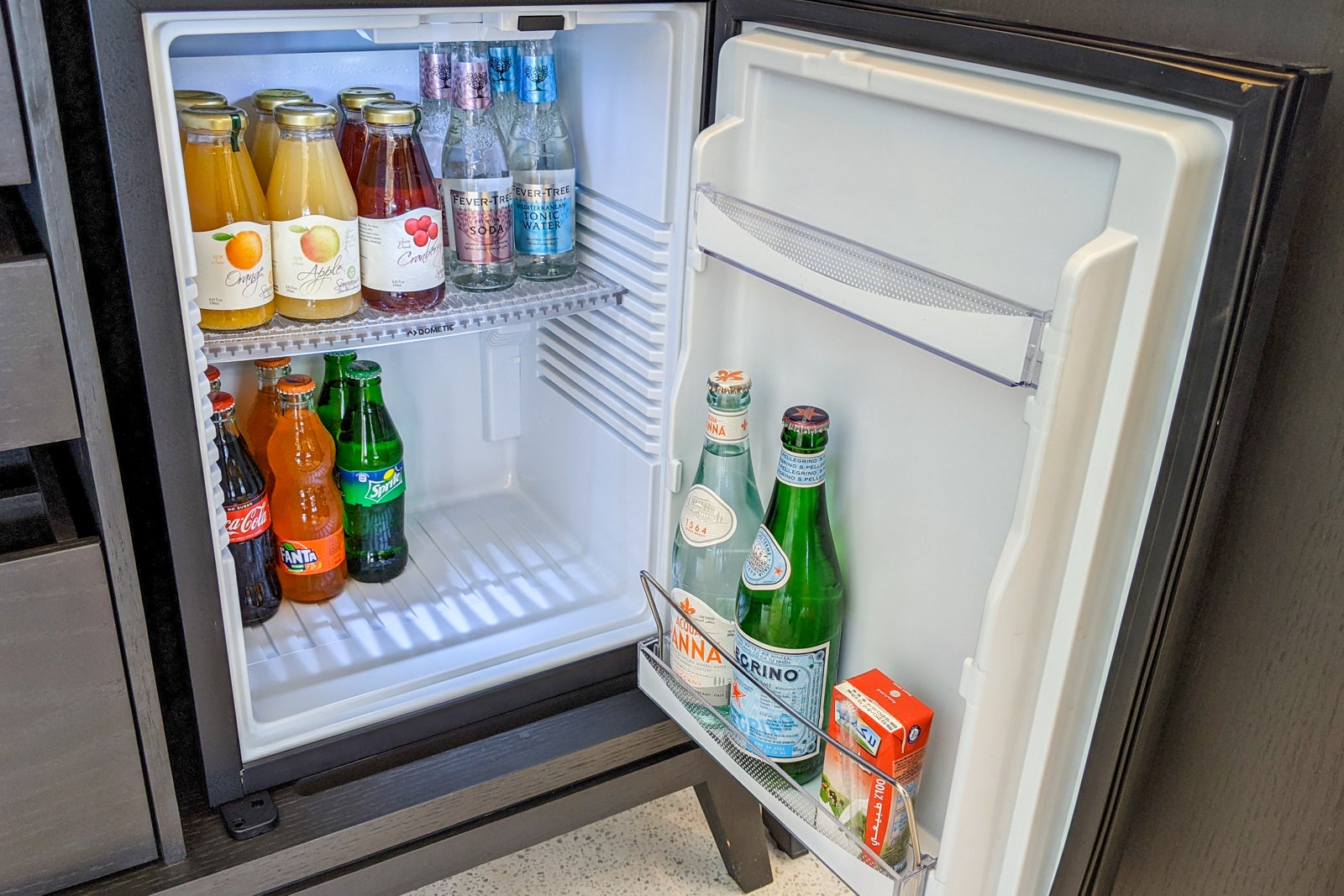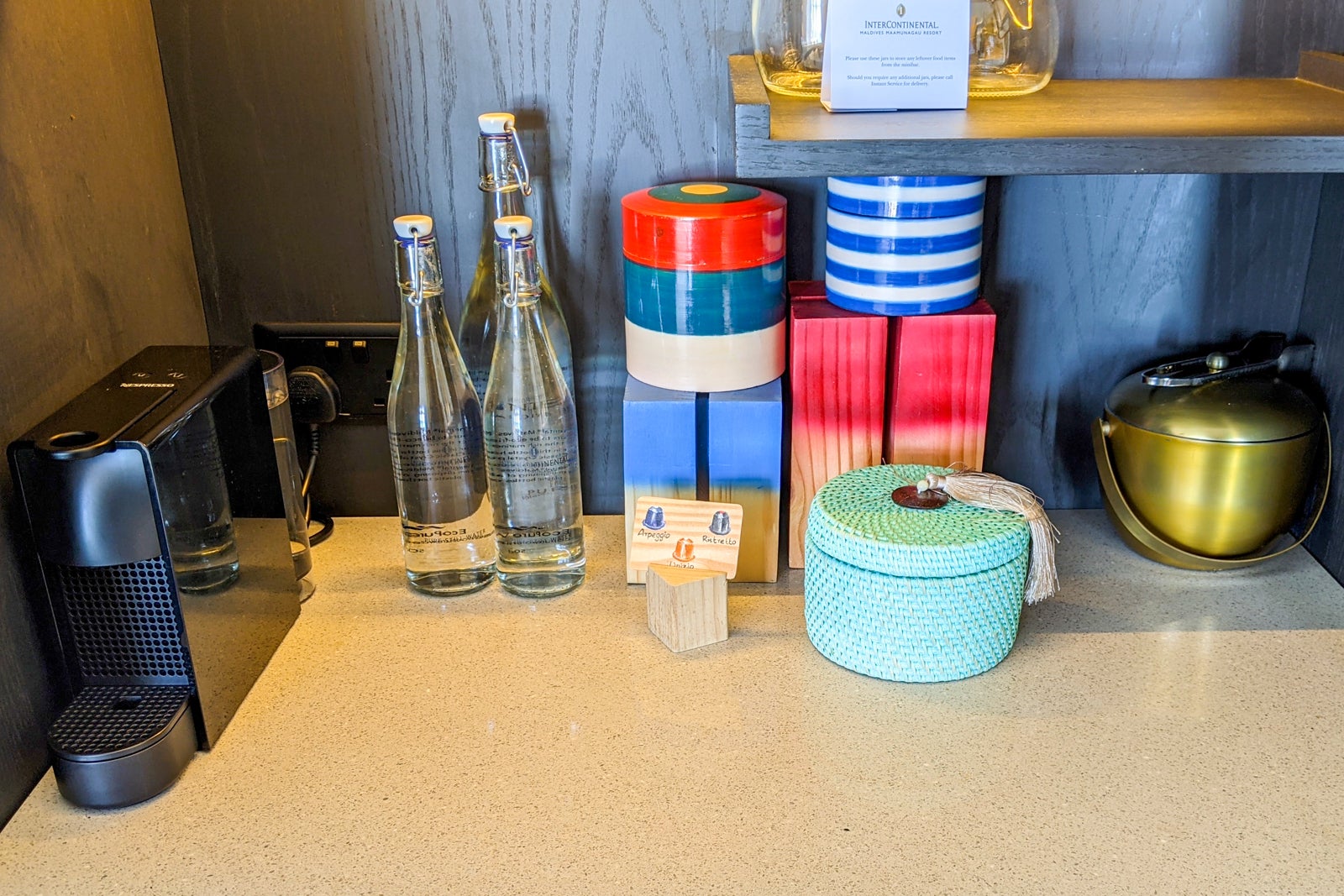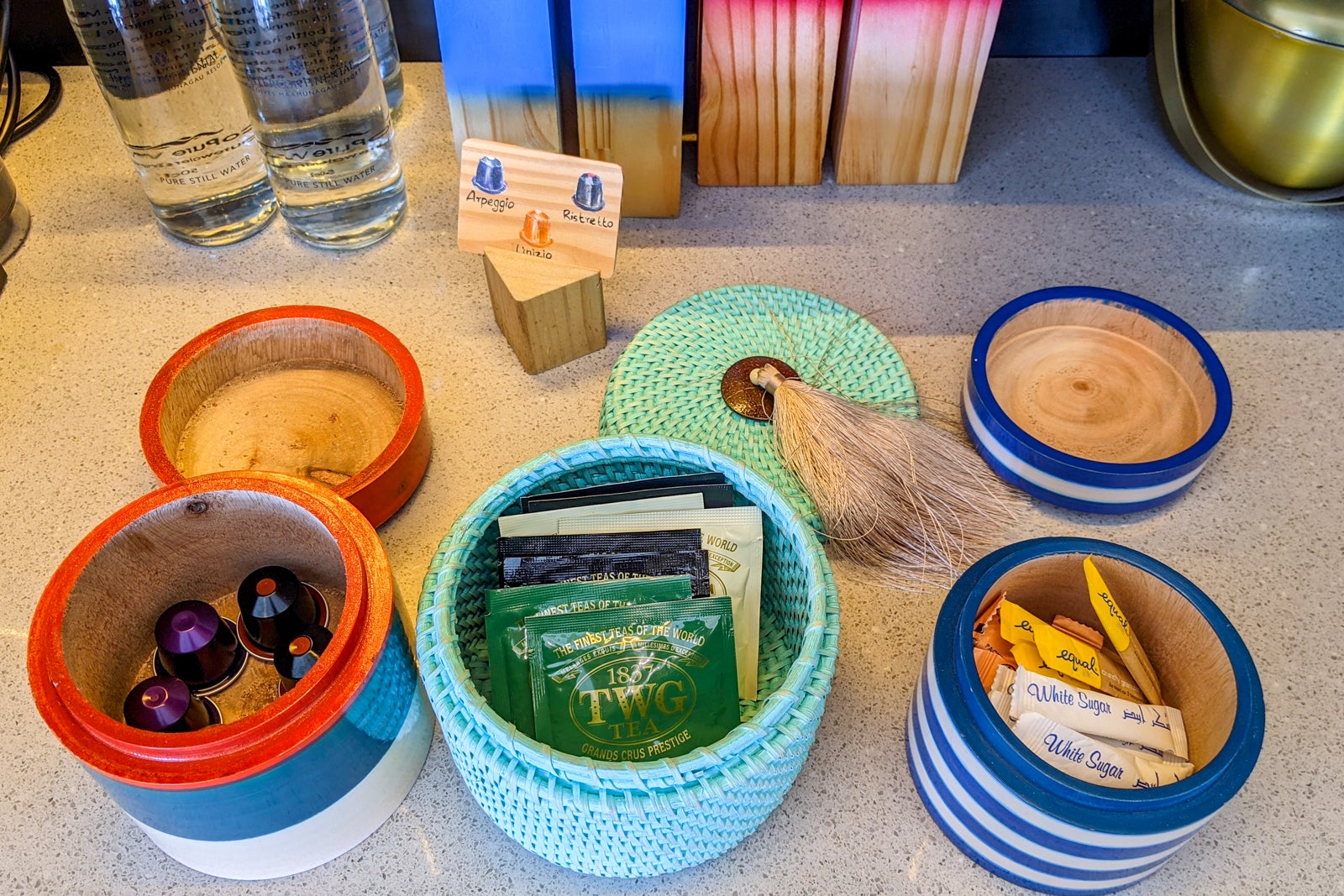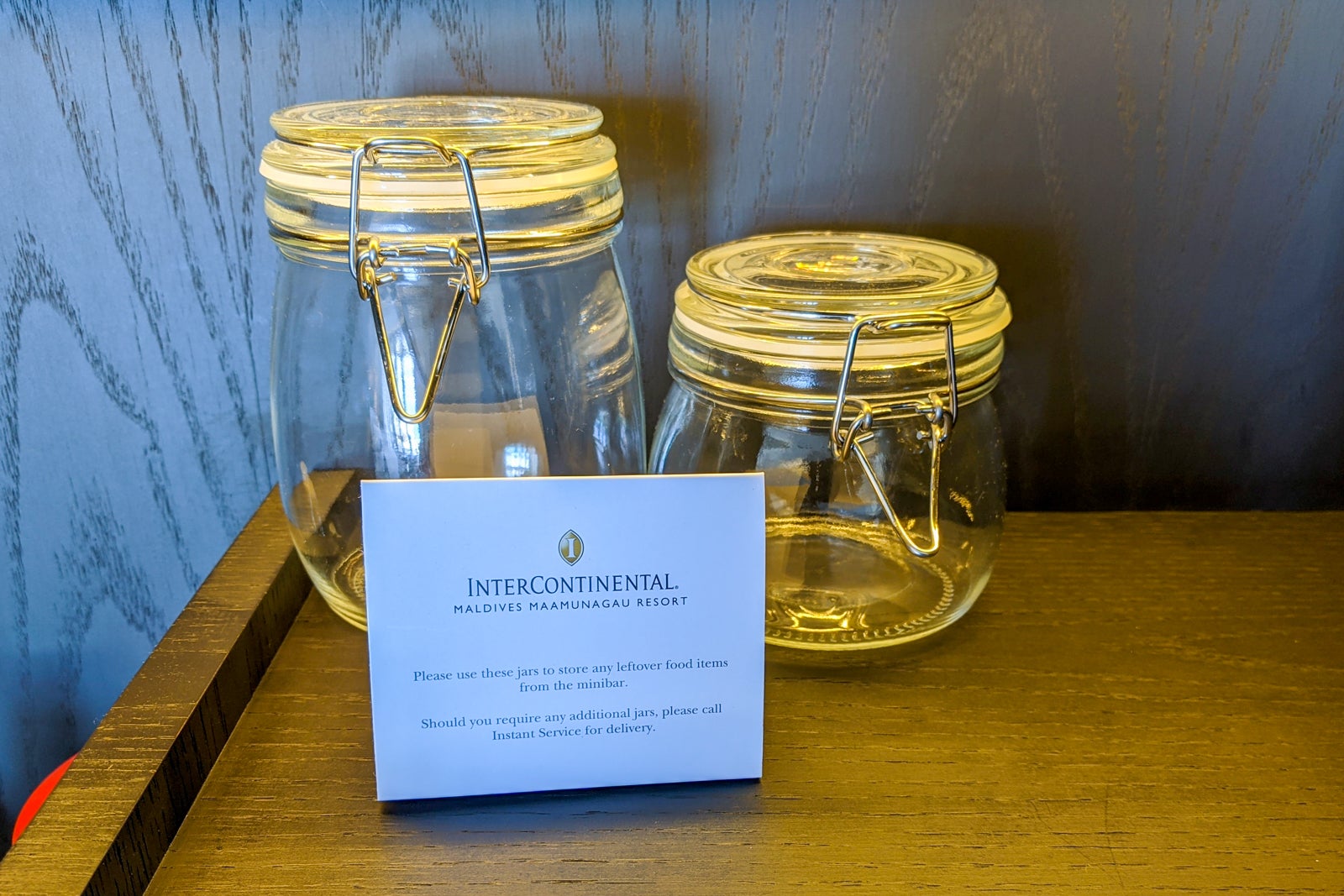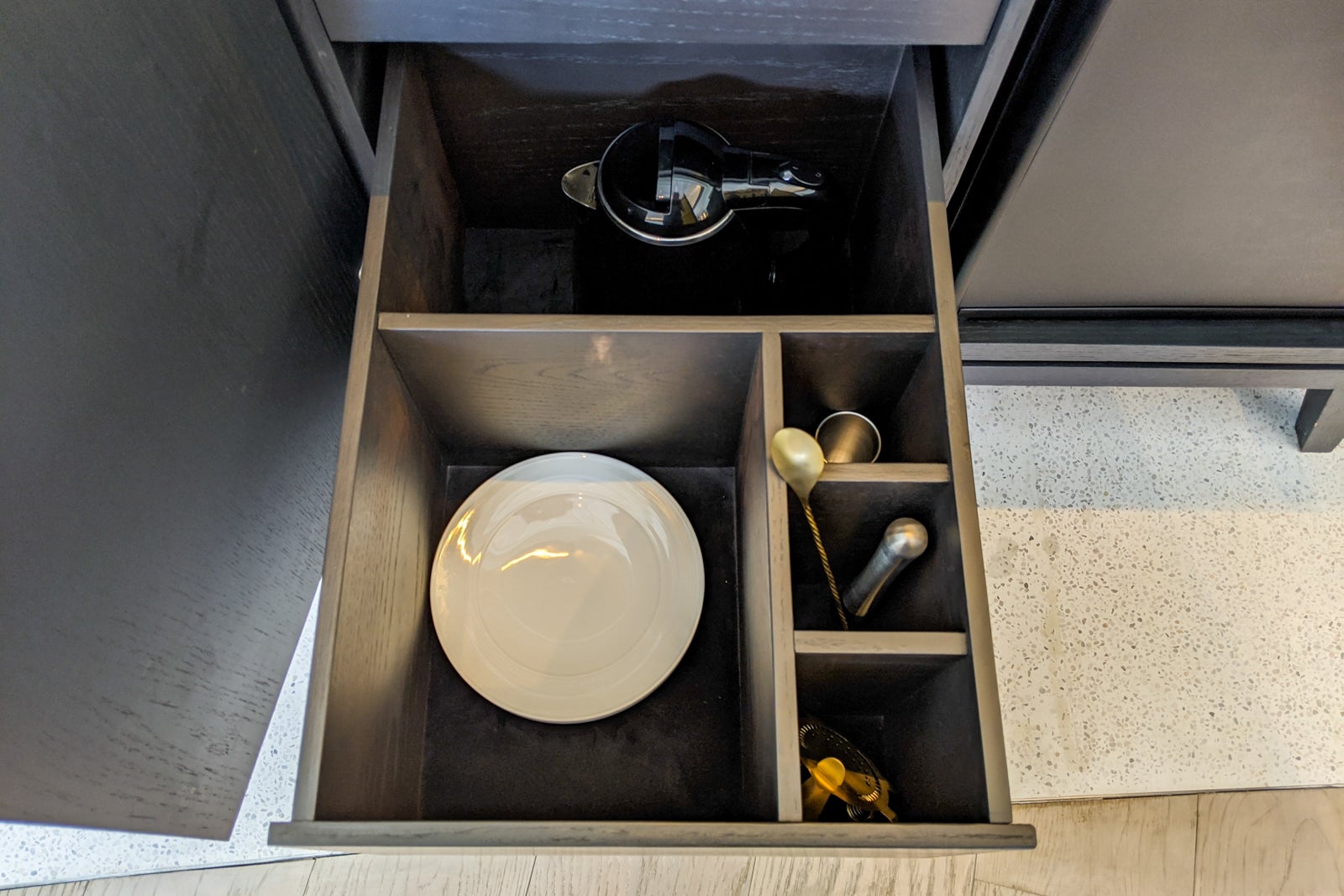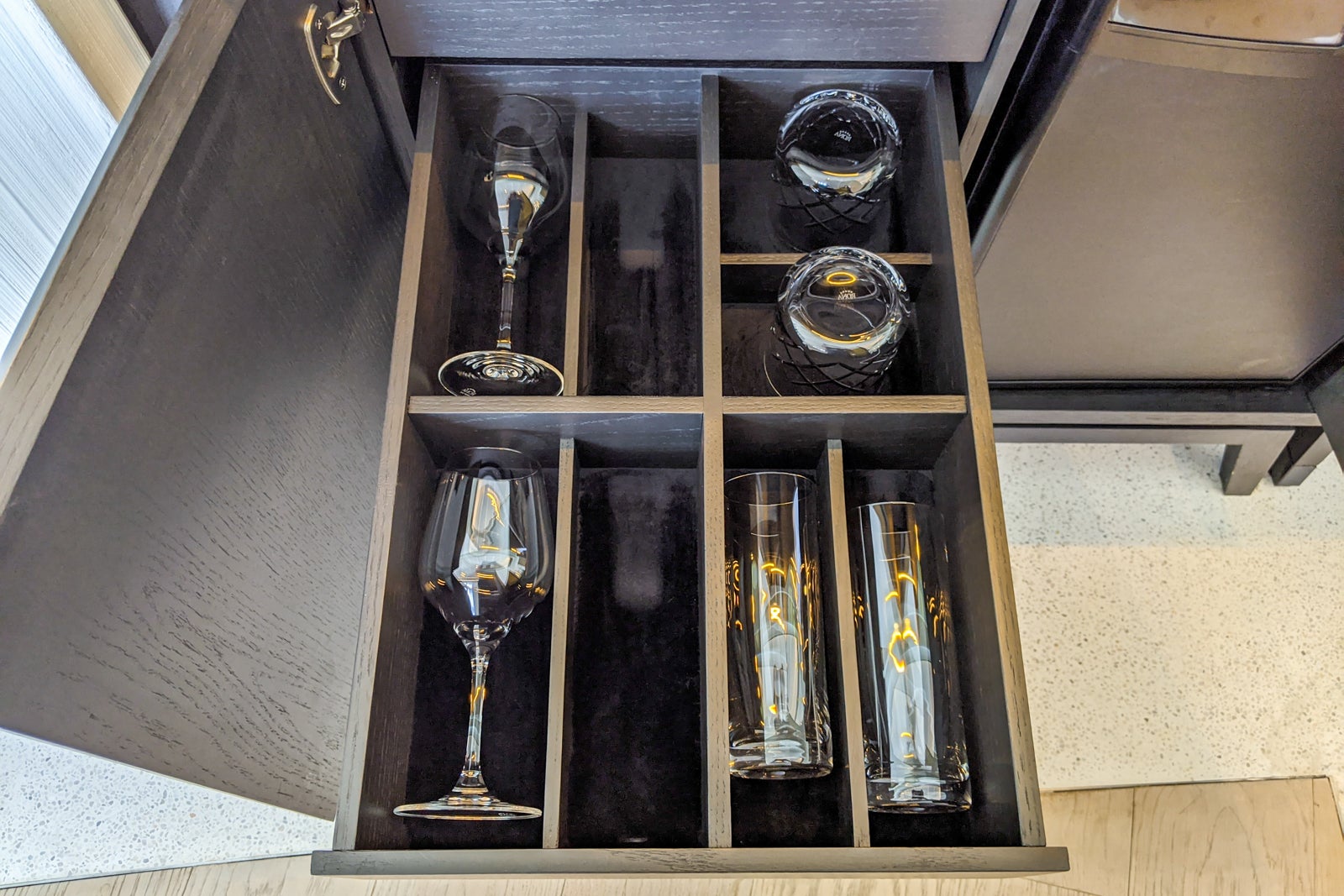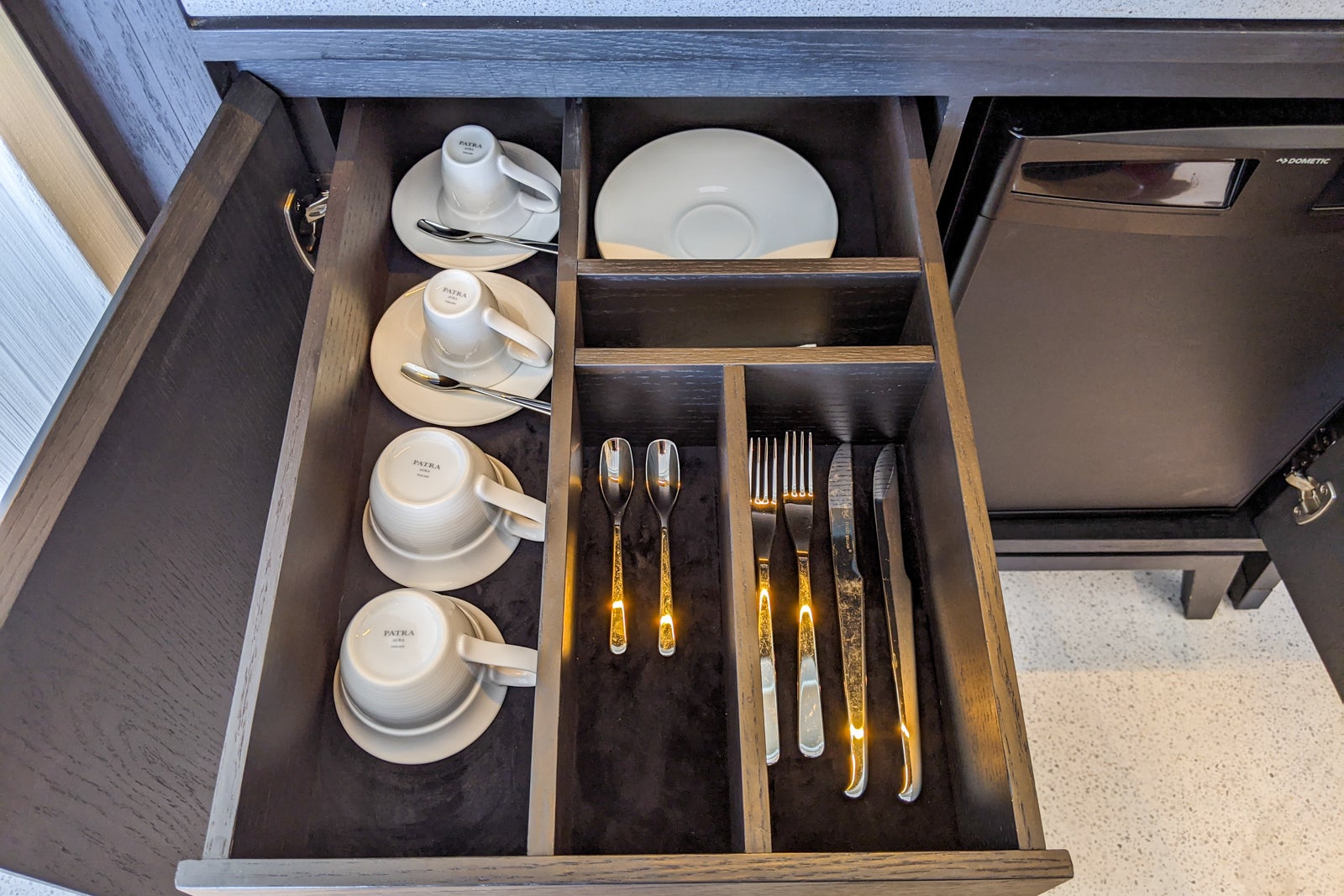 Next to the minibar was an open closet with 17 hangers, two lifejackets, two umbrellas and four robes that take up a lot of space. A shelving unit held two beach towels, a safe, slippers and laundry bags with price lists. There was also a scale in the closet and a full-length mirror next to the closet. You could open the mirror to reveal an ironing board and iron.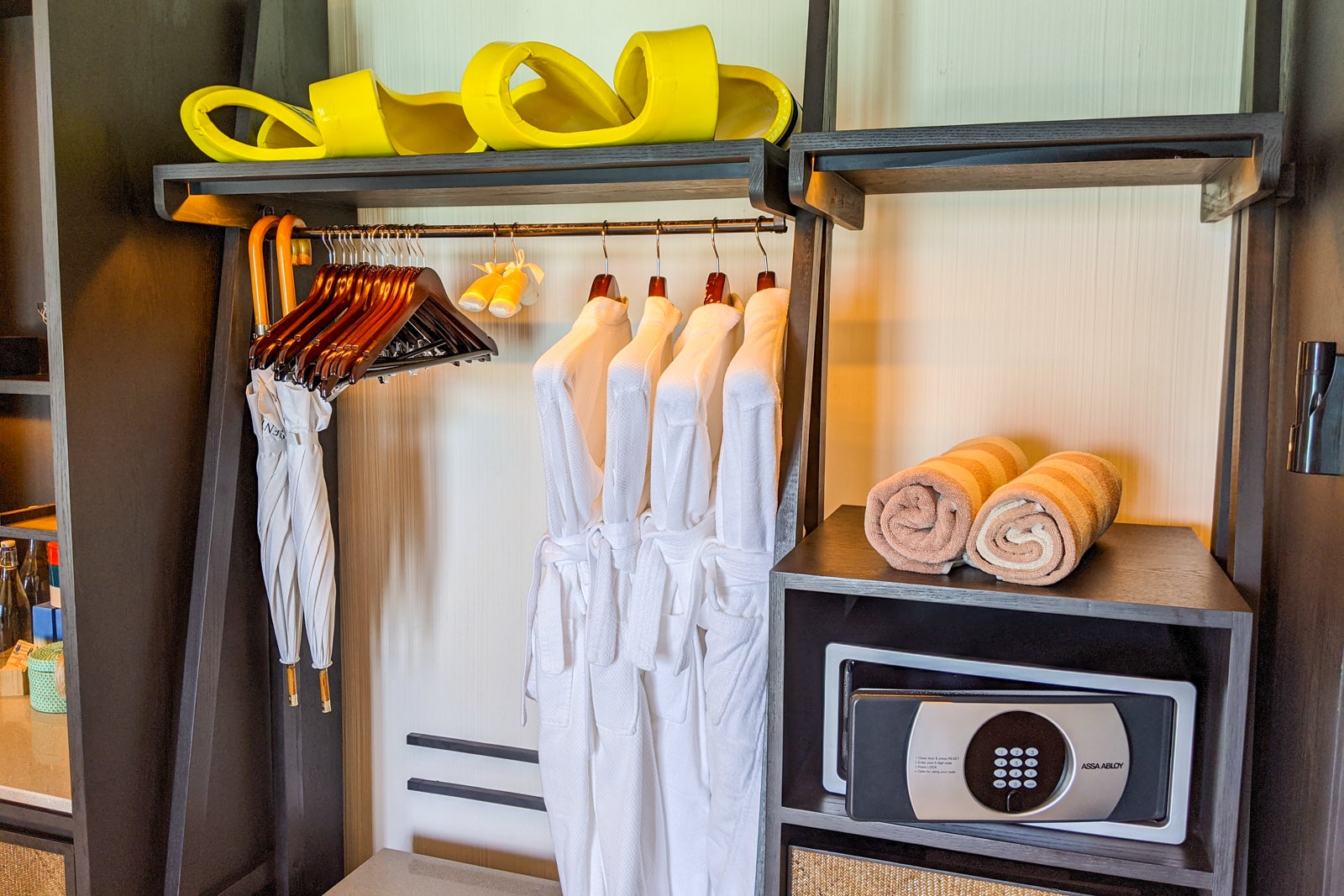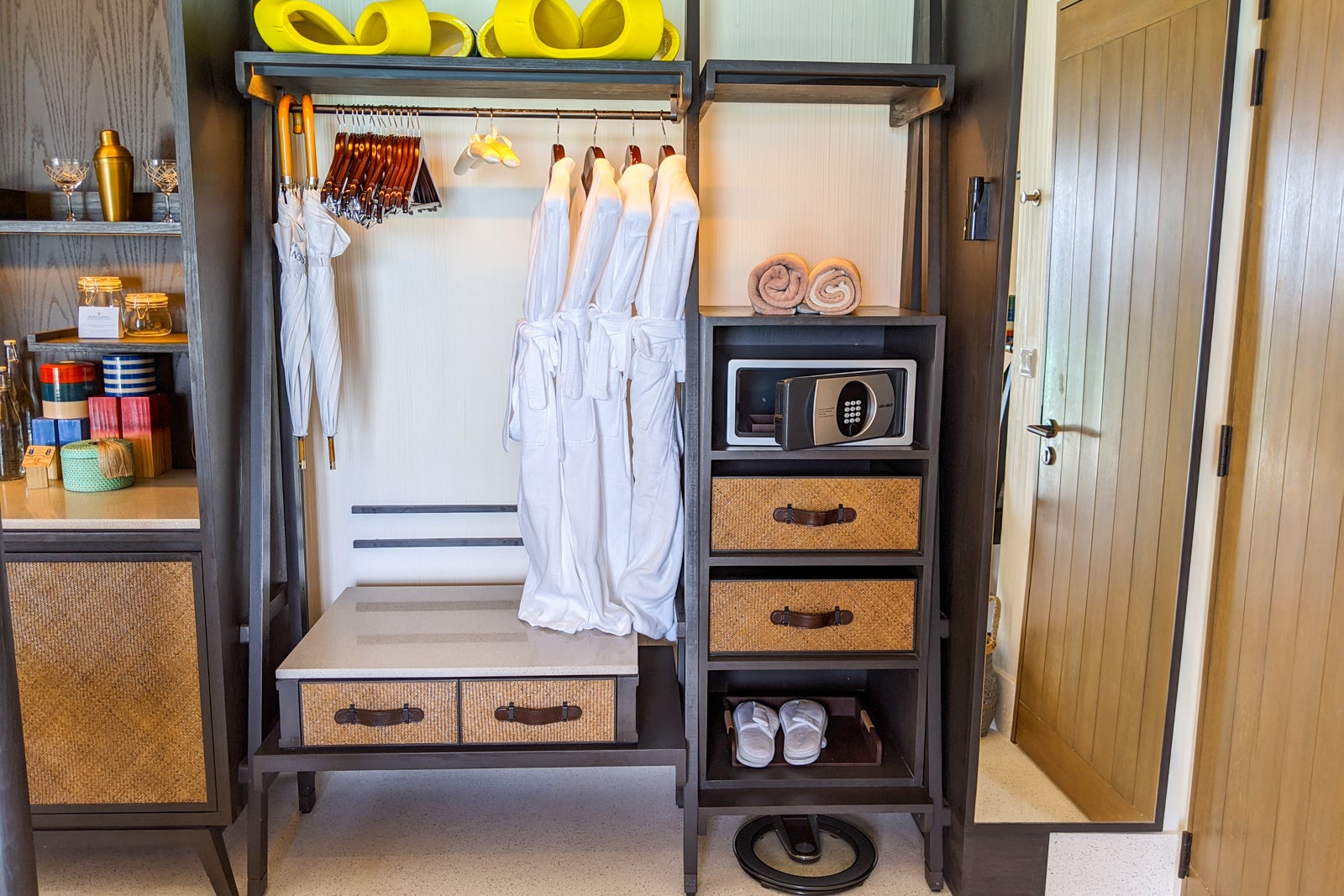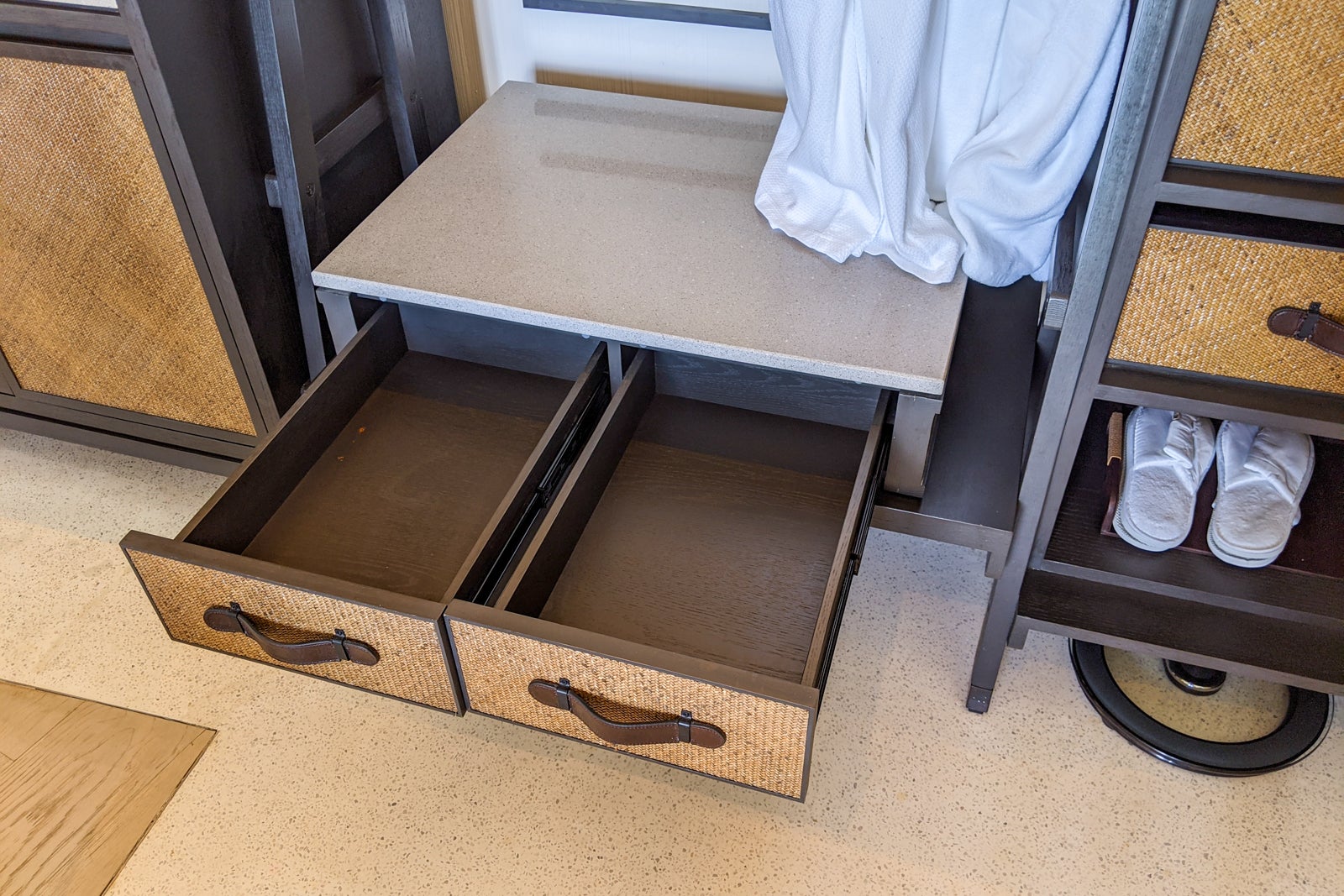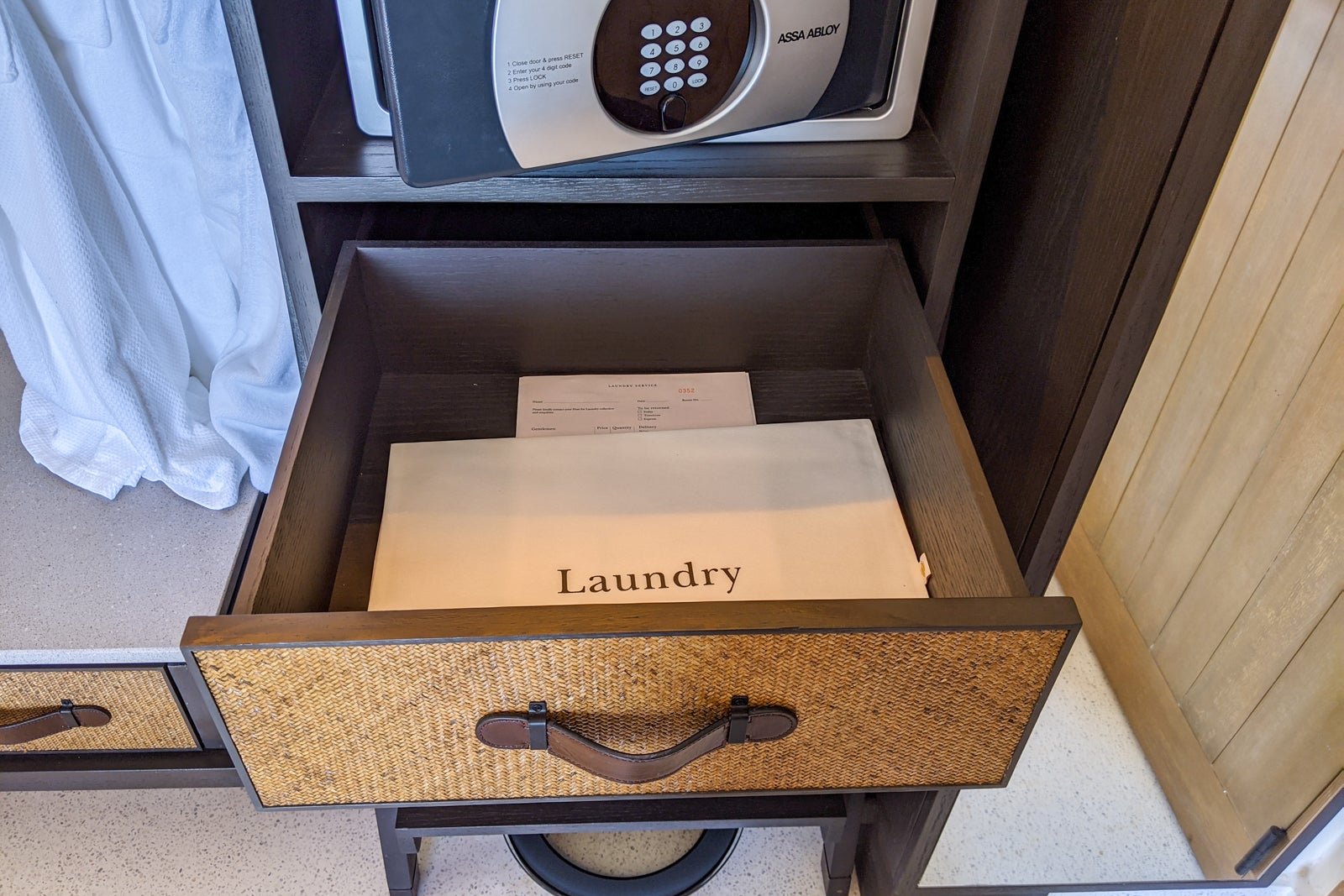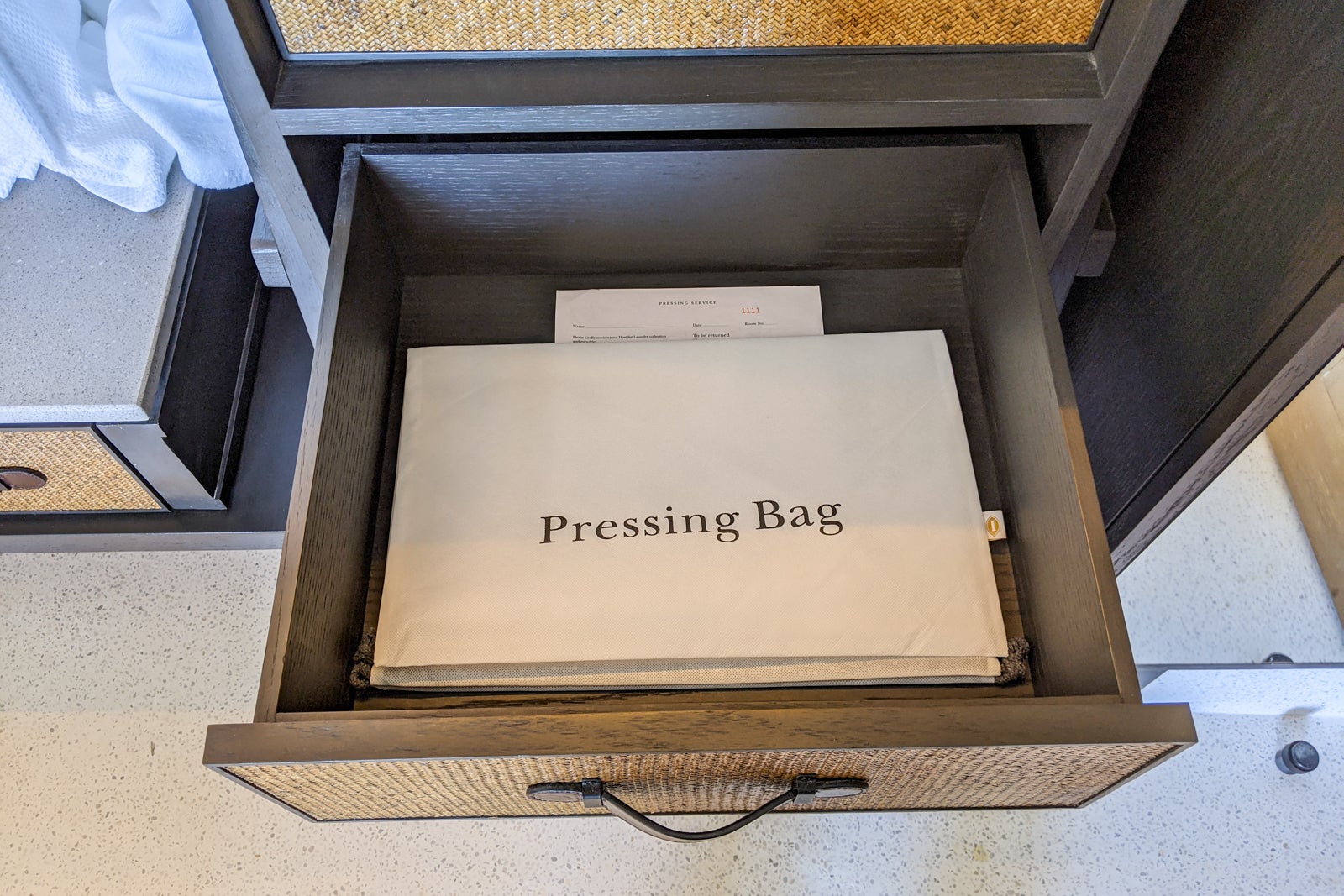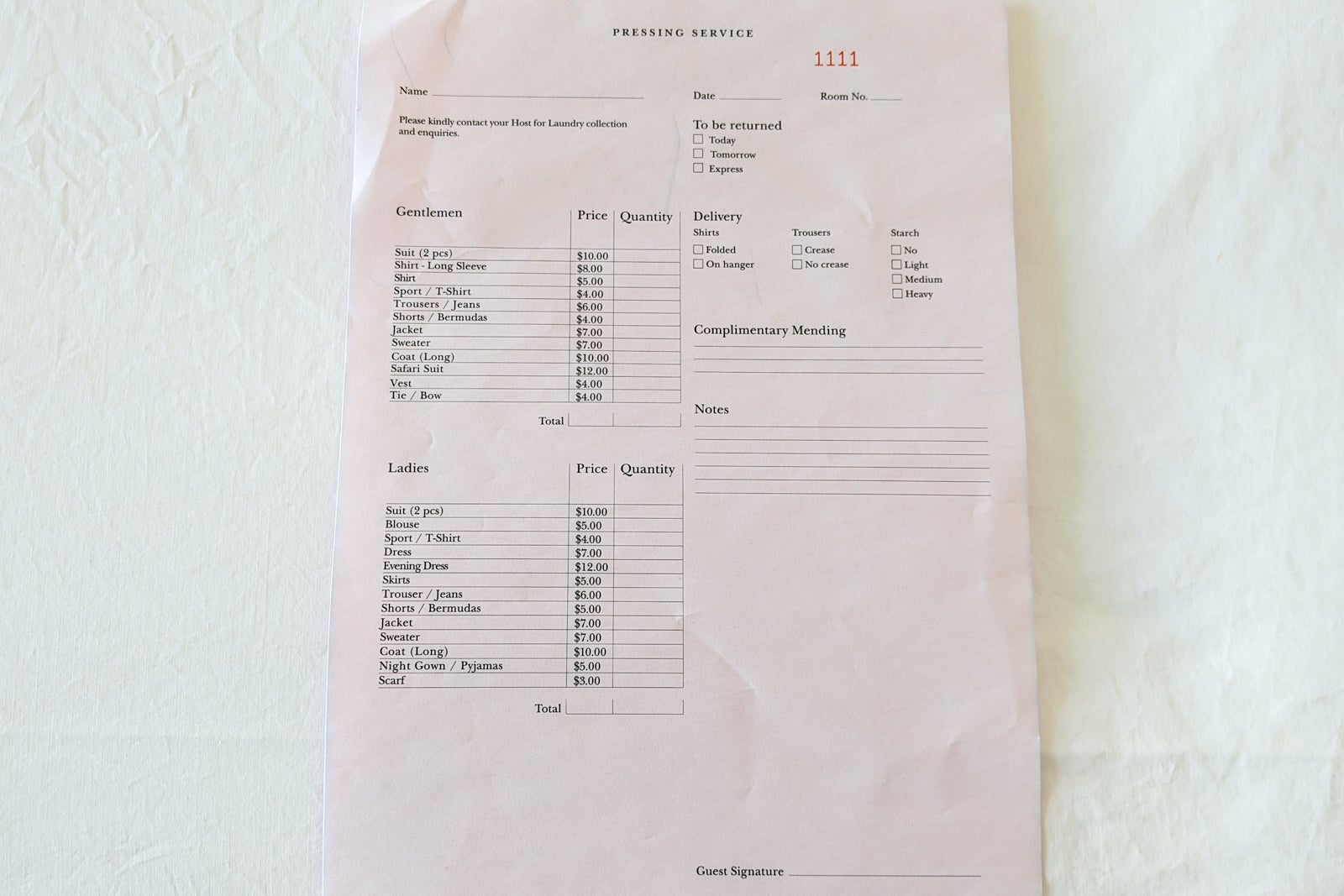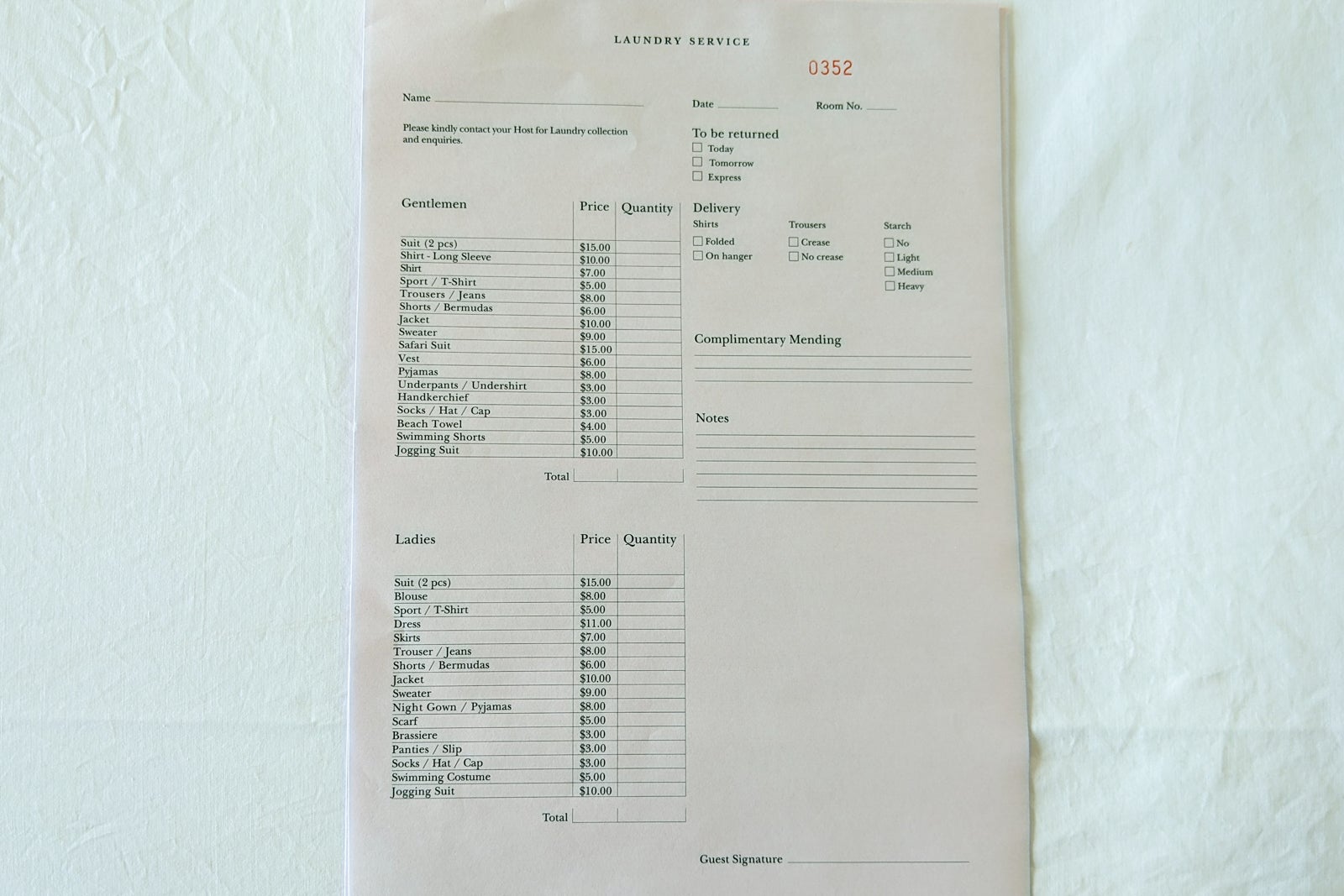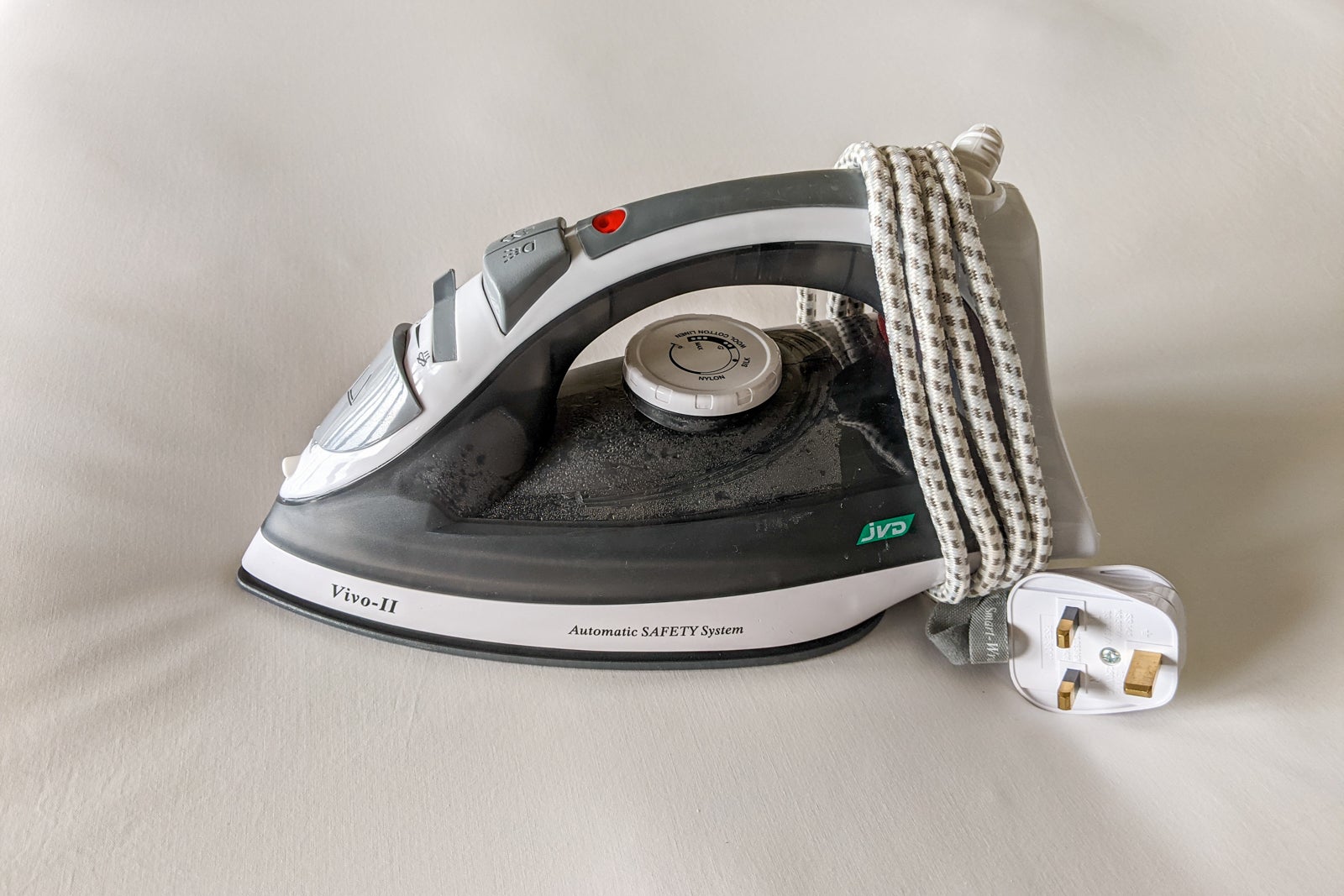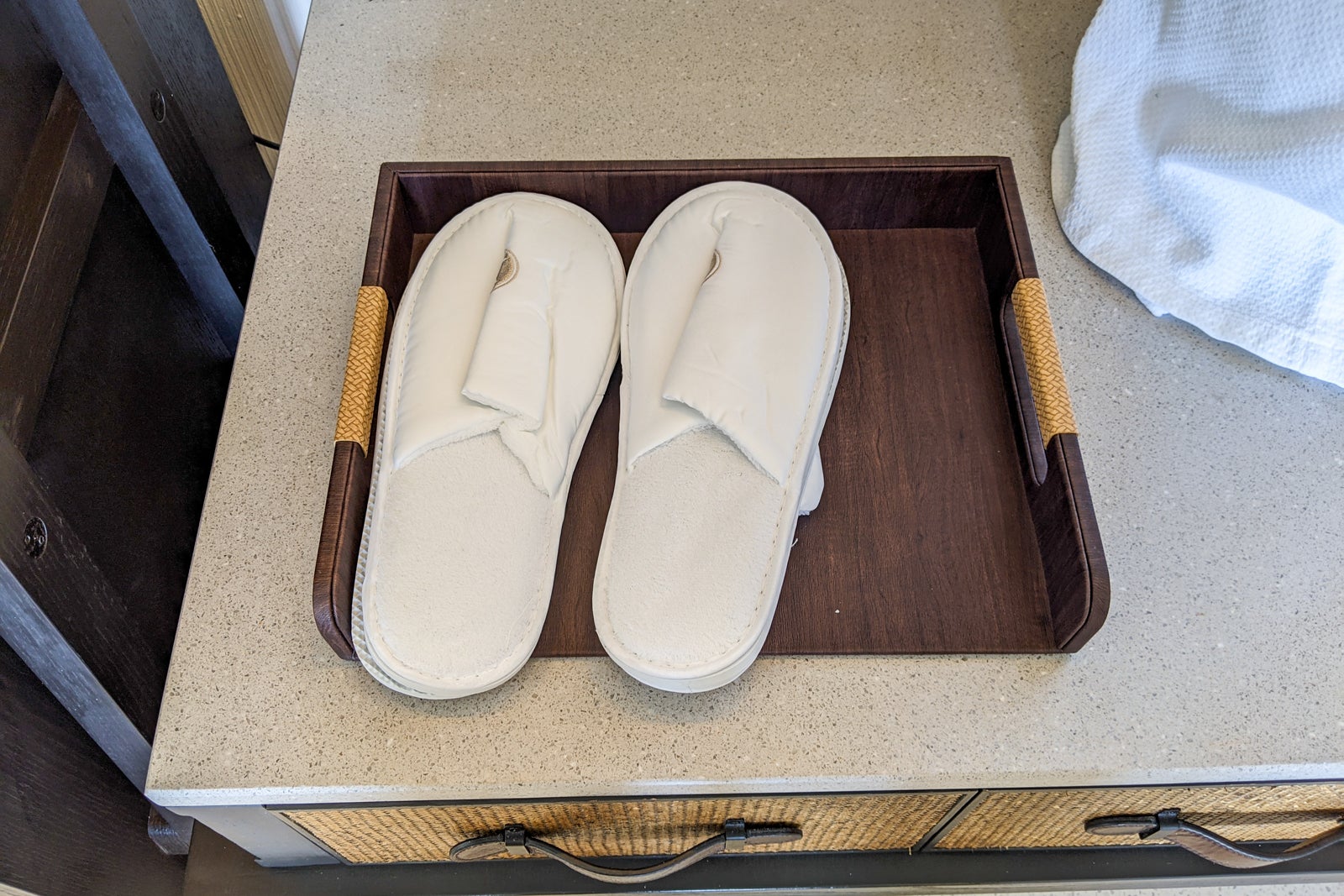 The toilet sat in a room of its own on one side of the sink. The toilet was equipped with a bidet, but the water hose wasn't connected.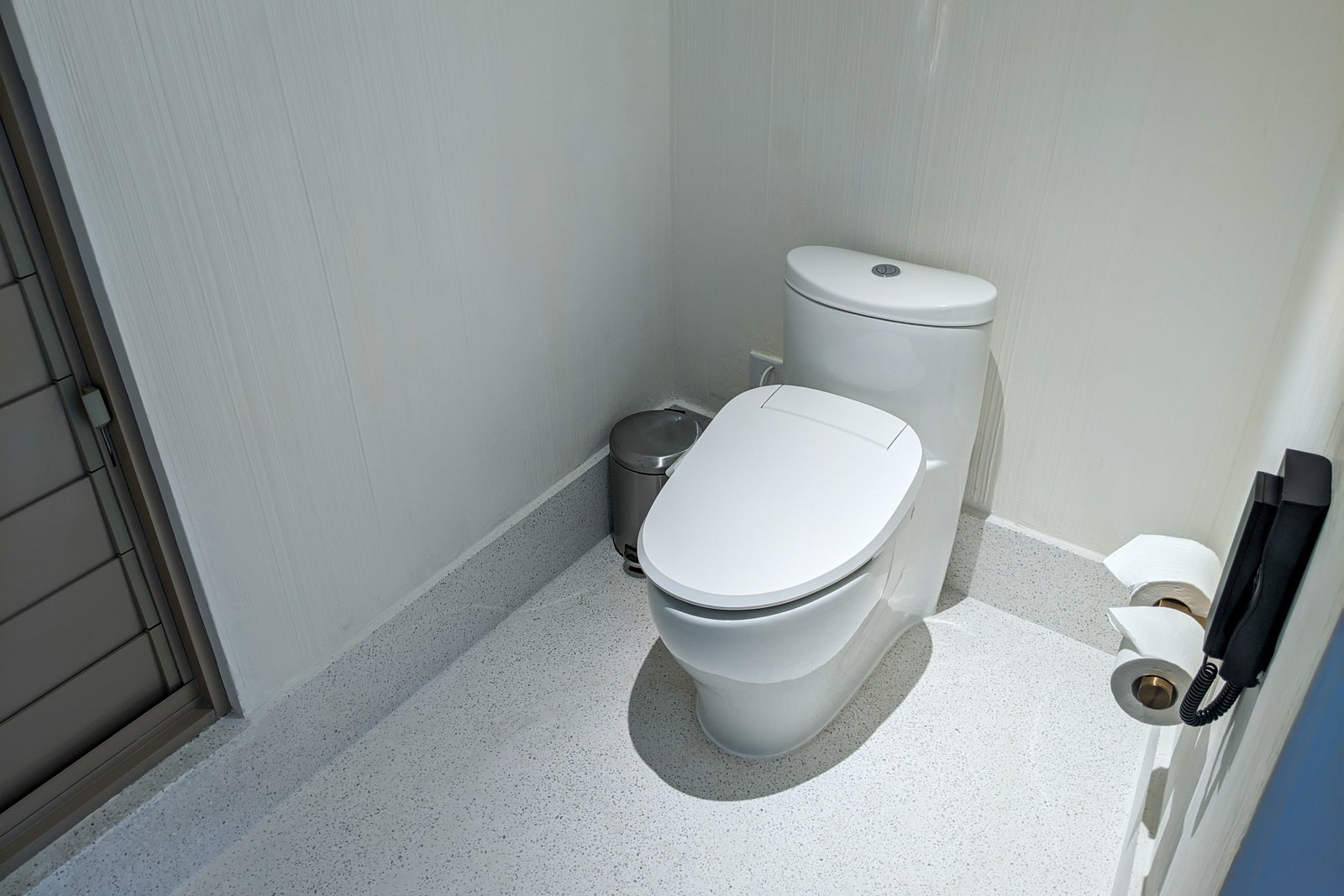 The shower was in a room on the other side of the sink. The flooring in the shower was textured to prevent slips and the rainfall shower offered strong water pressure. However, a window would have gone a long way towards making this space more attractive. A hand-held showerhead was also available, but you couldn't use the hand-held nozzle and the rainfall feature simultaneously. Small refillable bottles held shampoo, conditioner and body wash.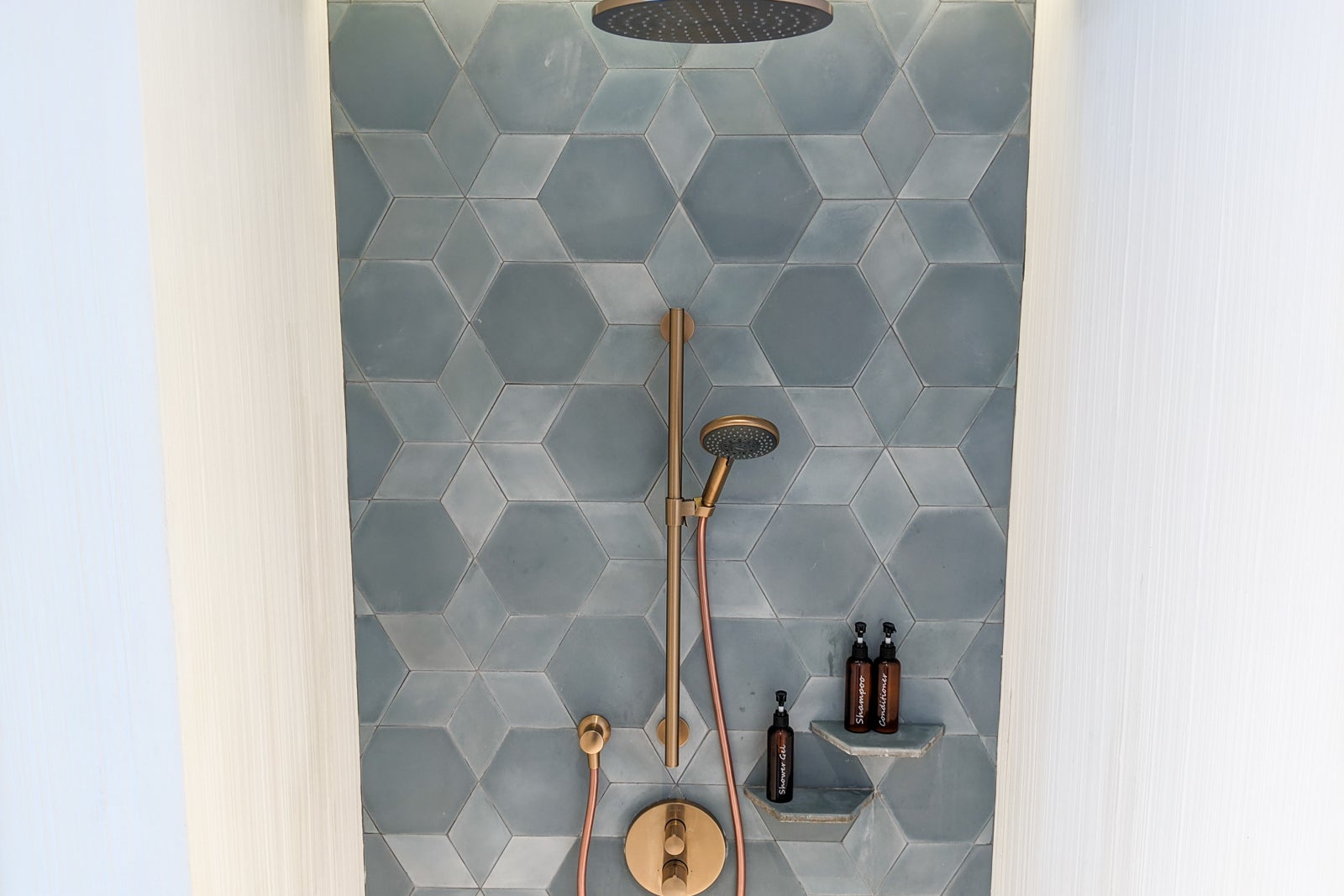 The sink area was between the toilet and shower rooms. A hanging shelf held canisters with amenities such as dental kits and cotton pads, while a magnifying mirror sat below the shelf in front of a make-up chair. A Moor 2,000- to 2,400-watt hair dryer was under the counter.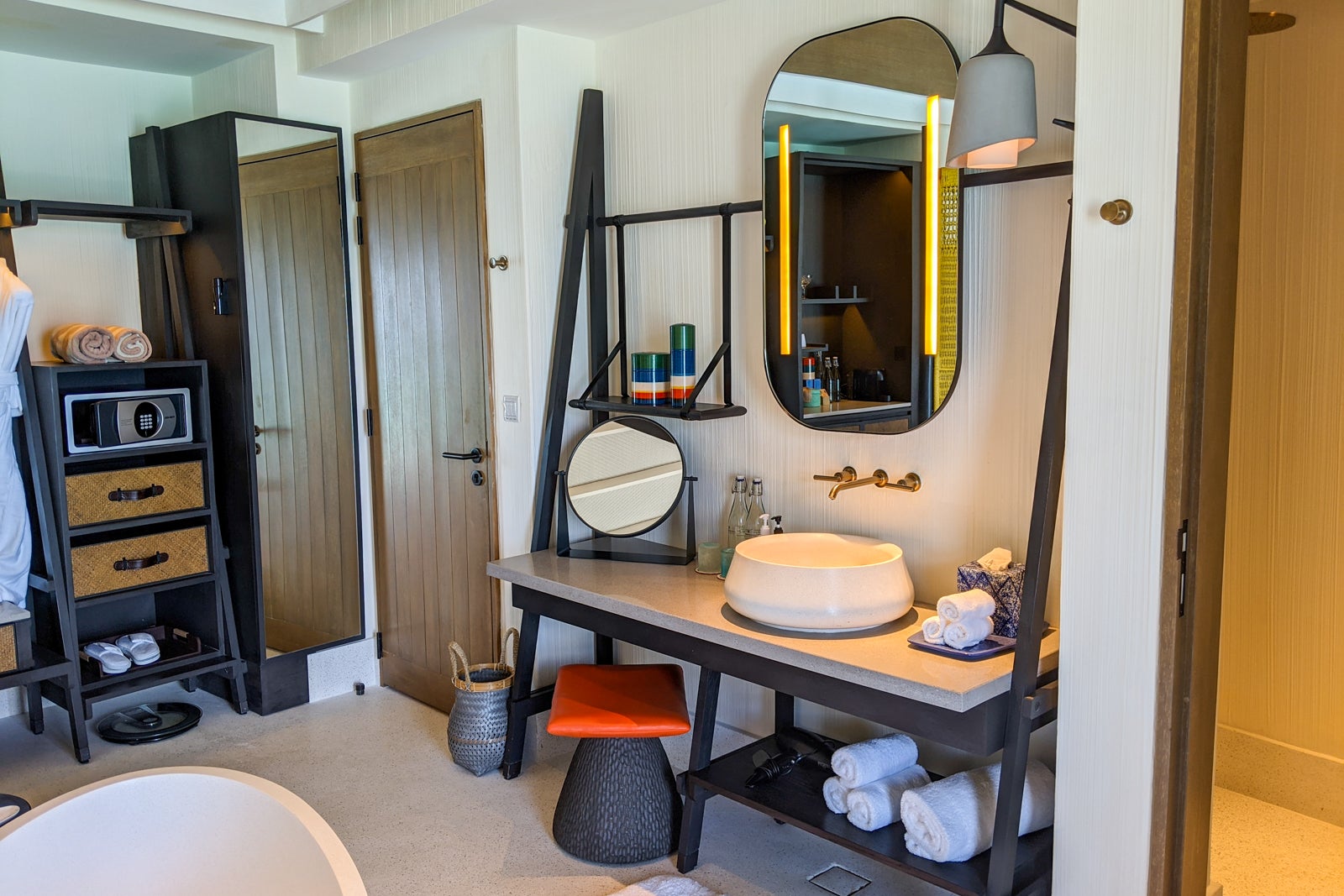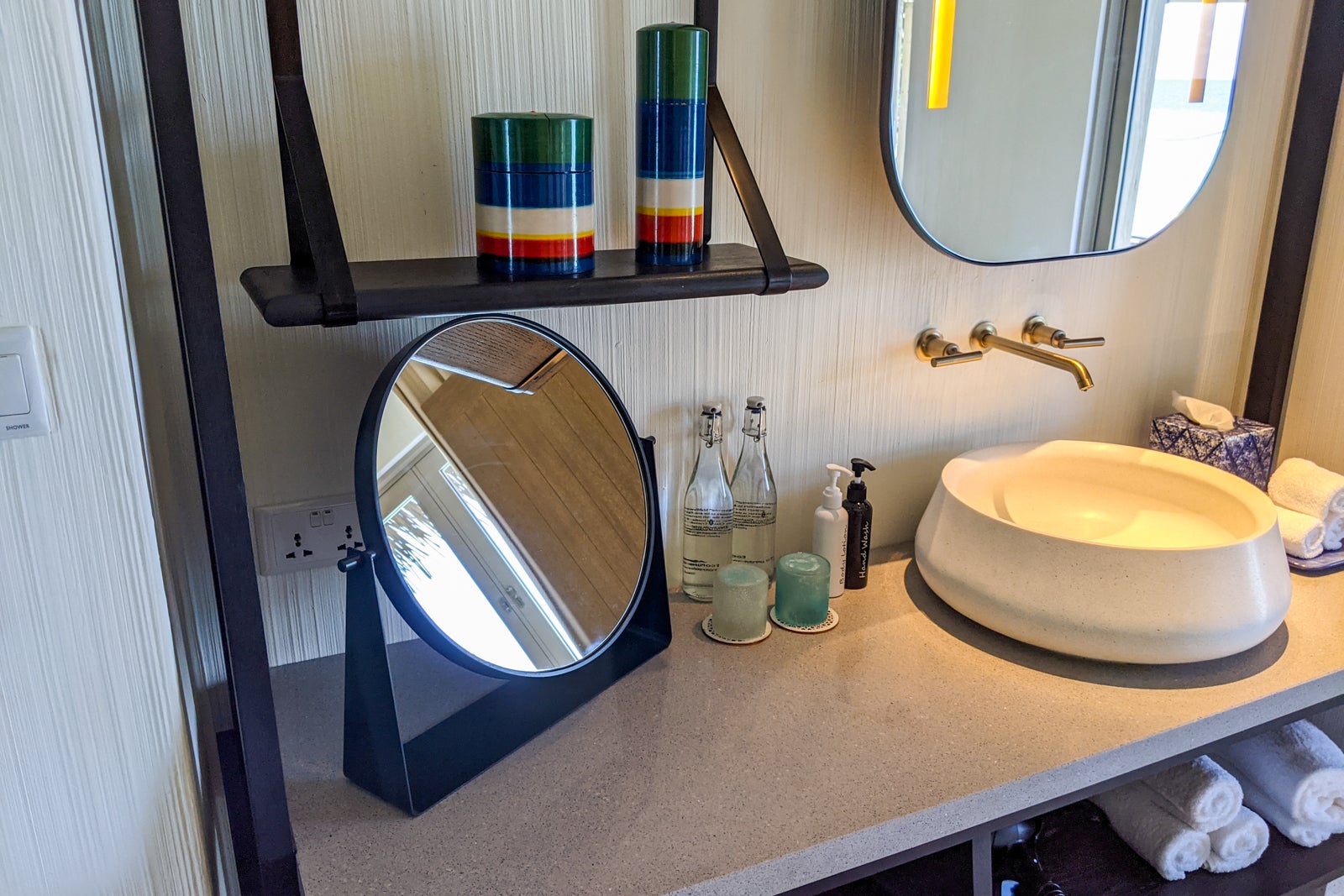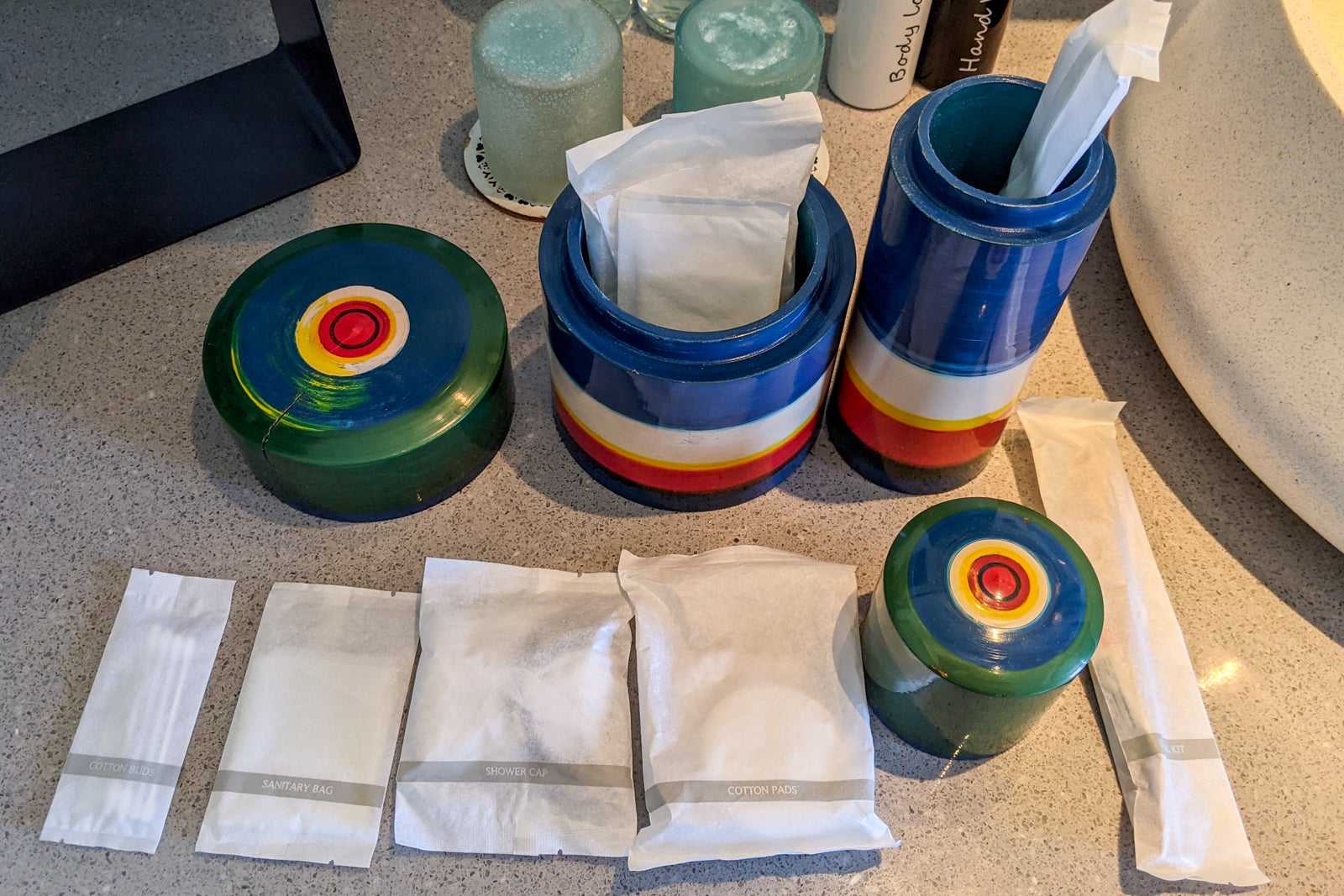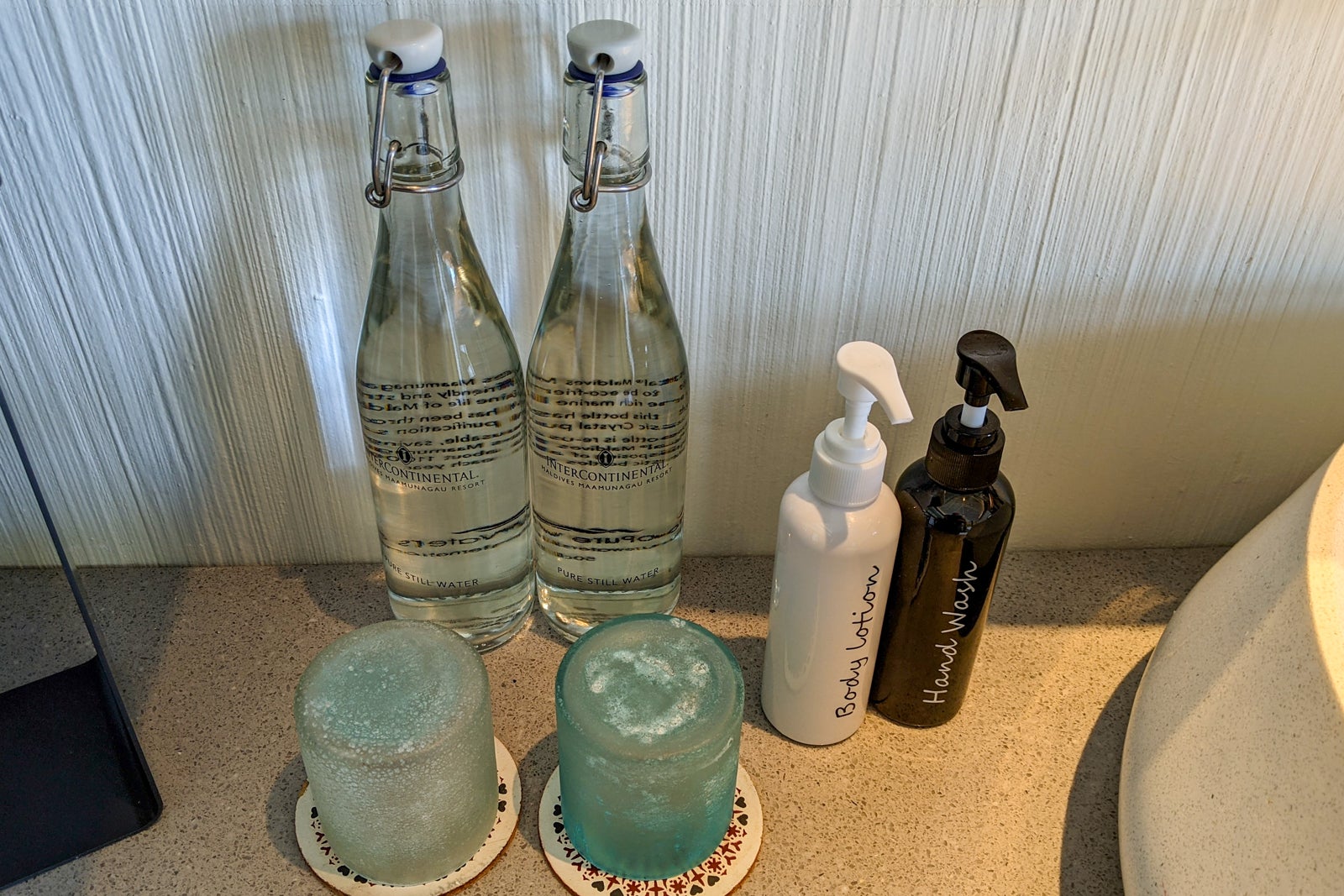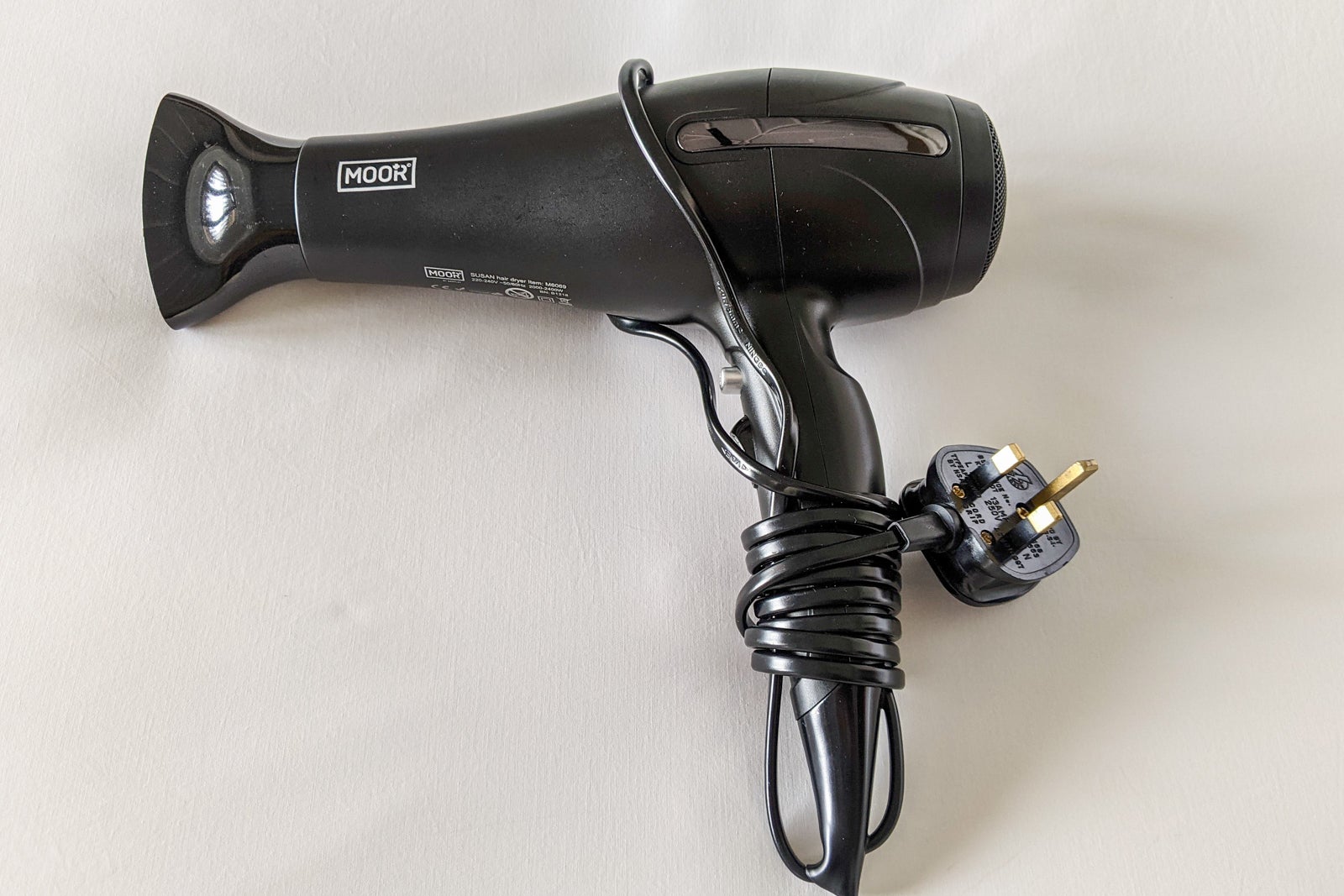 Across from the sink was a long bathtub with a handheld showerhead, and next to the bathtub was a basket for used towels. You could see the ocean from the bathtub by looking through the patio doors, but you didn't get an excellent view when bathing. However, these doors helped us reach the shower quickly after using the patio's pool.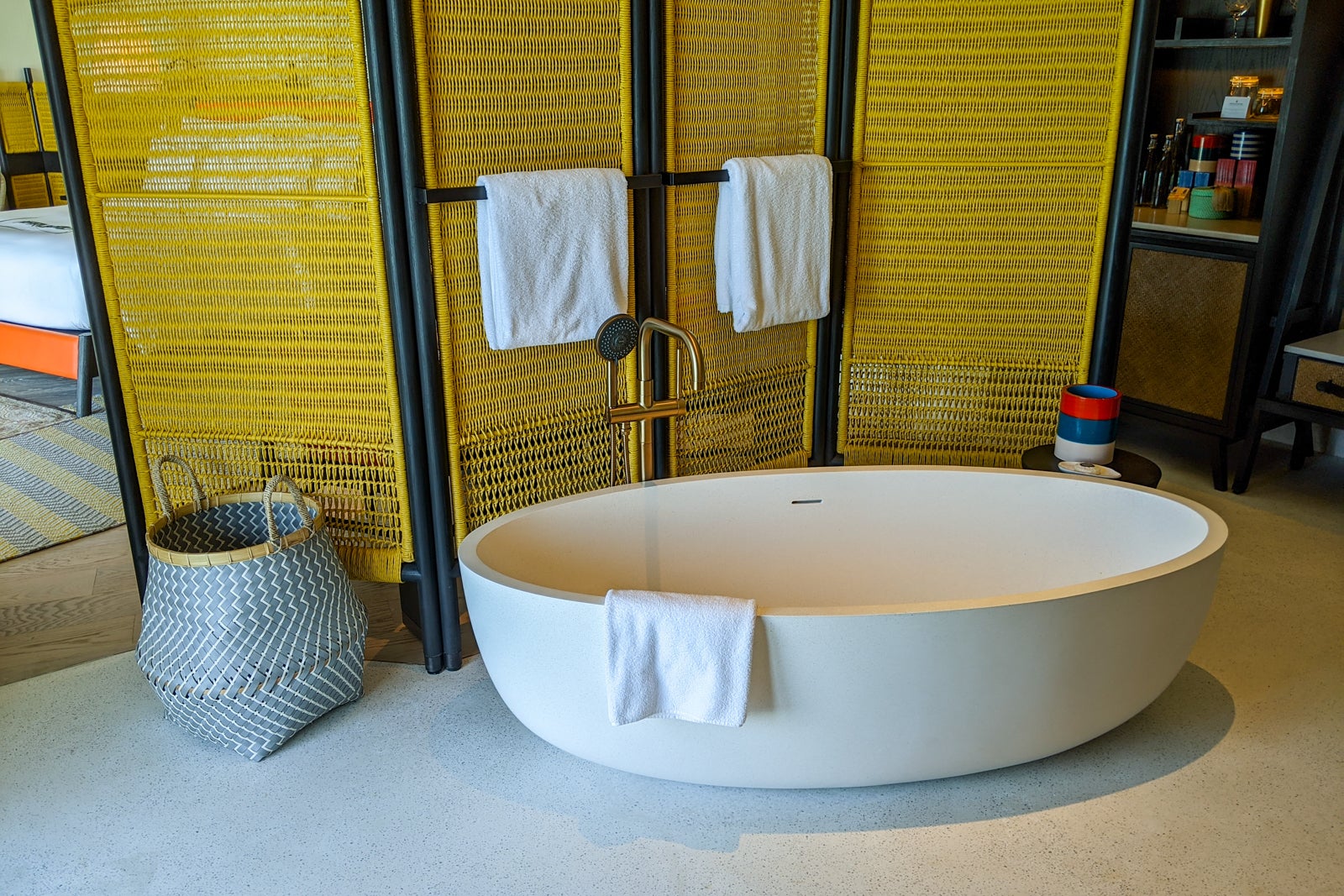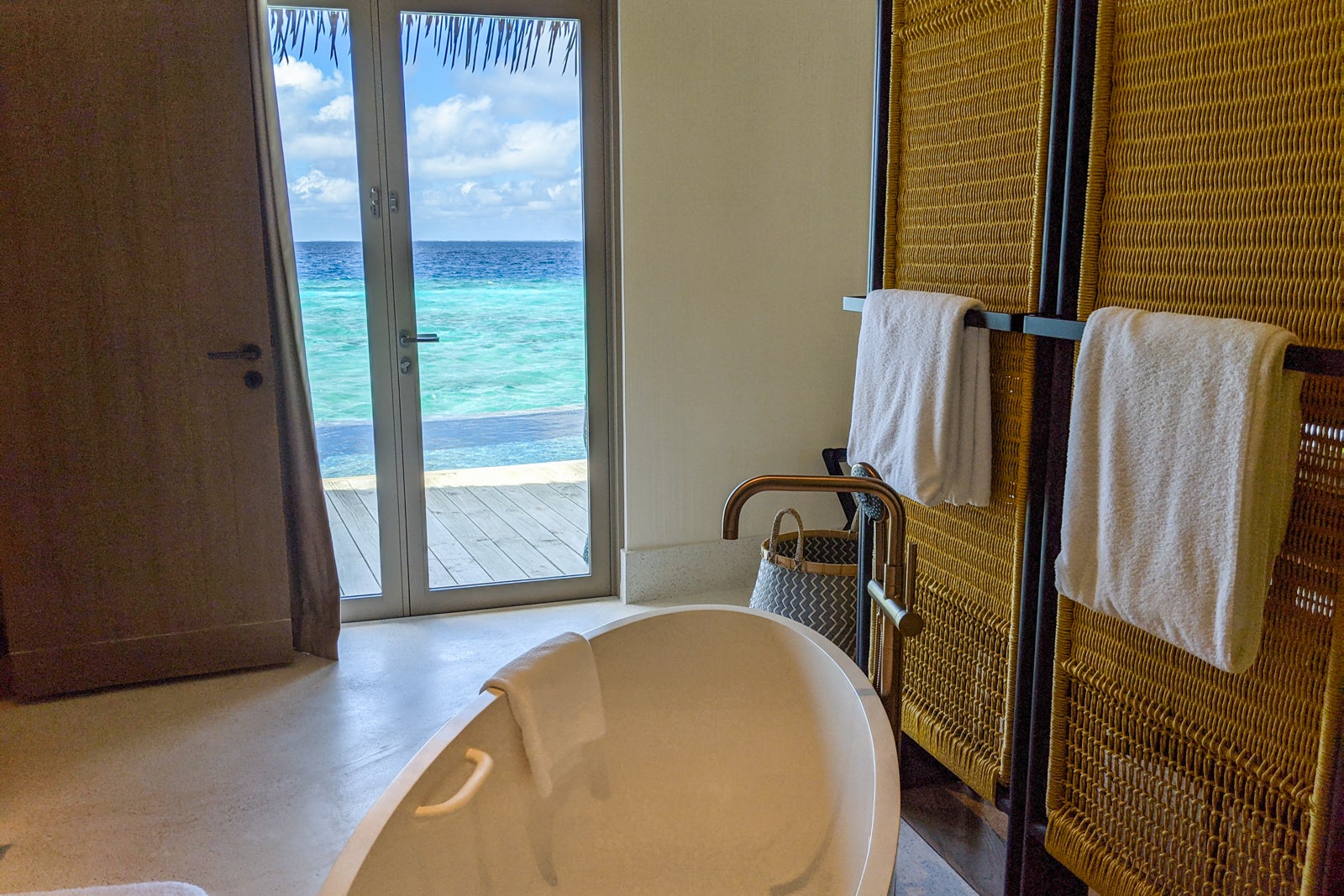 Outside each villa were bikes for the villa's occupants. Each bike was labeled with a guest's initials on the front so you can avoid taking someone else's bike. I appreciated that there were bike racks at the villas as well as at most other areas you'd want to park, such as the gym and restaurants.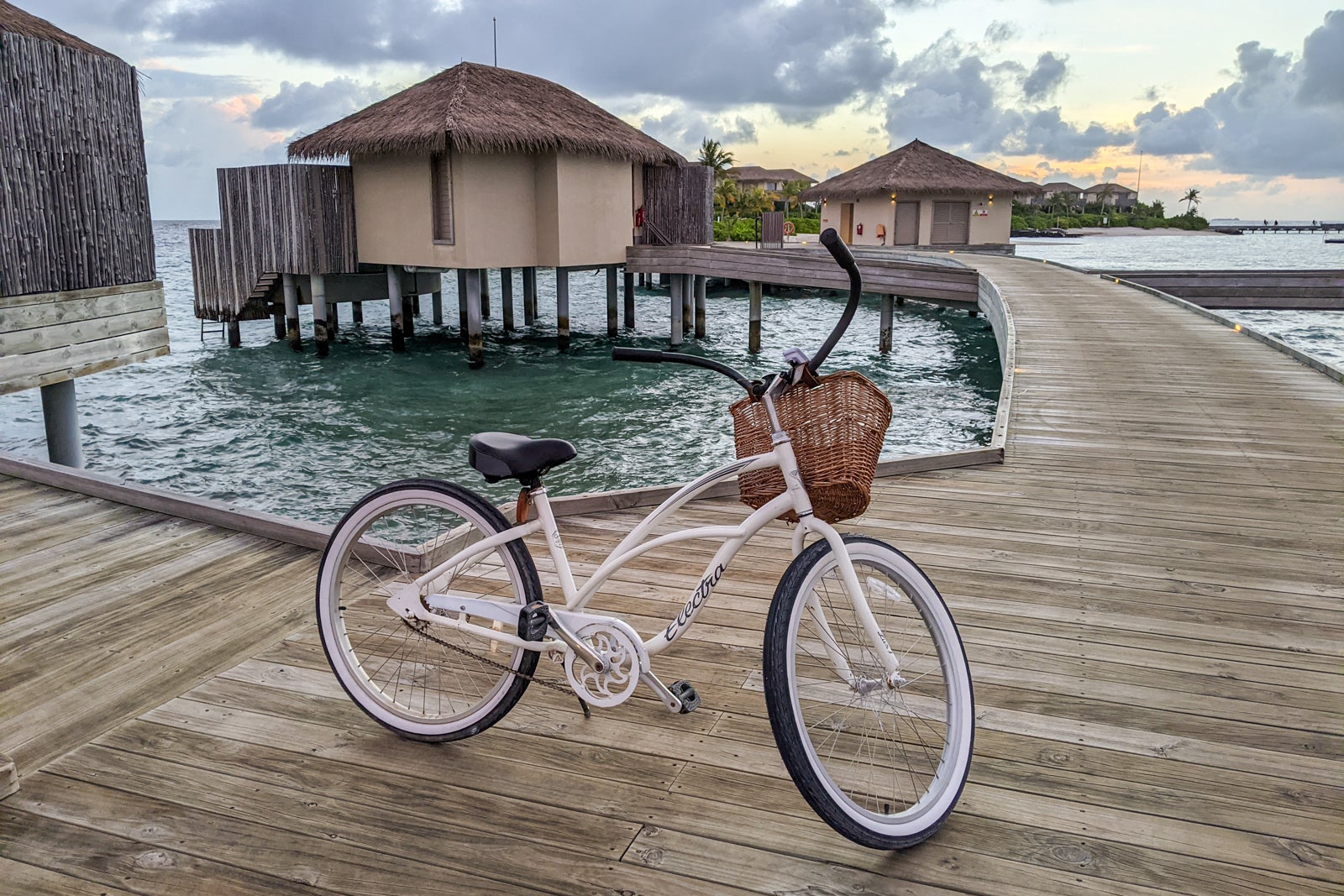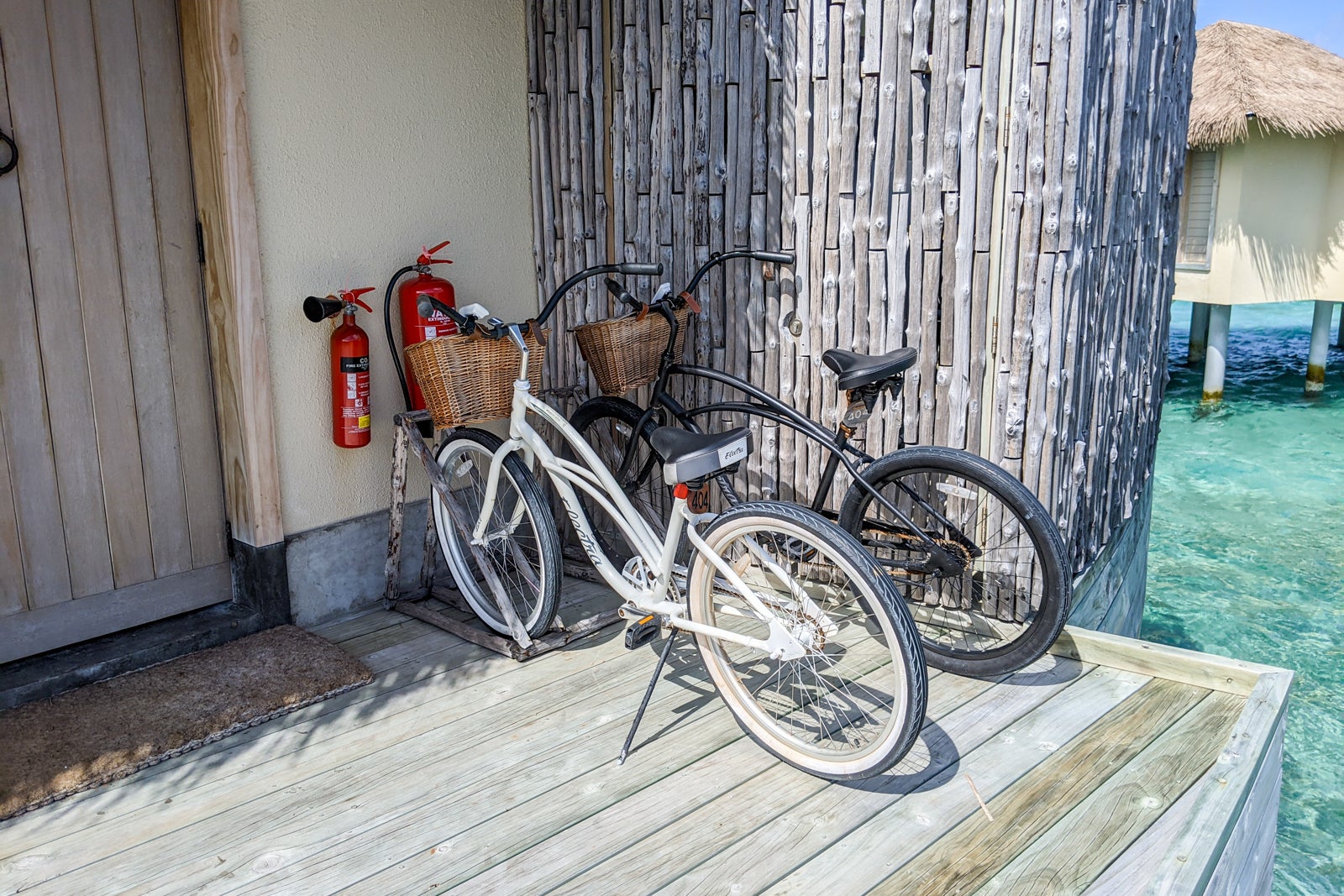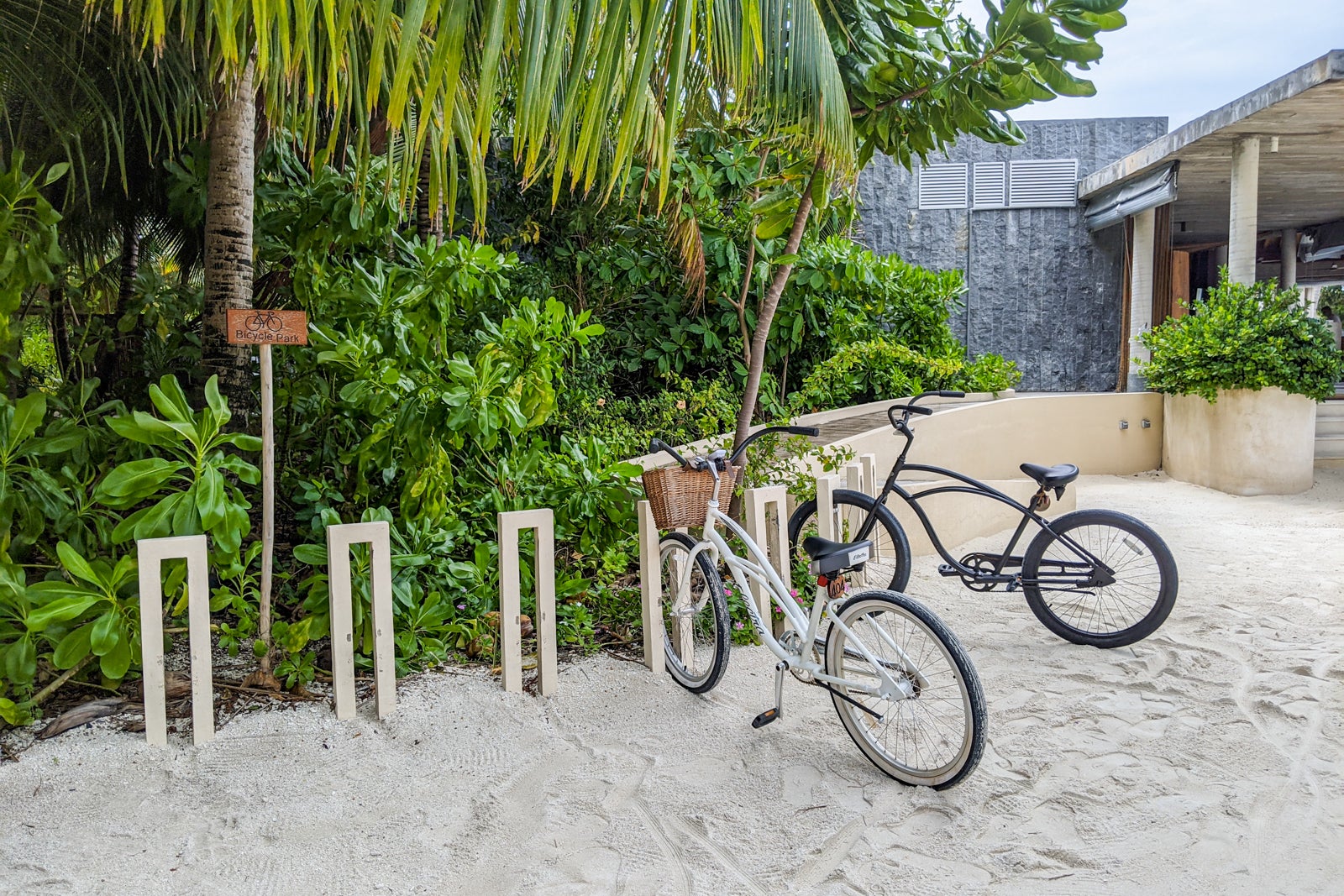 The final aspect to mention about the room is that this resort uses physical keys. As such, you'll need to lock the door manually when you come and go. Although we were in room 404, our key said 61.
Accessibility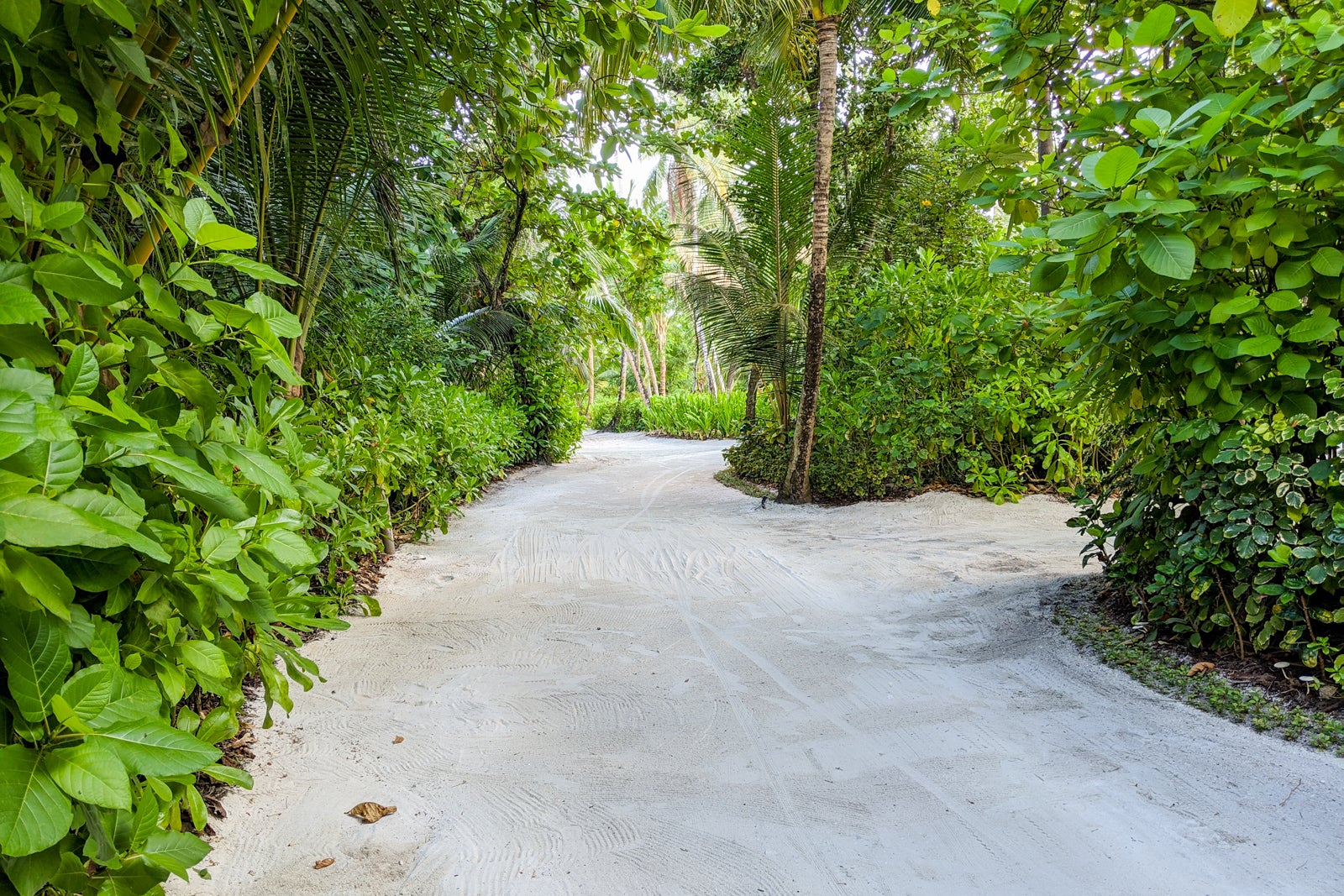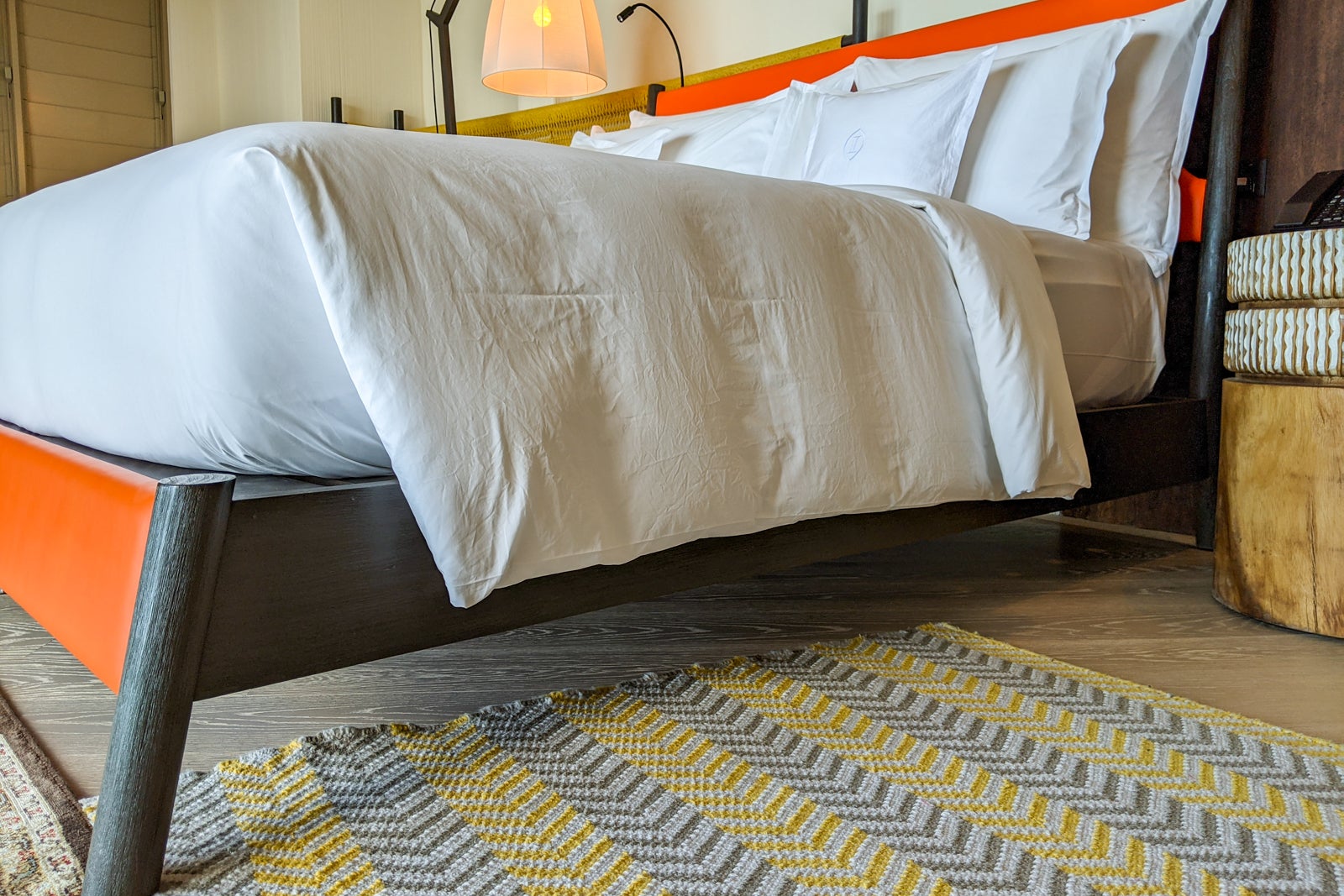 I didn't book an accessible room and my room didn't include any particular accessible elements. The door to my room was 39 inches wide, but two large lips between the walkway and the room might make the entrance difficult for guests with limited mobility. There were also lips to get into the shower room, toilet room and patio from the room. There were 6.5 inches of clearance under the bed and the top of the mattress sat 26 inches above the floor.
Like every property I visited in the Maldives, sand pathways connected most of the island's amenities and the paths at this resort were composed of looser sand than most. Most guests travel the island by bikes assigned to each villa. You can call for a cart if needed, but you'll still need to get yourself between the cart path and wherever you are going. In short, I recommend contacting the resort if you have any accessibility questions.
Related: 10 incredible overwater bungalows you can book with points
Sunset one-bedroom lagoon pool villa
Near the end of 2019, TPG sent a group of staff to various Maldives resorts. Jean Arnas stayed at the InterContinental for a few nights in a sunset one-bedroom lagoon pool villa on that trip; here's his take on that room type.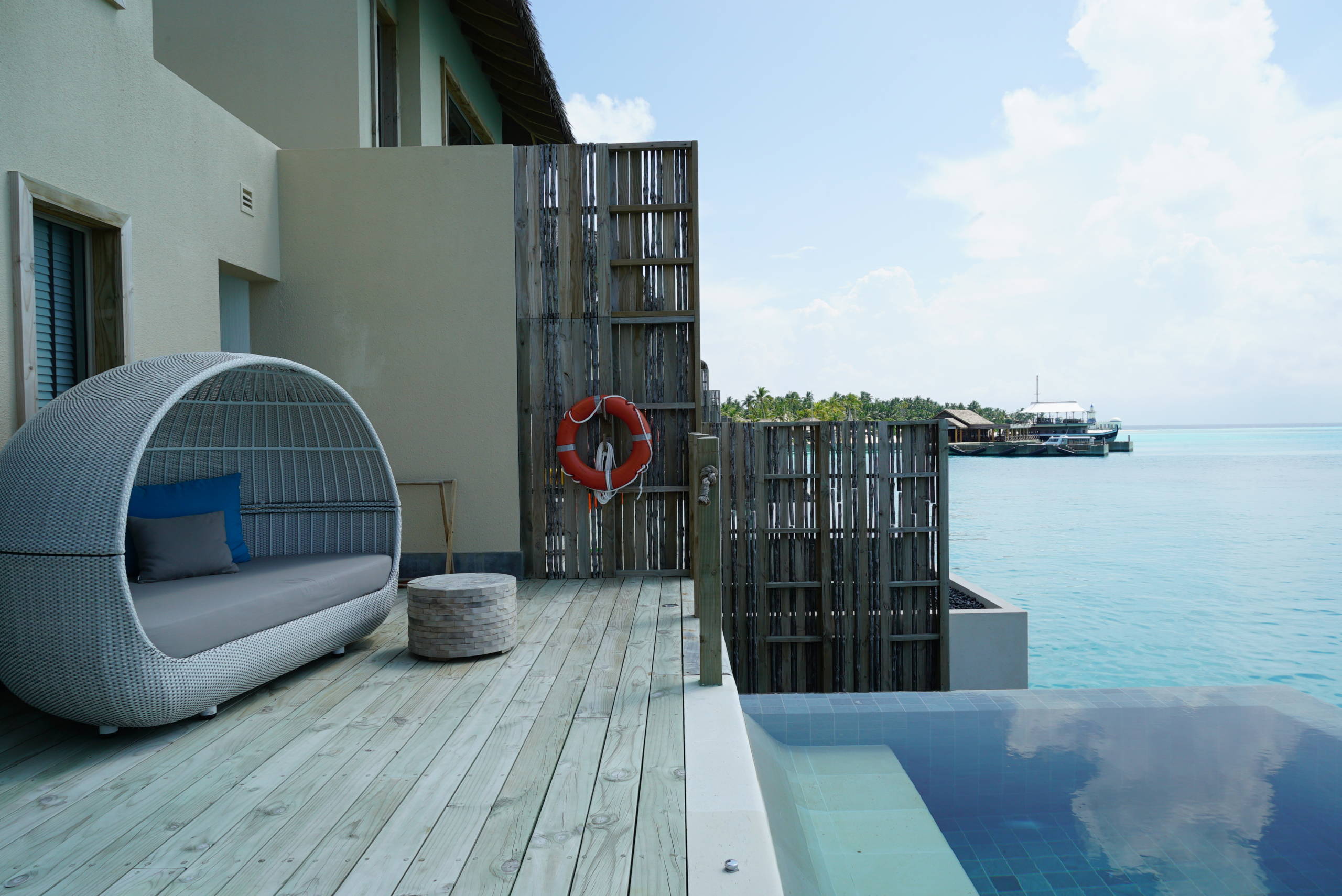 The sunset one-bedroom lagoon pool villa is a two-floor villa. These villas are flanked on one side by a private infinity pool overlooking the Indian Ocean and on the other side by a sandy beach overlooking a lagoon full of marine life. Jean's neighbors were a family of stingrays that he watched come and go.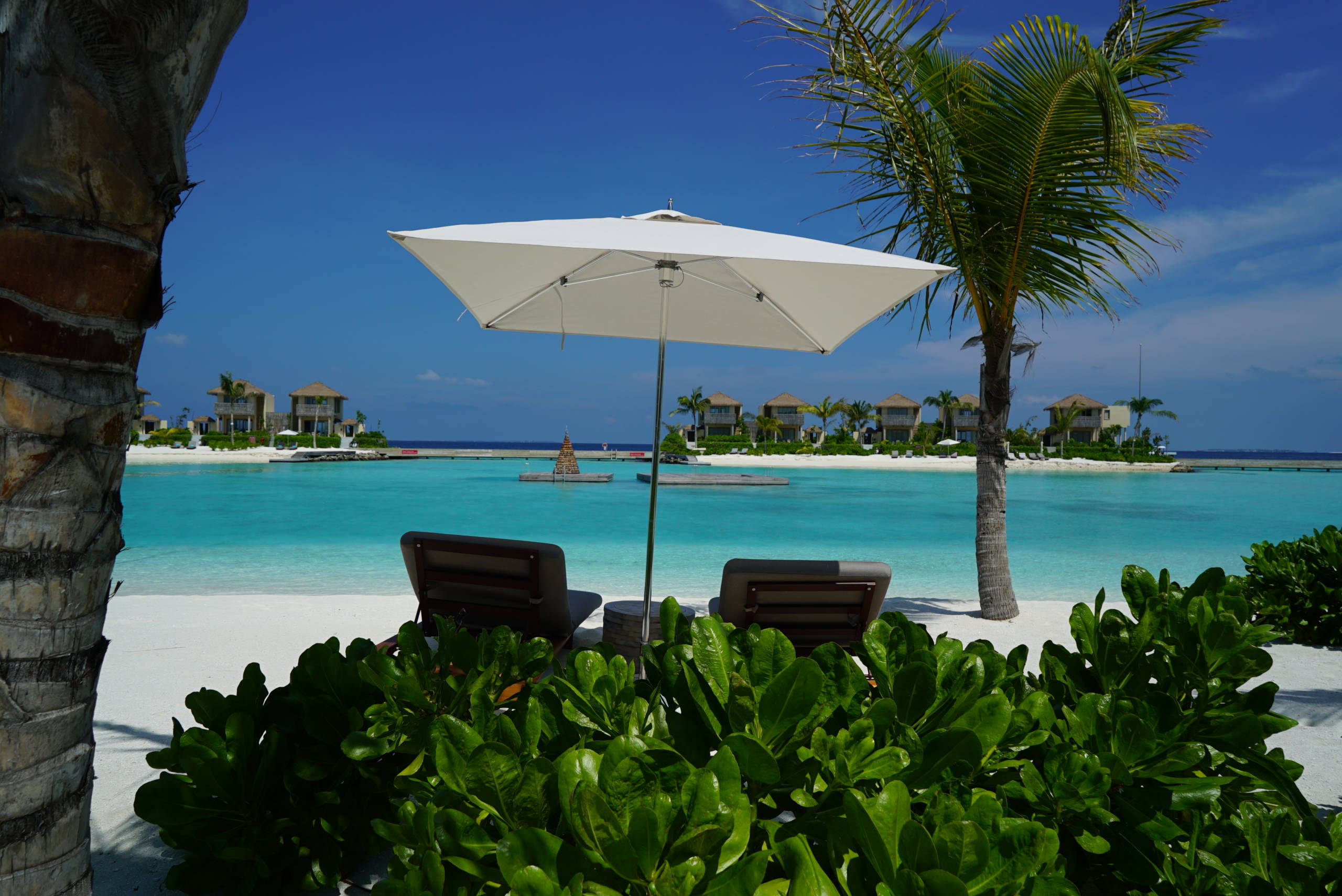 The first floor of his villa had a large sectional sofa adorned in one corner and large, inviting lounge pillows in the other.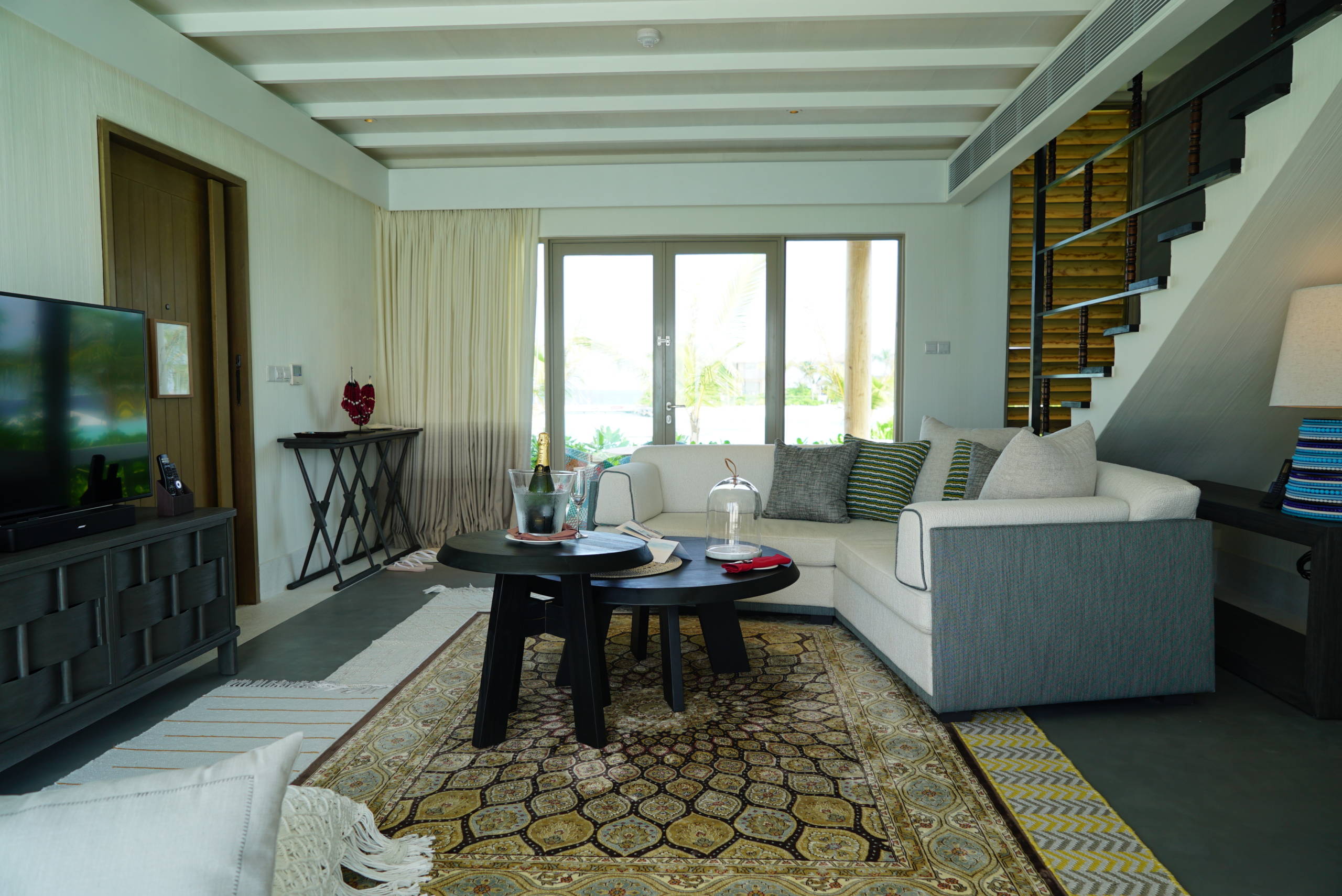 There was a half bath and a minibar with all the essentials: espresso machine, cocktail shaker, cocktail glasses, Champagne glasses, normal glasses, ice and four complimentary water bottles.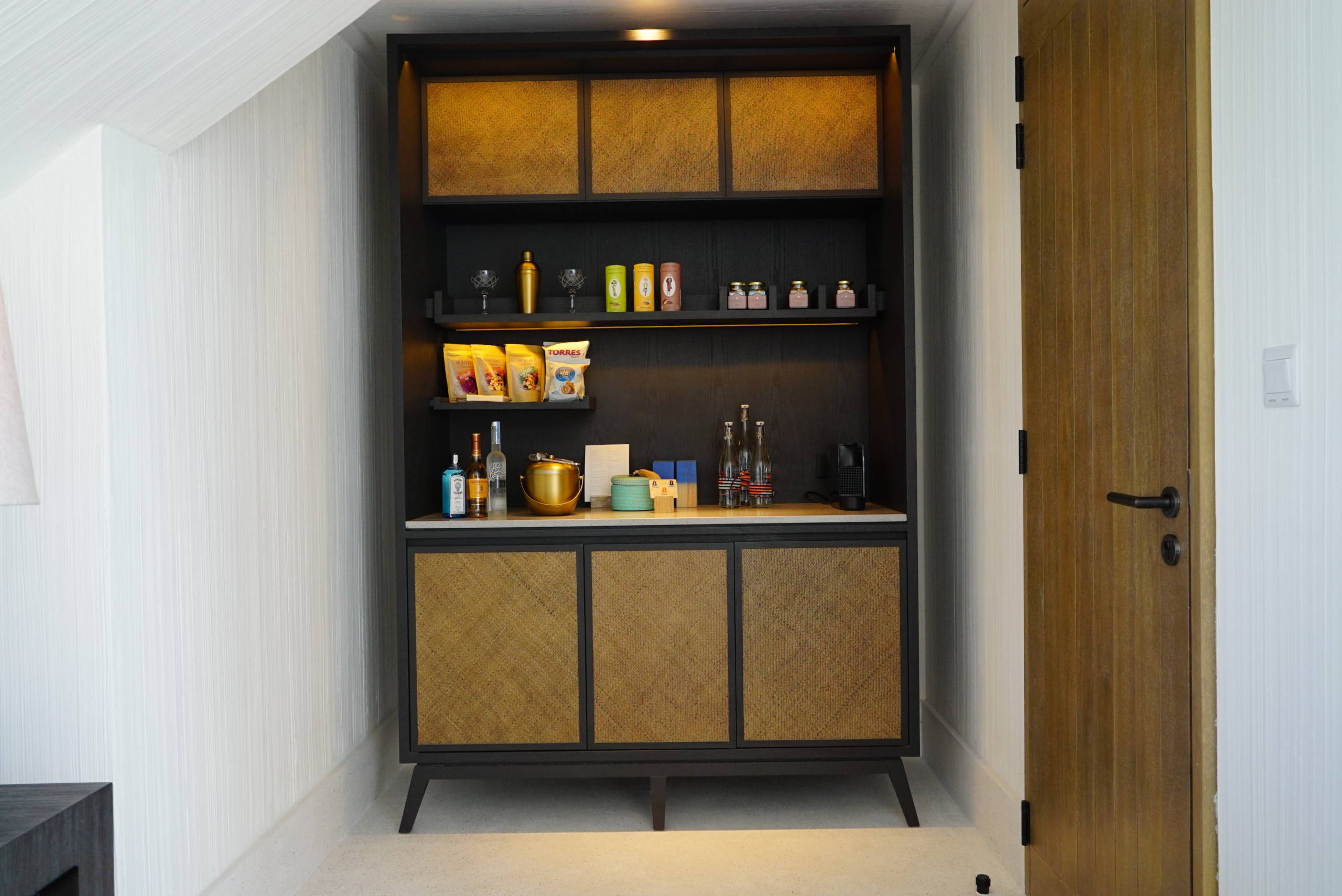 Outside, a large wooden bench and a modern sofa overlooked the private pool. It was perfect for sunbathing.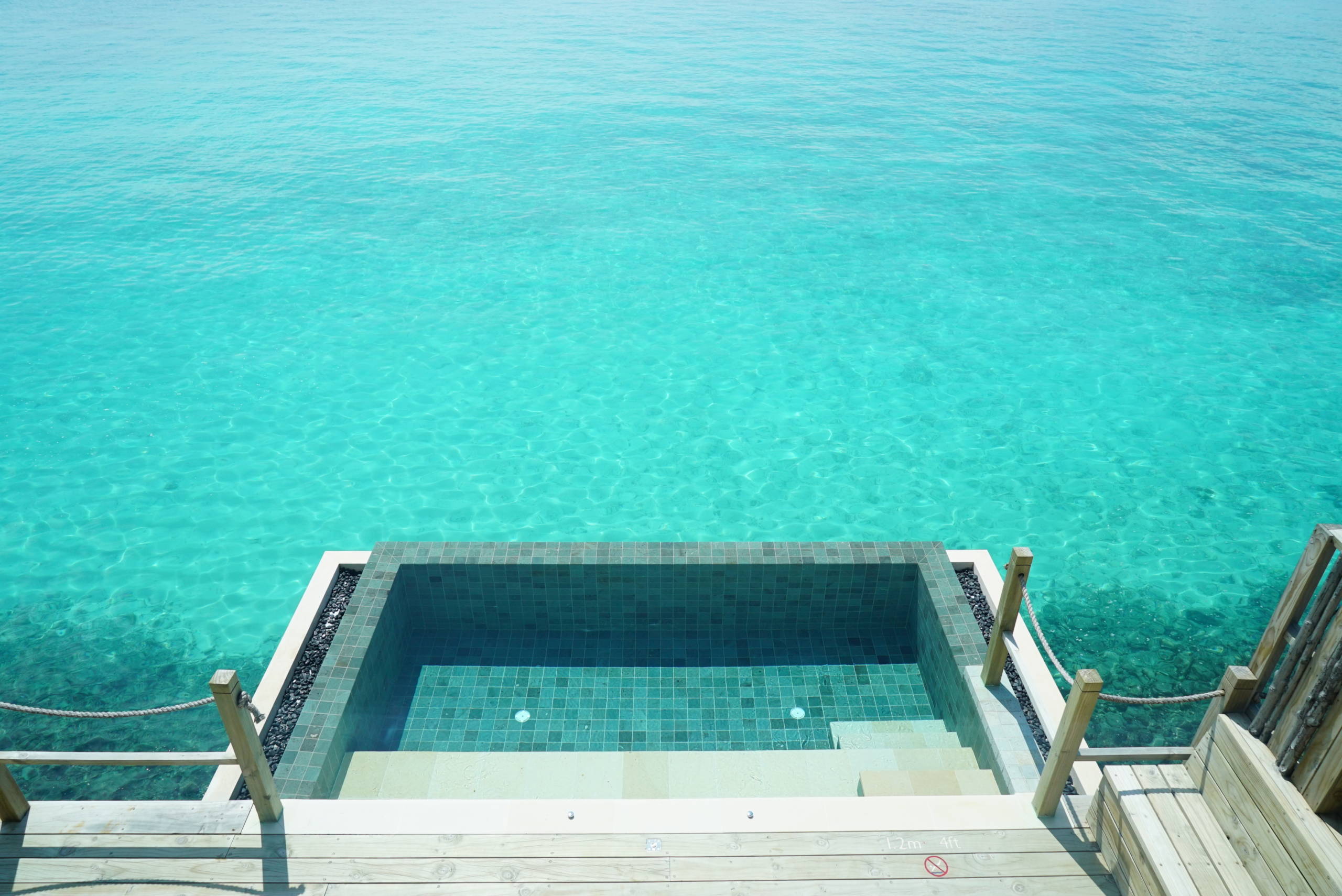 The pool was large — it could easily have fit 10 people – and at the touch of a button, it turned into a whirlpool. An outdoor shower was next to the pool. A second outdoor area on the opposite side of the house featured a veranda with four beach chairs and a table, surrounded by lush greenery and white sands. Jean felt like he could hop off the balcony directly onto the beach.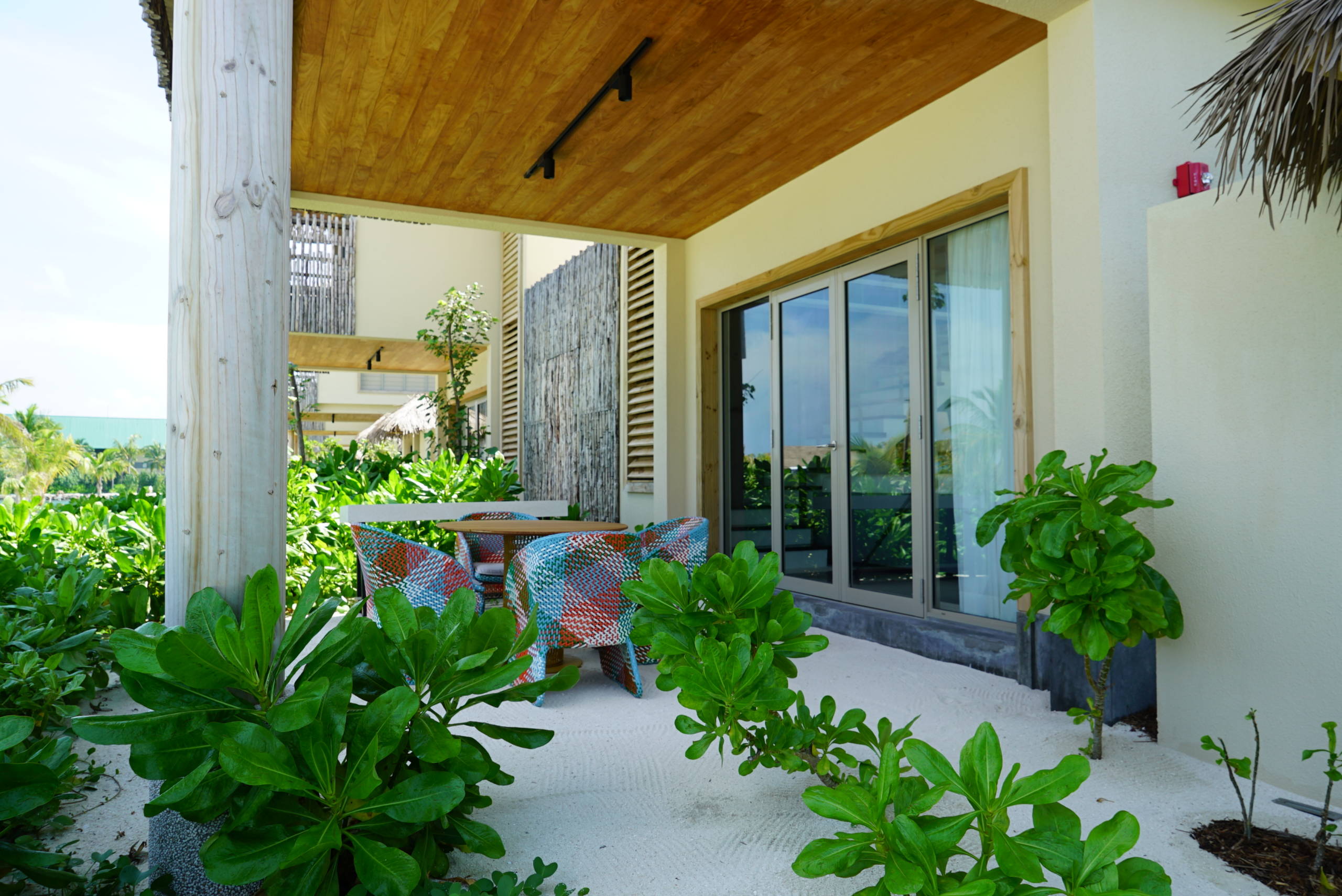 Upstairs, the bedroom had a huge, comfortable bed covered with pillows of varying softness.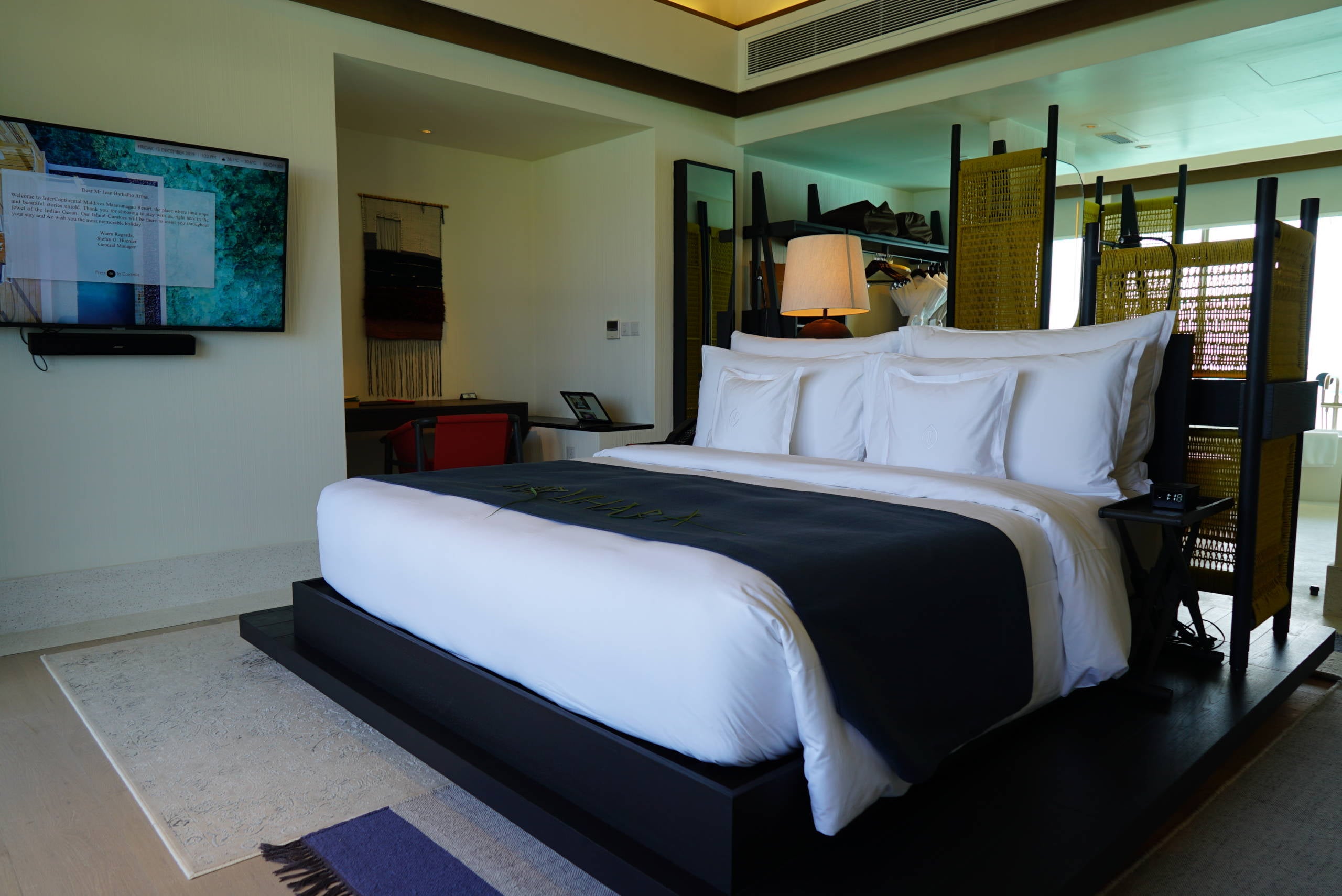 A small workspace alcove was the only spot that didn't have a window. When Jean needed to work, he felt he could get down to business without beautiful views as a distraction.
The bathroom featured a very tall shower (it definitely passed the TPG shower test) and a separate area for the toilet. But the highlight was the gorgeous standalone bathtub that overlooked the sea.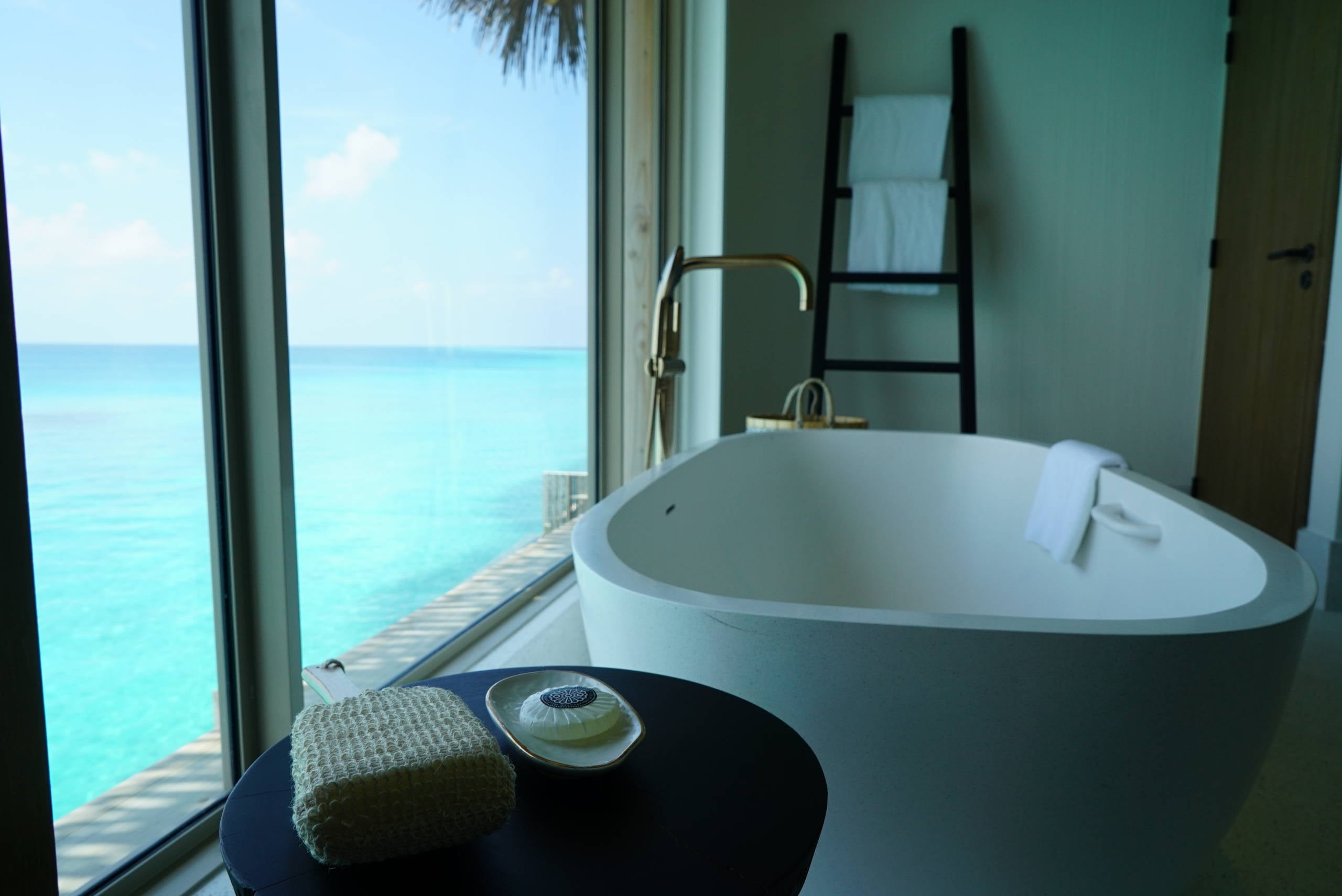 Jean was thrilled to sit and enjoy the views (which were dreamy from both floors), overlooking the endless sea on one side or a calming beach and lagoon on the other. However, it's worth noting that the decor of his suite was simple: muted colors, shabby-chic rugs, woven pillow covers, wood and brass styling/fixures with nothing too wild to interrupt the calm. Jean liked it, but for anyone looking for opulence or glamour, he found the villa might be too "simple."
Related: You don't have to fly across the globe for an overwater bungalow
Food and beverage
This resort provides Club InterContinental benefits to all guests. As such, all guests will get the following perks regardless of how they book and what room type they choose:
Breakfast at Cafe Umi from 7 a.m. to 10:30 a.m.
Pool-side non-alcoholic drinks from 11 a.m. to 6 p.m.
Artisinal afternoon tea selection at The Collective from 3 p.m. to 5 p.m.
Evening aperitif at the pool bar from 5 p.m. to 7 p.m.
We enjoyed the rotating selection of snacks that came with tea each afternoon. And we appreciated that the evening aperitif included a wide variety of drinks (including cocktails) and wasn't strictly limited to one drink.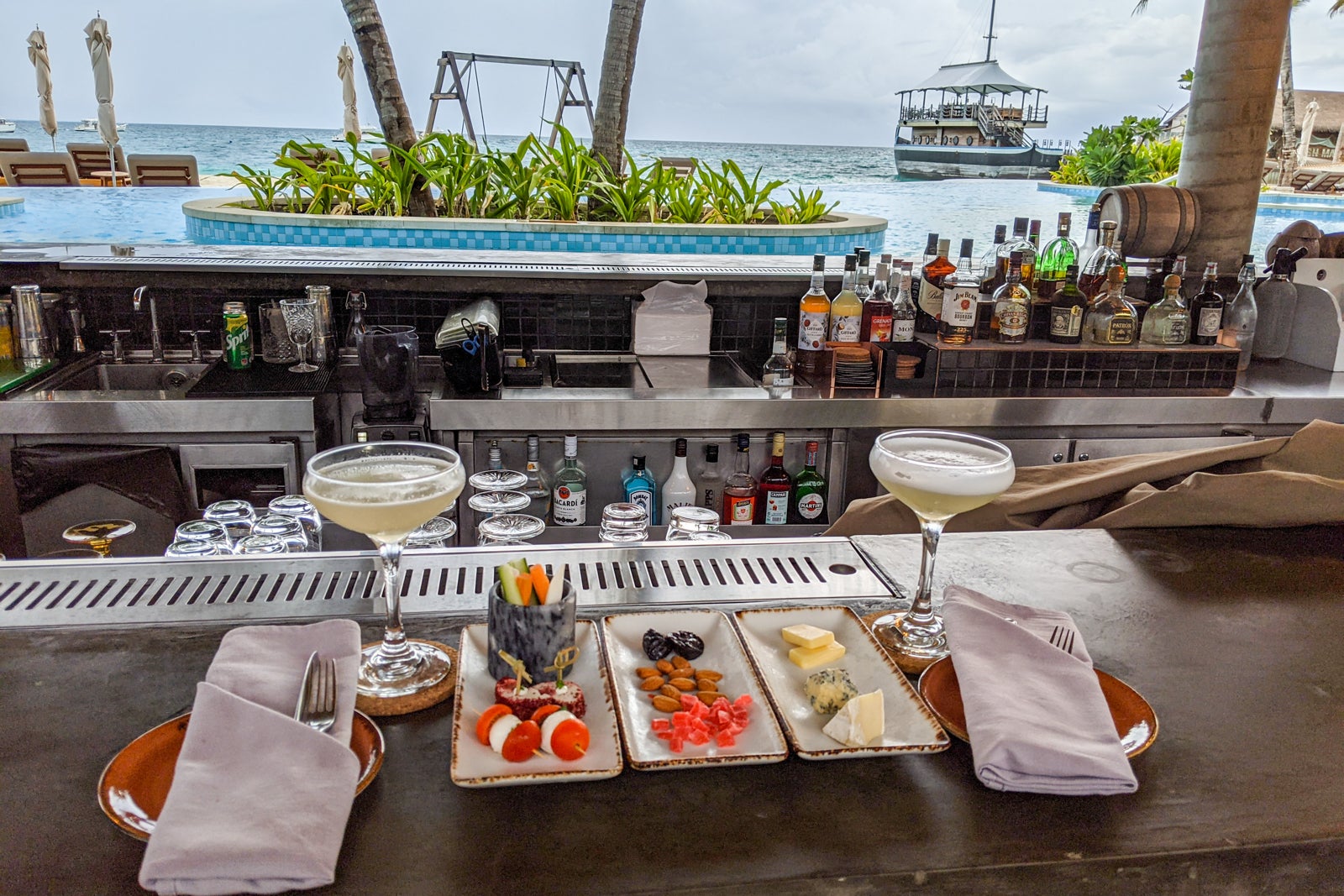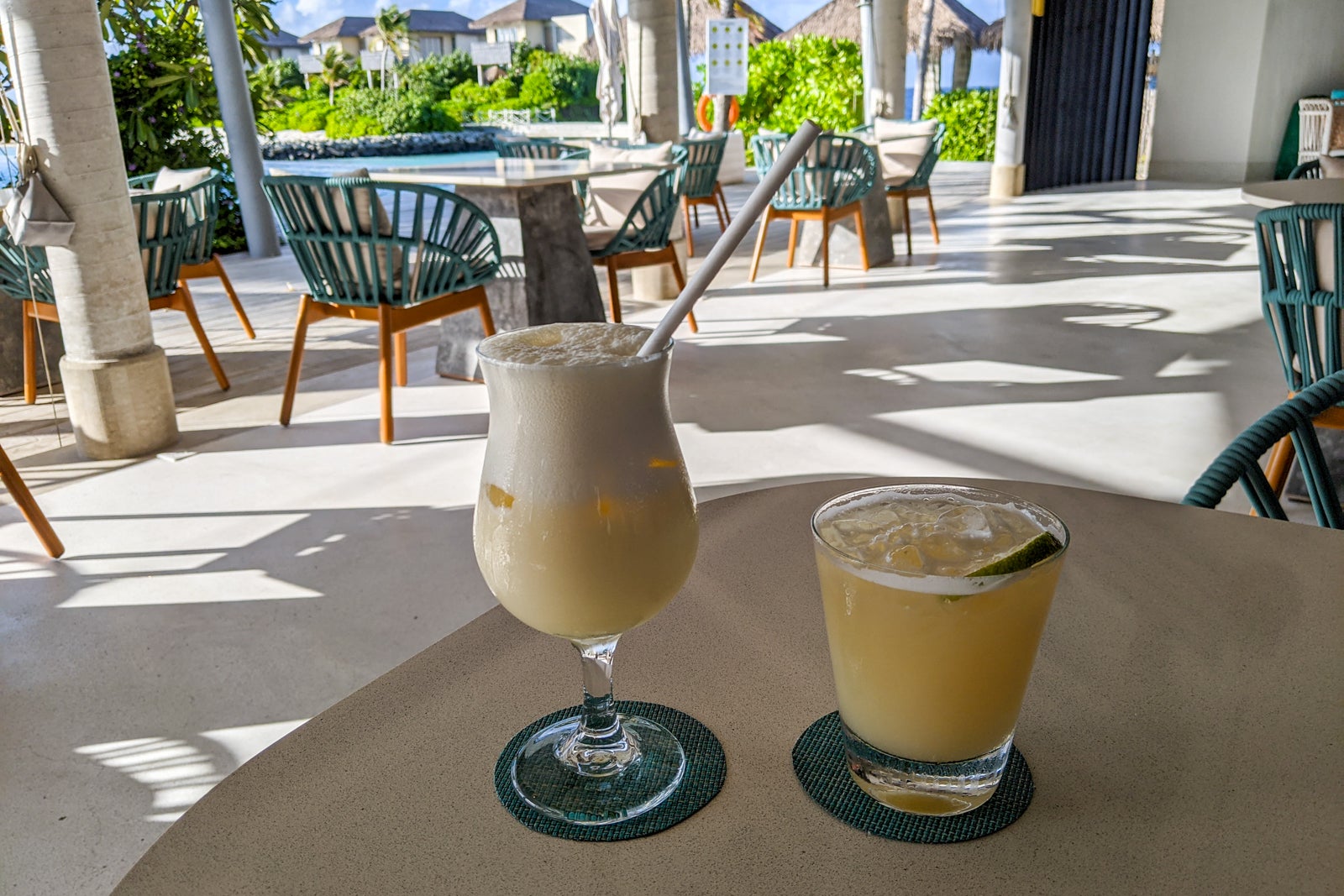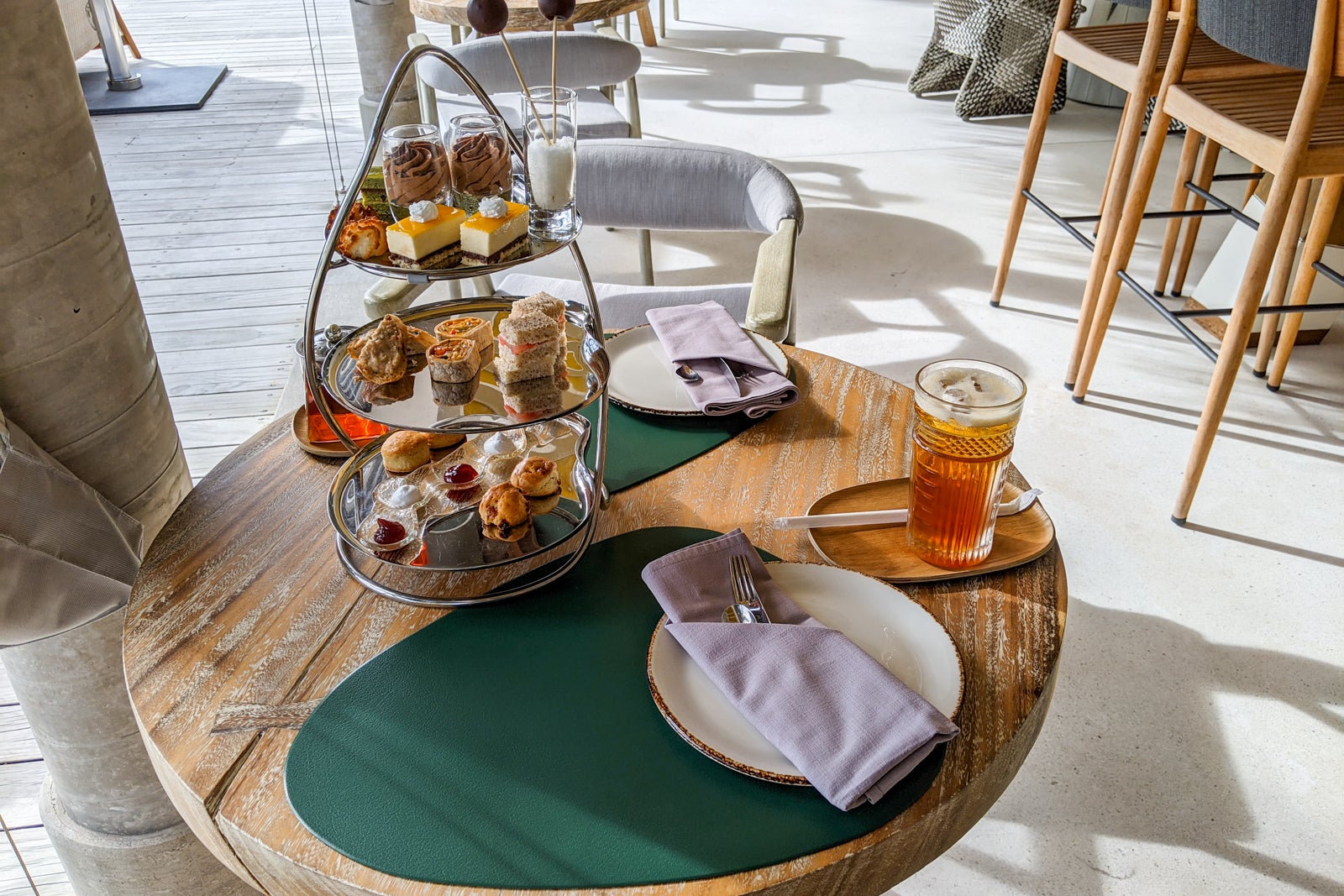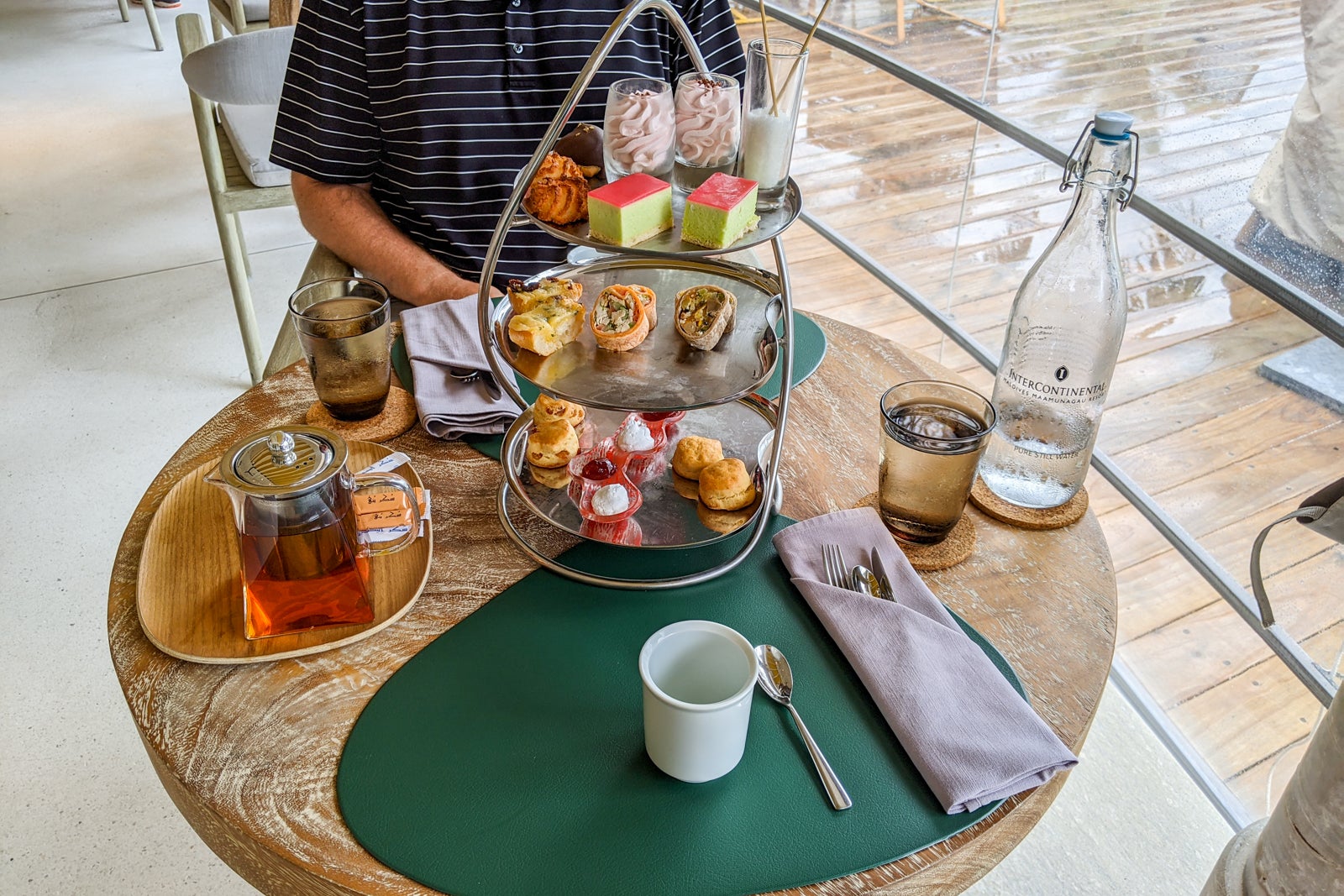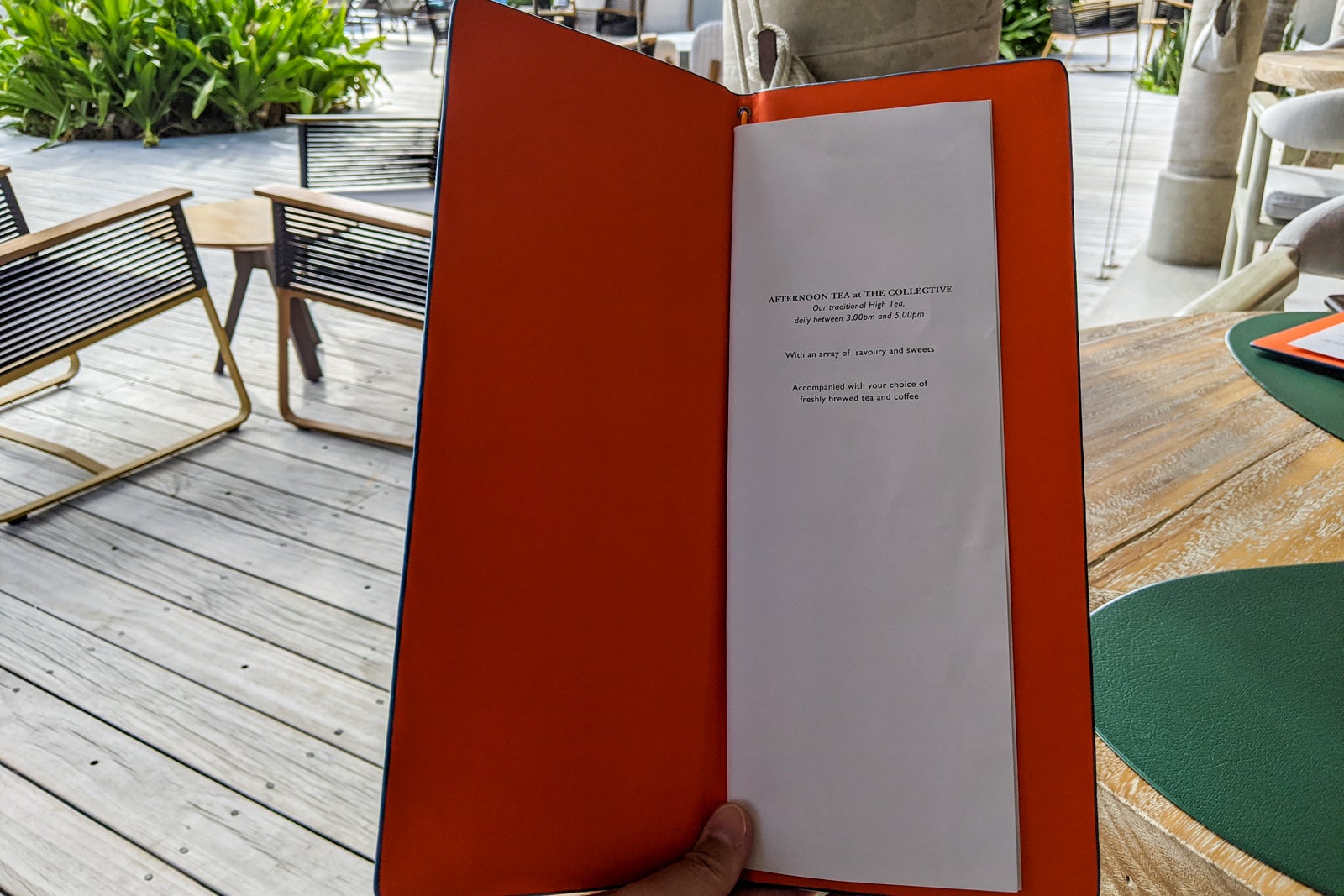 We ate breakfast both mornings at Cafe Umi. You could order select dishes from a menu for no additional charge, while other items were available from a self-serve buffet. The made-to-order Indian options were excellent, as were the egg dishes. It's also worth trying the house-made smoked salmon.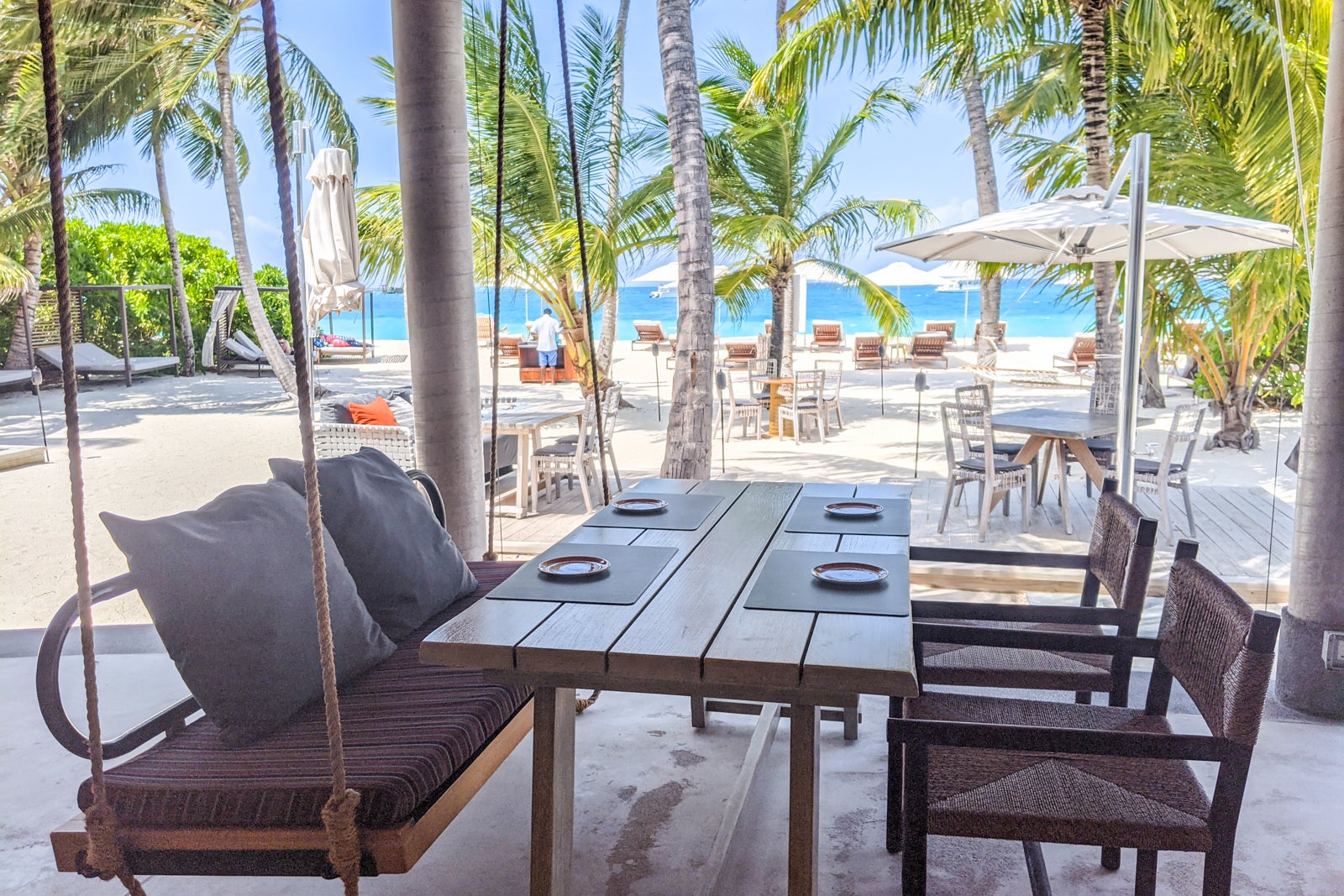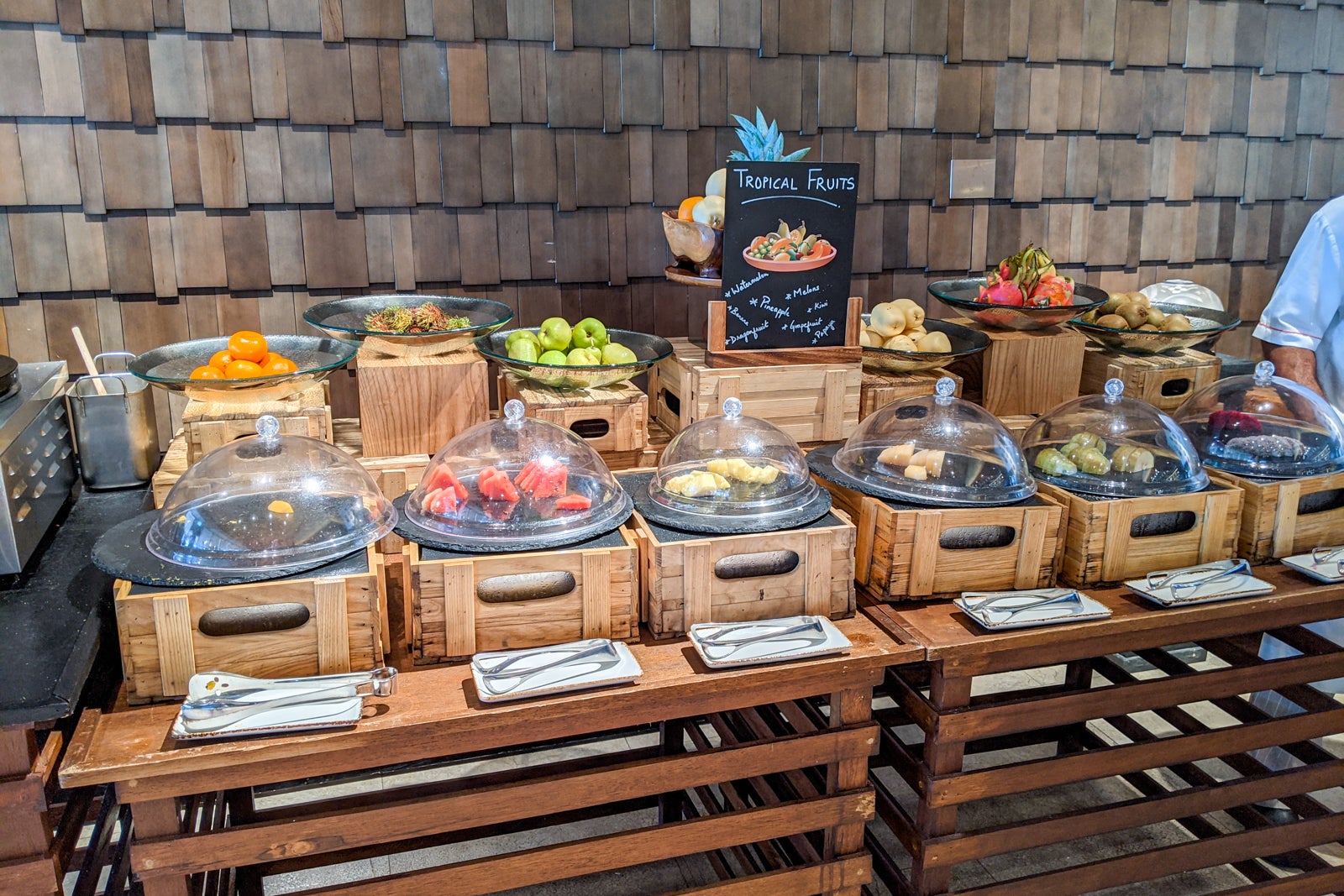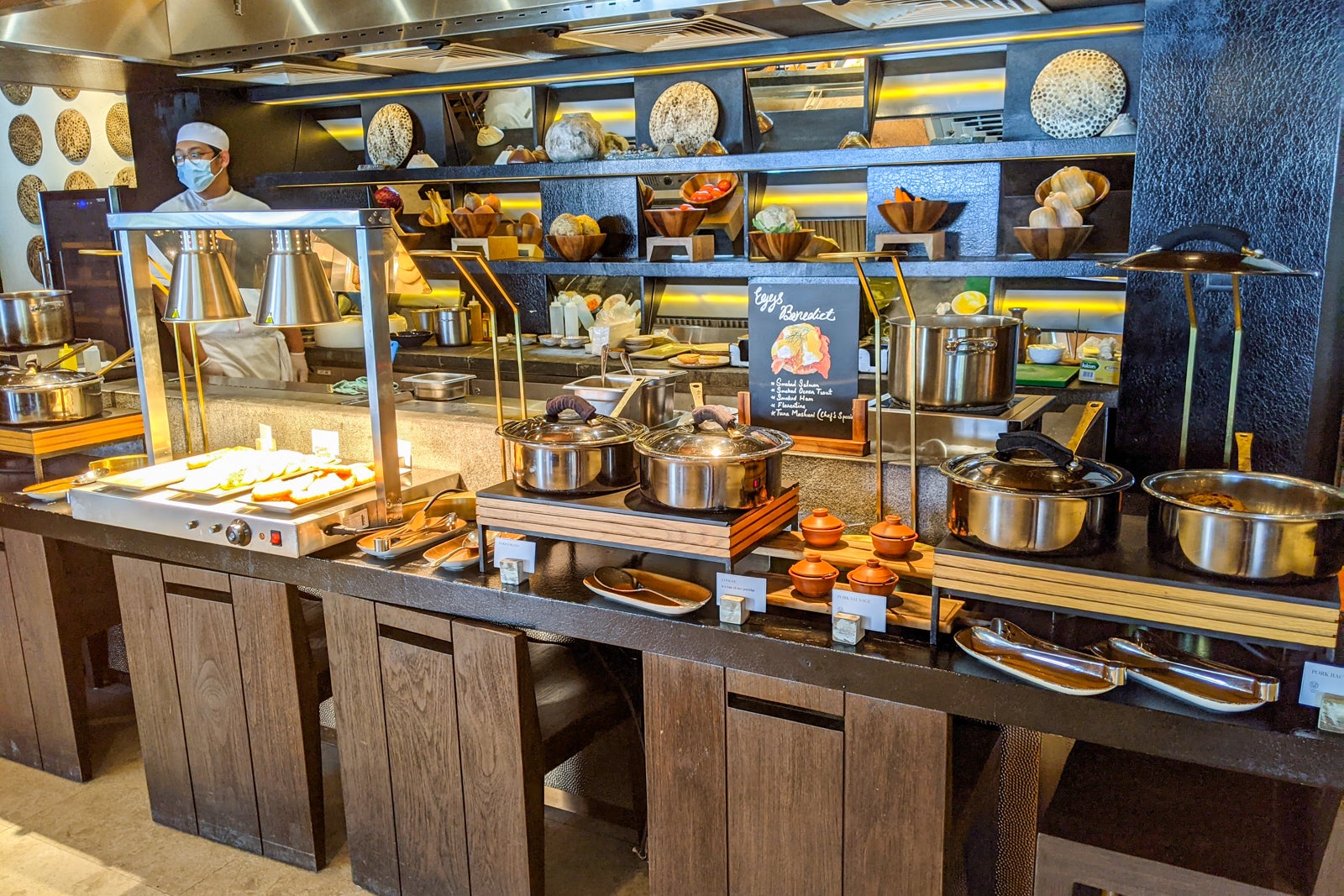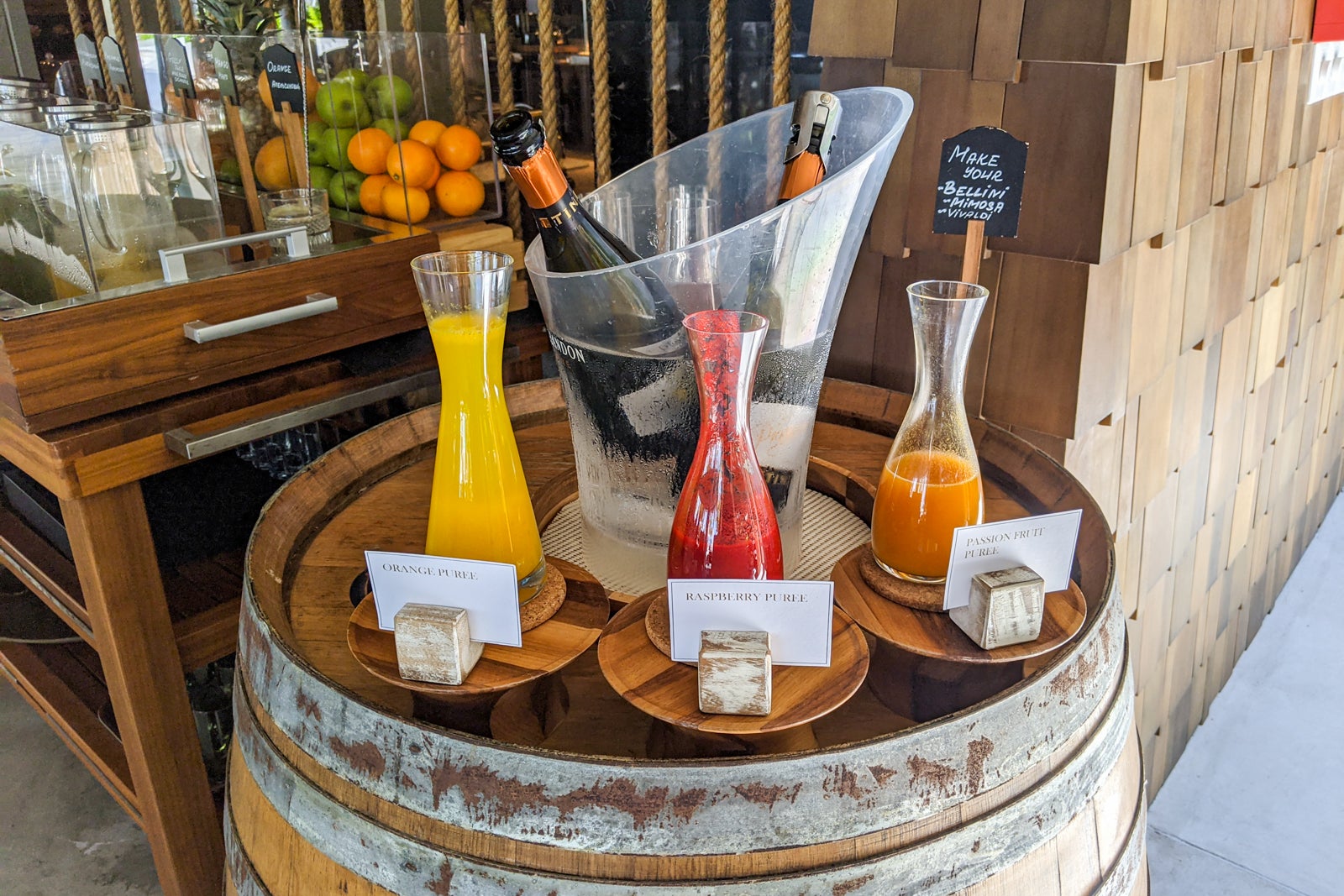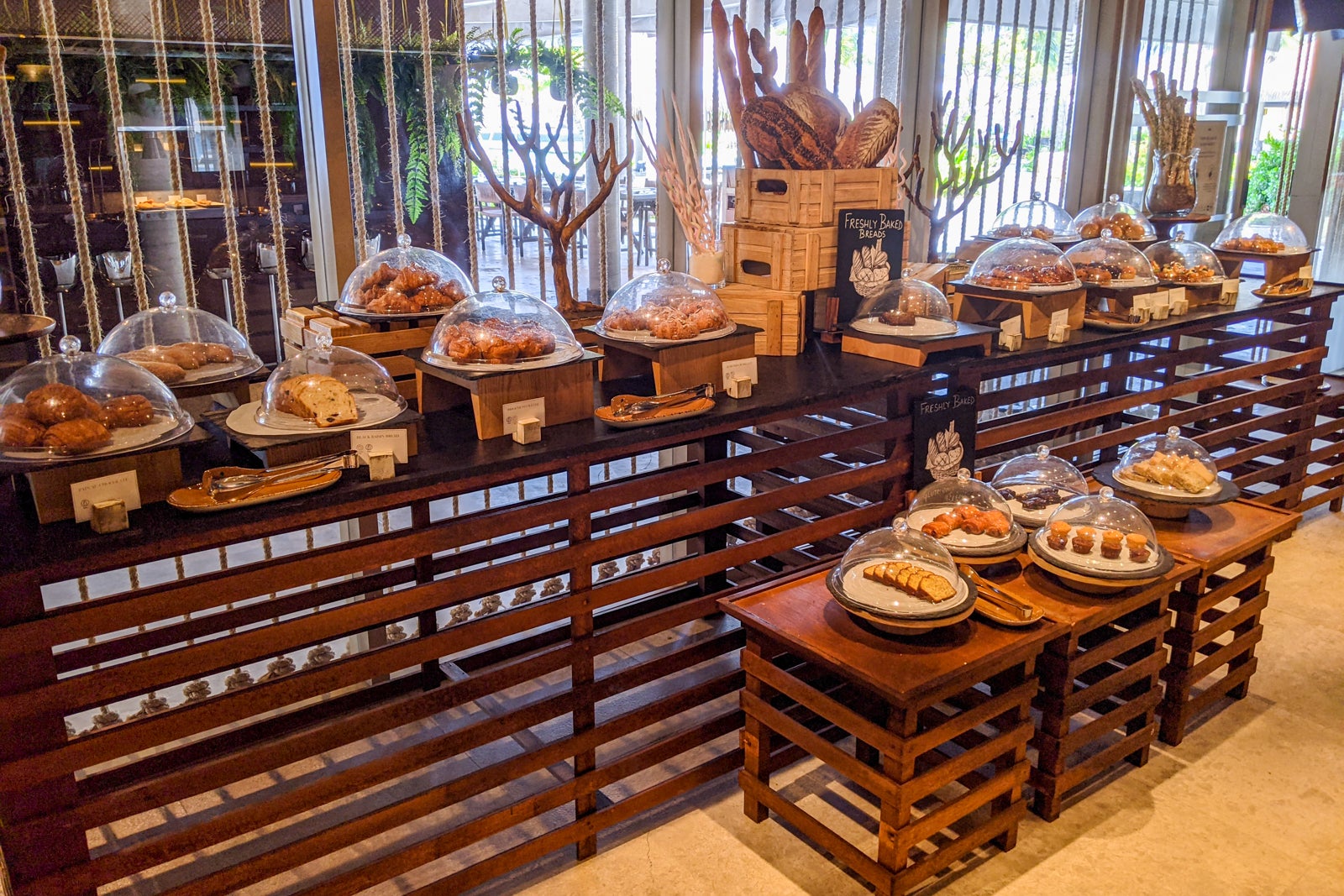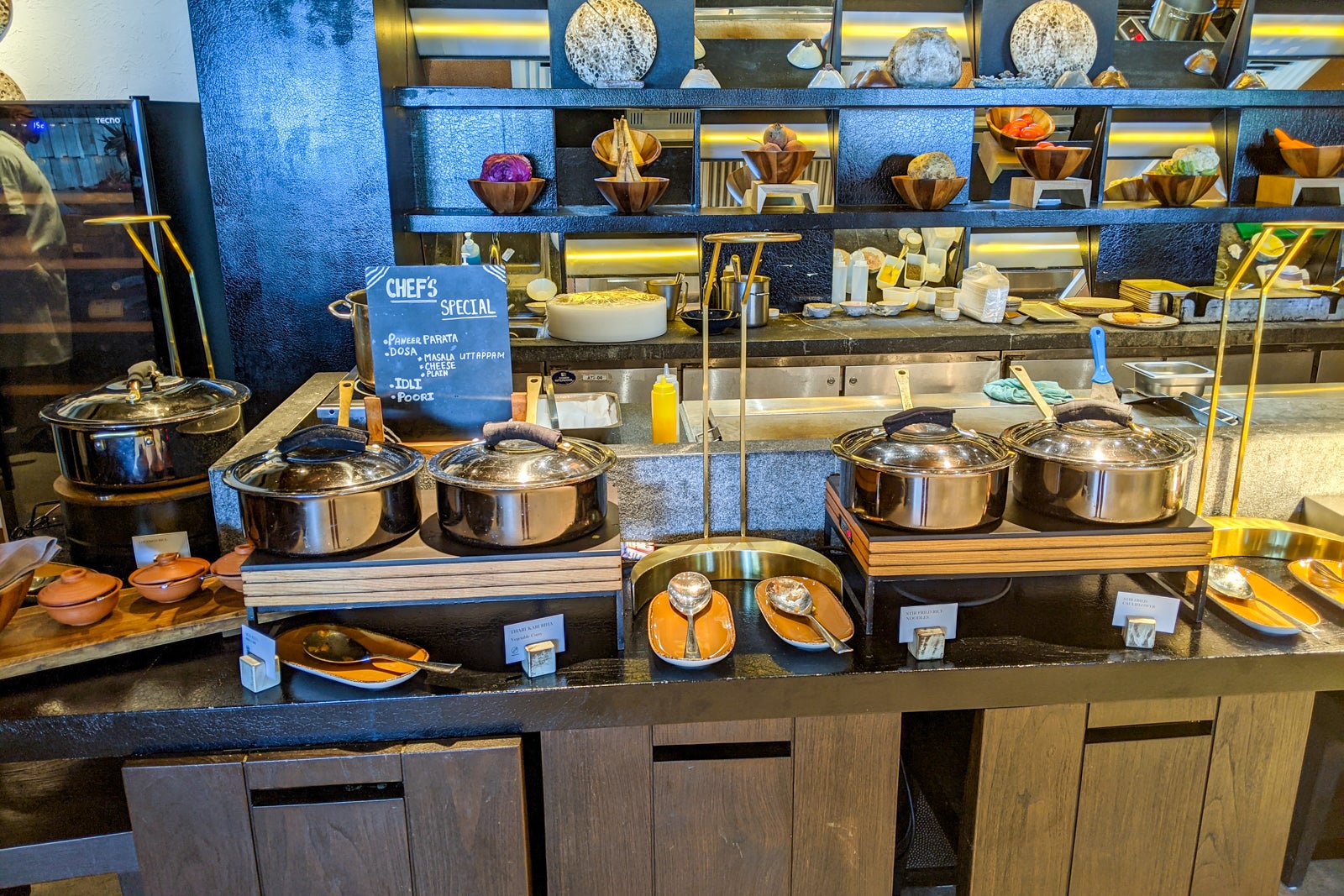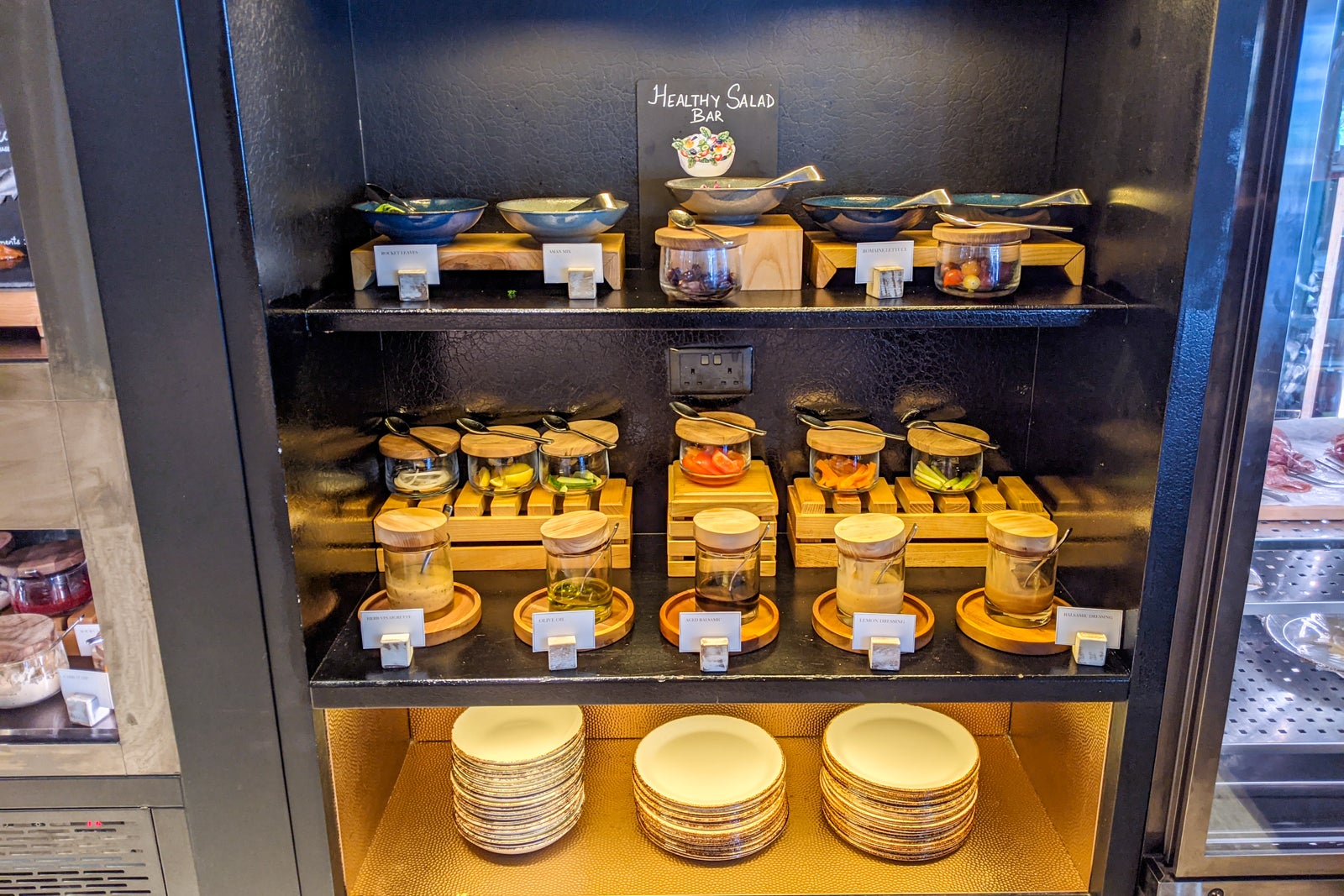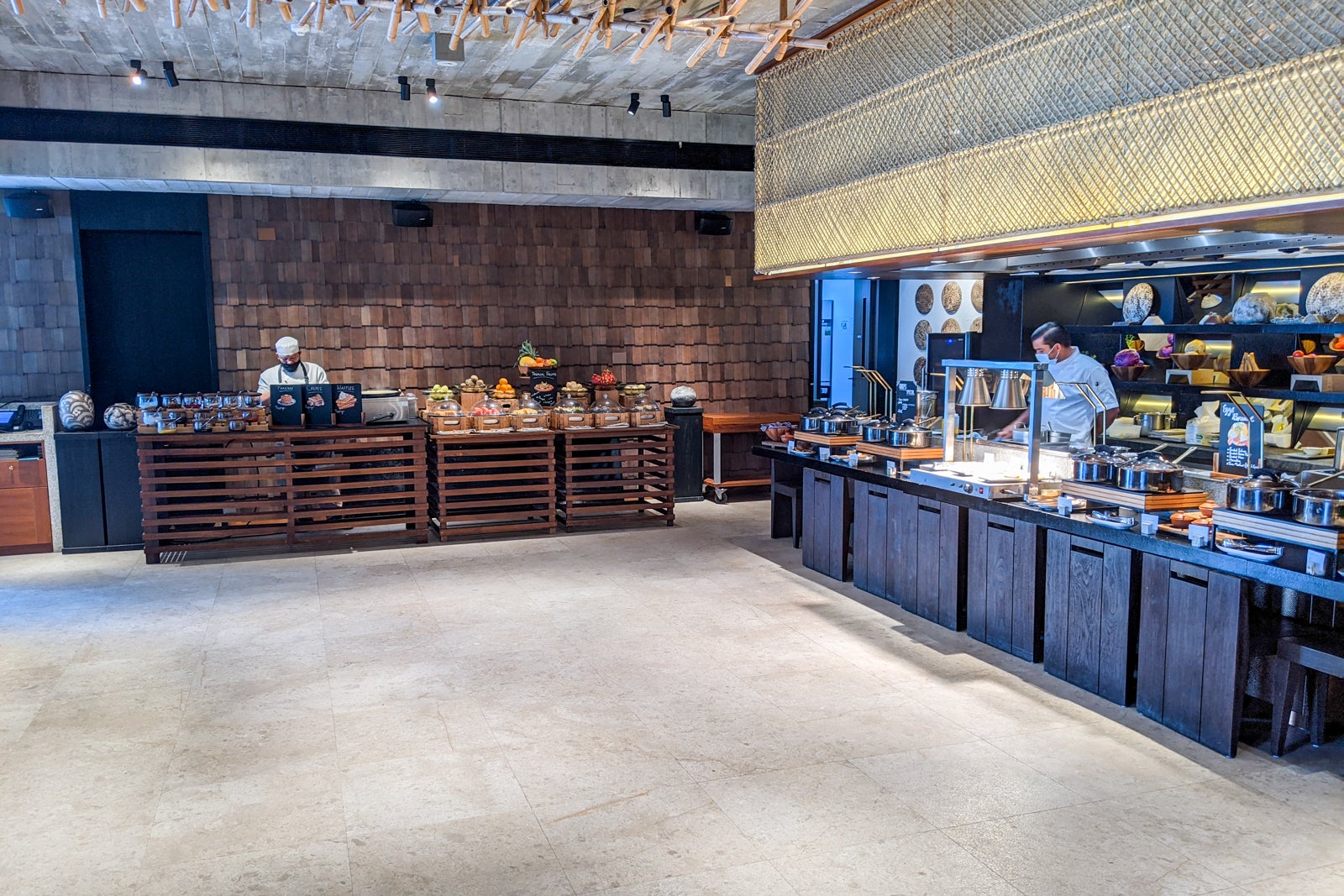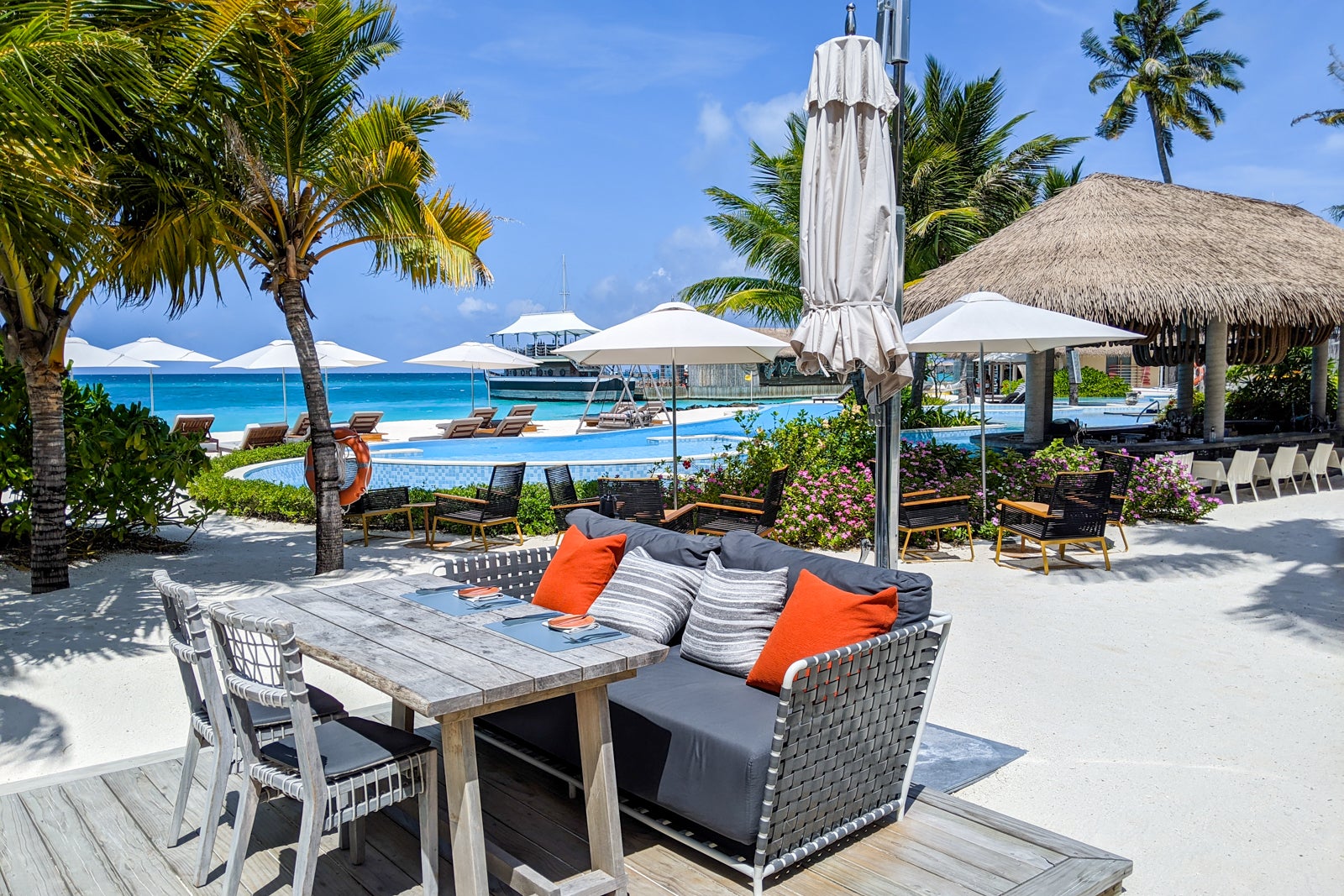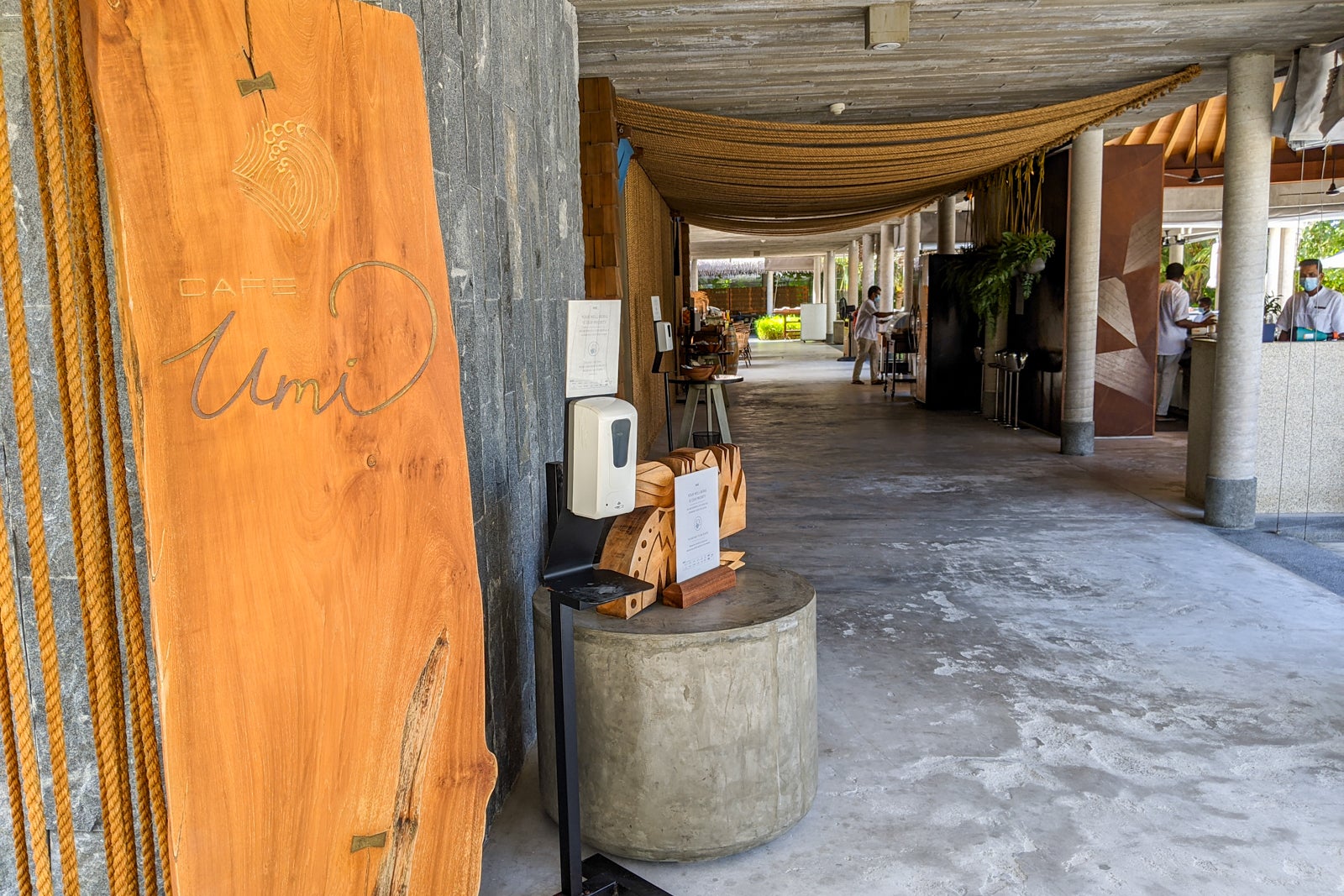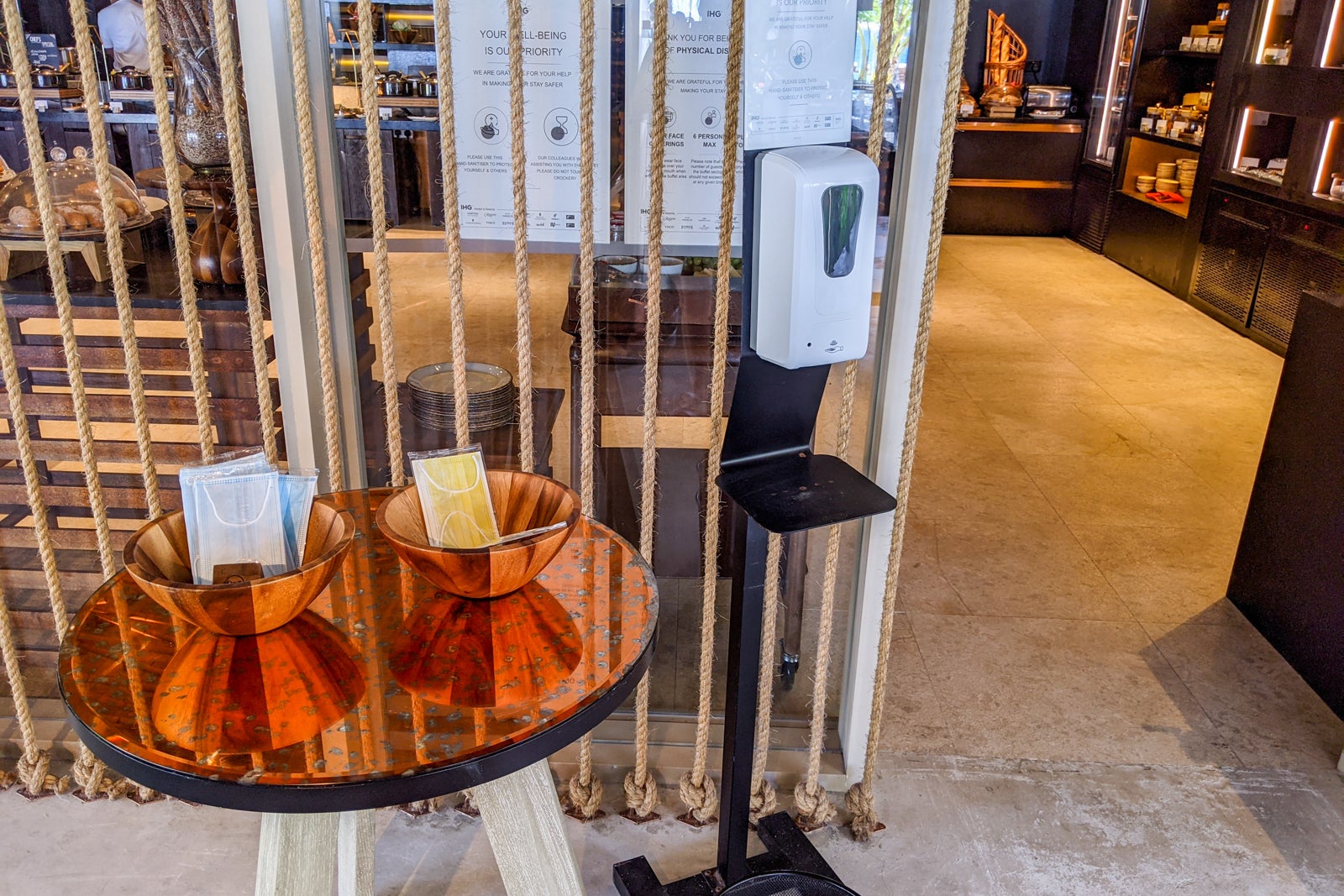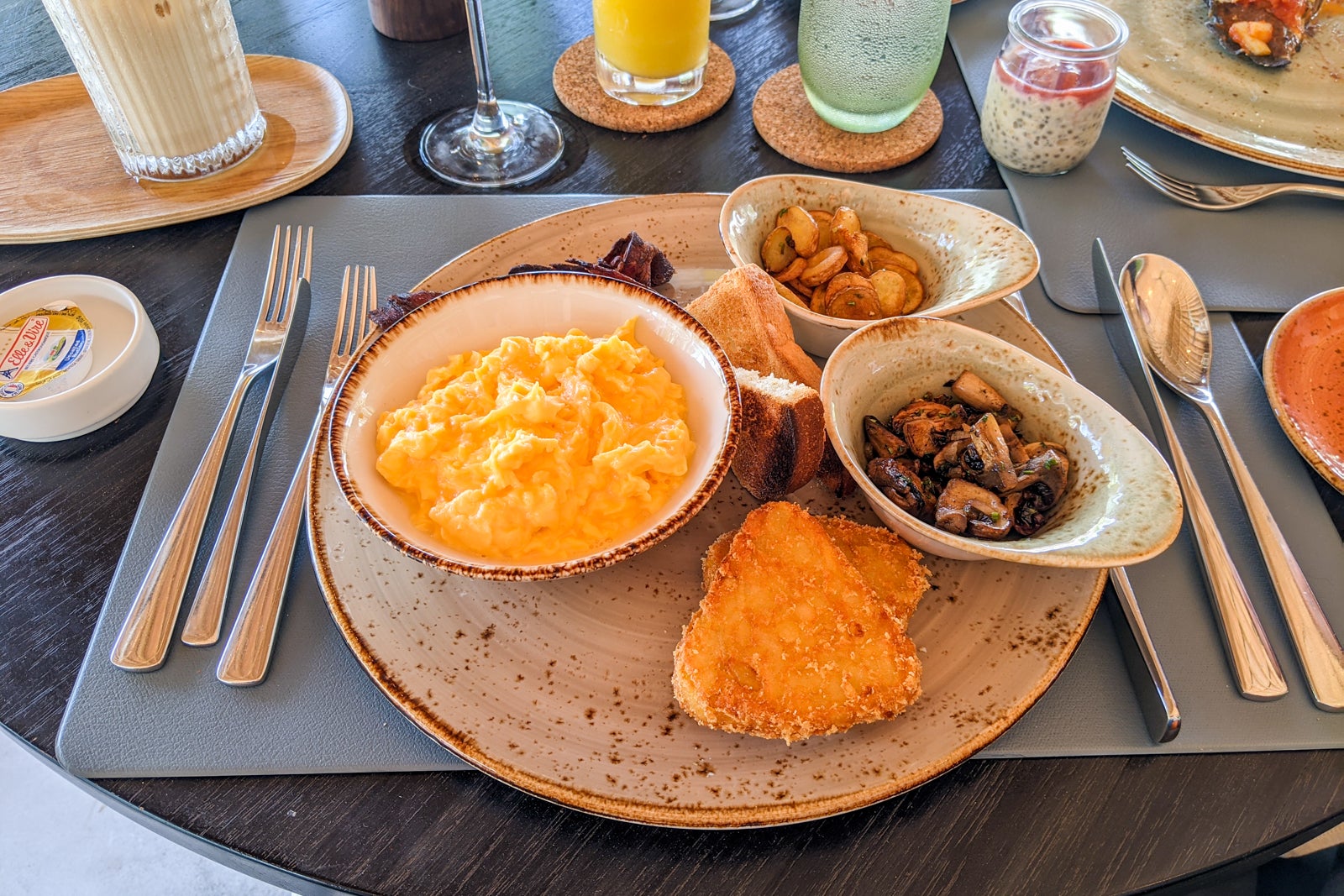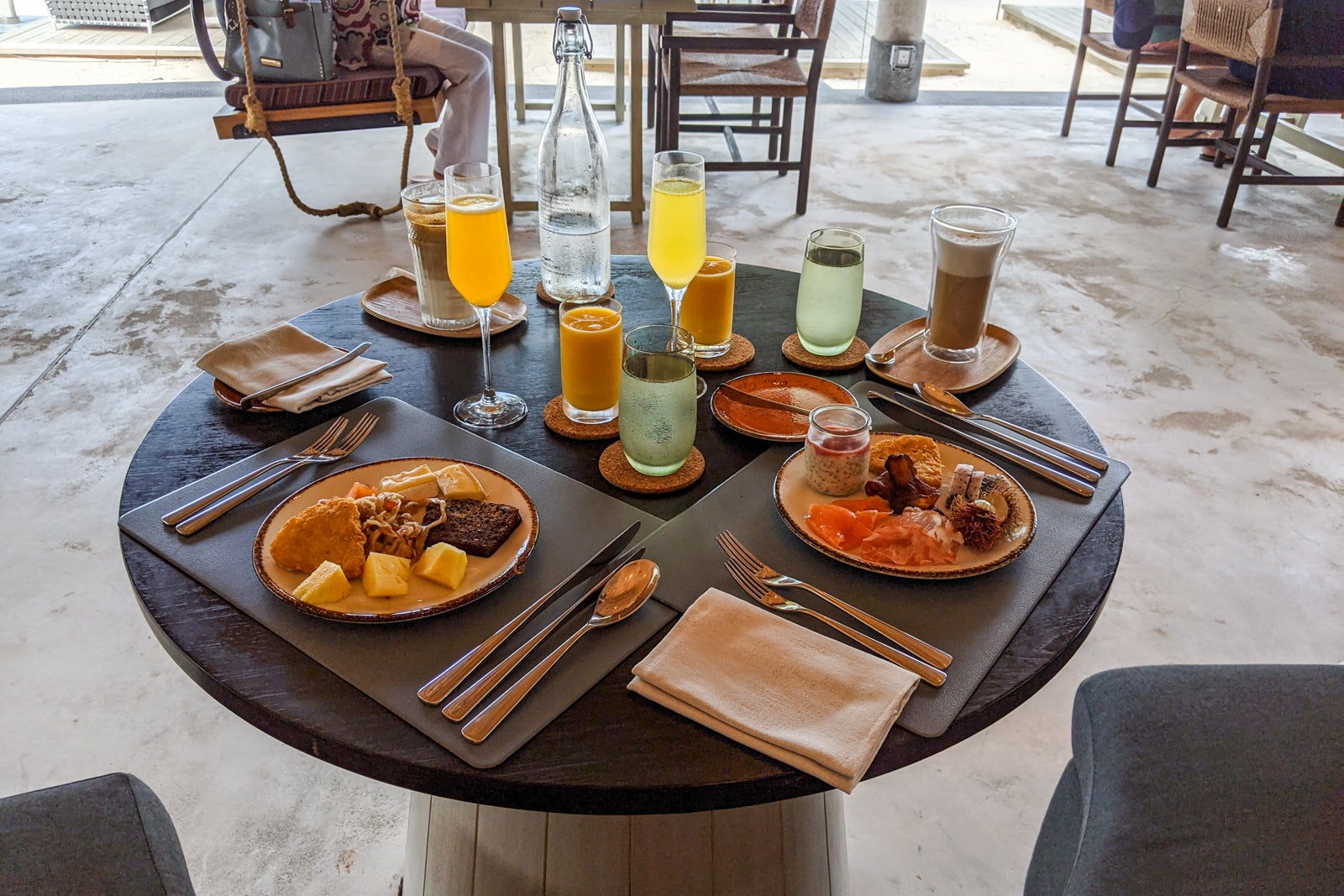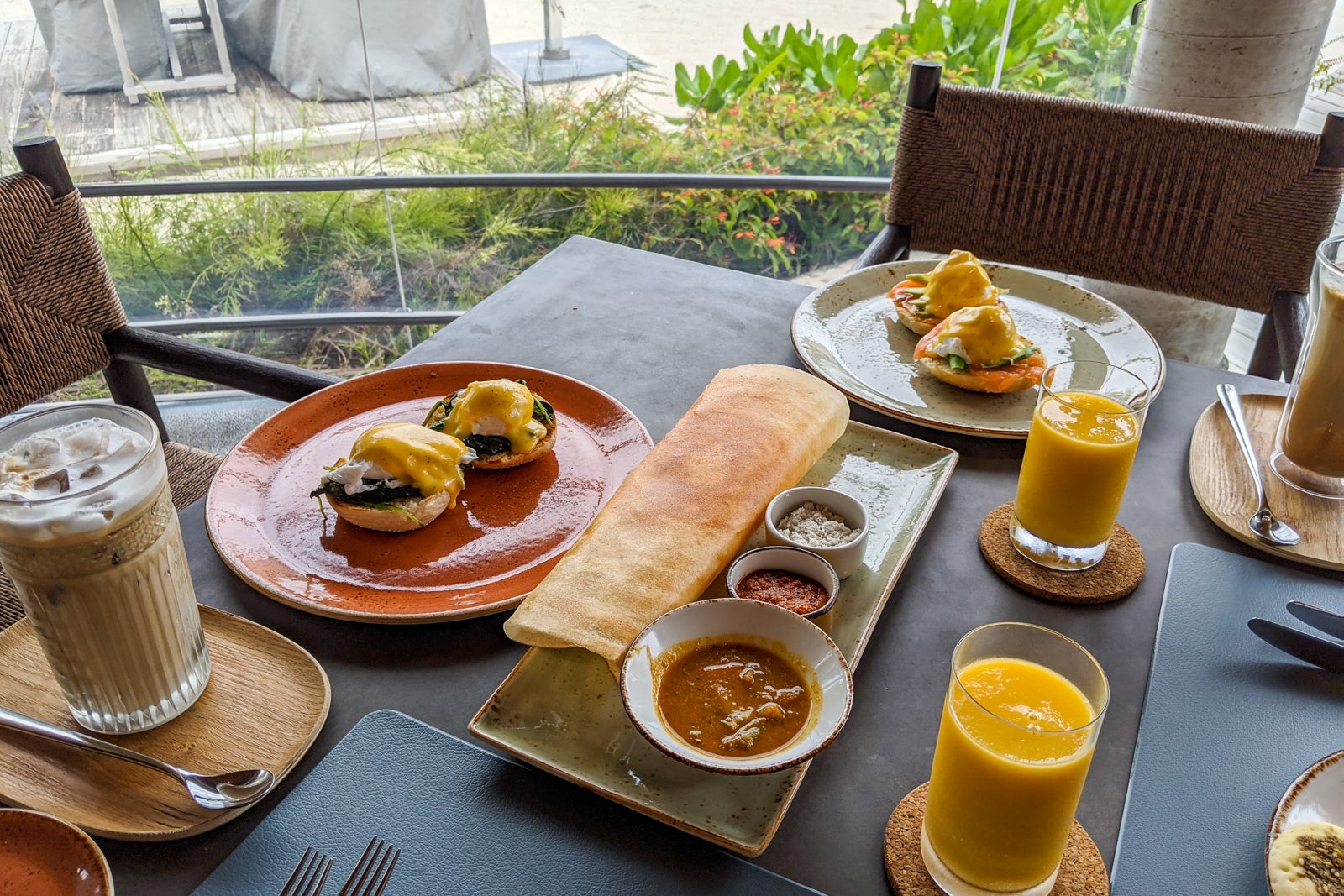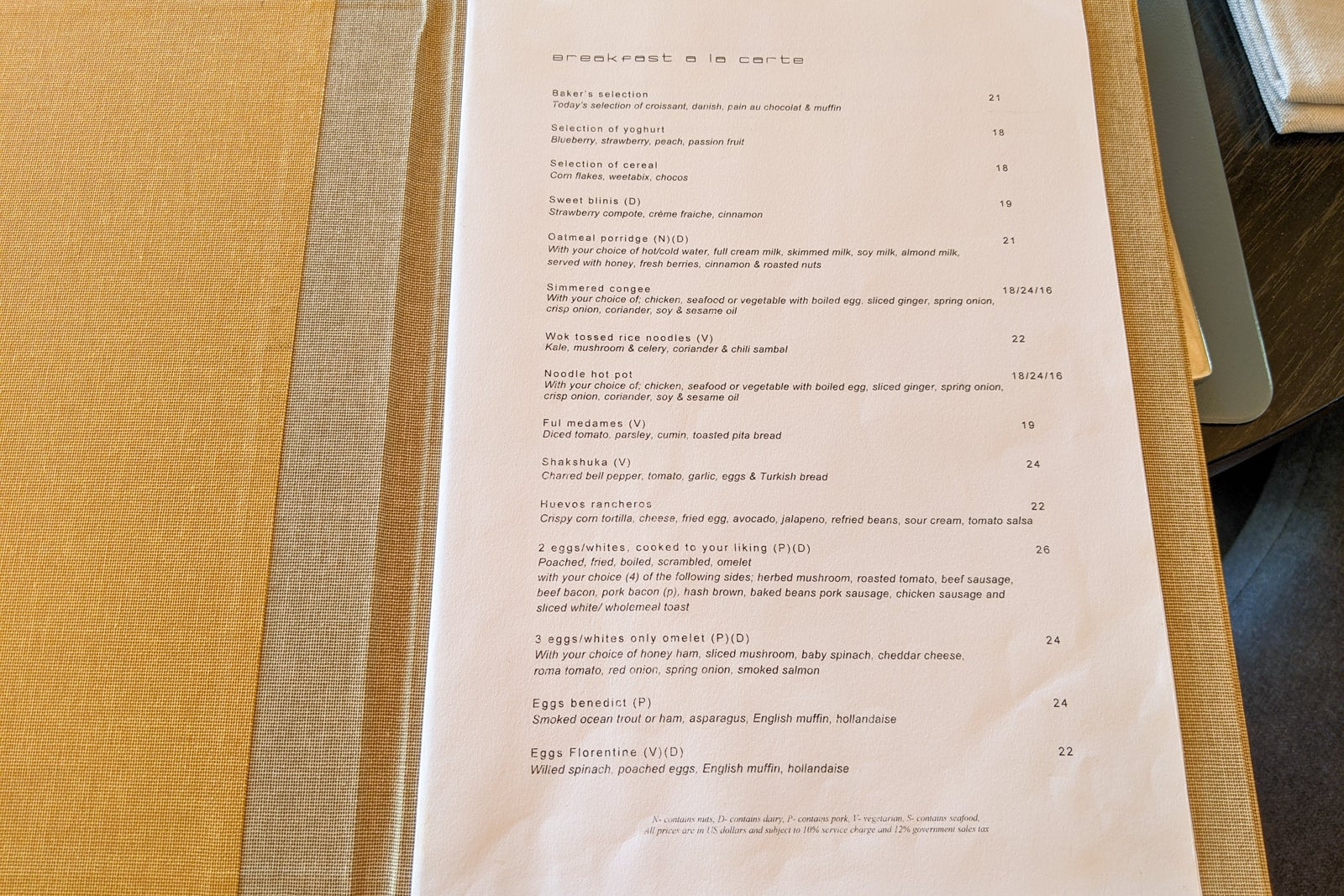 We ate at the Lighthouse restaurant for our first dinner. Since we had a reservation right when the restaurant opened for the night at 7 p.m., we had our choice of tables. We opted to sit in the round lighthouse room and enjoyed looking up at the old-school map on the roof. We split two starters, two mains and two desserts, as this was included in our rate. My favorites were the avocado cannelloni and the yellowfin tuna, but everything we tried was good.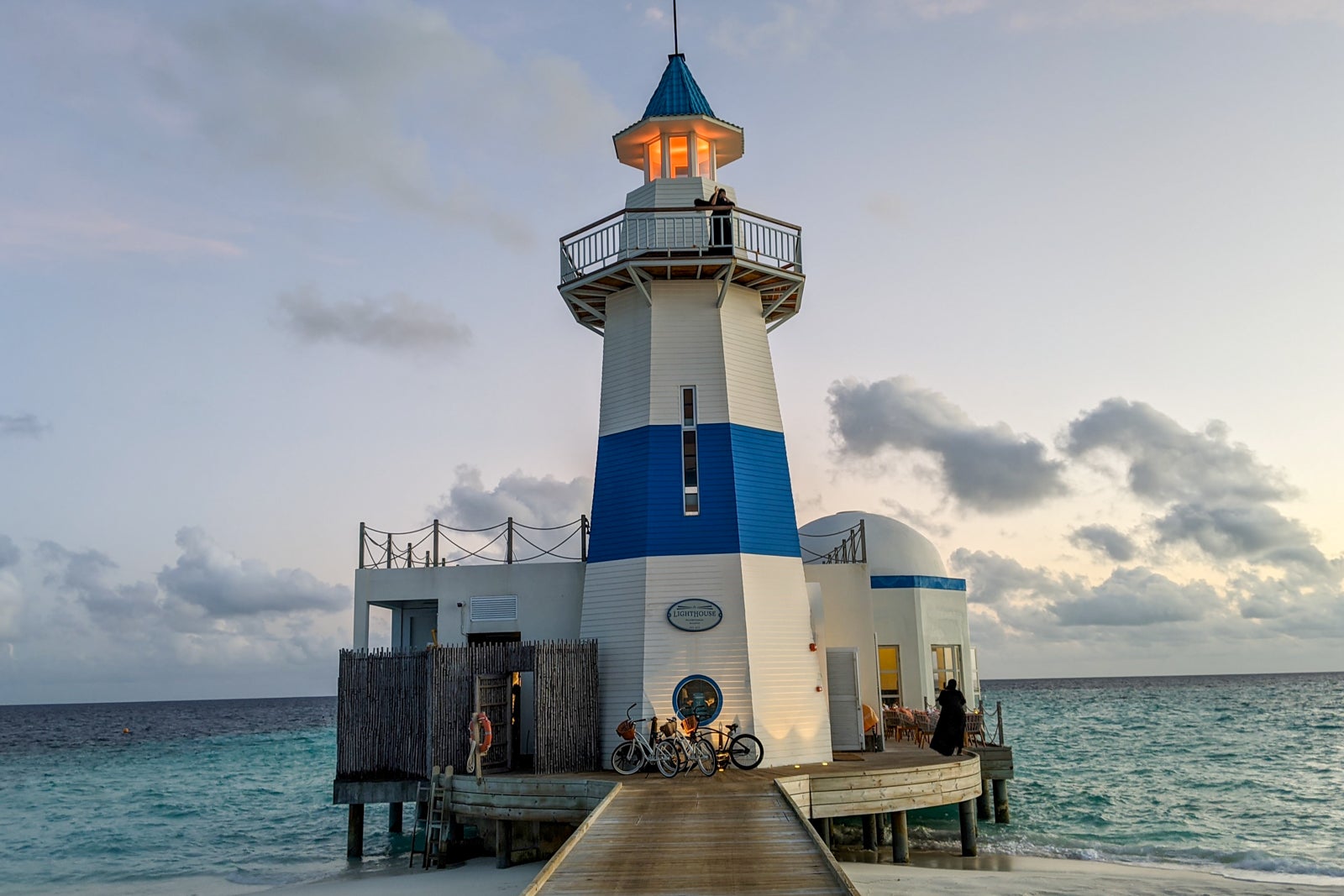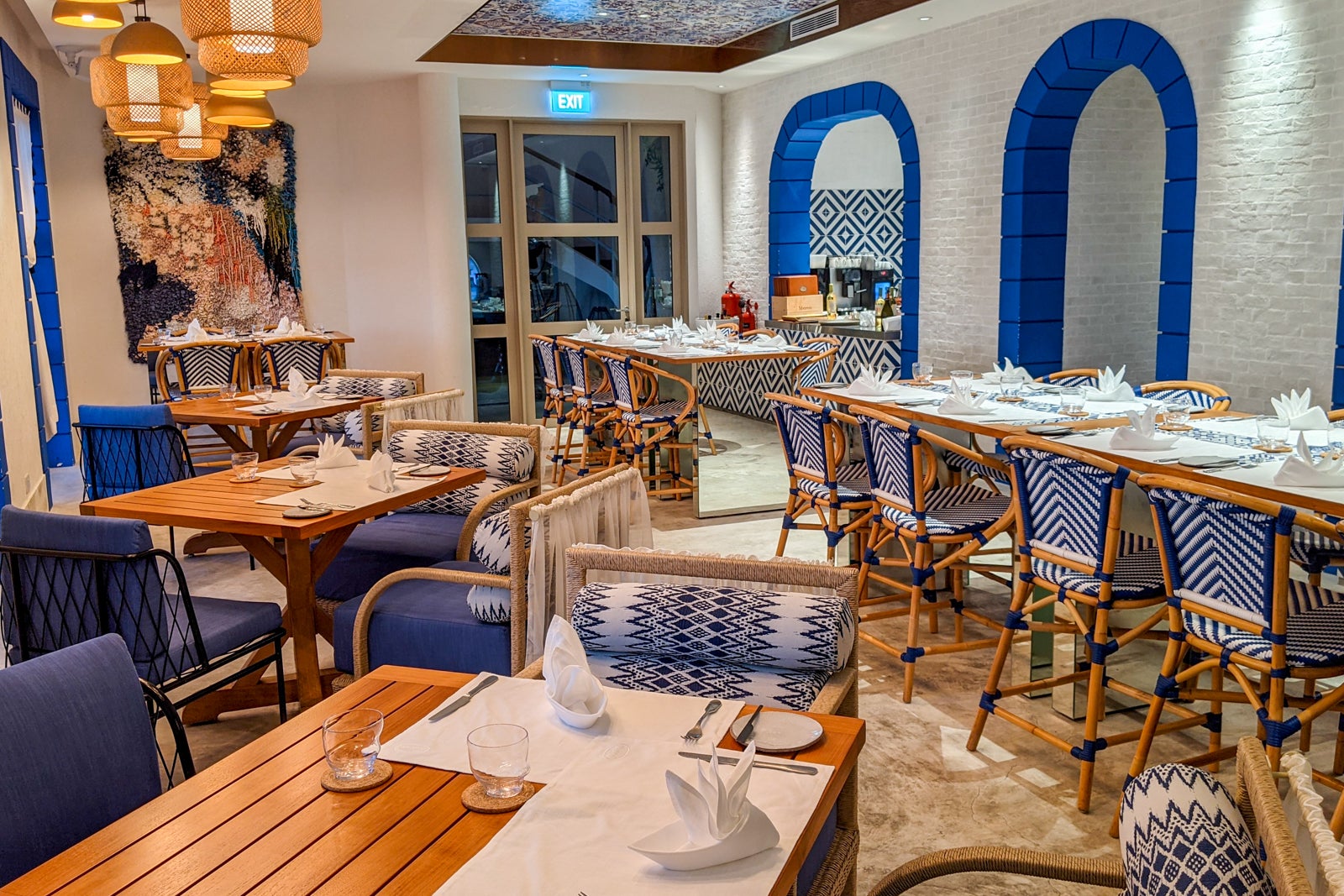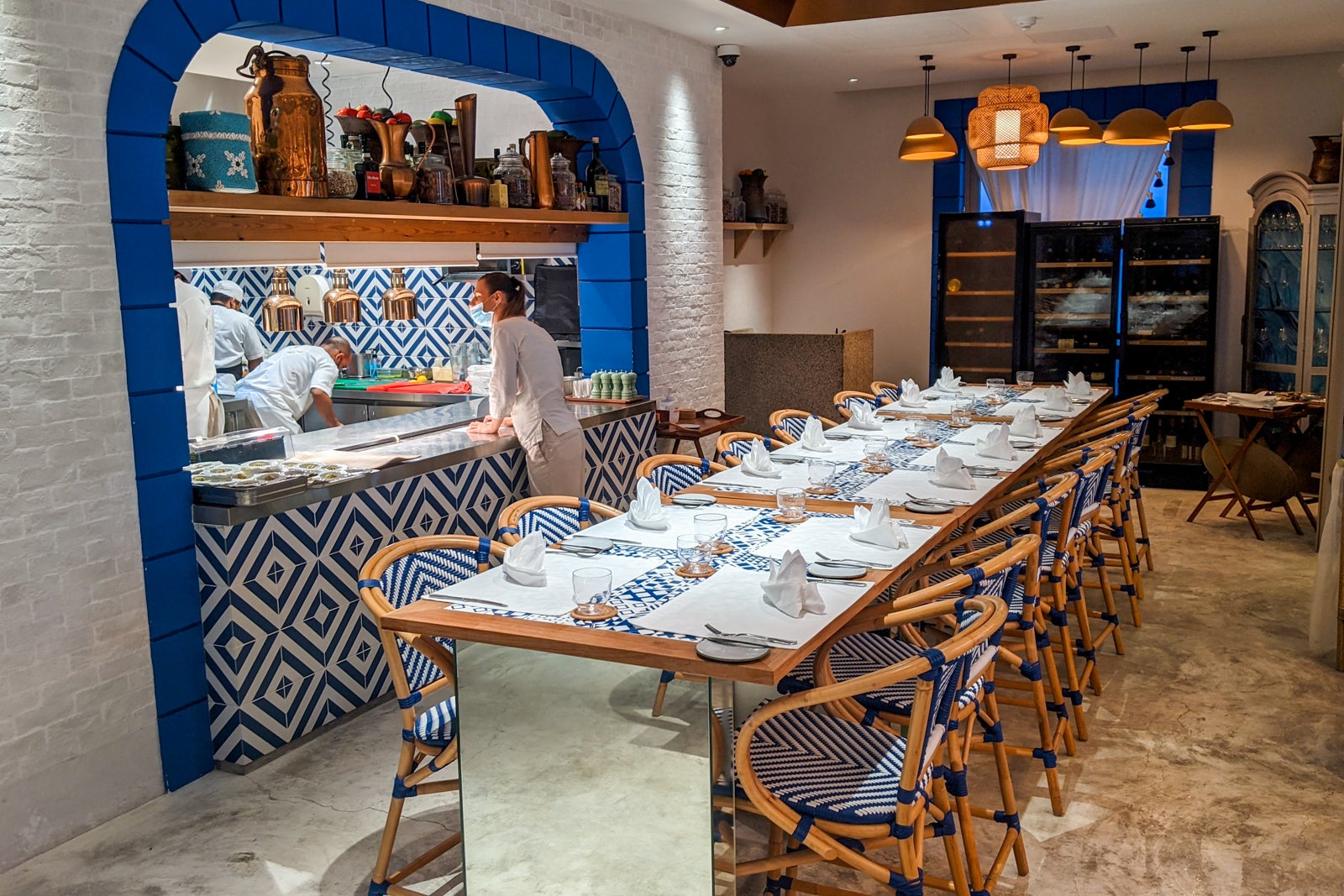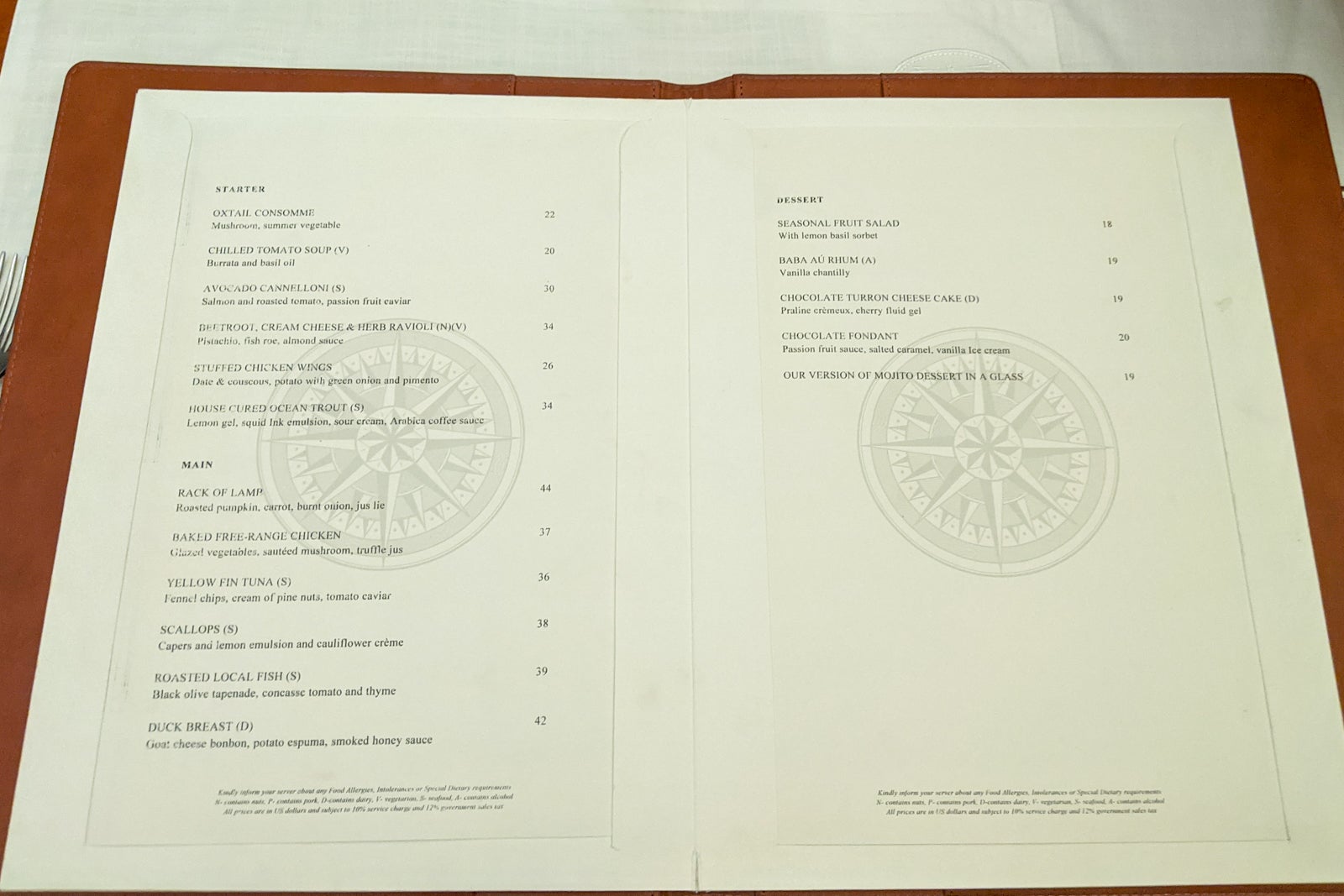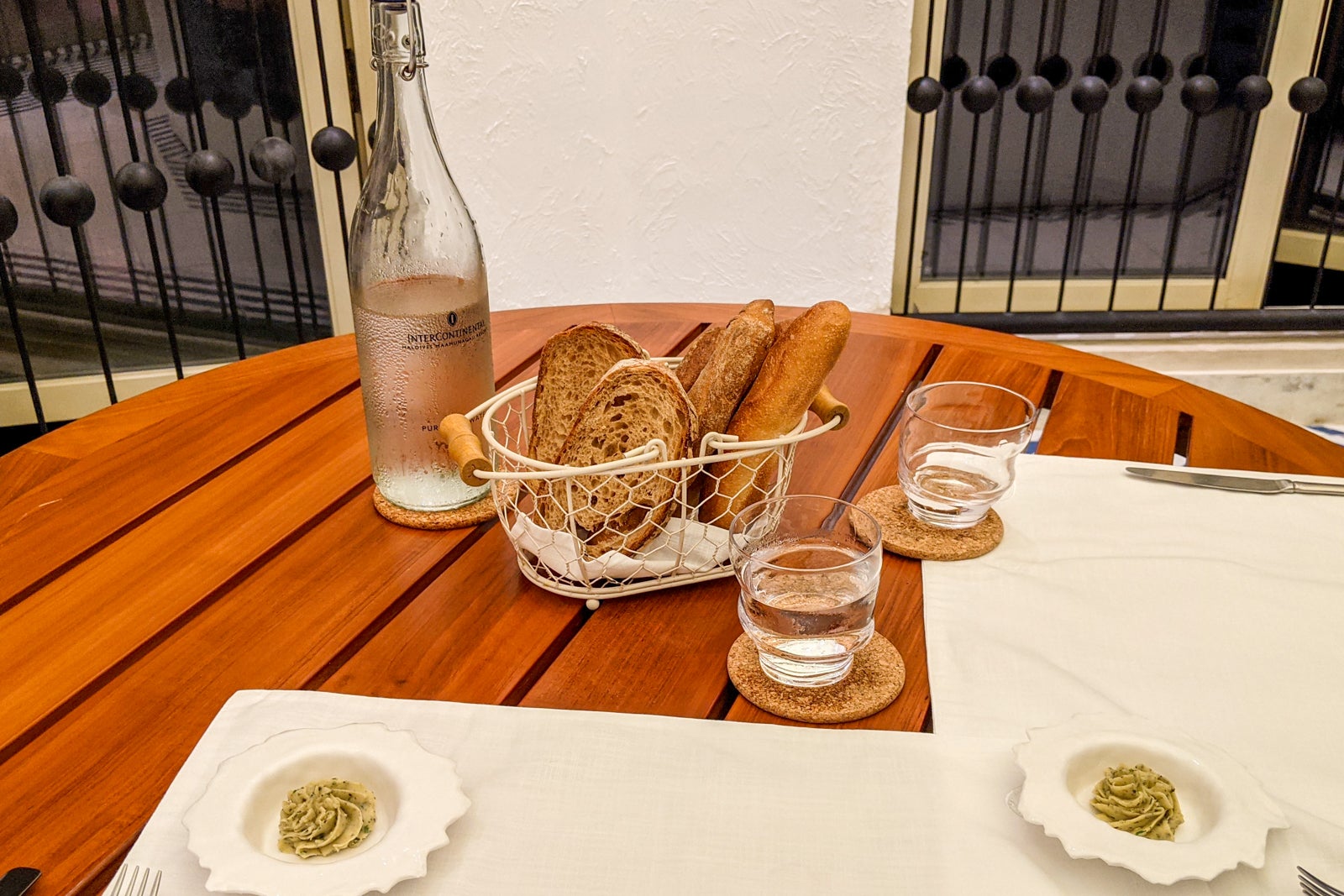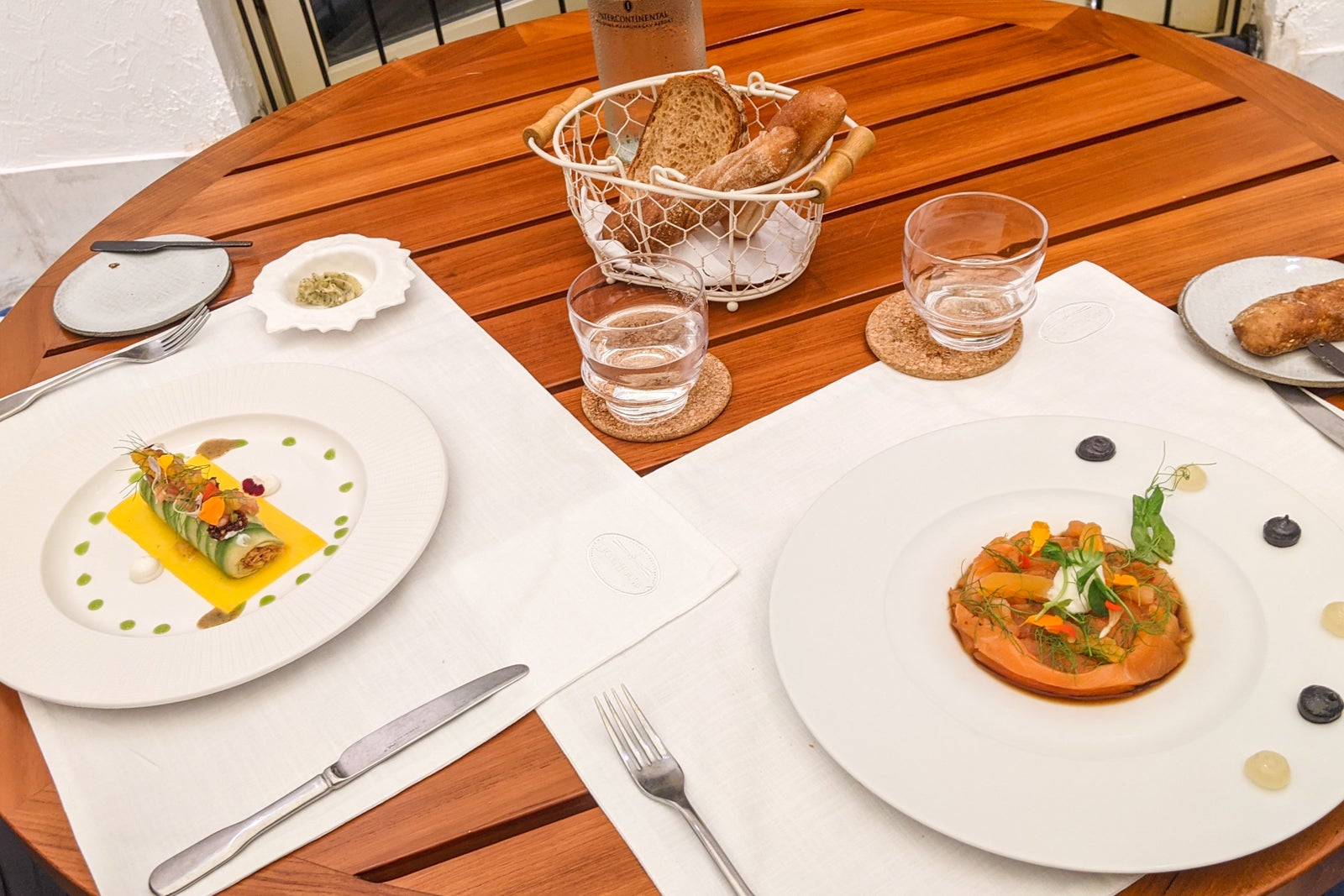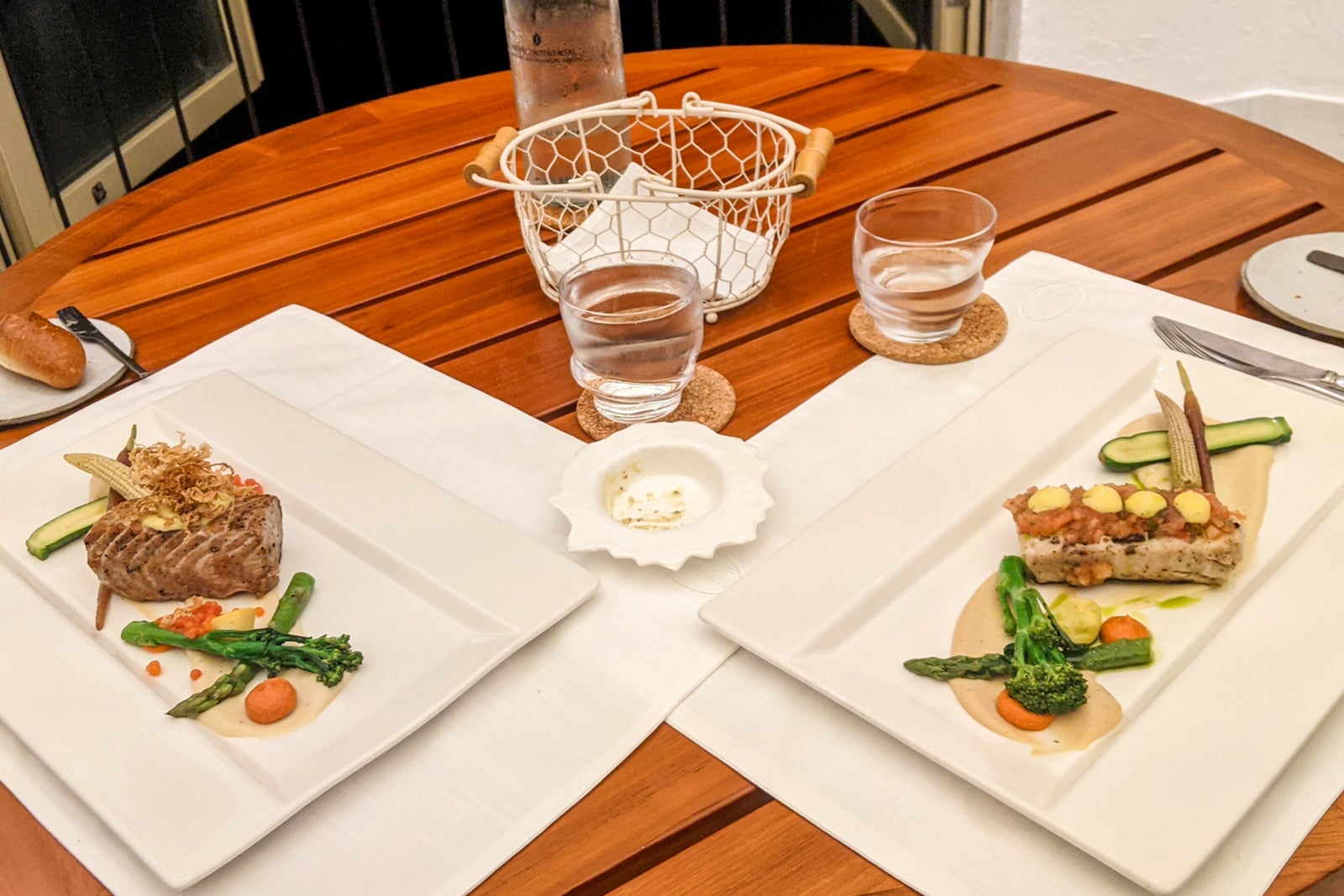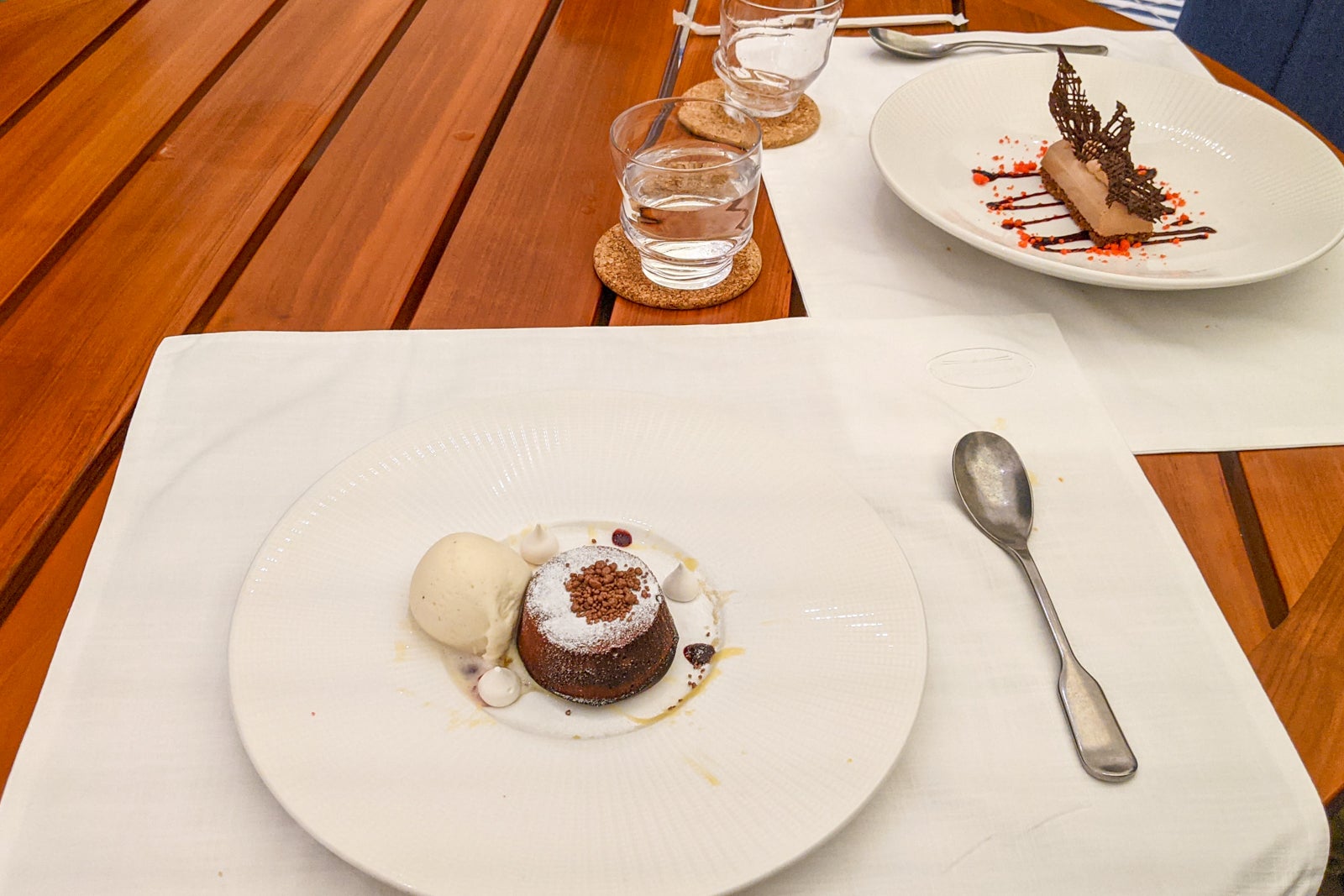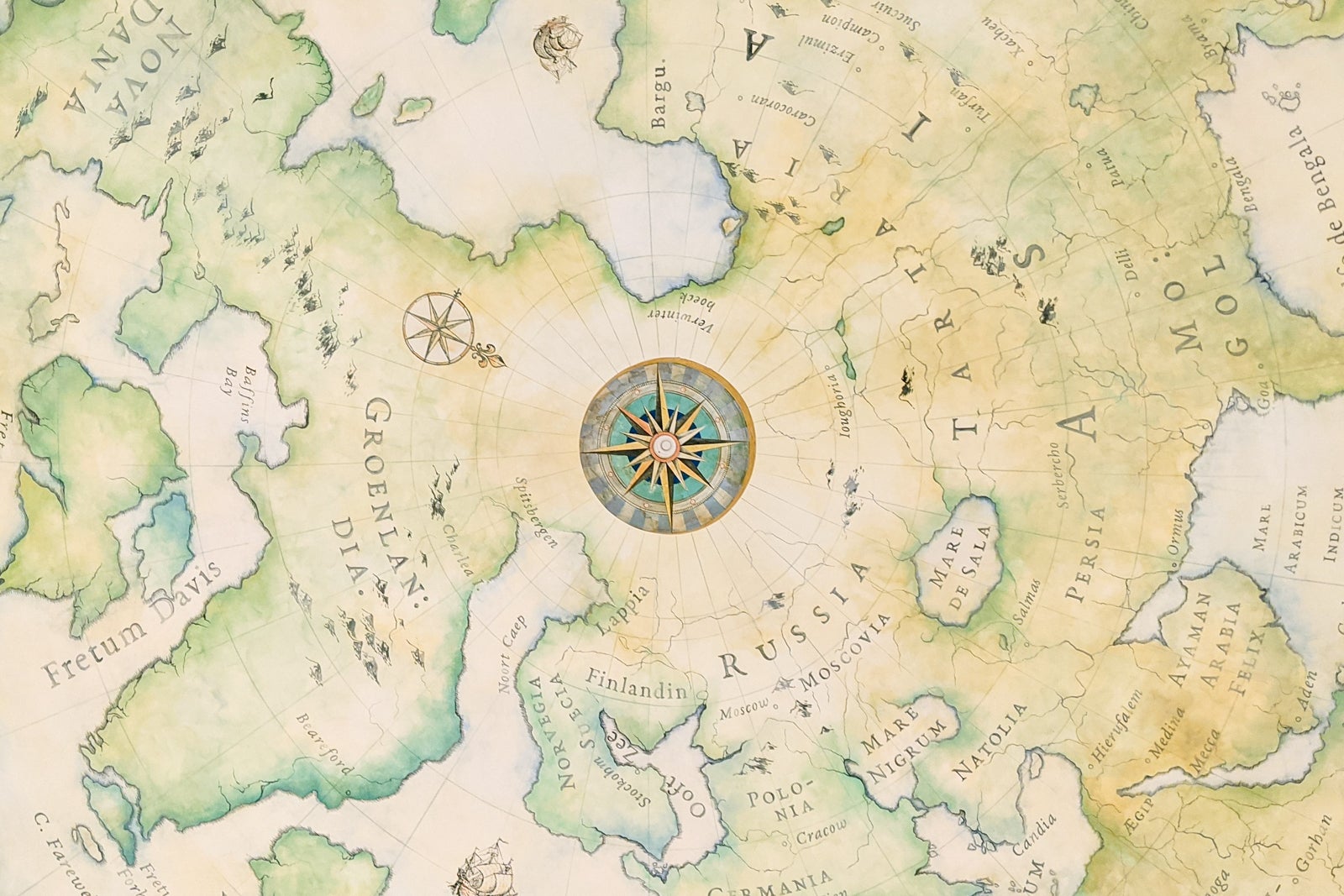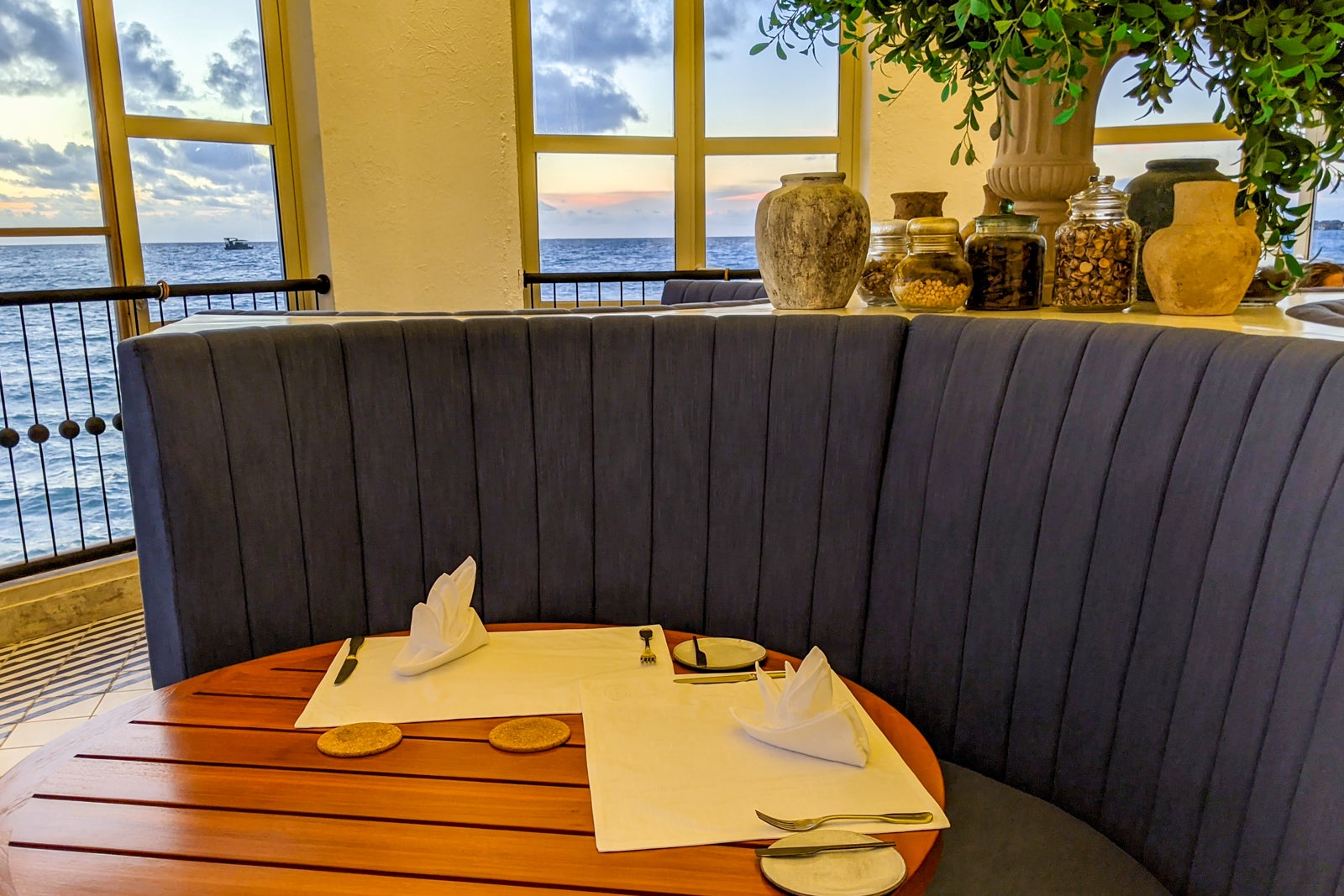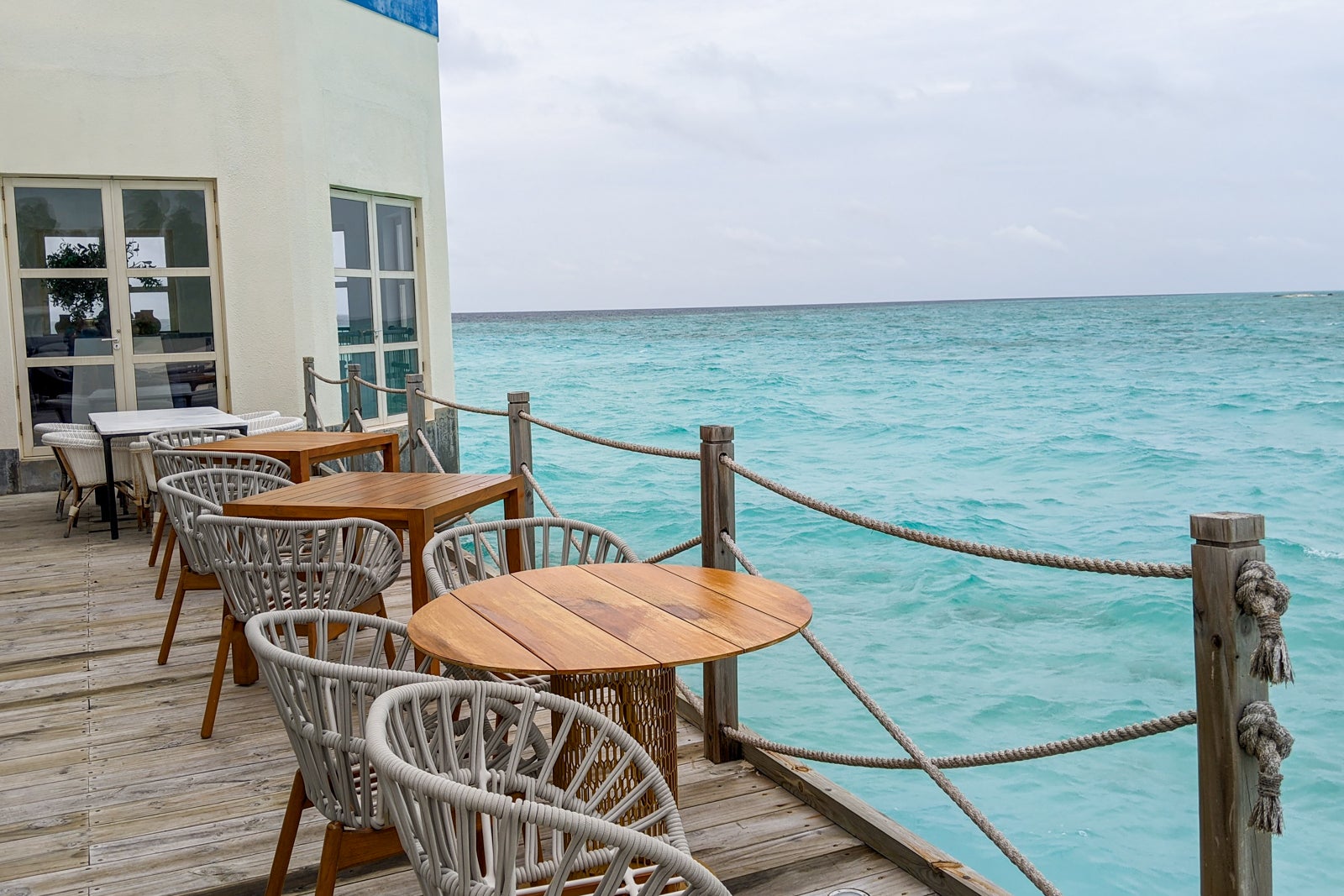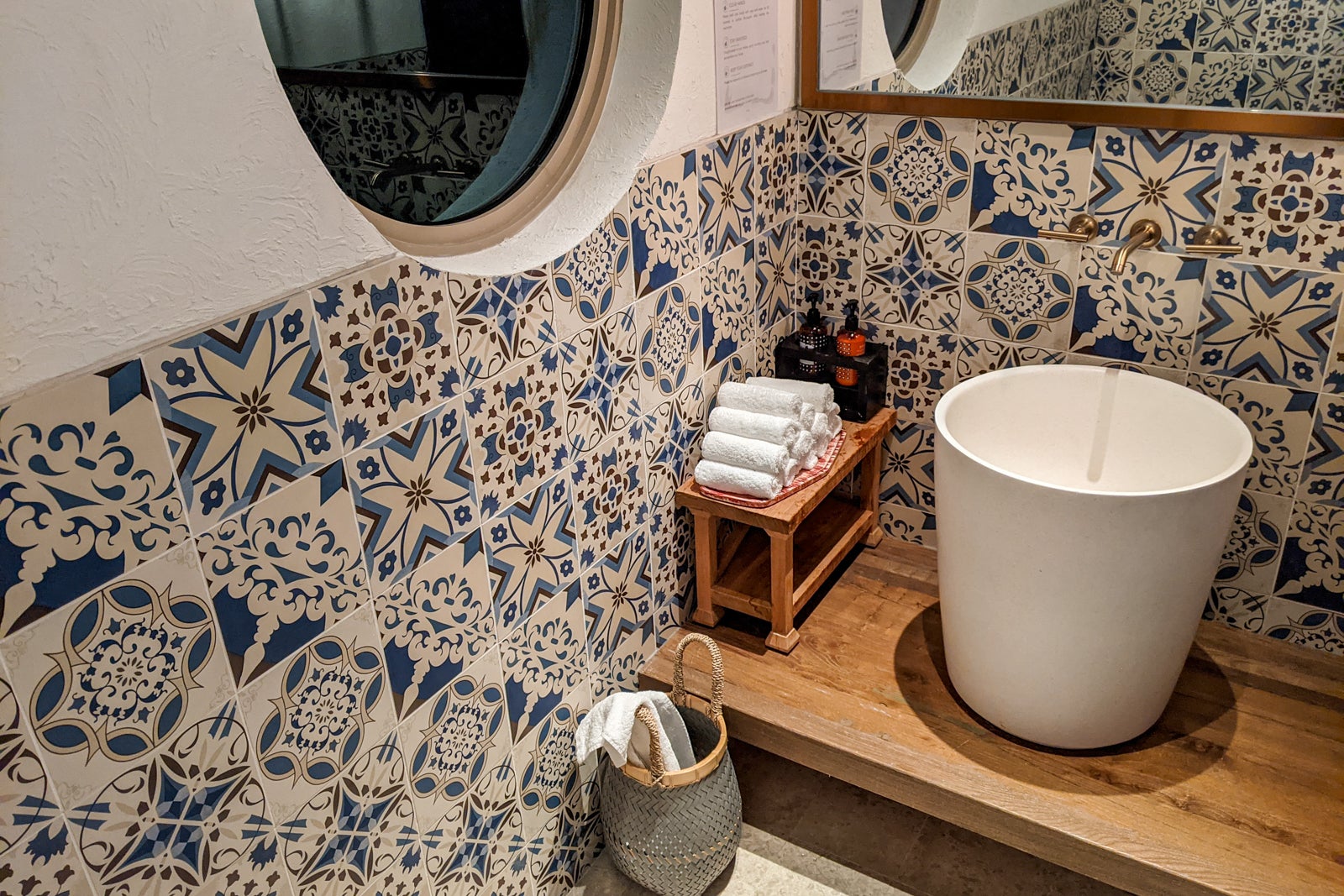 For our second dinner, we ate at the Fish Market on a stormy night. Once again, we split two starters, two mains and two desserts. My favorites of what we split were the Asian-style tuna tartare and the mango sticky rice pudding.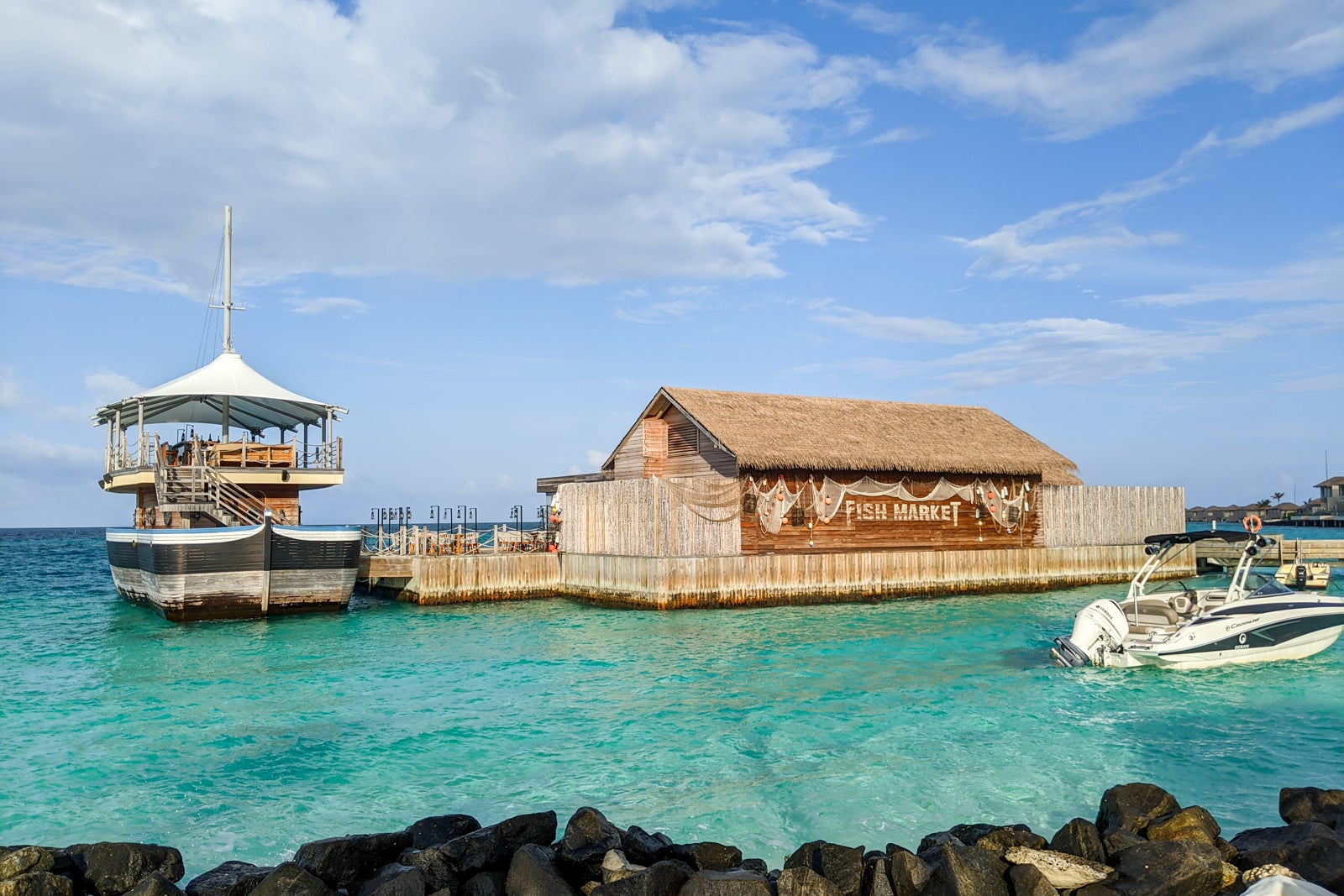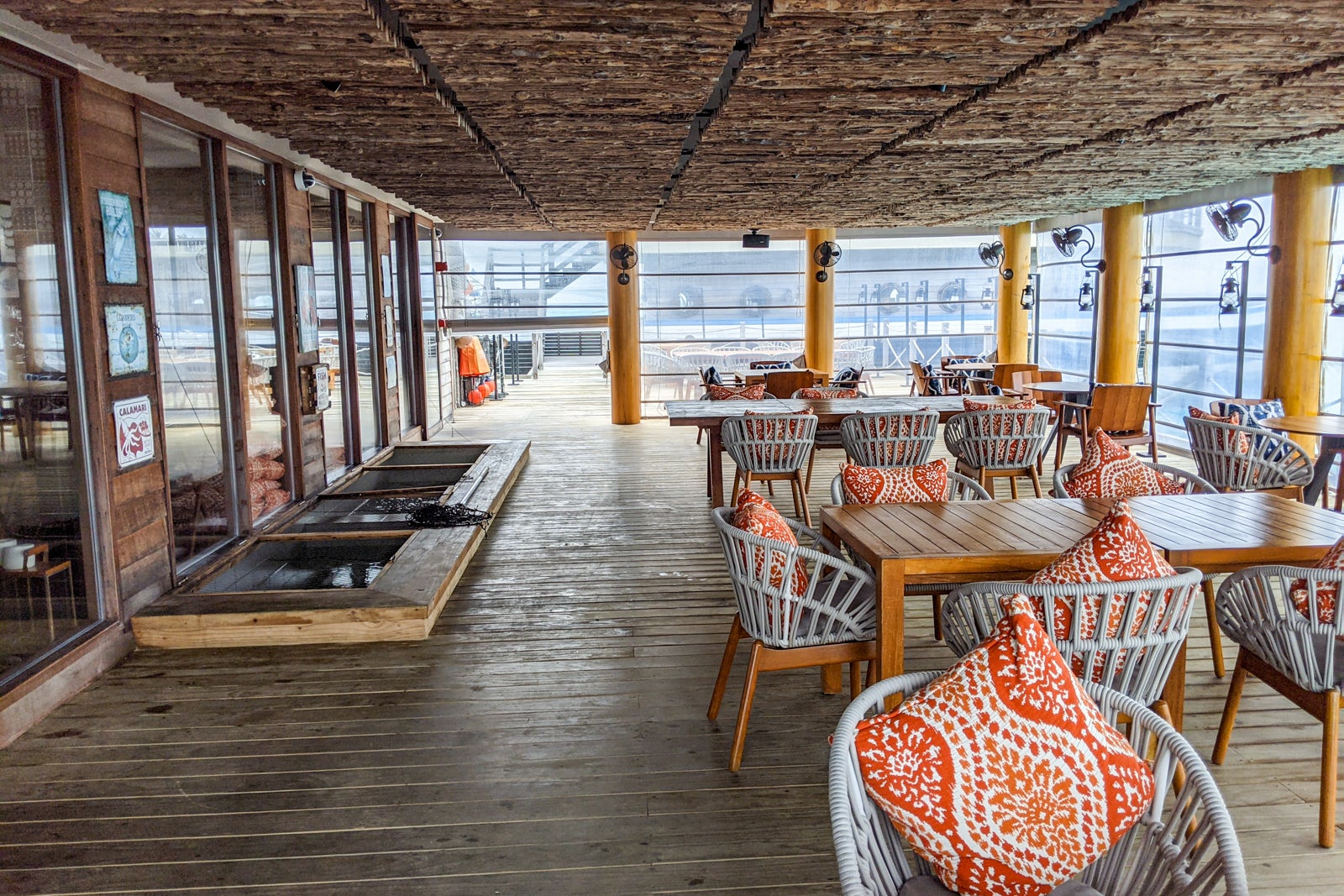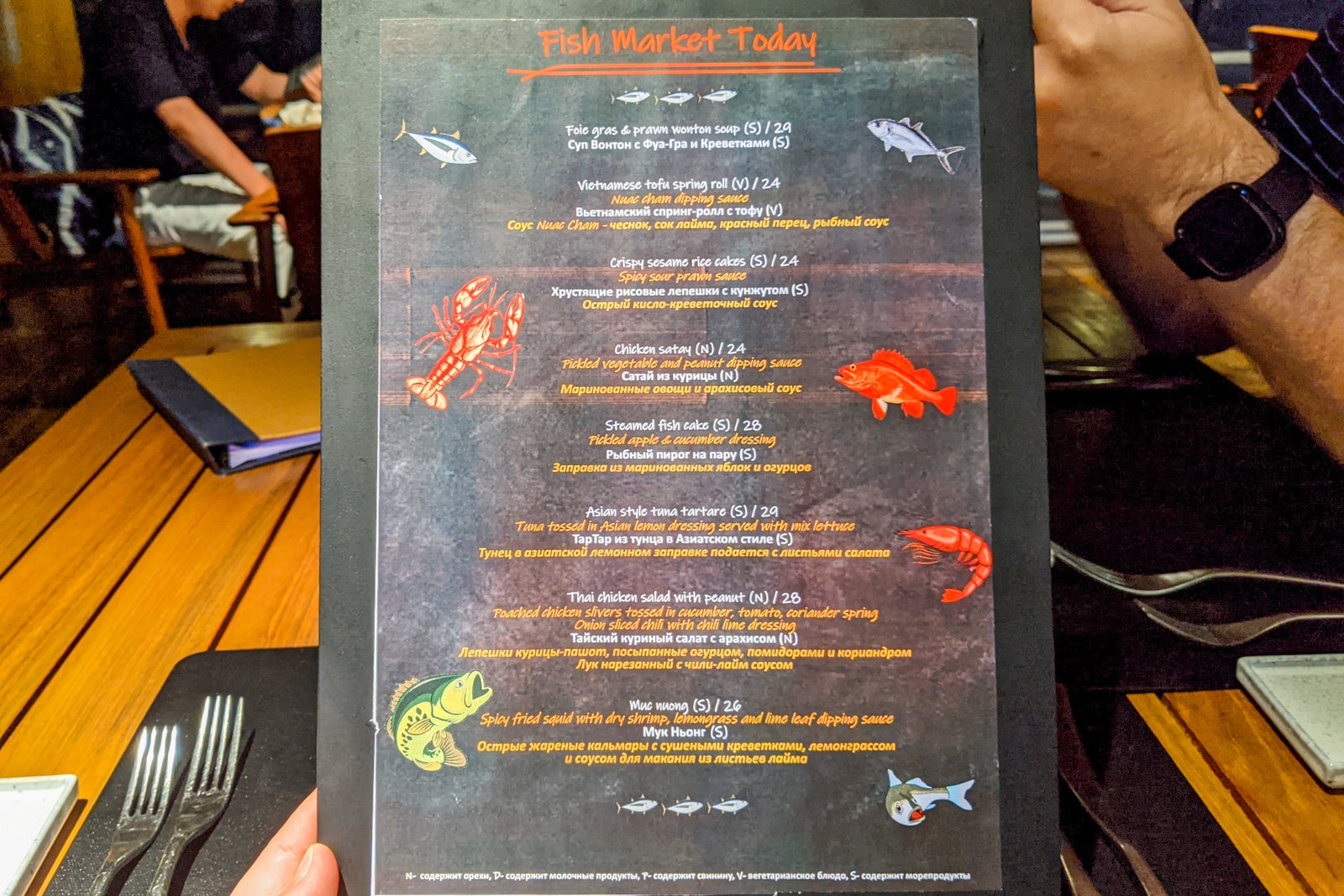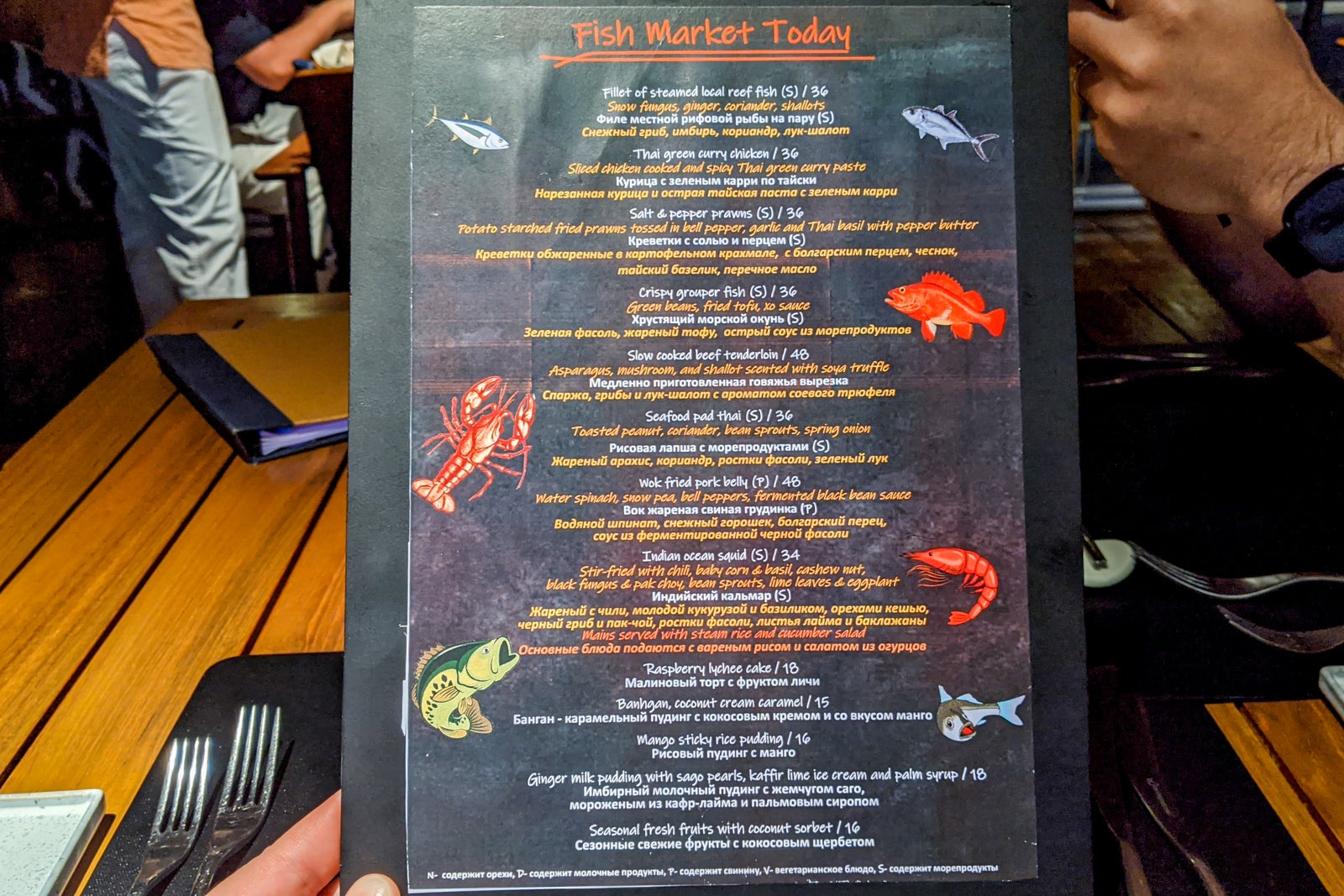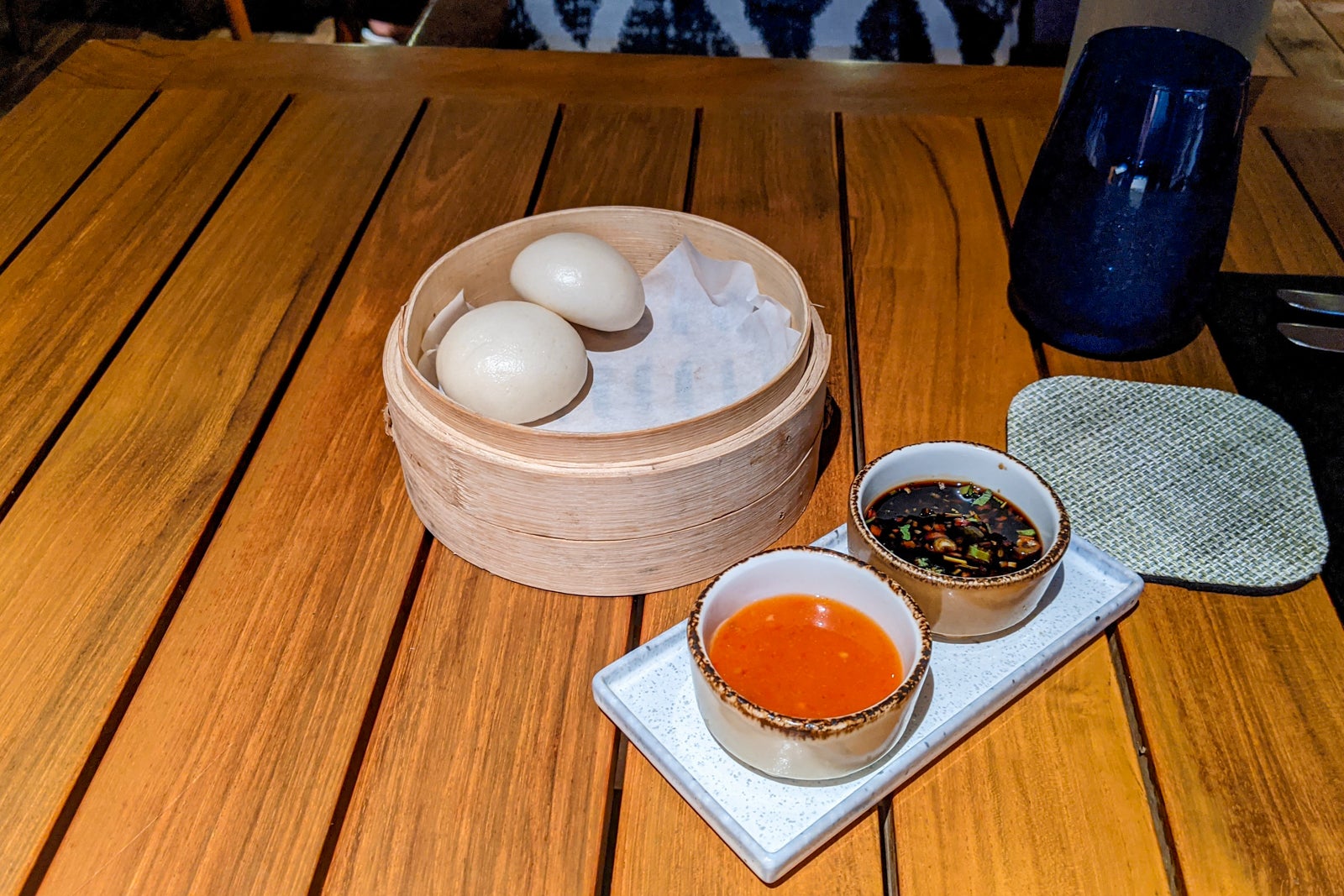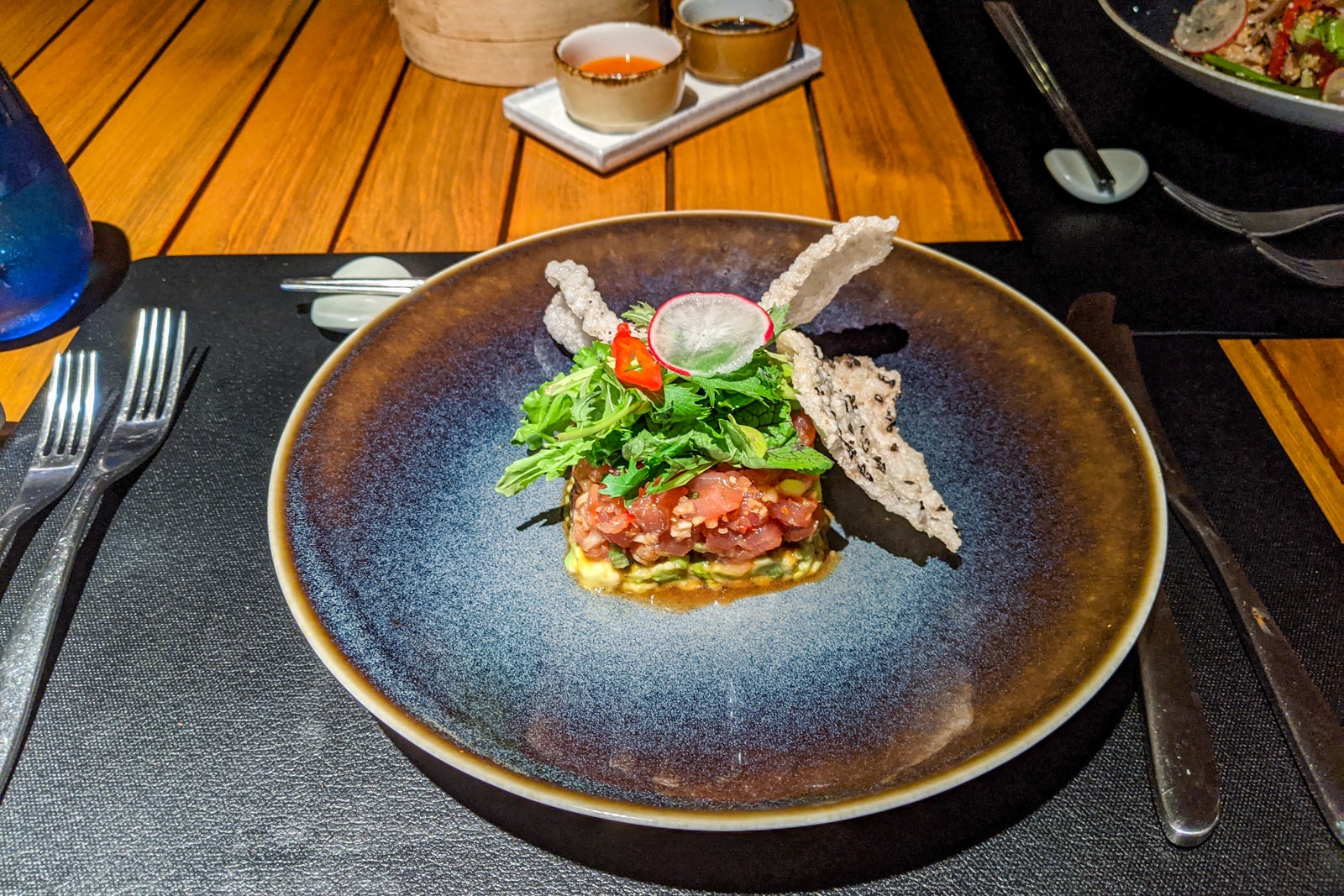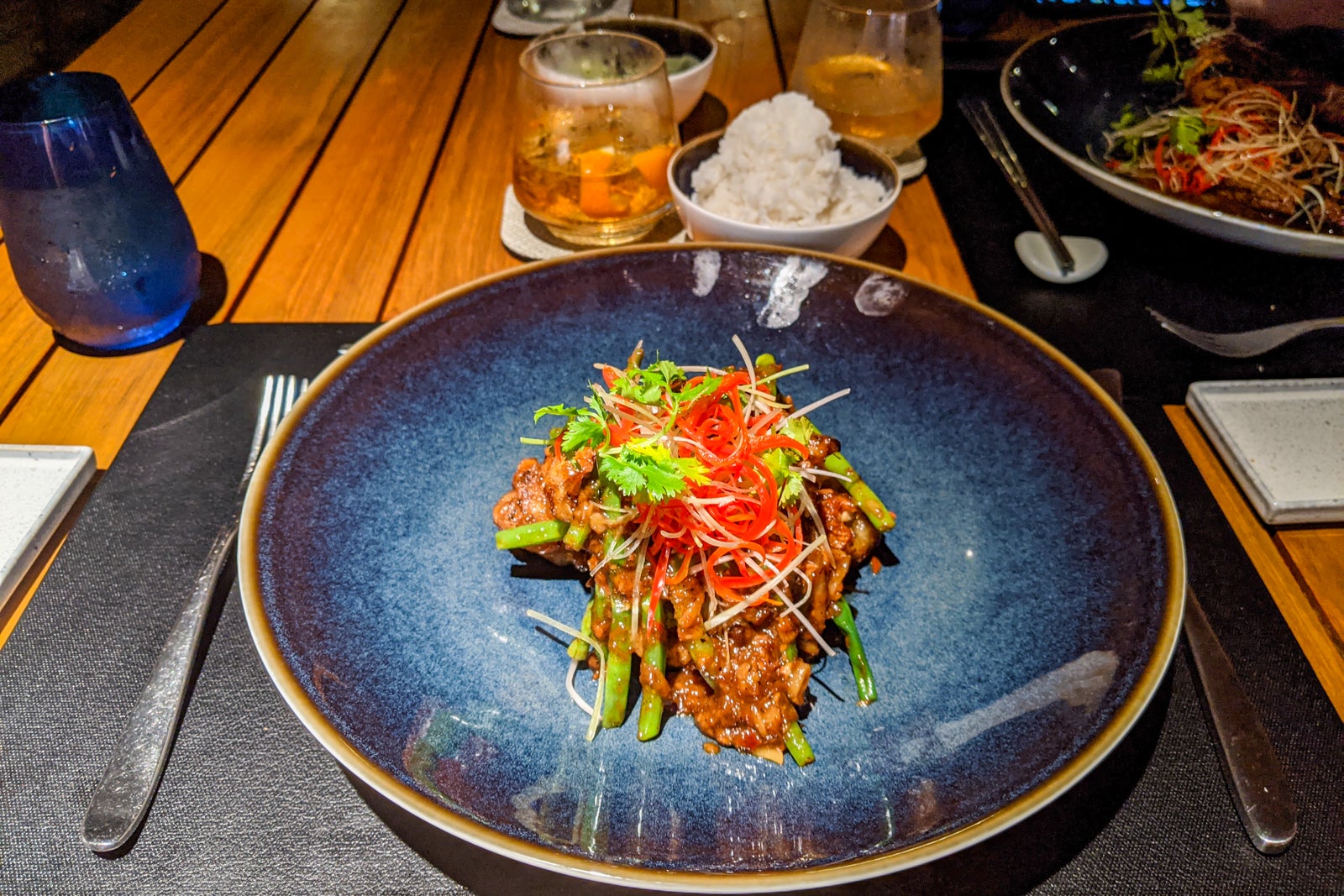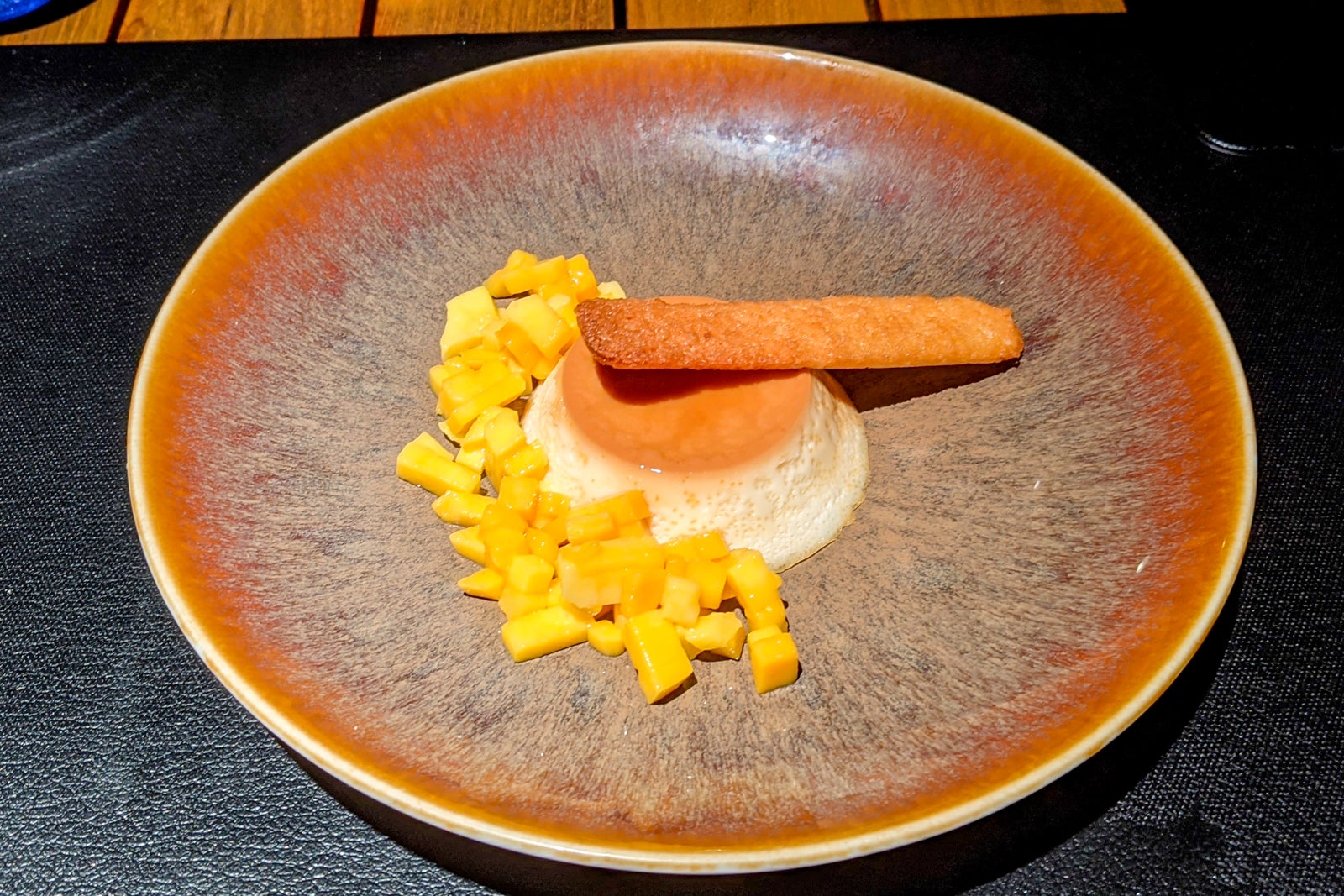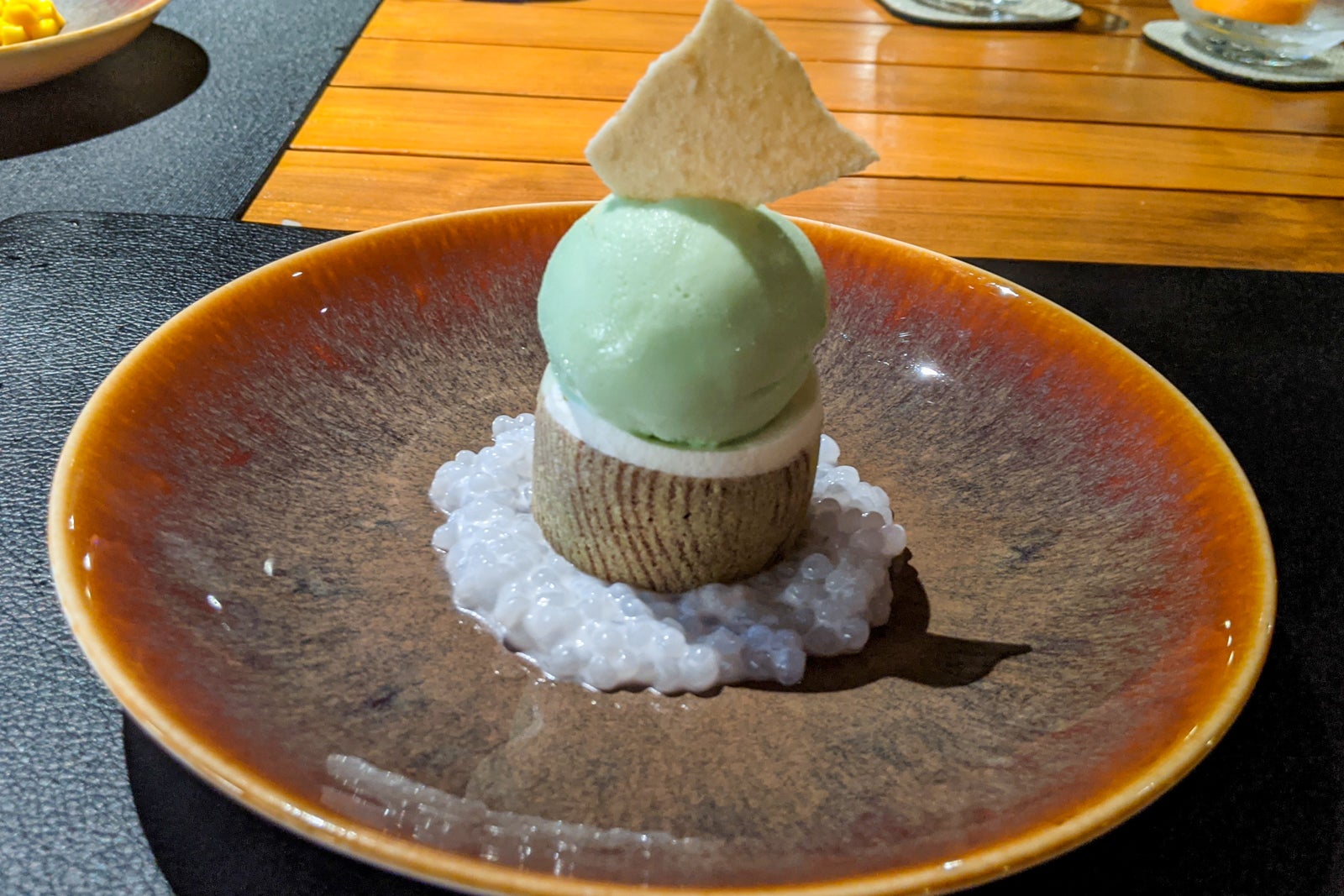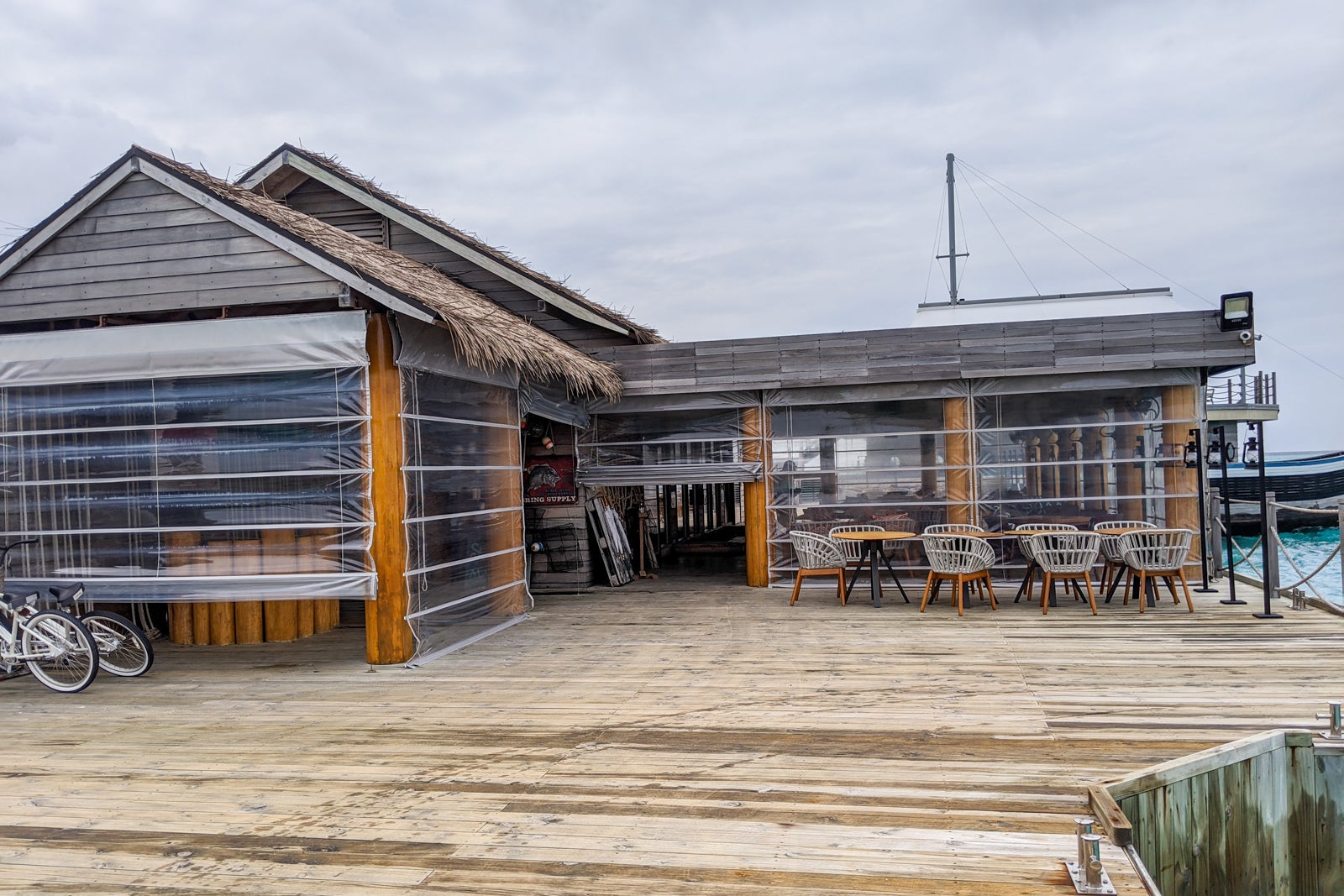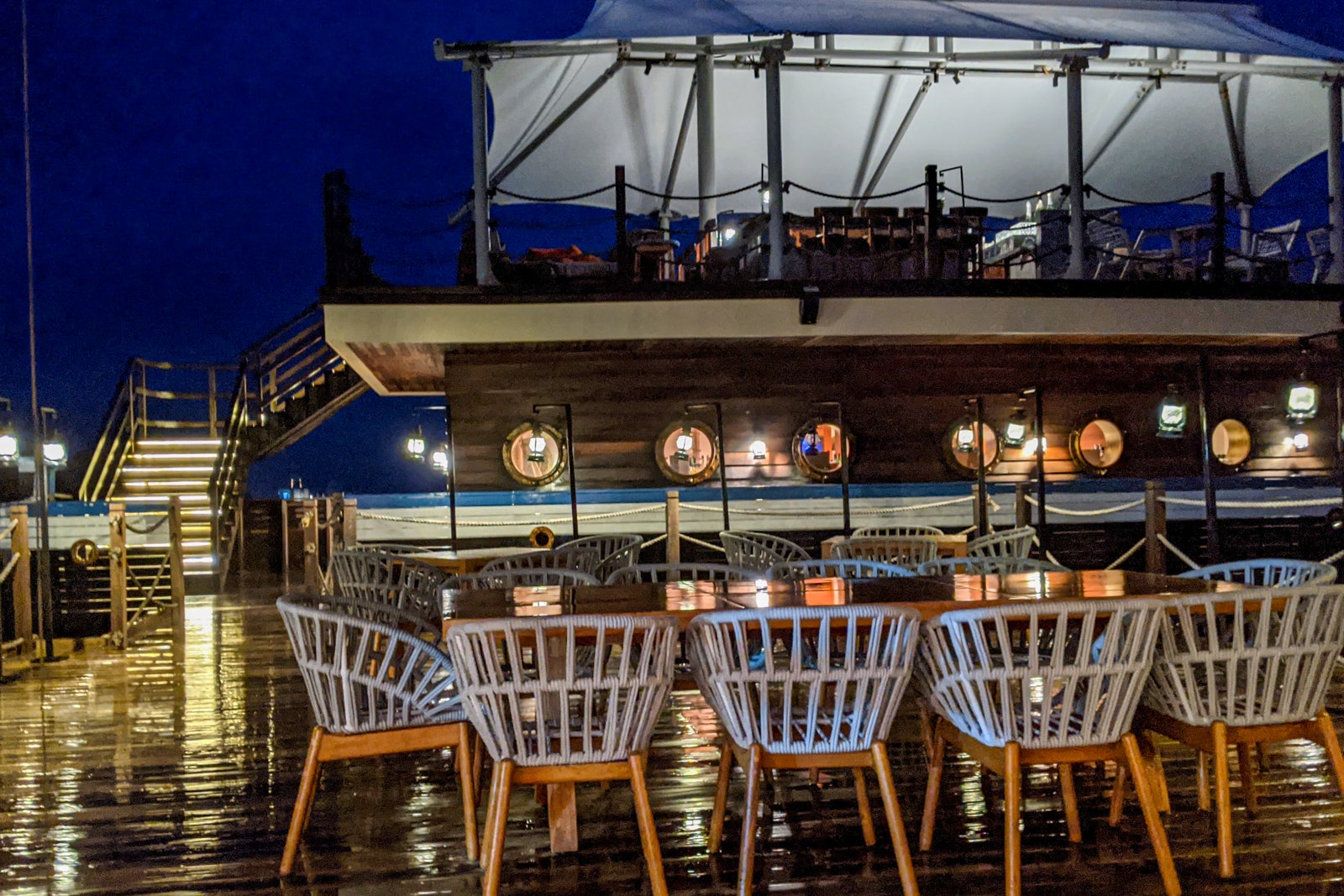 As the resort had relatively low occupancy during our stay, Lighthouse and Fish Market operated on alternating nights. However, as we only stayed two nights and ample reservations were available when we arrived, this wasn't an issue for us.
Related: The best ways to get to the Maldives on points and miles
Amenities
The InterContinental Maldives Maamunagau Resort has two pool areas. The first is the family-friendly main pool by Cafe Umi. This pool area overlooks the ocean and has a children's pool, an adult's pool and a swim-up bar. There's plenty of seating in both the sun and shade around the pool and on the beach. I appreciated that towels and sunscreen were readily available.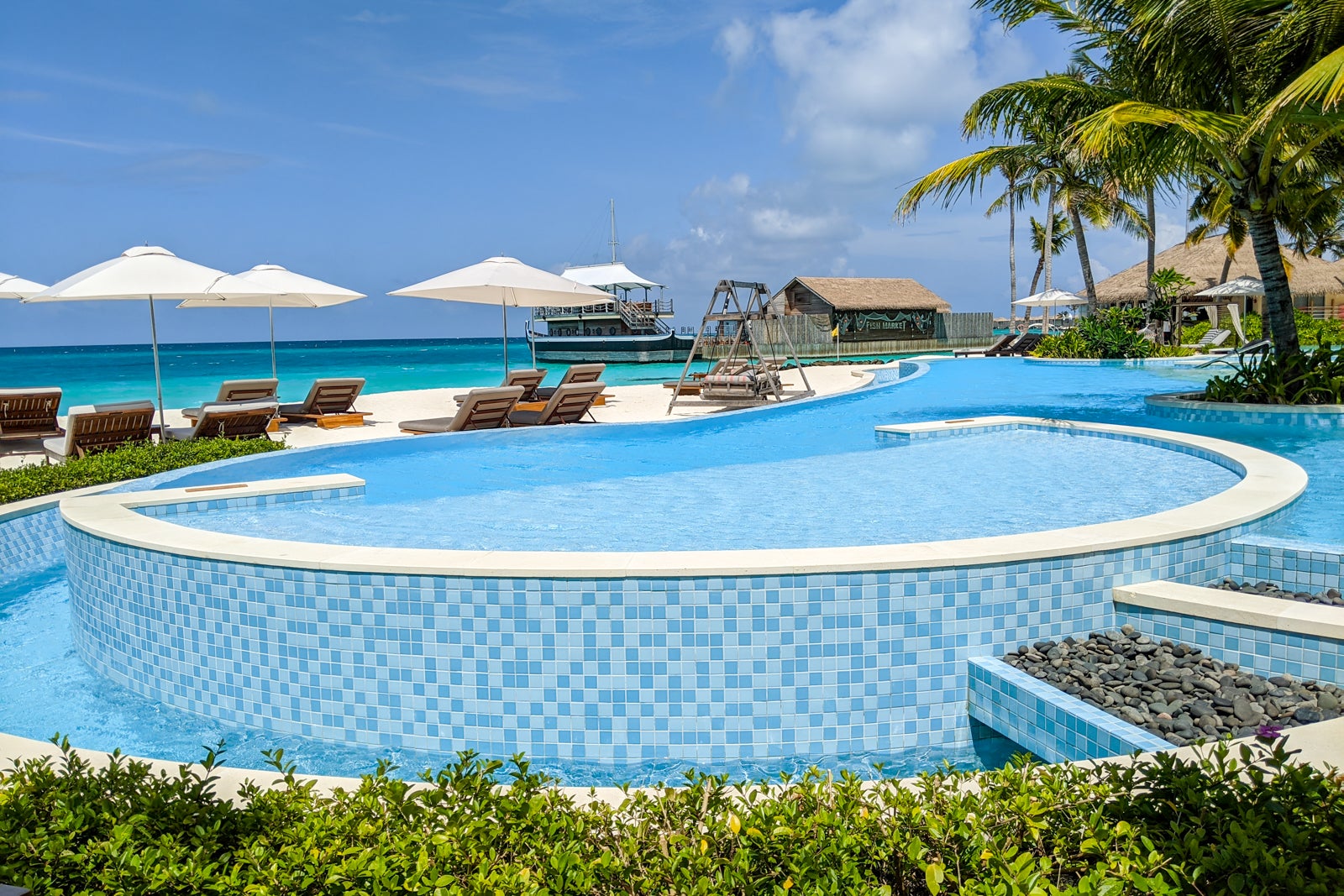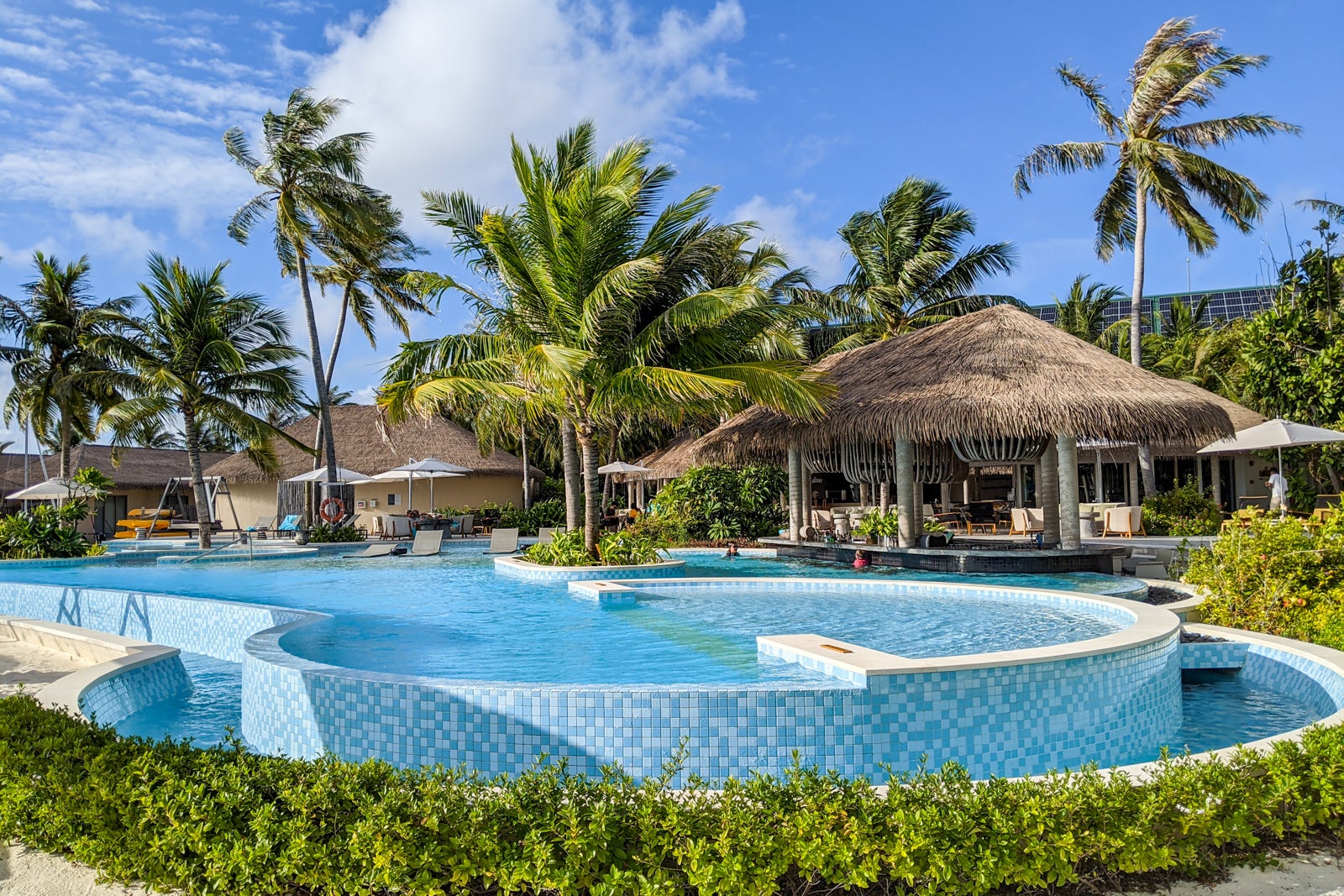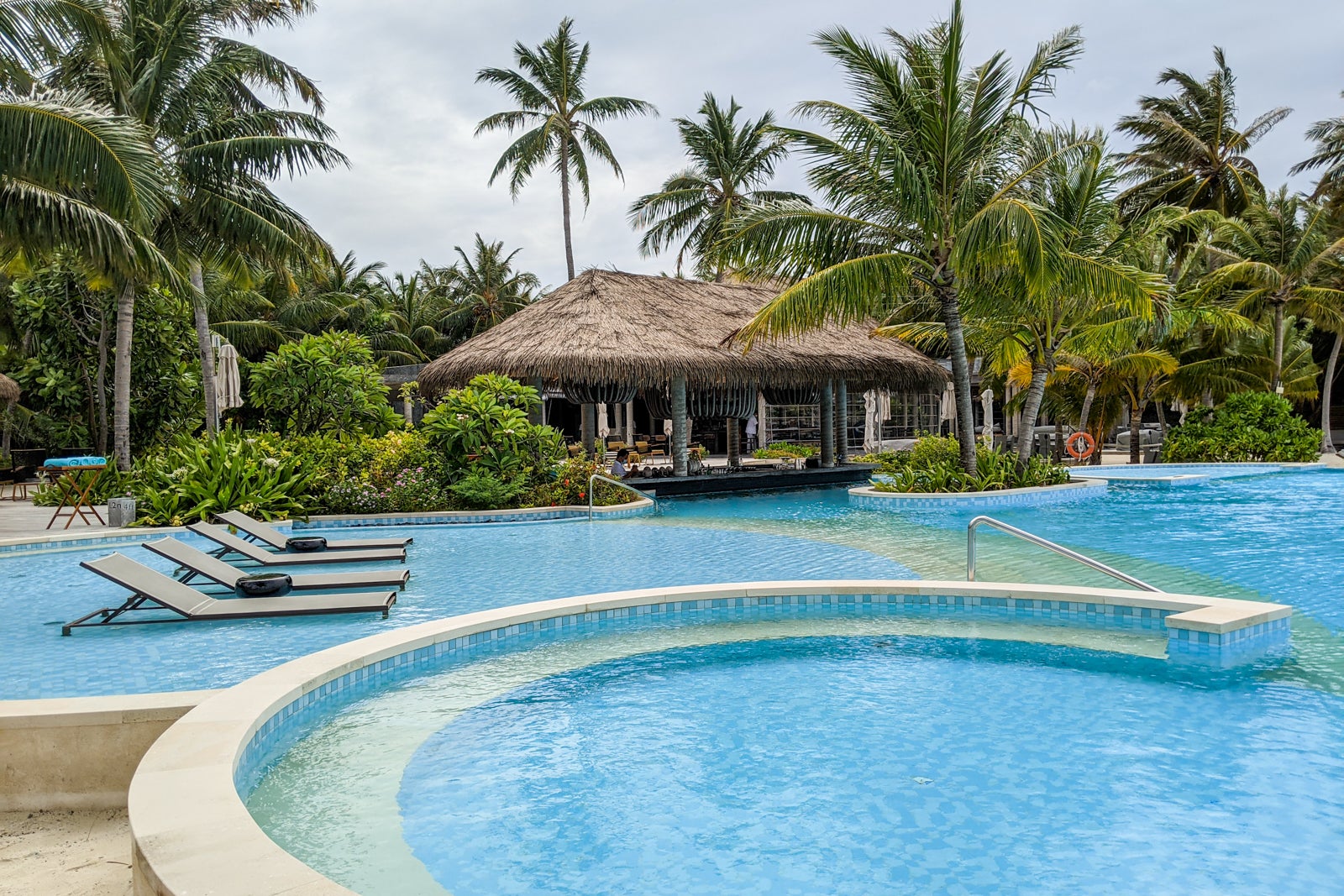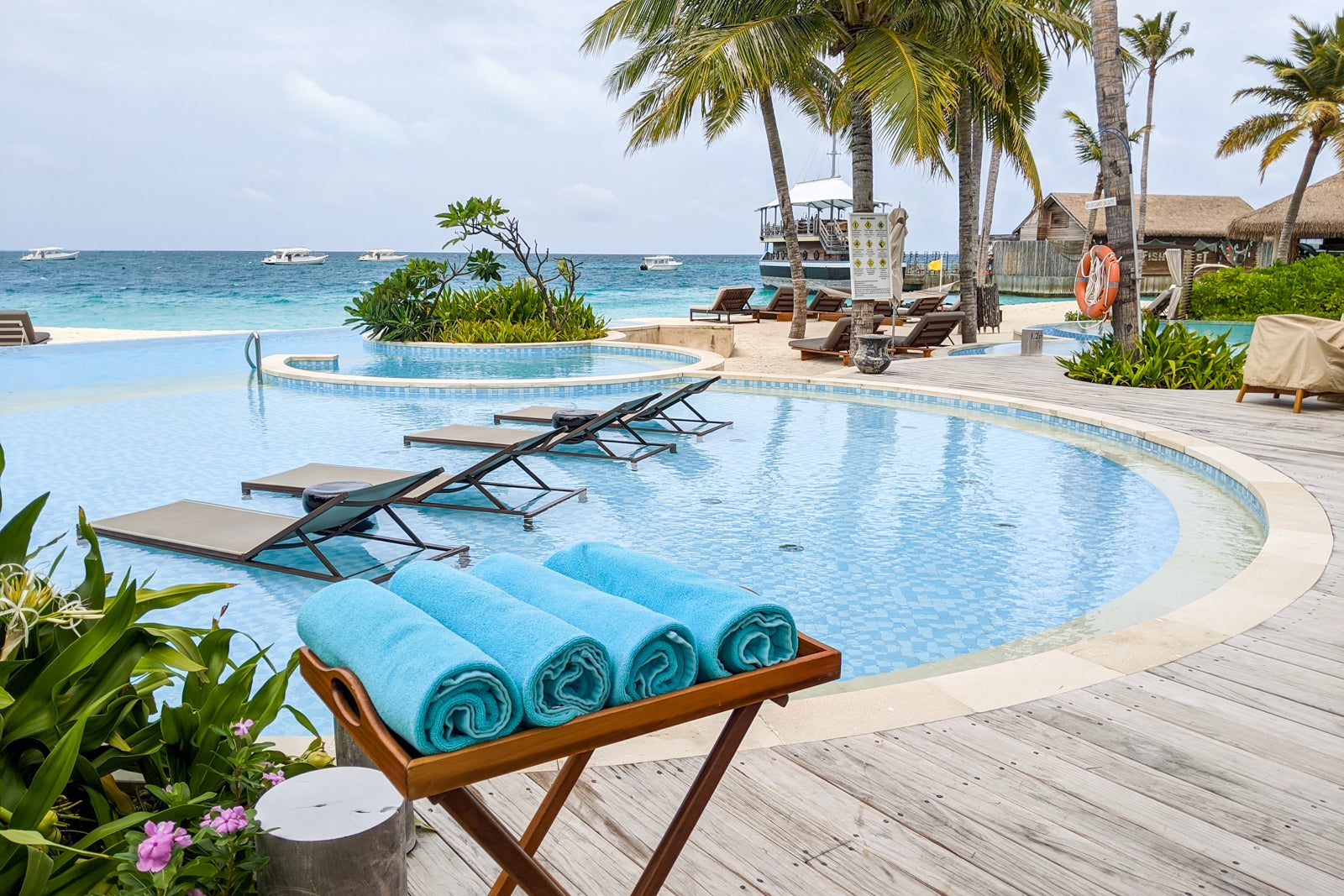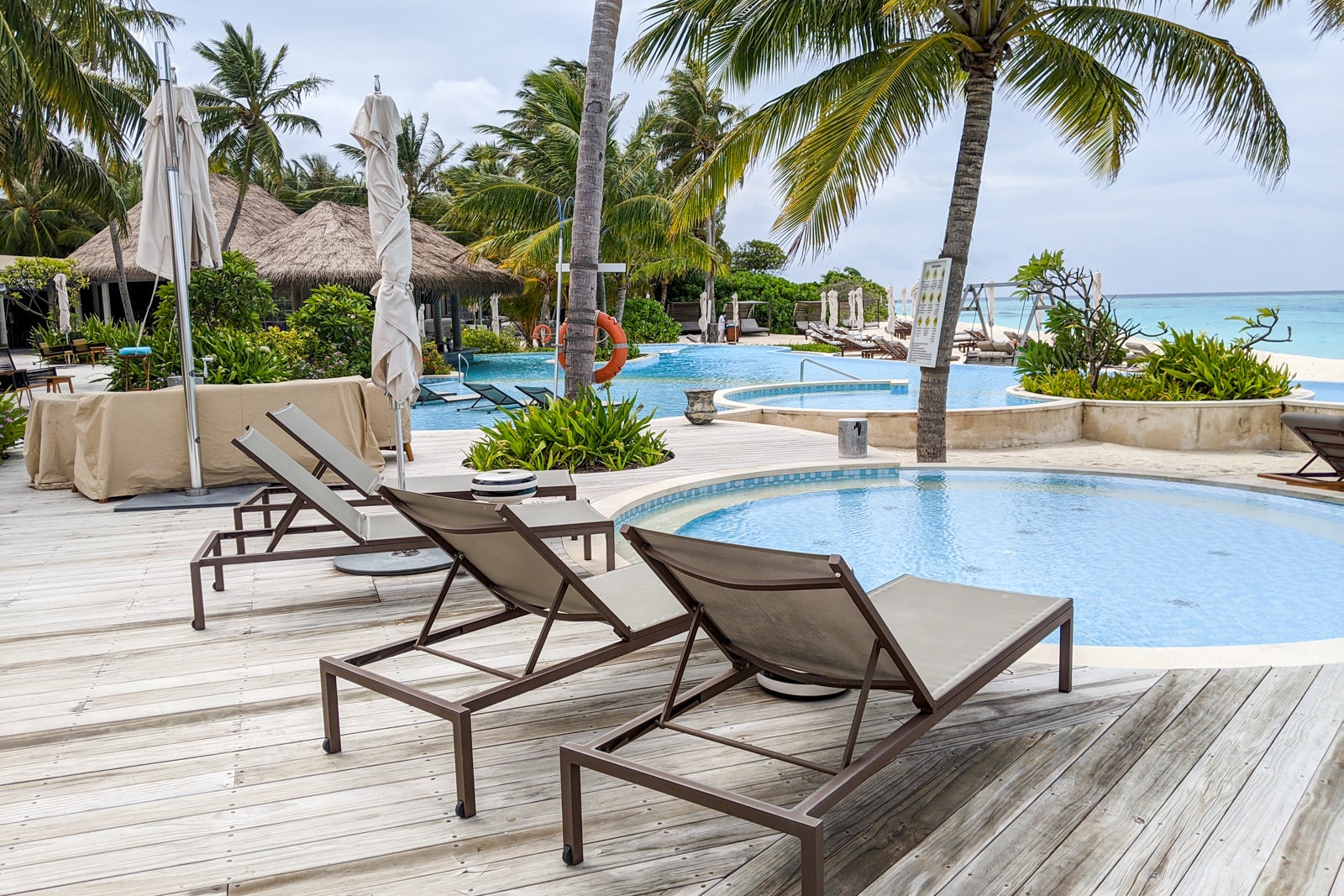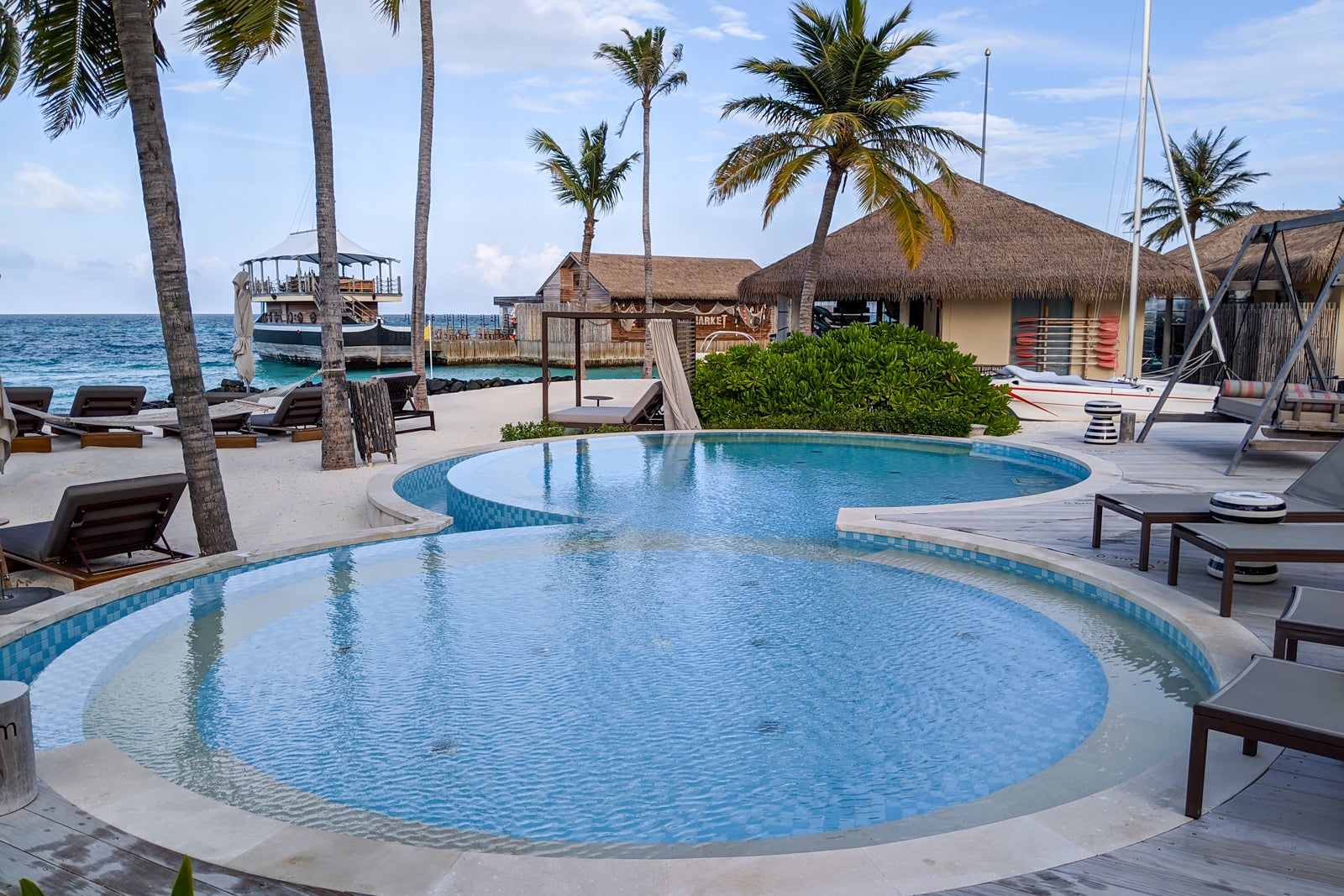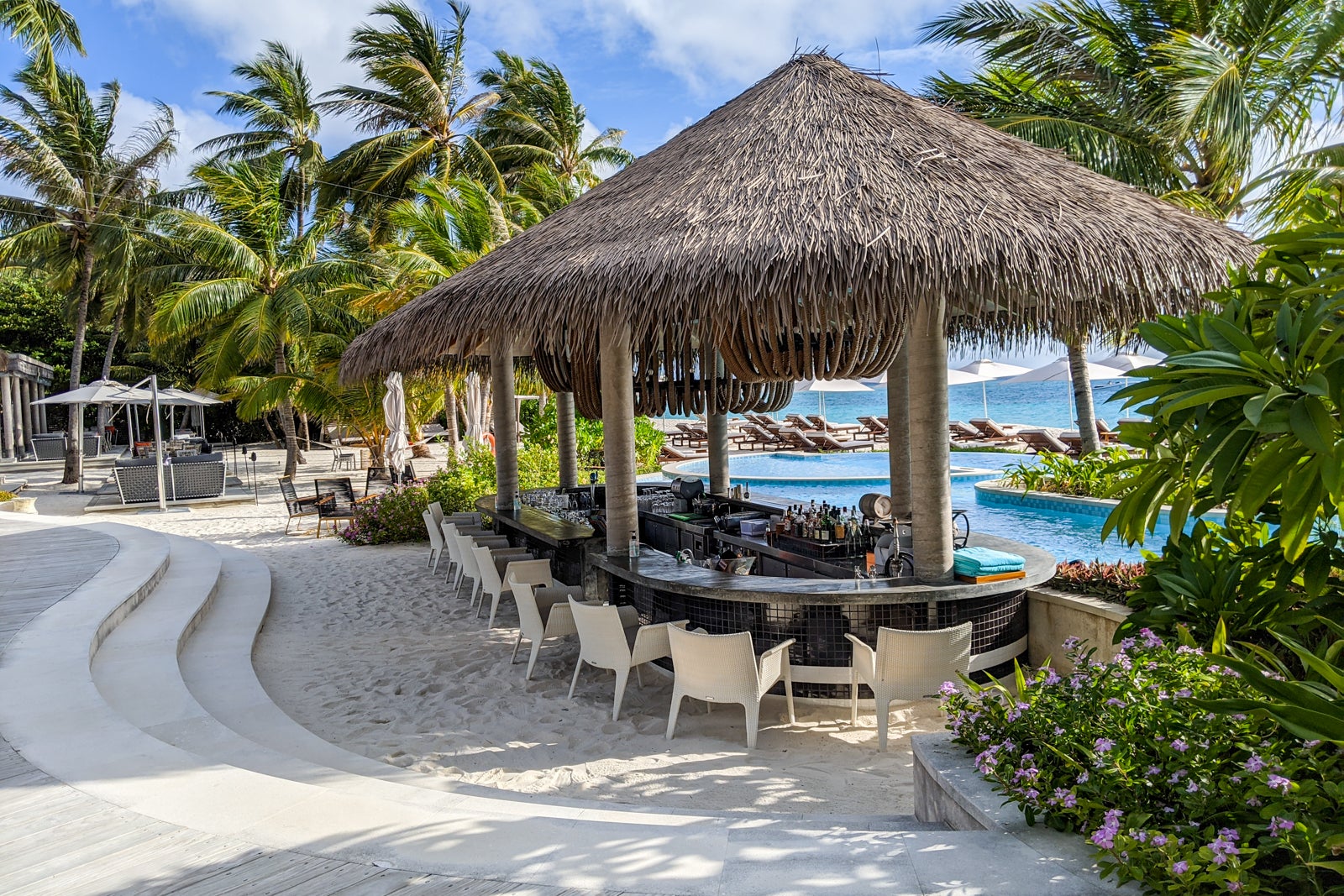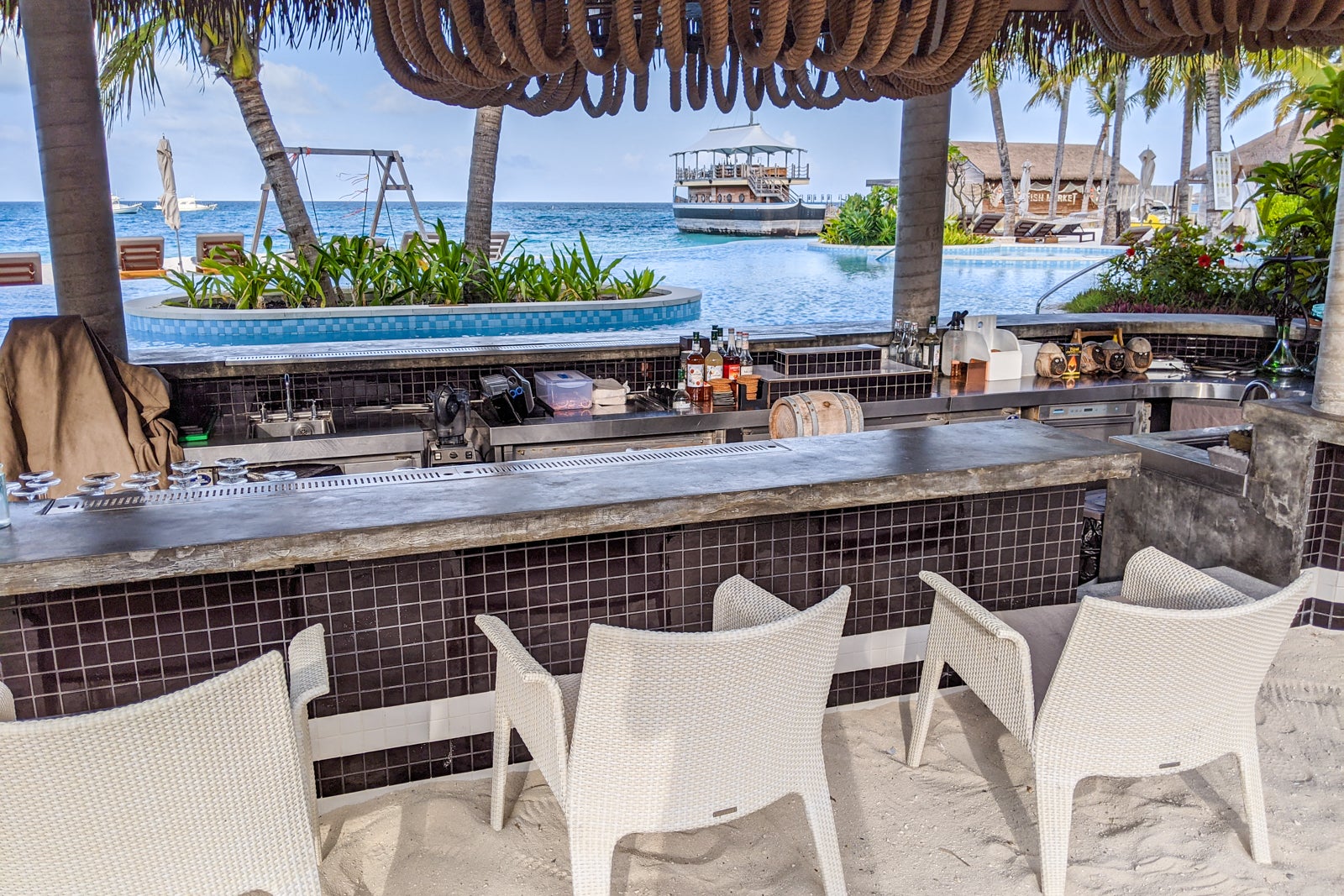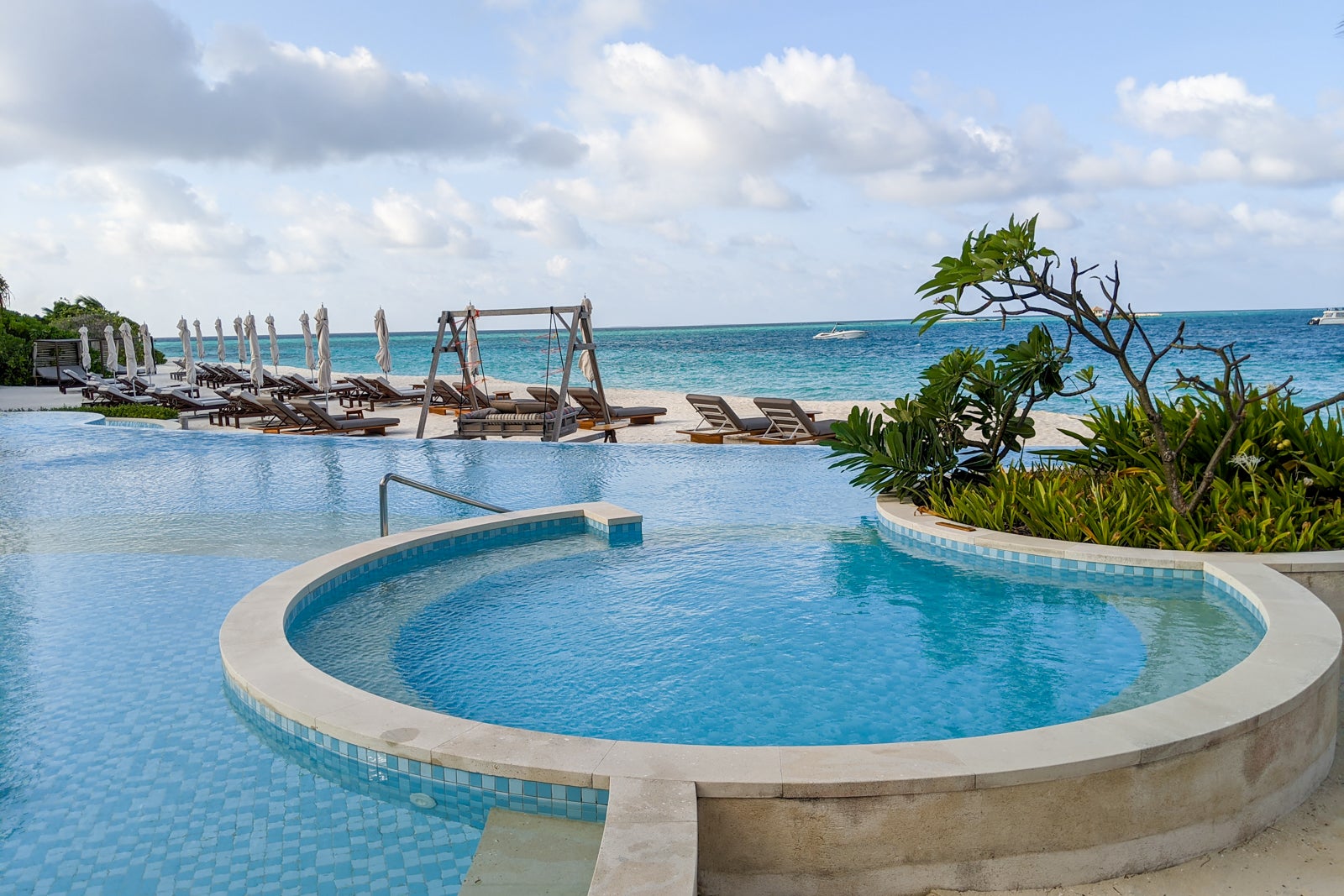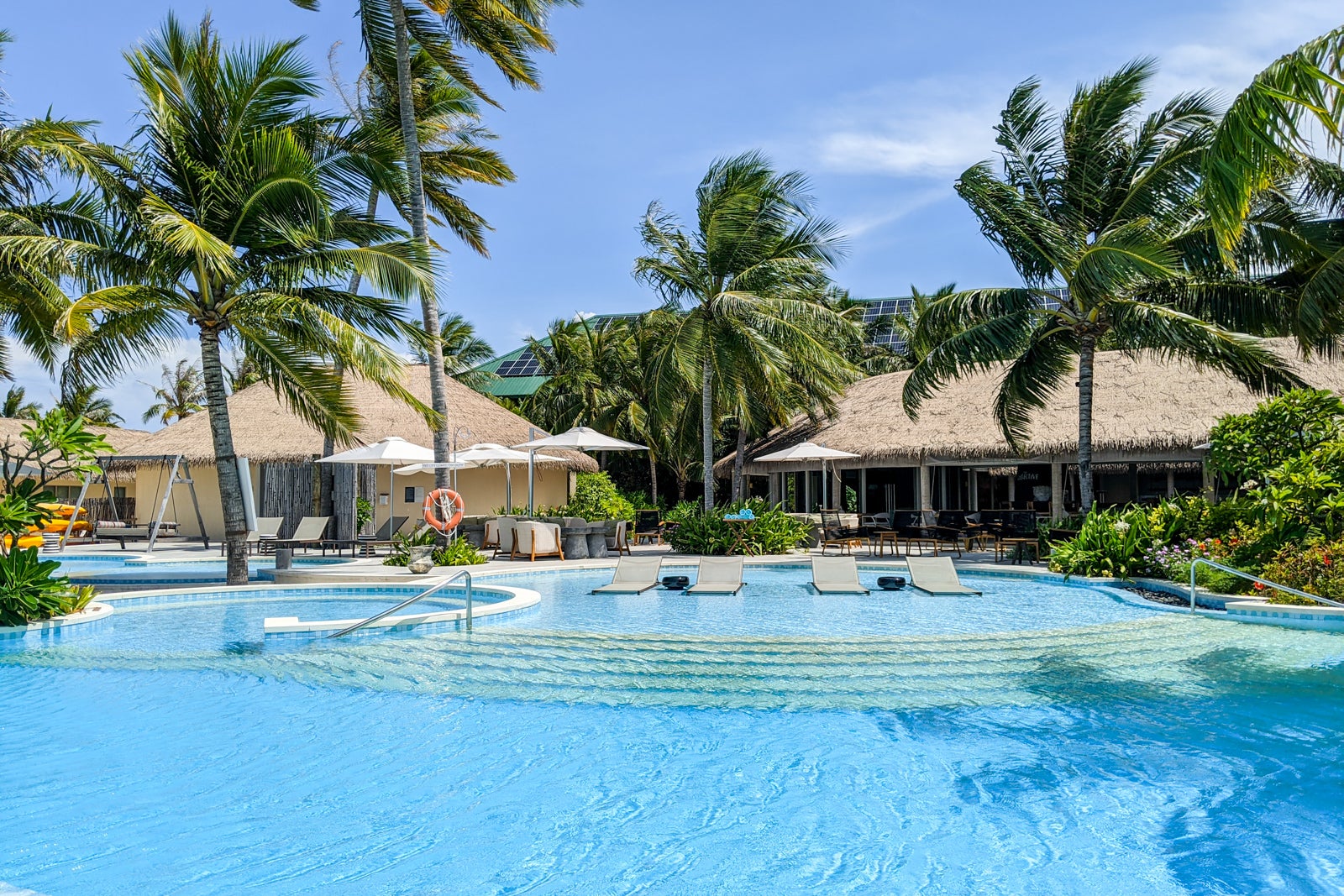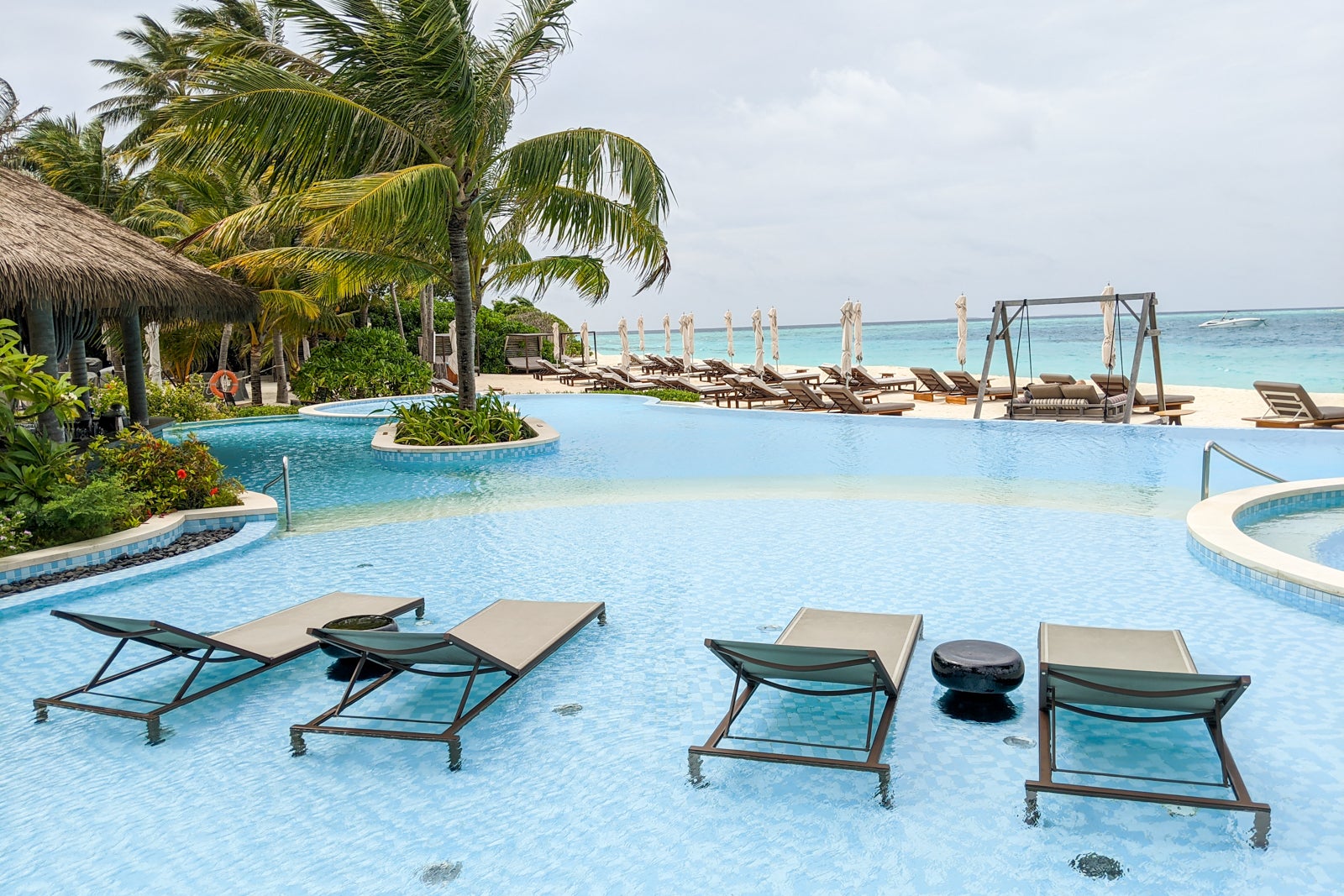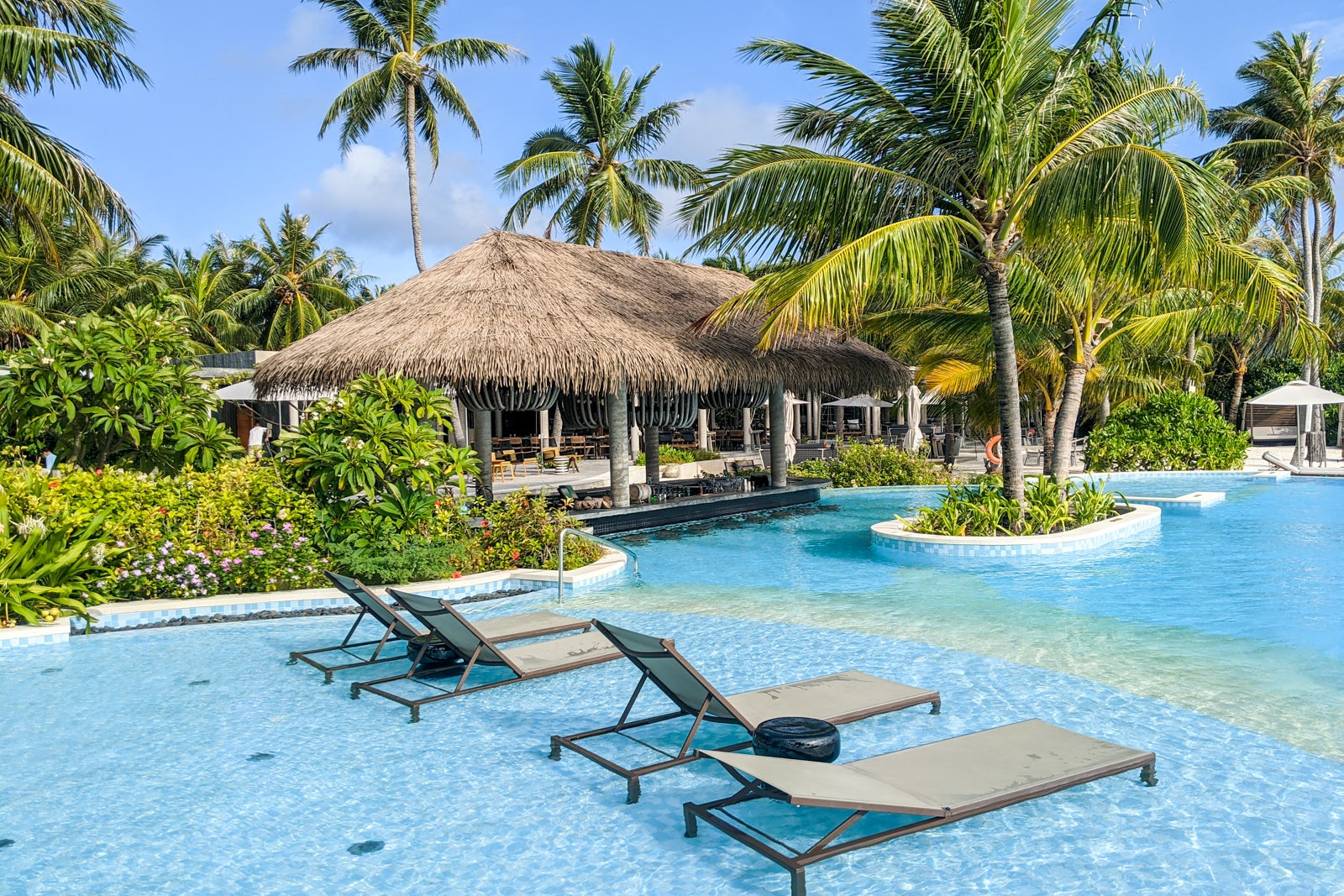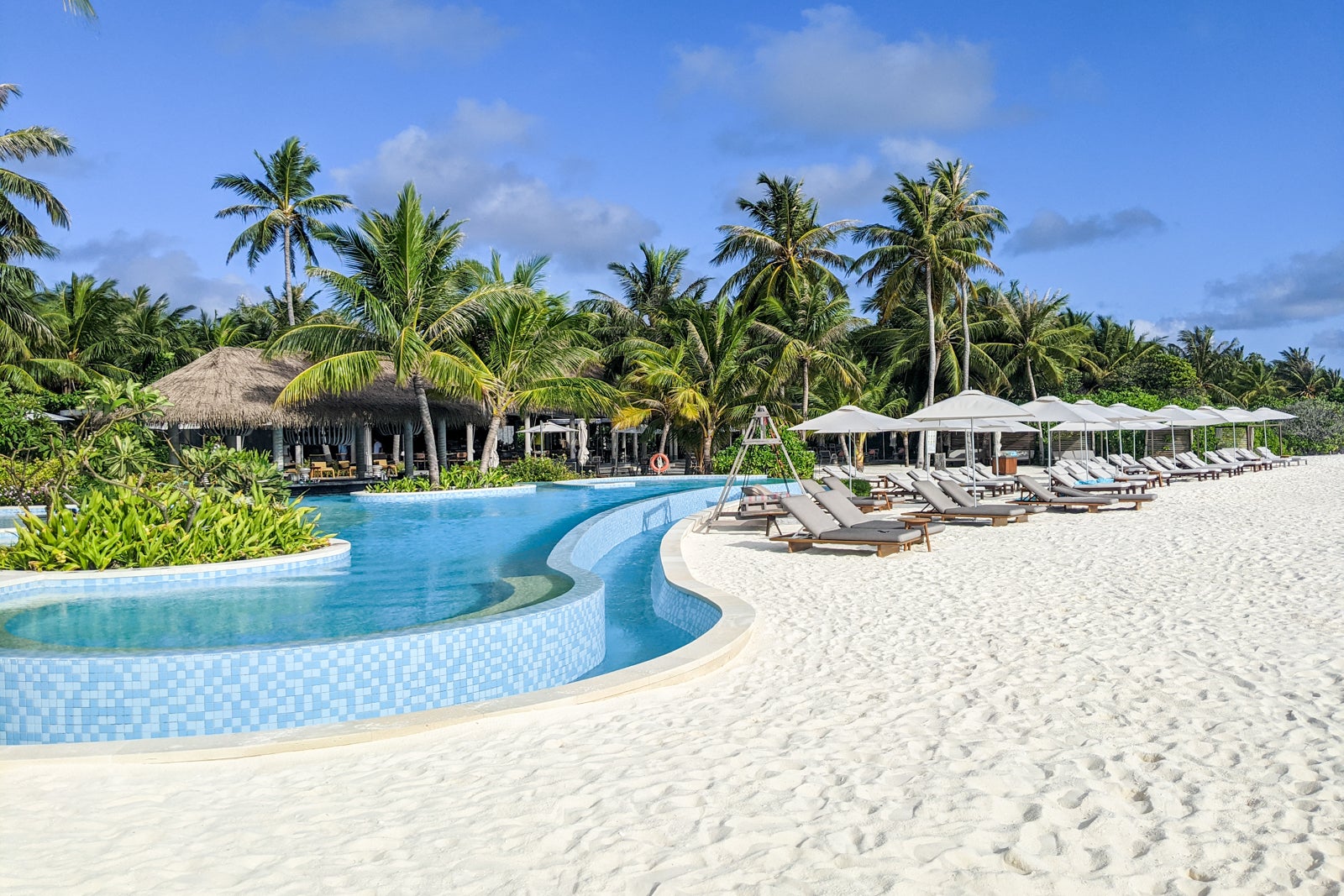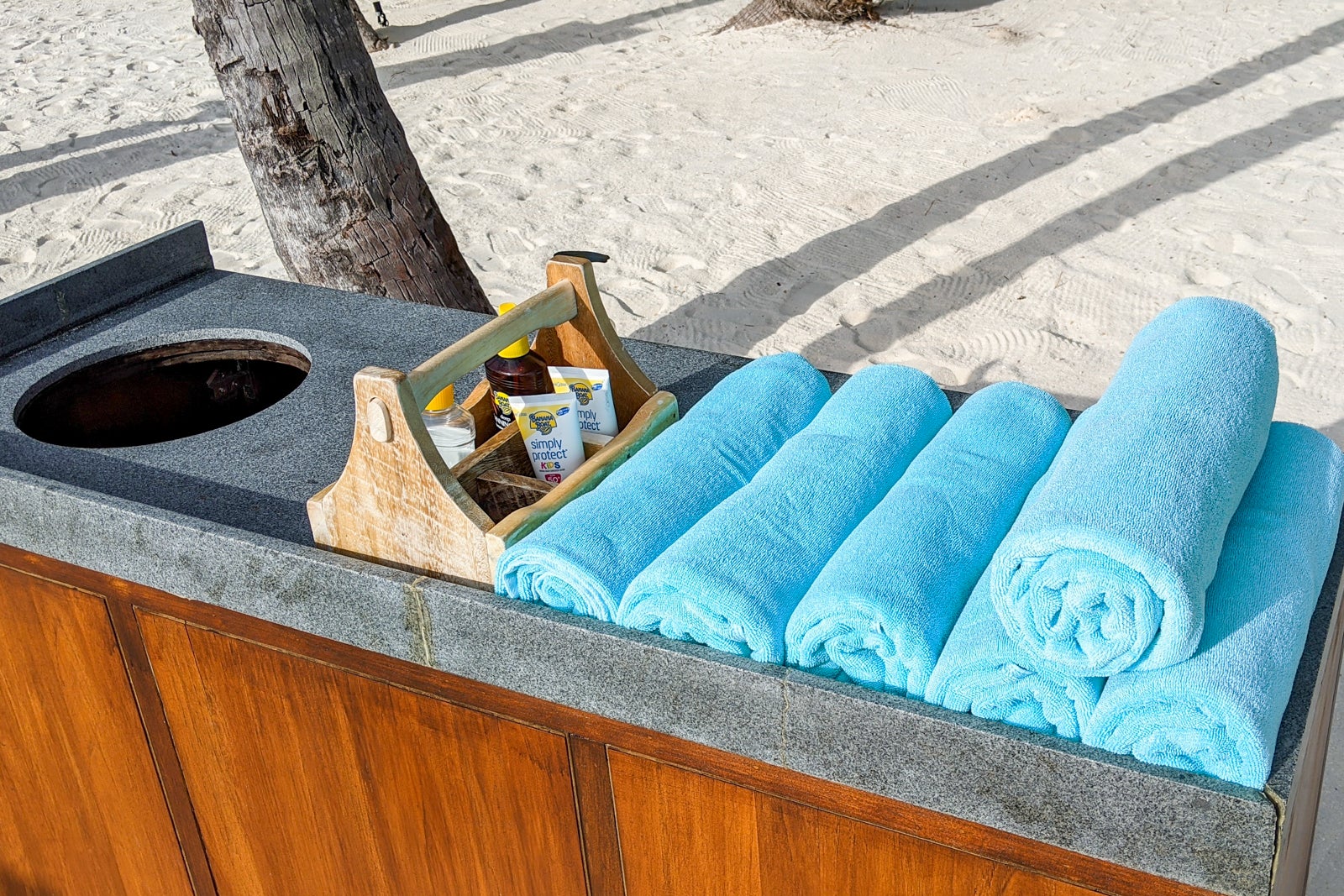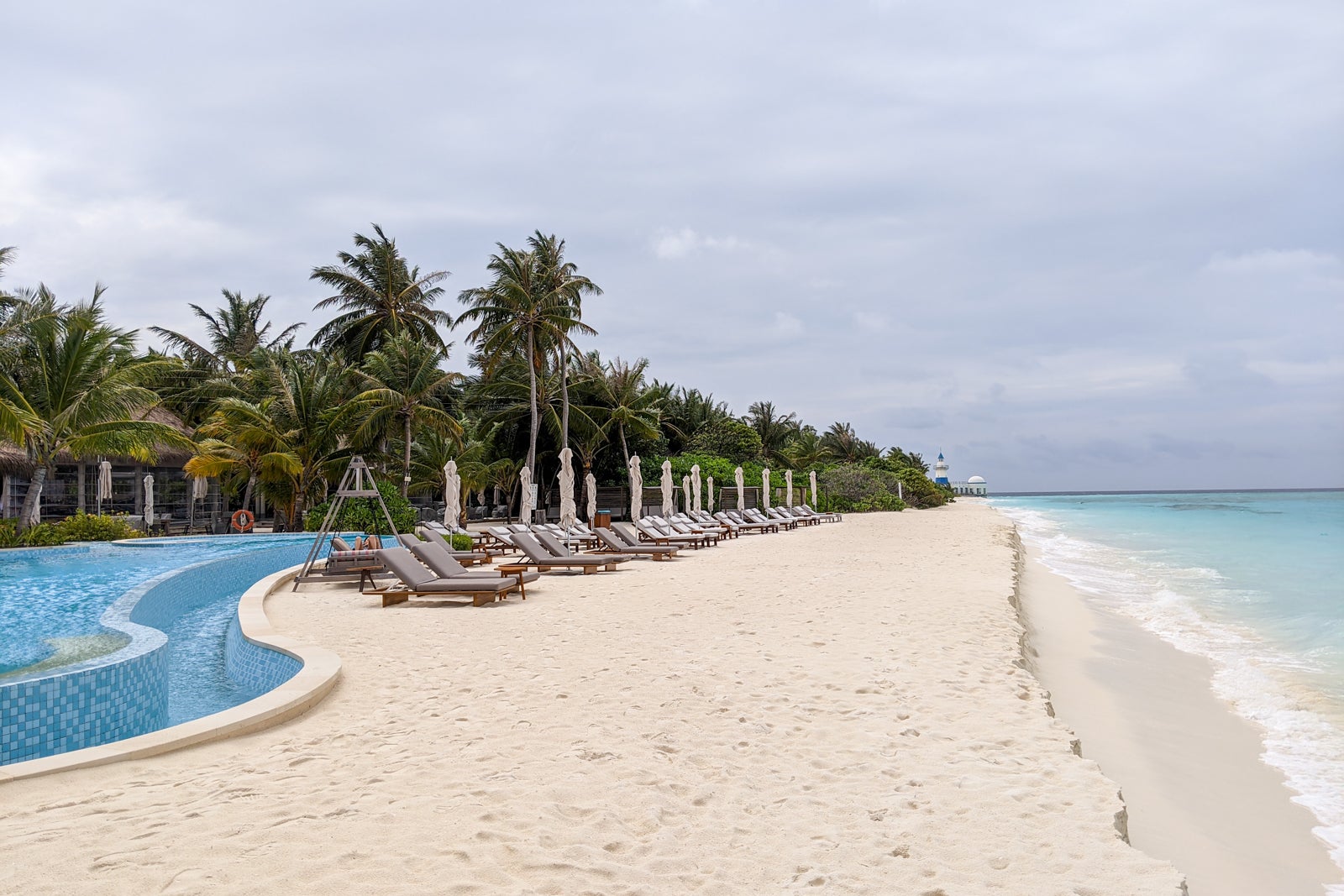 Next to the pool are large restrooms with showers and lockers.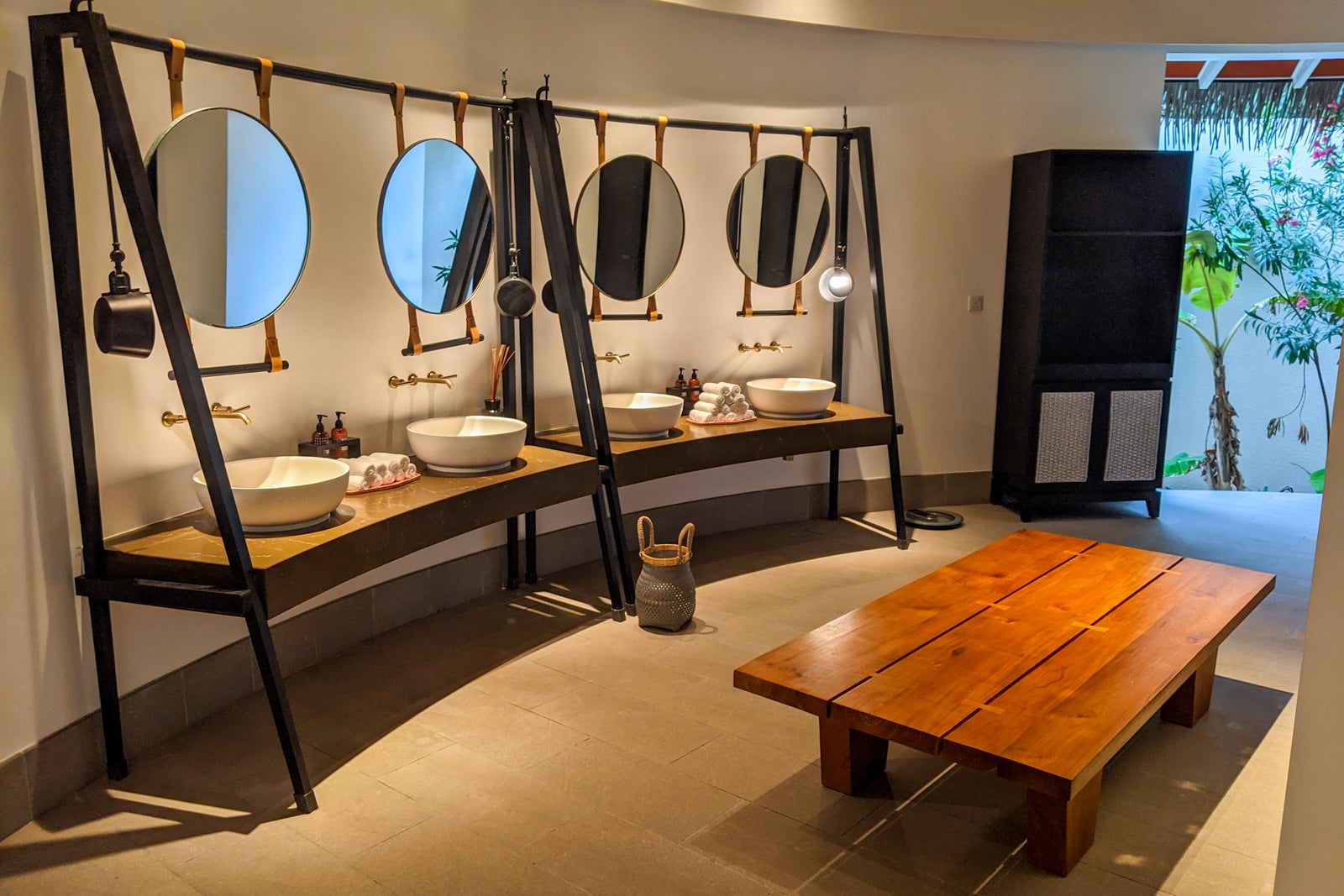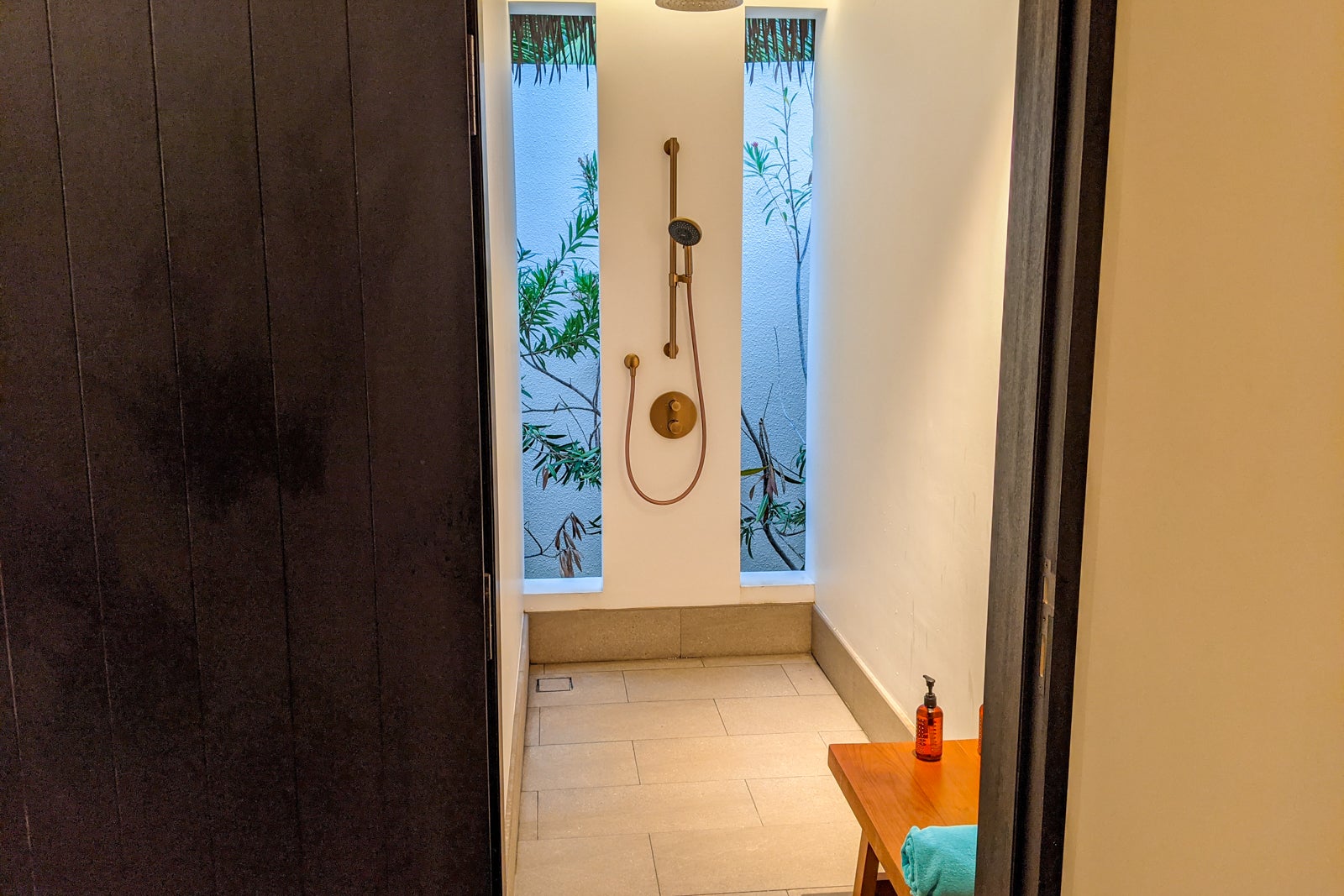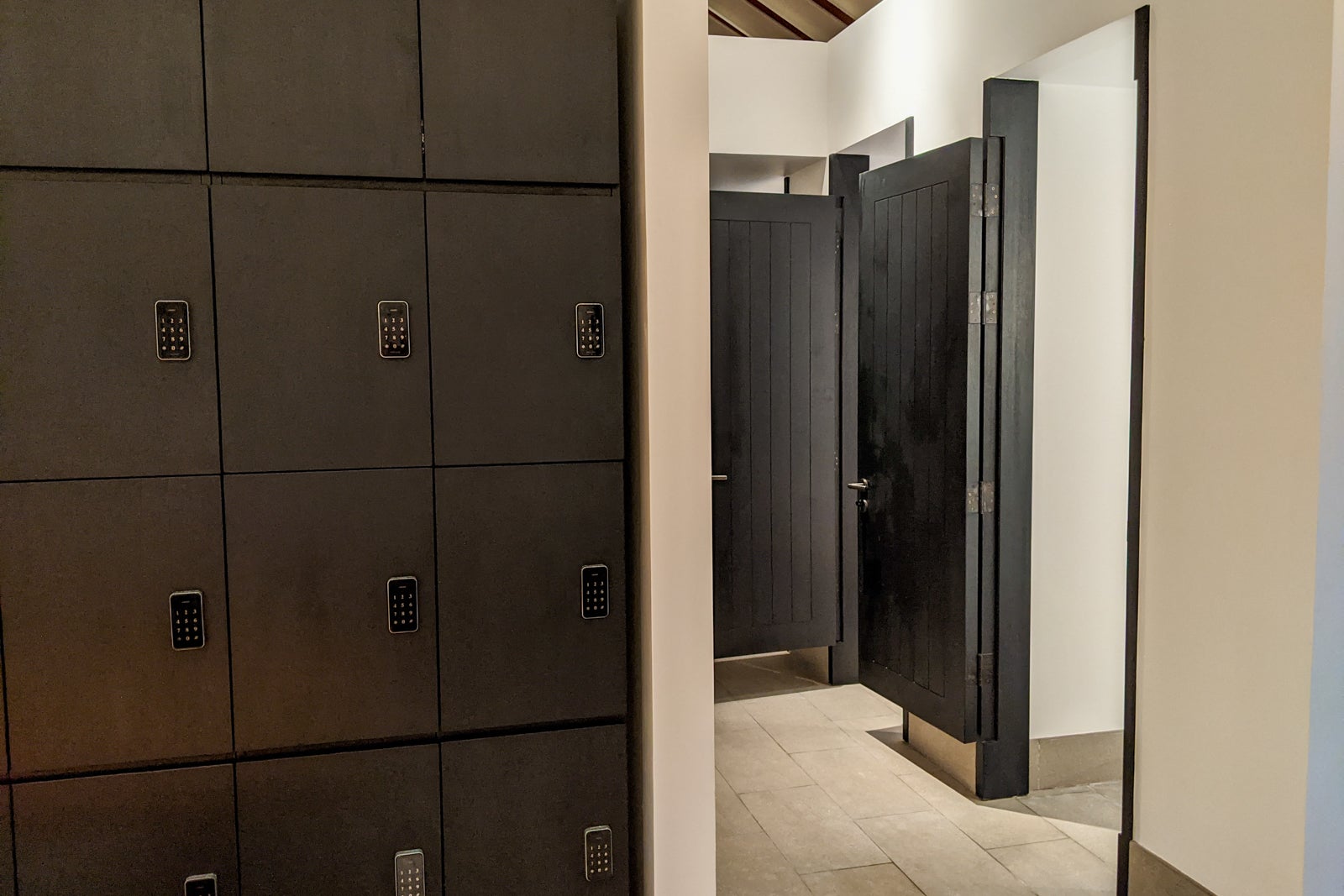 And adjacent to the main pool is the water sports center, where you can rent or borrow motorized and unmotorized water vehicles. You can book dive trips, fishing trips and other types of excursions at the co-located marine center.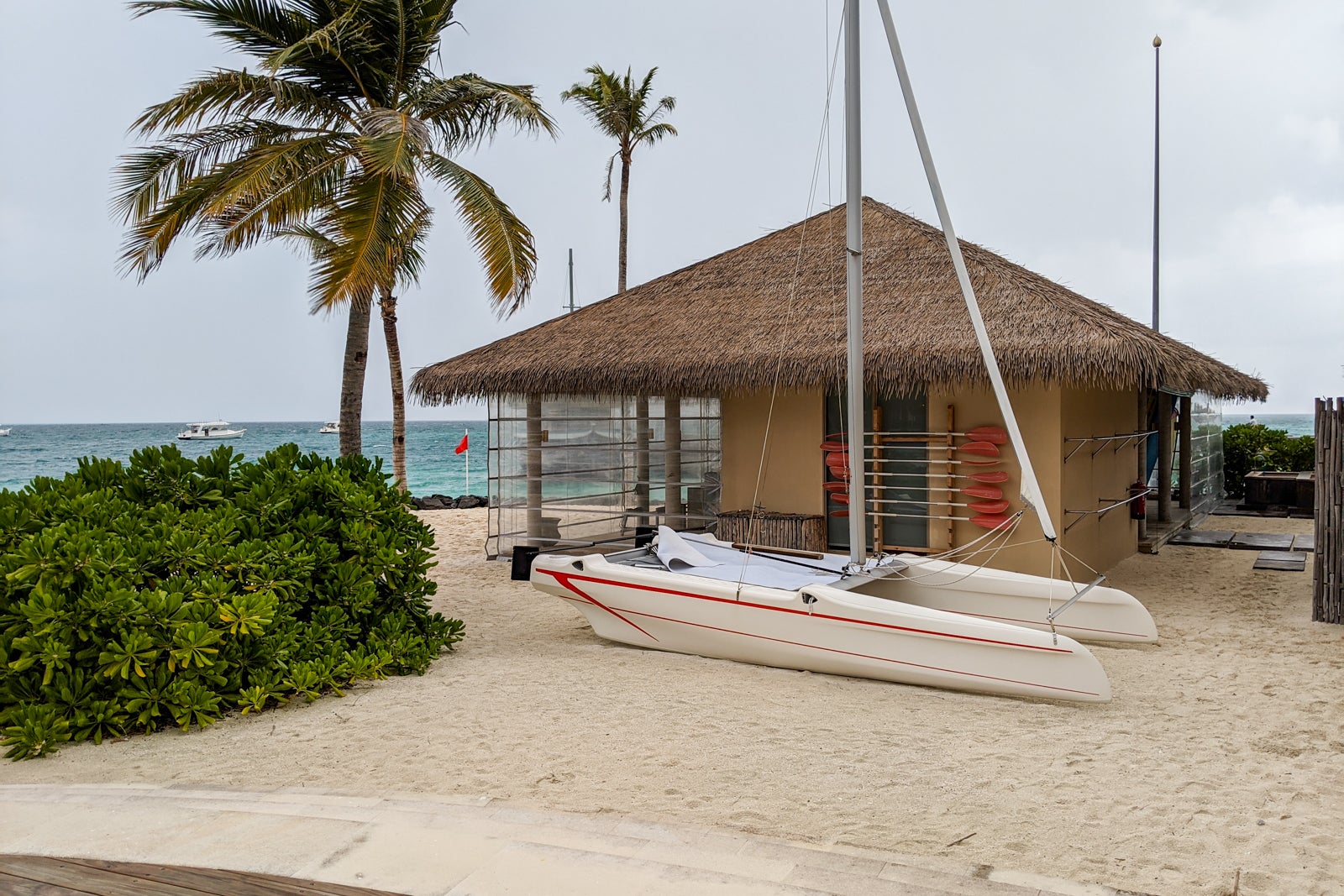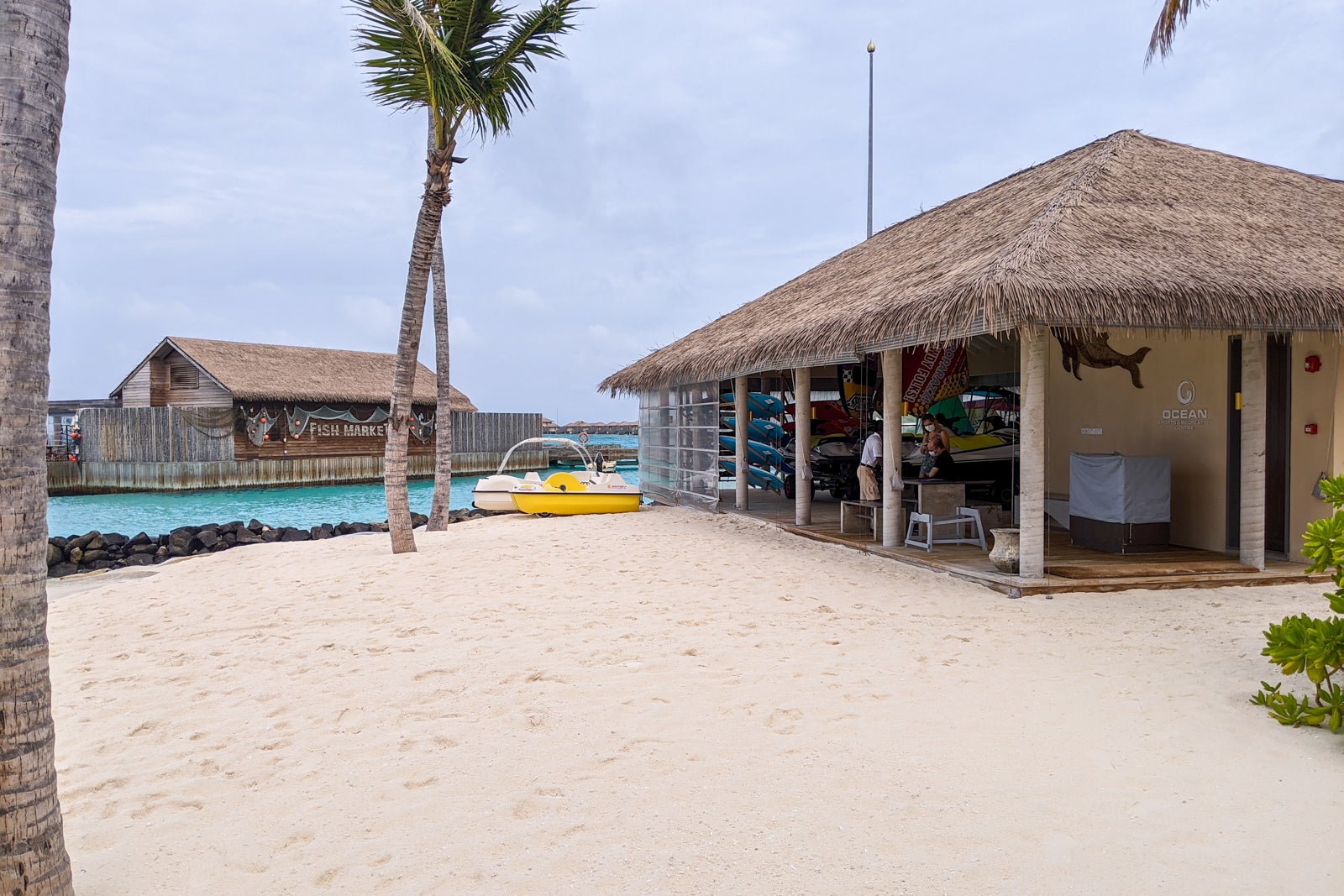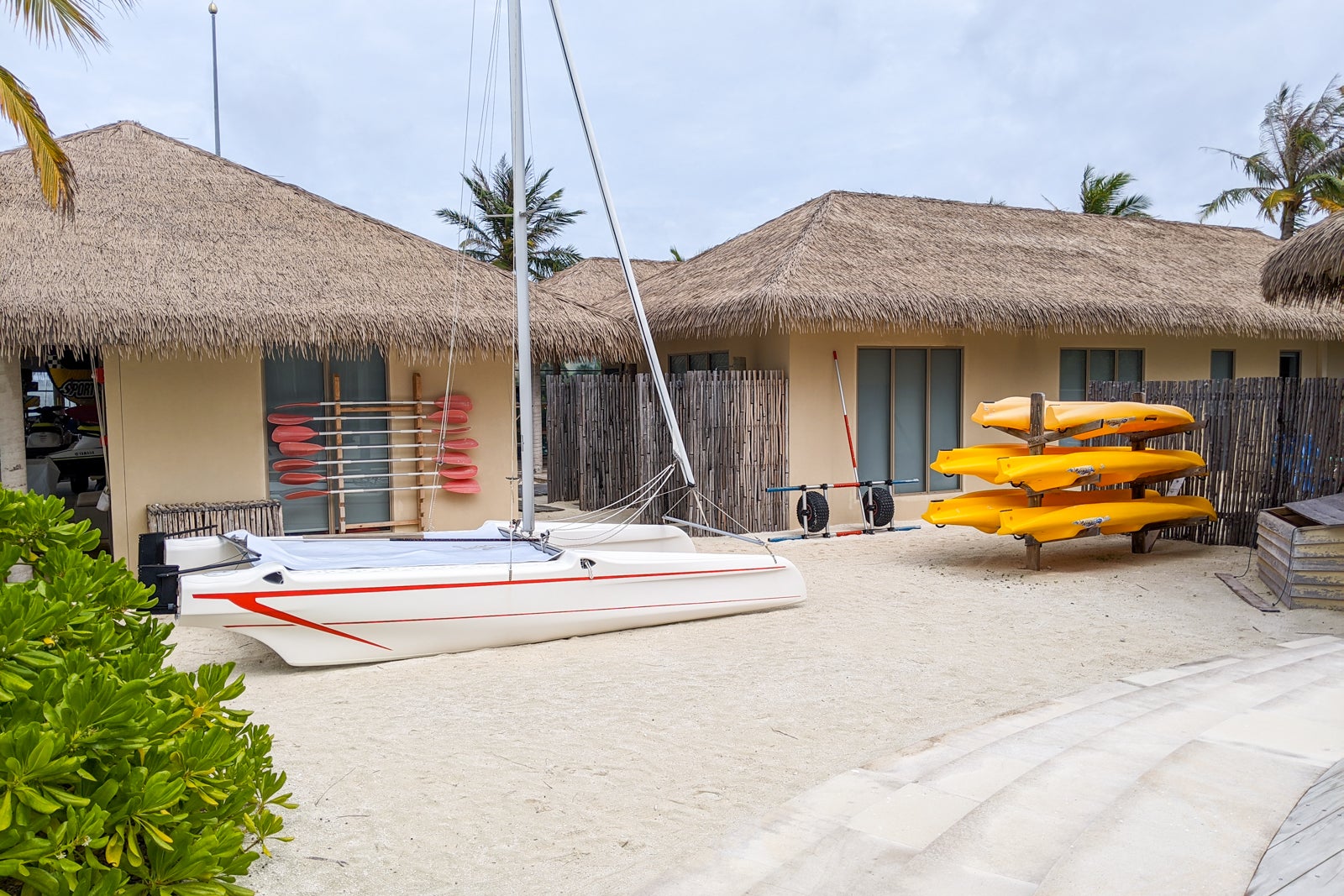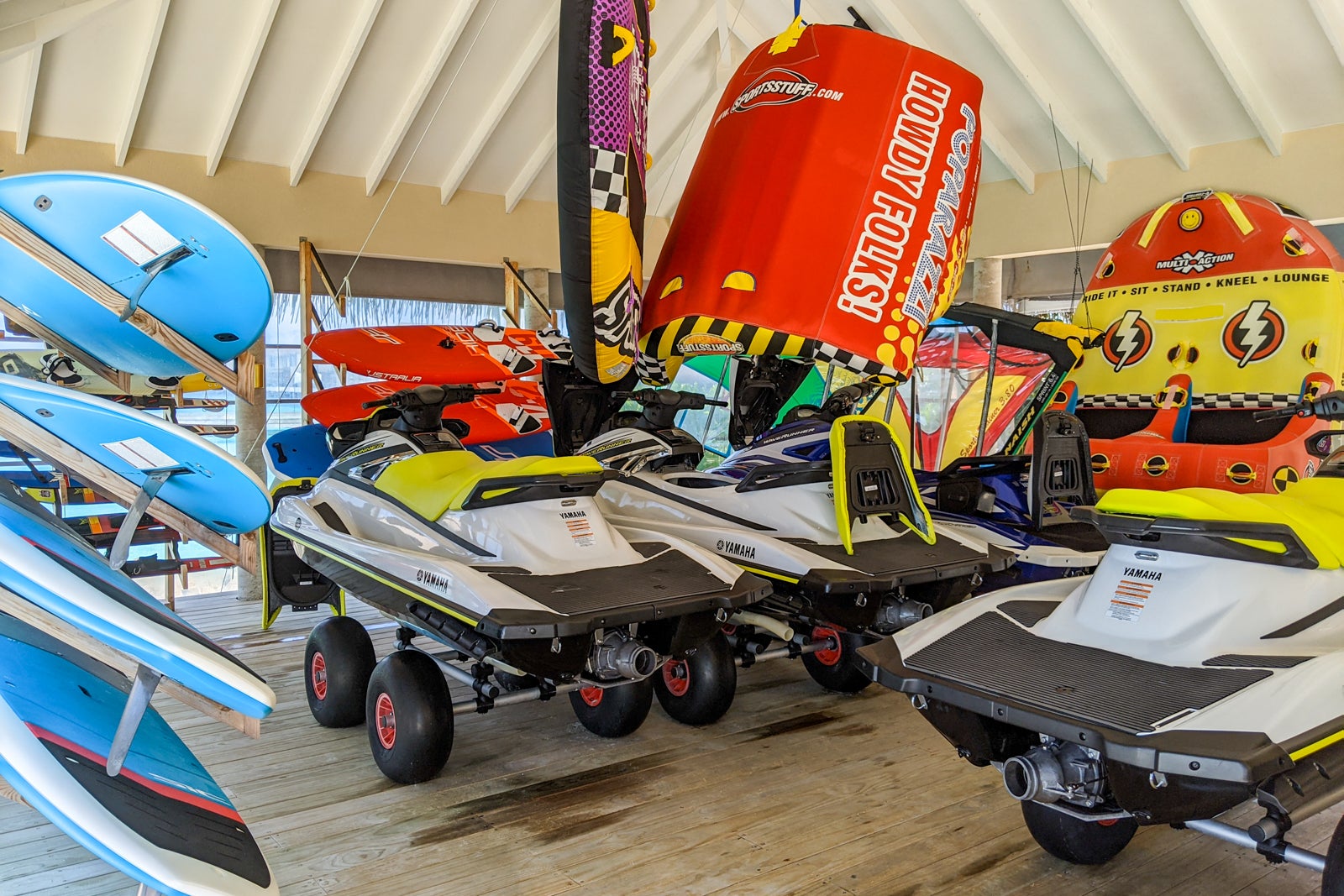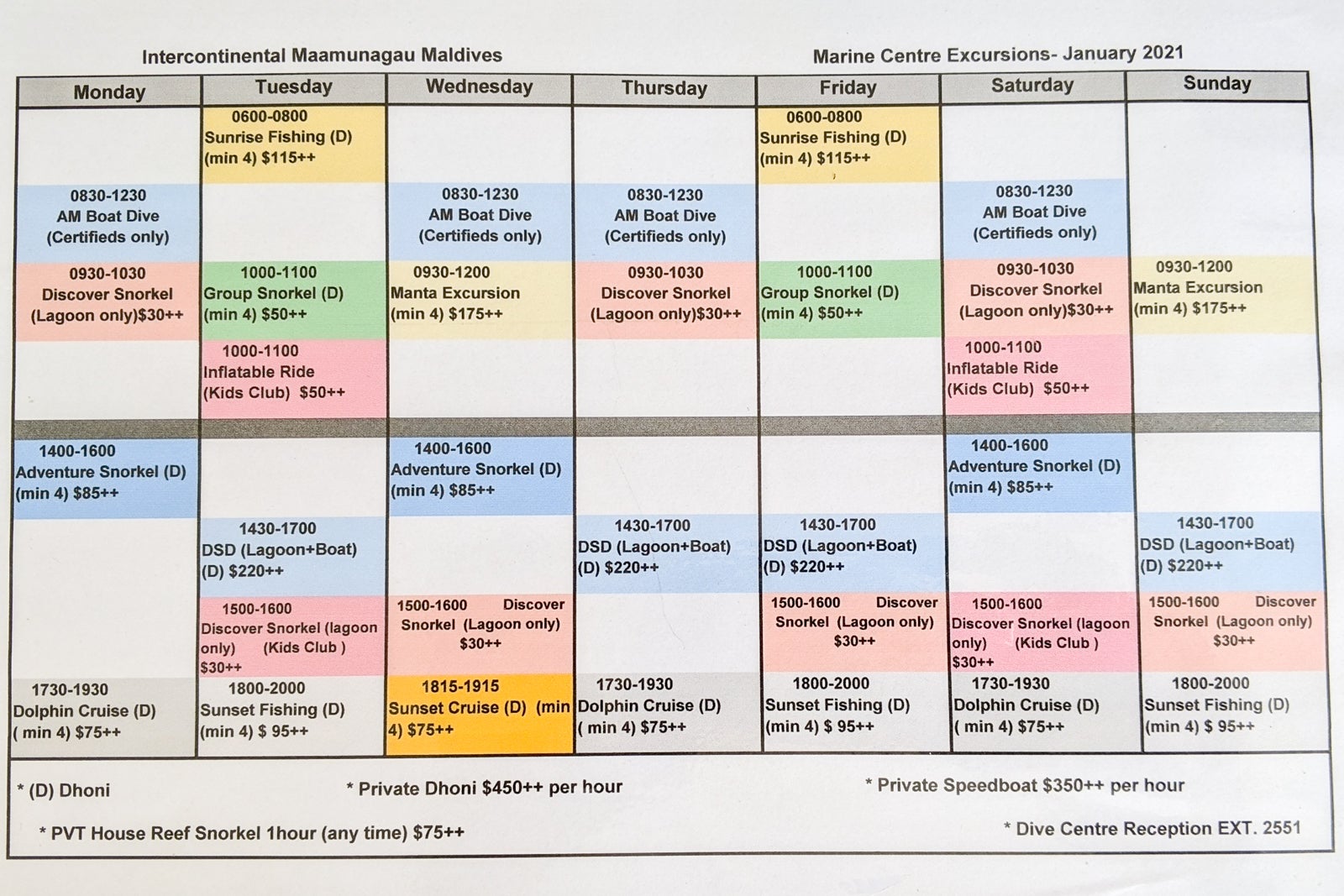 You can pick up a mask, fins and snorkel from the marine center for no charge and keep these items until the end of your stay. If you want to snorkel, resort staff highly recommend the house reef, which runs parallel to the shore from the gym to the spa. Rough water conditions and poor weather kept me from trying out the house reef during my short stay, but I snorkeled in the calmer artificial lagoon and saw a few fish.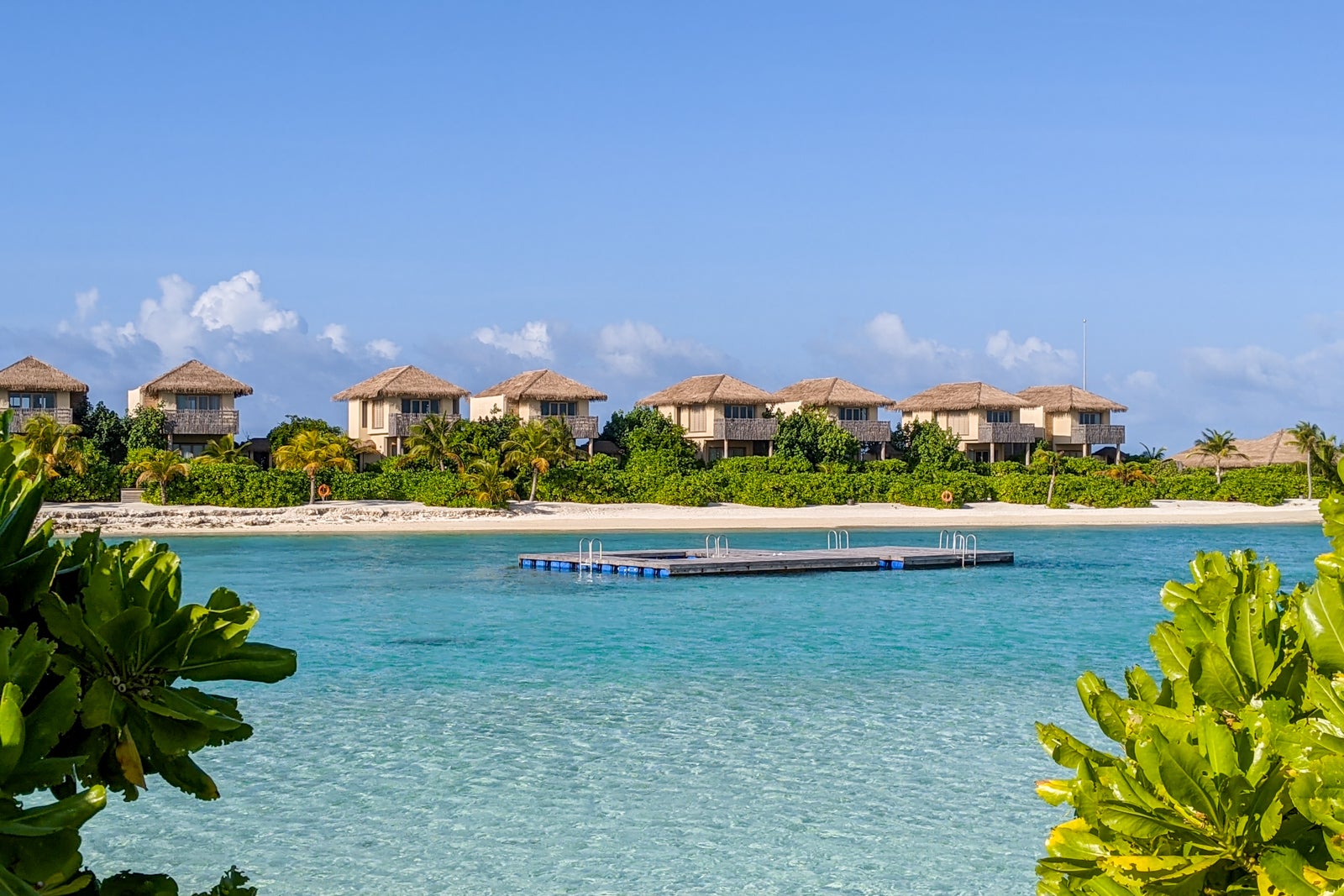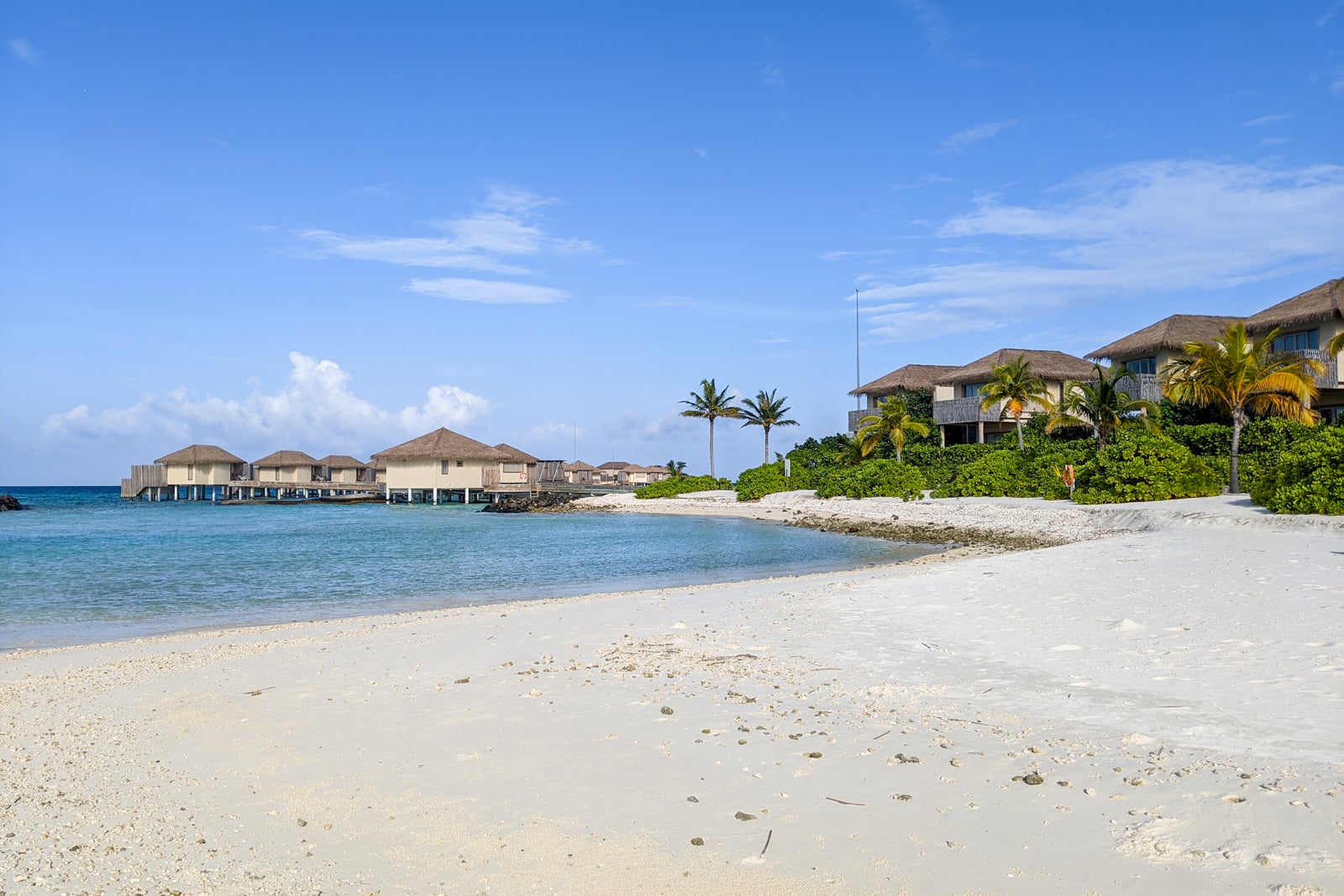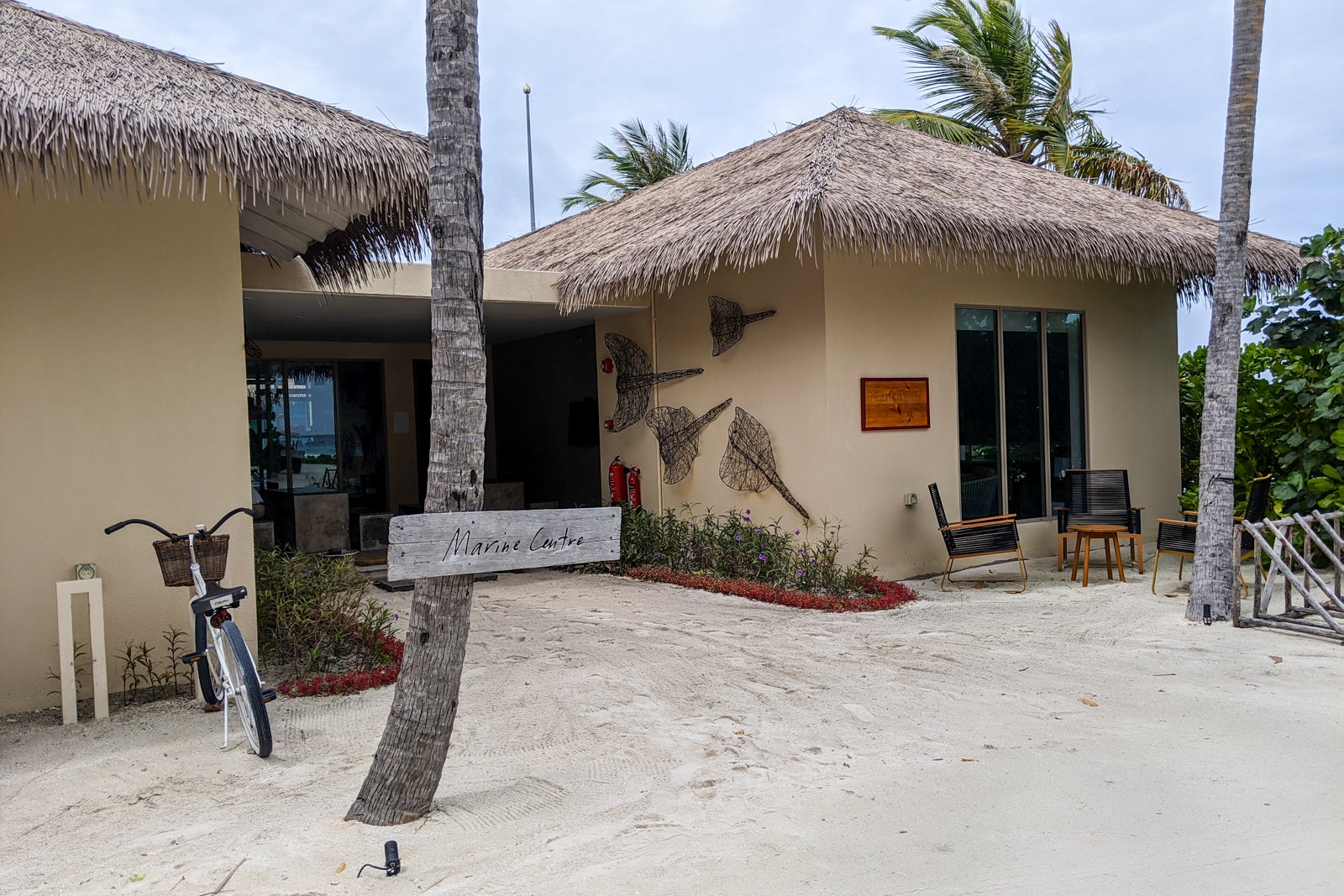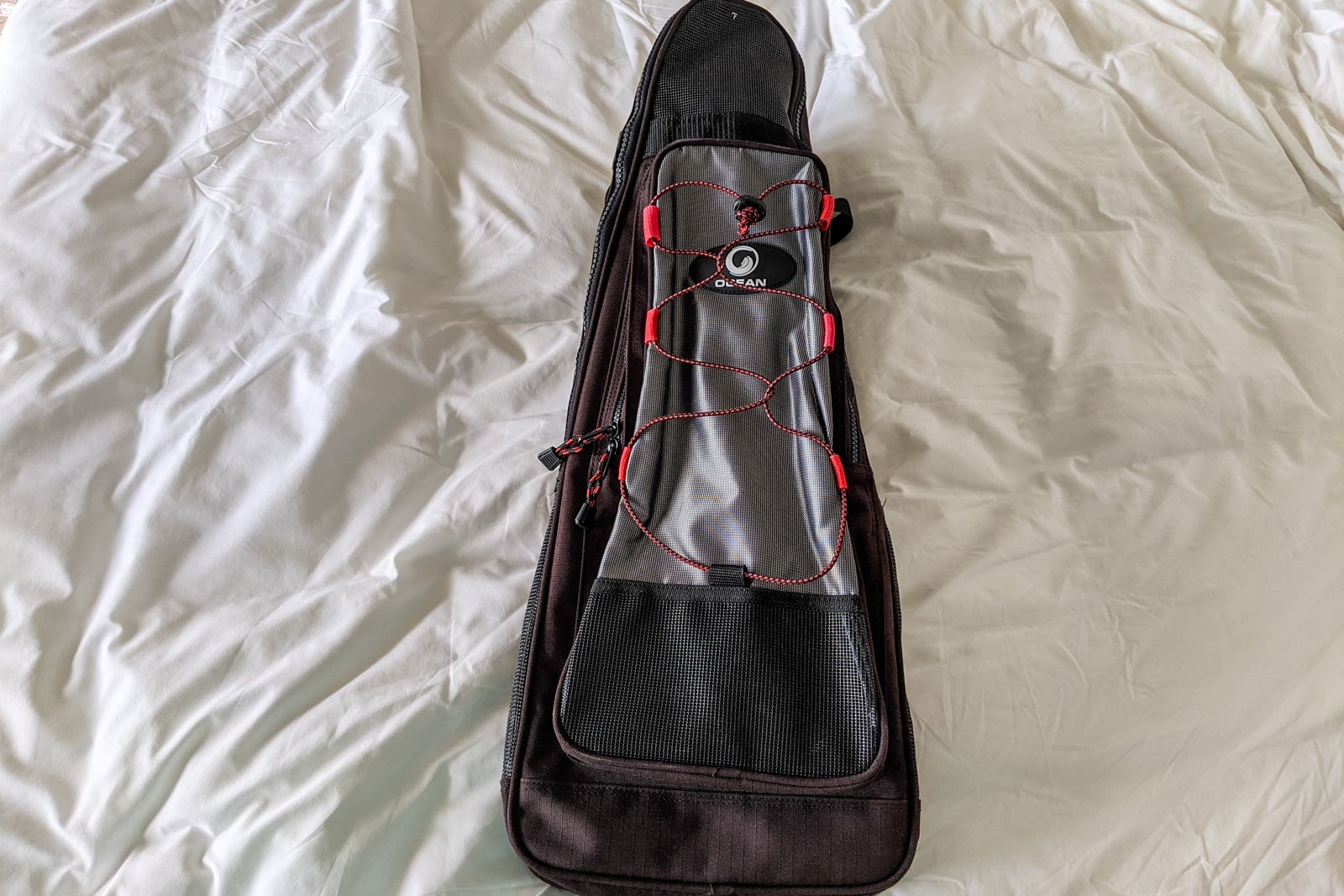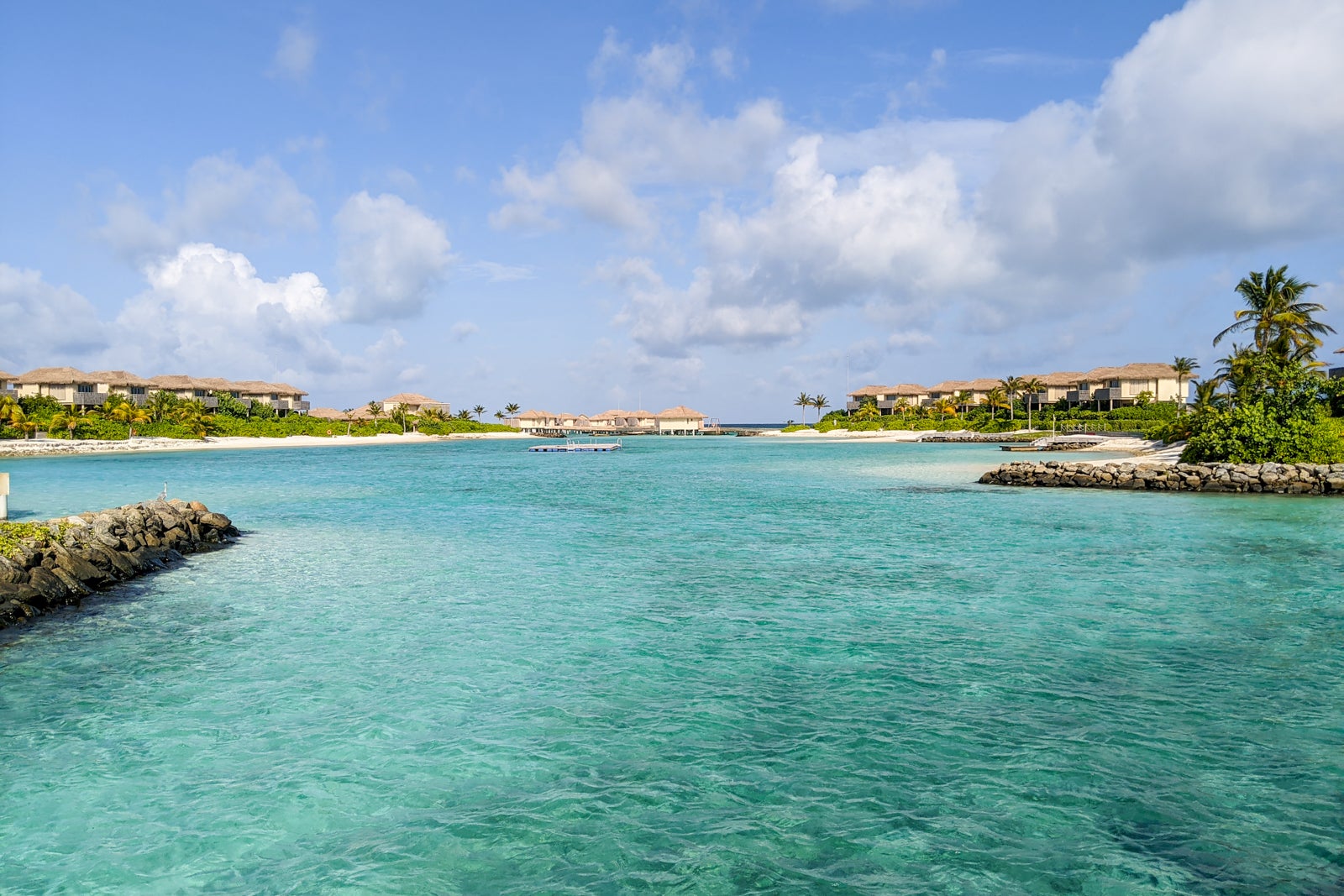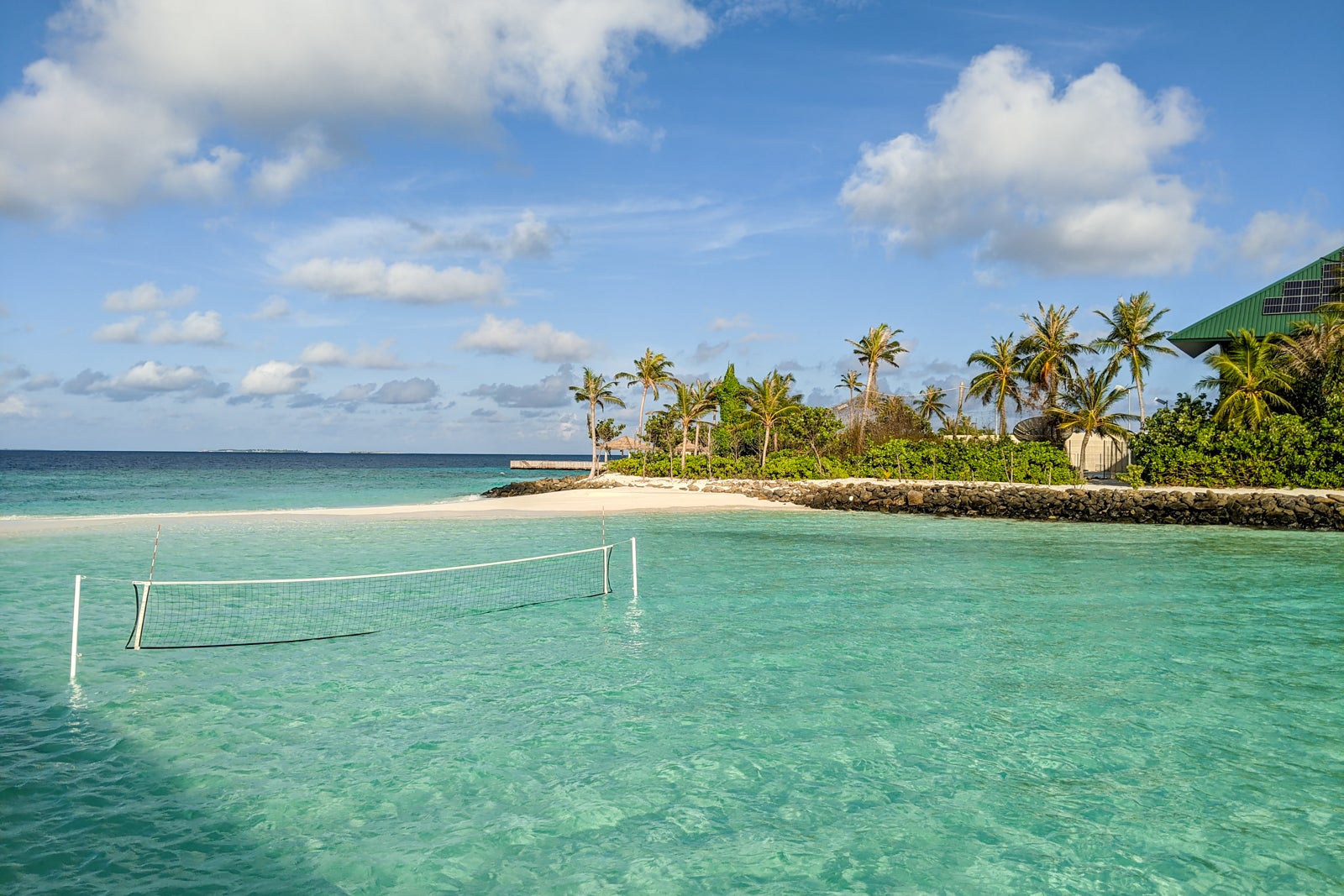 Overlooking the lagoon is the adults-only The Retreat, which features a bar, infinity pool and plenty of quiet places to relax. As with the main pool, towels and sunscreen are freely available.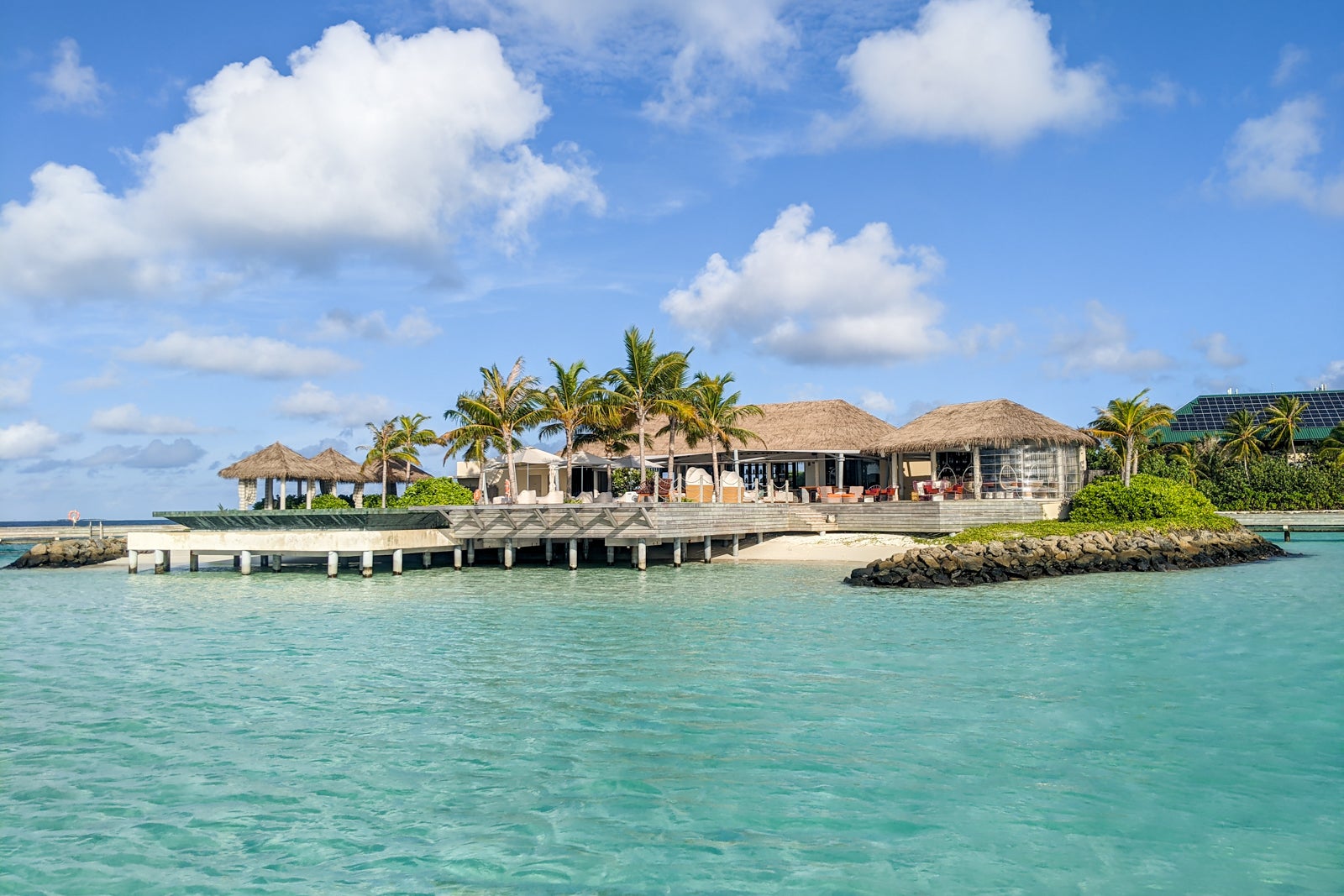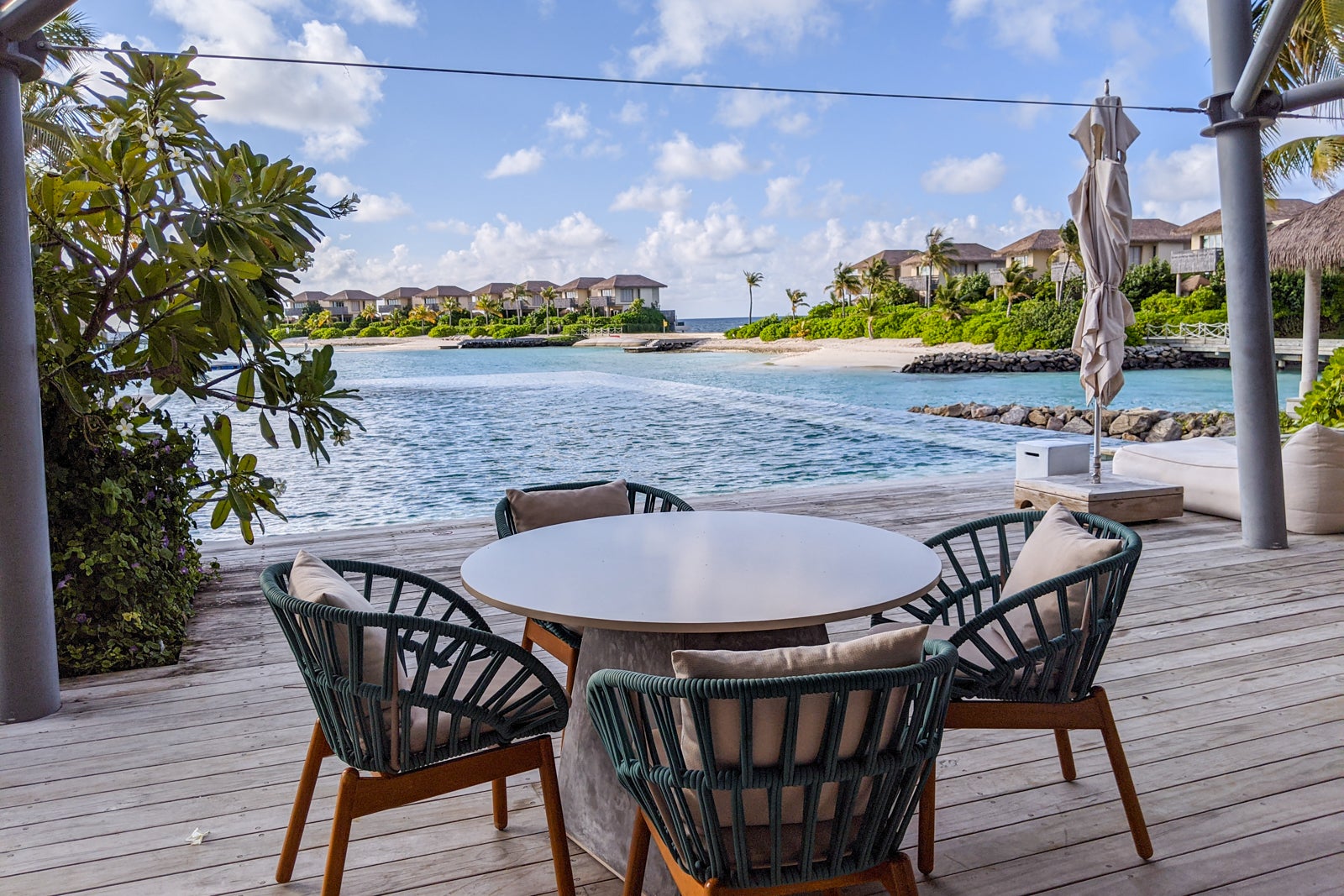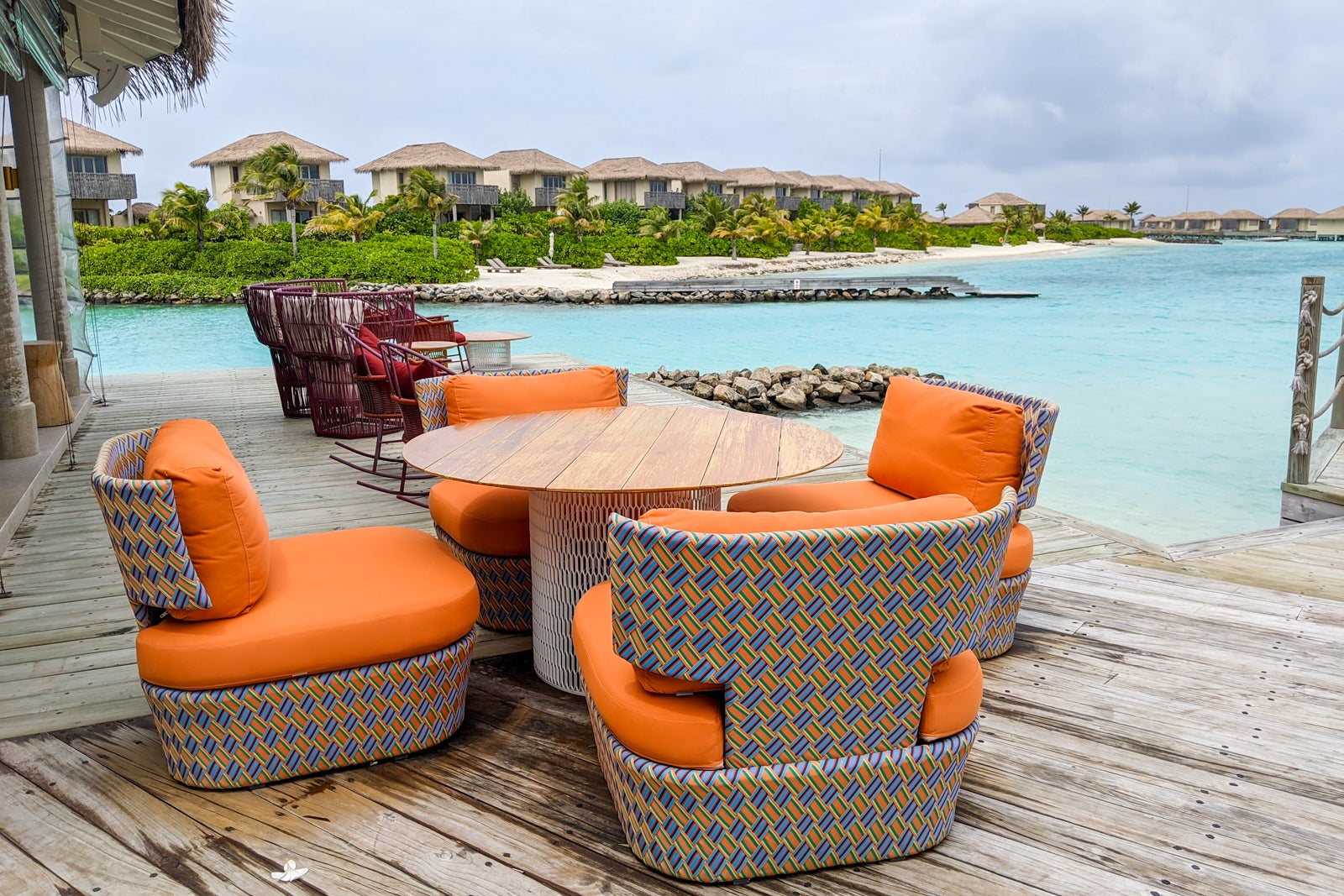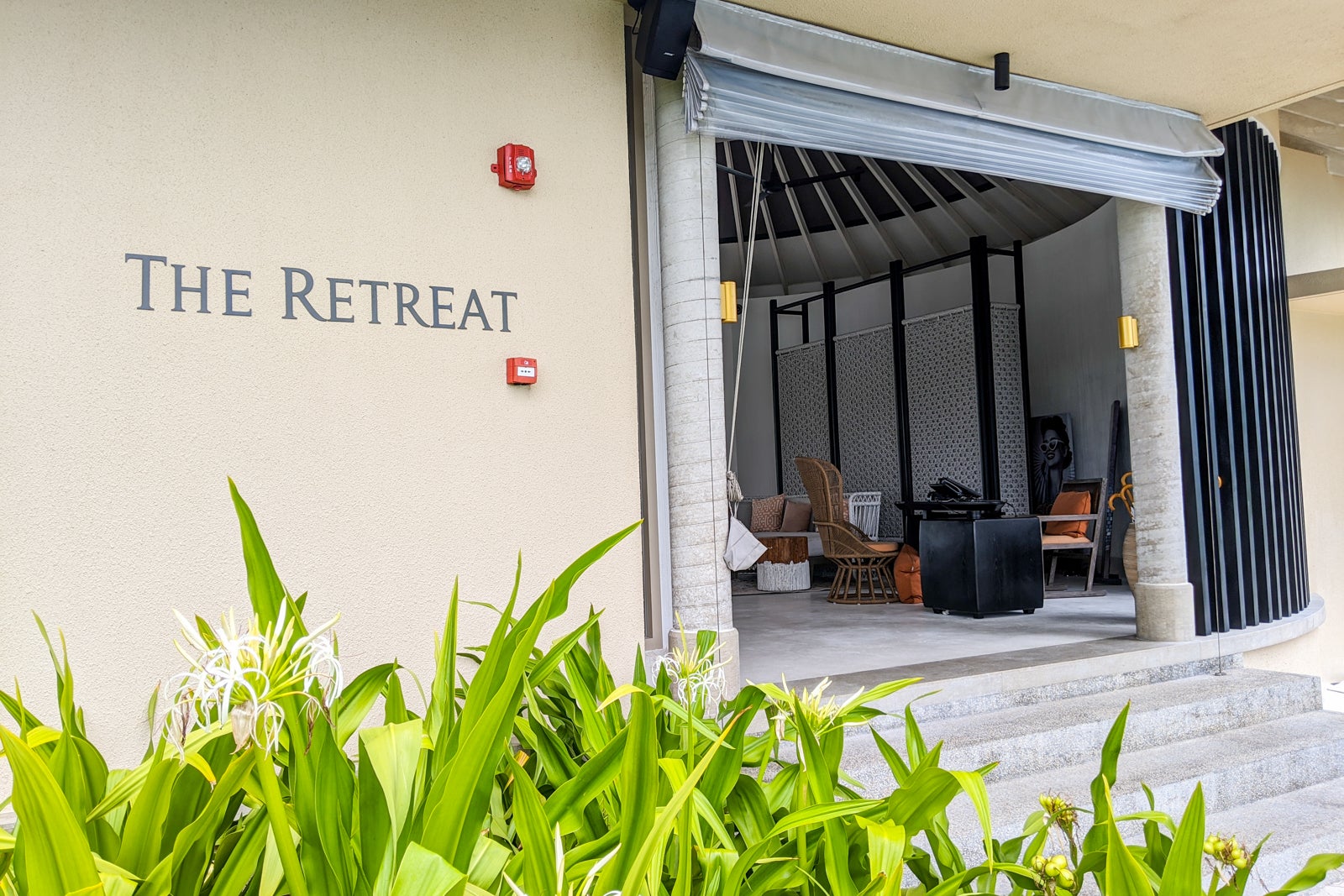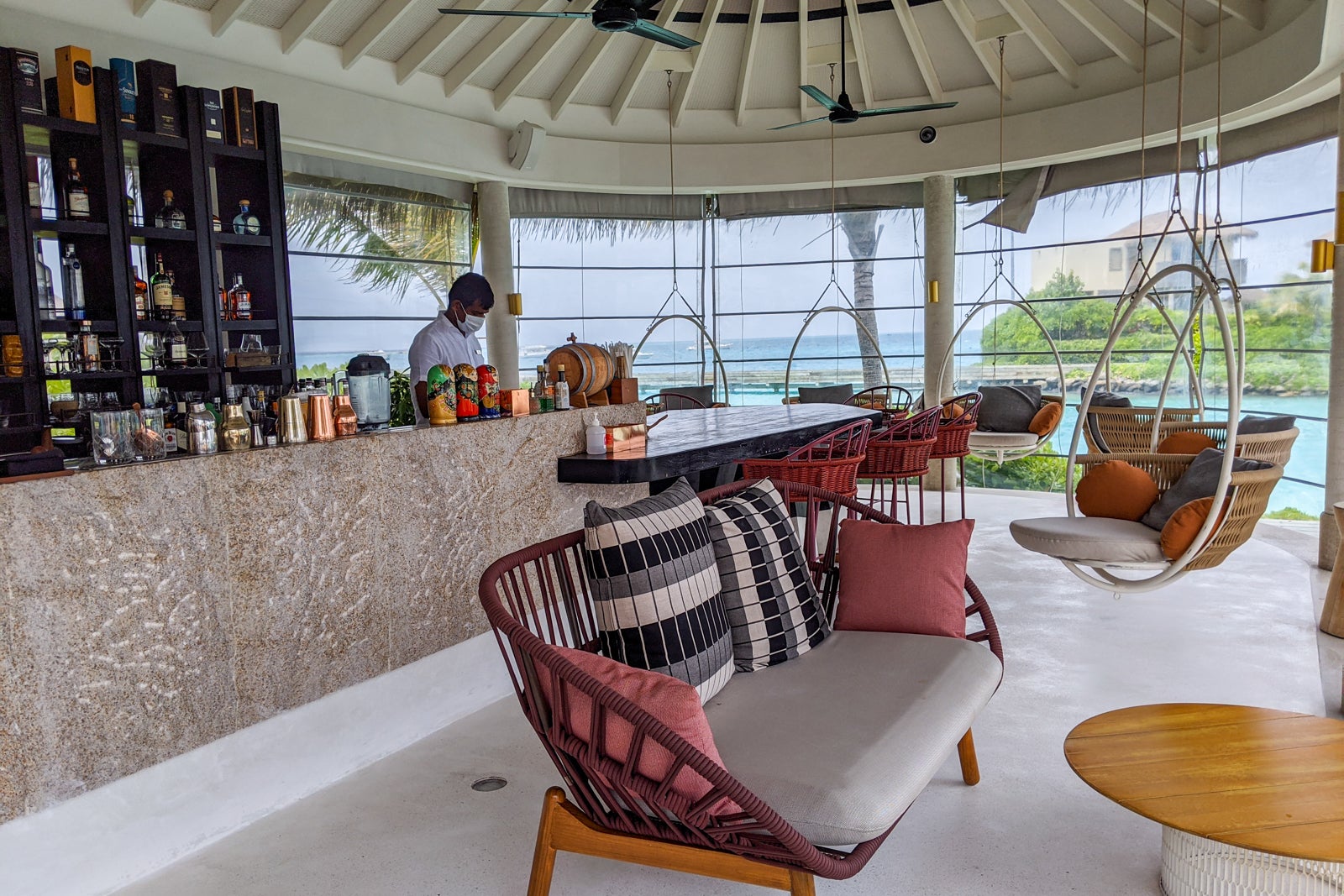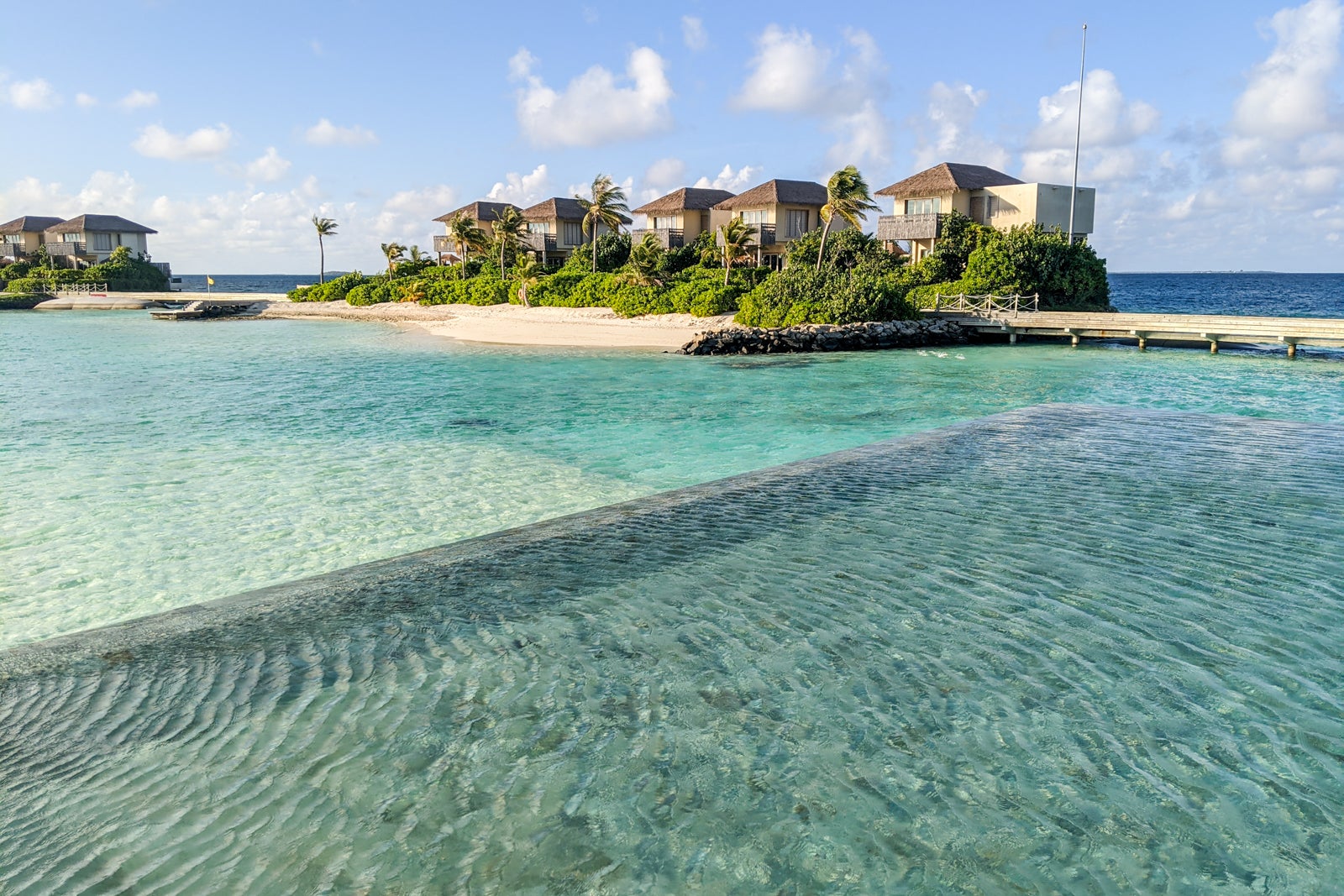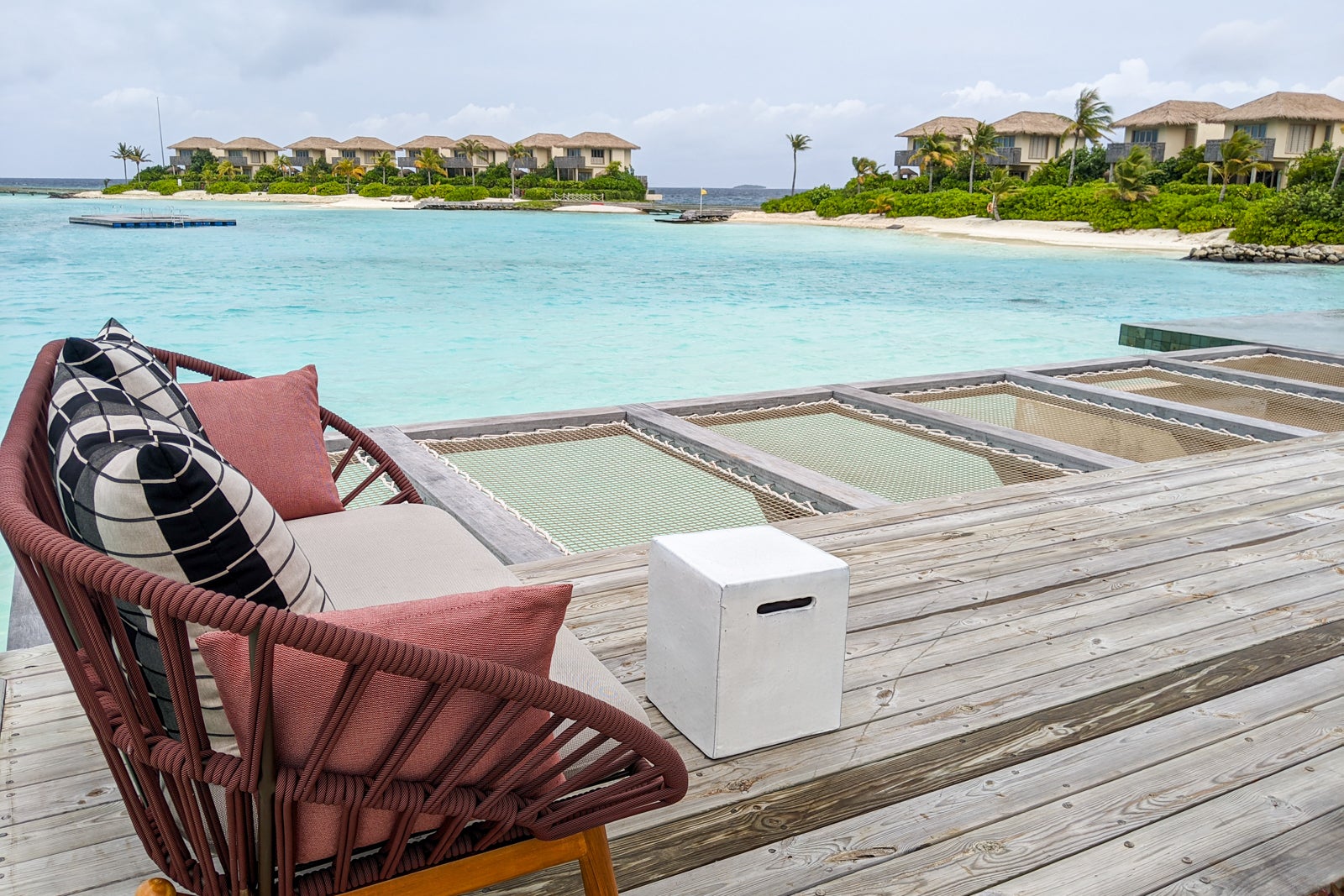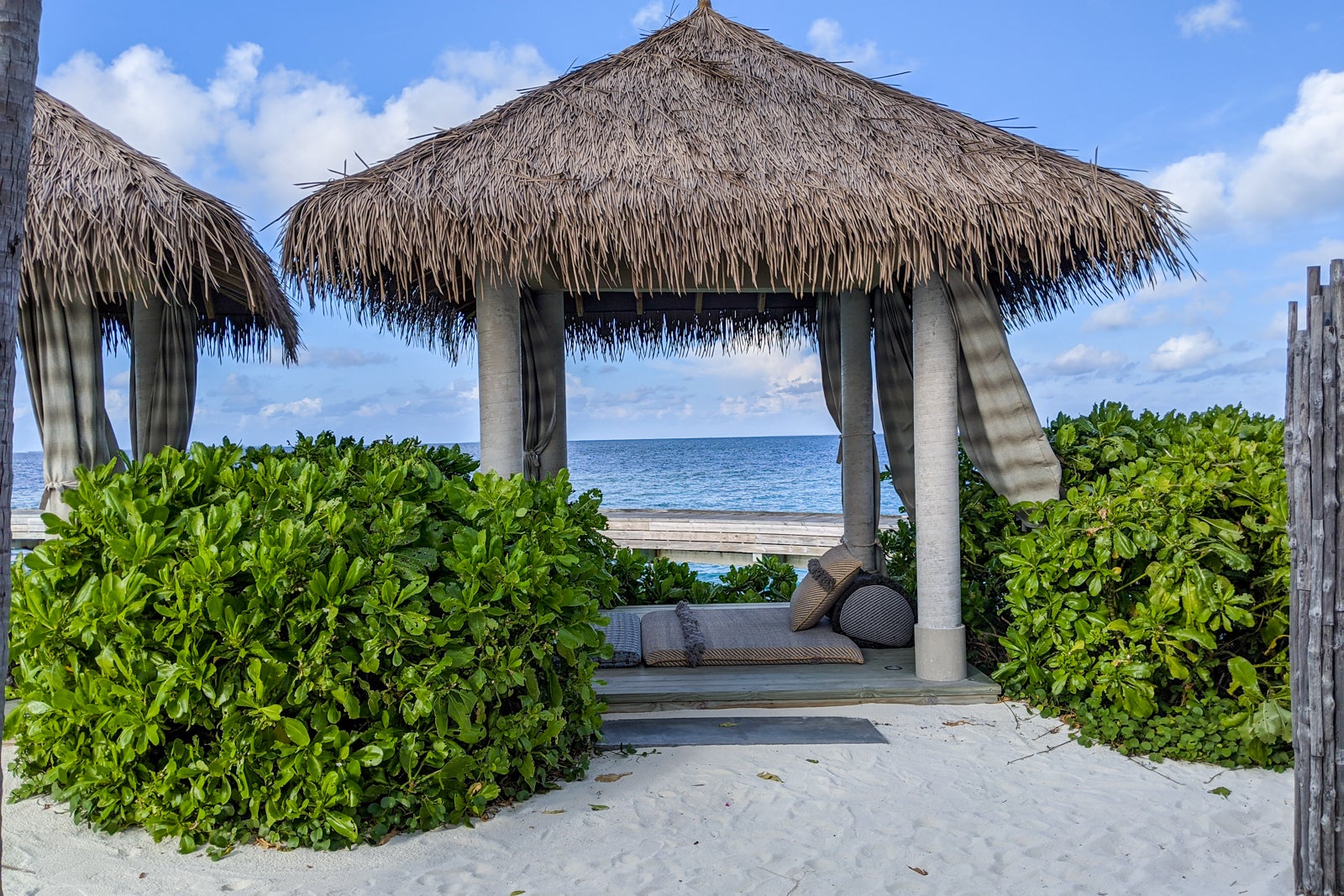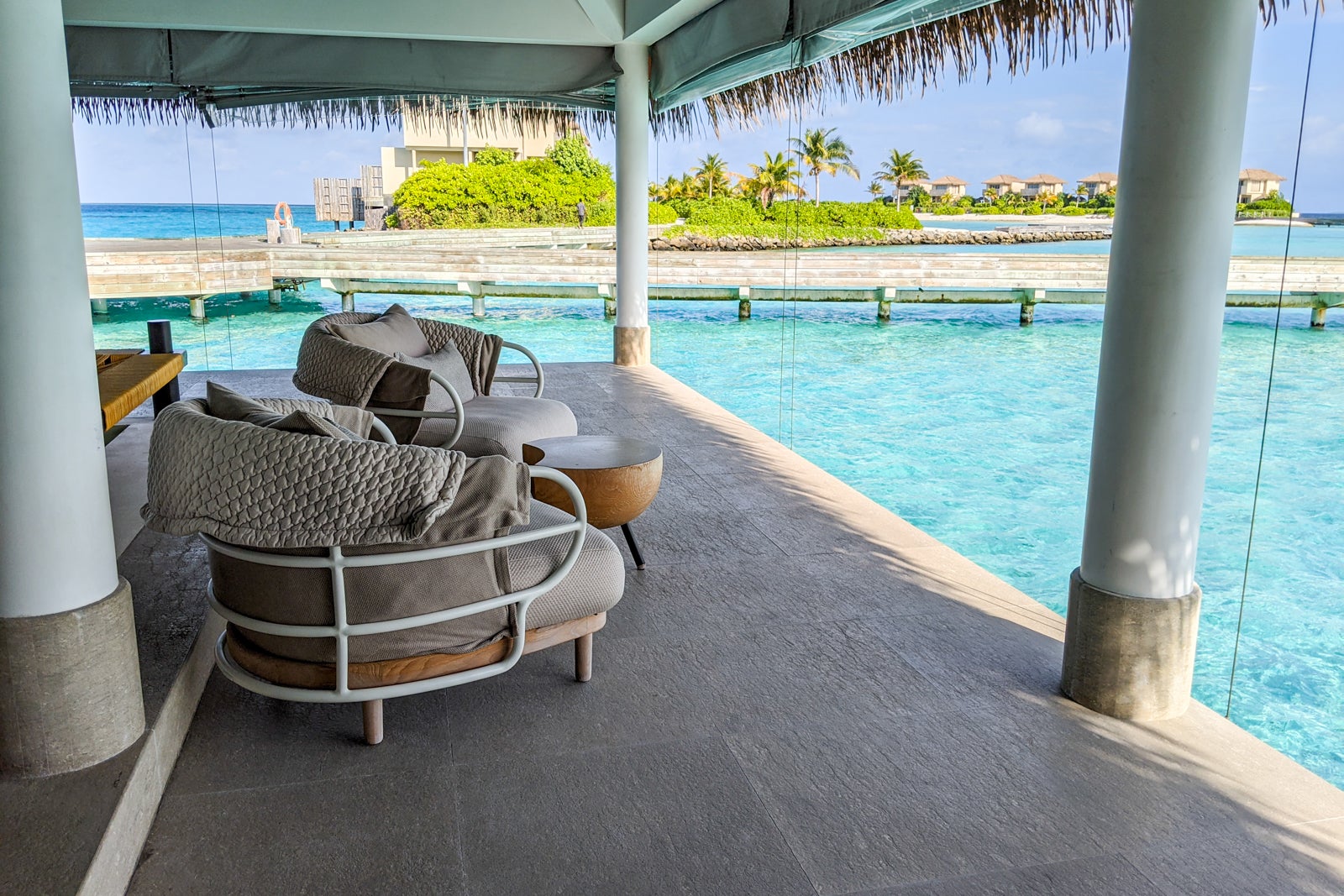 The InterContinental offers a selection of paid and complimentary activities, many of which you must book ahead of time. The only activity I tried was the sunrise yoga in the open-air yoga studio above the gym. I ended up being the only attendee for the class, so I got a personalized yoga class led by a fitness instructor.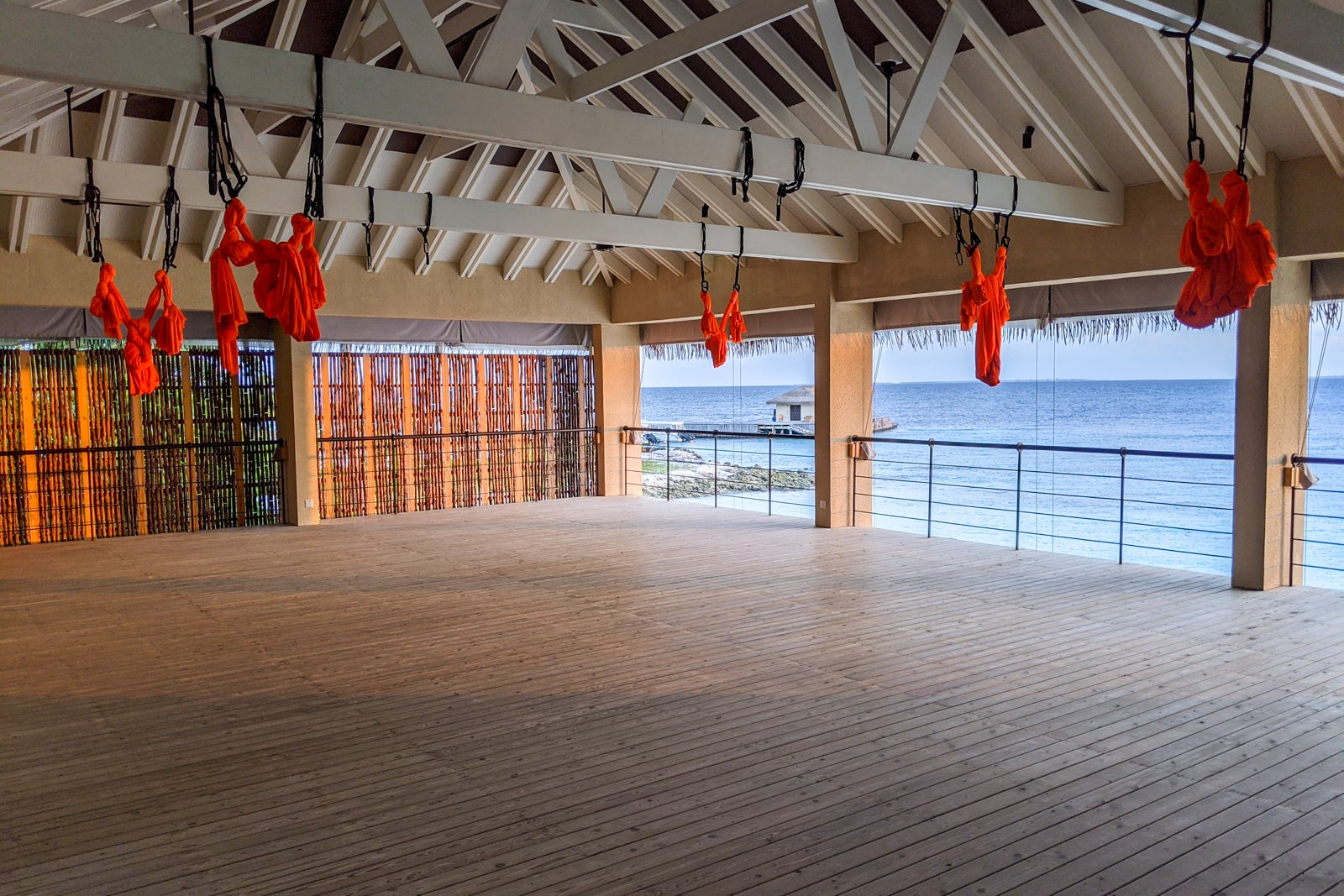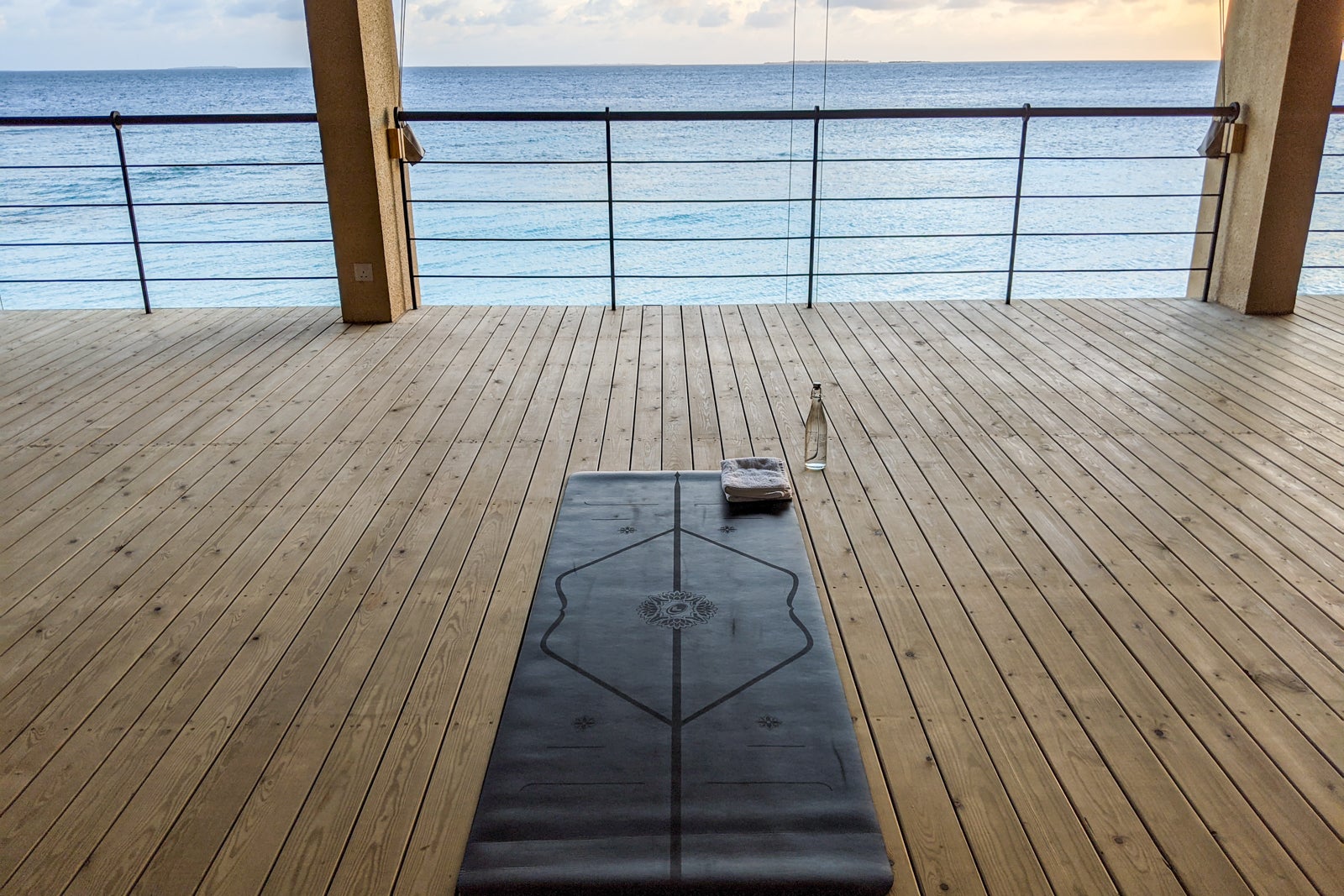 Speaking of the gym, guests needed to call to reserve a workout time slot during my stay. But there's a phone just outside the gym that you can use if you want to book an impromptu session. The music was pumping the one time I went inside and there's usually an instructor nearby if you need any advice or assistance.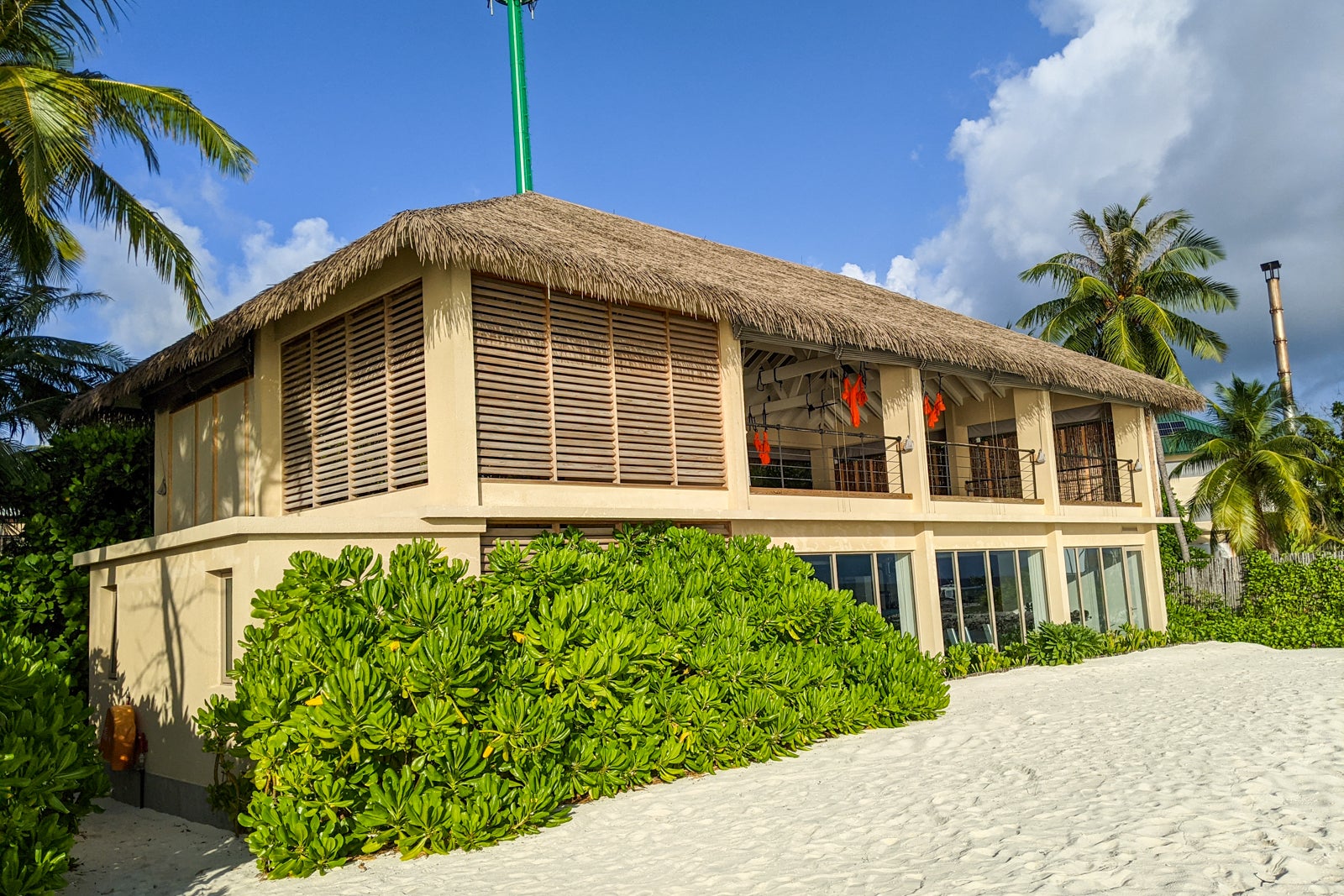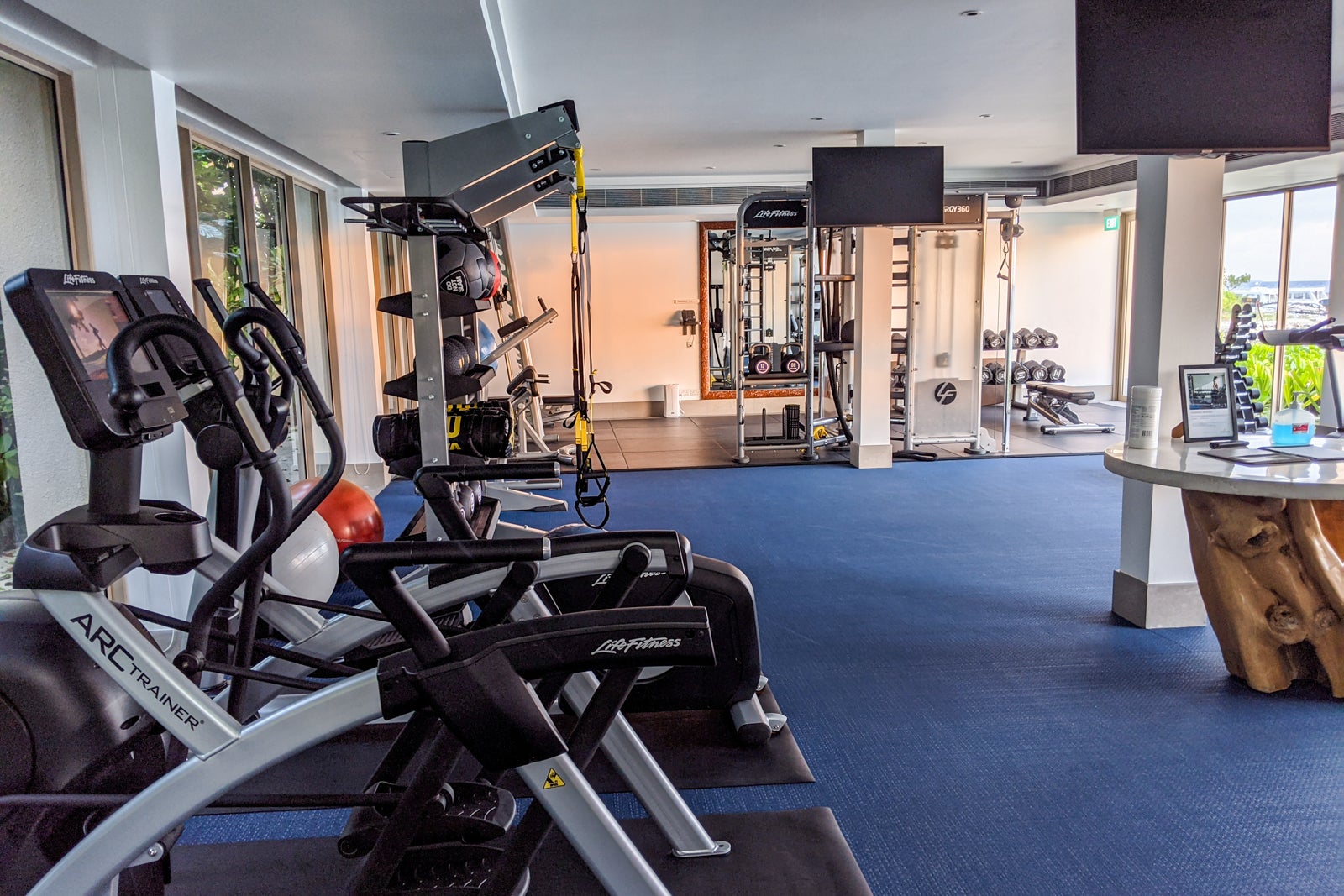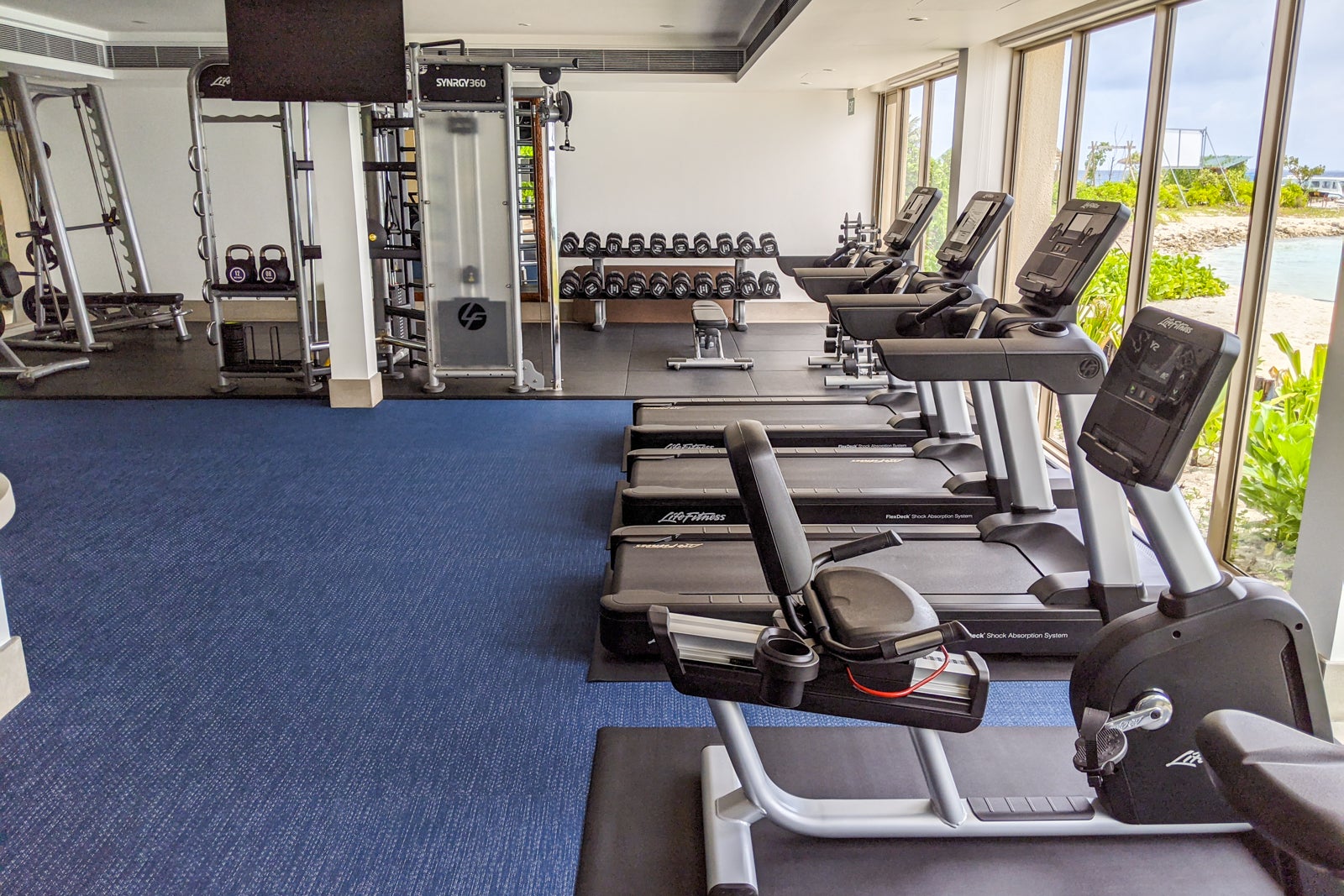 If you're looking for a book to read, you'll find an assortment in air-conditioned libraries near The Collective and in The Retreat. There's also a computer and printer in the room near The Collective.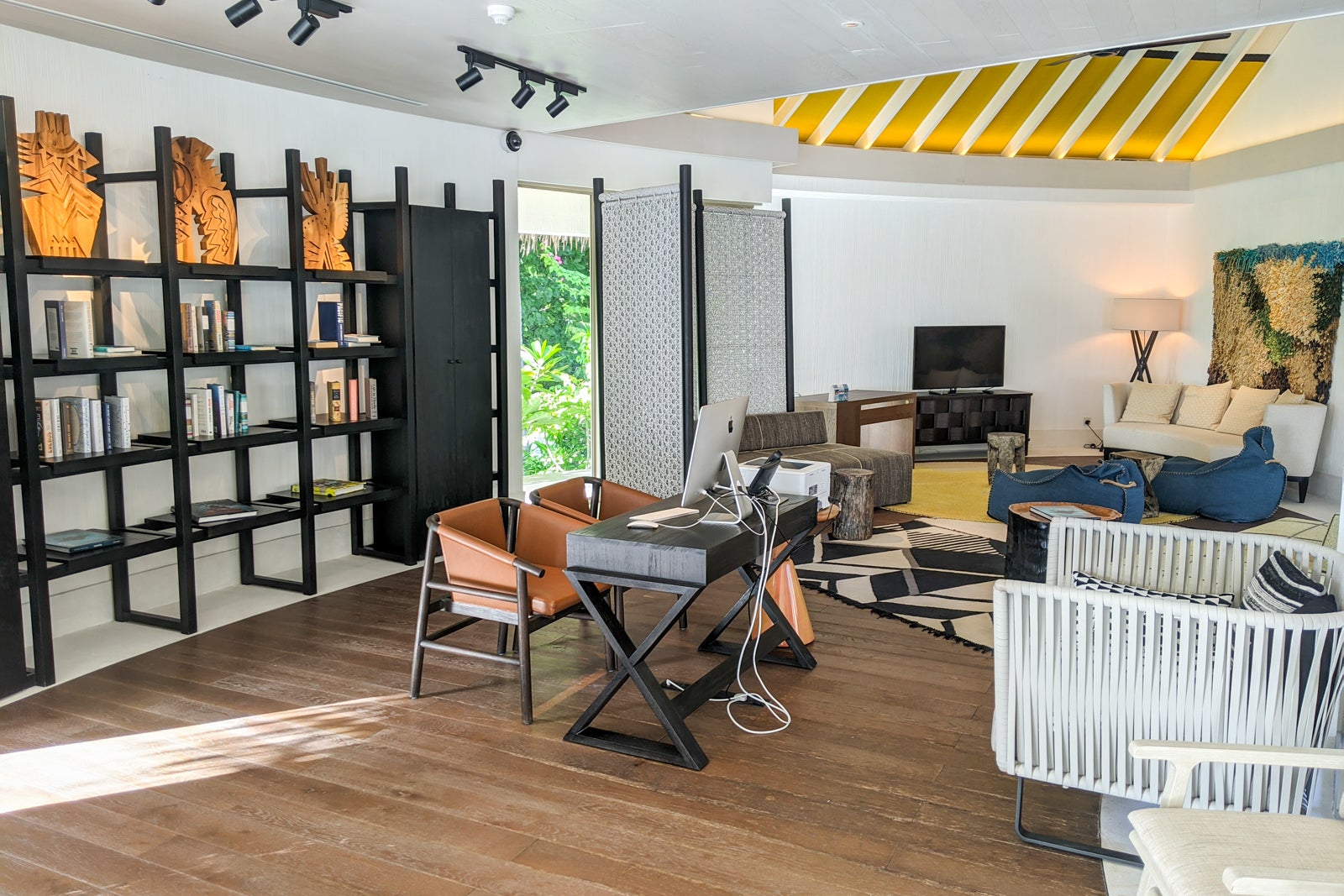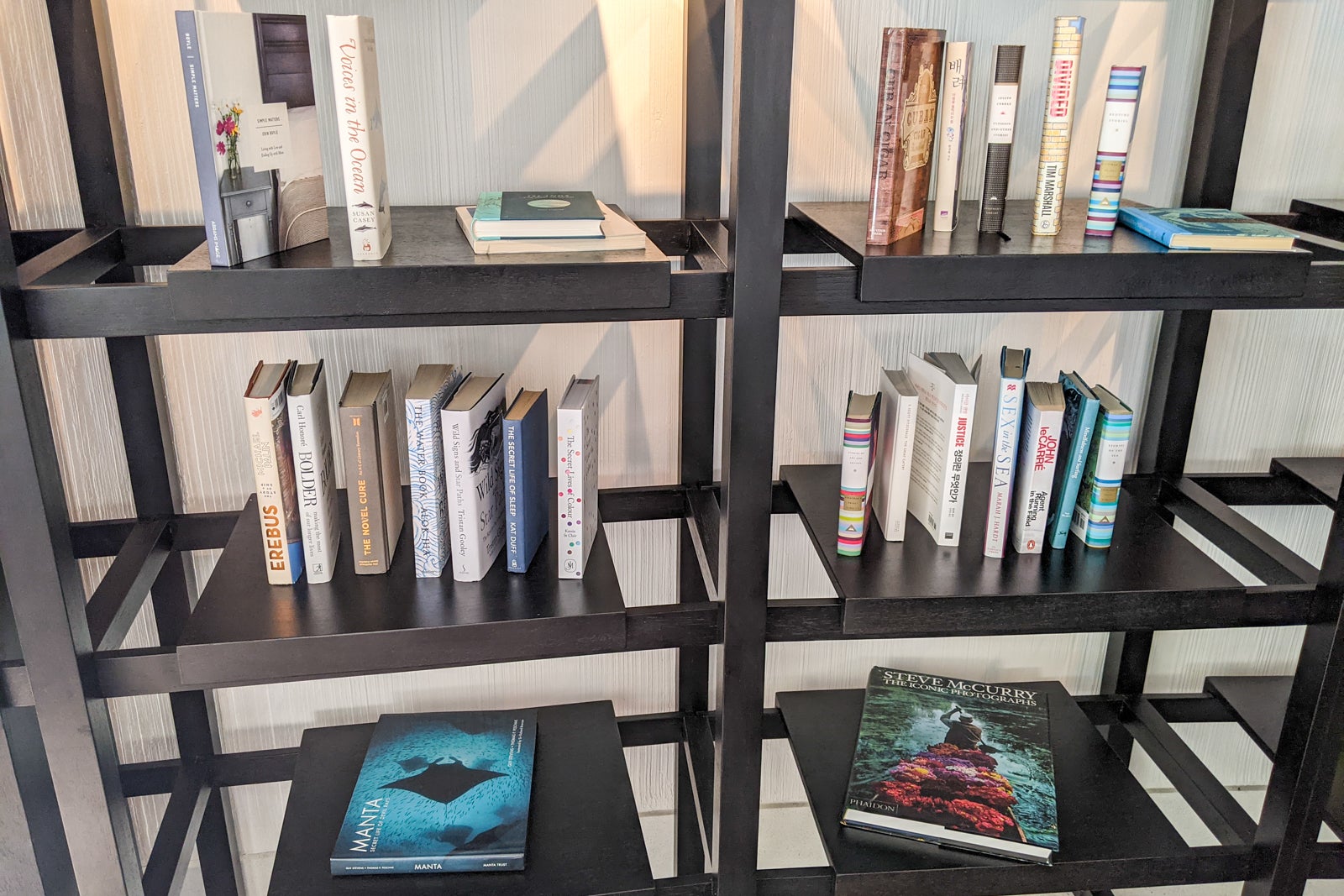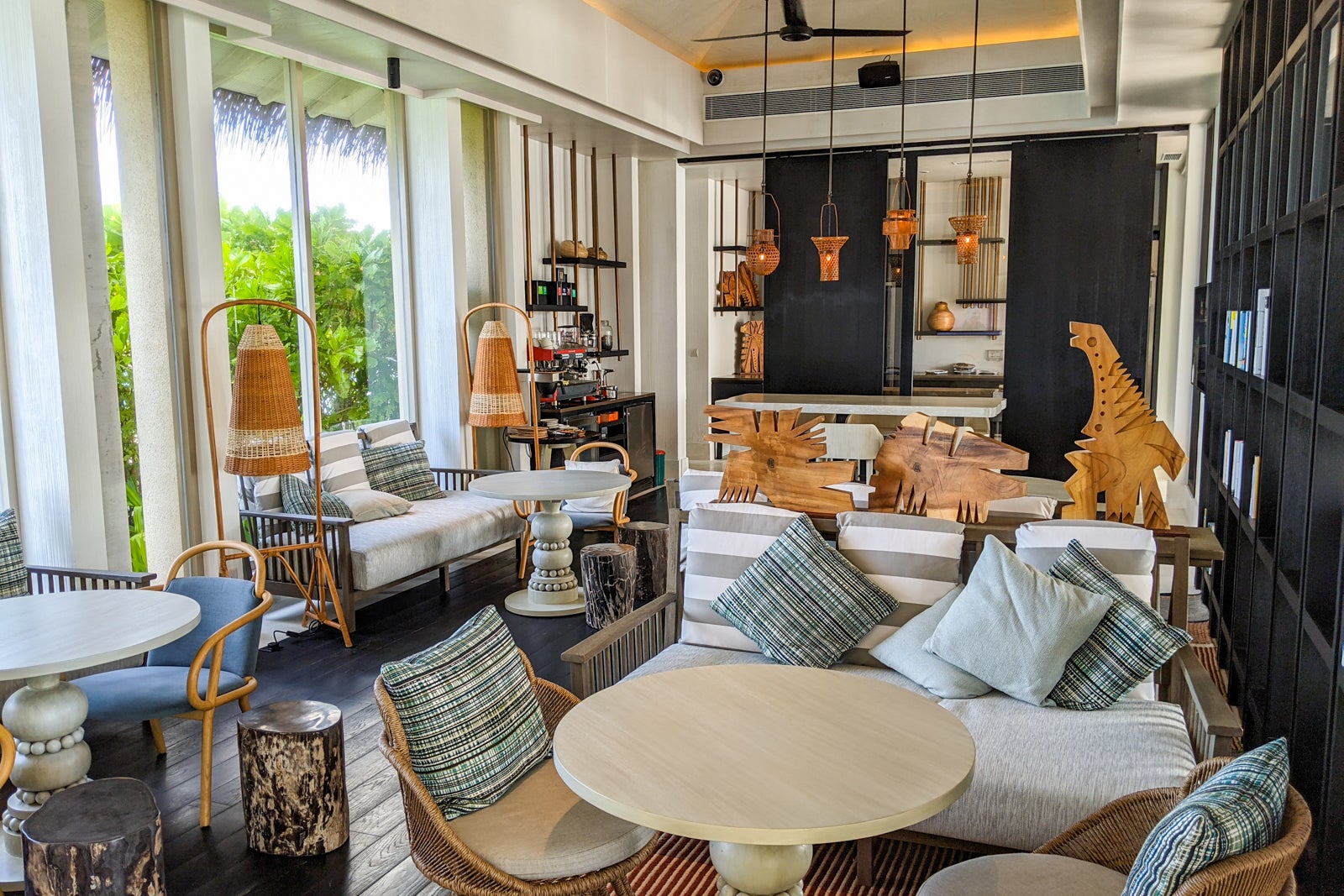 If you have children, you may find some of the services available at Planet Trekkers useful. Since I don't have kids, I only stopped by one day to take a photo of the activity schedule.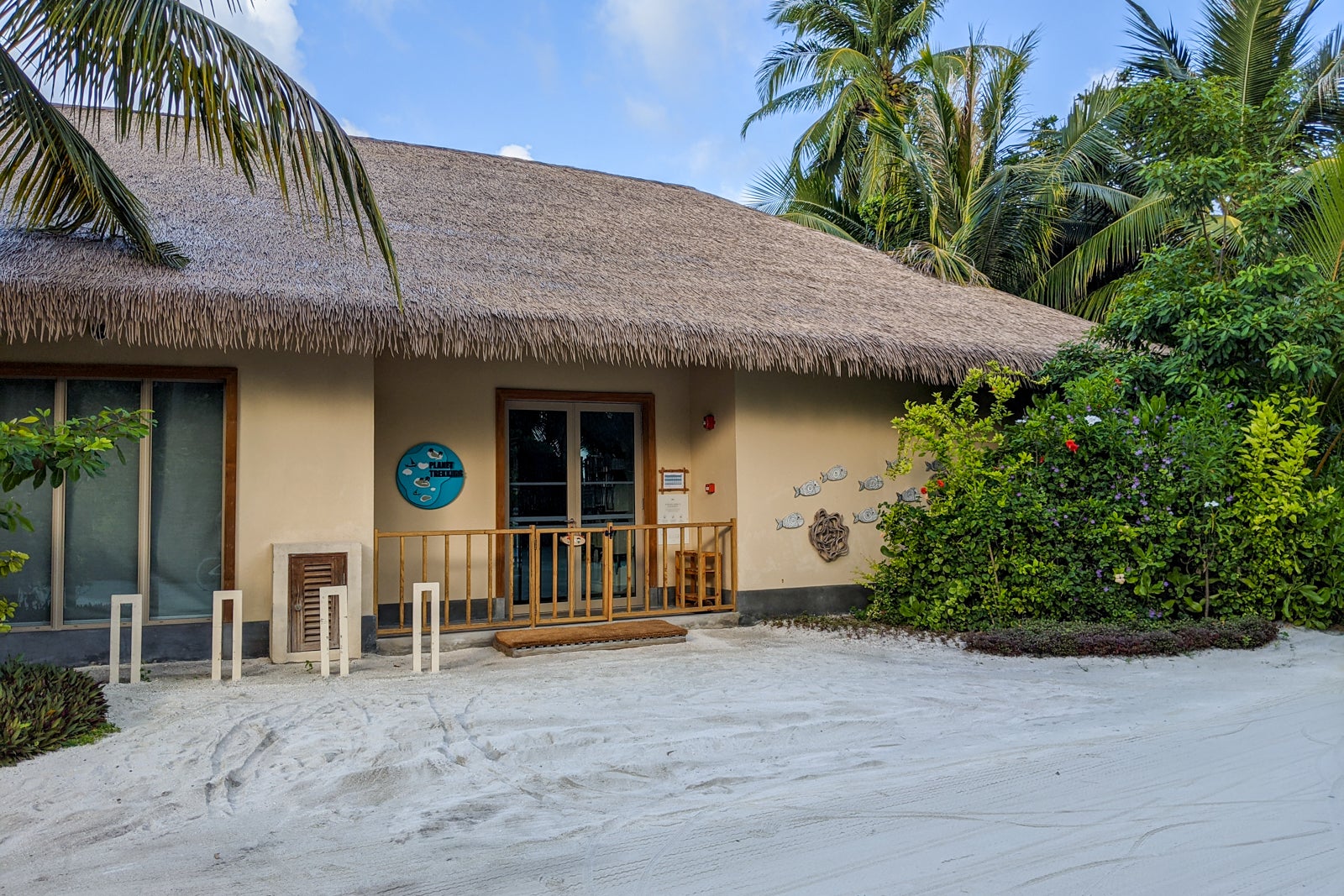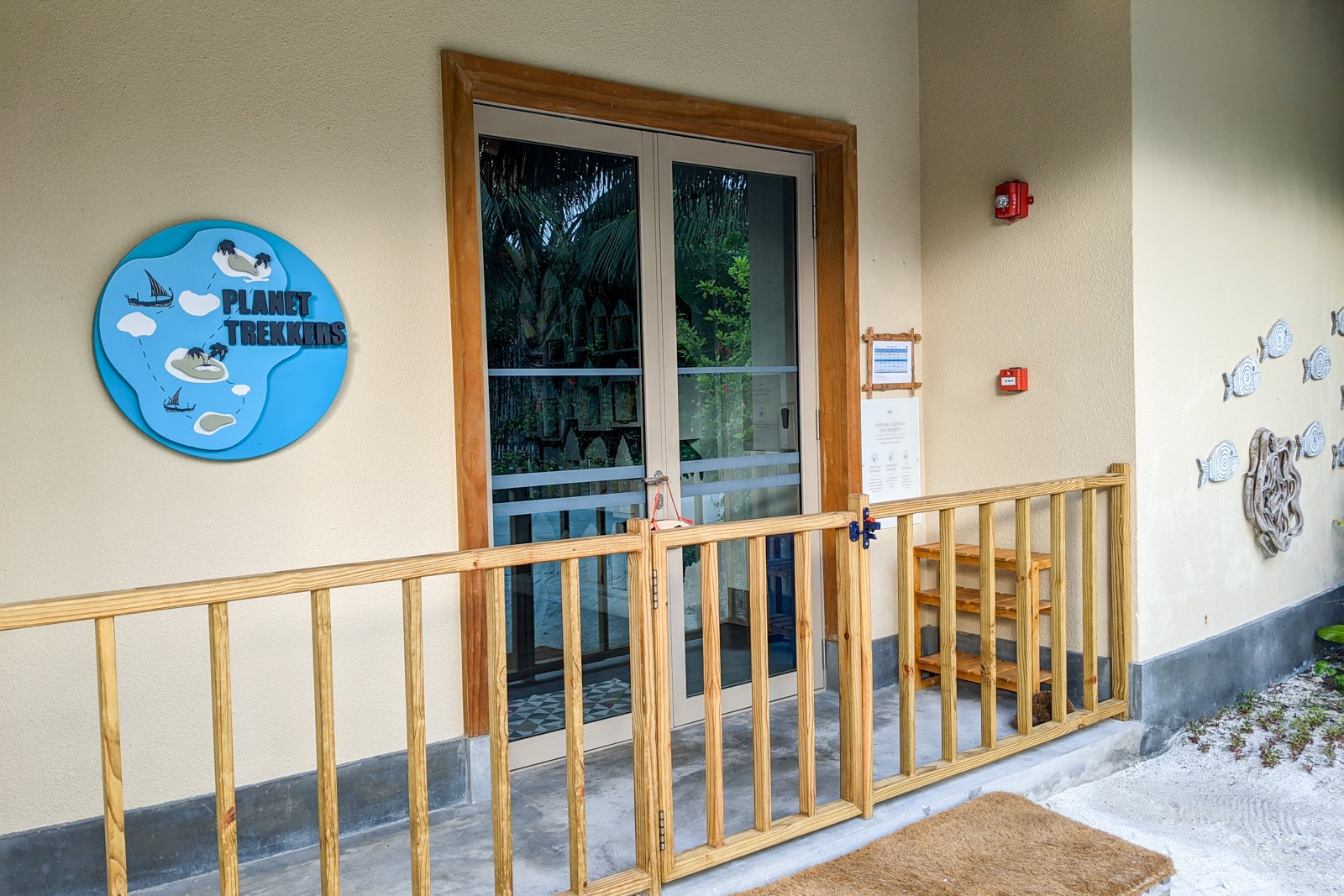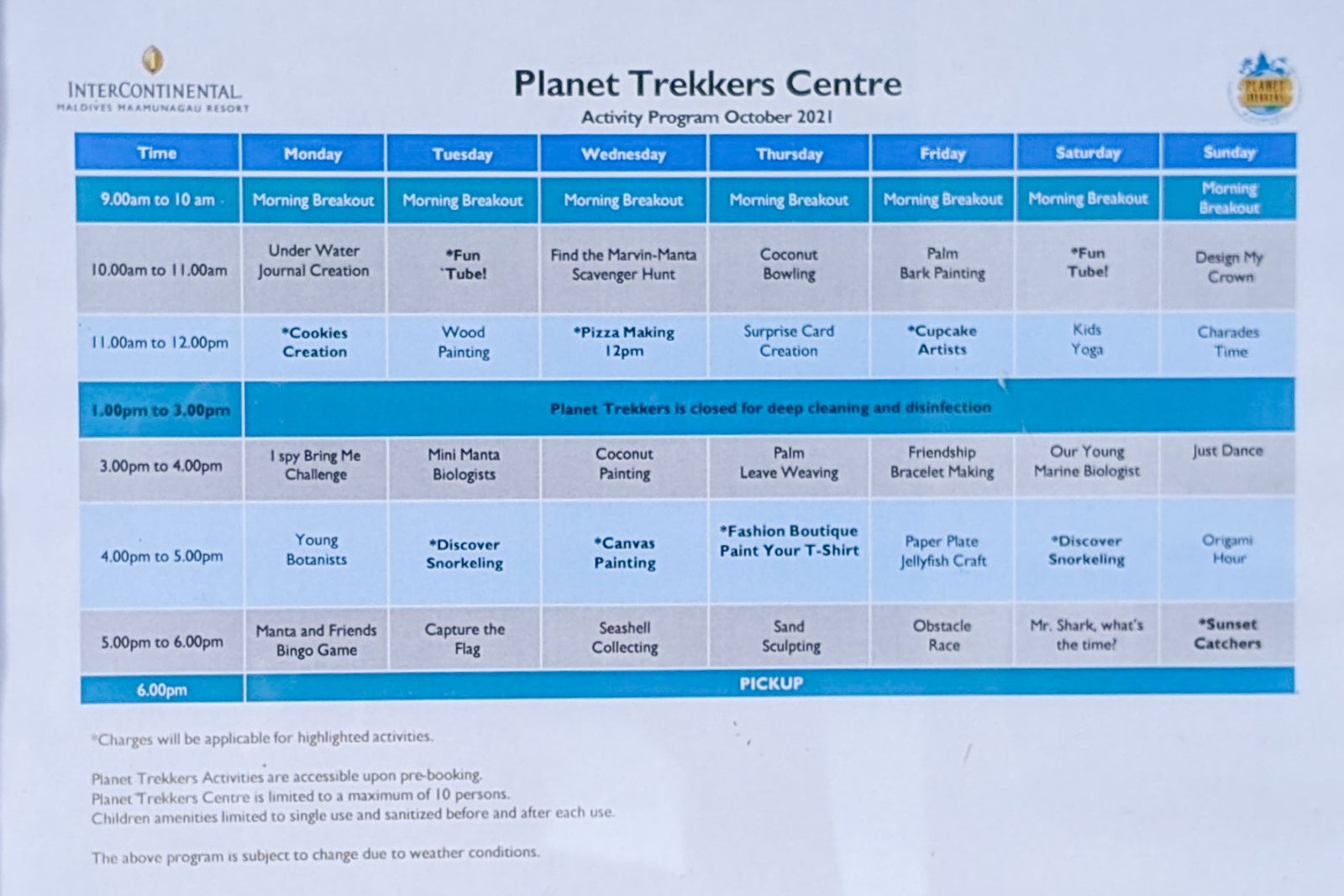 The AVI spa is on the far end of the island, near the Lighthouse restaurant. I didn't visit the spa during my stay, but TPG's Jean Arnes enjoyed a 15-minute massage during his 2019 visit. He described the spa as "a dreamy, rejuvenating space" with six overwater treatment rooms. Each treatment room has glass viewing windows on the floor so you can admire marine life during treatments.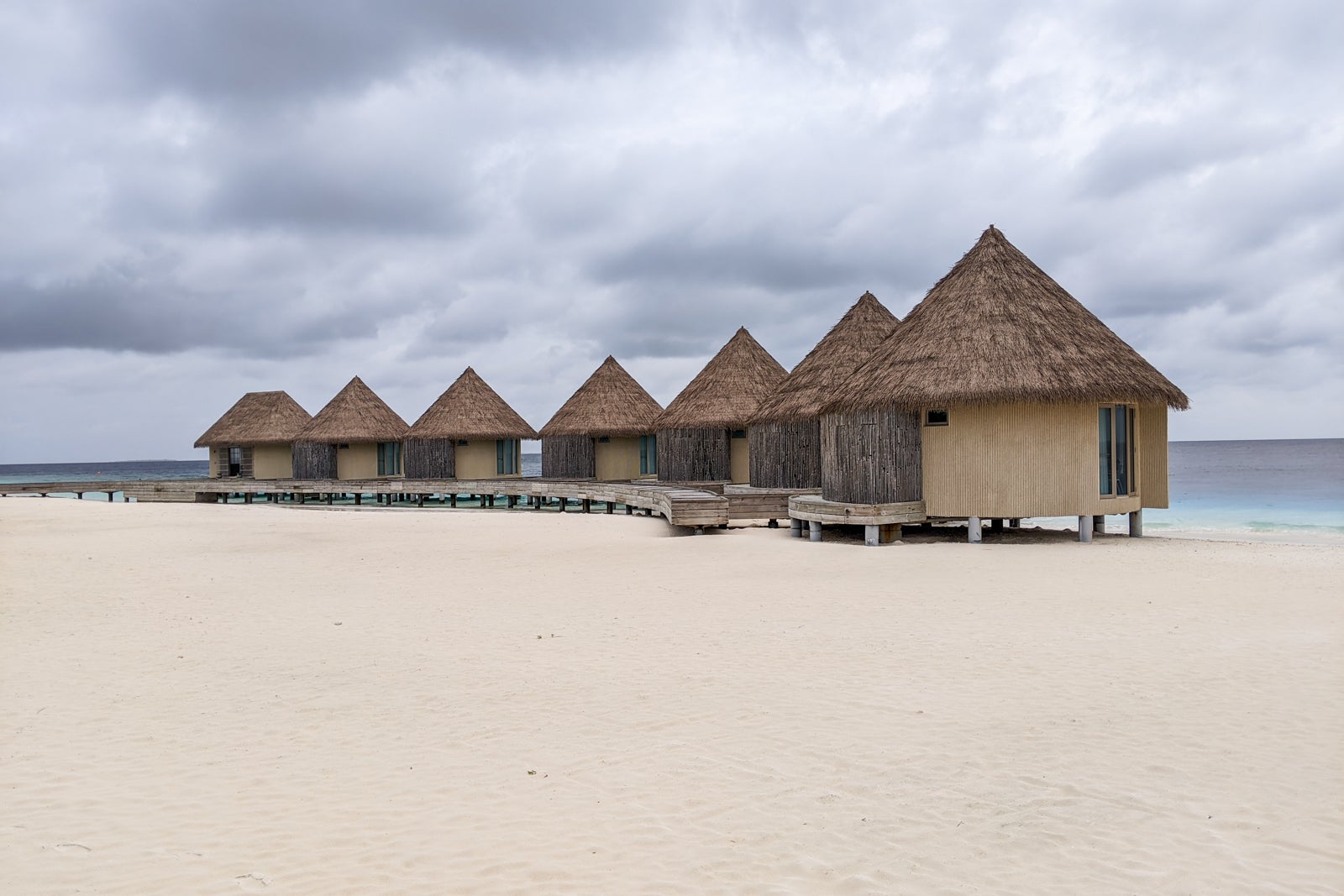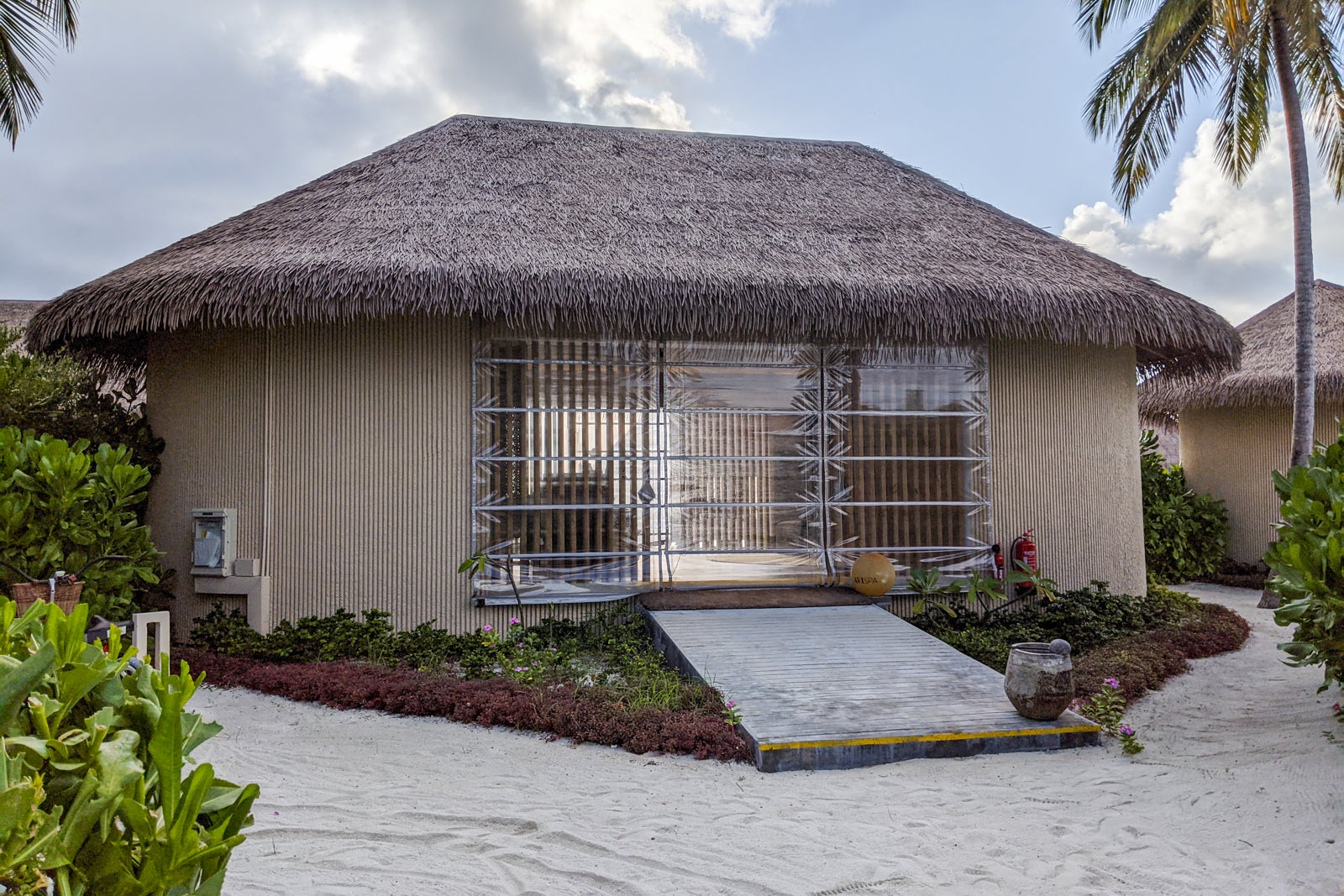 Wi-Fi was available throughout the resort. However, I found the quality varied greatly, with speed test results ranging from 14.9 Mbps download, 23 Mbps upload and 16 ms ping to 7.48 Mbps download, 2.95 Mbps upload and 30 ms ping. Interestingly, staff at the resort noted that multiple long-term guests were working remotely from the resort, so apparently, the Wi-Fi was fast enough for their work needs.
Related: Where to stay in the Maldives using points and miles
Service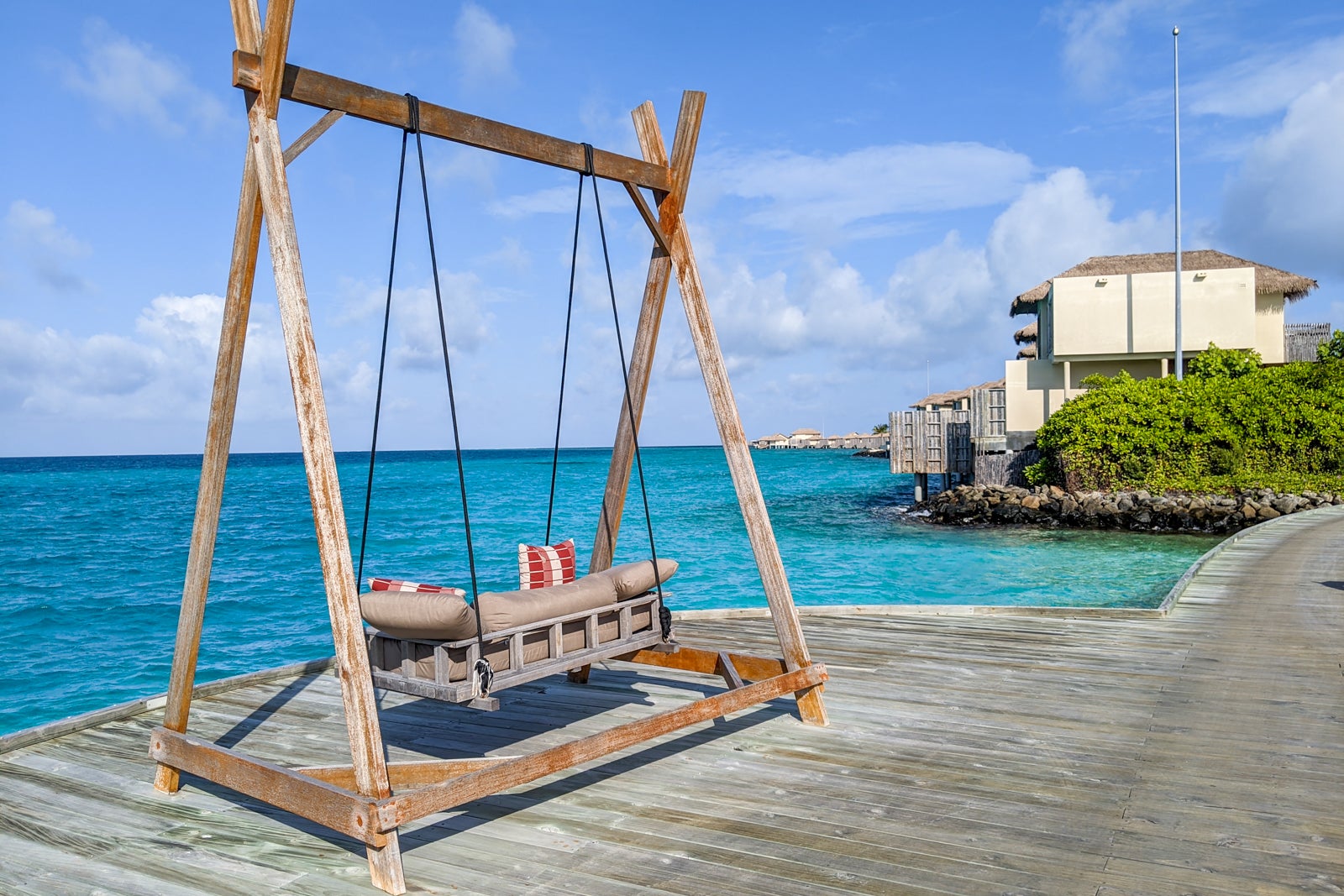 Upon arrival, each guest gets an Island Curator. This Island Curator will give you an island tour, show you around your villa and get you to sign bicycle and snorkeling liability forms when you arrive. The curator will also check in on you periodically at meals and book any activities, excursions or spa treatments you want.
He or she will also be your first stop with any issues you might have during your stay, ranging from losing your key to simply needing a larger pair of flip-flops. Our Island Curator was friendly and quickly fulfilled requests, but I got the feeling that he didn't understand us at points and would instead just smile.
As we were departing, we learned from a staff member that there were about 200 staff and 38 guests on the island during our stay. This staff member said occupancy was low since a large group had just left, but noted that many guests stay for about 10 days, and one guest had just left after staying for over 60 nights. The staff member also stated that 97% of the staff were fully vaccinated, with the 3% being new staff who were still becoming fully vaccinated.
Related: 6 ways IHG Rewards should improve its loyalty program
Overall impression
Despite being an IHG loyalist, I'm typically not an InterContinental enthusiast. I loved the InterContinental Phu Quoc Long Beach Resort in Vietnam. But I felt like a second-class citizen at the InterContinental Bora Bora Thalasso in French Polynesia when I stayed using anniversary nights. And frankly, the InterContinental Fiji Golf Resort & Spa didn't feel authentic. So, in general, my opinion has been that expensive InterContinental hotels and resorts aren't worth the cost.
To a lesser extent, I feel this way about the InterContinental Maldives Maamunagau Resort. Sure, I had a good experience and I appreciated getting Club InterContinental benefits, including daily afternoon tea and an evening aperitif, during my stay. Plus, I loved having an infinity pool in my villa a lot more than I expected.
But, although the InterContinental was the most expensive resort I stayed at in the Maldives, it wasn't my favorite. Frankly, I wouldn't pay the rate I paid for this stay to return. Instead, I'd redeem fewer IHG points to stay at other IHG properties in the Maldives or redeem Marriott Bonvoy points to return to the Le Meridien Maldives.
However, this resort is popular with families, solo men and couples – so just because it wasn't my favorite resort doesn't necessarily mean you won't love it.
If you want a closer look at the resort, here's a video from when Jean Arnas visited:

Additional reporting by Jean Arnas.
Featured photo by Katie Genter/The Points Guy.
---
Share this post
---
---