How to Make Stock Kitchen Cabinets Look Custom
Posted by admin on
Extreme How To - DIY Home Improvement
By Rob Robillard
Using pre-made cabinets in your kitchen remodel is a great way to save on construction costs. With the right techniques, you can easily make stock cabinets look custom.
Kitchen designer James Forsaith and I have been working together for 28 years. We joined forces again to incorporate a multiple discipline design, using different materials and fabrication to create a Chef's kitchen. We approached this kitchen with the goal [codename for budget] of using stock cabinets but enhancing it with high-end options, stainless steel appliances, white stone and tile, and dark reclaimed wood for the stove hood and shelves.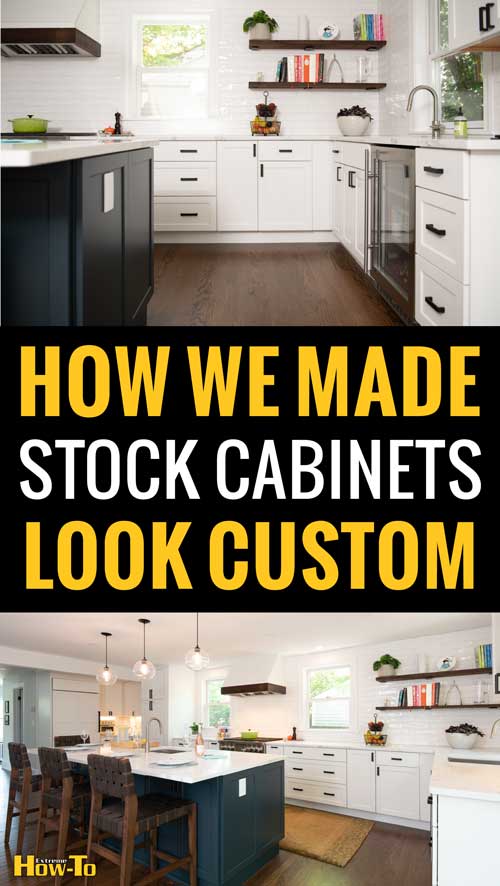 This multi-disciplined take on this process yielded an iconic and very distinctive details textures.  The homeowner wanted a classically designed space that is highly functional.  Using all white Shaker cabinets that look built in, bright counters, and wall tile, to enhance light and using dark blue accent island cabinets.
Kitchen Design
So many homeowners we work for want a kitchen designed for cooking – a chef-inspired kitchen!
For a chef-inspired kitchen, the first thing you want to do is think about are the appliances and work surfaces you want most in your kitchen. Many experienced cooks have non-negotiable "must-have" appliances they want in a kitchen.
Our client started by listing her priorities:
• Sub-Zero industrial refrigerator
• High capacity wine cooler
• Wolf 6 burner dual fuel stove
• 2 Sinks – Main sink and prep sink
• Extra counter prep space
• Sub-Zero industrial refrigerator
• Built-in microwave
• Drawer organizers to maintain organization and control clutter
Two nice details I like in this kitchen design are the counter-to-ceiling subway tile, and the reclaimed wood we used From Cambridge's Long Leaf Lumber in Cambridge MA. The reclaimed lumber was used to accent a custom stove vent cover, and to create the "floating shelves." We'll use the client's list of appliances when planning the cabinetry. Let's break it all down.
Full Wall Subway Tile Backsplash
A tile backsplash serves a practical sanitary purpose by protecting walls from splatters, but they've become a popular aesthetic for an eye-catching style that brings together a classic and modern look. White subway tile backsplash has become a popular feature in kitchens and baths.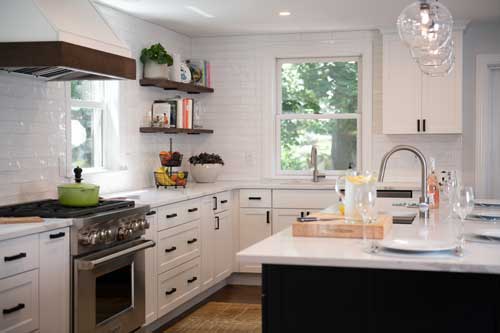 Our client was attracted to a simplistic design and wanted an easy-to-clean, durable surface that reflected light. She chose a larger-sized, high-gloss, wavy subway tile that showed "movement," through its wavy design with light gray grout to pick up the same gray vain in the countertops.  The result provided a modern French bistro feel.
Open Shelving Using Reclaimed Wood
Since we're already doing a full wall backsplash it only makes sense to use an open shelf or "floating-shelf" design so you can appreciate the subway tile backsplash wall.
We purchased black powder-coated floating wall mount countertop brackets, designed to support floating heavy, solid surface materials. The brackets have 4 mounting holes to mount vertically to a wall stud. Once secured, and spaced 16" on-center, each bracket can support approximately 200 lbs.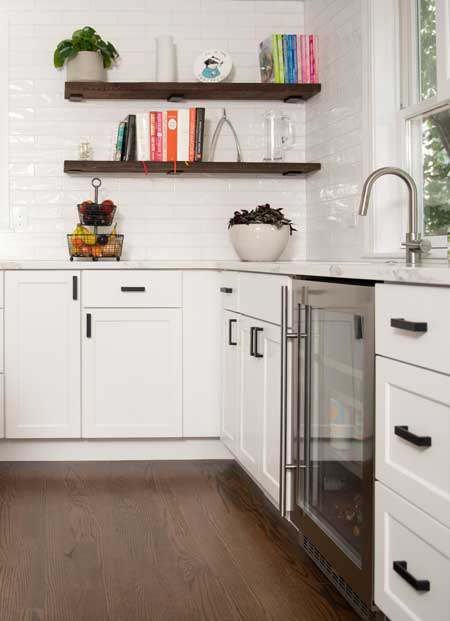 We chose two reclaimed wood planks for the shelving. These re-purposed, dark-stained, boards are now a focal point in this kitchen. We also used reclaimed ¾" wood along the bottom of the stove hood as an accent strip. All of the reclaimed wood was stained dark to create a sharp, dark, contrast to the white cabinetry, subway tile, and quartz countertops.
Stock Cabinets That Look Custom
We chose Decora stock cabinets because the client wanted a nice cabinet with a great paint job and lots of color options and design flexibility. I have created many beautiful kitchens over the past 25 years using Decora cabinetry.
The majority of this kitchen design incorporates base cabinets and countertops. There were very few upper cabinets used, and most were placed in the refrigerator area, offering a place for the coffee bar and is near an existing structural beam, that separated the kitchen ceilings.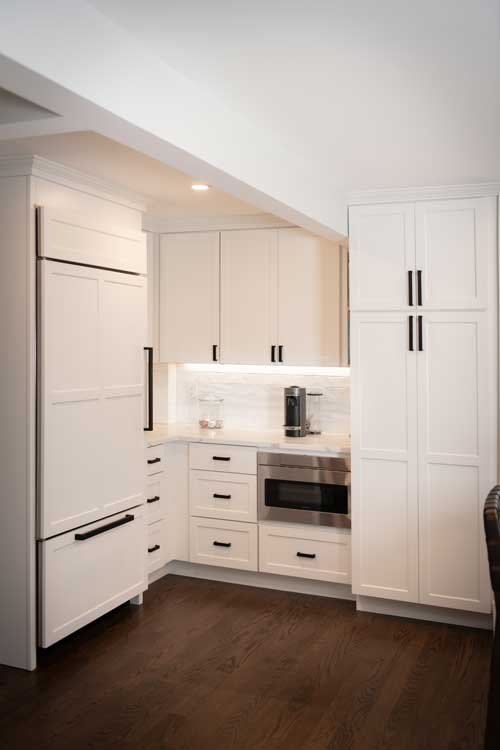 In the main prep area, our client wanted a more open airy feel. The island was designed with base cabinets on both sides, this gave the client additional storage and helped create a large island top, for kitchen prep work, and created seating for 5-6 people.
Using the back-to-back base cabinet layout also provides plenty of seating space and separation from the preparation/sink side of the island top.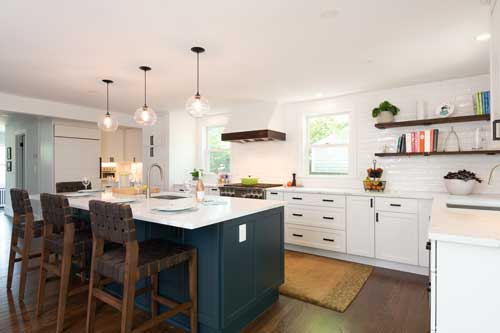 Simple Shaker stock cabinets were selected.  The main perimeter cabinets were painted with Sherwin Williams Extra White with wide matte black staple pulls. The island cabinets were painted in Mount Aetna color with the same wide staple pulls in antique bronze. High quality paint and hardware is an easy way to make stock cabinets like these look like expensive, custom units.
Custom Stove Hood
From the Decora pantry unit to the floating shelfs is a long run of countertop without any upper cabinets, there are two windows between which the hood would be installed above the 36 inch wolf dual fuel range. The homeowners did not want the focal point of this space to be a stainless hood.
For the hood, we decided to custom make it to keep costs down. We ordered a Decora stock cabinet door panel, some white cabinet side panels, and some crown molding. We then fabricated a hood cover, using the dark reclaimed wood, as a lower accent strip. We topped off the custom cover with a 1-5/8" crown, similar to the adjacent upper cabinets.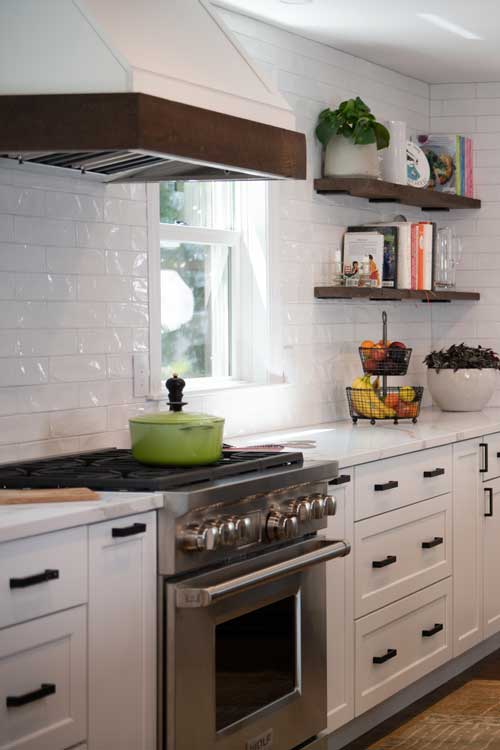 The warmth of the wood from the floating shelves and the wood trim on the hood provides a custom kitchen look.
Countertop
Like the woodshop, the kitchen countertop is the workhorse for any avid cook. Our client was striving to strike a balance between the functionality of the cooking surfaces and the overall beauty of the kitchen. We worked in an overhang on two sides of the island to accommodate seating for friends and family to gather.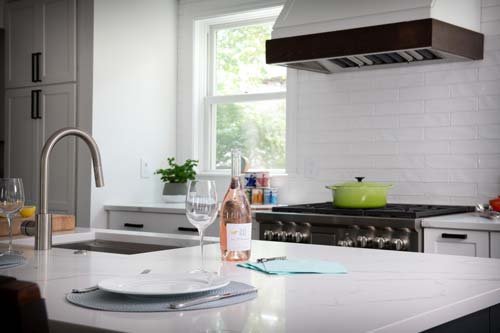 Our client chose to top off the cabinets and island cabinets with Cosmos Quartz in Calcacatta Sponda color.  Again, a classic look.
High-End Appliances
Many serious chefs want two sinks, and our client was no exception. We designed into our plan two stainless steel sinks to allow prepping and clean food, and then a second where to store and clean dishes after use. Each sink has an air switch-controlled garbage disposal.
Our client chose a sub-zero refrigerator and covered it with cabinet panels to blend into the cabinetry and her centerpiece, pride-and-joy of this kitchen was the 6-burner Wolf dual fuel oven/stove. The beauty of the range is the gas cooktop but the stable functionality of the electric oven.  She choose to swap out the traditional Wolf red knobs to stainless.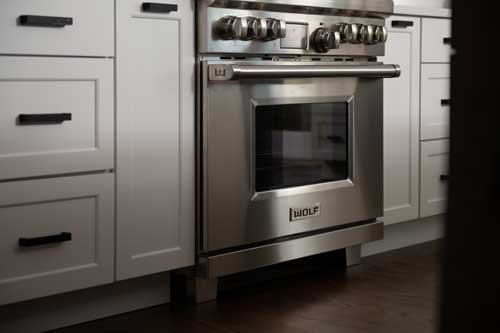 A beverage cooler near the prep sink allows additional beverage storage with our cluttering the main refrigerator and is out of the chef's way for guests and kids to collect their drinks.  It also can serve as an overflow fridge for cooking prep.
Kitchen Lighting
Lighting was a critical part of our kitchen design. We chose a layered lighting approach to make sure there was visual balance.
Island Accent Lighting in the form of three hand-blown glass pendants with vintage Edison bulbs serves more as ambient and decorative and lighting and brings the eye to the island as you enter the room.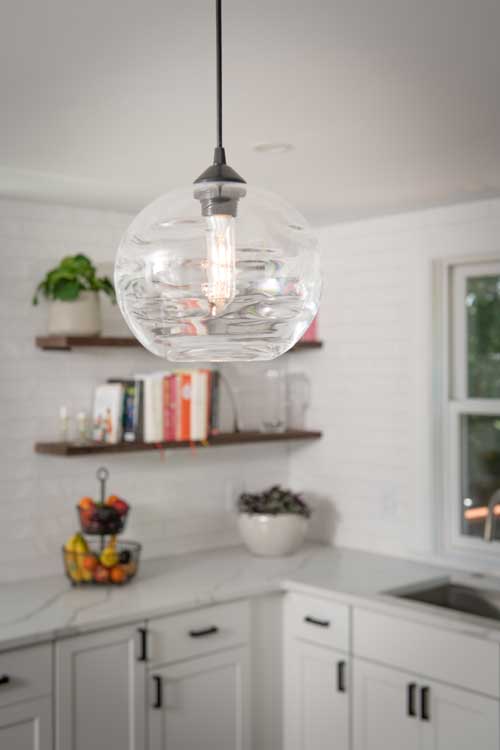 LED recessed cans, on multiple switchers, and dimmer controls were placed everywhere to create ambient and overhead illumination. We feel that more light is better, and the dimmers allow you to customize the mood.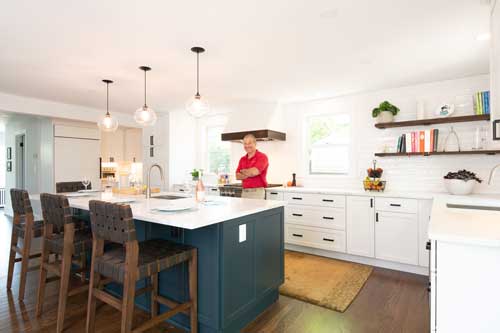 LED Task Lighting was installed underneath all of the upper kitchen cabinets, allowing a backlighting look as was as some task lighting.
Cabinet and Drawer Organization
To upgrade the organization we looked to Rev-A-Shelf for help. Rev-A-Shelf, is well-known as an innovator of quality, functional residential cabinet storage and organizational products such as Lazy Susans, kitchen drawer organizers, base cabinet and pantry pull-outs, functional waste containers, LED lighting systems, and childproof locking system.
We incorporated pullout trash and recycling units, tiered / sliding utensil drawers, tiered cutlery storage, and a bottom-side knife organizer.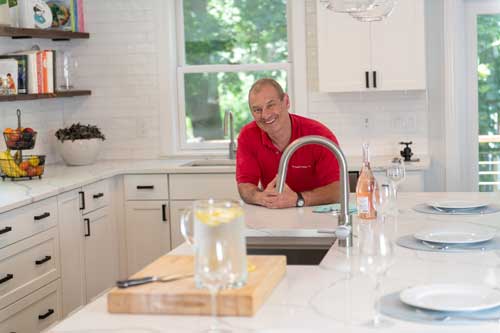 On this project, we had several design challenges, such as, building a kitchen that encompasses almost half of the first-floor living space, various pipe chases, exposed structural beams, and obstacles.
But in the end, the result was a beautiful, functional, and unique French inspired chef's kitchen. We were able to keep within budget thanks to the stock cabinets (even though they look custom built!).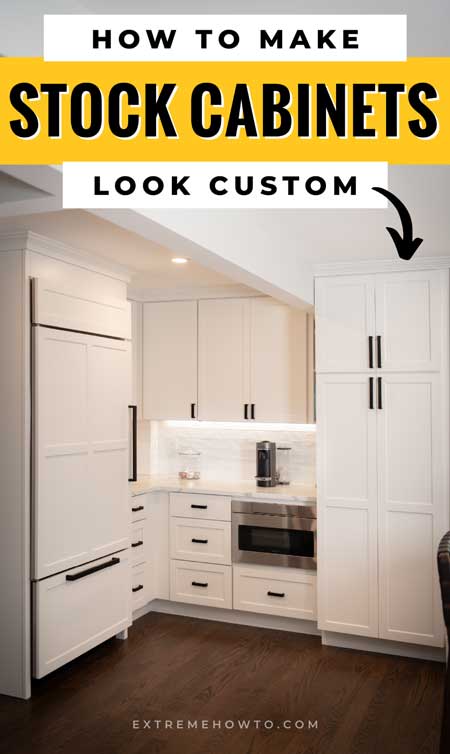 Project Summary: Chestnut Hill, MA ~ Kitchen Remodel
Designer: James Forsaith Koopman Kitchen and Bath Design
General Contractor: Concord Carpenter LLC
Photographer: Dave West, Born Imagery
---
Share this post
---
---