Fresh Kitchen Designs that Will Make You want to Spend More Time Cooking
Posted by admin on
They say that beauty is in the eye of the beholder and when it comes to kitchen design, that certainly holds true. No longer is there a "standard" kitchen design. Everyone wants a custom look that fits their personality and the personal preferences of their own family. Today's new kitchen designs offer a wide range of styles and conveniences for those who are creating a whole new space. While a full remodel of the kitchen might not be in the cards for everyone, there are lots of elements that can be incorporated in an existing kitchen to get a fresh look. Here's a sampling of some covetable kitchen designs to fuel your imagination.
Matching Countertop and Backsplash
Traditionally, countertops and backsplashes were made from two different by complementary materials. The countertop might be marble but the backsplash would be tile, for example. And, although the mixing of materials in the kitchen is now more commonplace than ever, many homeowners are opting to unite the two surfaces in the same material. Black marble is used for the countertop as well as the backsplash, creating one coordinated area within the kitchen. It makes sense too because now the wall behind the sink is as durable as the countertop.
Golden Drama
Certainly out of the ordinary, this kitchen features brass countertops paired with black cabinetry, which make for a stunning combination. Metal is an unexpected countertop material for the home and black cabinetry is also not the most common choice. That said, together they create a stylish kitchen that straddles the traditional and contemporary design realms. The style of the cabinets and their wood detailing is a nod to the past while the waterfall style island is totally modern
Multiple Islands
Sometimes the layout of a space will define the look of your kitchen as it did this one. Instead of counters and cabinets around multiple sides of the room, new concepts are incorporating multiple islands instead. This example incorporates just a single wall of built-in elements, while the middle of the room is filled with two separate islands. The far island includes a second sink and plenty of workspace, while the second one has a cooktop and a dining extension, ideal for family breakfasts, a quick snack, or a place for friends to hang out while you whip up dinner. The entire space is sleek thanks to a lack of handles and hardware.
On occasion, your kitchen space might need to serve multiple functions besides just cooking. Here, a compact cooktop unit sits underneath modern, black shelving that mixes open shelved with glass-fronted components. To the side, matching bookcases and storage shelving hold books, accessories and other necessities. By using the same color palette — here a dramatic black paired with a pale wood floor — the space transitions seamlessly from one functional area to another.
Compact Cooking Space
When space is at a premium, the design often has to conform to a more traditional layout. This kitchen combines a compact cooktop and range combination that still offers chef-level function. Sleek, modern cabinetry flanks the range as well as the professional vented exhaust hood. The entire set-up is finished with a stainless steel countertop and trims on the cabinets. This is a really inspirational idea for cooking enthusiasts who have an apartment or residence where space is tight.
A Dominant Concrete Island
Without a doubt, the sprawling concrete island is the main feature in this modern kitchen. Angled around a central point, the island features both a cooktop and a sink, as well as a ledge that goes all the way around the outer edge. This is a handy place for family or friends to set a glass or cup while they keep you company in the kitchen. The large island is paired with sleek cabinetry and appliances that are hidden behind the modern facade. Overall, it's definitely a modern look that combines concrete with shiny, dramatic elements.
Eclectic But Modern
This kitchen is certainly modern but that's where the straightforward definition ends. The straight lines of the island, mixed materials and sleek cabinetry are matched up with dining chairs that have an old-fashioned cafe silhouette, and it's all set against a classical Trompe l'oeil wallpaper scene. The white-topped island is clad in a mirrored finish around the sides while the section that includes the cooktop is made from different materials. Combination lighting and ventilation pendants hang over the cooktop and a matching light is over the dining table. Together, it's a very unexpected, yet very cool looking kitchen that's sure to stand out.
Kitchen With a Low Profile
Many kitchen designs fill the walls from floor to ceiling in an effort to pack as much function and storage into the space as possible, but there are other stylish options too. This very spacious and functional kitchen island arrangement has a low profile and feels rather Zen. Yes, there's one cabinet unit higher on the wall, but the rest of the space is open on the sides and is defined by the wide peninsula that extends out. Both the sink and the cooktop are incorporated into the counter that sits atop all the cabinets. The whole space feels unconfined and very open — an ideal scenario if you have windows with a killer view outside.
A Mini Island
Lest you think that a small kitchen precludes having any kind of island, this example shows that it is indeed possible with the right design. Yes, it is not a full island, but it is a small one that can serve as dining space for two or even three people, or as a central workspace when there's a lot of food prep to be done. It's even anchored by a cabinet that adds extra storage. Along the wall, a traditional but compact kitchen set-up has all the necessary appliances and cabinets that offer a good amount of storage.
White and Bright
Some trendsters say that white kitchens are waning in popularity but we would hazard a guess that this one will not fall out of favor any time soon. The bright, white and clean-lined cabinetry is elevated with a bright pop of sunny yellow for one section of the cabinets. If yellow is not your color, just about any bright hue would work the same magic in the space. At the same time, the tile backsplash that resembles riveted steel adds just enough edge to the kitchen to be really interesting.
Square Island
While islands have traditionally been rectangular, a square one is also a good option, especially for a modern farmhouse style kitchen. The shape tends to evoke a big, traditional farm kitchen set up, which here is emphasized through a variety of details. A big porcelain farmhouse sink and cup pulls for the cabinetry highlight the style genre as does the open shelving above the sink. Farmhouse style is still very popular for families, even if many designers are calling it overdone.
Truly Minimalist Design
True minimalists will love this kitchen because it really is sleek and clean. A modern finish on the island and the cabinetry is paired with a wood grain accent on the wall unit and the inset island display shelf. Beyond that, the only kitchen elements that are visible are the cooktop and the sink. Devoid of hardware and with all the other major elements hidden, this design is spare and very stylish.
Clean Lines with More Details
This modern kitchen is not minimalist but it indeed features clean, angular lines. The off white cabinetry is accented with large handles and the upper wall cabinets are all fronted with textured glass that livens up the design. A central island includes the sink and a raised breakfast bar on the opposite side. Granite countertops are used throughout the kitchen as well as on the wall as a backsplash. This is a clean kitchen design that would be a versatile starting point for any custom design.
All Mixed Up
Gone are the days of all matching cabinets and one single countertop material being used in a kitchen. Mixing materials has been hot for several years now and this super functional kitchen is a good example of how it can be done. Gray cabinets and wall units are paired with a countertop and backsplash of stone while the island extension is done in a brown finish with a multi-level wooden top. Textured glass-front cabinets are trimmed in yet another finish, while the lighting fixture repeats the dark accent. Altogether it works marvelously well and flows from surface to surface without seeming disjointed.
Wood-Focused Design
So far, most of the kitchen designs have not featured much natural wood, but it's still a very popular and stylish material. This modern kitchen has combined natural wood cabinetry and sections of countertop with a modern stone central island.  The two natural materials work well together and create a very contemporary looking kitchen. Modern appliances are in stainless steel and the island incorporates a sleek cooktop and a prep sink with a retractable faucet. The countertop along the wall has the main sink and more workspace. This is a great, family-friendly kitchen, especially with the long breakfast bar that runs along the entire island.
 A Little Bit Country
It might have some farmhouse elements, but this kitchen is a little bit more country than that. The light, natural wood cabinetry has traditional hardware and all the elements in the kitchen coordinate with it. Chalkboard faces on a few cabinets as well as the kitchen hood are handy and attractive. Plenty of pegs and racks offer storage along the wall and a hanging pot rack makes the island a real centerpiece.
Traditional Style
Traditional style still has its place and many people prefer it. This kitchen features dark natural wood and is focused on a stunning range in mixed metals. The straightforward countertop is a good match and the entire space is unfussy and functional. This is a good option for those who aren't into modern or minimalist designs and still love to cook on a top of the line range. The overall design is very versatile and would work with lots of kitchen layouts.
Fully Fitted Out
A marvelously neutral space, this kitchen quite literally has everything you might want or need. Storage options abound in the form of bins, drawers and cabinets while there are numerous spaces for all different kitchen duties. Several lighted cabinets highlight specific items while all the rest conceal all the kitchen necessities. The cooktop area features a unique backsplash that injects some fun personality into the kitchen. The overall layout is ideal for a large family with all the different areas.
Casual Contemporary
A contemporary flair mixes with a casual feeling in this wood-focused kitchen. Of course, the light wooden cabinetry is combined with green painted sections that add a splash of earthy color. A darker green wood paneling under the cabinetry serves as a backsplash and carries the color through the space. Above the counter, lighted cabinets and display shelving brighten the whole area and offer a stylish place to highlight favorite tableware and serving pieces. Dark countertops tie the sections together and add extra contemporary edge.
Architectural Details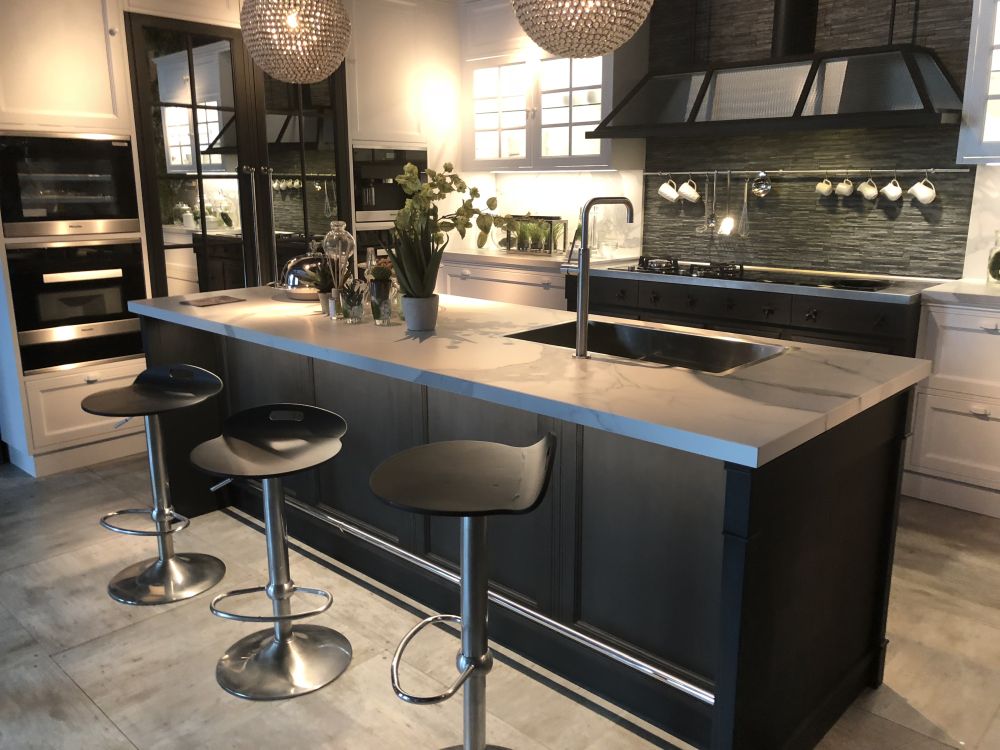 Adding architectural details to a room has been gaining in popularity, especially in bathrooms, but it's a great idea in kitchens too. Super functional and distinctively stylish, this kitchen has some standout architectural detailing like the long custom exhaust fan and the black-framed French doors. A mix of black and white cabinets work well with the marble countertops and the minimalist barstools complete the look. The backsplash is a lovely textured stone that reaches all the way to the ceiling and includes a rod for keeping cups and jugs handy.
Each of these kitchens is chock full of inspiration and ideas for your own home. If you're completely renovating or building a new kitchen, you can create your dream kitchen from scratch. If you're just refreshing your kitchen, there are lots of options here for a new backsplash, countertops or kitchen detailing. Pick the elements that appeal to you and fit your budget — and enjoy the kitchen!
The post Fresh Kitchen Designs that Will Make You want to Spend More Time Cooking appeared first on Home Decorating Trends - Homedit.
---
Share this post
---
---