Creative Dorm Room Ideas for Every Budget
Posted by admin on
Thanks to affordable dcor and a range of creative design options for college students and young adults, its never been easier to find on-trend dorm room ideas. Whether youre shopping at retailers that specialize in budget-friendly finds for your first dorm, or youre strategically selecting compact living pieces from your favorite brands, todays post is filled with design inspiration.
From dual-function furnishings that maximize storage to fun accents that add pizazz to your interior, the featured finds below are perfect for dorm rooms and apartment alike. Just because youre making the most of your space doesnt mean you need to skimp on style. [photo below via Emily Henderson]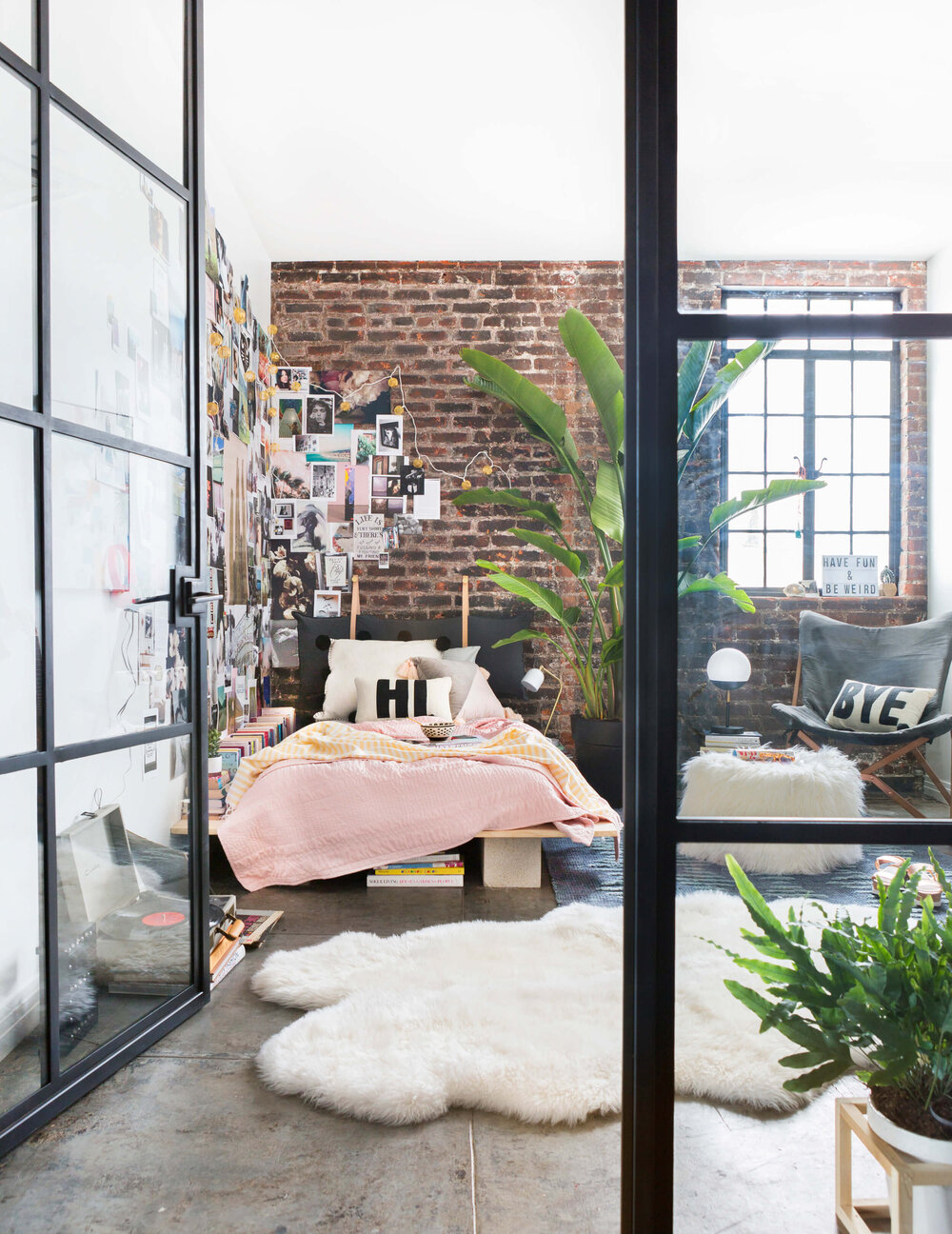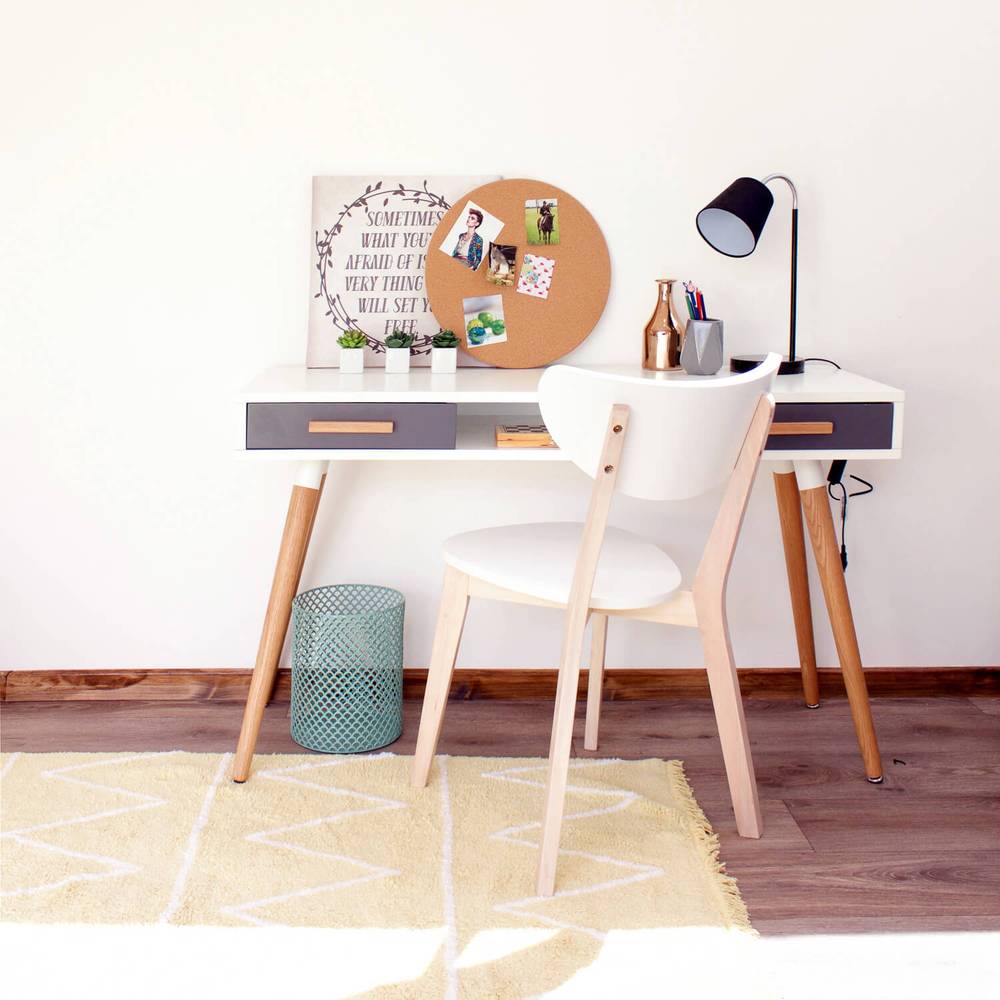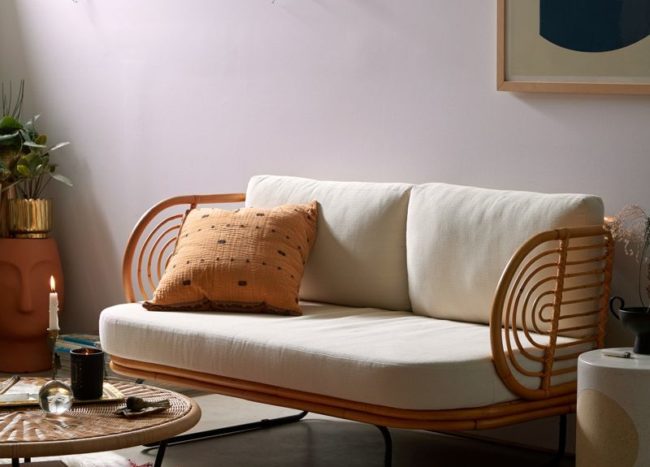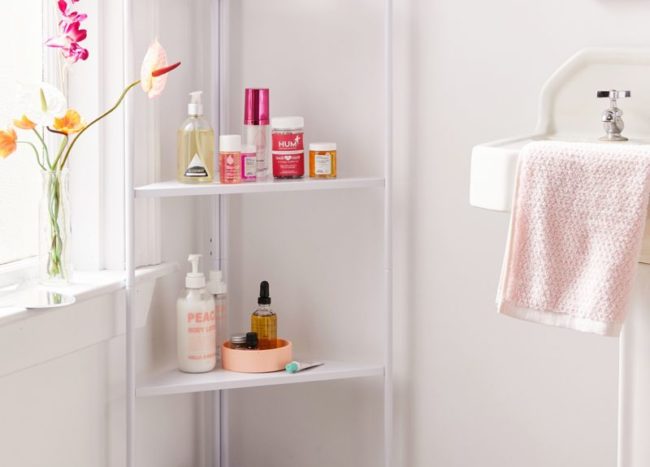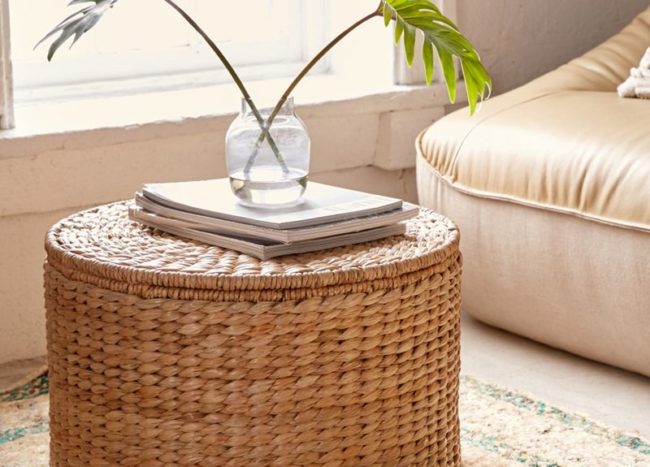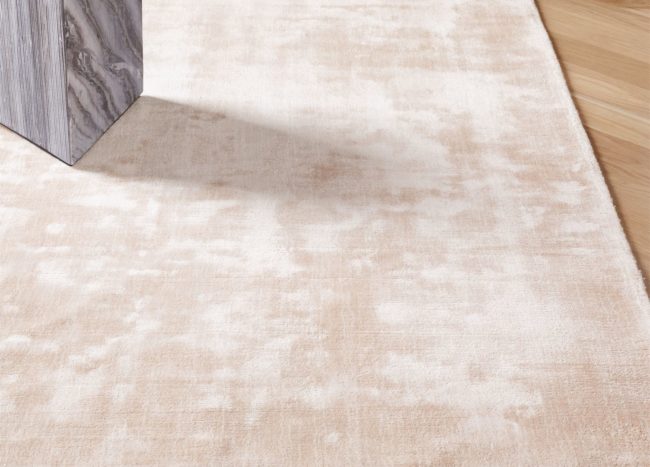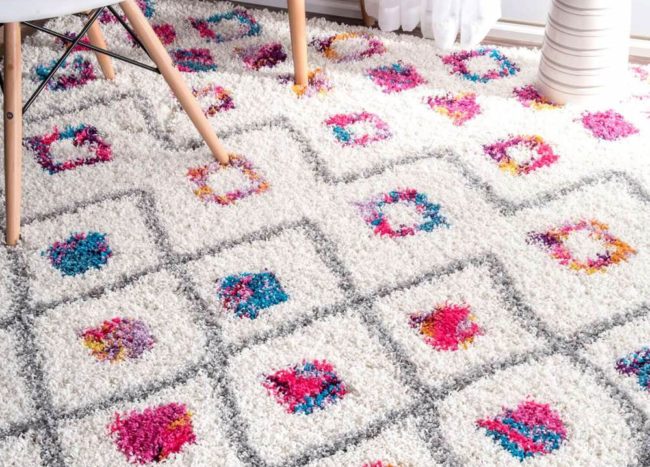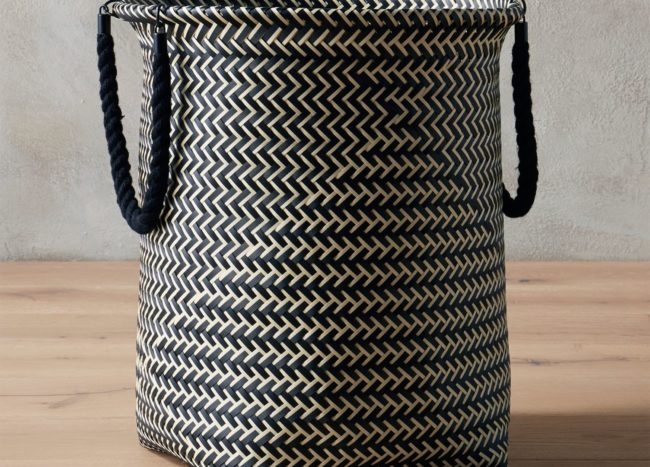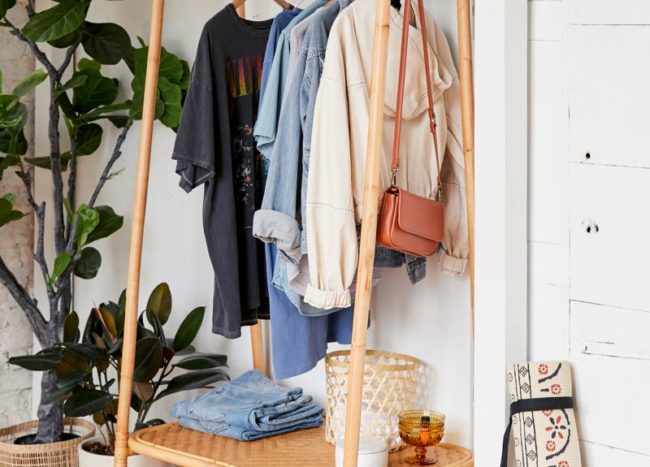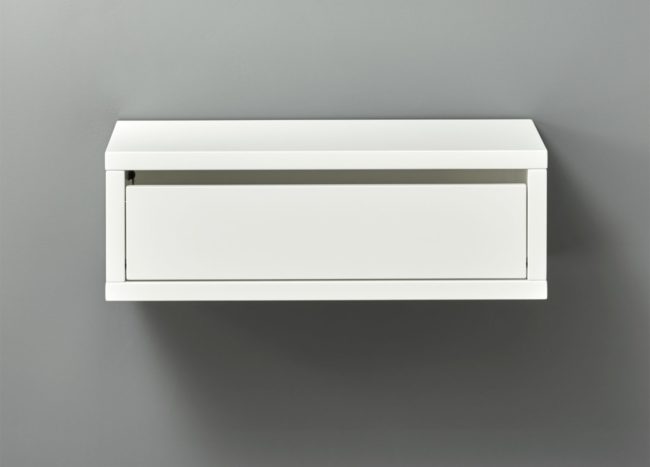 Space-Saving Solutions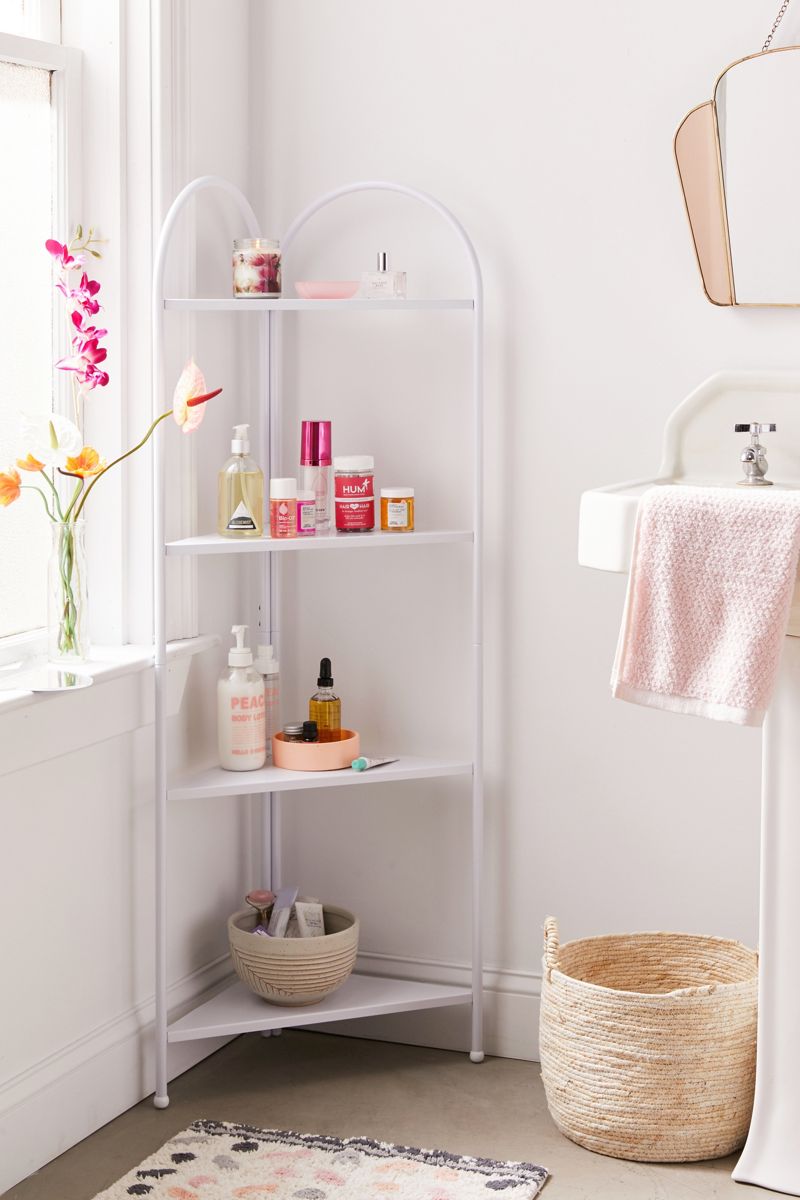 When youre maximizing your square footage, space-saving furnishings are a must. The first three featured finds in this section of todays post are from Urban Outfitters, a brand offering stylish dcor that seamlessly blends practicality with current trends. Check out their On Campus offerings here.
This Etta Corner Shelf ensures that you use the corner to your advantage. If you have a wall with a window that you dont want to block with a furnishing, corner shelving is the answer. Not to mention, since many dorm bathrooms dont include built-in shelving, this this piece offers a simple, design-forward solution.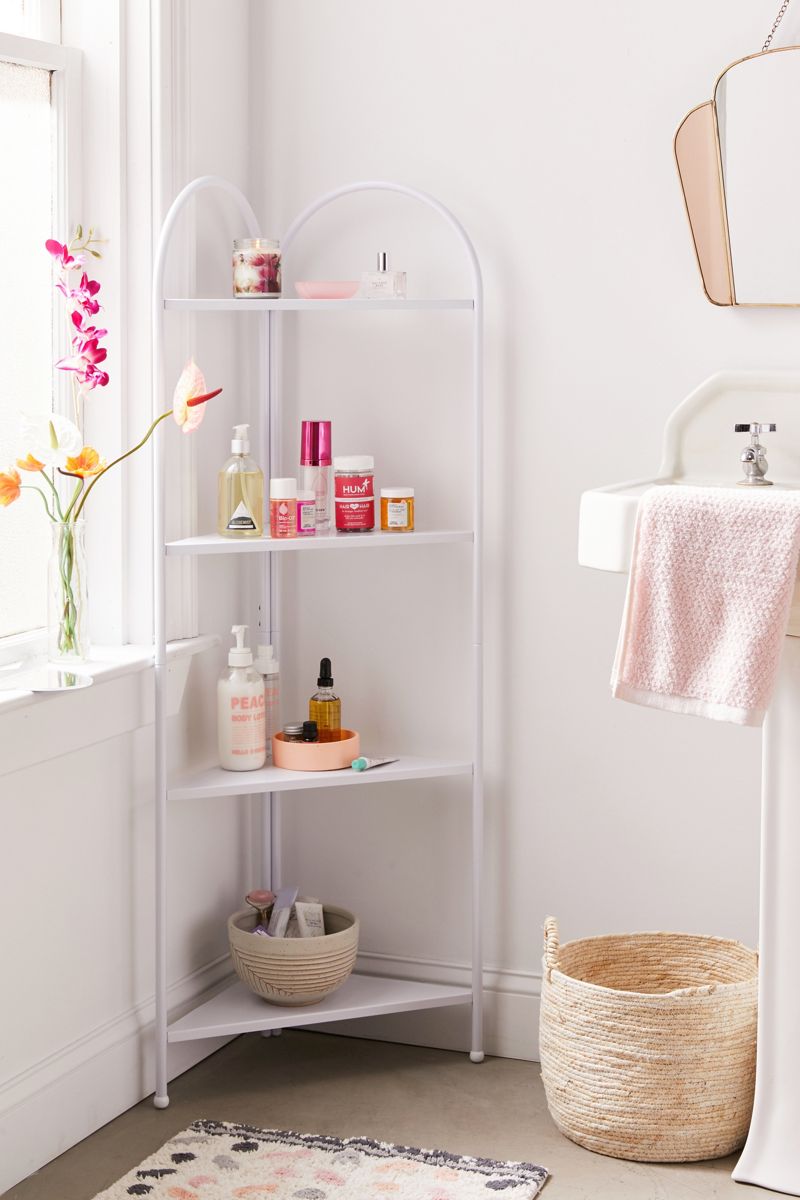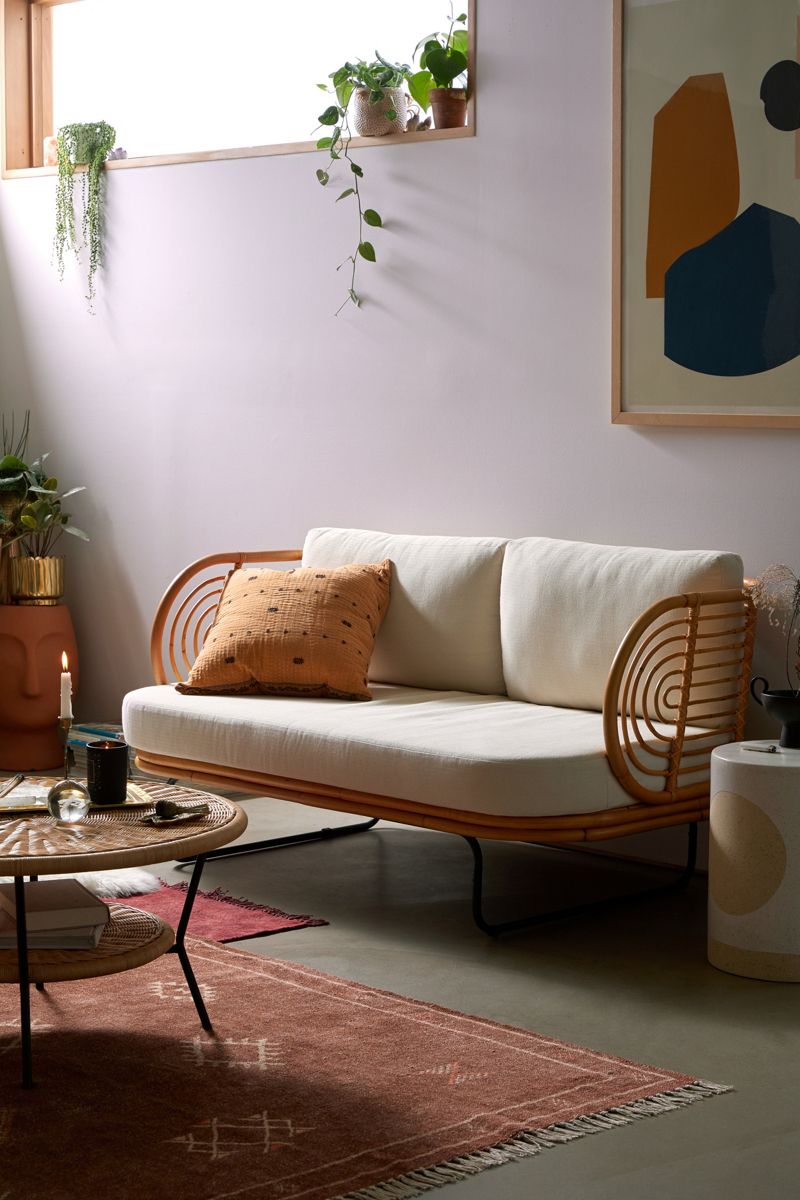 When living is compact, furniture must be slim and make use of the available vertical space. The Barkley Storage Shelf beautifully combines bamboo with white MDF shelving for a sleek, earthy storage solution. Dont resist the urge to display a few of your favorite items, such as potted plants and collectibles. Theres plenty of room for the practical as well. A $49 price tag makes this piece a true win: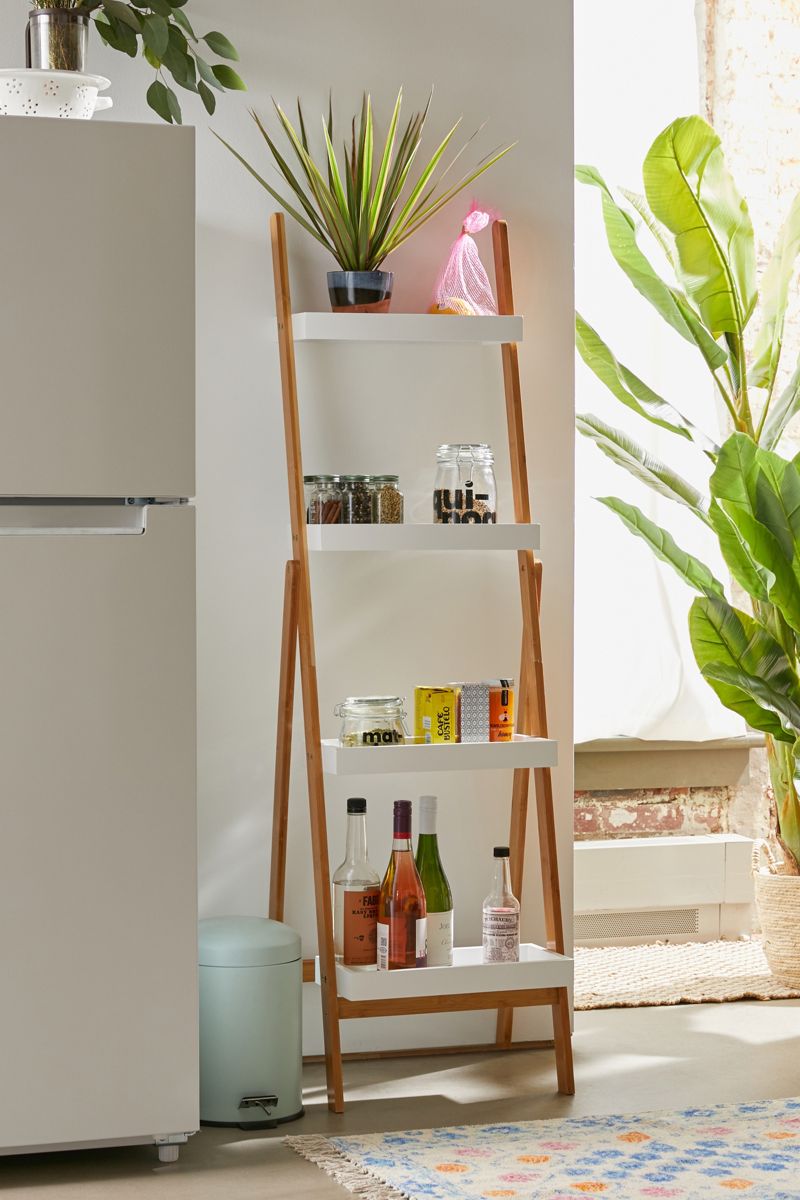 Need a settee rather than a long sofa? If you have the budget for something special, the Mikko Settee Sofa features rattan concentric curves that bring a retro-modern vibe to your interior. This showstopper delivers instant design magic without dominating the room.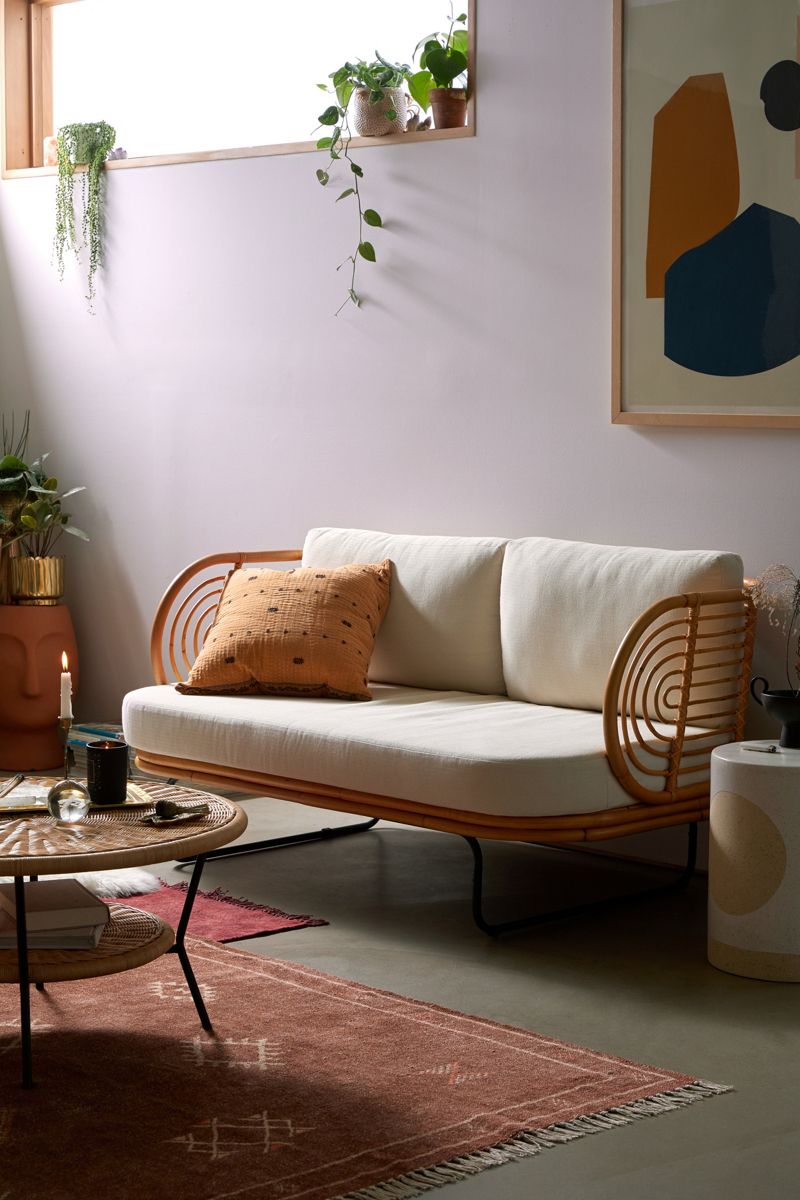 For a slew of space-saving solutions, check out this sporty dorm room designed by Emma Parkinson for IKEA. Strategic choices include using storage cabinets as a nightstand and placing an extra mattress behind the bed for use as a backrest. It can then be moved to the floor for an impromptu bed when guests visit.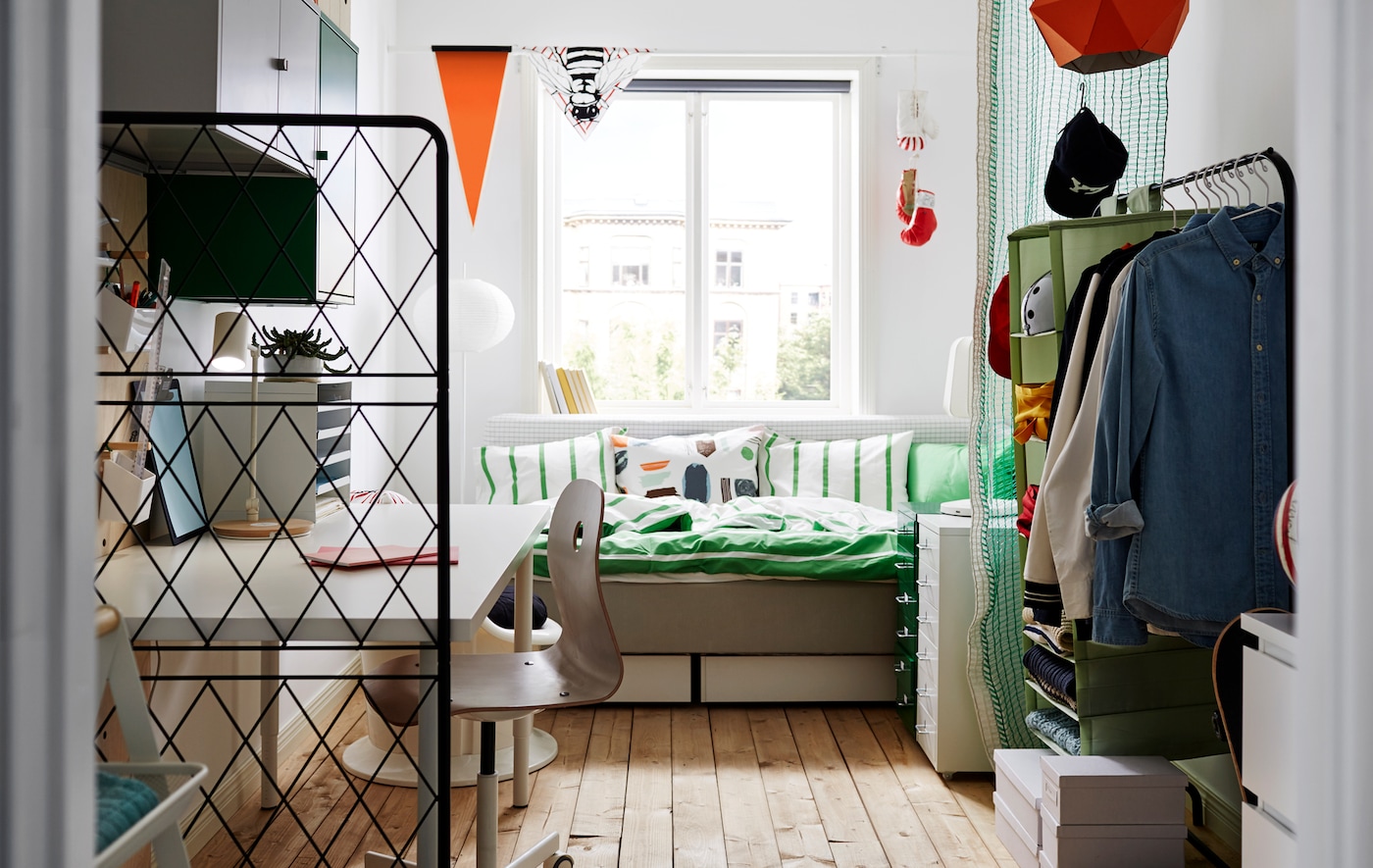 Storage with a Twist
When it comes to dorm room ideas, dual-purpose furniture is a must. Even better if the piece offers more than two uses! An arched mirror, a cube storage cubby, and hooks for hanging items such as purses make Urban Outfitters Rooney Entryway Storage Mirror an unforgettable find. Compact yet bold, this furnishing is worth the investment when it comes to setting the tone for your dorm room the minute you enter the space.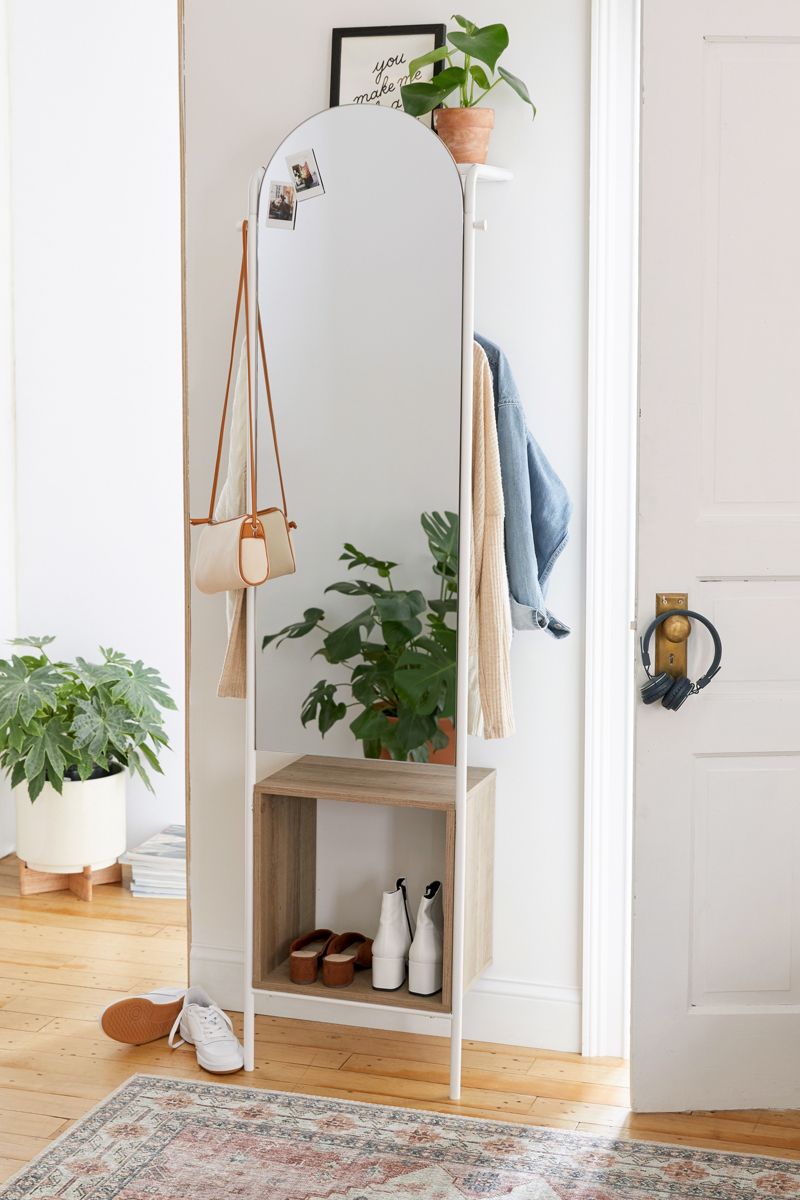 Urban Outfitters Alina Storage Ottoman can also double as a coffee table. Lift the lid, and you have an instant storage receptacle. Perfect for extra blankets, items you havent had time to file away, or anything you want to keep out of sight.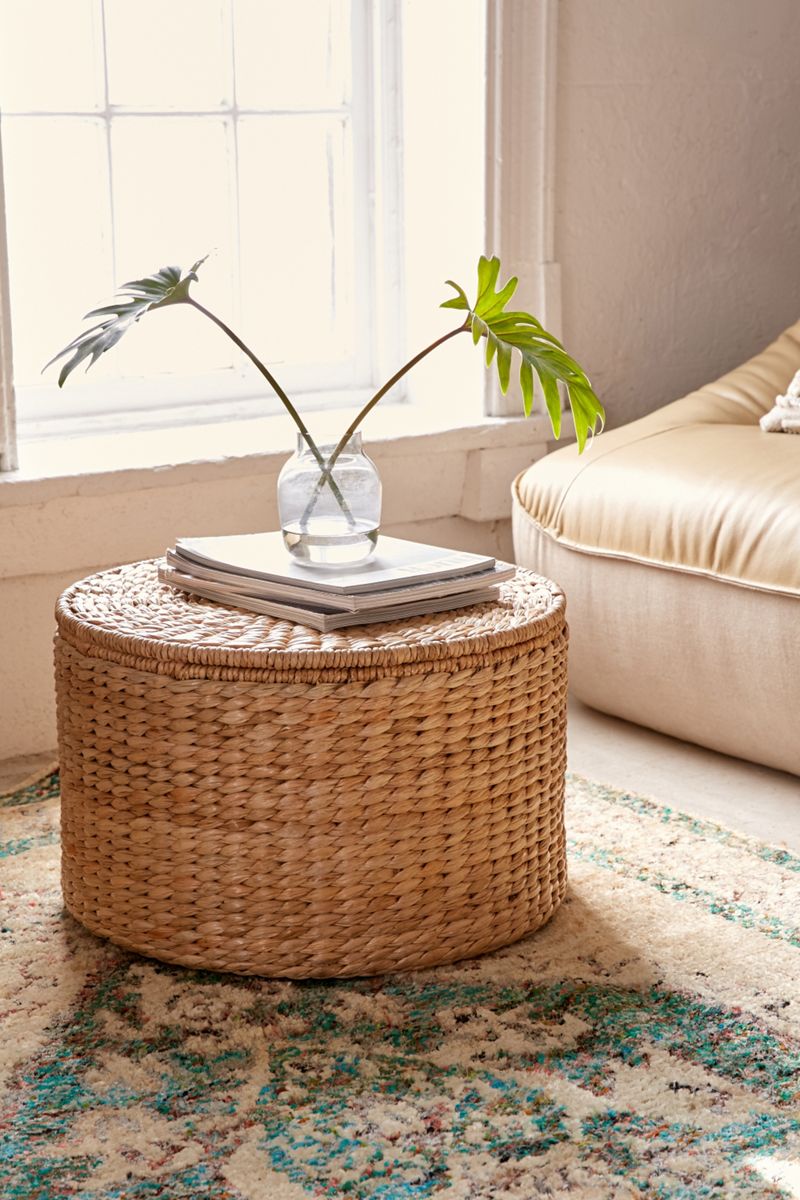 Dormifys Collapsible Storage Ottoman Bench with Seat Back can serve as a chair, an ottoman, and a bench. Tuck it wherever you need some extra seating, and use it to hold books, notebooks, extra blankets, and more.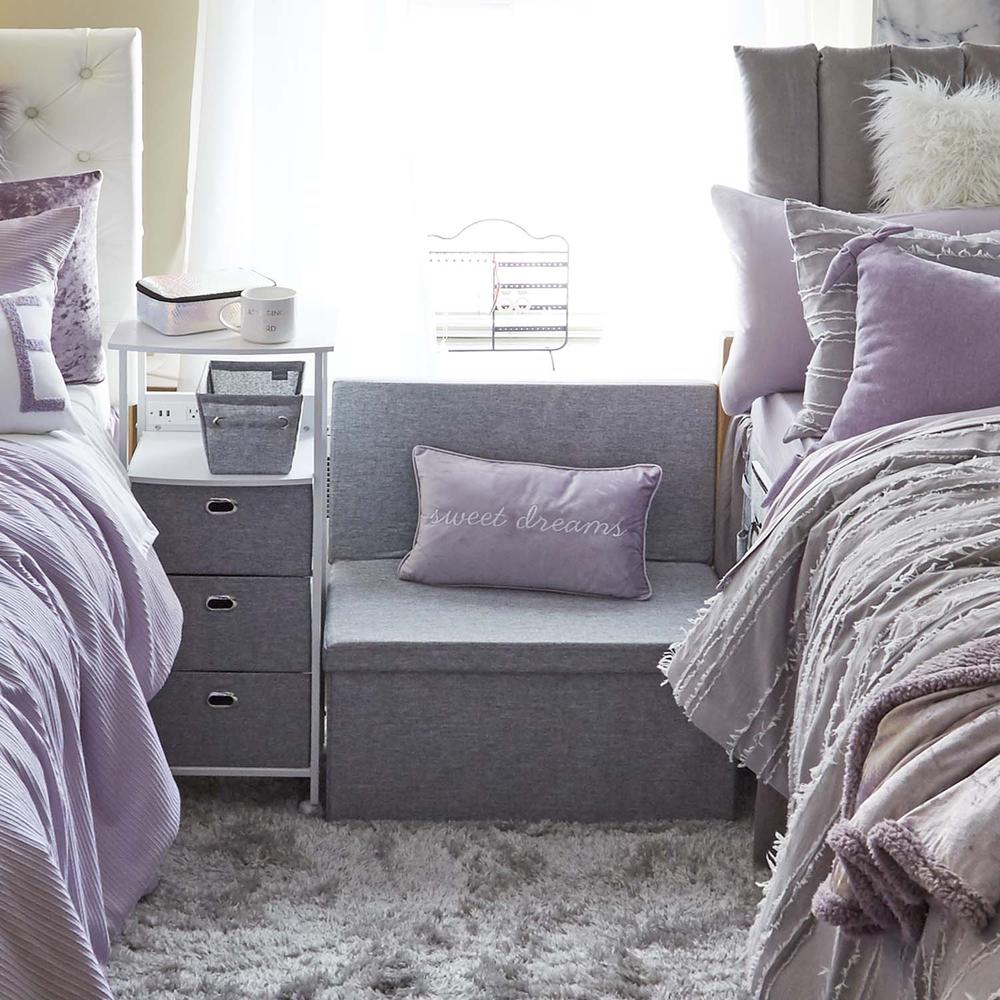 Urban Outfitters Carina Clothing Rack takes rattan and bamboo to new heights. This super stylish way to solve a compact closet (or no closet) problem has the added benefit of a built-in shelf. Plus, it encourages you to simplify your life by curating a capsule wardrobe for a less-is-more approach. You can check out the rest of the brands clothing rack options here.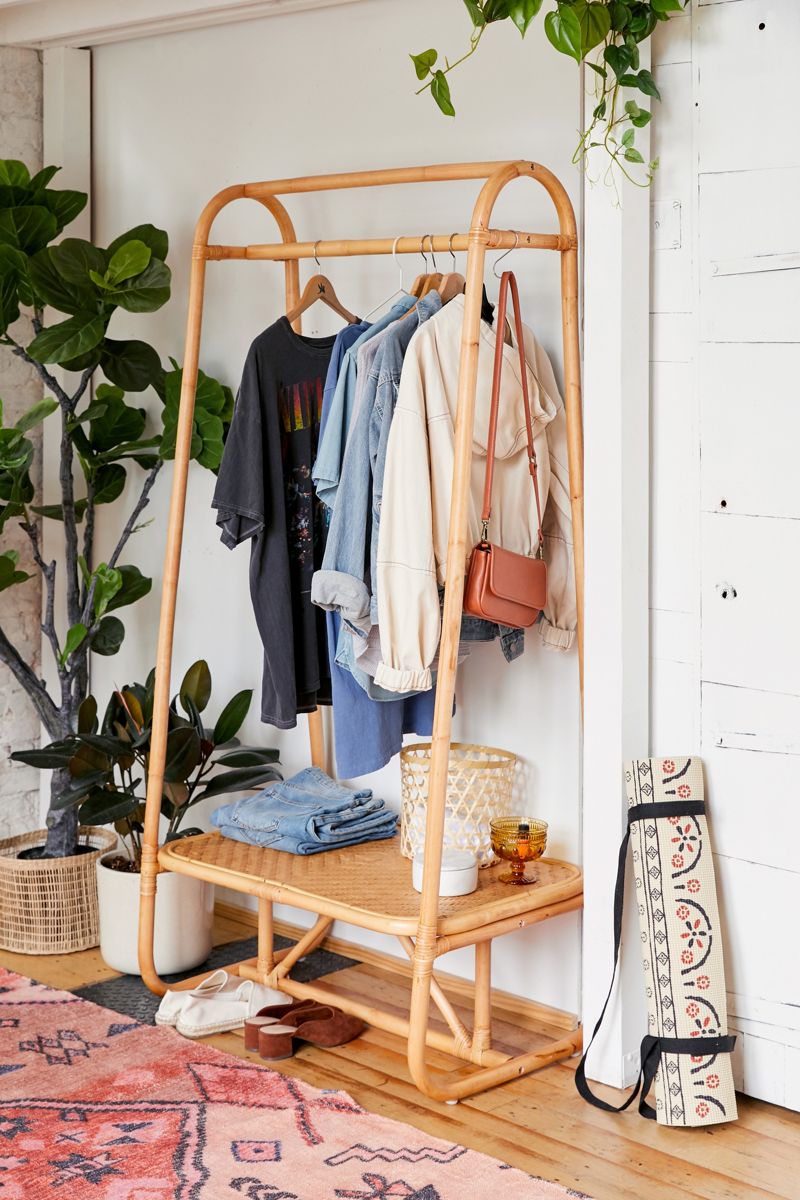 Dormifys 5-Drawer Storage Unit is perfect for stashing clothes, accessories, and anything else that needs to be cleverly concealed. Plus, you can use it to pull nightstand duty between two twin beds, or to help define a distinct area within a small space, as shown below.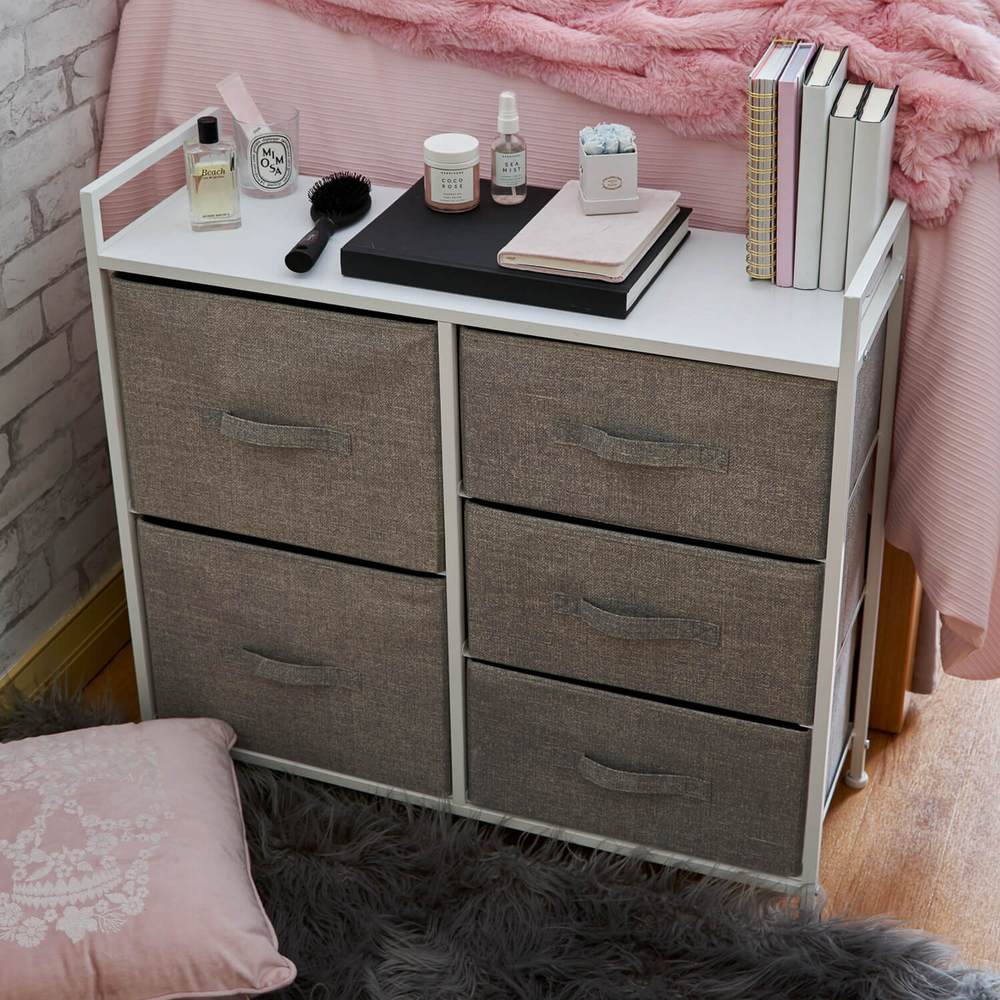 Not enough storage in the kitchen? The Erin Metal Kitchen Rack from Urban Outfitters isnt your typical butcher block rack. Not only are there three shelves plus a top rack, theres a wire grid for extra hanging storage. A must for culinary spaces that lack the necessary cabinetry.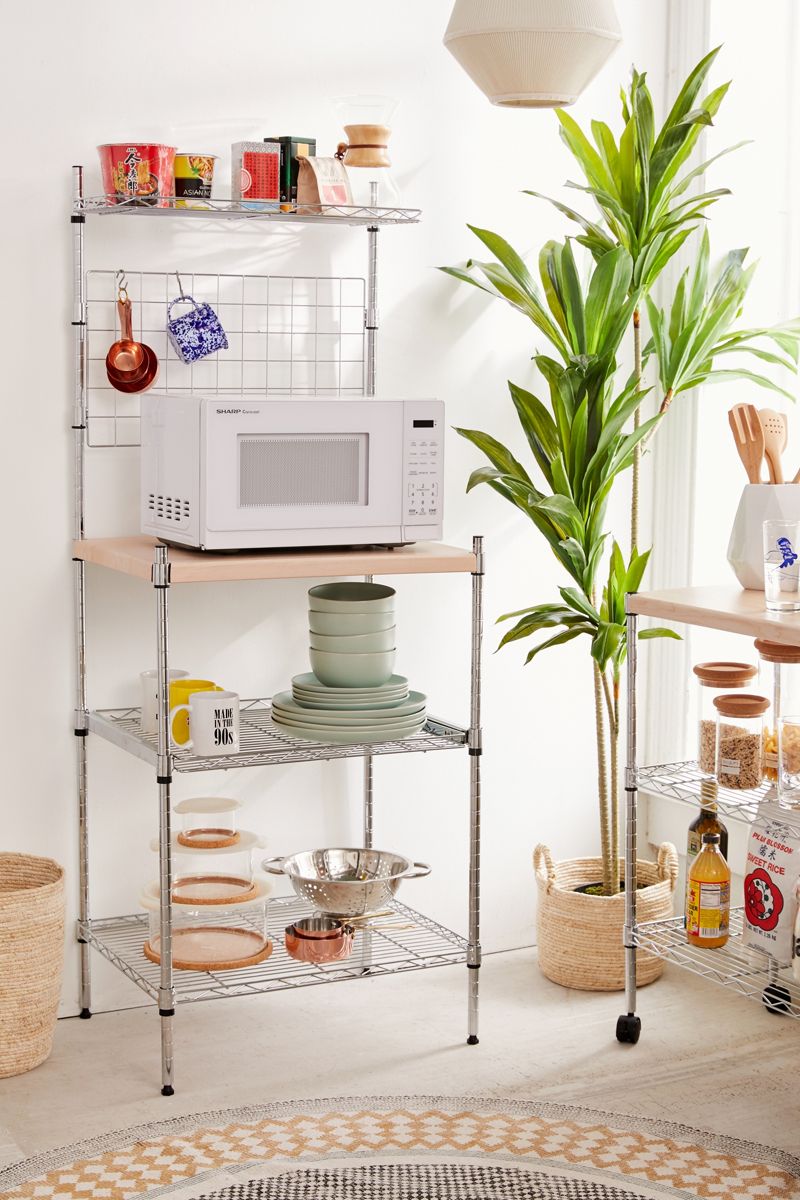 CB2s Slice White Wall-Mounted Storage Shelf makes the most of your wall space while freeing up the floor below. Plus, its bright white lacquered finish creates a sleek and modern look that you can beautifully incorporate into any space. Use it as a nightstand, or even as a writing/work surface.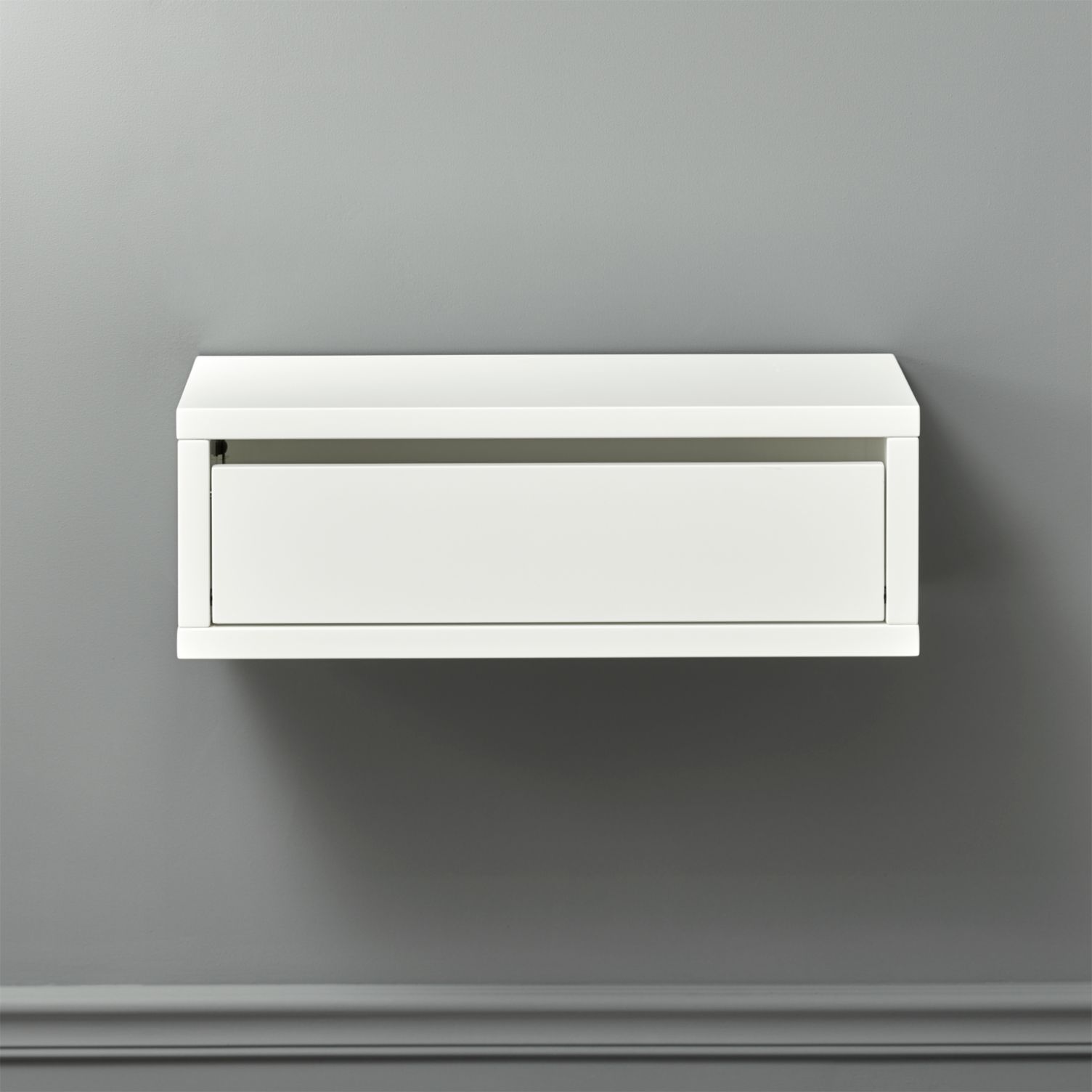 Stylish Rugs
A rug has the power to anchor your space, introducing just the right amount of color. Soothing and soft, CB2s Posh Pink Distressed Rug is handloomed from rayon threads. The look is luxe and dreamy. An extra-plush pile brings comfort home. A 5 x 8 version is $349, delivering maximum cushiness.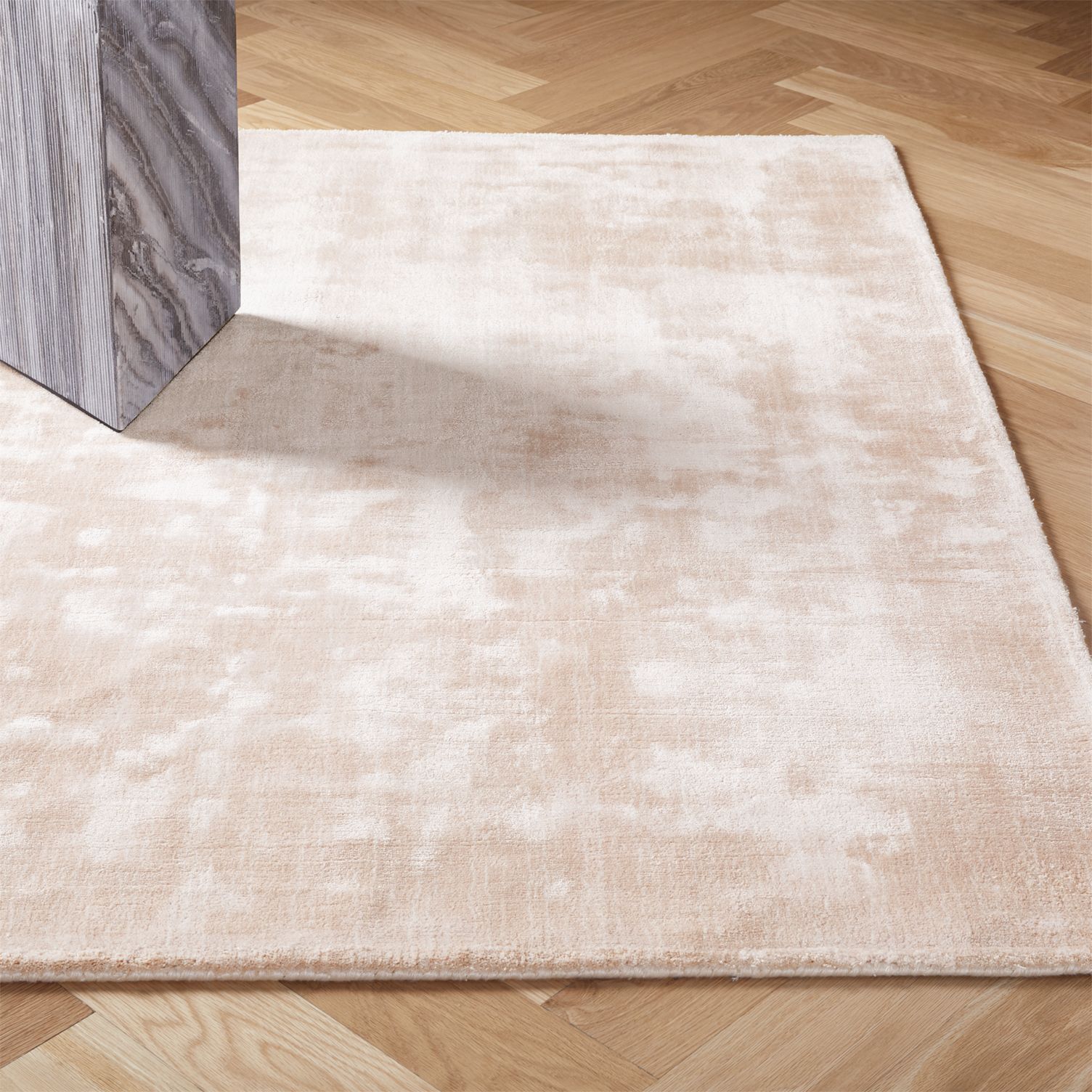 This Washable Yellow Geometric Rug from Dormify takes the zigzag in a sunny direction, thanks to a buttery color that will blend with many a palette. The sizable cotton rug can be thrown in the washing machine, making it as practical as it is stylish.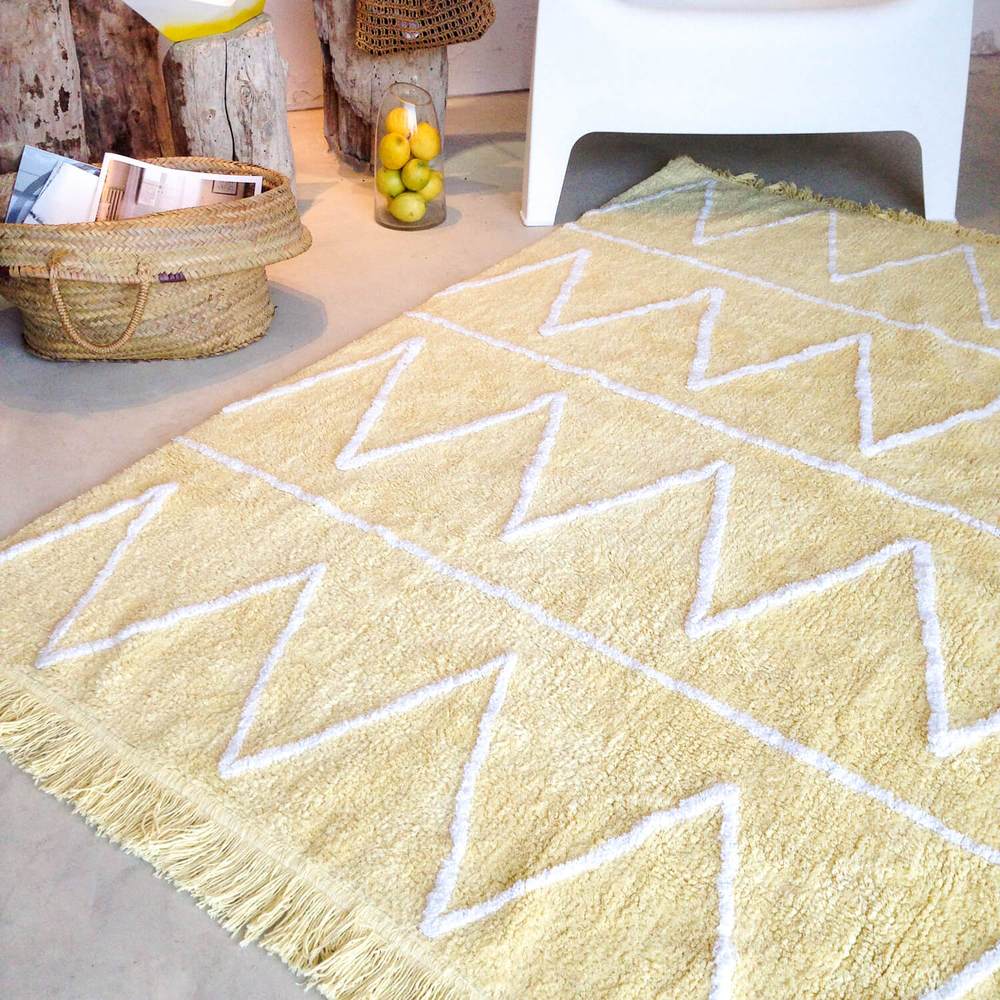 Moroccan-style rugs are one of todays top design trends, so its no wonder Dormify is offering their own version with a rainbow twist. Many a bright color means this rug has the power to unify the hues in your space or add a much-needed punch of vibrancy. Did we mention that its super comfortable to walk on?!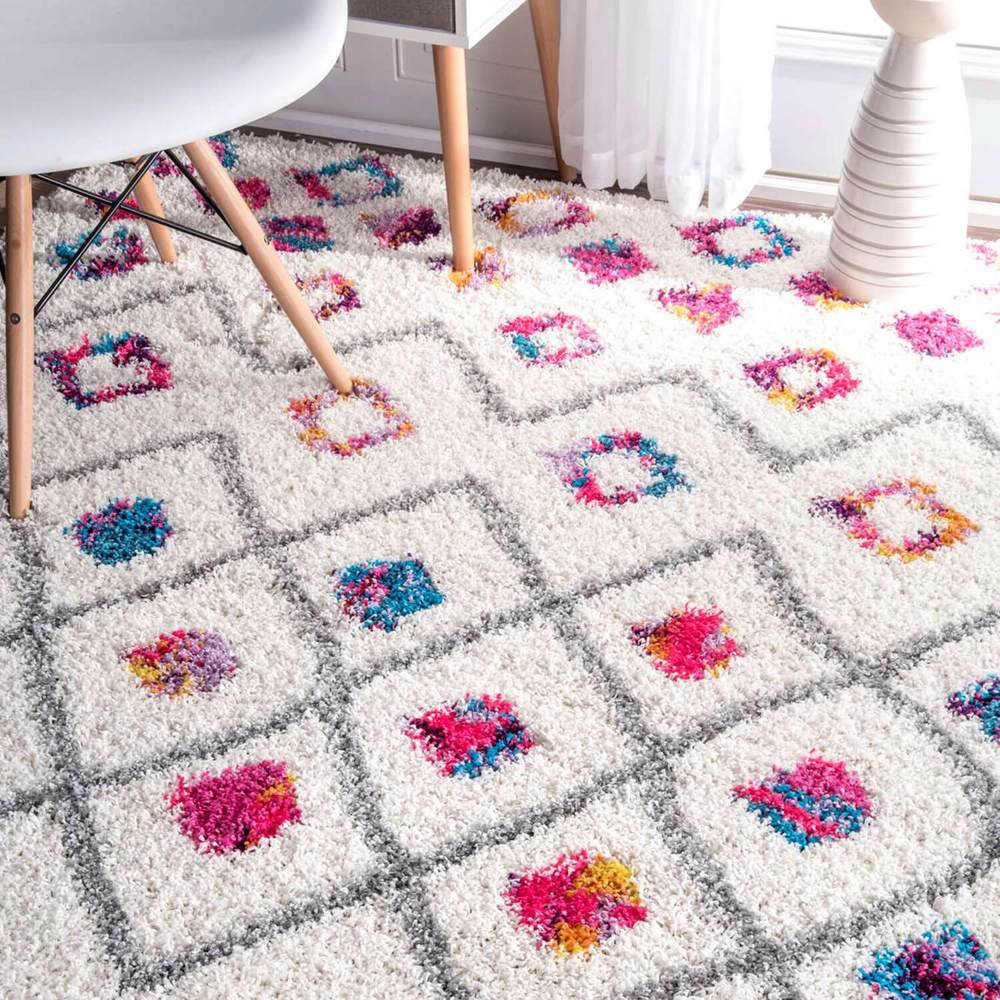 Fun Details
Now we get to the fun part of brainstorming dorm room ideas: the icing on the cake! Personalizing your space with a few finishing touches makes a big difference. Bring a warm glow to your interior, along with a slew of photos that remind you of your nearest and dearest. Photo clip string lights are a big dorm design trend, and you can find them at a range of retailers, including online marketplaces such as Amazon.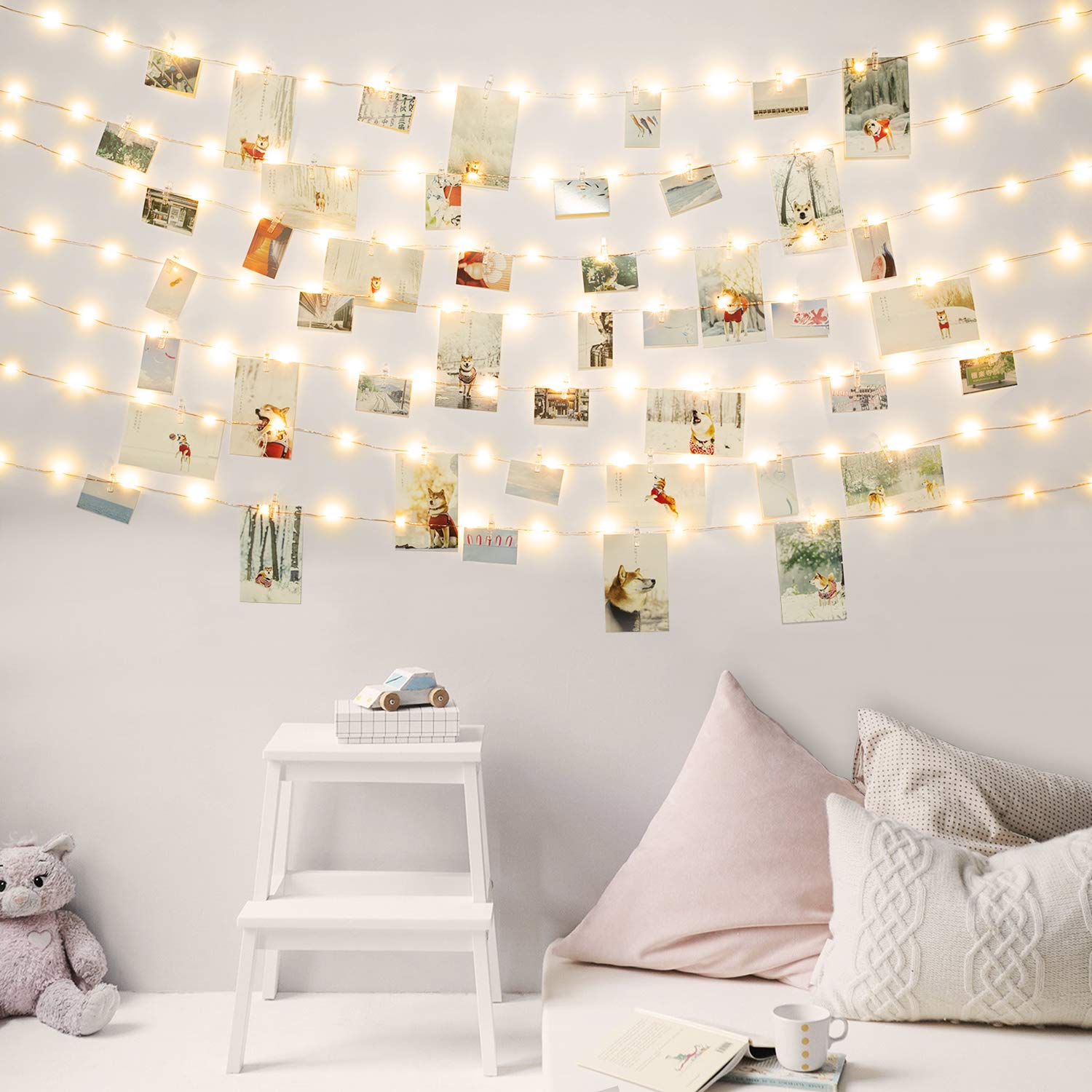 Lets talk about baskets. In todays design world, theres no trendier way to wrangle clutter. A range of earthy selections takes the basic basket into beautifully breezy territory. Plus, baskets make fun design accents, adding an instant dose of texture! For only $39.95, CB2s Parkay Small Hamper features a modern graphic pattern with a striking interplay of dark and light. Use it as a hamper, or use it for extra storage.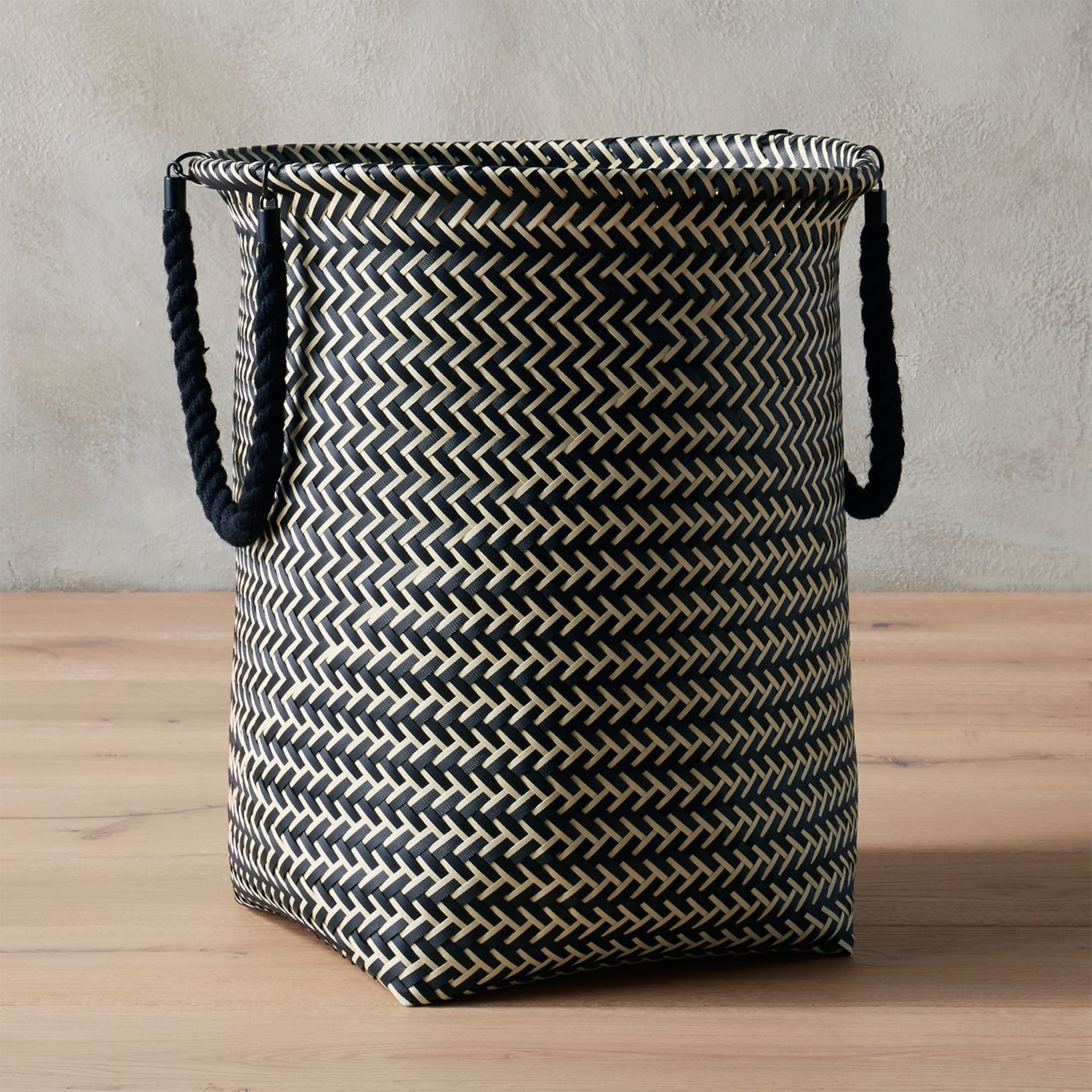 For a super budget-friendly belly basket, check out H&M Homes Folding Basket. Braided seagrass is the material of choice. These baskets are eye-catching when displayed in a row, so use them to fill up your shelving for a tidy, on-trend look.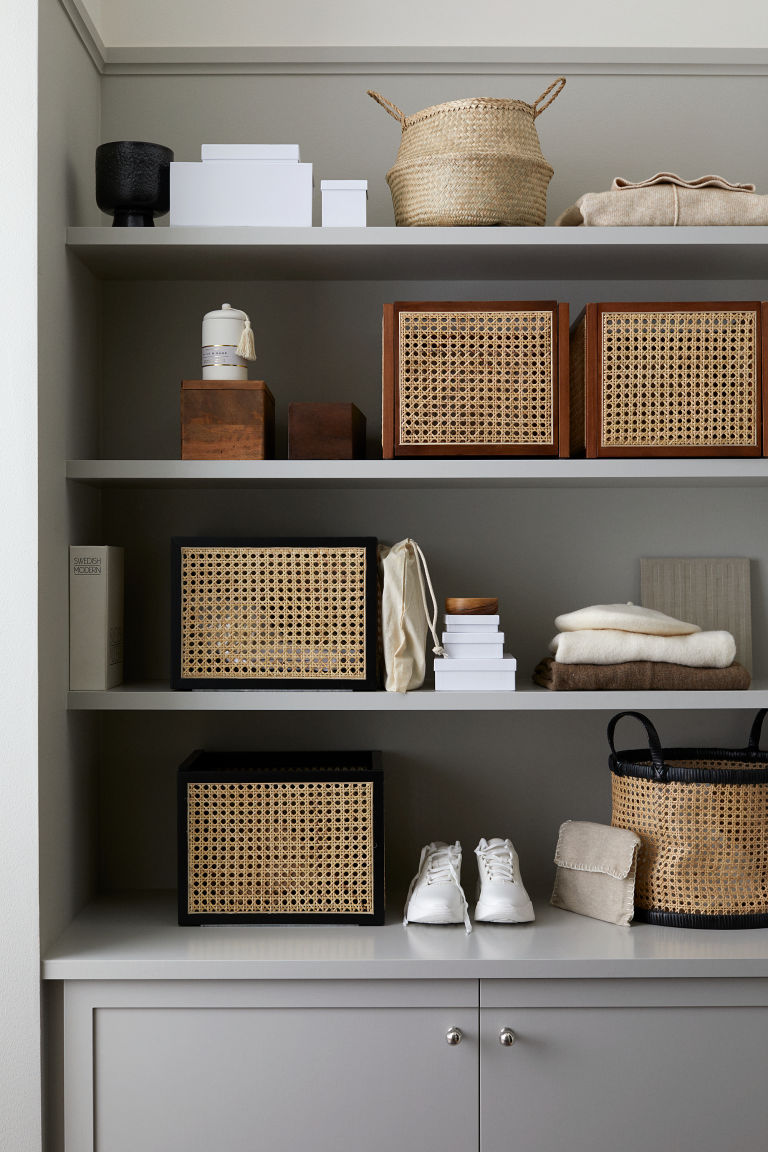 Message boards, wall hangings and neon lighting are a few of the fun dorm room details featured in this House Beautiful article showcasing dcor from Target. Dont forget the power of lovely bedding! Also remember to make room for creature comforts like your favorite turntable.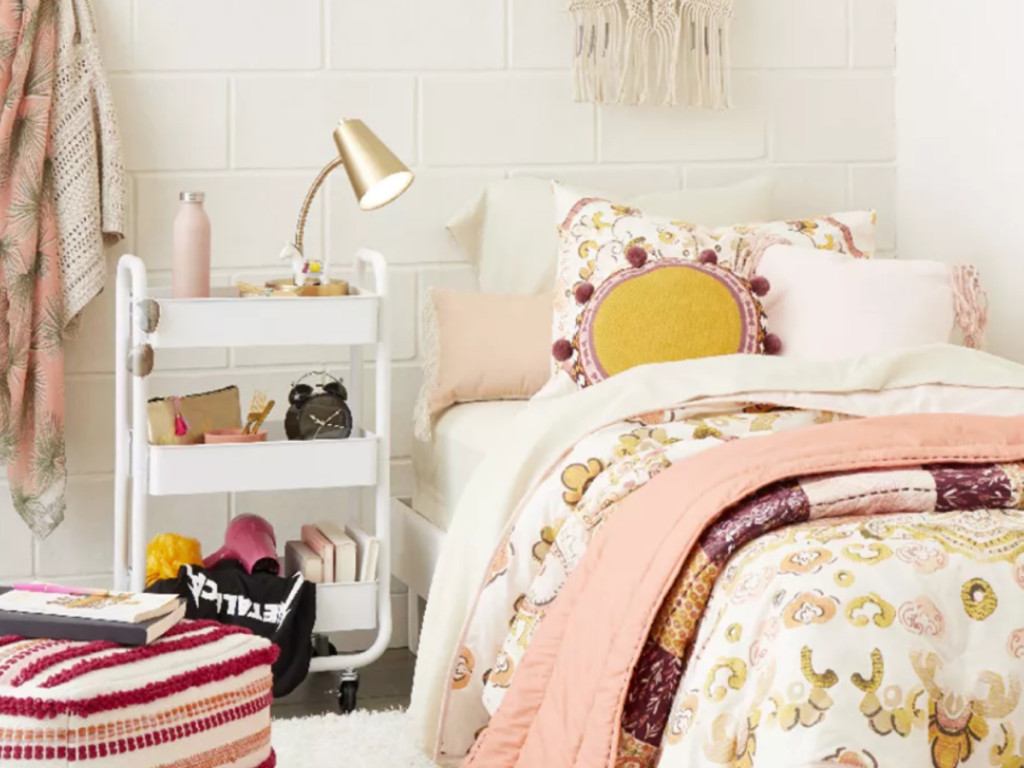 When Target asked Emily Henderson to design her dream dorm room, how could she resist?! The results aredreamy and fabulous!! While your dorm may not feature concrete flooring, a brick wall and a steel door, this look is very doable (and filled with fun DIYs). Check out all of the design details here, and let the photo below be a great reminder that a gallery wall featuring your favorite inspirational images can really make your space sing.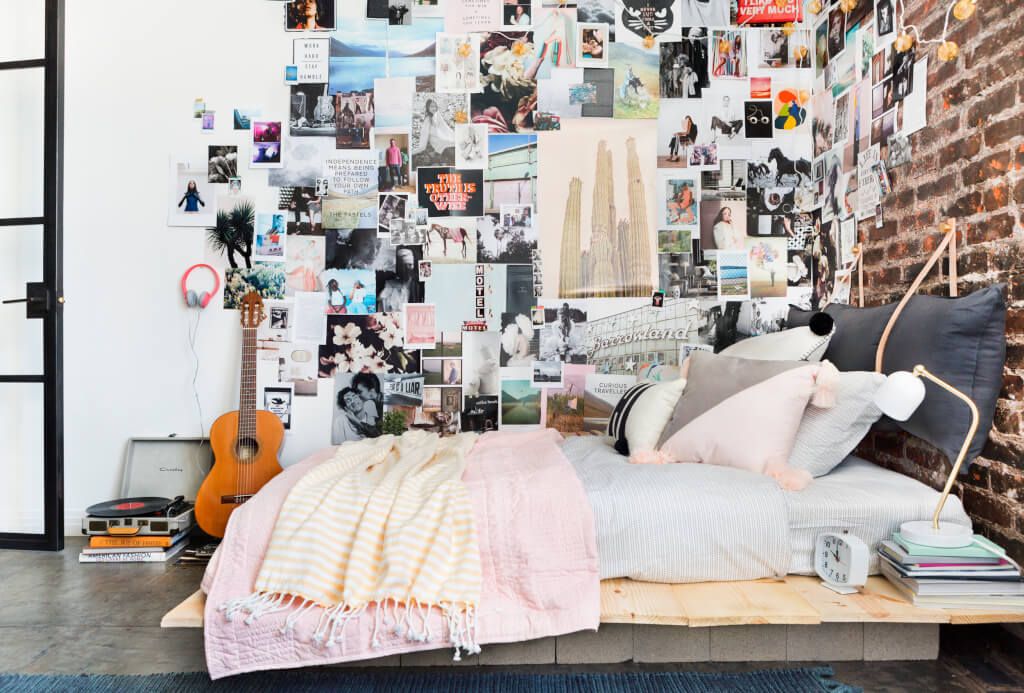 We hope todays post has inspired you with a range of dorm room ideas, complete with some amazing pieces you can pick up at your favorite retailers. Happy decorating!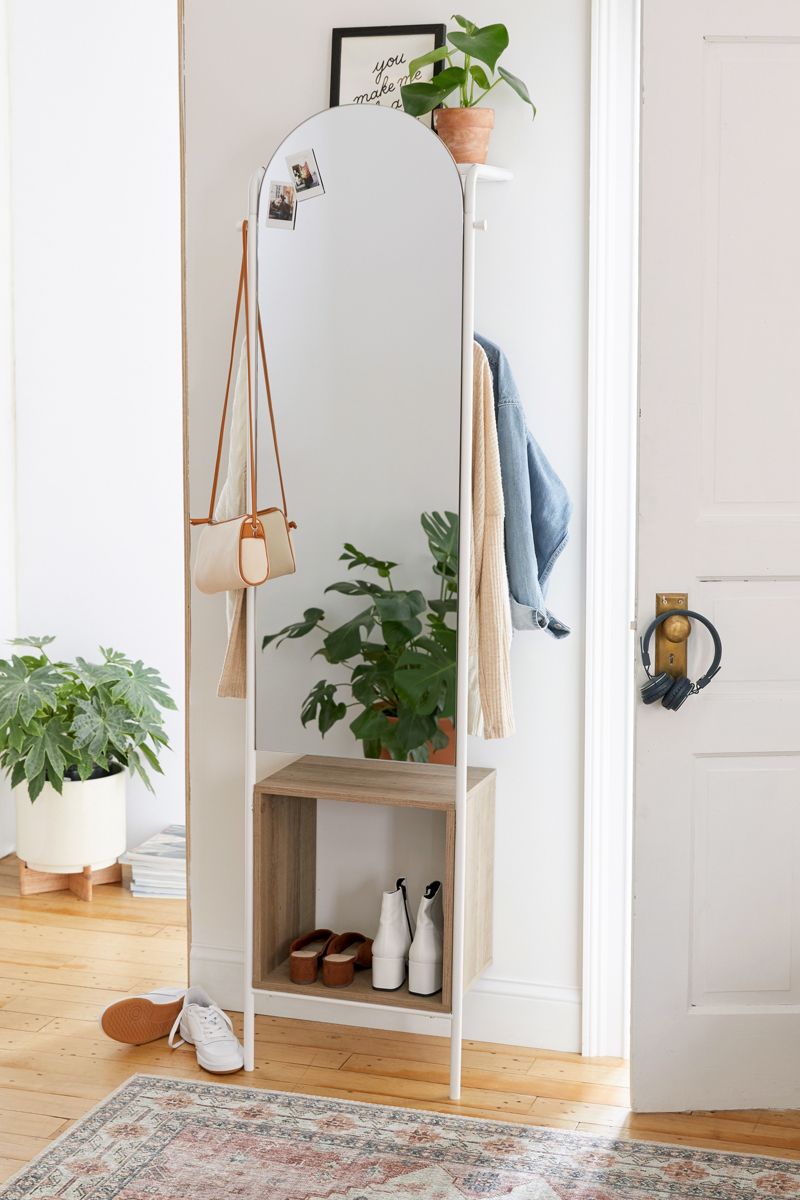 You're reading Creative Dorm Room Ideas for Every Budget, originally posted on Decoist. If you enjoyed this post, be sure to follow Decoist on Twitter, Facebook and Pinterest.
---
Share this post
---
---