Apartment living with kids: interior designer shows how he does it
Posted by admin on
By Lorenzo Logi
Balancing a growing family, a new job and a renovation is no small achievement. Further complicate that with heritage restrictions on a company titled property and competing design objectives in a compact space, and you have a truly acrobatic undertaking.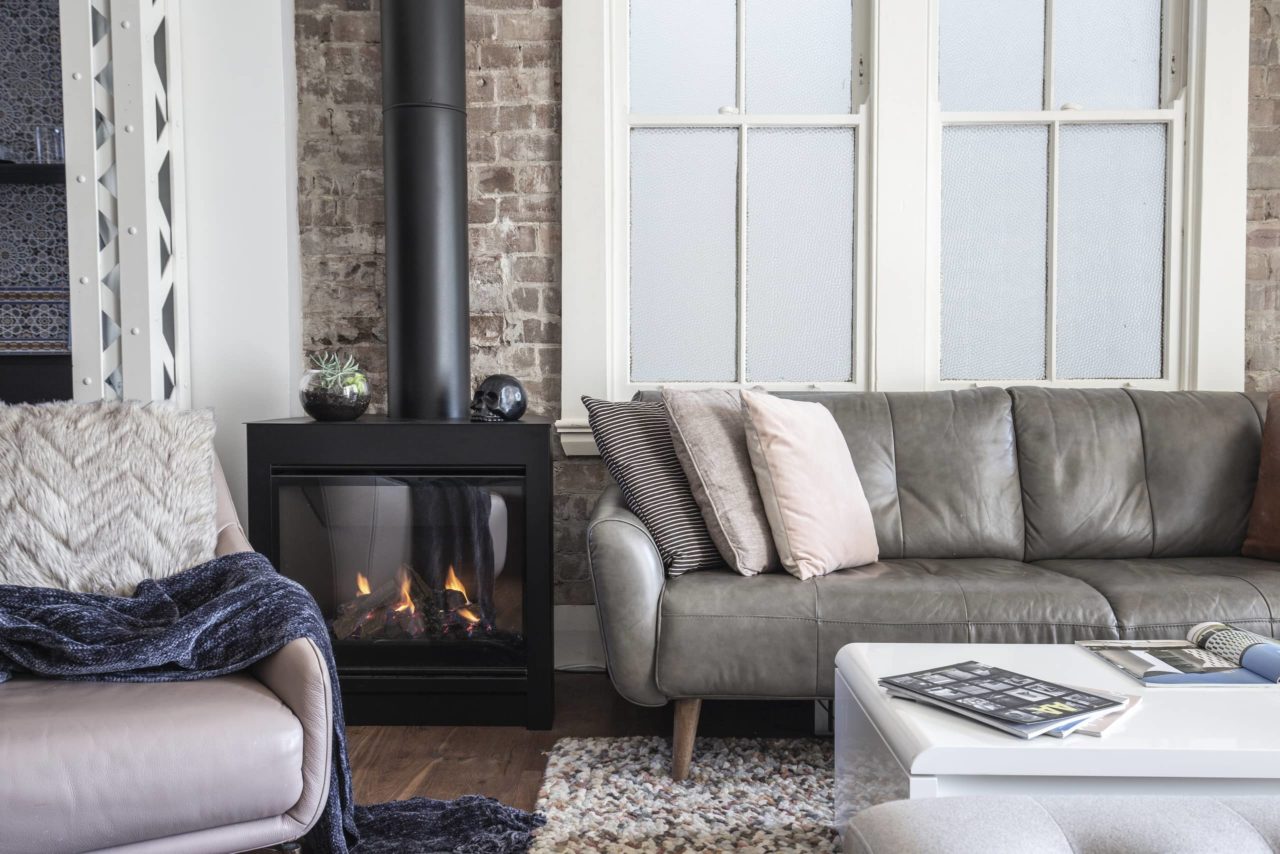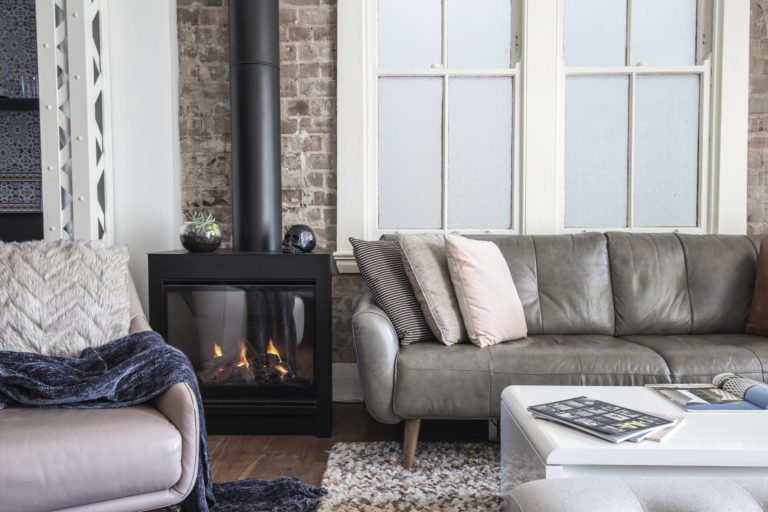 Such was the challenge facing Spanish interior designer Jesus del Toro and his family as they embarked on the redesign and build of a 1920s Walter Leslie Nielsen apartment in inner-city Sydney. After months of open houses and budget-busting auctions, and having reluctantly abandoned their hopes of finding an affordable home near the beach, Jesus and his wife Agnes were charmed by the central location and Art Deco setting of an elongated unit in Potts Point with views of St Mary's Cathedral and the CBD skyline.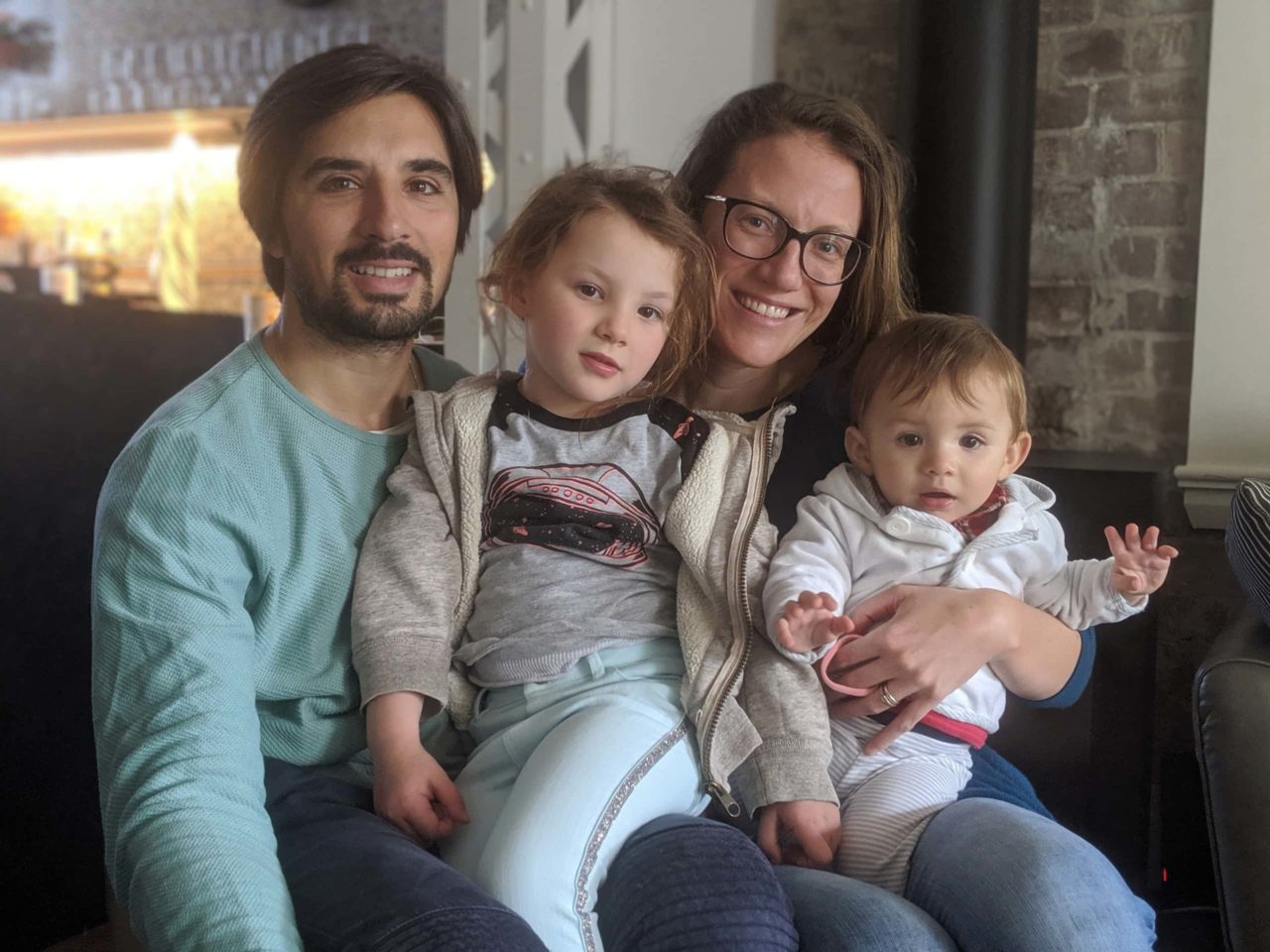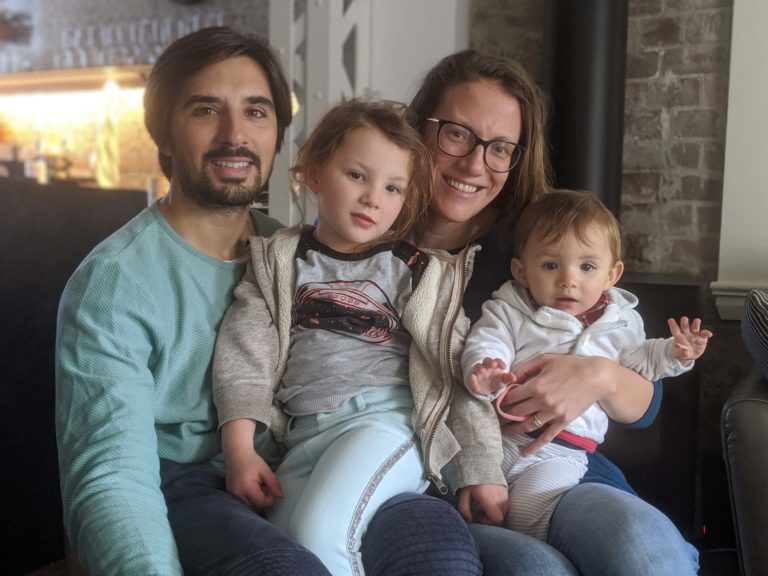 The apartment was in sore need of renovation, however, with a dated, compartmentalised layout that squandered the abundant natural light. And, bound by exacting heritage conservation regulations, the task of adapting the space to the needs and tastes of a modern family of four promised to be challenging.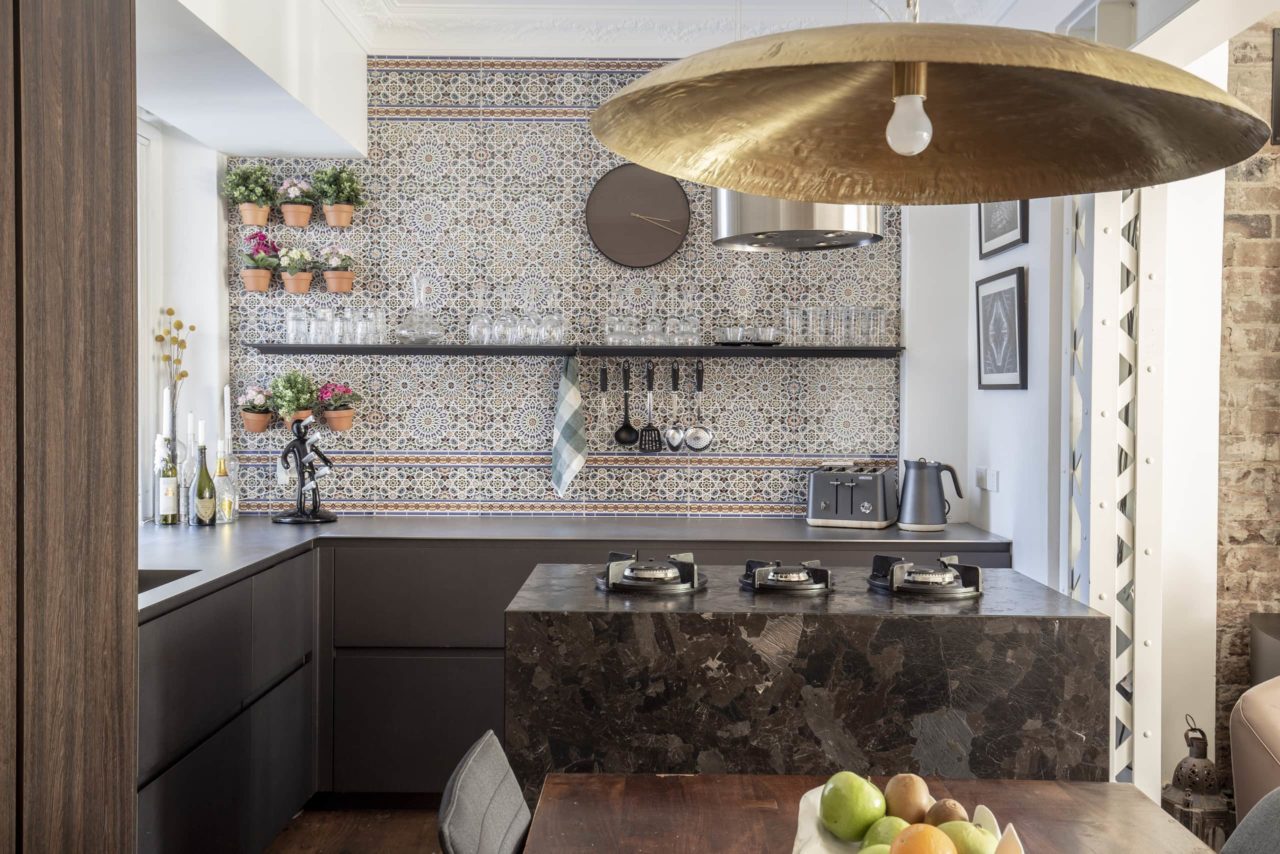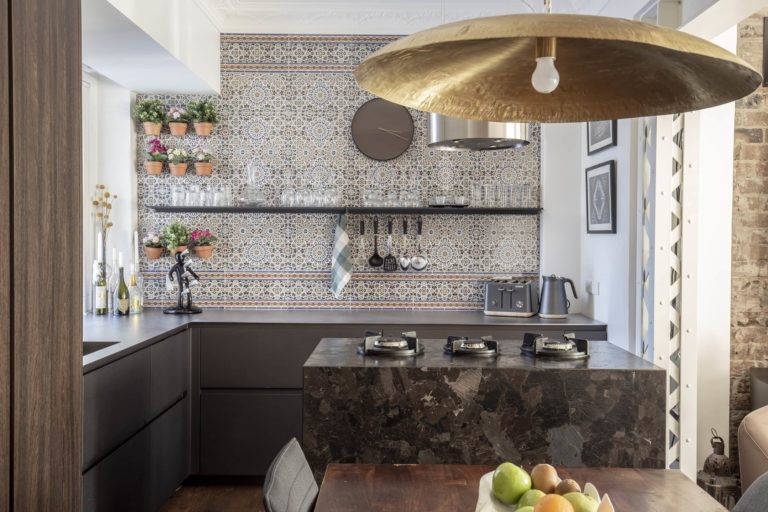 "This unit was not in our brief for house-hunting," says Jesus. "We were looking for something completely different. But this was very eccentric, urban, well-connected, and we were excited by the classical style and also the potential to do renovation works."
The old, early thirties layout was dark with one long corridor and single rooms. Moreover, the kitchen was designed as a cubicle to be occupied solely by household staff, and the bathroom needed decades worth of updating.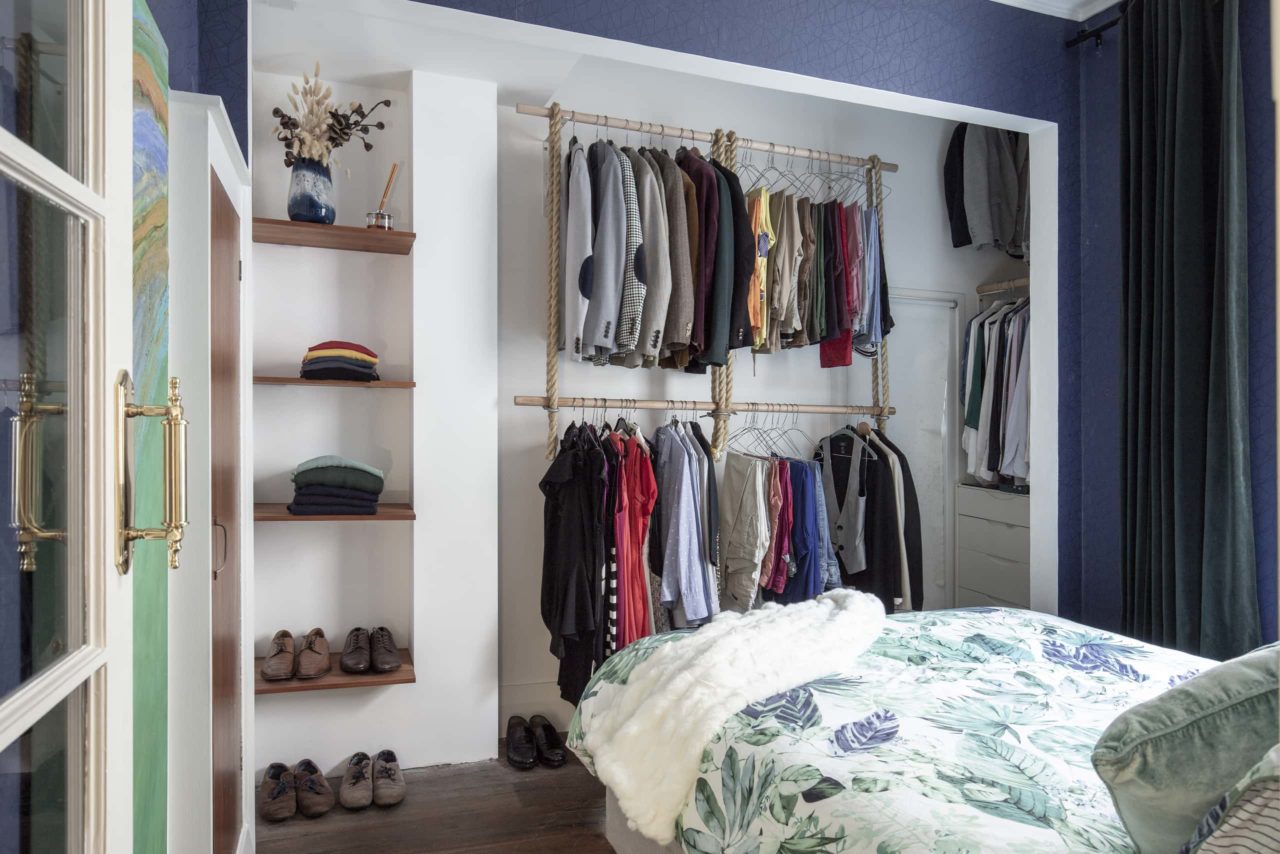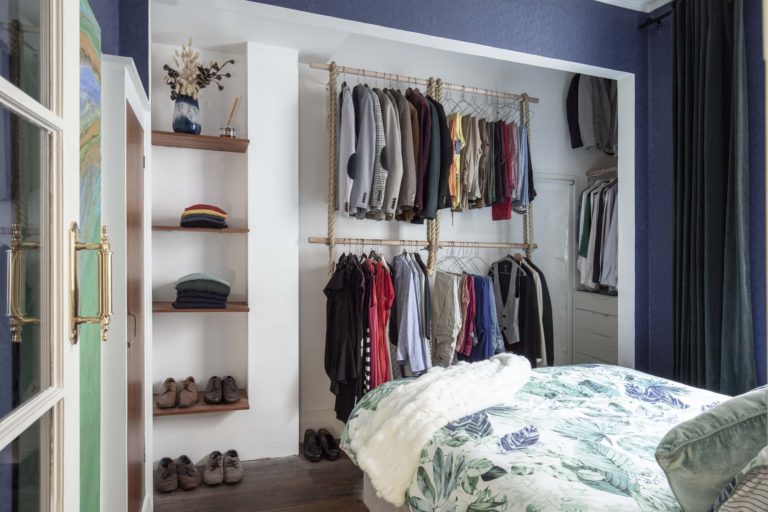 "But there was huge potential to turn it into something awesome, to flip it around and make it contemporary, while respecting the existing features and empowering them with new ones in the same style," Jesus explains. 
Even with the freedom to rearrange the layout, the task of how to coax all the needs of a young family out of an 80sqm space remained complicated. For Jesus, however, finding resourceful solutions in limited spaces was a familiar challenge. "In my house when I was growing up, we were nine people, including my four older brothers and two grandmas. That means everything inside the house needs to do two or three things. My room was shared with one of my older brothers. I still had my little desk for studying, which doubled for table tennis and foosball. My mum or my grandma was, usually, doing the ironing or the washing in there too. It was a multi-use sort of room, with fold-down beds."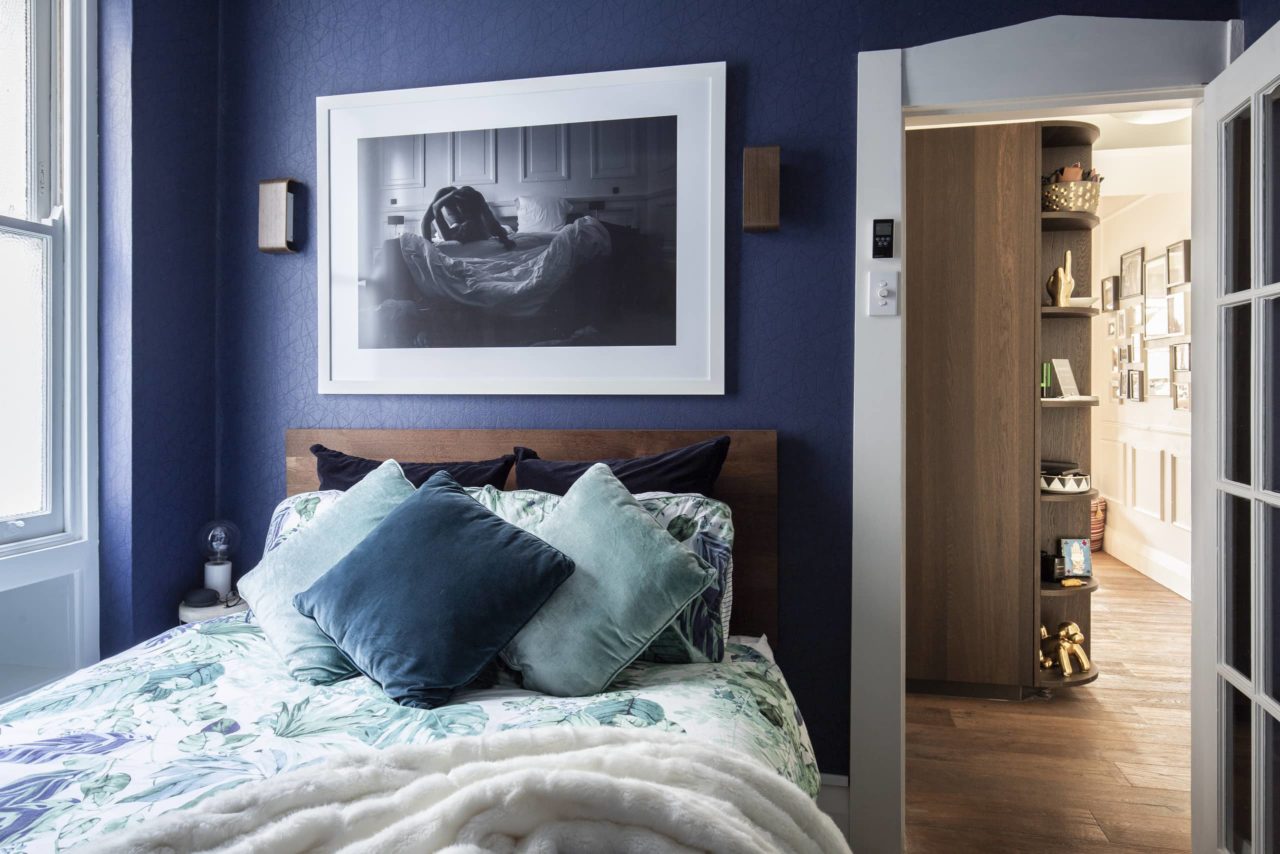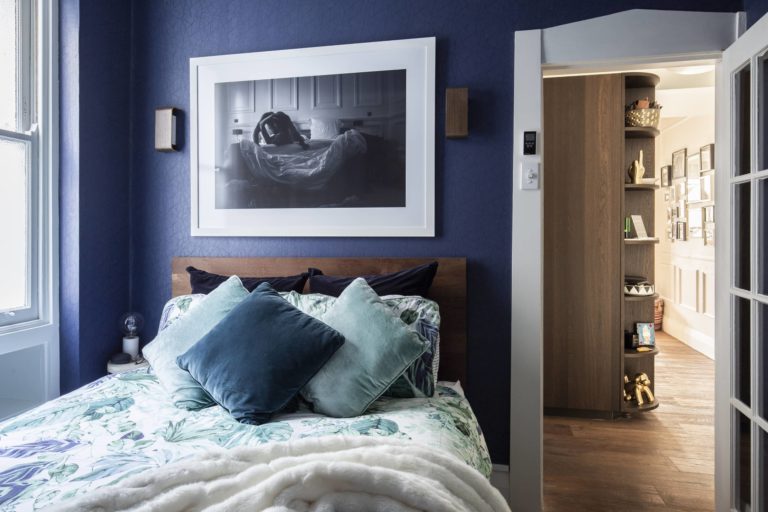 Unsurprisingly then, Jesus' design included a number of occasional or versatile areas: "In the living space, we have a day bed, a massive standing desk and a library. Here we dry our clothes, practise yoga, play soccer, do ballet, play the ukulele, perform theatre acts for the kids and even take salsa lessons!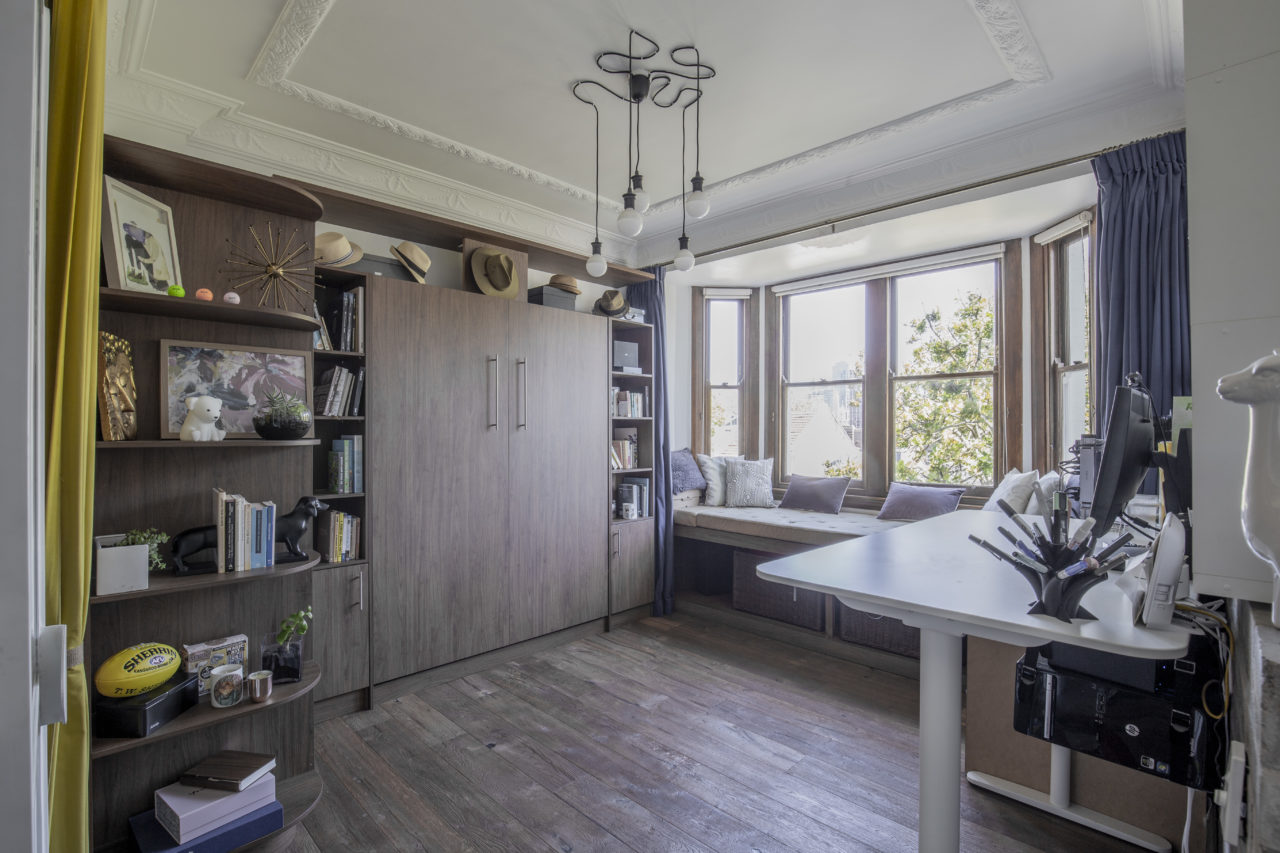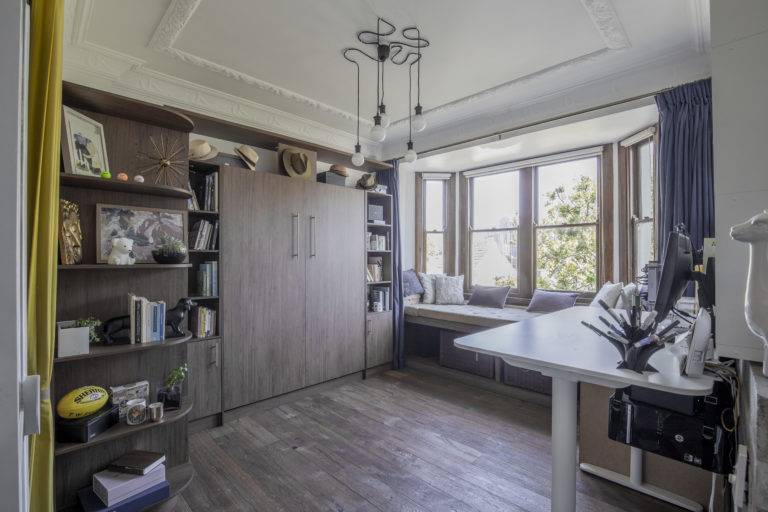 "Even though it may seem a little bit scary to have such an open plan home and not be able to have your own space, it is surprising how many little spots you can be in by yourself or as a family in the exact same way," he observes. "You don't even realise that it's the space doing that for you. Plus we get the advantage of having the Art Deco designed glass doors with blackout velvet curtains, blocking visually and acoustically as needed."
As well as pairing the constraints of the unit with the needs of his family, Jesus wanted to preserve as much of the building's heritage flavour within the apartment as possible, sustaining elements from common areas in the unit's interiors. From the preference for pendant lights over downlights, to the French panelling chosen to match existing cornices and ceiling bands, the rich details of the Art Deco era peek through an otherwise more contemporary, pared back aesthetic. The ensemble is completed by a lashing of industrial texture, courtesy of the exposed steel trusses of the portal frames with their Harbour-bridge evoking lattice steel motif.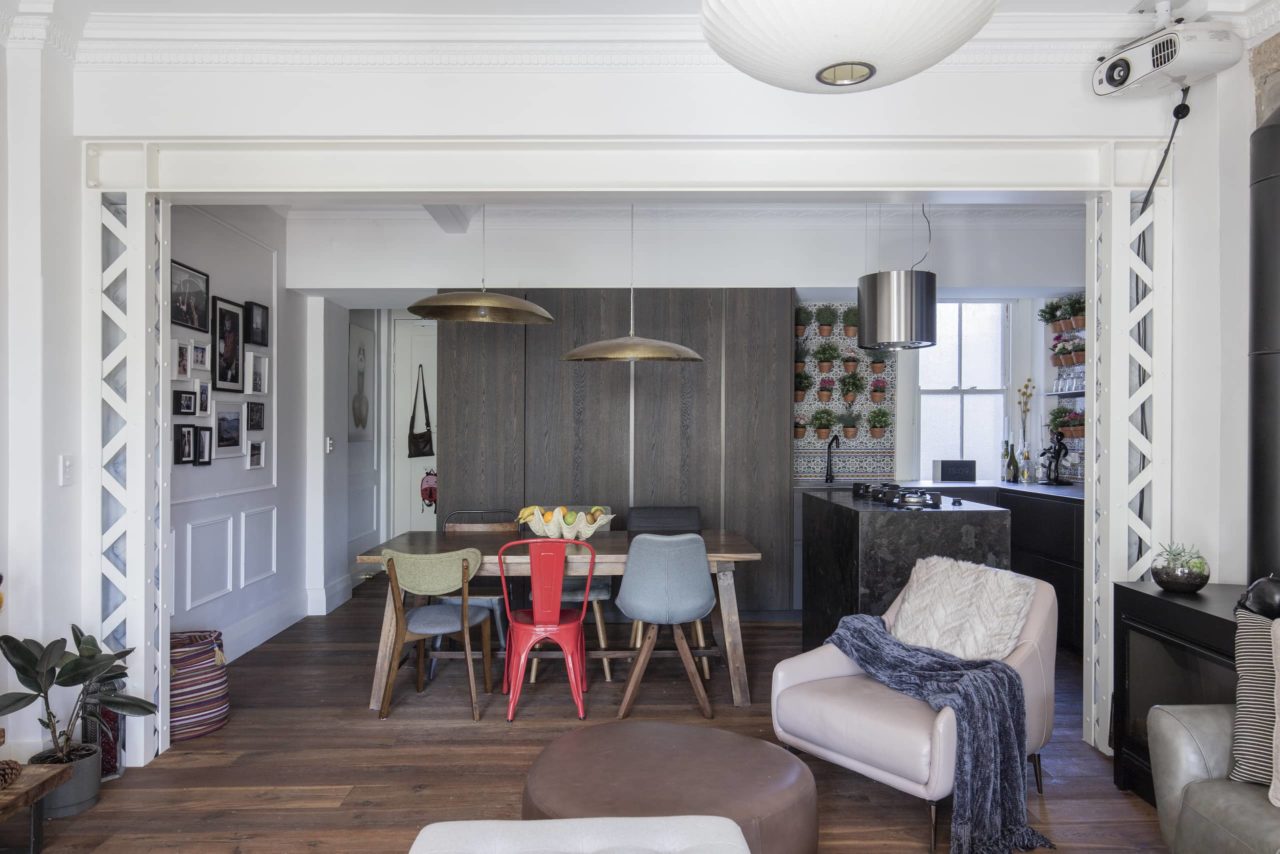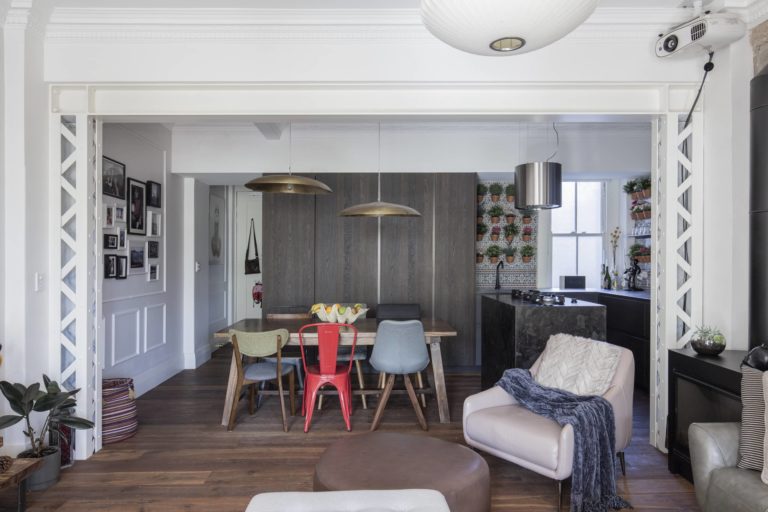 Storage has also been carefully considered and integrated wherever possible beneath or behind furniture and joinery, and the family tradition of multi-functional spaces lives on. Their four-year-old daughter Noah's 8sqm play area morphs into her bedroom with a wall-mounted fold-away bed. The home's spaces comfortably satisfy a variety of functions, with the added advantage of promoting an intimate, convivial environment.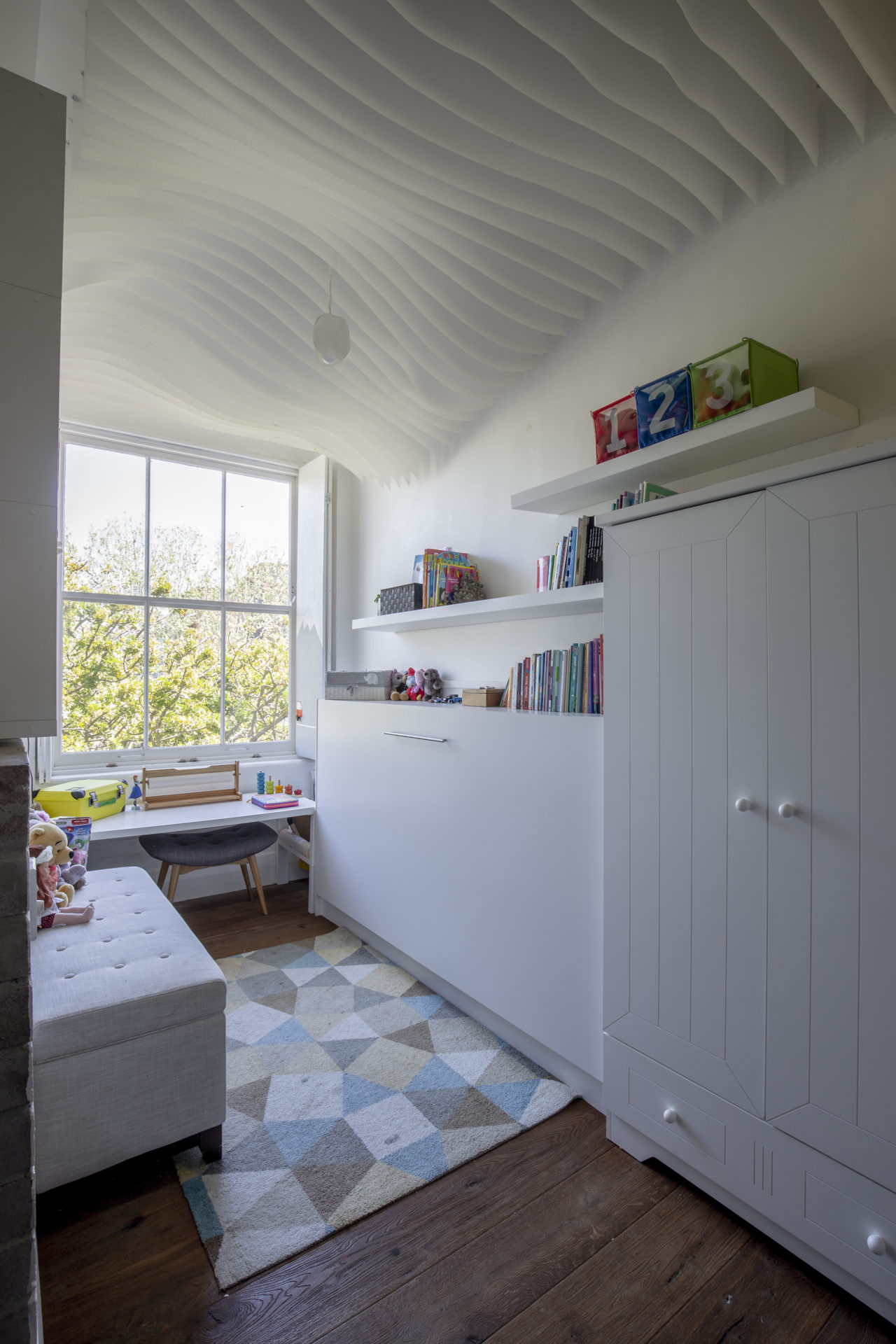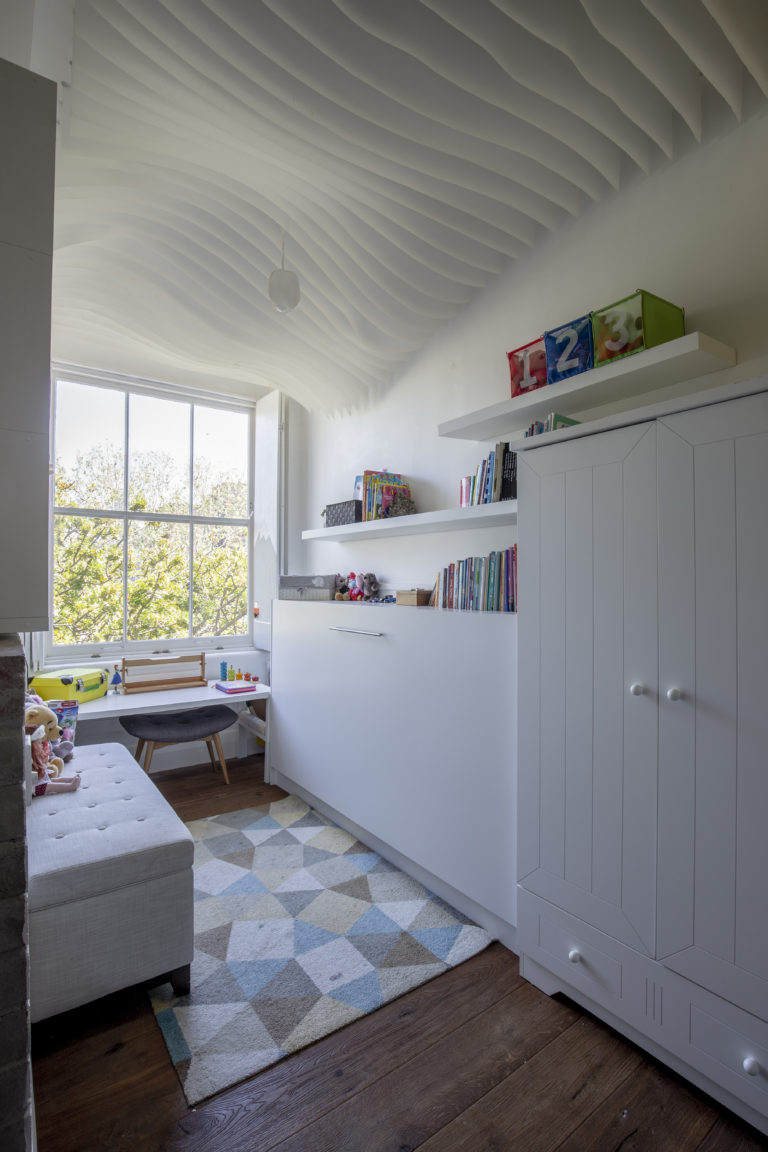 Jesus was also committed to preserving a sense of fluidity and play in the apartment, especially in his daughter's room. He chose to experiment with the ceiling, and developed a simultaneously sophisticated, simple and economical decorative feature in the form of hanging sheets of paper arranged to create a flowing, wave-like effect. 
"It adjusts its height to the shelving edge. It reacts to where the lamp is. It adjusts its curvature to the window to allow more light in. It's one of those little exercises that is in fact really inexpensive. It's just paper and Blu-Tack."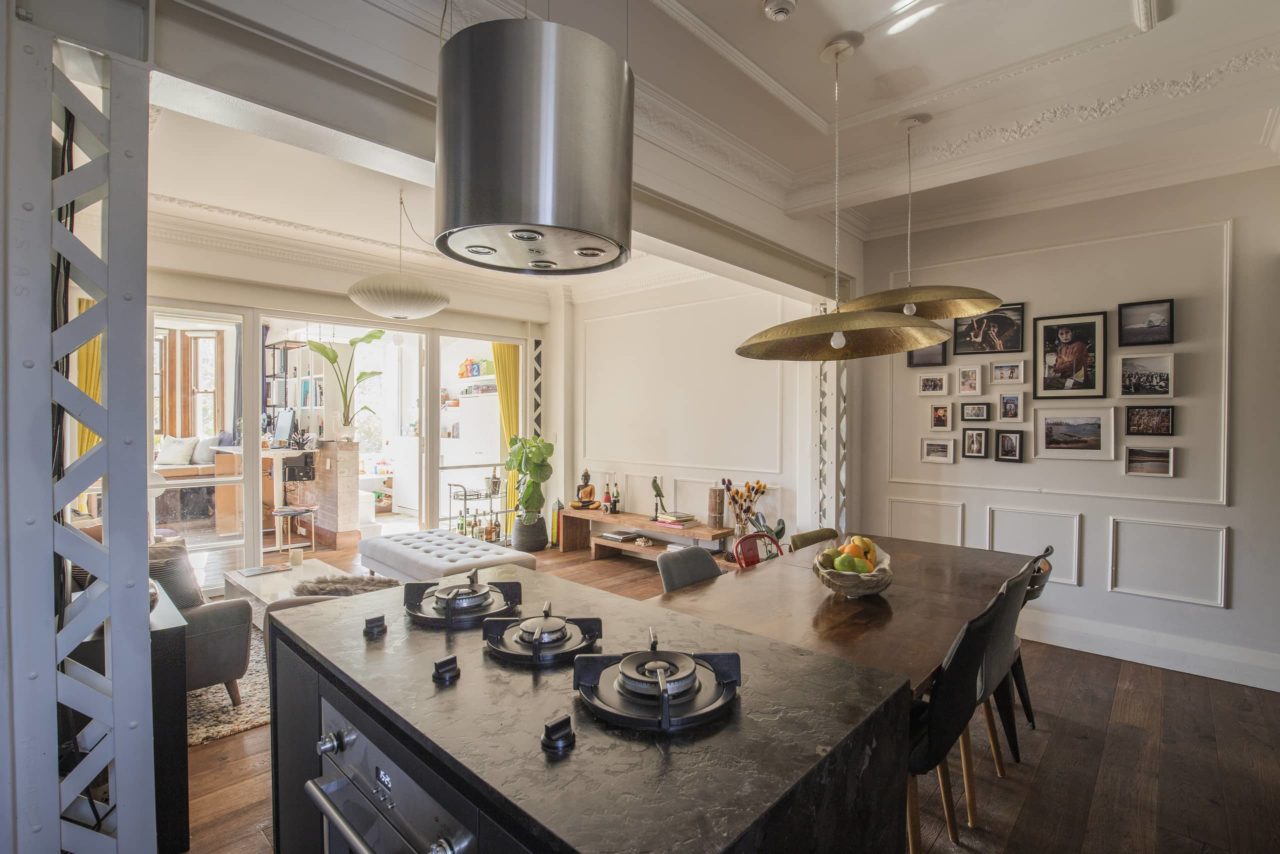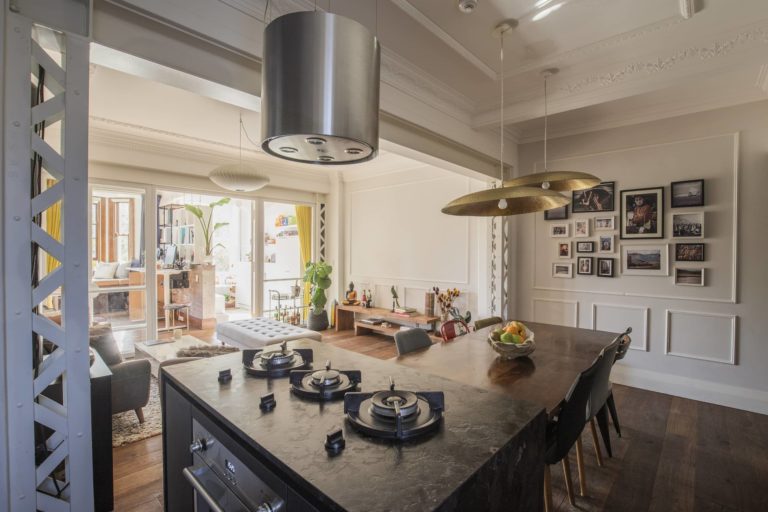 The ceiling feature's affordability and ease of execution, however, are contrasted by the masterpiece that is the bathroom! Riding a wave of creativity and inspiration, Jesus recalls how one morning he was browsing designs for tiles, frustrated at their prohibitive cost. Deep in a YouTube tile-manufacture-video rabbit hole, he was surprised to see how mechanised the allegedly 'handmade' process was. "They were absolutely spotless and perfect, as if they were manufactured by a machine," he criticises. "It didn't have the impression that it was actually made by hand."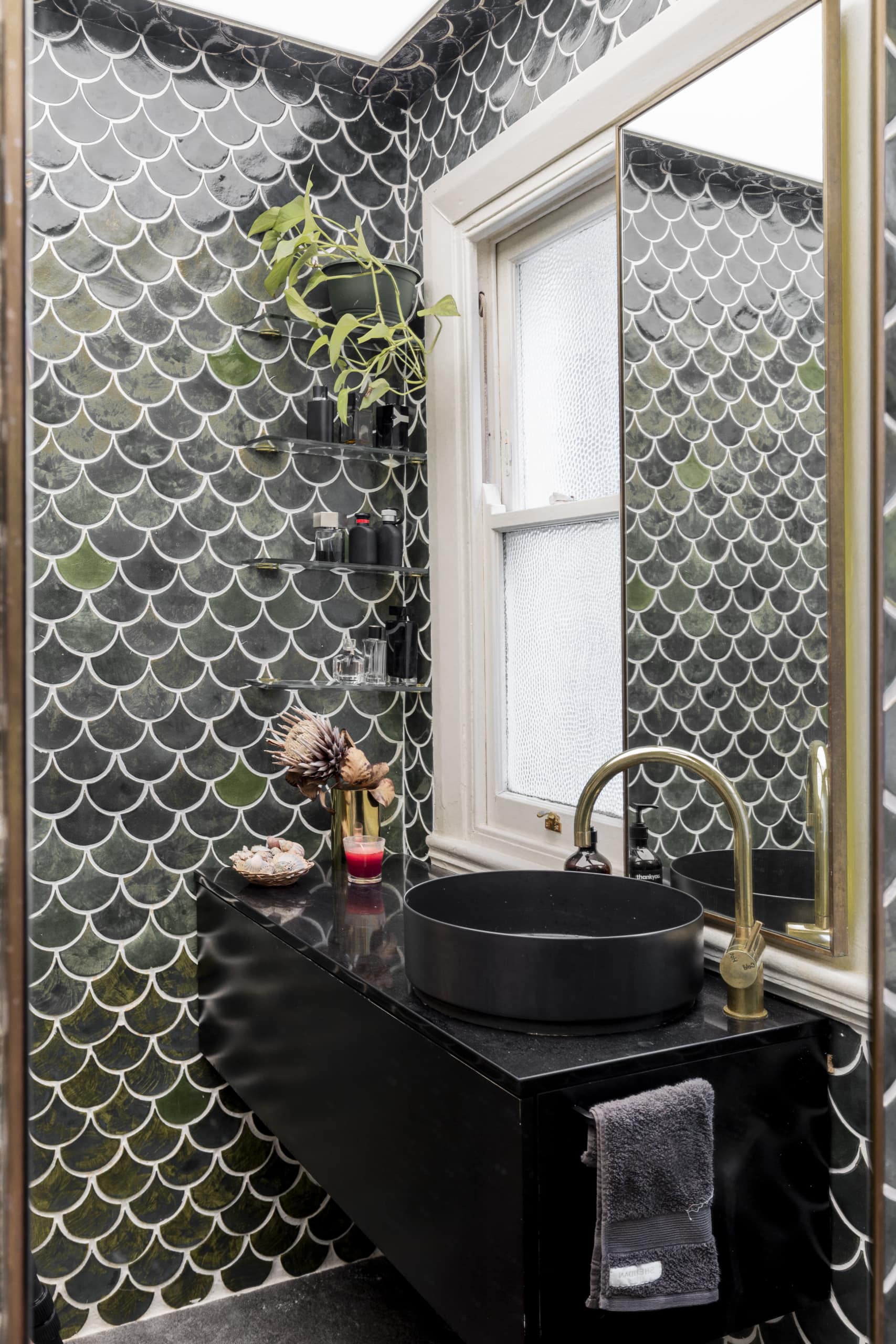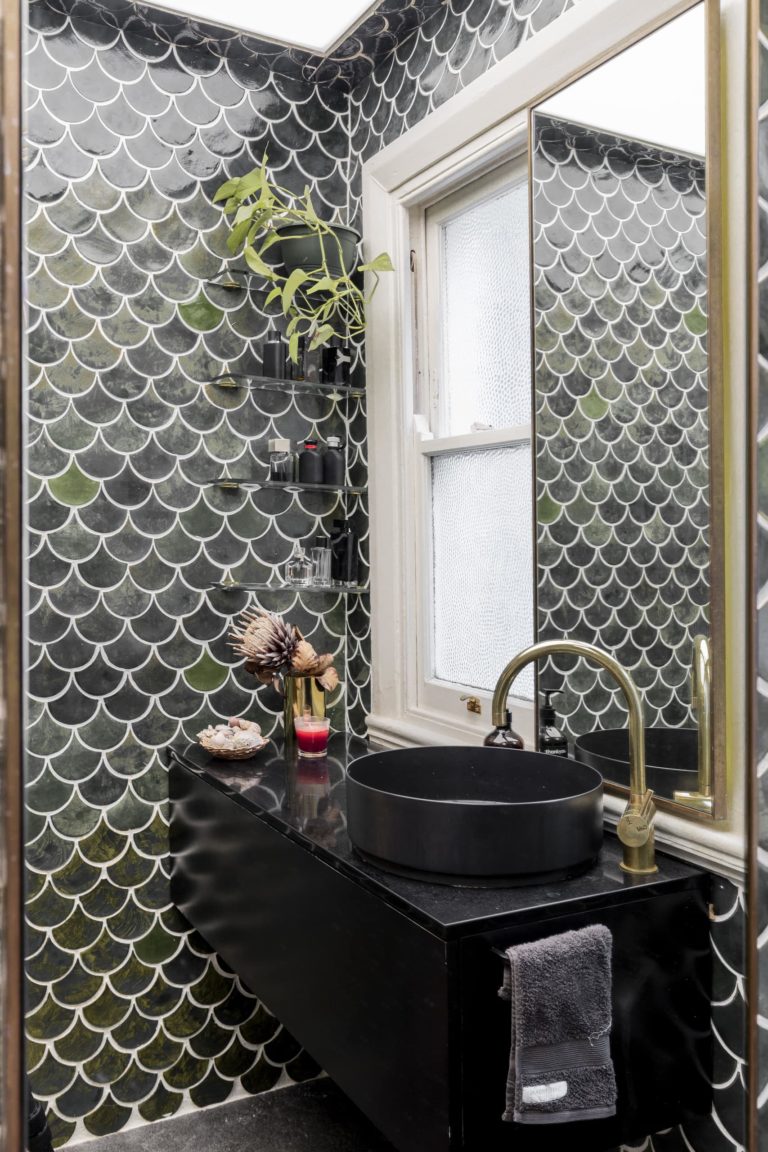 He remembers thinking, "I don't have the budget but I do have patience". So was born a DIY tile-making project that would see Jesus, his family and friends hand-make more than 3,000 glazed, fish scale tiles over the course of 15 weekends – including preparation and testing of clay, glazing and moulds. And, while at times he questioned his initial enthusiasm, the end result speaks for itself: the bathroom nestles among walls clad in the cool, mossy green tiles, each slightly different to the next, carrying in their warp and weft the story of their origin. With a wry smile, Jesus reflects: "It was a much more lengthy approach. It was absolutely, totally worth it."
With its blend of modern and heritage, work and play, and its deceptive ability to accommodate a multitude of activities and moods in a limited space, the apartment is a role model for how we might intelligently and happily embrace inner-city living – an ever more pressing aim as more of us grapple with the demands of working from home. Coupled with Jesus' attention to detail and investment of personal creativity (and time), this compact home is ready to host many years of comfortable, beautiful family life. 
Photography: Jesus del Toro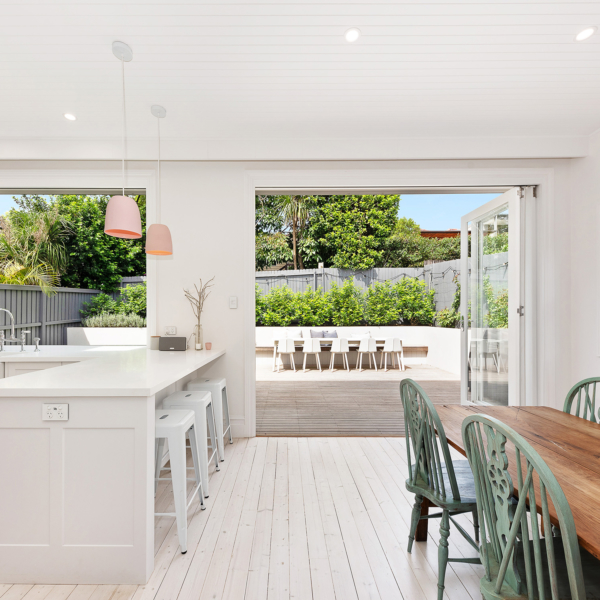 Heritage home brought back to life for family living
This Federation home on Sydney's lower north shore was in a bad state when Jon and Nikki Moss bought it in late 2015. But you'd never know it now, looking…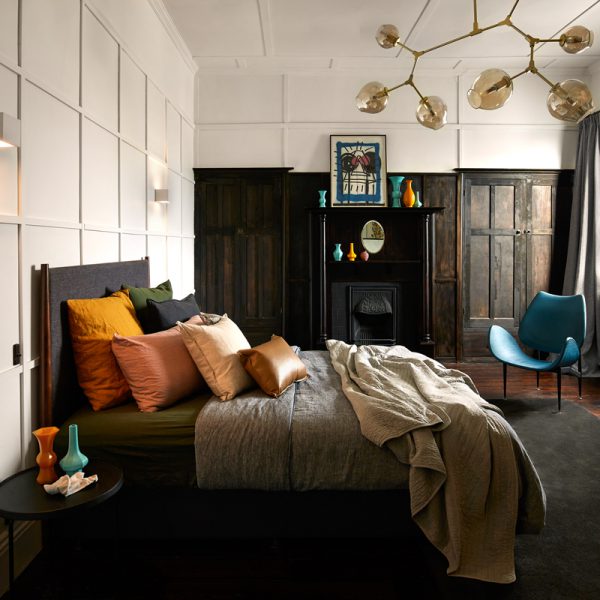 Ballarat heritage terrace becomes moody boutique holiday abode
"I love contemporary design overlaid on a historical backdrop," says retail designer David Cook-Doulton who, together with his partner Martin Shew, is responsible for the gorgeous overhaul of this grand…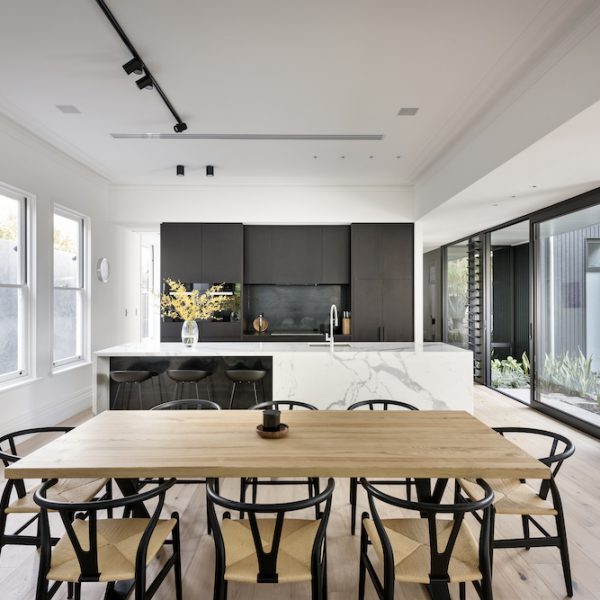 Chic Perth heritage reno a seamless blend of old & new
The heritage home with modern extension, is certainly not a new concept. Regardless of heritage restrictions, many a run-down old character home has been lovingly restored simply because people love…
The post Apartment living with kids: interior designer shows how he does it appeared first on The Interiors Addict.
---
Share this post
---
---