5 Decorating Dilemmas Solved! [My Instagram Q and A]
Posted by admin on
I was bored last weekend and didn't want to spend the day cleaning my house, which was exactly what was on the agenda. I really just wanted to lay around and play on my phone. :-)
So, I put out the call on my Instagram stories for people to send me their pics of spaces in their homes where they are having some decorating dilemmas.
I waited about a half hour, no one sent me anything, then I found the hidden DMs and there were about 10 questions and images there. Bingo!
I didn't realize it would be so popular, but it really took off. I spent all day laying around in my pajamas answering questions and sketching over images. I do love seeing what people are having trouble with in their home. Sometimes all it takes is a fresh pair of eyes.
After it was over and on into the week, I received a few more, and I mentioned I would put the additional ones on my blog. So, here they are.
My blog contains affiliate links. Any purchases, at no additional charge to you, render me a small percentage, are most appreciated and make this blog possible. :-)
Decorating Dilemma #1
How to decorate these tall walls in the entry?
This looks like a really lovely home, but it does need something interesting in this entryway.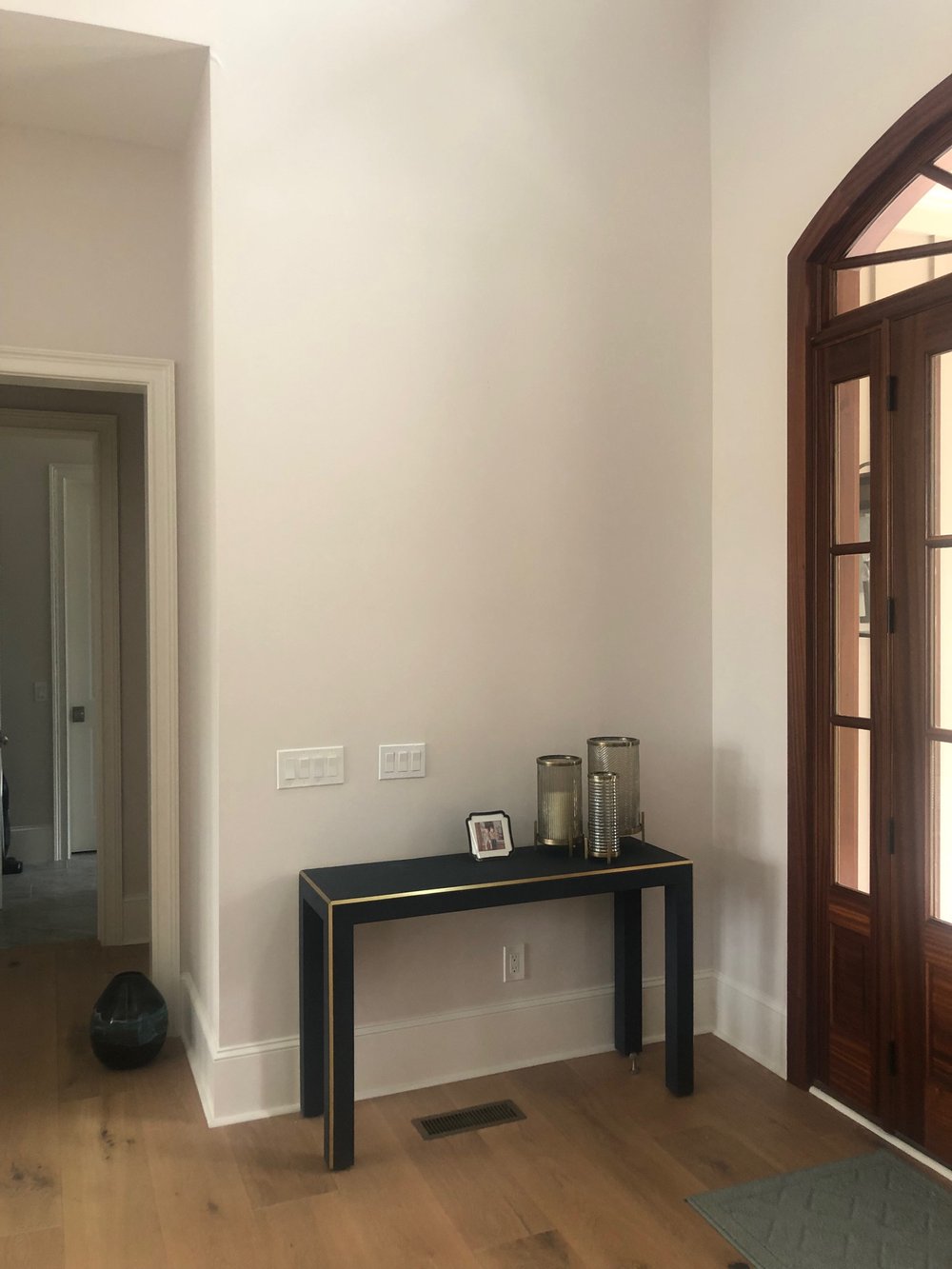 One problem at the front door on the wall, is the location of the switches there.
I've had this problem before with some of my in-person client projects, usually with a remodel. Since there is typically an electrician coming at some point to the job, I encourage the homeowner to let us move the switches or outlets. We can also consolidate a bunch of switches into one that is closer to the edge of the wall, whatever works best.
There are ways to gang switches and upgrade them that would work really well here. I think it would be really worth it, here in this lovely entry, to call an electrician and then patch the wall. This is the first look in the home, and really, it deserves a little attention.
I'd relocate the switches in the middle that are eating into the console wall area. Either move them above the existing switches or gang them together with different, more modern devices.
Once that is done, a really tall vertical mirror here would be fab! In this 2 story space, I'd go for a floor mirror, usually at least 72" tall and rather narrow, but just hang it over the console there for some drama and height.
Here's the one I'd do. I think it looks really great with the console. The high contrast and interesting mix of materials on the frame gives it some presence on the wall so that it doesn't blend in too much. (A soft silver/gold frame or something slim and light would just disappear on the wall.)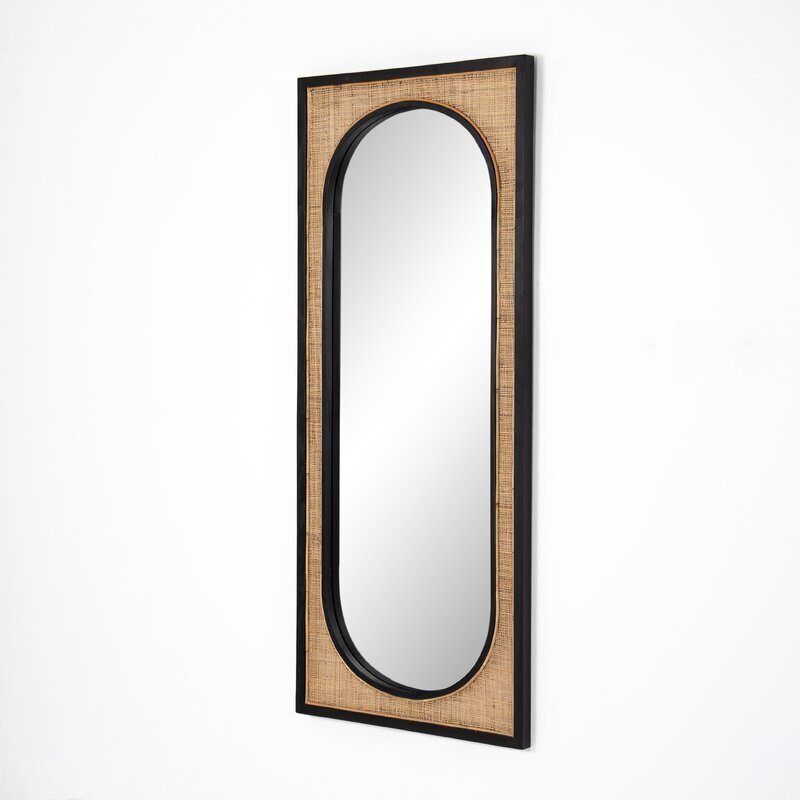 The capsule shape and rattan make it very on trend right now and the height just works so well with the verticality here. Perfect!
Okay, so it is backordered…..everything is right now! :-)
I rather like the idea of centering a lamp here, to keep access to the switch that would remain and then a nice stool/ottoman below too.
This is a cool lamp for centering on the console.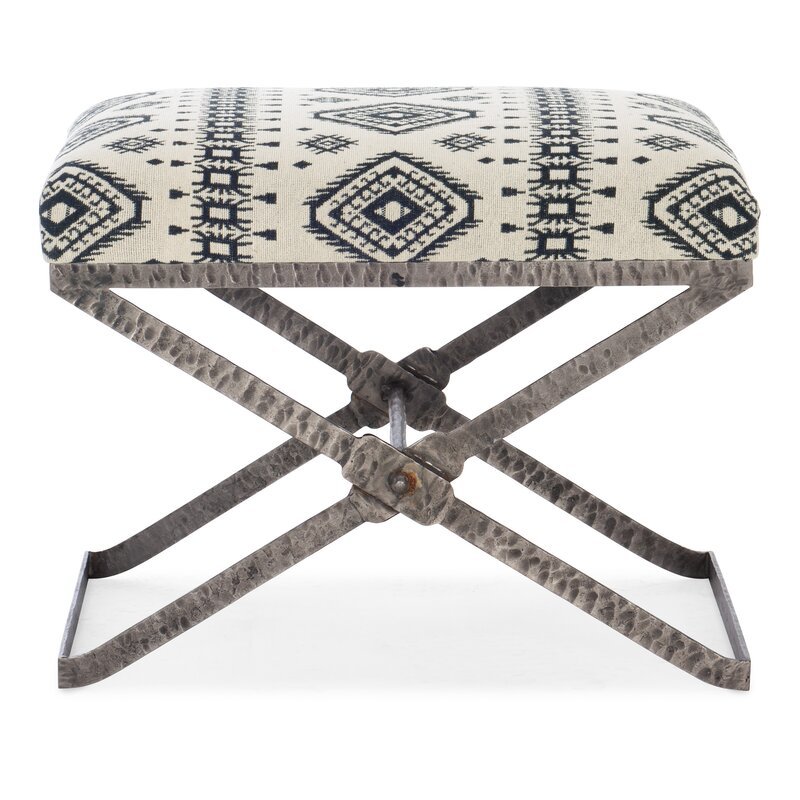 Here it is all sketched up.
You need to move the switches (gang them together) there because that mirror should not hang so far up away from the console. It should be around 8-10" above, preferably.
This homeowner also had a tall stair wall across from this console, and it needed something here too. She was thinking of getting some kind of commissioned art.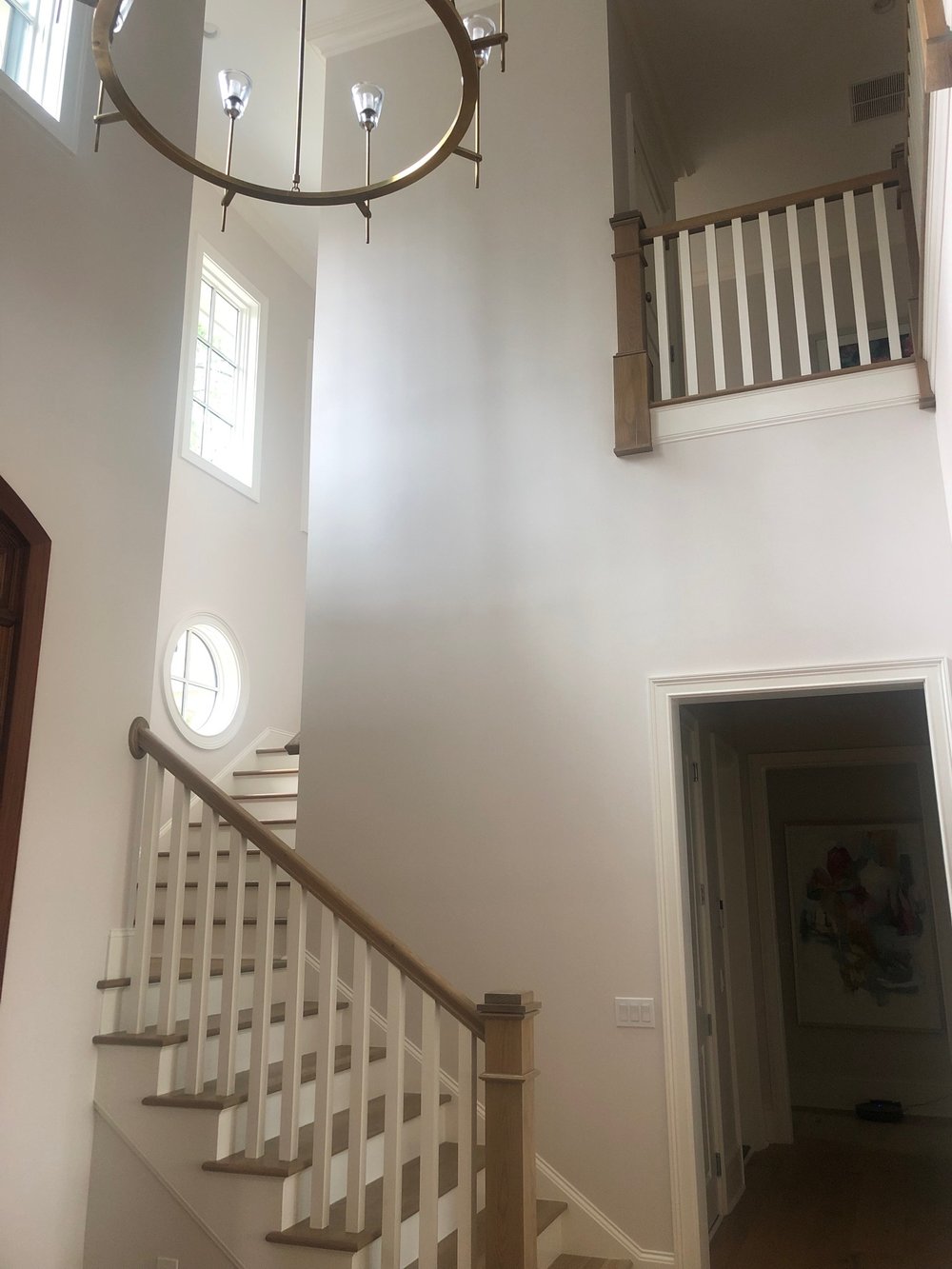 Yes! I'm on board with that!
I love this artist, Laura Williams, I found on Instagram, and this piece of hers is unusual and brilliant. I love the texture and depth it adds, it truly feels special and the long, narrow shape works so perfectly in this space.
What a statement this would make! I especially love the angled length that echoes the stairs there.
Decorating Dilemma #2
How to decorate these shelves above the hood?
I have to say that I've never seen this situation. Typically, the hood is flat paneled or maybe has doors for access to the area.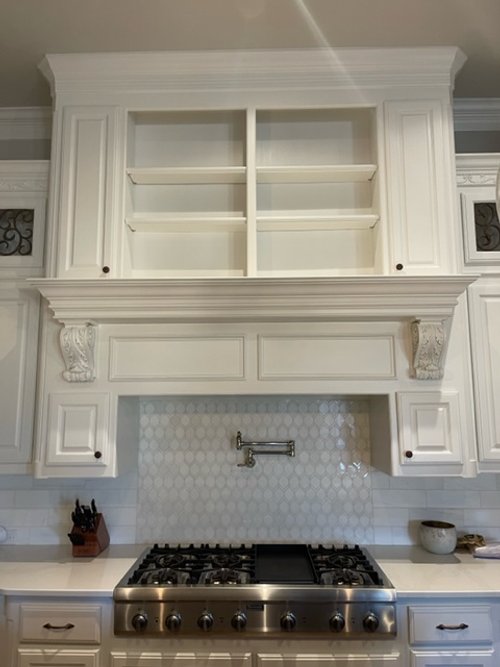 I'm not sure I like it and unless someone requested it, I think I wouldn't add that kind of detail to a project.
I just know that things get a little greasy around the cooking area and objects get dusty up high. Those two maintenance issues, combined, make for lots of cleaning. Wiping down a panel is one thing, cleaning lots of little objects on shelves is another.
Not only that, but it I think some small objects up there would feel a little cluttered.
My first reaction is to call a carpenter and get a panel made to cover that area. Then a large platter could be hung or propped there to make a big statement, much like we did on this job, below.
This panel was removable with some clips so they could access the venting unit later at some point.
Unless she just has an amazing collection of ceramics that can be massed there and there is a good housekeeper involved, I think I'd simplify this hood situation.
And since she's asking what to put there, I'm assuming it was there when she moved into the house and didn't build it there on purpose. :-)
Decorating Dilemma #3
How to decorate this big wall?
I really like the shape of the wall here and the arched opening. It does add interest.
Not that she asked……but first, I'd recommend pushing that rug under the sofa so that the front feet are on top of it.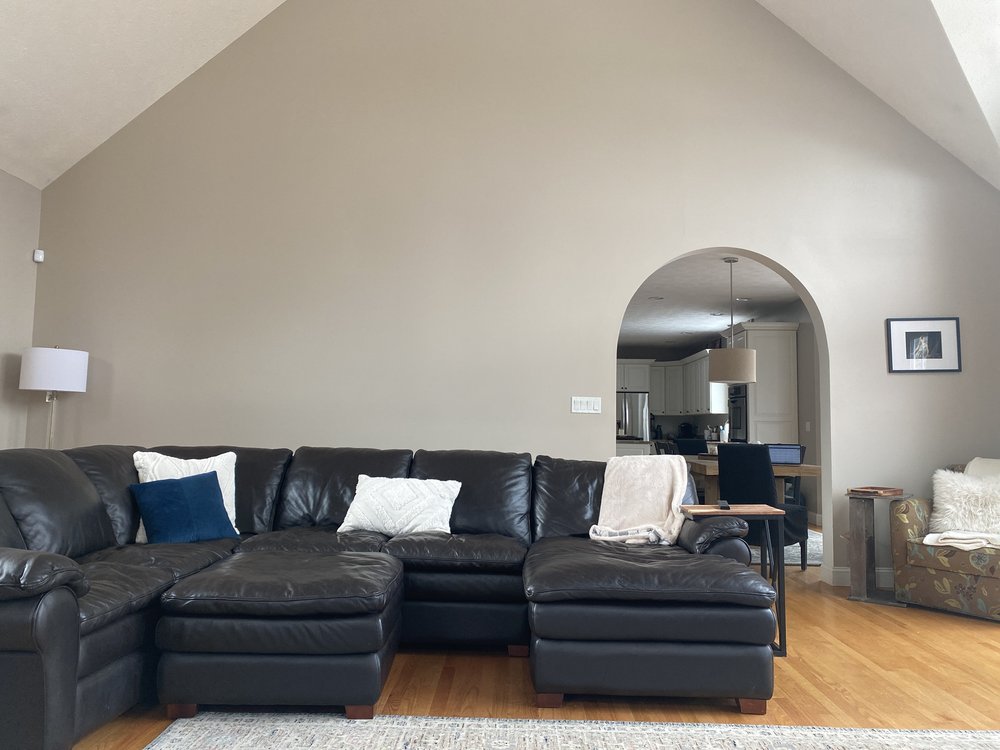 Then, I'd add a contrasting fabric covered ottoman to break up all the black leather and get some big, overstuffed down (down pillows don't fall flat on leather as much) to match.
Now that we've softened the black leather sofa area with some texture and fabric, we need to bring some black elements up to the wall to create balance.
Unless you had a lot of art or wall decor, it would have to be huge to fill this space and not feel too dinky here.
It looks like there is space there, so I'd add a wide, tall etagere (or maybe two). It looks like there is some depth to work with, so adding a piece of furniture to help break up a wall space is a good idea here.
I like this shelving piece, it has black framing that echoes the arched shape. Then she could add some round baskets around that to also emulate the arch and build out the width and height of the decor on that wall. Obviously, you can add some colorful choices too, but I like how this arrangement plays on the wall.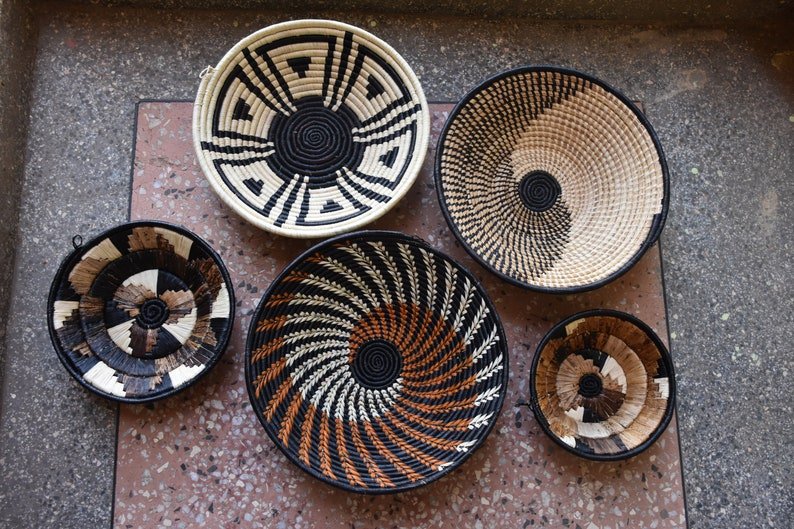 Here's how that would look sketched up.
Here's another etagere with some black framing and wood shelving, about the same size but straight. I'd still do some art or something on each side of this to fill that wall a bit more.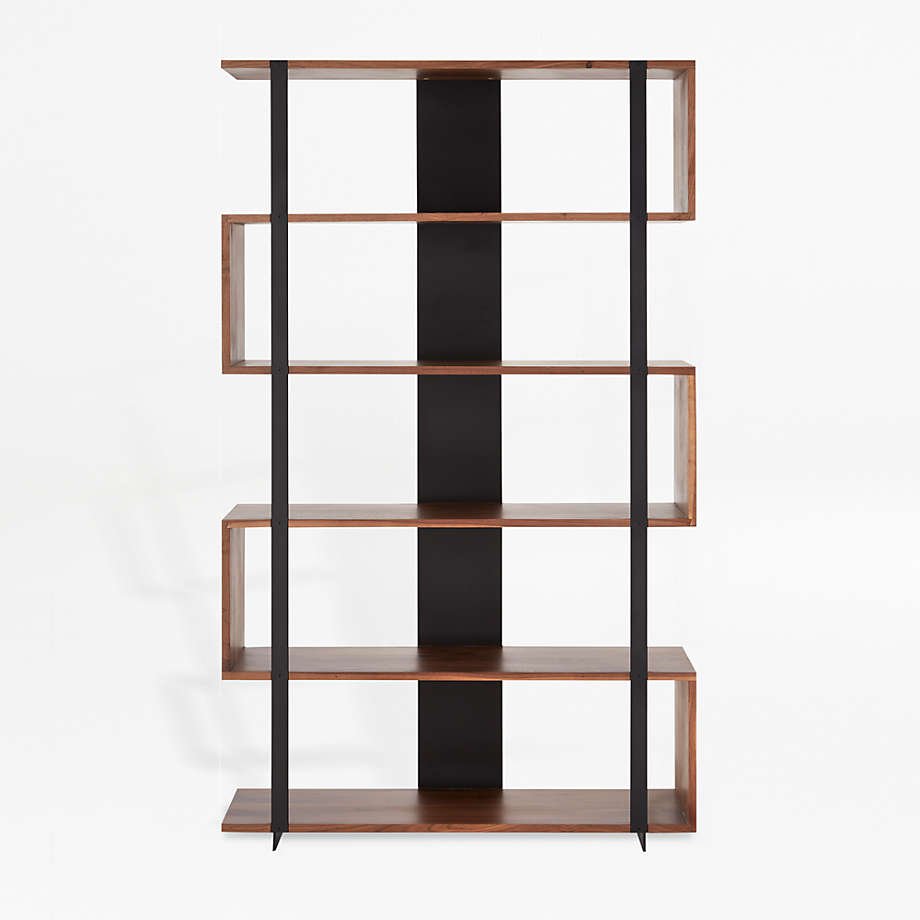 Designer Tip - If you don't like a lot of tchotchkes or have many accessories or books, then buy something with more cabinet doors on it. Even a partially closed piece will work to minimize the extra stuff you have to buy to fill some open shelves. Sometimes a beautiful cabinet can make a more dramatic statement.
Decorating Dilemma #4
What to hang on these two walls and how to fill this space?
This homeowner just moved in and wants to fill out this wall space. I think before we start adding decor to the walls, we need to think about what other furniture might work in here.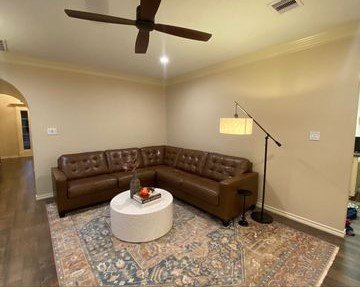 Here's the wall opposite, a fireplace wall and then tv on the other adjacent wall. You can see that there is room for a few more pieces of furniture.
1) Put a sofa table behind the back wall. It needs to be slightly shorter than the top of the cushion or you'll bonk your head when you lean back. I feel like pulling that sofa away from the wall a bit with a console back there will be good for the layout. Since you won't really see it here much, just the top and side, you don't have to invest a lot to get something that works here. It's really just a spacer. I'd move the boom arm lamp to this side of the sectional too.
2) Add a more substantial end table on the other end of the sofa. A rectangular shape would be nice, especially since there is a round coffee table. Move that little tiny table to the other side of the new lounge chair I've sketched in there.
3) Eventually another lounge chair can be added beside sofa. That would fill out the seating group and not make the sectional feel so isolated down there in the corner.
4) Now we can decorate the walls. With these L shaped sofas, I like to do different sizes/shapes on each wall. On the shorter wall, I'd do one piece of art or maybe even a mirror like this one. There are windows across from it, to reflect the light and view.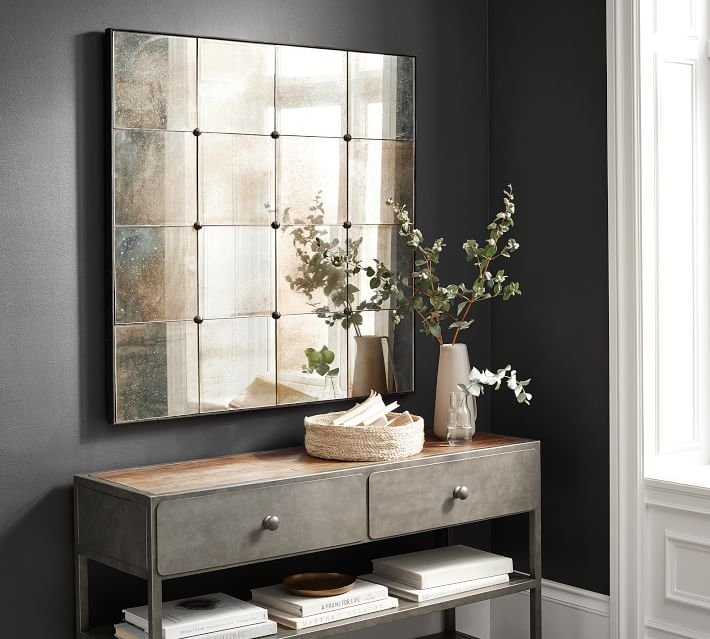 5) On the longer wall, I'd probably hang two vertical art pieces above the sofa to get some color on the walls. These have some blue to relate to the rug.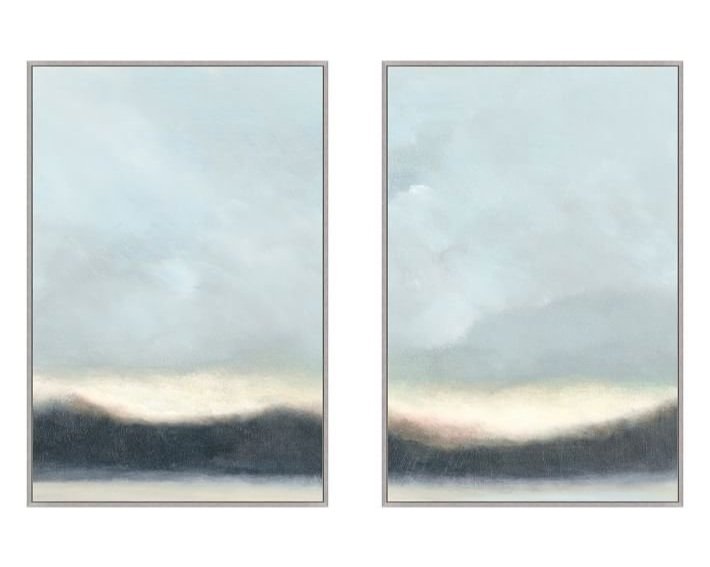 Decorating Dilemma #5
Much like the previous dilemma, this one is compounded by not having enough furniture yet in the room. We need to figure out how to do that, before we address the wall, really.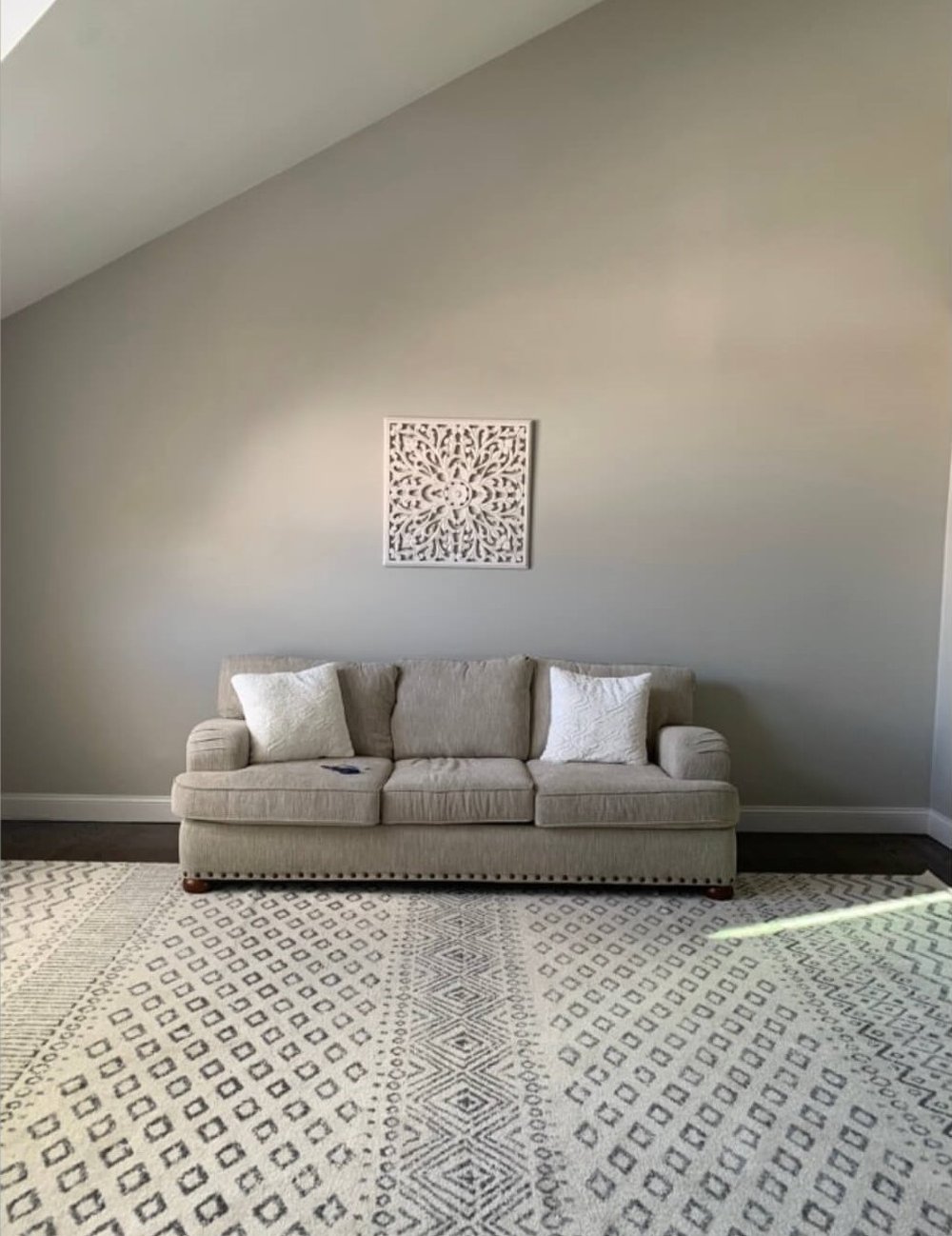 Here are two of the other walls in the room, the entry hall is directly across from the sofa.
She has ordered these two leather chairs already, which I like. They have some nice contrast and some warmth, which this room needs. She's planning on putting them in front of the windows there.
I'd go with a big wood coffee table, something to contrast with the light rug and sofa. This one below echoes the wood floor color too. It's 48" x 48", so an ample size. She can stack lots of coffee table picture books below and on top, add some nice accessories and vases to decorate here.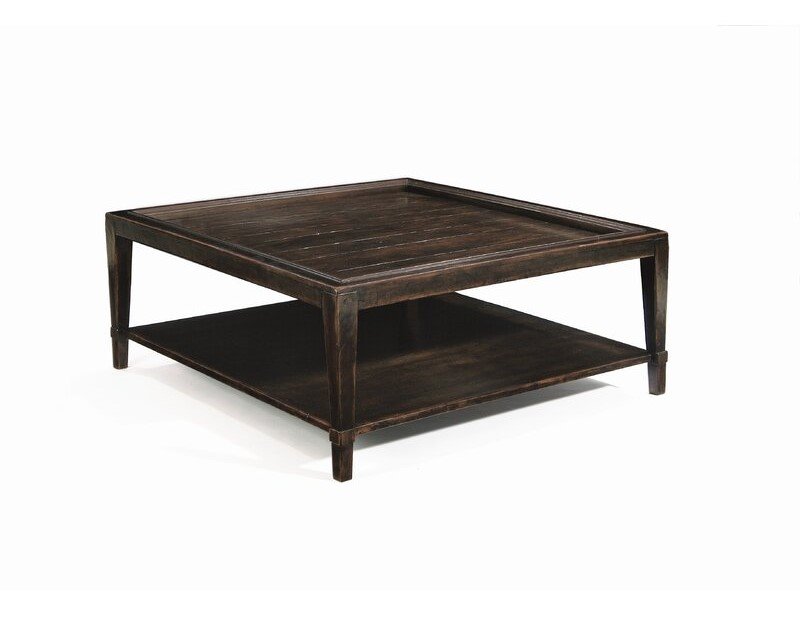 It's not often that I'd do matching end tables and lamps, but here, I think I would. I like this look when you are facing a wall with centered sofa on it. I think it will help with framing in the wall decor here too. The symmetry will be impactful, I think.
I like the round shape of this one, contrasting with the square coffee table, and the combination wood/brassy finish. These are ample at 28" diameter.
I like these lamps, they are rather large and the pattern reflects the rug pattern, so that is nice. Without knowing anything about how much money she has to spend and what colors she likes, I'm going to stay neutral here, but she can definitely add in color.
I might even put a dark charcoal shade on this lamp, to provide some contrast with the wall color. It would make more of a statement.
Now for the wall decor! See how figuring out the furniture in the room helps dictate what you might do on the walls?
I think one large piece of art, unless it is high quality and huge, might feel small on this wall. As a result, I'd do a grouping.
Okay, I know, we all want meaningful art on our walls. However, I find this is the biggest stumbling block for people in doing interior spaces. They are just really afraid to make a decision and often want a close personal connection with the art or artist.
How about putting in some place holders for now here? She hasn't lived in this home long, so you never know how this space might evolve.
So, these place holders aren't DIY cheap, but they are doable. Both Crate and Barrel and Pottery Barn have gallery wall combinations that you can buy all put together for you.
In this case, I think something like this wall decor combination would work well for this big wall. (BTW, I'd take the small gray one out and use the small warm one and the black. Use the gray one somewhere else.)
If nothing else, the homeowner can use this template as a go-by and find her own wall decor selections.
I do love original art though and have a great selection of artists I've followed on Instagram, saved in a Highlight reel on my profile. Most do custom work!
Check out that highlight here and then please follow me and save some of my images on Instagram (to help me in the algorithm:-). You never know when I might be bored one day and wake up wanting to answer questions again. :-)
It's so funny that all these were really about wall decorating. Did you know I have a guide? It's super comprehensive and touches on all the principles and ideas I discussed above (and then some)! Check it out if you're ready to go it on your own and just need a little guidance.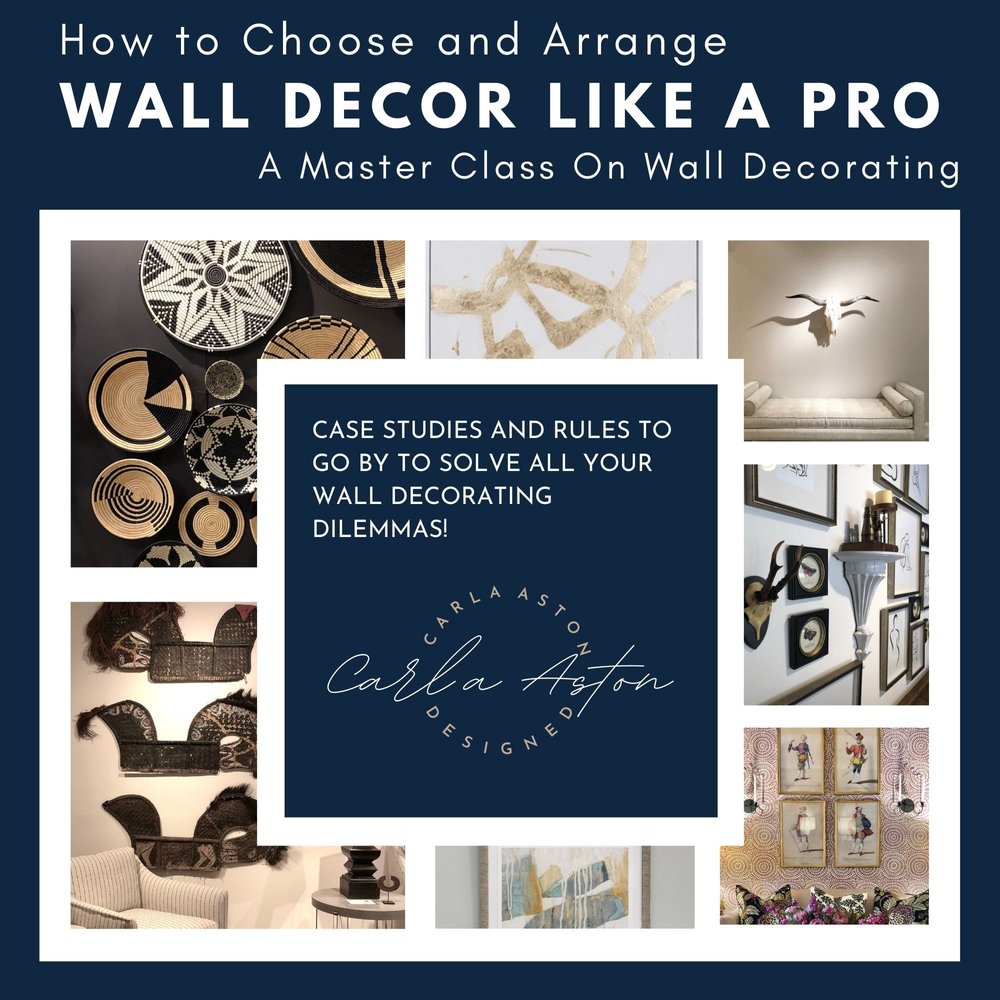 ---
Share this post
---
---