40 DIY Workbench Ideas For Successful Future Projects
Posted by admin on
If you're the type who likes to do all sorts of home improvement and DIY projects then you know that the supplies are not all that matters. Having a proper work environment in which to do all that is important.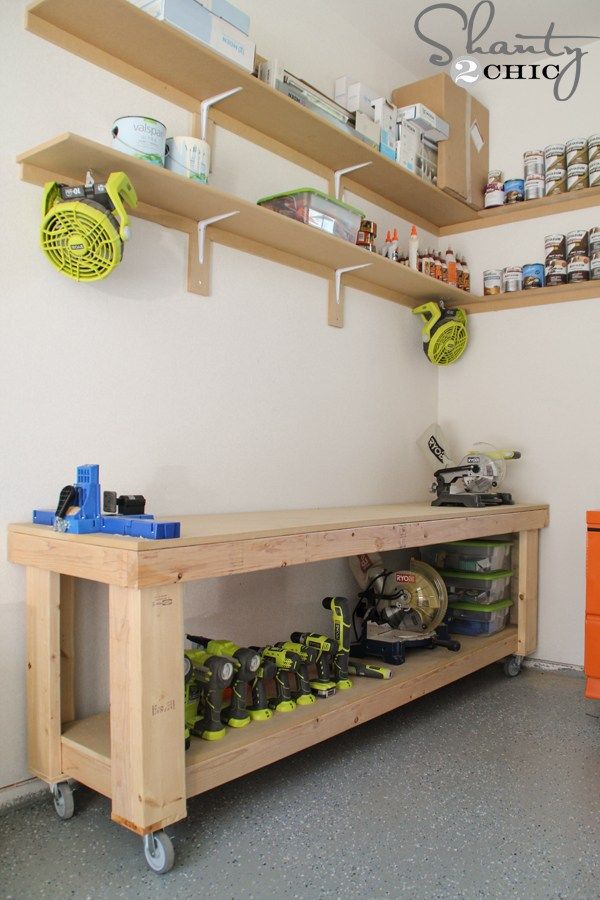 It may not be absolutely necessary to have a workbench but it would definitely help so why don't you make this your next project? As it happens we have a few workbench plans and ideas to share with you today so let's get started.
Simple Workbenches You Can Build
Simple, basic, sturdy and versatile workbench
Just because we call something basic doesn't mean they necessarily lack anything or that they're not as good as other more complex structures. This workbench featured on learn.kregtool is actually quite well thought out and its basic design is a perfect blank canvas for any customization that you might want to add to the mix.
Slender console-style workbench
There's obviously different types of projects that require a workbench so what might be perfect for one type of activity might not be equally well-suited for others. A tall and slender workbench like the one featured on popularmechanics would be a nice fit for various woodworking projects and cases when the user is standing rather than sitting on a chair.
Workbench with a pegboard organizer
Apart from providing a sturdy and practical surface to work on, a workbench is often expected to offer some sort of storage or organization system for things like tools and equipment that's usually needed when working on various projects. This design from instructables takes care of that by featuring a versatile pegboard as well as additional shelf storage above.
A custom-size workbench project
If you're thinking of building a workbench you probably already have a space in mind for it. It might even a space where it would make sense to have a custom workbench put it, one that would be specifically designed for that area. Check out this project from instructables if you want to see how something like this can be built from scratch.
All-in-one custom workbench
There's also cases when the workbench has to fulfill certain specific requirements. For example, this one has to be movable, fairly compact, to include lots of storage for tools, to have power built-in and a table saw extension. If this is something that sounds like your own list of requirements, check out the tutorial on instructables for more details.
Large workbench with built-in power tools
Depending on what type of projects you're usually working on, you might want your workbench to include some extra features like a built-in miter saw extension or a router table section. In order to do that some planning is required and you can learn more about this phase and everything that comes after by checking out this tutorial on imgur.
Finding the right type of storage for your workbench
It's important to approach this project methodically if you want the end product to actually fit your needs and expectations. In other words, when building a workbench from scratch take the time to figure out exactly what you need it for and what features you want to include. At the same time, find out what the best storage options are. You could learn a thing or two from this project on imgur in that sense.
Solid workbench with built-in table saw
As you're probably aware, a lot of home improvement projects, DIY furniture and so on require the use of a table saw so it could be great to have this built into your workbench to save space and to make the projects go more smoothly. We really like this particular design featured on imgur where the saw takes up one of the corners.
Simple workbench with extensive wall storage
On the topic of storage and workbenches there's an inspiring post from reddit which you might want to check out. It shows just how much you can fit into a small portion of your garage if you ever want to transform it into a work area.
Stylish workbench and wall cabinet combo
If you enjoy simple and elegant design, check out this stylish workbench posted on reddit. It has a simple and timeless design and it actually looks beautiful plus it has a cool wall cabinet to go with it.
A large L-shaped workbench
Another detail to keep in mind is that your workbench doesn't need to be rectangular or to have a standard shape and size. If you think an L-shaped design would suit your needs then look into it a bit more. Perhaps this reddit post can inspire you and give you some ideas in that direction.
A small workbench with lots of storage
This workbench may be small but it sure doesn't lack a lot of things. It has plenty of storage, more than some massive workbenches do and that makes it easy to have all the tools and accessories close at hand when working on a project. Check out the reddit post for more details.
A custom storage wall
Besides the actual workbench, a proper workspace also needs storage. Sure, the bench itself can include some drawers or shelves like this one does but if there's space for a wall storage system that can definitely make things better. Check out this custom design we found on reddit if you're in need of clever ideas.
An immersive workspace
Inspiration can come from anywhere and when you least expect it. We can certainly learn a lot from history or, in this case, a workbench found in a museum which dates back to the 1800s. Check out reddit for more inspiring ideas.
A workbench in context
Each individual piece of furniture, decoration or accessory is important when designing a space but so is the overall context, the way in which it all comes together in the end. A great example is this reddit post which showcases a complete workspace in a former garage. It has a custom workbench, custom storage and everything.
Reclaimed materials put to good use
Strictly speaking about workbenches, you have a good chance of making one from reclaimed materials or by repurposing a different piece of furniture. Work with whatever is available and keep an open mind. For more inspiration, check out this reddit post.
Minimalist wall-mounted workbench design
If you like simple and clean designs, check out this modern workbench featured on reddit. It's a super clean look but at the same time the bench is very sturdy and the lacquered tops gives it a sleek and stylish look.
Multipurpose plywood bench
Because every project is different from the rest and has unique requirements, it might be practical to go with a multipurpose and versatile workbench design. Something simple with a strong and sturdy frame and open storage makes perfect sense. Check out the video tutorial by DIY Creators if you want to see how something like this is made.
Simple and fast to build workbench
Building a workbench is pretty easy, especially when you stick to a simple design and accessible materials. This plywood bench for instance was built in less than an hour and you can see how it was all done by checking out this video by Dieter Schneider.
Inexpensive, quick and simple workbench tutorial
On the topic on DIY workbenches, you should check out the tutorial shared by MCM TV2 which teaches you how to build this bench from scratch in less than hour and with a small budget. It's quite small and it doesn't include any type of storage but, as with every DIY project, customization is always possible.
A sturdy workbench to last a lifetime
The most important aspect to keep in mind when designing and building a workbench is that is should be strong and sturdy. After all, a table that wobbles and gets damaged easily wouldn't really be of much help and would only cause problems. With that in mind, check out this tutorial by Firewood For Life to find out how you can make your workbench last a lifetime.
Building the perfect woodworking bench
As you might be able to tell, this bench is specifically designed for woodworking projects. It was built from scratch and it's super strong and sturdy, not to mention it has a simple and practical design. You can find out more about it in part 2 of the video tutorial shared by Kings Fine Woodworking.
A simple, practical and straightforward design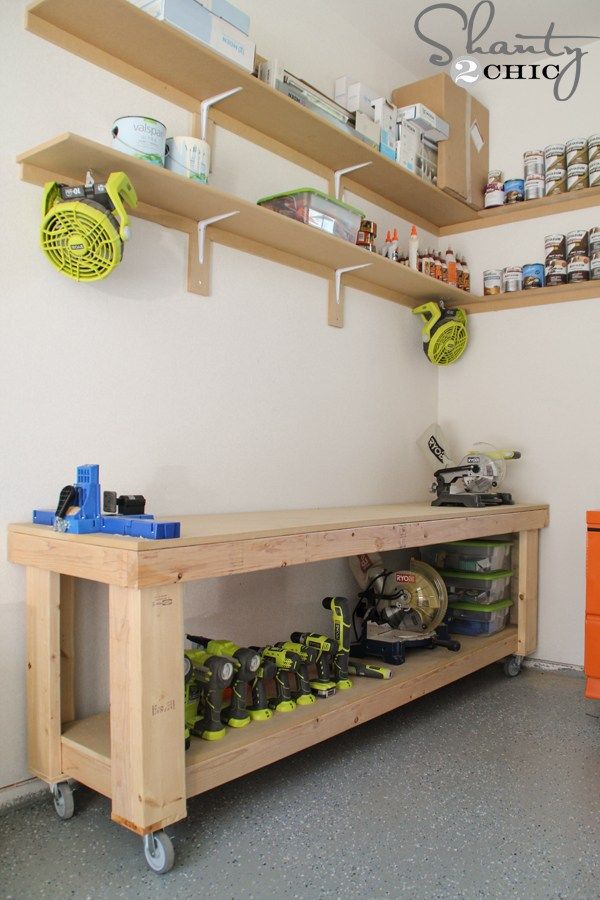 A workbench doesn't have to be large or complicated. In fact, the simpler the design is the better because you really don't want any unnecessary features to get in your way while working. This one right here has a large storage shelf at the bottom and casters and that works like a charm. Check out the details on shanty-2-chic.
Workbench with additional shelf storage
If you want more storage for your tools and supplies as well as some task lighting, check out this DIY workbench idea from gingerandthehuth. There's the storage shelf at the bottom and there's also the frame at the top which lets you hang a bunch of tools close at hand. you can also hang a lamp so you have extra light when you're working, for more precision.
Extra wide workbench with plenty of storage
A workbench would ideally be extra wide, so you have plenty of room. It would also be great to place somewhere at the center of the room so you can access it from all sides. The design featured on jenwoodhouse is a very good example. Not only is it wide enough but it has lots of storage space at the bottom for the big items and another shelf just below the top for the smaller tools. The casters make it easy to move the workbench where needed.
Solid wood design with a live edge top
If you're building your workbench out of solid wood, maybe you'd like to actually give it a rugged and natural look by keeping the wood as natural as possible. We're talking tree stumps as legs and a live-edge top. This would actually be easy to achieve if you're actually cutting the tree yourself. Check out instructables for details.
Small workbench for small projects
This DIY workbench is perfect for small spaces and small projects. You can put it in the garage or maybe in your garden shed and it wouldn't take up much space, plus it would actually look kind of cute. It's small but solid and durable. If you like the design, check out the details of the project on instructables.
Tiny workbench with a fold-down top
Speaking of small benches, check out this one. It is actually very small but it's full of surprises, including the folding top which lets you expand the work surface whenever needed and the hidden drawer and storage compartments inside which make it easy to organize the tools and everything else. If you want to find out more about this project have a look at this tutorial from instructables.
Something small and simple made of reclaimed wood
If you want to keep the cost of the project low and maybe also to use some of the materials that you already have, consider using pallets or reclaimed wood. You could build the whole workbench out of pallet boards and it would actually be fairly easy to do so. You can preserve the natural patina of the wood if you want to. Check out the details of this project on instructables.
Fold-down work surface with a pegboard wall
Having a workbench is sure great and practical…when you actually need it. The rest of the time however it just takes up space and that can be a problem sometimes. An interesting and also very practical idea is to have a fold-down work surface, like the one featured on instructables. It's not just this section that stands out. The pegboard storage system at the top is very clever as well.
Workstation organizer with whiteboards
Throughout a project you need not only a workbench to cut and assemble things on but also a place to plan everything. You can put those two things together and build yourself a workstation with a whiteboard and maybe some magnets so you can pin things if you want to. Such a project along with a detailed tutorial can be found on instructables.
Solid workbench with different storage options
Storage is also very important, especially if you want to save some space. Consider having shelves, drawers and storage compartments built into the workbench so you can keep all the tools and supplies handy. Also, customize the top and overall structure of the workbench based on the type of work that you know you'll be doing. Find more details and ideas on instructables.
A repurposed desk with custom storage
You might be able to repurpose a desk or a table as your workbench, with a new changes made to it as long as it suits the work you do. A more solid, specialized workbench might be needed in certain cases so take the time to figure out which type suits you best. The storage options are many and they vary a lot. Check out some great examples on instructables.
Additional tool storage for a clutter-free work surface
You can build the workbench with a few other things in mind such as a tool storage unit which you could fit inside. Add some extra storage to the bench in the form of shelves for bigger tools and equipment. The little things can go on top. It's best to keep the work surface clutter-free but we all know that's not easy. Perhaps this project from instructables can offer you some inspiration.
Table-like workbench with caster wheels
A simple workbench like this one for example is a lot like a table or an island. You can give it casters so you can move it around as needed and you can have two or more such units which you can place side by side to form a bigger workstation when you're working on large projects. You can find the details of this project on instructables.
A very basic design with a solid frame
Sometimes a very simple and basic design really is the best option. That means a workbench with a solid frame and a simple storage shelf at the bottom might just be all you need. if you want to also be able to move it around add casters or wheels and if you want a place to store some small tools add a pegboard or some hooks. Either way, this tutorial from acraftedpassion should help.
Small and portable work setup for all sorts of projects
If you don't really have a designated space for all your DIY projects or if you often find yourself working outside in the yard, a portable workbench might be useful. It should be fairly small and it should include built-in storage so you can take with you everything you need without having to constantly go back and forth. There's a wonderful tutorial on rogueengineer which shows you how to build such a workbench.
A modular workbench idea that gives lots of flexibility
This is a modular workbench system which is great both if you're doing all project in the same space and if you have to move around. There's a large workbench frame with a big counter and two individual little units on casters which fit inside this frame and have built-in storage for tools and other things. It's one of the more complex designs which might actually be  worth the extra effort. Check out the project on ana-white.
Minimal storage on a simple workbench
Storage may be high on your priority list in which case a simple table-style workbench would do just fine. That makes the project very simple and means you only have to focus on making the workbench strong and sturdy. This one featured on ana-white fits the description. Check out the full project to find out how you can build something similar for yourself.
An all-purpose workbench for all sorts of projects
A simple workbench design is also a good choice if you're not always working on the same type of project. In other words, build yourself an all-purpose workbench and pick a structure and a design that are versatile and can adapt to your ever-changing needs. Such a project can be found on artofmanliness.
Something built from scratch out of tree logs
It would definitely be really cool to build a workbench from scratch in the sense that you go outside and cut down a tree, then you turn it into boards and you make all the components yourself. If you have the necessary tools for the job and a place where you can find a suitable tree, this should be an achievable goal. Check out this detailed tutorial on instructables to find out all the info about the project from start to finish so you know what to expect.
Custom design with the perfect size and shape
There's no point making the workbench bigger than it has to be so figure out what size would be suitable for the type of projects that you plan on doing. Perhaps something fairly small like the bench featured in this instructables tutorial would be ok, especially if you don't have a ton of space for this. This workbench was made from the following materials: four 2″x8″x10′, one 2″x8″x8′ and one 2″x6″x8′ boards, 16 lag screws (1/4″ x 2 ½") and 16 washers (1/4''). Check out the plans for more details.
Mobile workbench with hidden features
If you have projects that require you to move around, maybe do some of the tasks outside or if you want flexibility with your layout, a mobile workbench would be a perfect idea for you. You can of course install casters on pretty much any type of workbench but since you're building it from scratch with flexibility in mind you could have the design optimized for this specific purpose. There's a tutorial on instructables aimed at this particular project.
Multipurpose design based on versatility
Every project is different so it's nice to have some flexibility when working on all of them. With that in mind, consider building a multipurpose workbench, one with a simple and versatile design that allows it to be used in a multitude of ways and for a variety of different types of tasks. You can check out this video tutorial from DIY Creators if you need some inspiration with the design or if you want some instructions on how to put everything together.
Simple workbench with an open shelf and wheels
It also goes without saying that the purpose of a workbench is not to be expensive but to be as practical as possible. There are many ways to keep the cost of the project low. A simple design is also a good idea in that sense. Don't complicate the plans with unnecessary features unless there's something specific you want for your workbench. This design shared by MrFixIt DIY would suit most purposes. Check out the plans and instructions in the video tutorial.
Basic workbench that's cheap and easy to build
Another great workbench design that's both cheap and easy to build was shared by the Fix This Build That channel on youtube. The bench is made out of 2×4 wood and MDF and has a basic overall shape, with a flat top and a spacious storage shelf at the bottom for various tools and equipment. It's quite small but of course the dimensions can be adjusted. Check out the free plans and build your own version based on that.
A solid frame for a sturdy work surface
When building a workbench from scratch there's a few basic steps that you have to go through. First you need to build the frame and to assemble it. Then it's time to focus on the legs. In the design featured on shanty-2-chic the legs are L-shaped and made out of two pieces of wood each. Once the legs are in place you can install the casters (or skip this step if you're fine with a fixed workbench). After that the bottom shelf is added and finally the top is installed. If you want a more detailed description of all these steps check out the tutorial.
6 Workbench Ideas Available on The Market
If you're into DIY projects but not the furniture building kind, perhaps a DIY workbench isn't a great idea. You can skip all of that and purchase a bench, after which you can start working on your favorite projects immediately. This workbench from Fedmax is nice and simple, with sturdy metal legs and an acacia wood top. The height is adjustable which is a really great and useful feature.
This workbench from 2x4basics gives you plenty of storage for all your tools and equipment. The design features large shelves at the bottom and smaller ones at the top so you can have everything handy when working on your projects. This is just a kit and it includes only the legs and shelf links, not the lumber as well. That means you get to customize your workbench however you want.
Sometimes you don't need a big and super sturdy workbench. Sometimes you need a mobile and versatile one that you can carry with you and use outside or easily store when it's not needed. This Keter folding workbench is a nice option. You can use it as a stand for the miter saw or for various other tasks. When standing it measures 33.46 in. L x 21.65 in. W x 29.75 in. H and it easily folds for convenient storage. It's made of heavy-duty resin and has lightweight aluminum legs.

Speaking of small and portable workbenches, check out this one from Black+Decker. It only measures 33.3'' x 5'' x 5'' and weighs 17.8 pounds. It can hold up to 350 pounds (158 kg) and it's sturdy and durable despite its small size. The frame is made of durable steel. This is a useful accessory to have around when you're working on various projects, especially when building furniture.
If you want something heavy-duty that doesn't look too massive and doesn't take up a ton of space, check out this Seville Classics workbench. It's similar to a desk in many aspects and it can even be used as one. It has a heavy-duty steel frame that allows it to be extra sturdy and gives it stability and a hardwood top with a scratch-resistant coating. You can adjust the height and even place this on uneven surfaces.
For a lot of tasks, you need to stand up when using the workbench. With that in mind, a standing one would probably be a practical choice. This one from Xmatch has a nice design, with a sturdy metal frame, a storage shelf at the bottom for large items and tools and a pegboard at the top where you can keep all the smaller items like screwdrivers for instance. It's resistant to rust and water and has a simple and convenient design.
The post 40 DIY Workbench Ideas For Successful Future Projects appeared first on Home Decorating Trends - Homedit.
---
Share this post
---
---