27 DIY Desk Ideas For The Home Office Of Your Dreams
Posted by admin on
A proper desk that fits both the space around it and the user's needs can be hard to come by and since working from home is more popular now than ever we thought it would be helpful to put together a list of ideas and tutorials for anyone who wants to take matters into their own hands and build themselves a custom desk.
There are lots of different DIY desk styles and designs to pick from and like with most DIY projects there's rooms for customization so you can make the desk suit your needs and style to perfection.
Home Office Desk You Can Make Yourself – 27 Design Ideas
Elegant campaign desk with a border
The first tutorial comes from instructables and explains how you can build this beautiful campaign desk. It has a stylish design with a distinctive border around the back and the sides to prevent items from falling off the edges.
There's also a little built-in storage module in the corner where you can keep some papers and other small items.
There's plenty of space on top for a laptop or a regular monitor plus a few accessories as well in case you want a lamp for example.
A tiny desk for your wall
If you're really short on space then a full-size regular desk is out of the question. However, that doesn't mean other options don't count.
This hanging desk is very space-efficient and lets you set up a work area in a really small space. You could add this to a living room or a bedroom without having to worry about changing the layout at all.
It's super easy to make and it only requires a few basic supplies such as a piece of lumber, 2 L brackets, some screws, some rope and rope loops. All the details can be found on instructables.
Adjustable desk for painting and drawing
Adjustable-height desks are really cool in general and this one also lets you adjust the angle of the work surface which is really great if your work involves doing sketches, drawing or painting.
With this desk you get a lot of freedom and flexibility and the design is quite simple as you can see here. If you don't have all the tools required for this project an option is to ask your local hardware shop for help. You can find the plans and the instructions on imgur.
A two-person live edge shelf desk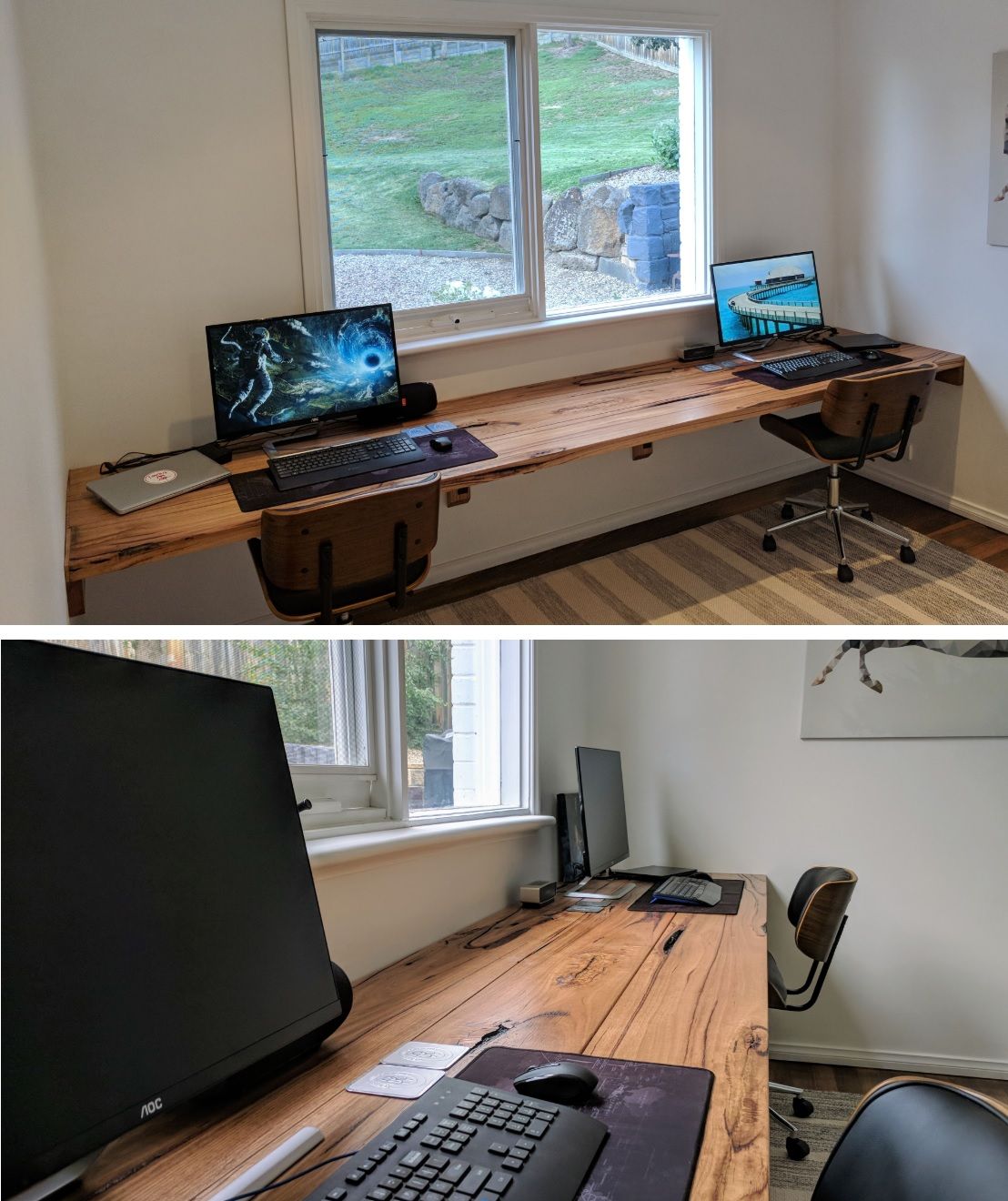 This double desk is pretty cool too mainly because it has such a simple design. It's basically a big long shelf that stretches from wall to wall.
You can place it in front of a window so you get all the natural light and you can set at any height you prefer.
Two persons could use it at the same time or you can keep it all to yourself if you have different workstations or different computers that you need to use for different things. Check out imgur for more details.
Freestanding desk with a simple and modern design
Freestanding desks offer more freedom when redecorating or changing things around the room and they're the most popular kind.
This one has a simple and modern design with a clean geometry and no unnecessary details. If you want your desk to include some sort of storage you can potentially modify the design, although we think it's pretty cool as it is.
Check out this video tutorial on youtube if you want to find out how it can be built from scratch.
Simple writing desk with a natural wood finish
Sometimes a simple and basic design is exactly what's needed and this desk fits the description. It has a super clean look and it's made of solid wood which gives you the option to stain it for a rich finish or to go with a more natural look and to lighting the grain.
Regardless of the details, this is a very solid and durable desk which would look at home in pretty much any decor. Check out the youtube tutorial and see how it was made.
A-frame desk with built-in storage
If you want a desk that's simple but also looks chic and modern and has some built-in storage options as well, considers a classic A-frame design.
It's elegant and it has a nice Scandinavian vibe to it which helps it to look lightweight and fresh. This one has two drawers and an open storage shelf in between them, offering you space to store and to organize all your desk supplies, documents, chargers and cables so they're out of the way and the work area is nice and clean.
There's a video tutorial on youtube that you can check out if you want the details.
A desk for standing or sitting with a versatile design
If you want the option to use your desk while sitting down but also standing up then you need one that lets you easily adjust the height.
Standing desks are appreciated for their versatility and for the fact that they encourage their users to be a bit more active and aware of their posture throughout the day.
They can also be super expensive which is why building your own standing desk is a really great idea. Check out this youtube video if you want some inspiration before you get started.
Minimalist desk with a wooden top and hairpin legs
There's an easy way to greatly simplify the design of our DIY desk and to make it really easy to build and it involves hairpin legs.
They're inexpensive and easy to come by and they look really beautiful on a desk, giving it a lightweight and slender appearance. Pair four metal hairpin legs with a solid piece of wood and you got yourself a beautiful and modern desk.
Paint the legs if you want to add a bit of color to the desk without being too bold about it. If you want the full story, check out modishandmain to find out more about this simple project.
A cool desk with a metal pipe frame and wheels
Another cool idea is to build the base of the desk out of metal pipes and fittings. This would look great if you have a modern-industrial interior design but would also fit in a retro decor with ease.
Complement the pipe frame with a wooden top to add some warmth and texture to the design. This tutorial from housebyhoff also shows you how to install casters on the base so you can easily move the desk around if needed.
Industrial-style standing desk
Standing desks are quite popular lately and they're mainly appreciated for their ergonomic approach. They can however get super expensive which makes DIY standing desks a great alternative.
Designs like this one are simple as well as very creative, making use of galvanized pipes and wood to create a trendy aesthetic with an industrial vibe.
Contemporary desk with colored hairpin legs
It doesn't really get any simpler than this. This contemporary desk is basically just a set of metal hairpin legs with a slab of wood on top but it doesn't look boring in any way.
The fact that the hairpin legs can be painted in any color you want gives you the opportunity to customize the desk and make it suit your style.
Affordable desk with accent lighting
Not all beautiful furniture is expensive, especially not when you can save quite a bit by building it yourself. You can make this modern desk for less than $50, can you believe it?
The tutorial shared by DIY Creators guides you through the entire process and also covers how you can install LED accent lighting to your desk to give it a sleek look.
Plywood desk with a curved shelf
You can make this desk out of just some cheap plywood and with only a few basic powertools. The design is simple and modern and what sets it apart from other similar desks is the curved shelf which you can actually make by bending the plywood.
Check out the tutorial made by HomeMadeModern for more details on this project.
Solid wood desk with generous storage
A desk like this is a combination between a couple of storage cabinets and a solid wood top to connect them. There's a video tutorial shared by DIY Montreal which covers all you need to know about making this top and it's part of a series which also goes over these cabinets as well.
Stylish desk with tapered legs and side cabinet
This wood desk design shared by Chris Salomone is one of our favorites because of the asymmetry. The desk is supported by a pair of angled legs that taper down on one side and by a small cabinet on the other. It's a perfect mix of function and style.
Pine wood desk with a rustic finish
When building a desk from scratch it's not just the structure and the proportions that you need to focus on but what comes after that as well.
The last stage of the project usually involves applying the stain or the paint and is when the desk gains character. In this tutorial by Veideway you can learn more about giving your desk a rustic and worn look.
A vanity desk with a mirror and storage
This is a versatile piece of furniture which can be used both as a desk and as a vanity. The top is sectioned into three segments and the middle one has a mirror attached to the underside which you can flip up when needed.
Underneath the other two segments you can find storage drawers. Check out the video shared by 3x3Custom – Tamar for more info.
Minimal desk made of 2×4's
The desk featured in the Mark Builds tutorial has a minimal design which you may be familiar with from other similar projects.
Everything is made of 2×4 lumber, including the legs which have a glossy white finish that contrasts with the stained top.
Small desk with open shelf storage
If you want a desk that doesn't stand out much and doesn't really look like your classic desk, check out this design featured in the tutorial by Shara Woodshop Diaries.
It's nicely disguised as a shelving unit and the shelves can be used to store and display all sorts of things. Also, this is a super cheap project and you only need a few basic tools to make it.
A farmhouse-style console desk
Speaking of non-conventional desks, this one is quite interesting because it can also be a console table. It has a cool farmhouse-inspired design with a super sturdy base and a cool distressed finish on the pedestals that form the base. Pair it with a few shelves to recreate the aesthetic featured on chapelcottagechicks.
A desk with multiple storage options
Not everyone likes desks that include shelves, drawers and storage in general but if you find these elements useful then consider combining a few of them and building a custom desk.
The design shared by ana-white is a good representation of that. The compartments at the top and great for holding things like your laptop and accessories and the shelves on the sides and super versatile.
A desk made of bar stools
It sounds odd at first to have a desk made out of bar stools but once you look at it the strategy starts to make sense. The bar stools are actually a great base for a desk because the height is right.
All you need to do is place a tabletop on them which you can make yourself out of some reclaimed wood. This cool idea comes from a tutorial which you can find on lizmarieblog.
A desk, chalkboard and shelf combo
If a desk is not something that you'll be using all the time or on a regular basis, having one that can double as something else is a great idea, especially when you're short on space.
This design which you can find on instructables shows you how you can make a slender desk that can also serve as a shelf and that has a built-in chalkboard as well.
A truss desk with a retro vibe
We love the look of solid and robust desks and this is definitely one of them. You can find the plans for this truss desk on shanty-2-chic along with instructions on how to build it from scratch.
It's a type of desk that fits well in farmhouse or rustic interiors but which can definitely be customized to suit other styles as well.
Vanity desk with hidden storage
It makes sense to have a desk that can double as a vanity if you're planning to put in your bedroom. These two pieces of furniture are quite similar anyway in many aspects and this design from shadesofblueinteriors takes full advantage of that.
The desk has three storage compartments underneath the top which you can flip up to reveal a trio of mirrors.
Large desk with extra features
If you're not the only one working from home consider creating a shared workspace. The best solution in this case would be a custom desk and if you have the space for it you could include a few extra features like some additional storage or some complementary corner shelves to help the desk better blend into the décor. Check out this design from abeautifulmess for inspiration.
The post 27 DIY Desk Ideas For The Home Office Of Your Dreams appeared first on Home Decorating Trends - Homedit.
---
Share this post
---
---